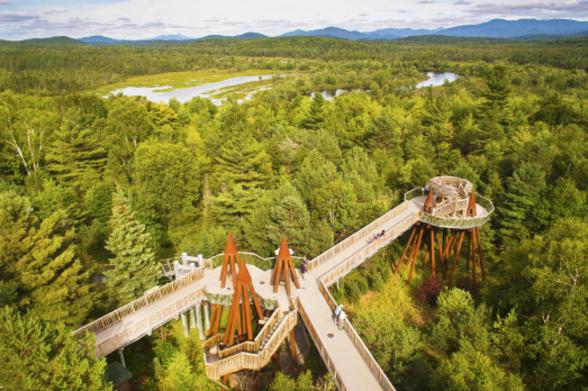 Want to treat yourself to a local getaway for a little fun, rest, and relaxation? You don't have to go far for an escape from your everyday routine. Whether you're looking for a quick day trip or a weekend getaway (or two!), there are thousands of miles of natural wonders to explore, hundreds of hidden gems to discover, and world-class resorts to experience nearby on your New York State staycation! 
Updated 4/30/21
Ready to go? Click on a region below to explore curated staycation ideas.
New York City | Long Island | Hudson Valley | Catskills | Capital-Saratoga | Central New York | Adirondacks | Finger Lakes | Thousand Islands-Seaway | Chautauqua-Allegheny | Greater Niagara 
Day Trip Options (New York City)
Bronx Zoo (pictured): Home to over 6,000 creatures large and small, the 265-acre Bronx Zoo is the largest metropolitan zoo in the country. The popular monorail safari ride and the spacious indoor and outdoor exhibits offer plenty of amazing animal-viewing opportunities anytime. You can also climb, crawl, and swing through the zoo's treetops and zipline over the Bronx River at the outdoor adventure park. 
Queens County Farm Museum: Tucked away in the Little Neck section of Queens, the Queens County Farm Museum is a 47-acre working farm with greenhouses, an orchard and herb garden, farm machinery, and cattle, sheep, pigs, and goats (though no goat yoga...yet!) waiting to be discovered. Visitors can shop for produce at the farm store. 
Brooklyn Botanic Garden: Soak up 52-acres of natural beauty as you admire and learn about the Brooklyn Botanic Garden's 18,000 plant species from across the world. Advanced tickets recommended.
Snug Harbor: Snug Harbor Cultural Center & Botanical Garden is another flower-filled oasis located on the Staten Island waterfront. Housed on its grounds, you'll find the Staten Island Museum, which has an exhibit dedicated to the history of the mastodon, and the Newhouse Center for Contemporary Art, the borough's largest and oldest contemporary art gallery. 
Overnight (New York City)
Chelsea: Stay at the High Line Hotel, a chic boutique hotel with a historic vibe (the building is a federal landmark) and accolades from the Travel + Leisure World's Best Awards and the Condé Nast Traveler Reader's Choice Awards. From there, you'll be steps from the city's beloved High Line Park (pictured), an elevated walkway on former rail tracks that offers beautiful Hudson River views and green places to relax. Practice your golf swing while enjoying river views at Chelsea Piers. Just bring yourself—balls and clubs are provided (you can also use your own clubs if you prefer). Stop by Chelsea Market for some shopping and tasty treats—several vendors offer outdoor dining along the market on 15th and 16th streets, and other goodies are available for takeout; see what's open here. And if you love art, the esteemed Whitney Museum of American Art offers "Pay What You Wish" admission as well as free entry for members on Friday nights.
For more information on these and additional New York City Staycation Guides, visit our partners at NYC & Co.
Day Trip Options (Long Island)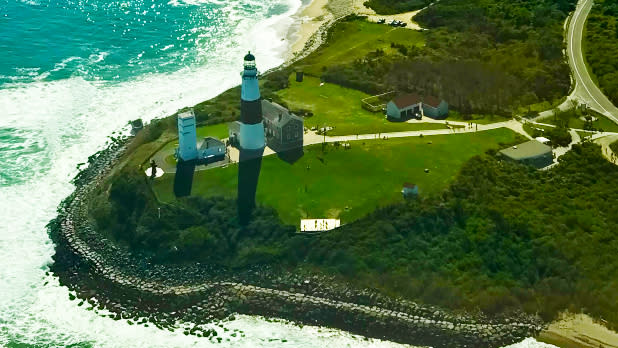 Montauk Lighthouse (pictured): Venture to the easternmost tip of New York State for stunning ocean views from the grounds of the Montauk Lighthouse. Climb the tower, visit the Montauk Lighthouse Museum, which houses historical documents signed by George Washington, and grab a souvenir at the Lighthouse gift shop. And don't leave town without trying a fresh lobster roll by the sea at Gosman's Dock when it reopens for the summer season in 2023.
Planting Fields Arboretum State Historic Park: Pack a picnic and enjoy strolling around the 400+ acre property designed by Fredrick Law Olmsted and others on Long Island's storied Gold Coast. Full of rare plants from around the world, the grounds abound in scents and color, offering plenty of Instagram-worthy photo-ops, including the exterior of the impressive Coe Hall mansion.  
Stony Brook Village Center: For a day of great shopping and eating, head over to Stony Brook Village Center, a commercial district built to look like a traditional New England village with white clapboard buildings. While there, be sure to check out the unique microbrew craft beer and cheese pairings at Brew Cheese, take a private chocolate-making workshop at Chocolate Works (advanced reservations required for workshops), and enjoy a leisurely afternoon tea service at Robinson's Tea Room, named one of the bests places for high tea in the U.S. by Travel & Leisure.
Overnight (Long Island)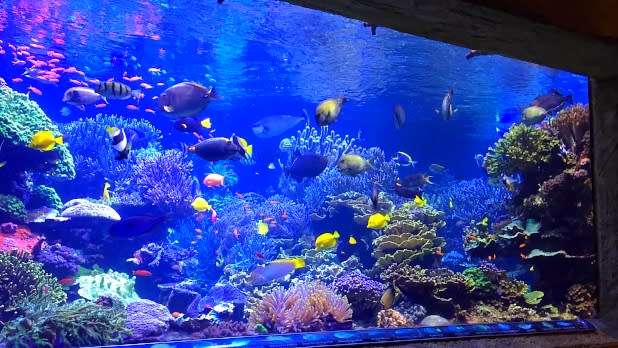 North Fork: Feel like you're in Tuscany with a stay at the Sannino Vineyard B&B, an intimate property offering a suite and a villa rental, each with their own private entrance, kitchenette, views of the family-owned vineyard, and a full hot breakfast delivered straight to your door. Explore 30+ North Fork wineries offering a diverse array of varietals in gorgeous outdoor settings. Head over to Harbes Family Farm (reopening for the season May 13, 2023) for a barnyard adventure the whole family will love, including a gnome-themed maze, obstacle courses, and so much more. Stop by the Long Island Aquarium for over 100 exhibits of fascinating marine life. Head down to the East End's South Shore and get even closer to nature at the Quogue Wildlife Refuge, which is home to seven miles of trails where you can explore diverse habitats from ponds to Dwarf pine-dotted forests.
Day Trip Options (Hudson Valley)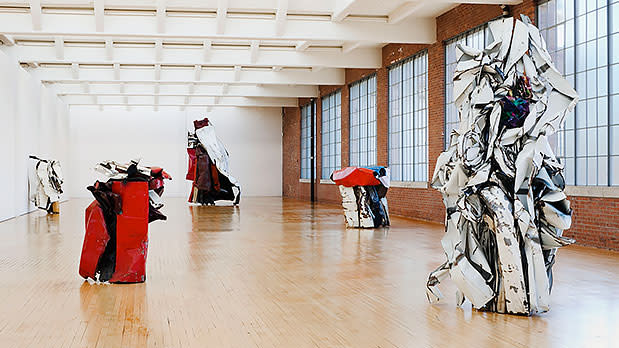 Storm King Art Center: The Storm King Art Center (reopening January 14, 2023 for winter weekends) is a 500-acre open-air sculpture park with stunning views of Storm King Mountain that uses the ground as its floor, the air as its walls, and the sky as its ceiling as it plays host to some of the most renowned large-scale art pieces in the world from artists including Barbara Hepworth, Isamu Noguchi, and more. If you're feeling particularly adventurous, split your day with a kayak tour of Bannerman Island with Storm King Adventure Tours in warmer months.
Dia Beacon (pictured): A former Nabisco box-printing factory along the Hudson River turned modern art museum, Dia Beacon (advanced tickets suggested) is home to thought-provoking artwork from 1960 to today. Just a short walk from the museum, Beacon's bustling Main Street offers cool cafes and places to eat, including restaurants at the Roundhouse, where you can dine with a view of the city's urban waterfall.
The Warwick Valley Apple Trail: The Warwick Valley Apple Trail in New York's Orange County is home to half a dozen family farms and orchards that offer an incredible array of apple varieties (and other seasonal fruits!) all available for the picking, as well as quaint farm stands full of freshly picked produce, mouth-watering baked goods and cider donuts, ice cream stands, places to picnic, and full-service eateries like the outdoor beer garden at Pennings Farm Market. 
Historic Hudson Walking Tour & Warren Street Antiquing: A quaint small city on the Hudson River, Hudson is known for its world-famous antique shops that line its main thoroughfare, Warren Street. This very walkable city's streets are as full of history as its shops, featuring every style of architecture since the late 18th century and sites on the Underground Railroad. Explore with an in-person tour with Big Onion Walking Tours, a group of knowledgeable guides with a perfect 5-star TripAdvisor rating.
Overnight (Hudson Valley)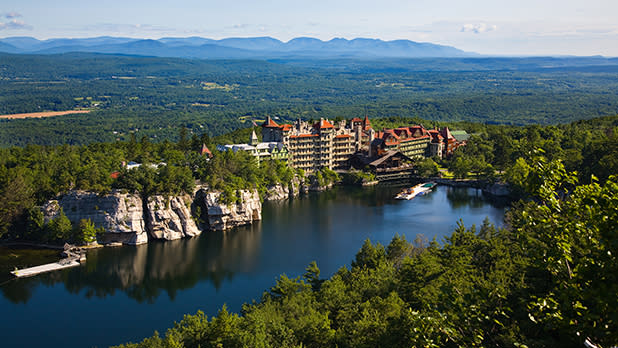 New Paltz: Think you need to fly to Europe to stay in a storybook castle? Enter Mohonk Mountain House (pictured), a stunning Victorian castle resort on Lake Mohonk surrounded by 40,000 acres of forest and wildlife. Room rates are all-inclusive, which means that in addition to a room fit for royalty, guests receive three gourmet meals a day and get access to a cruise ship-style schedule of daily activities, along with miles of picturesque hiking trails and so much more that the Mountain House published a guide that includes. With at least 150 things to do on-site at Mohonk, you could easily enjoy several days without ever leaving the property, but those who venture out to explore the surrounding area will be rewarded by equally charming villages and world-class wineries. Head to the heart of New Paltz for a stroll down Historic Huguenot Street, a 10-acre National Historic Landmark District featuring stone-house museums that tell the stories of the area's French Huguenot settlement during the Colonial Era. Download the free Historic Huguenot Street Walking Tour app for a look at what's inside. Indulge in a top-notch wine tasting at Whitecliff Vineyard and Winery, recently recognized for their "Best Chardonnay" in a global winemaking competition, or at Robibero Winery, which was named "Best Family-Friendly Vineyard" by Hudson Valley Magazine and offers plenty of outdoor space and table games to keep the kiddos occupied (pups also welcome!). 
Day Trip Options (Catskills)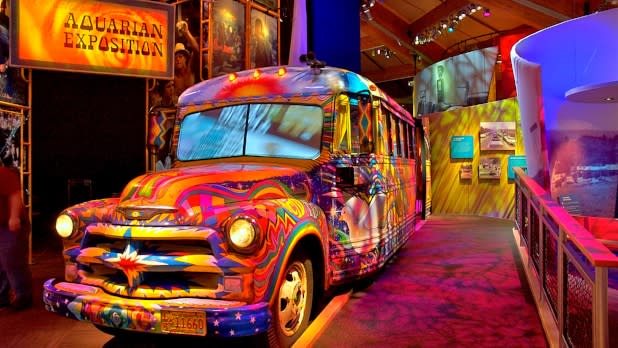 New York Zipline Canopy Tours at Hunter Mountain: Re-imagined for a safe social distancing experience, the Mid-Mountain Zipline Adventure offers family-friendly adventure as high as 60 feet above the forest floor with jaw-dropping views of Hunter Mountain and an exhilarating 65-foot rappel to complete the adventure. "Quaran-teams" of up to 8 have the option of booking a private tour. In addition to COVID-19 safety protocols, standard zipline safety rules apply: all guests must be between 60 and 250 pounds, be no taller than 6'5″, and wear sneakers or hiking boots in order to participate. The zipline adventure is not recommended for anyone who is pregnant or has heart or back problems. The zipline is open weekends through Memorial Day and will be open daily throughout the summer.
Bethel Woods Center for the Arts (pictured): 51 years ago, Bethel played host to the iconic Woodstock Festival. Today, The Museum at Bethel Woods sits on the site of the 1969 festival and pays homage to the life and times of those who made Woodstock a household name. 
Catskills Scenic Trail: Explore 26 miles of a former Ulster & Delaware rail bed trail that offers beautiful mountain vistas as it winds its way through the farming valley and small towns of the Catskills region. Hike it on foot or rent a bike from the Roxbury General Store—a great place to pick up local artisan-made souvenirs, gifts, toys, and more!
Overnight (Catskills)
Mount Tremper: Treat yourself to a stay at the luxurious Emerson Resort & Spa in the heart of the Catskill Mountains. Enjoy a rejuvenating massage at the award-winning spa, a meal at the highly-rated Woodnotes Grille, and some retail therapy at The Shops at Emerson, or just get away from it all by relaxing in an Adirondack chair creekside. The Catskills region is known as the birthplace of American Fly Fishing. Front desk staff can help guests book a guided fly fishing excursion with a pro-Catskill Mountain Angler. The resort's "Stay Safe" pledge includes closing the entire facility on Tuesdays and Wednesdays for deep cleaning, so plan your stay accordingly. Stop by the Catskills Visitor Center and climb the 80-foot fire tower on-site for an aerial view of the Catskills, or explore 1.5 miles of easy hiking trails. Explore charming nearby villages like Phoenicia, voted one of America's Top Ten Coolest Towns by Budget Travel Magazine, and it's home to the famous Phoenicia Diner (pictured)! While in Phoenicia, go on a rail biking adventure along the Esopus Creek with Rail Explorers (advance reservations strongly recommended).
Day Trip Options (Capital-Saratoga)
Dutch Apple Cruises (pictured): Take a cruise along the Hudson River from the comfort of your pre-booked private table (all seating must be booked by the table due to social distancing measures). For the first half of the cruise, the vessel's Hudson River Historian will share stories about the history of Albany and share points of interest along the river. As the boat makes its way back to Albany, passengers have time to relax and take in the views — including possible bald eagle sightings! Food and beverages can be purchased on board.
Visit Downtown Saratoga: Head downtown for lunch and a self-guided tour through town. Saratoga has more restaurants per capita than even NYC, so there is a cuisine to suit every taste! The legendary Saratoga Racetrack reopens in summer 2021, with a 40-race season beginning July 15, 2021.
Albany Institute of History & Art: Founded in 1791, the Albany Institute of History and Art is one of the oldest museums in the United States. While the Hudson River School paintings are worth the price of admission alone, you can't miss the awe-inspiring story of how modern science helped uncover surprising details about Albany's very own 3,000-year-old mummy and special exhibitions such as "A Sense of Time," featuring the historical art of L.F. Tantillo, recognized for his ability to capture specific moments and visualize places of the past through his paintings, on view through July 25, 2021. (Advanced tickets strongly recommended)
Overnight (Capital-Saratoga)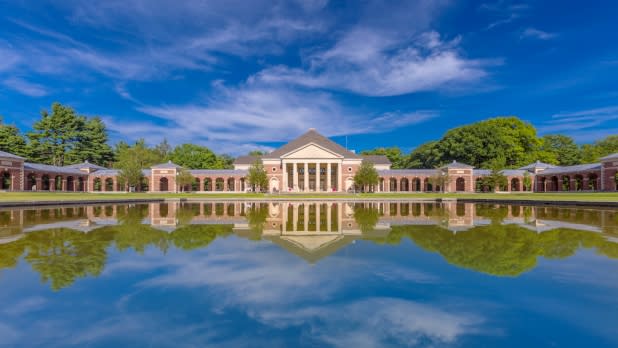 Saratoga Springs: Rest your head at the #1 TripAdvisor rated Homewood Suites by Hilton Saratoga Springs, which offers spacious suites, the convenience of an in-suite kitchen, and helpful perks like free delivery of grocery purchases and complimentary breakfast to help you start your day on the right foot. The hotel is right across from Saratoga Spa State Park (pictured), a 2,379-acre park where you can find mineral springs and geysers that shoot water as high as 15 feet into the air! In addition to picturesque trails, the park offers access to public swimming pools and tennis courts. Inside the park, you'll also find the Saratoga Auto Museum, which boasts an impressive collection of antique cars, classic cars, race cars, Indy cars, sports racers, and stock cars in a renovated bottling plant. Get on the water with a sail on Saratoga Lake with ADK Cruise & Charter. Reserve a socially distanced table for an afternoon or sunset cruise, or have your coffee on the lake with a Sunday morning "Wake on the Lake" cruise. Want the boat all to your crew? Private charters are also available! Enjoy a nostalgia-filled night at the movies at nearby Malta Drive-In, reopening in spring 2021. Put on your mask and venture over to the concession stand where you can get burgers, pizza, and shakes to go with the requisite movie theater candy and popcorn.
Day Trip Options (Central NY)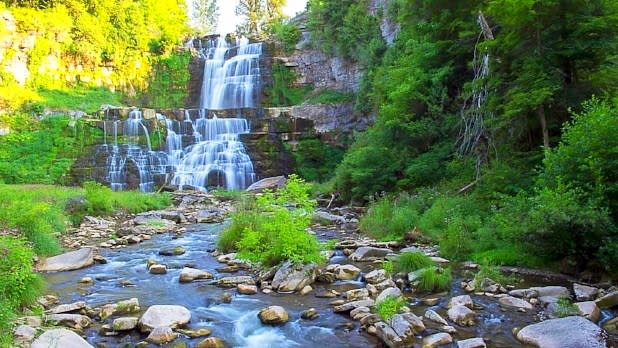 Chittenango Falls State Park (pictured): Spend the day hiking for views of the 167-foot waterfall at the heart of Chittenango Falls State Park from every vantage point. Along the way, keep an eye out for unique fauna and critters that you won't find anywhere else on Earth—like the Chittenango ovate amber snail. A large picnic area with tables and grills makes for a memorable outdoor lunch spot.
Animal Adventure Park: Go from checking out the live webcams to visiting the giraffes, kangaroos, and hundreds of other animals at this popular park. Social distancing procedures are in place to keep everyone safe while exploring on foot, and the park offers a "drive-thru zoo" option where you can see the animals from the comfort and safety of your own car.
Brew Central: The entire Central New York region is considered "America's Craft Brew Destination!" With miles of idyllic farmland, craft brewers are able to produce the highest quality farm-to-glass beverages you'll find anywhere. Visit brewcentralny.com for trail maps and lists of must-visit pubs and tasting rooms.
Overnight (Central NY)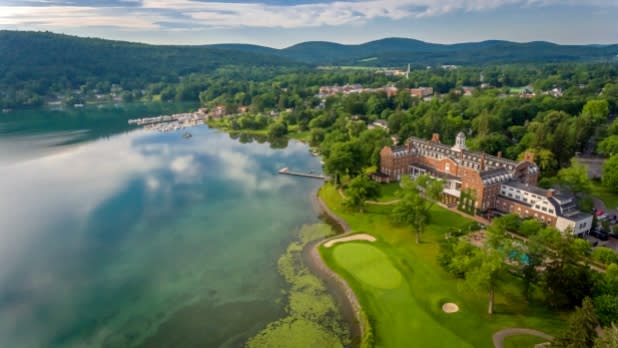 Cooperstown: Known as "America's Most Perfect Village" and the birthplace of America's pastime (baseball!), Cooperstown is an ideal getaway with its charming downtown and enviable location on the peaceful shores of Otsego Lake. Relax at the lakeside Otesaga Resort (pictured). A Historic Hotels of America Member and AAA Four Diamond property, the Otesaga boasts an elegance that recalls a bygone era. Enjoy breakfast on the patio, play a round on the award-winning Leatherstocking Golf Course, then head into town to explore Main Street, just a five-minute walk from the hotel. Get your fill of baseball history at the National Baseball Hall of Fame, where you can see artifacts from the game's most famous moments, and thanks to a disposable stylus given to each visitor, interactive exhibits are still in play! Nothing goes better with baseball than beer, and Cooperstown's own Brewery Ommegang makes some of the very best, which you can sample in flights while listening to live music in a beautiful outdoor beer garden set amidst the rolling hills of Central New York. While you're in town, stop by the Farmers Museum to see what life was like back in the 19th century through interpretative performances by costumed actors. Also worth a visit is the Fenimore Art Museum and its impressive collection of Native American artifacts and American folk art. 
Day Trip Options (Adirondacks)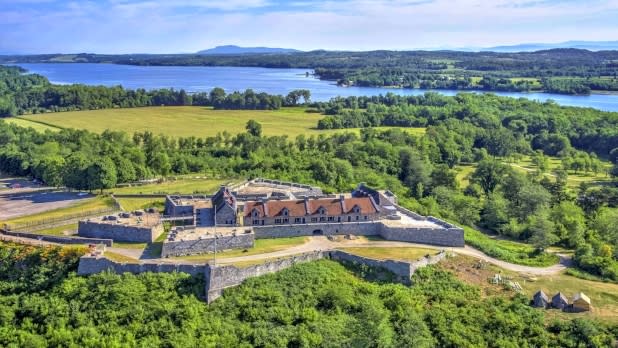 The Wild Center & Wild Walk: Walk among the treetops of the Adirondack forest on the Wild Walk at The Wild Center, an experiential museum dedicated to connecting visitors with the natural world around us. The only elevated walkway in the region, the Wild Walk offers visitors a bird's eye view of the 6 million–acre Adirondack Park. Indoor exhibits are closed, and visitors are asked to keep an eagle's wingspan apart—that's 6-feet in human-speak.
Ausable Chasm: Known as the "Grand Canyon of the Adirondacks," the Ausable Chasm is a two-mile-long gorge that was formed by glacial activity 500 million years ago. Today, visitors can explore five miles of scenic trails. Once there, you will also have the option to add a Riverwalk tour to your experience (when available). Advanced tickets required.
Fort Ticonderoga (pictured): Learn about New York's role in the American Revolutionary War through a visit to the reconstructed Fort Ticonderoga, where you can watch live reenactments complete with period costumes, lose yourself in a massive corn maze, and smell the fragrant heritage flowers in the King's Garden.
Revolution Rail Co.: Take a scenic ride across the Hudson River on 2– or 4-person tandem rail bikes with Revolution Rail Co.! Your pedaling will be rewarded with gorgeous views and even a riverfront photo op at the turnaround point taken by the rail co's pro staff (included in the price of the ride). Advanced tickets are required.
Overnight (Adirondacks)
Lake Placid: A village so nice that it hosted the Winter Olympics twice, Lake Placid offers plenty to do for sports fans and nature lovers alike. Stay at the eco-friendly Golden Arrow Lakeside Resort, recipient of the Audubon's Society highest Platinum Eco Rating for Hotels, and enjoy amenities like a private beach on Mirror Lake, free-to-use kayaks and paddleboards, and water sports— and, in winter, ice skating and dog sled rides. Some rooms and suites have kitchenettes and the resort is pet-friendly, so the whole family is welcome to come along! While in town, stop by the Lake Placid Winter Olympic Museum (advanced tickets required), where you can browse memorabilia and visit the arena that hosted the famous 1980 Winter Olympics "Miracle on Ice" hockey game. If it's a view you're after this spring (after the ski season ends), take a scenic ride to the top of Little Whiteface on the Cloudsplitter Gondola (pictured) or drive up Whiteface Mountain Veterans Memorial Highway (check to see that it is open, as closures can occur into spring) and get a snack from the highest food truck in New York State! Challenge your travel companions to a competitive game of Disc Golf at Whiteface Mountain – your favorite new sport that you may not have heard of (think golf but with Frisbee-like discs). For even more of a rush, take a ride on the new Sky Flyer Zipline, which runs parallel to the Olympic ski jump and takes riders soaring on a 30-degree decline. Cap off your visit with an easy walk along a stunning waterfall at High Falls Gorge.
Day Trip Options (Finger Lakes)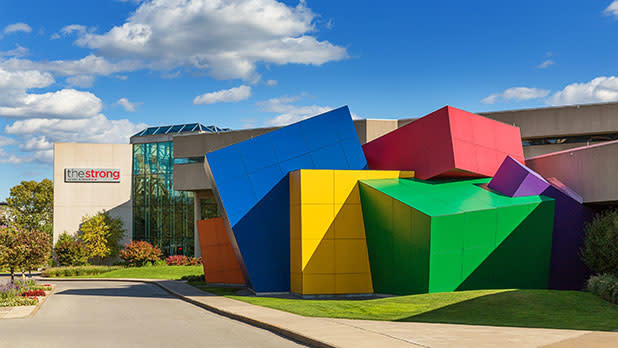 The Strong National Museum of Play (pictured): What's more fun than a museum dedicated to the art of play? Not much! Step into a life-sized storybook, geek out with vintage video games, and take a nostalgia-filled stroll through the history of toys and games from as early as the 1700s to today. The Strong hosts Sensory Friendly Sunday programs for visitors with autism; visit the Strong's website for registration links when available. 
Genesee Country Village & Museum: Step back in time at the Genesee Country Village & Museum, an authentic living history museum set in a 700+ acre 19th-century village. Costumed interpreters perform demonstrations featuring 1800s culinary arts and trades (pottery, cooper shop, tinsmith, blacksmith), tend to farm animals and heirloom gardens, and walk the grounds to answer visitor questions.
Beak & Skiff Apple Farm, Store, Distillery & Winery: Young visitors will love Beak & Skiff for the apple picking, excellent donuts, and sweet apple cider, while the young at heart will enjoy the on-site 1911 Distillery's tasting room where you can order samples to try on site or buy hard cider and apple-based liquor products to go.
Women's Rights Hall of Fame: Be one of the first to see the newly opened Women's Rights Hall of Fame in Seneca Falls, NY, just in time to celebrate the centennial of women gaining the right to vote. Download the I LOVE NY app and take a free audio walking tour to learn even more about this charming town and its role in the suffrage movement, sparking a social justice revolution felt around the world.
Overnight (Finger Lakes)
Ithaca: Think camping means roughing it? Think again! At Glamping at Firelight Camps (pictured), you'll be sleeping in a luxurious safari tent on the grounds of the boutique La Tourelle Resort & Spa (also a great option if all tents are booked on your desired dates). Wake up to a cup of coffee on your private porch and turn down with s'mores roasted over a bonfire that will be set up for you by the camp's friendly staff. Head into town for quality dining and shopping at the pedestrianized Ithaca Commons, wash it down with some of the renowned Finger Lakes wine region's finest tastings on the Cayuga Wine Trail, and chase waterfalls all across Ithaca. The slogan "Ithaca is GORGES!" was coined because the area has 150 waterfalls within a 10-mile radius. Take to Cayuga Lake for a relaxing boat ride. Go bird watching at the Cornell Lab of Ornithology. Though the visitor center is closed, public trails are open and the Lab has made online resources available to help you get the most out of your visit— including, Merlin, a handy app to help identify birds.
Day Trip Options (Thousand Islands-Seaway)
Old McDonald's Farm (pictured): Old McDonald had a farm...and it was in the Thousand Islands region of New York State! Go mini-golfing with the whole fam and nosh on fresh goodies like donuts and ice cream. Learn about the process of dairy farming, see as many as 100 baby calves, and watch as dairy cows are milked on a private tour of the farm's dairy! 
1000 Islands Scenic Tours: Exploring the majestic St. Lawrence Seaway on your own boat doesn't have to break the bank thanks to 1000 Islands Scenic Tours. An easy on/easy off pontoon boat or 26' authentic wooden Lyman will pick you up from Alexandria Bay for a private tour customized to your interests, whether it's getting closer to nature and wildlife or admiring island mansions and fairytale castles.
Fishing on the St. Lawrence River: You baked your own bread, now catch your own dinner! In addition to being named the best place in the country for bass fishing by Bassmaster Magazine, the St, Lawrence River and neighboring Lake Ontario, are famous for northern pike, muskellunge, brown trout, and salmon. Hire an expert guide to take you out on the water and show you the ropes, err, lines. Find an outfitter on the Visit 1000 Islands website (look for the American flag next to the listing to book with a company on the New York side of the river).
Overnight (Thousand Islands-Seaway)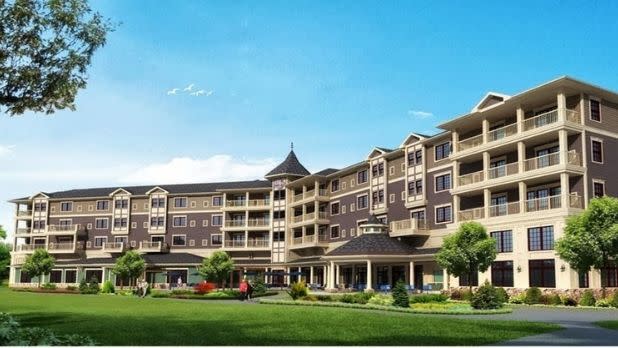 Clayton: Book yourself a lush room or suite with comfy pillow-top mattresses and a view of the St. Lawrence River at the 1000 Islands Harbor Hotel (pictured), the region's premier luxury property. The resort's Clayton village location is ideal for exploring on foot, wheel, and boat as the hotel has its own dock. Walk over to the Antique Boat Museum (reopening for the season in May 2021) to browse 29,000 square feet of exhibit space boasting an impressive collection of antique boats and take a speedboat out for a spin on the river with a "Ride the River" tour. See why Native American tribes referred to the region as "the Garden of the Great Spirit" (no, it wasn't because of 1000 Island dressing) with a visit to the excellent wineries along the Thousand Islands-Seaway Wine Trail and the Clayton Distillery (Moonshine slushies!) to see why producers in this burgeoning craft beverage hub have been winning awards and earning rave reviews. No trip to the Thousand Islands is complete without fishing, and you can angle away from the docks at Cedar Point State Park, one of the oldest parks in the New York State Parks system.
Day Trip Options (Chautauqua-Allegheny)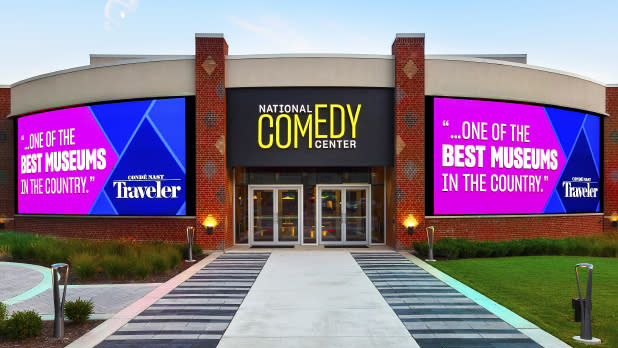 National Comedy Center (pictured): If there's anything we could all use right now, it's a good laugh, and the National Comedy Center delivers in spades. Over 50 interactive exhibits take you through the history of comedy through the use of curated clips from your favorite shows, movies, and stand-ups, artifacts and costumes from the all-time greats, and the chance to put your own stamp on comedy history with experiences like a Stand-Up Karaoke bar and a green screen studio that puts you in the middle of iconic scenes like "I Love Lucy's" chocolate assembly line (candy not included). The museum's LaughSafe program offers each visitor a disposable stylus for a touch-free experience, disposable earbuds, and a new "LaughCard" featuring an RFID chip for personalized comedy. Combine your visit with the Lucille Ball Desi Arnaz Museum just a short walk away. Advanced tickets required.
Lake Erie Wine Trail: Thanks to the fertile soils surrounding Lake Erie, the Chautauqua-Allegheny region has long been an epicenter of Concord grape production. While most of the grapes grown here go into juices and jellies, this abundance of grapes has given rise to the award-winning wineries on the Lake Erie Wine Trail. Be sure to try the area's signature ice wine—made using grapes frozen while on the vine!
Overnight (Chautauqua-Allegheny)
Ellicottville: A four-season destination with options ranging from traditional hotel rooms to fully-equipped condo rentals, Holiday Valley Resort packs in plenty of family fun on-property. Whether you choose to hit the links for the area's best golfing, swing from the treetops at the Sky High Adventure Park, get a rush of adrenaline on a Mountain Coaster ride, go on a jewel and fossil hunt, splash around in the pool complex or just enjoy the mountain views from the chair lift, you're guaranteed to find something for every sense of adventure. Head to downtown Ellicottville for bespoke village shopping and stop by the Ellicottville Brewing Company (pictured) for a tasting in a beautiful outdoor beer garden. Don't miss Rock City Park for a family-friendly hike through enormous rock formations and crevices of this prehistoric ocean floor, referred to as the "Eighth Wonder of the World" for its outcropping of quartz conglomerate—the largest on Earth.
Day Trip Options (Greater Niagara)

Credit: Visit Buffalo Niagara
Niagara Falls Underground Railroad Heritage Center (pictured): This is a great place to learn about New York's important role in the abolitionist movement and in helping freedom seekers escape slavery. Located in the 1863 U.S. Customs House in Niagara Falls, the heritage center offers a view onto the location of the former International Suspension Bridge that many freedom seekers, including Harriet Tubman, used to cross into Canada. Advanced ticket purchases highly recommended.
Walking Tour of Downtown Buffalo: See why Buffalo became known as the Queen City on Explore Buffalo's thoughtfully curated walking tour series that includes walks like "Masters of American Architecture" featuring early 20th century works by the country's most prominent architects, "Presidents in Buffalo" that explores the city's role in presidential history, or the "Downtown Murals Walking Tour," which uncovers the street art redefining the city today. Advanced reservations required, including for Explore Passholders.
Cave of the Winds: Get up close and personal with the power and majesty of Niagara Falls at the Cave of the Winds. After donning a requisite souvenir poncho, take an elevator down into the awe-inspiring Niagara Gorge where wooden walkways lead to the "Hurricane Deck," mere feet from the base of the Bridal Veil Falls. Advanced reservations required.
Overnight (Greater Niagara)
Lockport: The story of New York's growth into the state it is today cannot be told without the story of the Erie Canal, and there's no better place to see this history in action than the bustling canal town of Lockport, NY. Get a taste of warm Western NY hospitality and retro vibes at the family-owned Lockport Inn & Suites. Explore the canal through a narrated ride with Lockport Locks & Erie Canal Cruises through the famed "Flight of Five"—a system of historic locks that lifts boats up 50 feet. Kids and kids at heart will love the Herschell Carrousel Factory Museum (pictured), a collection of hand-crafted and refurbished carousels—and yes, you can ride! See why the Greater Niagara region is a golfer's paradise on the Robert Trent Jones II designed-course at Seneca Hickory Stick Golf Course (must bring your own clubs), and cap it all off with a toast to memories well-made at one of 20+ wineries on the Niagara Wine Trail.
TIPS:
If an attraction or place of lodging is crowded or sold out, don't worry—there are thousands of great places to stay and visit in New York State! We've highlighted just a few here, but you can find many more by checking the "Things to Do" and "Places to Stay" sections of our website. Download the I LOVE NY app to find places nearby while you're on the go.

Please refer to each venue's website and call ahead before making plans and setting out for the day as seasonal opening dates, amenities, and availability may change.
---
Don't forget to post photos of your New York adventures on Instagram and Twitter with #iSpyNY and tag us on Facebook!