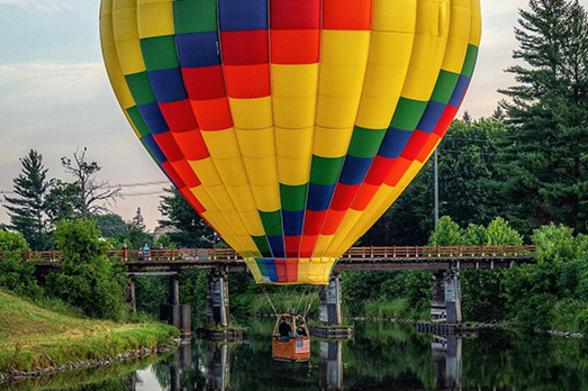 July heats up in New York State with an amazing variety of food, music, and regional celebrations for everyone. Head to the Adirondacks for cycling and crafts, enjoy the sounds of bluegrass in the Catskills, celebrate everything Irish in Central New York, watch hot air balloons take flight in Chautauqua-Allegheny, be awed by amazing 4th of July fireworks in New York City and beyond, travel back to the Renaissance in the Finger Lakes, get a delicious taste of Buffalo, frolic among amazing sunflowers on Long Island, and so much more!
Through August 12

Credit: Lawrence Sumulong/Lincoln Center for the Performing Arts
The hottest summer festival is happening all season long at Lincoln Center, featuring hundreds of free events, thousands of artists, and food. The Big Umbrella Festival with multi-sensory experiences, performances, installations, and workshops specifically welcoming neurodivergent audiences and their families kicks things off for July, which will see the New York City premiere of Octavia E. Butler's Parable of the Sower, Korean Arts Week, silent discos and dance parties, and even more celebrations of art, music, and culture. Manhattan; free.
July 1-5
During the summer of 1976, a restaurant in Fire Island Pines, a beach community on Fire Island, denied entry to a visitor in drag named Terry Warren. When Warren's friends in Cherry Grove heard what had happened, they too dressed up in drag, and, on July 4, 1976, they sailed to the Pines by water taxi, to a surprised but exuberant welcome. Today's Fire Island Invasions are yearly recreations and celebrations of that event. On the afternoon of July 4 each year, drag queens from both Cherry Grove and the Pines gather at the Ice Palace Bar at the Cherry Grove Hotel in Cherry Grove. After parading through the streets of Cherry Grove, they board a chartered ferry boat and sail to the Pines Harbor, where they are greeted by thousands of cheering residents and visitors. Cherry Grove; free admission.
July 2 – August 13
Don't miss your chance to journey back to 1585, where you'll enjoy live entertainment, jousting matches, magic shows, swordplay, and more! Taking place on weekends, this Elizabethan Renaissance festival set in a shady forest boasts more than 100 live shows daily, plus family games, fine arts, crafts demonstrations, and refreshments. Enjoy a unique experience with each visit during Family Appreciation Weekend, Romance Weekend, Pirate Invasion Weekend, and more. The Queen's Tea, taking place once each festival day, provides a little taste of class for the young and the young at heart, while the Renewal of Vows, July 8th and 9th, allows you to bring the one you love to join in a special ceremony celebrating the matrimony that you hold so close to your heart. All are welcome to join the villagers in whatever amusements they have created for each day. Sterling; various prices.
July 4
On Independence Day, a quintessential part of America's annual celebration will once again take place in Coney Island – Nathan's Famous 4th of July International Hot Dog Eating Championship. Since 1916, this legendary holiday tradition has drawn tens of thousands of spectators to the Nathan's Famous flagship restaurant on the corner of Surf and Stillwell avenues. Catch all the action as reigning champions Joey Chestnut and Miki Sudo defend their titles and see who takes home the coveted Mustard Belt! Afterwards, hit the beach, hang out on the boardwalk, take a spin on the historic Cyclone, or take in all the fun at Luna Park. Coney Island; free admission. 
Celebrate Independence Day with Fireworks (Various Regions)
July 4
On July 4th, Macy's lights up the New York City skyline with a spectacular fireworks display set to music. Thousands of fireworks will launch from barges spaced along the East River, beginning about an hour after sunset. And that's not all - you can also thrill to great fireworks displays at Boldt Castle in the Thousand Islands-Seaway region, Jones Beach on Long Island, the Empire State Plaza in Albany, and LEGOLAND in the Hudson Valley! Discover more events with our blog on How to Celebrate 4th of July Weekend in New York.
July 6
Take a 90-minute cycling tour through Albany to explore the city's Erie Canal and brewing history. Along the tour, you'll see sites including the enormous John Taylor and Sons Brewery and Lock #1 on the Old Erie Canal. The ride begins and ends at C.H. Evans Brewing Company, where you'll be treated to a beer as part of your ride as well as a brief history of the brewery itself. Albany; $25 registration fee (Includes first drink). 
July 7 - August 20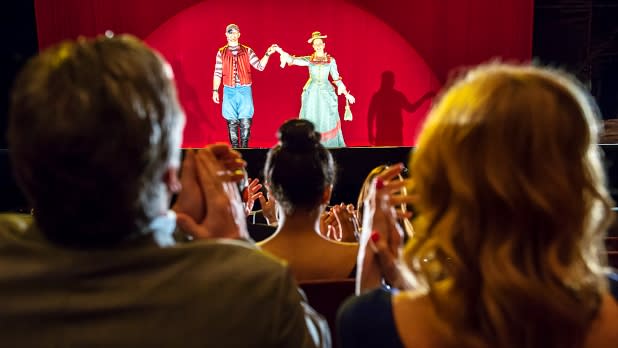 Treat yourself to some of the world's greatest opera and musical theater this summer at the internationally acclaimed Glimmerglass Festival! Take in the view of Otsego Lake while enjoying performances of La Boheme (July 7 - August 19), Candide (July 8 - August 20), Rinaldo (July 28 - August 17), Romeo and Juliet (July 15 - August 19), The Rip Van Winkles (August 7 - 18), and more. Cooperstown; Ticket prices vary by performance. 
July 7-9
Bonjour, Francophiles! Take part in a time-honored tradition that has brought joy, fireworks, and French-inspired fun for 55 years to Cape Vincent. Commemorate this waterfront town's extensive ties to French history, kicking things off Friday with a family block party featuring the band Doc Yukon. The fun continues throughout the weekend with a parade, mouth-watering French eats and other treats, arts and crafts vendors in the streets, wine, and much more! Cape Vincent; free admission; $5 parking fee.
July 8
Get ready to rock out at New York's ultimate backyard jam as They Might Be Giants, The Allman Betts Bands, and Sophie B. Hawkins, along with breakout stars and local artists take to the stage for the 17th Annual Pleasantville Music Festival. In addition to the great sounds, there will be a beer and wine garden for the adults, plus fun activities for the kids, and a zero-waste program to benefit the environment. Pleasantville; Prices vary, children under 12 free (must be accompanied by a ticket-carrying adult.) 
July 8-9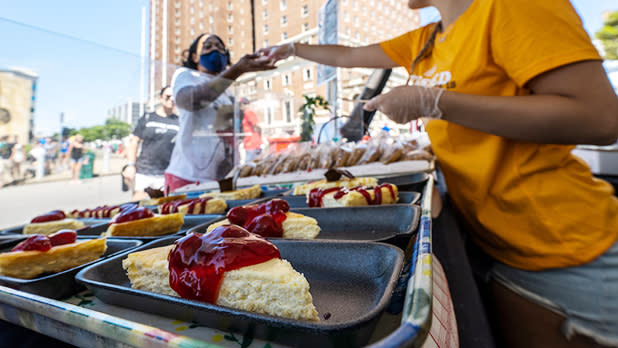 Get your appetites ready – the largest two-day food festival in the United States is returning to Buffalo! At Taste of Buffalo, restaurants, food trucks and wineries join to give you a sampling of fantastic food and drinks while you enjoy dancing to the city's best party bands. Sure, you might know about Chicken Wings and Beef on Weck, but have you heard about Risotto Sticks or Buffalo Mac and Cheese? The best of the region's culinary talents will be on hand to make sure that you do! Buffalo; free admission; food and beverage tickets can be purchased at one of three ticket tents located throughout the festival. Tickets are sold in $6 sheets. Attendees will receive 10 tickets for $6. Food items range between 2 and 10 tickets.
July 8-9

Photo courtesy of Harbes Family Farm
You're invited to spend two fun summer days filled with beautiful sunflowers at the Harbes Family Farm's first-ever Sunflower Festival! Enjoy free live music both days from singer/songwriter/guitarist Matt Taylor on Saturday and from acoustic singer/songwriter Robin Sidor on Sunday. While you're there, check out Harbes Barnyard Adventure, an eight-acre, family-friendly experience for all ages. The Barnyard admission includes a Musical Hayride tour of the 100-acre farm and its famous pig races. There are also farm animals, the very popular "Jumbo Jumpers" bounce pillows, a Sports Zone with baseball, football, and basketball tossing games, "Lil' Farmers PlayLand" filled with lots of fun activities for preschoolers, and much more. Also check out the debut of Harbes Wine Barn, a 100-year-old renovated potato barn where you can get tastings of Harbes' award-winning wines and be able to purchase them by the glass or bottle. Mattituck; free admission (Barnyard Adventure requires admission).
July 9-12
Calling all cyclists, history and nature lovers: get ready for an amazing experience in stunning Raquette Lake! Built in 1897, Great Camp Sagamore was a wilderness retreat for the Vanderbilt family for half a century that is now a National Historic Landmark. Experience life in the Gilded Age at this historic Great Camp with a multi-day event that blends road cycling with a modern mini vacation, providing you with a true connection to the landscape and history of this special place. Each morning will feature professionally guided bicycle rides of 20 miles on nearby low traffic roads (or no traffic in the case of the gravel events) showcasing incredible Adirondack scenery and gentle rolling terrain. You'll spend afternoons exploring the camp and relaxing, with activities like canoeing on pristine Sagamore Lake, hiking the rich pine forest, rolling a frame or two at the historic open-air bowling alley or simply lounging lakeside in an Adirondack chair with a good book. Raquette Lake; Two-night (arriving Thursday, July 6) $900/person - Shared Bathroom; $975/person - Private Bathroom (tub only); $1,050/person - Private Bathroom (w/ shower). Prices are all-inclusive. Lodging, meals and instruction included.
July 13-16

Credit: Dave Weiland
Attention bluegrass fans – you don't want to miss this annual four-day who's who of bluegrass, newgrass, and roots music that will be coming to Oak Hill in the Catskills, with workshops, family fun, camping, dancing, jamming, foods, crafts, drawing thousands from around the globe. It's a musical lineup not-to-be-missed, with performances across seven stages and headliners including The Infamous Stringdusters, Del McCoury, Sam Bush Band, Sierra Hull, Keller Williams, and more, along with artist-in-residence, Jerry Douglas! Oak Hill; $295 with camping advance, $90 Thursday pass without camping advance, $95 Friday without camping advance, $95 Saturday without camping advance.
July 15

Credit: @ektaroc on Instagram
Celebrate the accomplishments and history of the LGBTQ+ community at one of New York State's largest Pride festivals north of New York City. The festivities begin with a parade on Park Avenue, immediately followed by the festival at Cobbs Hill Park where you'll find food trucks serving up delicious eats, plus wine and beer for sale, vendor tables, games and activities, and a designated play area for kids. Expect live music all day long, with headliners Ada Vox and Thea Austin, plus surprise performances. You can even start celebrating early, at the ROC Pride Picnic on July 9. Rochester; Pride Festival general admission is $5, admission to picnic and parade are free. 
July 15
Founded by a group of women of color who decided that their natural, voluminous curls were something to cherish and not hide, CURLFEST is all about celebrating natural beauty.With the diversity and fun of New York City as a backdrop, CURLFEST is a favorite for New Yorkers and tourists alike. Every July, thousands of women from all over the world gather in jubilant support of African American beauty at this vibrant festival featuring live music, various food trucks, braiding stations, beauty stands, artisans, and designers. Randall's Island Park; $53.76 (includes taxes and fees). 
July 15-16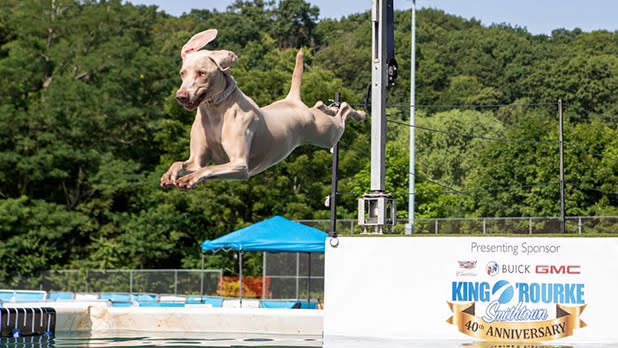 Have a paws-itively good time at the 2nd Annual Port Paws Dog Festival as you and your four-legged companion browse pet care products and enjoy delicious food for you and your furry friend. Let your pooch work off the zoomies with swimming, games, and much more outdoor fun, with proceeds supporting the Port Jefferson Harbor Education and Arts Conservancy. Throughout the show, DockDogs, the independent governing and sanctioning body for dock jumping and dock diving canine performance sports, will present the Big Air Wave competition accompanied by an Extreme Vertical and Speed Retrieve competition for both competitors and spectators to enjoy. Port Jefferson; general admission is $12 per adult; kids under 12 & canines are free. 
July 16

Credit: Anna Pakman
Come celebrate Disability Pride Month and commemorate the 33rd anniversary of the Americans with Disabilities Act with music, arts, advocacy, and more at the Disability Unite Festival, being held at Naumburg Bandshell in Central Park. This free celebration of community will be a hybrid event, combining in-person festivities and an exclusive online experience. Manhattan; free
July 18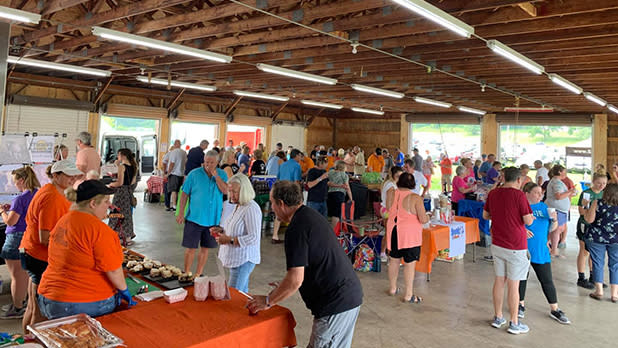 Get your taste buds ready to take a delicious bite of the best foods Wayne County has to offer! Sample signature dishes, food products and beverages all while enjoying the blues, soul, rock, and spiritual stylings of singer-songwriter Corey Comer. Newark; $10 for 15-sample presale ticket (includes one event glass and one event spork), $15 for 20-sample presale couple's ticket (includes one event glass and one event spork); sampling tickets will also be available at the gate for $1 each, with a minimum initial purchase of 10 tickets. 
July 18-23
Saratoga County is throwing a party in July, and you're invited! At the Saratoga County Fair, you'll enjoy a terrific variety of events, including animal shows, truck, tractor, and lawn mower pulls, demonstrations, live music, and more. The fair, first held in 1841, predates most of the agricultural fairs in the United States, not to mention the Saratoga Racetrack in Saratoga Springs, the American Civil War, and even Canada becoming a country. Visit the fair and become part of a tradition that spans over eight generations of Saratoga County families! Ballston Spa; $15, $10 veterans, $5 senior citizens (65 and over; Wednesday only all-day), $50 season ticket (admission all week - one scan allowed per day), free admission for children 12 and under. 
July 20-23

Credit: Casey Martin Photos
Following its triumphant 30th anniversary last summer, the Annual Finger Lakes GrassRoots Festival of Music & Dance is returning to Trumansburg Fairgrounds. This family-friendly camping music festival focused on the sharing of culture through music and dance is four days and five stages of world, national, regional and local music. Donna the Buffalo, the festival's founders and iconic Grassroots act, will return as both hosts and performers. Headliners include the Americana/folk roots duo Watchhouse, Gambian musician Sona Jobarteh, Grammy Award-winning country band The Mavericks, 2022 Best Reggae Album Grammy winner Kabaka Pyramid, Appalachian folk multi-instrumentalist sisters Rising Appalachia, Ukrainian folk quartet DakhaBrakha, Congo Afropop artist Jupiter & Okwess, Louisiana Zydeco leader Keith Frank and The Soileau Zydeco Band, the Ryan Montbleau Band, in addition to over 80 other artists.
Trumansburg; $164 adult 4-day admission (advance rate, good through July 19; $179 at the gate); $80 youth 13-15 4-day admission (advance rate, good through July 19, $90 at the gate), free admission for kids 12 and under accompanied by parent or guardian. Single day admission: Thursday, advance rate $57, gate rate $67; Friday, advance rate $62, gate rate $72; Saturday, advance rate $68, gate rate $78; Sunday, advance rate $45, gate rate $55. Camping rate information here.
July 21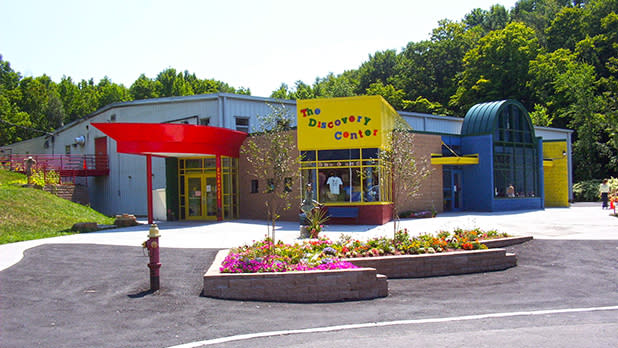 The Story Garden of the Discovery Center of the Southern Tier will be in full bloom as you sample local and Finger Lakes wines, enjoy light food fare and watch artists as they paint en plein air! You'll be able to tour the Center's newest exhibits and take a chance on a basket raffle while enjoying musical entertainment. This great event raises money to support the Center's unique programs and exhibits dedicated to expanding children's curiosity and caring! Binghamton; tickets starting at $50.
July 21-22
Celebrate Central New York's rich Irish culture in a country setting with toe tapping music, dancing and frolicking, strength competitions, delicious foods, and more! This year's event will feature nationally and internationally known Irish entertainment, the return of the traditional Highland heavy athletic competition, a kid zone filled with fun activities, and a treasure trove of local food trucks and Irish merchandise vendors offering something for everyone. Deansboro; $20 Friday advance online sale (through July 18), $25 at the gate; $25 Saturday advance online sale (through July 18), $30 at the gate; $35 full weekend online advance sale (through July 18); $100-$190 camper/trailer, includes festival tickets; $80-$170 tent site, includes festival tickets. 
July 21-23
Prepare to soar to new heights over the Chautauqua-Allegheny region at Allegany County's largest event. The place to be is Island Park as more than 30 hot air balloons are inflated across four baseball fields before taking flight and filling the sky in a delightful rainbow of color, while gracefully floating over the Genesee River and the beautiful green hills and fields of Wellsville and the surrounding communities. The park's natural amphitheater provides an opportunity to be in the middle of the action, and with over 35 vendors selling everything from traditional carnival food to balloon memorabilia, you will not leave empty handed. Known as the friendliest balloon rally in the world, the event draws balloon teams from around the United States and Canada. Wellsville; free admission.
July 22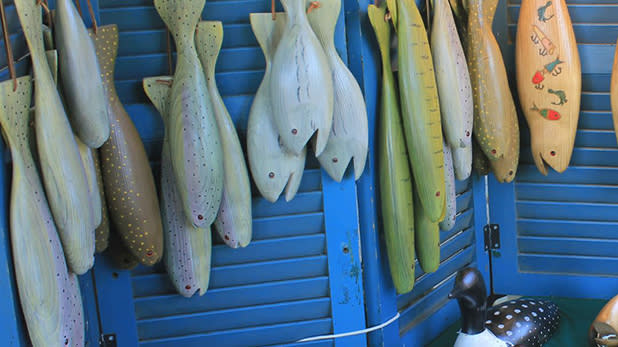 Not only can you visit the beautiful Adirondacks region, but you can also bring it home with you after a visit to this truly unique festival at the Adirondack Experience – The Museum on Blue Mountain Lake. From the traditional to the contemporary, you'll find paintings, furniture, specialty foods, sculptures, clothing, stained glass, and more created by artisans and makers from throughout the region. The local products for sale at the festival are inspired by the natural majesty of the Adirondack wilderness, with many crafted using techniques passed down across generations. Highlighting the variety of historical and modern processes used by makers and artisans in the region today, the festival is a great opportunity to shop all things Adirondack. Blue Mountain Lake; $22 Adult (18-64), $20 Senior (65+), $14 Youth (5-17), $14 Student (with ID), free admission for museum members, children up to 4 years old, and active military members, $20 veterans. There is a 10% discount for tickets purchased online.  
July 22
Hey music fans! Get ready as the Capital-Saratoga region's largest free local music and arts festival returns for its second edition, with 16 bands, artists, food trucks, and craft beer! Featuring headliners Jocelyn & Chris, this one-day event boasts a diverse lineup including many up-and-coming local bands, like Precious Metals, Brule County Bad Boys, The Sugar Hold, Hold On Honeys, E-Block, Carolyn Shapiro, Jimi W, Margo Macero, ShortWave RadioBand, Lucas Garrett, and Camtron5000. While at the festival, explore the trails of scenic Central Park in Schenectady, play frisbee golf, take a dip in the pool, and pick up eats from any of the half-dozen local food trucks. The fest will also feature an art pavilion with local artists, plus a kid's station, and a play area for the youngest attendees. Schenectady; free admission.
July 24 – August 20

Credit: Marta Zielinska
Hey foodies! This summer is a great time to explore New York City one bite at a time. From July 24 to August 20, one of the state's most anticipated celebrations of dining, New York City Summer Restaurant Week, lets you enjoy prix-fixe meals at hundreds of restaurants across the five boroughs. Don't pass up this great opportunity to sample the incredible array of eateries that make up the city's culinary culture. Menus and table bookings available July 6.
July 27-30
Since it began in 1988 Oswego Harborfest has grown from a small local event to a major admission free regional festival attracting an average audience estimated at 75,000 annually. Spanning Oswego Harbor, the festival features a spectacular fireworks display, live music, attractions, food, a midway, an arts and crafts show, farmers market and commercial vendors, and more! Oswego; free admission.
July 29

Credit: Kelly Guilfoyle
New York State's original and longest-running women and craft beer festival is back for its 4th year! Come celebrate women and craft beer in Geneva on the serene Seneca Lake. Drink Like a Girl is a one-of-a-kind festival that lets you decide your adventure. Join the 5k run, the 1k beer walk, or skip right to the lake festival and enjoy a 30+ brewery tasting dominated by 80% women-owned, brewed or led breweries representing the best breweries in New York! Start with a 5k Run along the shore followed by a 1k beer walk with 4 craft beer stops on the piers on Seneca Lake. Afterwards, head to the lake festival for live music by female artists, a 5k yoga cooldown, food trucks, artisan vendors, wine samples, cornhole, and more. Geneva; $17 for admission only, $45 for brewery tasting, $89 for all day pass: 5k run/1k walk/VIP brewery tasting.
---
Share New York State adventures with us on TikTok, Instagram and Twitter with #ILoveNY and #iSpyNY, and tag us on Facebook!