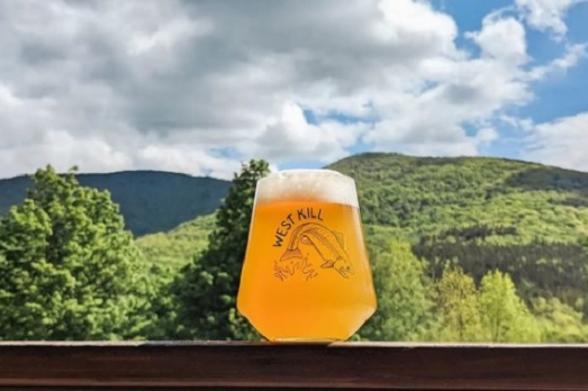 Not only can you drink New York's beloved beers at its acclaimed breweries, you can also find beautiful beer gardens and unique spots across every region to sample the state's delicious and award-winning brews. Raise a toast at an old firehouse that's now home to a bookstore and pub. Get a snip and a sip at  a barber shop that doubles as a bar. Whether you like to drink in the shadows of mountains or under the warm dim lights of a traditional English-style pub, these spots will guarantee to have you saying cheers to New York and its beers. 
Call ahead and check websites and social media to make sure attractions and amenities are open and available. Masks are encouraged, but optional in most settings per New York State guidelines. Individual businesses or attractions may require mask wearing.
Updated 07/28/2023

Credit: @grog.phot on Instagram
A wooden post with a simple sign that reads "bar" leads you down a dirt path bordered by greenery and wild flowers to a magical drinking spot hidden behind the High Voltage Café in Mountain Dale. A sign proclaiming "Creek Bar" fastened to two trees that form an archway welcomes you to a wooded wonderland where you can revel in the soothing sounds of the babbling Sandburg Creek under twinkling lights strung from the forest canopy. A vintage camper has been transformed into a bar serving craft beers, ciders, wines, and cocktails. Pair your drink with kielbasa, burgers or pulled pork straight from the smoker. Sheepskin rugs lay upon logs and throw blankets hang ready to help you get cozy on cooler days and nights.
Beer-loving bookworms are bound to love this pairing! Housed in an old firehouse, The Spotty Dog Books & Ale is not only a bookstore, but also a bar. After browsing the shelves stocked with nearly 10,000 titles, you can grab a stool and page through the new additions to your home library while sipping your choice of pale ale, pilsner, stout or other offerings. The Spotty Dog showcases some of the best beers from local and national brewers on its 12 rotating taps, including the latest from Albany-based C. H. Evans Brewing Co. Cans from local brewers, ciders and kombucha, are also available.
Butterbeer Bar at Harry Potter New York (NYC)
The Flatiron District may well be New York City's Diagon Alley thanks to Harry Potter New York, where you can get yourself a cold frothy mug of Butterbeer — the preferred drink of all witches and wizards. Beer in name only, this non-alcoholic soft drink that's a staple at the Leaky Cauldron has a sweet butterscotch flavor. At the store's Butterbeer Bar, you can enjoy your brew in a souvenir tankard, get a bottle to go, or savor it in ice cream form along with other Harry Potter-inspired treats. With tabletops covered in Daily Prophet articles and a wall of 1,000 butterbeer bottles stretching to the ceiling in defiance of gravity as if someone had cast wingardium leviosa, this spot is a true treat for all fans of the wonderful wizarding world.
Cap off a day of conquering West Kill or Hunter mountains with a cold one at West Kill Brewing. Located in the heart of the Catskills on a 127-acre dairy farm tucked fives miles into a dead end road, this brewery blends crisp mountain well water with locally grown and foraged ingredients to create beers unique in style and flavor like the Brookie, an American lager brewed with Iroquois white corn from the Mohawk Valley. Greet Teddy the brewery cat and then unwind in the brewery's lodge-like taproom with its exposed wooden beams and massive stone fireplace or grab a picnic table on the outdoor patio to soak in stunning views of the surrounding tree-covered mountaintops while enjoying a live band or keeping toasty by the fire pit during colder months. The brewery also features a small, but filling food menu.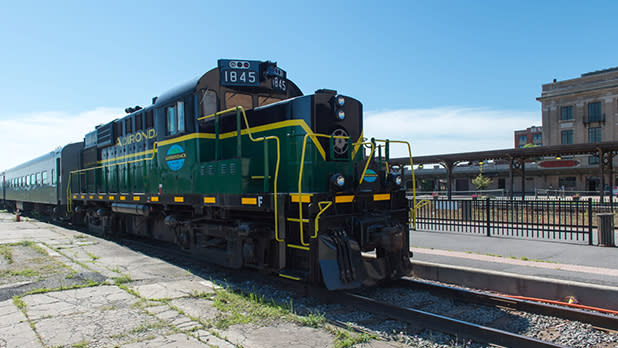 All aboard! This 2.5 hour train ride with Adirondack Railroad from Utica's Union Station to Remsen Station will take you over the Mohawk River, Barge Canal, and Cincinnati Creek and through the woods. As you chug along you can also chug (or sip) some popular beer brands as well as a local highlight: the Utica Club by Saranac Brewery — a pilsner-lager brew known for being the first beer to be sold the night Prohibition ended in 1933. Various local wines are also featured on each ride, which is held on select Fridays through October. Bands provide live music and you can nosh on some light snacks including chips and dip, and cheese and crackers. Ride in style in first class, where passengers receive complimentary hors d'oeuvres. All riders also get to take home a complimentary wine or beer glass to remember their trip by.
Get a taste of farm life at this brewery and restaurant set in the middle of an active crop and livestock farm on a hilltop outside Syracuse. Admire the bustling city from afar (it can be spotted off in the distance!) while basking in the tranquil rurality as goats roam free and children cheer with glee as they slide and climb the homemade obstacle course playground. Sample some of the brewery's impressive selection of craft beers ranging from sours to lagers to witbiers with a flight of four five-ounce pours for $12. Also not to be overlooked is their bbq-focused food menu featuring slow-cooked meats, honey cornbread, crispy fries, baked beans, and other mouthwatering favorites. It's easy to spend an afternoon or evening at the farm, which frequently features live music. You can also learn about the history of Central New York brewing at the onsite Brewseum, which documents the history of brewing through photos, historic ads, and rare items that date back to before the Prohibition Era. 
Record Archive in Rochester has been a haven for music lovers since first opening in 1975. Whether you're looking to get your hands on the hottest new release or some vintage vinyl, you're bound to find it in this 13,000 square-foot space. Best of all, if you get parched, there's the Backroom Lounge with a bar, serving beer and wine on the daily. In fact, Record Archive is the first record store in the northeast to have a full-time beer and wine license so visitors can sip while they shop. On tap you can find local brews like Resurgence Brewing Company's Ward Rainbow Sour and The Kind IPA from Rochester's own Three Heads Brewing. There's also free live music every Wednesday evening, but make sure to come early because seats go quick!
If you like to throw back your pints in a more traditional bar setting then head to the Pine Hills neighborhood of New York's capital city where you'll find the Madison Pour House. The spot gives off a classic English pub vibe with its rich green walls, stone pillars, wooden beams, tartan patterned seats, and imposing wooden bar with red and green tile accents. This two-level watering hole has an extensive drink menu with 40 draft and cask beers on tap, plus over 100 bottles. The pub fare includes baked pretzel sticks with everything seasoning, grilled cheese sandwiches that can be jazzed up with chicken, bacon and ranch, or pulled pork, bacon and bbq sauce, and tacos that come in various styles from Cajun to Nashville hot.
Just like a mullet, Barber and Brew is all business in the front and a party in the back. When you first step into this Cold Spring shop you'll be greeted by a classic hex tile floor, a red, white, and blue striped barber's pole, and two pristine styling chairs where adults and kids can settle in to get their haircut. Beyond the barbershop you'll find yourself in a cozy drinking spot with brick walls, wooden ceilings, a marble top bar, and several soft leather chairs to lounge in. Adults looking to celebrate their new hairdos can choose from 10 beers on tap, plus a variety of canned beer, ciders and hard seltzers, wine, and herbal Italian liqueurs. Feeling snackish? Nosh on some small plates like mushroom pate and charcuterie cheese boards, or indulge in oysters and lobster rolls when the Oyster Party stops by to deliver a taste of the coast.
Want to try a beer that's purely New York? The Arrowood Farms Brewery prides itself on its brews being made with ingredients that are 100% from the Empire State. Some of the ingredients are grown right on their own 46 acres of land that's nestled between the Catskill Mountains and Shawangunk Ridge, or sourced from other local farms. Savor your farmhouse ale over a game of cornhole, at a picnic table with some friends, or in the welcoming shade of their pavilion bar. Indulge in a true farm-to-table meal at The Apiary, its restaurant/taproom with a menu that changes with the seasons. 
On the shores of Lake Chautauqua, right across the water from the world-renowned Chautauqua Institution, sits the beautiful village of Bemus Point, home to Ellicottville Brewing's summer outpost where handcraft brews and lakeside views go hand in hand. The brewery has spawned five locations since its founding in 1995 in the heart of New York's ski country. But its summertime destination with outdoor patio and rooftop bar is the perfect spot to take in amazing views of the lake and watch the awe-inspiring Bemus Bay "double sunset." This happens when the sun goes down on Bemus Bay and then continues to set on Lake Erie 35 miles away. Order some gouda mac and cheese, flaky fish fry, or decadent burger smothered in EBC beer cheese to cap off the experience.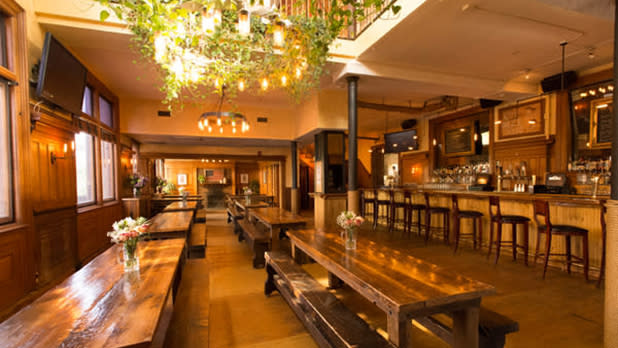 New York's capital city is teeming with history so it should come as no surprise that a gastropub would find itself taking up shop in downtown Albany's old telephone company. The City Beer Hall has 18 rotating beer and cider taps with a focus on local. Relax under the sun or the stars on the outdoor patio decked out in white icicle lights, red umbrellas, and charming pergolas or bust a move on Fridays and Saturdays when the hall's second level transforms into a dance floor with a live DJ and drink specials. 
This bar has a unique history. Built as a train station by the Ulster & Delaware Railroad Co. in 1900, it originally lived about 10 miles south in a hamlet that was submerged by the Ashokan Reservoir. After moving to Ashokan, where it was a functioning train station until 1954, it later sat abandoned until 1970 before finding its new home in Woodstock where it still remains after finding new life as a bar. Take your pick from the eight rotating taps featuring super local brews which you can enjoy over a game of pool, under the covered patio, and in a charming beer garden closed in by a picket fence. While there's no full kitchen, you can often get your hands on some small bites like pretzels and hot dogs. Plus, they work wonders with their panini press.
Looking for a beercation? Then head over to the Grist Iron Brewing Co. This microbrewery overlooking Seneca Lake has a dog-friendly lodge with nine newly-renovated rooms boasting a simple modern design and custom furniture. Centrally located on the Seneca Lake Wine and Beer Trail, not only can you sample Grist Iron's own lineup of beers, but also the offerings of the more than 30 wineries, breweries, distilleries and restaurants in a 10-mile radius. The best part of staying in a brewery lodge? Enjoy complimentary check-in beers, plus canned Grist Iron beer stocked in the in-room mini fridge, and daily continental breakfast to start your day off on the right foot.
If your idea of a perfect summer day involves throwing back some beers and spending time out on the water fishing with your buds, then the Bay Brews and Fishing Cruise was made for you. A bus will take you and your crew to the esteemed Great South Bay Brewery in Bay Shore where you can enjoy a flight in its 4,000 square foot tasting room. All their beers are brewed and bottled on site and range from the classics like their Blonde Ambition Blonde Ale and Blood Orange Pale Ale, plus limited edition collaborations with rock bands AC/DC and Pantera. Great South Bay also hosts a summer concert series and daily events from trivia to poker nights. Once you're back on the bus, it's time to head over to Captree State Park for a 3.5 hour fluke fishing trip aboard an 80-foot party boat. You'll wrap up the day at T.J. Finley's Public House, a Bay Shore staple since 2006 and one of Long Island's first craft beer bars, featuring 20 brews on tap and delicious pub grub.
Get a slice of the Big Apple in Greater Niagara. The New York Beer Project in Lockport serves as a sort of love letter to New York City with its decor of subway signs and reproductions of Grand Central Terminal's stunning chandeliers. This 17,500 square foot facility was specially designed to resemble an old NYC brewing warehouse. It features a 5,000 square foot brewery, laid back taproom, 250 seat gastropub, outdoor beer garden, and tiki bar complete with fire pit and rooftop terrace. The menu also pays homage to the five boroughs with Staten Island Fried Pickles, East Village Nachos, Brooklyn Mozzarella Logs, plus some upstate staples like Buffalo Beef on Weck Sliders.
Think of this like the hibachi equivalent of beer drinking. At Big Slide Brewery and Public House, located in Lake Placid, you can see the magic happen as you watch beers being made in the center of the space. Their spacious dining room, concrete-topped bars, and dog-friendly outdoor patio gives you plenty of options to enjoy one of the 10 house beers on tap — from sours to pale ales to porters. On display you'll see a wall of bourbon, wine, and oak barrels used for its aging program. The food menu focuses on local ingredients to craft its snacks, salads, sandwiches, pizzas, and entrees.

Credit: @jcmh716 on Instagram
This family-run microbrewery lets you choose flights, pints, and growlers of their 18 beers on tap, ranging from seasonal brews to several IPA choices. If you're looking to try your hand at beer making, their Custom Brew Center lets you experience home brewing without turning your own kitchen into a lab. An expert brewer will walk you through the whole process and you'll get to use the on-site equipment, supplies, and recipes to brew up your own special batch.
Who doesn't love a good success story? At Raquette River Brewing, you'll find just that. What started out as a passion project between two friends armed with a home brewing kit in a garage blossomed into a full scale microbrewery pumping out small batch Adirondack ales. Their flagship beer, the mango wheat ale, is a true crowd pleaser, and fans always have something new to look forward to with experimental brews like Big Joe's Hot Pepper Pale Ale, which packs a punch with the heat from poblano, jalapeno, yellow and red peppers. Grab a booth or a seat at the bar in the spacious lodge-like beer hall complete with a stone fireplace or park yourself at a picnic table on the equally roomy outdoor patio where you can gaze upon a growler wall honoring microbreweries across the state. Feast on some authentic Mexican food, wood-fired pizza, or sandwiches and smoked meats from the nearby food trucks. 
---
Don't forget to post photos of your New York adventures on Instagram and Twitter with #iSpyNY and tag us on Facebook!