Thanksgiving is a time to gather with loved ones. Add in tender turkey, creamy mashed potatoes, and traditional stuffing and it could very well be your favorite holiday of the year. Bring your family and friends together for an unforgettable Thanksgiving meal at one of New York State's exceptional restaurants. From historic taverns and rustic lodges to elegant dining rooms and stately hotels, there is a location to fit every style. Here are some Thanksgiving restaurants in New York where you don't have to worry about overcooking the turkey. Savor carefully crafted dishes while enjoying the holiday in a uniquely New York setting. 

Credit: Visitlakegeorge.com
Located in the majestic Adirondack Mountains, Garnet Hill Lodge in North River is the perfect rustic escape for your family this Thanksgiving. Serving dinner from noon–4 pm, Garnet Hill Lodge offers seating by the fireplace or at tables with incredible mountain views. Some of the menu items include prime rib with au jus and chantilly cream, cheddar cheese mashed potatoes, and roasted cauliflower au gratin. Make it a vacation by taking advantage of the Lodge's Thanksgiving special. Call 518-251-2444 to make reservations or request a reservation online. Adults: $32 per person; Children (12 and under): $16.
Nestled amidst the Saratoga Spa State Park, the Gideon Putnam provides a relaxing atmosphere in picturesque Saratoga Springs. Serving the grand buffet from 11 am–4 pm, the Gideon Putnam features an extensive menu offering everything from oven-roasted turkey with sage pan gravy to pumpkin ravioli and citrus mango glazed salmon, plus plenty of sides to complete the Thanksgiving experience. Look at the full menu to get ready for the big day! After eating, take a walk under towering pine trees through the Saratoga Spa State Park. Call 518-226-4719 to make reservations. Adults: $54.95 per person; Children (ages 6–12): $27.95; Children (age 5 and under): free.
Head to the North Branch Inn in Sullivan County for a mouthwatering Thanksgiving meal with all the fixings! The a la carte feast is from 2–7 pm. Dine on turkey, pan seared salmon, or pork chops, all with mashed potatoes, stuffing, green beans, and port cranberry sauce. Don't forget to save room for bourbon pecan pie or pumpkin cheesecake! When you've finished your meal, test your skills at North Branch Inn's antique bowling alley. Call 845-482-2339 or email info@northbranchinn.com to make reservations. Price varies.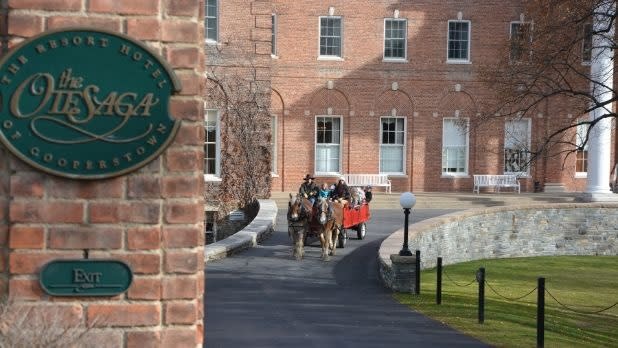 Discover the beauty of Cooperstown at the Otesaga Resort Hotel this holiday season. The hotel offers a Thanksgiving buffet from noon to 7 pm, featuring traditional dishes and desserts at Glimmerglass. Make it more than a day trip with the Thanksgiving stay special. Located along the shores of Otsego Lake, the picturesque resort is within close proximity to village favorites like the National Baseball Hall of Fame and the Fenimore Art Museum. While you're in town, visit the Farmers' Museum to watch blacksmiths make cooking tools, and see heritage-breed turkeys on November 29–30 at Thanksgiving at the Farm. Call 607-544-2519 to make reservations for dinner. Adults: $44.95 per person; Children (ages 3–12): $22.50; Children (three and under): free.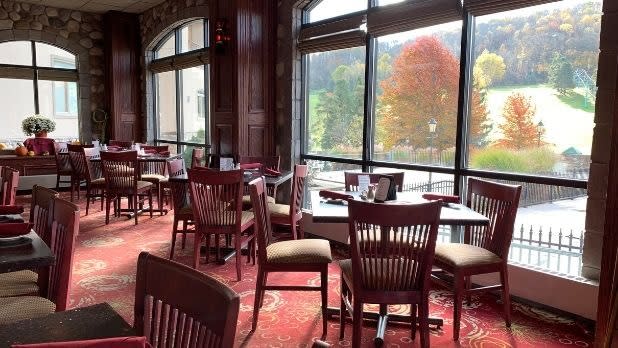 Bring the whole family for a Thanksgiving meal at John Harvard's Brew House, located in the Tamarack Club at Holiday Valley Resort in Ellicottville. The restaurant, which is open from 11 am to 9 pm, is serving a traditional Thanksgiving special featuring items such as turkey, ham, mashed potatoes, sweet potatoes, and stuffing, in addition to their regular menu. Don't forget to bring your skis! Depending on Mother Nature, the slopes typically open the Friday after Thanksgiving. Call 716-699-5350 to make reservations. Time based on availability. Adults: between $17–19 per person; Children: $10.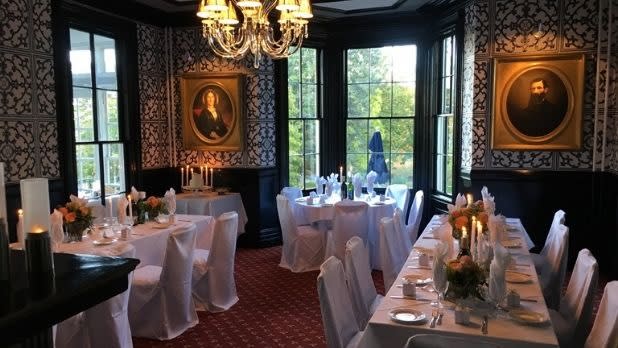 Spend your Thanksgiving along the shores of Cayuga Lake in Trumansburg at the historic Inn at Taughannock. From noon to 7 pm, take your pick of hand-carved honey brined turkey, local cider-braised short rib, sugar-crusted king salmon, or spaghetti squash saute. Save room for dessert! Which will you choose—the pumpkin cheesecake, peach cobbler, classic apple pie, or poached pear? After indulging, explore nearby Taughannock Falls State Park. Call 607-387-7711 for reservations. A $30 deposit is required upon making a reservation. Adults: $50 per person; Children (ages 5–12): $15; Children (under five): free. 

Credit: @shirilala on Instagram
Start a new Thanksgiving tradition at 100 Acres: The Kitchens at Hotel Henry in Buffalo. With seating from 12:30 to 5 pm, there's plenty of time to connect with family during a Thanksgiving meal made fresh with ingredients from local farms. Start the feast with family-style starters such as cornbread, herbed biscuits, and chicory salad with toasted pecans, goat cheese, and apple. Next, choose from entrees including turkey confit, scallops, or roasted mushrooms with creamy polenta. End the delicious meal with a variety of seasonal sweet treats. Vegetarian, vegan, and gluten-free options are available. Make reservations online or call 716-955-1511 for parties of five or more. Adults: $45 per person; Children: $15. 
Experience history at the 76 House, New York State's oldest tavern and a registered National Landmark. The 76 House in Tappan offers seatings for their Thanksgiving meal at noon, 2 pm, 4 pm, and 6 pm. The three-course meal includes a wide variety of appetizers, entrees, and desserts. Some of last year's favorites included shrimp cocktail, roasted beet salad, turkey, duckling Hamilton, pumpkin pie, and chocolate ganache layer cake. Call 845-359-5476 to make reservations. Adults: $69 per person; Children (2–10): $17.76; Children (under two): free.
Celebrate Thanksgiving with your family and friends at Stone Creek Inn in East Quogue. Serving from 1 to 7 pm, the Stone Creek Inn's beautifully prepared three-course prix fixe menu options will include various Thanksgiving dishes with a French twist. Built in 1910, the inn offers a cozy yet elegant atmosphere—one sure to be remembered. Call 631-653-6770 for reservations. Adults: $66 per person; Children (12 and under): $30.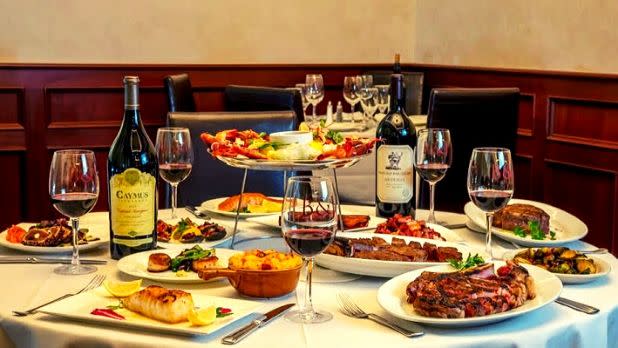 Venture to New York City for an exquisite Thanksgiving dinner at Ben & Jack's Steakhouse on East 44th Street in Manhattan. Open 11:30 am to 11 pm, the steakhouse offers a prix-fixe menu with classic Thanksgiving options including turkey, stuffing, mashed potatoes, roasted yams, string beans, cranberry relish, and pumpkin pie. After your feast, go to nearby Bryant Park to do some holiday shopping at more than 150 seasonal boutiques in the park's Winter Village. Call 212-682-5678 to make reservations. Adults: $69.95 per person.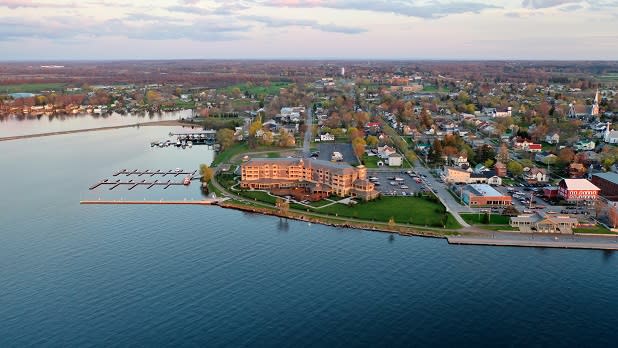 Enjoy the incredible views of the St. Lawrence River this Thanksgiving at the 1000 Islands Harbor Hotel in Clayton. The grand buffet, located in the Harbor Ballroom, is from 11:30 am to 6 pm. Bring your appetite! The feast includes turkey, an additional meat carving station, soups, salads, and traditional sides like mashed potatoes, stuffing, cranberry, sweet potatoes, and more. Once you've had your Thanksgiving favorites, take a walk through the village of Clayton to browse local shops and art galleries. Call 315-686-1100 to make reservations. Adults: $30.95 per person; Children (5–12): $12.95; Children (four and under): free.
Don't forget to post photos of your New York adventures on Instagram and Twitter with #NYLovesFall and #iSpyNY and tag us on Facebook!