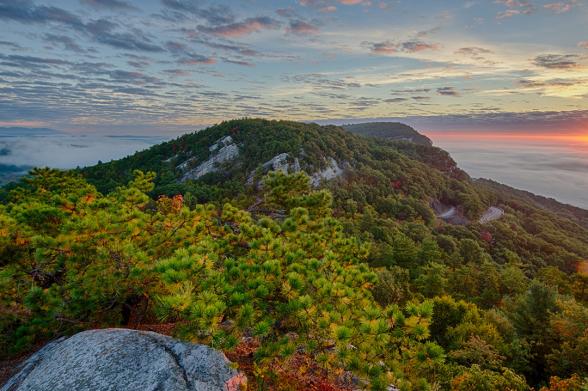 Itching to get out of the big city? Here are 10 car-free weekend getaways to smaller towns and cities that offer access to engaging activities, not to mention some incredible scenery! 
Masks are encouraged, but optional in most settings per New York State guidelines. Individual businesses or attractions may require mask wearing. Call ahead and check websites and social media to make sure attractions and amenities are open and available.
Updated 6/6/2023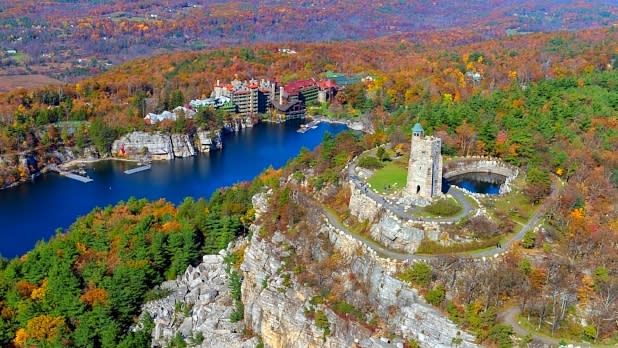 Hop on Metro-North for two hours to Poughkeepsie, where you'll find the village of New Paltz and historic Mohonk Mountain House perched on a cliff. The nearly 150-year-old National Historic Landmark and Historic Hotel of America is a stunningly renovated castle with all-inclusive activities for the whole family, including boating, golf, tennis, a spa, hiking trails, and yoga. Hike Mohonk Preserve or Minnewaska State Park for a step into nature. Contact Mohonk Guest Services for trips to and from the train station.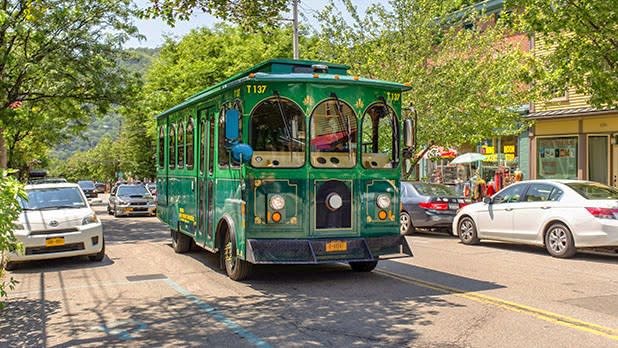 Cold Spring is an unspoiled, charming riverside village that's perfect for a weekend getaway. Hop on Metro-North and within an hour you can kayak with Hudson River Expeditions, hike Breakneck Ridge in Hudson Highlands and explore Main Street's eclectic boutiques and farm-fresh eateries like Hudson Hil's Café. Make this your no-fuss day trip or a spontaneous weekend getaway by staying at the Pig Hill Inn and exploring nearby historic treasures like West Point.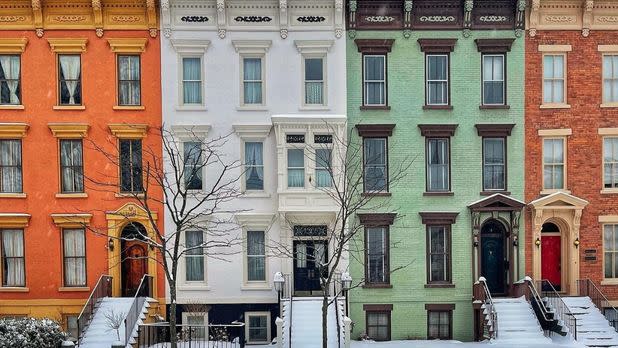 Bursting with restaurants and boutique hotels, Hudson is the ultimate car-free destination for the New Yorker who wants to dine like royalty without the hassle of the city. With hundreds of historic buildings, countless antique shops, a scenic waterfront, and cutting-edge clothing boutiques, it's a relaxing yet active weekend getaway. Hop on Amtrak at Moynihan Train Hall for two hours to Hudson Station, then walk just a few minutes into town.

Credit: Courtesy of Bedell Vineyards
How does sitting in a quaint winery, sipping a glass of locally fermented chardonnay overlooking a vineyard sound? Create this scene in the North Fork, just a two-and-a-half-hour trip on the LIRR from Penn Station to Mattituck. There are countless wineries to explore in this Long Island peninsula, as well as parks, trails, and beautiful beaches. Once you get to the train station, the wineries are just a 10-minute cab ride away.
Named for the signal fires atop Mount Beacon during the Revolutionary War, this riverside boom town will have you hooked from its revitalized downtown to its thriving art scene. One hour on Metro-North brings you to its lively waterfront at Long Dock Park where you can kayak on the Hudson River, visit the renowned Dia: Beacon or explore its walkable downtown that's chock full of boutiques, galleries, and artisan cafés. Outdoor enthusiasts will love hiking in nearby Hudson Highlands. Book your stay at The Roundhouse because let's face it, you'll want to stay awhile.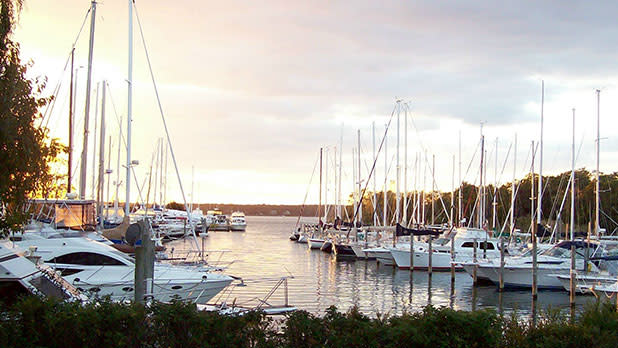 A colonial-era port town turned waterfront vacation spot, Port Jefferson is known for its coastal downtown that's colored with boutiques and restaurants. Explore the walkable village, enjoy the sea salt breeze from Harborfront Park, or count the white sails along the marina from the Port Jeff Harborwalk. Escape to McAllister Park, a hidden cove to the north of the village, where the golden dunes meet the crystal coast. Make this your next weekend getaway by riding the LIRR Port Jefferson Line from Penn Station and walking (or taking a quick cab) to this picturesque port town.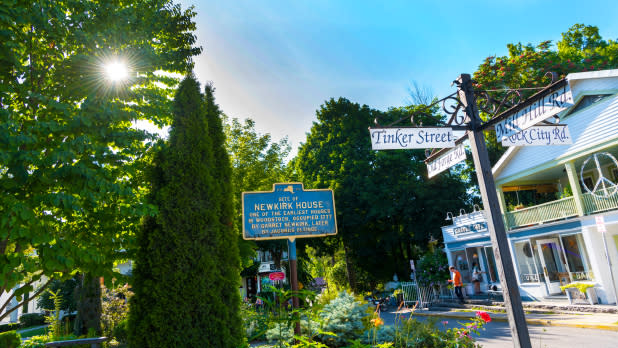 Biking, hiking, boating, museum-going, live music, and horseback riding await you in Woodstock, just a three-hour bus ride from Manhattan. Say goodbye to the hustle and bustle and relax in endless acres of nature, with countless activities at your fingertips. Whether you're into fishing and scaling peaks, or hitting the Center for Photography at Woodstock and listening to live music, Woodstock is the most walkable town in the Catskills, with an activity for just about everyone. To get there, take the Adirondack Trailways bus to Woodstock—the bus stop is in the center of the town.
8. Lake Placid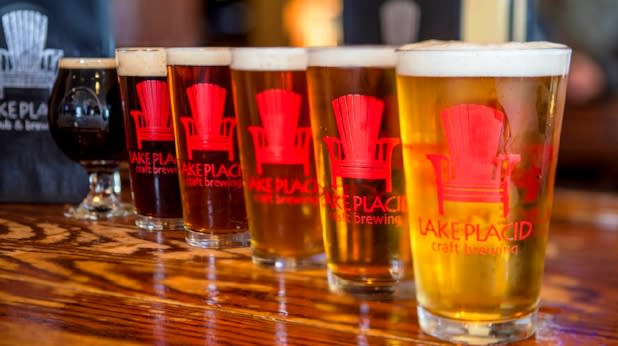 Take the Adirondack Trailways bus five hours north for a quiet weekend in the Adirondacks. Head to downtown Lake Placid to experience Mirror Lake, the Olympic Center and Museum and Lake Placid Brewery, which are totally walkable from waterfront stays like the Mirror Lake Inn. While you're in town, make sure you see the Olympic Jumping Complex and nearby Whiteface Mountain for some real-life time travel to the 1980 and 1932 Winter Olympic Games. Prefer a train ride? The Amtrak train runs from New York City to Westport, 40 miles from Lake Placid. Transportation can be arranged from the Westport train station to Lake Placid through Amtrak Thruway Connecting Services.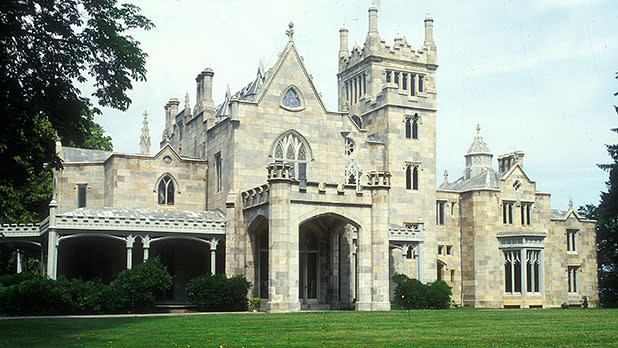 Sleepy Hollow is the perfect day trip for New Yorkers that love history. Visit historic Lyndhurst Castle, America's finest Gothic Revival mansion which sits on 67 landscaped acres overlooking the Hudson. Take a guided tour and visit two floors of the mansion adorned with original collections of paintings, furniture, and decorative arts. Special behind-the-scenes tours visit servants' spaces, the renowned landscaping, and the mansion tower. Experience for yourself why Lyndhurst Castle was named one of USA Today's "Ten Best Historic Home Tours." Then pay a visit to Sleepy Hollow Cemetery. Explore the walkable village lined with shops and restaurants. An added bonus about this trip is the proximity—take the Metro-North 30 minutes out of the city to Tarrytown, then take a short taxi ride to Sleepy Hollow. For more tips, visit A Fall Weekend in Sleepy Hollow.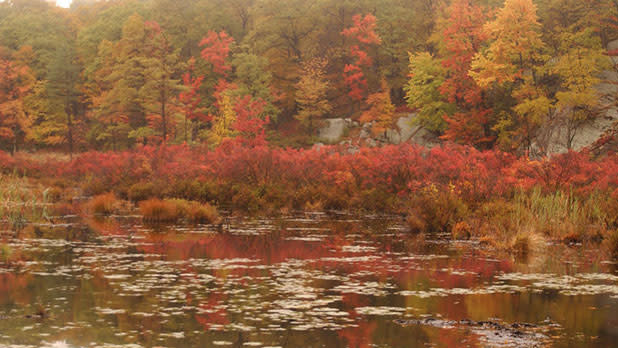 New York's second-largest state park with over 46,000 acres filled with 31 lakes and 200 miles of hiking trails, Harriman State Park is the perfect weekend hiking trip destination out of New York City. Take New Jersey Transit's Port Jervis Line out of Penn Station to Tuxedo (a 90-minute journey), then take a taxi to the trailheads. Don't forget your picnic basket.