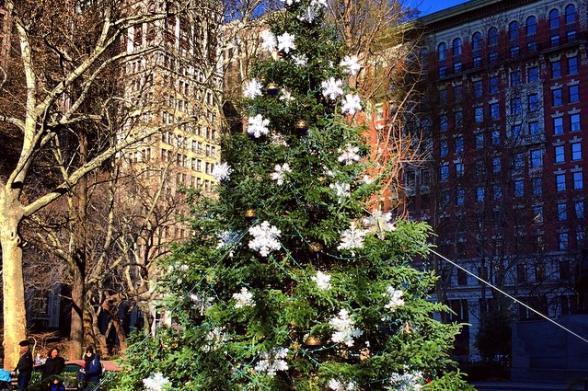 Photo Credit: @sam_merski on Instagram
'Tis the season… For holiday parties, holiday shopping, holiday travels. Since we're halfway through December, we've compiled our top 5 favorite holiday movies set in New York.
Grab the popcorn, grab your family, and get watching! Once you've gone through the list, we challenge you to visit each "set" in good 'ol New York State!
Miracle on 34th Street (1947)
When a man claims he is Santa Claus – possessing the ability to speak many languages and baring a striking resemblance to Kris Kringle himself – the authorities take him away, until a Christmas Miracle occurs. This 1940's Christmas classic features many NYC sites and institutions including the New York Supreme Court, Central Park, and – of course – the Macy's Herald Square department store and Macy's Thanksgiving Day Parade!
Unsurprisingly, this was the #1 pick of I Love New York fans on Facebook!
When Harry Met Sally (1989)
Harry (Billy Crystal) meets Sally (Meg Ryan) when she gives him a ride from Chicago to NYC, but the two did not become close until much later in life. The only question is, can they be friends without being anything more? The film features stunning views of New York's countryside, a pit stop at Coney Island, and no shortage of NYC landmarks like Washington Square Park, the Metropolitan Museum of Art, and the Loeb Boathouse.
Home Alone 2 (1992)
One year after 8-year-old Kevin is left home alone over the holidays in Chicago, he accidentally finds himself in NYC. Home Alone 2 includes scenes at Radio City Music Hall, Battery Park, the famous Plaza Hotel, and in front of the Rockefeller Center Christmas Tree in true holiday fashion.
Serendipity (2001)
In Serendipity, Jonathon (John Cusack) and Sara (Kate Beckinsale) instantly fall in love while Christmas shopping in New York – but when Sara refuses to give Jonathon her number, fate determines whether the two will ever meet again. You can recreate your own "serendipitous" encounter at NYC landmarks including the Serendipity 3 Restaurant on the Upper East Side and the ice skating rink in Central Park.
Elf (2003)
This Will Ferrell comedy details what happens when one of Santa's elves hits the Big Apple to find his real birth father. Buddy the elf is seen frolicking down Manhattan's Park Ave. and makes a memorable appearance at the Empire State Building.