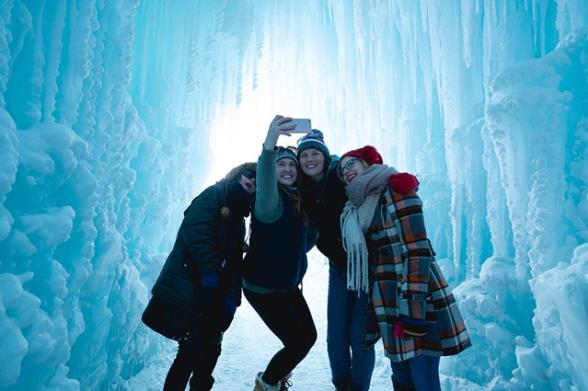 New York State is ready to welcome visitors this winter for some unforgettable experiences. This winter, travelers have plenty of options for new things to see and do, from spectacular colorful holiday light displays that leave visitors in awe, to new places to eat, drink, and stay, to magical ice castles, New York is the ultimate winter playground for creating new memories.
Remember to social distance and wear a mask as required by state guidelines. Call ahead and check websites and social media to make sure attractions are open and available. 
SUMMIT (New York City)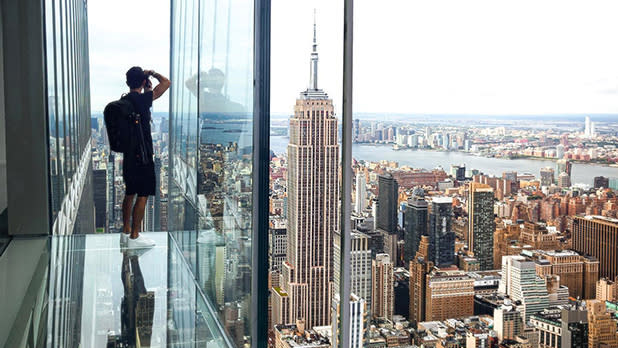 Credit: @matt.ritchie on Instagram
Opened in October, SUMMIT, at the crown of the iconic new One Vanderbilt skyscraper, is New York City's newest observation deck and immersive experience. SUMMIT takes you to the highest vantage point in Midtown with views of the Chrysler Building, Empire State Building, and north to Central Park, and glass floor ledges that overhang over 1,000 feet above Madison Avenue. On the observation deck, you can enjoy delicious food and beverage options created by Danny Meyer.
While you're there: Immerse yourself in the flashing neon lights, giant digital billboards, brilliant Broadway marquees, popular retailers, and costumed characters and musicians of Times Square. Walk to the top of the TKTS discount booth, which offers up to 50 percent off theater tickets, for a sweeping view of this vibrant and historic area. Nearby, visit the Intrepid Sea, Air & Space Museum, an American military and maritime history museum featuring the legendary aircraft carrier Intrepid, the space shuttle Enterprise, the world's fastest jets, and a guided missile submarine.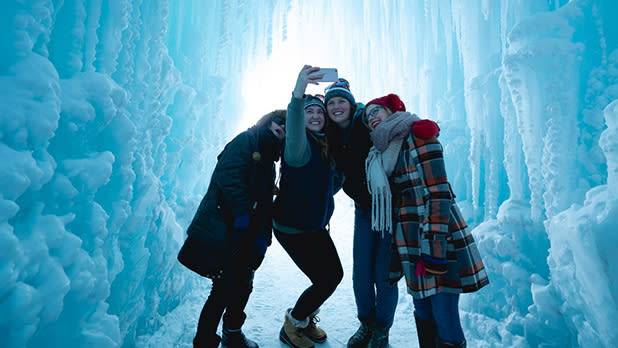 Credit: Photo by AJ Mellor 
Early January promises to be unlike any other in the Lake George Area as Ice Castles brings its breathtaking display of sculptures, caverns, ice slides, lighting and more to Charles Wood Park's Festival Space through March. This fabulous new winter event has drawn hundreds of thousands of visitors to numerous communities around the country with its breathtaking ice displays, featuring illuminated ice features and LED lights that change color. 
While you're there: Check out the Lake George Winter Carnival, held every Saturday and Sunday in February, and Lake George Winterfest, held mid-December to March.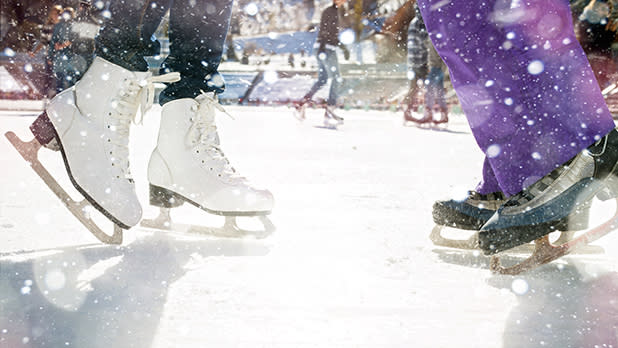 Get ready for a great new winter attraction coming to Mohawk Harbor in Schenectady in December and running through February. The Schenectady River Rink will feature a 60'x100' ice skating rink open to the public and will include skate rentals, entertainment, and heated hospitality tent and themed kiosks around the rink. Druthers Brewing Company, Shaker & Vine, and Rivers Casino & Resort will provide food and beverage options at the River Rink. Beekman 1802, which has its corporate headquarters at Mohawk Harbor, will offer a Pop-up Shop during the holiday season. Best of all, discounted season passes and family package tickets are on sale now here.
While you're there: Dine al fresco at a waterfront café, play a hand of blackjack at the Rivers Casino, or enjoy a concert in the harbor's amphitheater. Visitors can also book a room at a spa hotel, The Landing, with six restaurants and three bar/lounges, or the chic and modern Courtyard Marriott.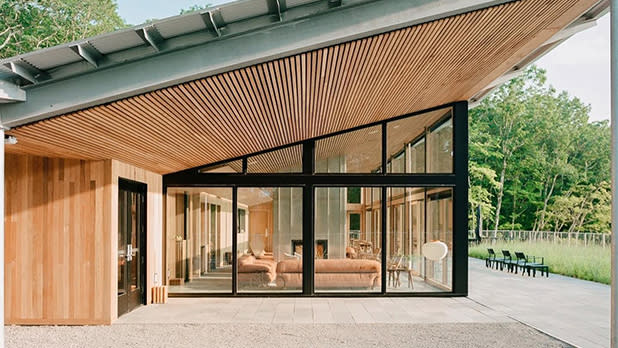 Credit: @distnqt on Instagram
Are you looking for an ideal way to enjoy nature in the splendor of the Catskills this winter? Stay at the new Piaule Catskill in Catskill! Nestled between the Catskill Mountains and Kaaterskill Creek. This new boutique hotel boasts 24 guest cabins scattered across a forest, ideal for the ultimate escape. On the property, you'll also enjoy hiking trails, an on-site restaurant and bar, and more.
While you're there: Go skiing at Windham Mountain in Windham. This season features over $4 million in capital improvements, including snowmaking upgrades, an environmentally friendly groomer, the redevelopment of the Children's Learning Center, a new "Magic Carpet" conveyor lift, and more. 
HoliMont in Ellicottville, the largest private ski resort in the US, offers an exclusive social scene with premium events for skiers and non-skiers alike, creating an atmosphere for your family to thrive.
For this season, HoliMont has centralized its Learning and Teaching Area to create a productive learning and teaching experience with access to and from the base of the Exhibition Express Chair, which will be serviced by a 650' Conveyor lift. If you're a bike rider looking forward to spring, HoliMont introduced Lift Service Mountain biking with 8 trails providing more than 7 miles of riding and growing.  There are trails from beginner freeride pedal access to blue and black technical downhills and everything in between -- including roots, rocks, and other organic features as well as berms, jumps, and drops including some wooden features.  
While you're there: Stop by Winery of Ellicottville in the heart of the village's downtown for wine tastings, wine by the glass, artisan chocolate pairing, and bottles for purchase.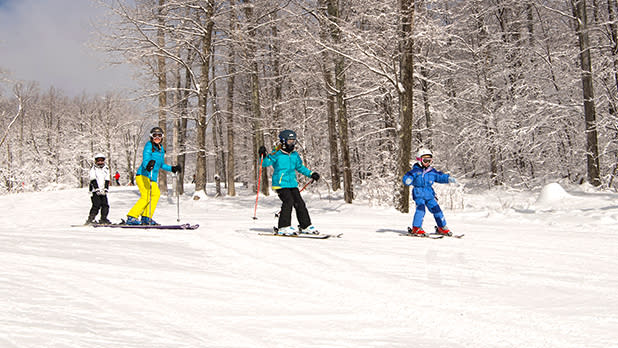 Attention skiers! Bristol Mountain in Canandaigua has made upgrades to make your experience on the slopes even better this winter. They've added a new trail to their Galaxy Lift Pod, Polaris, improved their snowmaking capabilities and installed Axess Smart Gates on all lifts so skiers and riders can access the mountain with their Bristol Gateway Cards – and these are just some of the upgrades!
While you're there: stop by the Heron Hill Tasting Room on Canandaigua Lake, chosen as one of the "Top 10 Most Spectacular Tasting Rooms in the World" by Travel & Leisure magazine.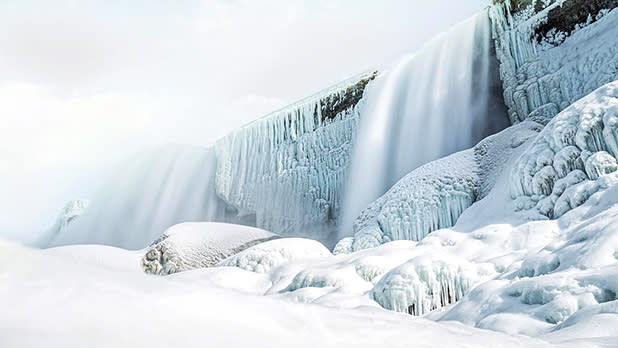 Credit: @kryptonist on Instagram
At Niagara Falls State Park in Niagara Falls, witness the splendor of the frosted Falls from all angles. For a unique perspective, check out the Cave of the Winds — its popular Hurricane Deck may be closed until the warmer months, but the winter experience is still more than memorable. During this abbreviated journey, you'll take an elevator down into the Niagara Gorge and get close and personal to the Falls from one of the two open observation decks.
While you're there: Enjoy a romantic fireside dinner at the Red Coach Inn, or treat the kids to a rainforest adventure at the Rainforest Café! Or, try some hot wings at the world-famous Anchor Bar, home of the original Buffalo chicken wing.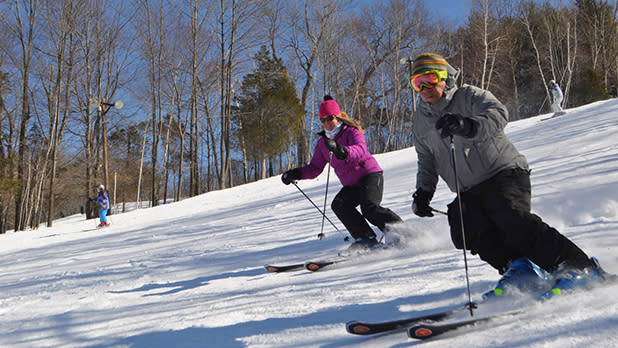 Skiing in the Hudson Valley will be better than ever this winter! Mount Peter in Warwick has built a brand new 5,000 square foot rental facility with state-of-the-art boot drying racks, and they've also implemented a new software system and a new ticking center to make the ticket and rental buying process quick and easy for their guests. They've also invested in more Ultra Tech Snowbright Lights for night skiing and riding and U.S. Ski & Snowboard nighttime events.
While you're there: Stop in for a tasting at Warwick Valley Winery & Distillery or Applewood Winery.
Just because it's winter you don't have to put your passion for golf on hold. Long Island's only TopGolf facility, in Holtsville, is now open! In addition to golf, TopGolf has become a convenient entertainment facility for people of all ages. Ideal for any night out, the TopGolf Entertainment Group hosts birthday parties, bachelor parties, corporate events, family reunions, and more. In addition to gaining access to the pristine driving range with heated bays, you'll also enjoy curated music playlists, food made to order, and a wide range of drink selections.
While you're there: Visit the Holtsville Ecology Site and Animal Preserve, featuring bobcats, buffalo, an eagle, an American black bear, and an eagle, plus ecology exhibits and tours.

Share your New York State adventures with us on Instagram and Twitter with #iSpyNY and tag us on Facebook!