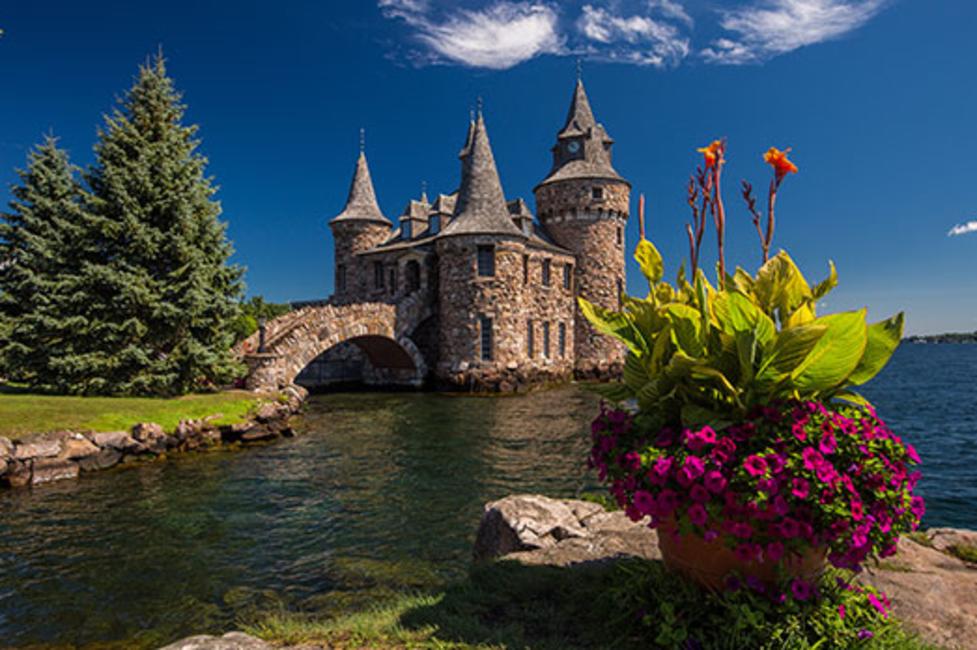 Don't just feast your stomachs, feast your eyes, too - because food simply tastes better when you're eating with a view. From breathtaking picnic spots to lakeside restaurants to cafes with an aerial view, here are the 10 places to eat with a view across New York State.
Oakland's in Hamptons Bay
Enjoy classic surf and turf as you watch the beautiful colors of the summer sunset dance on the Atlantic Ocean to the sound of live music at this Long Island waterfront haven located in Southampton. Leave the car at home and park your boat at the attached marina, because why not.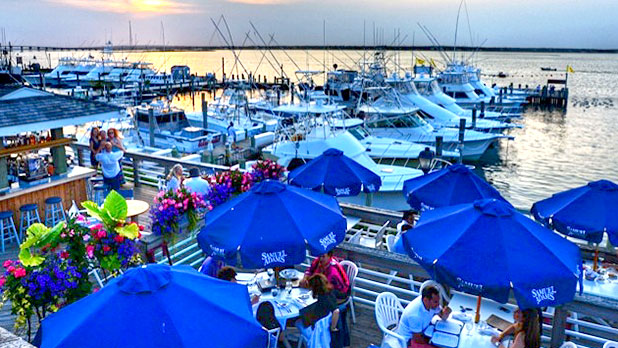 Blue Mingo Grill
In Cooperstown, situated on the western shore of Upstate's beautiful Otsego Lake is the Blue Mingo Grill. Enjoy a farm-to-table fresh dining experience amidst sparkling blue waters and surrounding hillsides. The restaurant sits on a shipyard with boat rentals and sports gear accessible, making it easy to enjoy a meal then have a perfect day on the lake.
Boldt Castle
Nestled on Heart Island in the beautiful Alexandria Bay, this 1000-Islands castle was a gift from hotel magnate George C. Boldt to his wife. The magnificent turn-of-the-century stone citadel is now viewable to the public, and makes for a magnificent place to enjoy a meal on the water. Outdoor picnic tables are available - bring your own meal or pick up a sandwich from the castle's snackbar.
Liberty Hound
Enjoy a local brew and some freshly caught fish - cooked every which way - at this waterfront restaurant in Buffalo. Check the calendar for musical performances from local greats ranging from DJs to rock bands. Catch the Canalside Concert Series every Thursday throughout the summer! With a stunning view, groovy tunes and a mouth-full of fresh fare, you'll get to feed all your senses.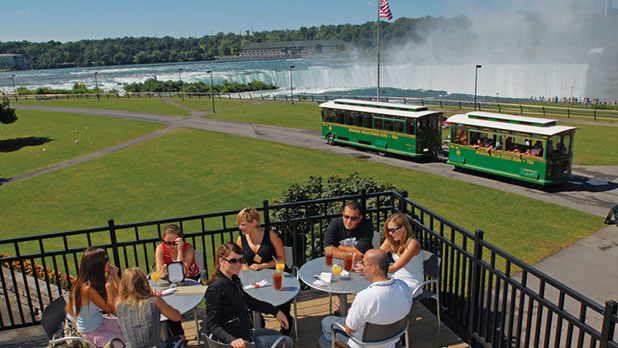 Top of the Falls Restaurant at Niagara Falls
Catch this wonder of the world over some locally-grown, West New York fare. It's so close - you'll get misted if you sit outside! This restaurant is a Taste NY attraction.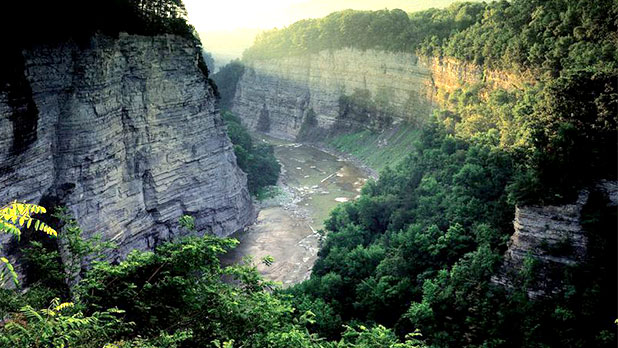 Letchworth State Park
Pack your favorite lunch and park your picnic at Letchworth State Park, coined the "Grand Canyon of the east," a sprawling 14,350-foot park laden with gorges as high as 600 feet and lush greenery. Head to Upper and Middle Falls area for lush lawn, picnic tables, facilities and picturesque views of the cascading Genesee River.
Want to pick up some food to go near the park? Head to Letchworth Pines, one of the best restaurants around the park area according to TripAdvisor.
Atrium DUMBO     
Dine in Dumbo and soak in one of the best views of Manhattan. Get seasonal fare with a side of one of the prettiest views of the city at this Brooklyn joint located right next to the Manhattan Bridge. The food will overwhelm your tastebuds while the city lights invigorate you!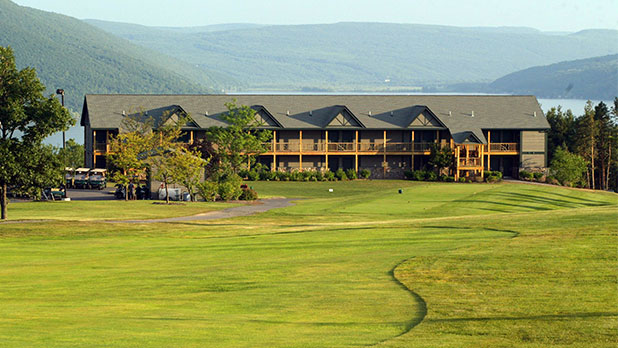 Bristol Harbour in the Finger Lakes
Just south of Canandaigua you'll find a quaint restaurant nestled amongst the Bristol Hills, overlooking a beautiful amalgamation of water, grasslands and woodlands. The dishes and wines are local and seasonal and the view doesn't get much better, so sit back, relax and enjoy a meal over what is self-proclaimed to be one of the best sights in the Finger Lakes.
Watkins Glen State Park
With a reputation for leaving visitors spellbound, nature's beuaty is best enjoyed with a picnic next to one of 19 waterfalls ranging in 200 feet and 400 feet in height. Hike the gorge paths and rim trails for the full experience. Picnic tables are installed throughout the park.
Grab some grub at Jerlando's Ristorante & Pizza Co. before heading over if you don't feel like packing your own picnic. It's the no. 1 restaurant in the area according to TripAdvisor!
Creekside Restaurant & Bar
Located on the Catskill Creek less than a mile from the Hudson River, this all-American restaurant offers fine cuisine, tasty cocktails and live music with a view of the river. And, it's boat-accessible. It tops the rankings on Yelp for Catskills restaurants with a view!
Don't forget to share your Father's Day trip with us! Share New York State pictures on Instagram and Twitter with #ILoveNY and #iSpyNY and tag us on Facebook!