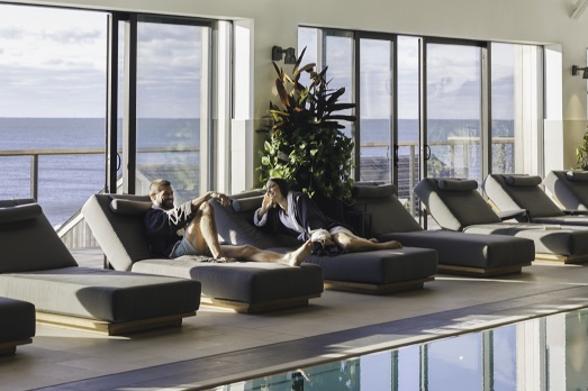 From cigars and brandy after a black tie gala at a Rockefeller Great Camp to soaring over wine country and feasting at the newest Michelin-starred restaurants, indulge in the ultimate luxury experiences in New York State. Enjoy pampering appointments at the most exciting yoga retreat and spa in the state or head to the Hamptons for a destination retreat you and your closest friends will never forget.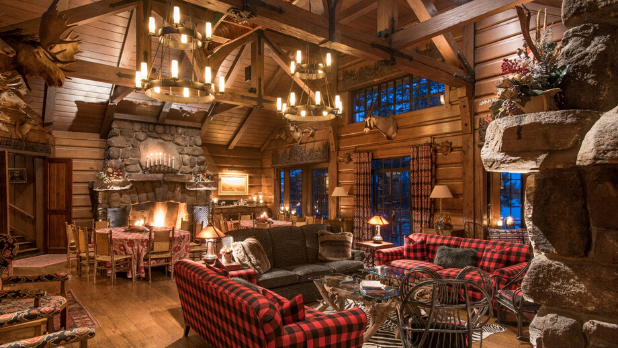 For a luxurious experience that transcends the everyday, escape to a rustic Great Camp in the Adirondack Mountains. The Point Resort on Upper Saranac Lake was once the summer idyll of William Avery Rockefeller II, and is now a private Relais & Chateaux property that offers an all-inclusive respite right on the lake. As the sole Forbes Five-Star property in Upstate New York, you can expect a level of luxury that will spoil you for everyday life. Enjoy meals prepared by Chef Loic Leperlier in the Great Room, where the dress code is black tie on Wednesday and Saturday nights to keep the Gilded Age spirit alive. The camp, which was built nearly a century ago, underwent a multi-million dollar renovation in 2018, revealing lavishly furnished rooms filled with antique and artisan treasures. Spend the day exploring 75 acres, take a sunset boat cruise, then curl up by a roaring fire lit by attentive staff in your own room. Kids aren't allowed on property, so for a luxurious retreat that the whole family can enjoy, head to neighboring Whiteface Lodge, where opulence and kid-oriented amenities await. Or simply rent out an entire compound on an island, complete with a private chef. Dry Island in the Adirondacks is a kingdom unto itself for $4,000 per night. Rates at The Point are $1,750-$3,750 per night based on double occupancy, or purchase a property buyout for up to 22 people, kids welcome, for $28,750 per night.
 
From the Gilded Age to the Gold Coast, the Hamptons are synonymous with luxury. For an elegant retreat close to the beach, head to Topping Rose House in Bridgehampton, a boutique hotel that offers suites situated between an orchard and Topping Rose Farm. Check in and take a dip in the heated outdoor pool, or hop on a shuttle to the beach. Pamper yourself at Farmaesthetics at Topping Rose House, the on-site treatment studio offering a spa menu that caters to your every need. Concierge staff will guide you on your explorations of Long Island so you can spend more time sipping regional wines and less time planning excursions yourself. Nothing is overlooked at this elegant escape, including the demands of your palate. Jean-Georges at Topping Rose House offers an elegant setting to enjoy farm-to-table cuisine prepared to perfection. After dinner, savor a cognac in the Bar & Lounge as fresh air from the orchard perfumes the air. Rates available upon request. For an on-the-beach retreat, head to Gurney's Resorts in Montauk, the only oceanfront resort in the Hamptons, or book a stay at Gurney's Star Island Resort & Marina on picturesque Lake Montauk. Rates vary.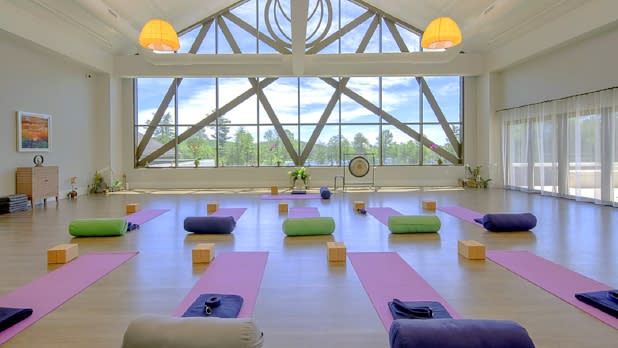 YO1, one of the most exciting yoga retreats and spas to ever open in New York State, is named in honor of the Sanskrit word meaning "youth." With its rejuvenating classes, wellness offerings, and sumptuous accommodations, YO1 could very well be a new fountain of youth, where mind, body, and spirit are soothed and restored. This holistic wellness resort offering authentic, all-inclusive amenities includes a wellness counselor to discuss your health and wellness history, along with your goals while a guest, and to create a personalized plan for your stay. Guest rooms, including ADA-equipped rooms, are designed to be sanctuaries, featuring luxurious amenities such as steam showers, lavish bedding, and views of Bailey Lake. While a guest at YO1, you'll enjoy Ayurvedic and Naturopathic therapies, yoga classes, Acupuncture, and freshly prepared meals that you can learn how to make during culinary classes. Rates vary.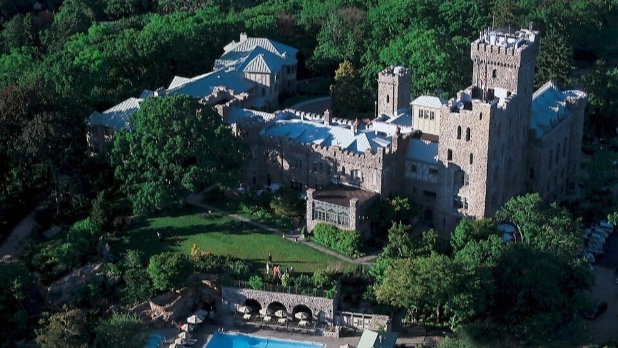 Situated on one of the highest points in the Hudson Valley and overlooking the majestic Hudson River, guests are welcome to ramble this award-winning estate's manicured grounds. Suites are equipped with wood-burning fireplaces, offering old-world elegance, and the castle's on-site spa, Sankara, promises peace and tranquility through its extensive spa menu. Go for a private sailing adventure on the Hudson River with Nyack Boat Charter, available April–October, and see the region anew. After a day of fairy-tale exploration, feast on contemporary French cuisine at Equus, the castle's on-site restaurant, featuring a seasonal menu. Speaking of fairy tales, Castle Hotel and Spa is the ideal place to host your New York State wedding. Prices vary. It is recommended to book packages in advance.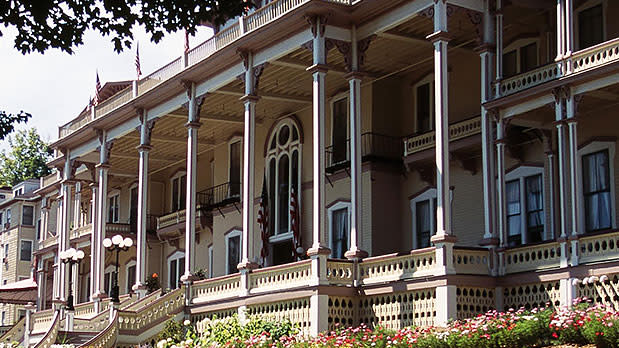 Luxury meets historic retreat in Chautauqua at the Chautauqua Institution's Athenaeum Hotel. This elegant retreat is a gateway to the region's arts and culture offerings. Enjoy concerts and lectures, arts programming, and lively discussions during the institution's event-packed, nine week season, running from June through August. When you book the Chautauqua Experience package at the Athenaeum, prepare for a week filled with enriching experiences, from sailing lessons to a round or two at the Chautauqua Golf Club, designed by legendary course architects Seymour Dunn and Donald Ross. Take advantage of the health and fitness center's on-site staff for a one-on-one training session, or simply stroll the grounds. After a day of arts and entertainment, fresh air, and fun, head to your table at Heirloom Restaurant, the hotel's on-site restaurant offering casual and upscale fare right on the water. Price for the Chautauqua Experience package is $1,579 per person, per week.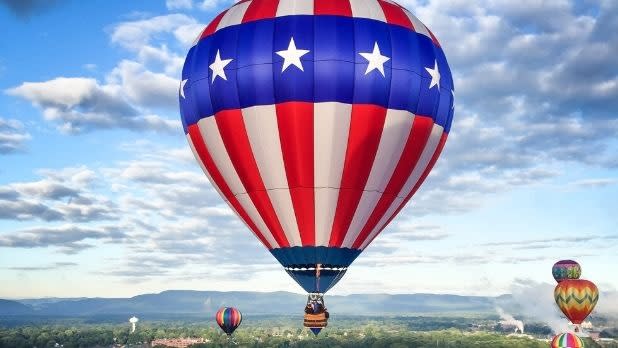 Imagine soaring over the rolling fields of wine country, the neat vines lined up below in perfect rows, heavy with ripening grapes.The air carries the faint scent of fruit, and the landscape is bathed in the golden light from the sun. That's the experience that awaits guests of Southern Tier Balloon Tours' Finger Lakes Ultimate Package. Sip glasses of perfectly chilled Veuve Clicquot champagne as your pilot regales you with tales of land and sky. Each flight can last anywhere from 45 minutes to over an hour depending on the winds, but guests should plan for a three-hour experience to account for take-off, landing, and transportation between the two points. After landing, check into Belhurst Castle and Winery, named a "World's Best Wine Hotel" by Wine Enthusiast, among many other accolades, for a night of refined dining, luscious wines, and dreamy accommodations. Price for Ultimate Package is $1,795.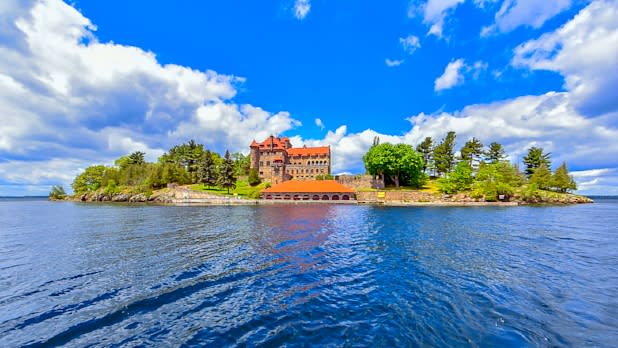 Who doesn't want to feel like royalty on vacation? At Singer Castle, you can. Located on Dark Island in the St. Lawrence River, Singer Castle has a storied past. The Scottish-inspired castle was built in the early 1900s and named for its association with the CEOs of the Singer Sewing Machine Company. Frederick Bourne commissioned the castle for his wife and children as an island hunting retreat. Now, you too can live like a king, or a Gilded Age tycoon, when you rent out the Royal Suite. The suite, which is an entire wing of the castle, can accommodate up to six people and includes bedrooms overlooking the river and the grounds. You'll find canopy beds, lavishly decorated rooms, and luxurious bathrooms equipped with period-style fixtures. Enjoy a sumptuous feast in the evening, followed by a private tour of the castle. Breakfast is included, though you may request your meals to be served in the tearoom, drawing room, loggia, or front terrace if the weather is fine. Shuttle service to and from the island is included in your stay. Price available upon request.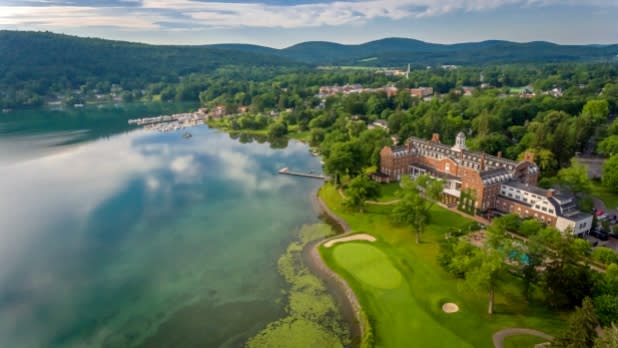 For more than a century, the Otesaga Resort on Otsego Lake in Cooperstown has provided a sense of grandeur and luxury to guests. The waterfront location offers sweeping views of the lake, nicknamed "Glimmerglass" for its sparkling beauty, and is home to the award-winning Leatherstocking Golf Course. Play a round on one of the most beautiful courses in New York State, then relax with a massage in Hawkeye Spa, the resort's on-site spa. Feast on deliciously prepared cuisine at one of several on-site restaurants, such as lobster bucatini and grilled swordfish, served at The Hawkeye Bar & Grill. The restaurant partners with regional farms to source cheese, yogurts, handmade caramels, meats, and veggies. After a relaxing morning at the resort, explore the wonders of Cooperstown. In summer, the Glimmerglass Festival offers world-class opera and theater performances in a unique outdoor theater, and the National Baseball Hall of Fame's VIP Baseball Hall of Fame package elevates your visit. The package includes private behind-the-scenes tours and museum membership. Indulge your inner art lover with a visit to The Fenimore Art Museum, which is home to the extraordinary Eugene and Clare Thaw collection of American Indian Art. Permanent and visiting exhibits make this a must-visit during their open season. Prices Vary.
Michelin-Starred Restaurants (Various Regions)
Michelin-starred restaurants offer once-in-a-lifetime experiences that linger long after the last bite. New York State is home to more than 75 restaurants that have earned those coveted one, two, or even three stars, making it a gastronomic tourism destination the world over. The 2020 Michelin list includes restaurants outside of New York City, chiefly Blue Hill at Stone Barns in the Hudson Valley, which earned two out of a possible three stars this year. Enjoy seasonally sourced, freshly prepared courses made with ingredients from the property's working farm. You'll likely need to reserve two months in advance to get a table. If you can't make it to their country location, make a reservation at Blue Hill in Manhattan, which offers a specially curated, experimental tasting menu. From one-star newcomer Oxalis in Williamsburg, which serves a veggie-centric menu, to the three-Michelin-star Le Bernardin, take yourself on tour of New York's most celebrated restaurants. Prices vary. Reservations required.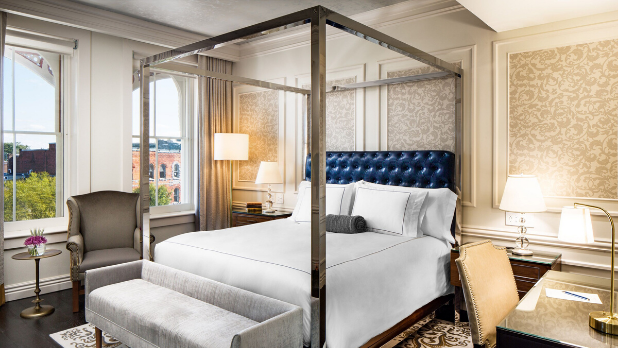 Known as the "Queen of Spas," Saratoga Springs offers an elevated experience any time of the year, but especially during track season. Home to the oldest horse racing track in America, the Saratoga Race Course is one of Sports Illustrated's "10 Best Sporting Venues in the United States." Experience the thrill of watching thoroughbred race horses compete every summer, then head to The Adelphi Hotel on Broadway to check into your luxurious room or suite. After undergoing a multi-million dollar renovation, The Adelphi reopened in 2018 to much fanfare, offering guests a memorable experience from the moment they walk in the door. The rooms are a revelation, featuring thoughtful touches in the bathrooms, like deep soaking tubs and heated floors. A well-stocked and complimentary mini-bar, luxuriously soft robes and slippers, and an in-room Nespresso machine mean that you can relax in bed while you enjoy your first cafe creme of the morning.The hotel includes several on-site restaurants, including The Blue Hen, a jewel box spot perfect for brunch and for snapping envy-inducing selfies. Continue indulging in Saratoga's treasures with a visit to Roosevelt Baths and Spa, where treatments incorporate the naturally effervescent waters that made this spa town famous. Visit during popular events such as the Saratoga Food and Wine Festival in October, the Freihofer Jazz Festival in June, and race season, which runs mid-July through early September. Rates for activities and rooms vary. See also: 48 Hours in Saratoga Springs, NY.
Glamping (Various Regions) 
Experience the unique pleasure and safari-like luxury at one of New York State's popular glamping destinations. What may look like a simple canvas tent on the outside transforms into a luxurious bedroom complete with a queen bed made with soft linens, fine furnishings, and a sitting area on the inside. Glamping, unlike traditional tent camping, doesn't sacrifice comfort for time in nature. At Firelight Camps in Ithaca, the experience is like something out of a dream. Relax in your luxuriously appointed tent, complete with its own private balcony, ramble around on hiking trails, or book an appointment at August Moon Spa and enjoy a deep-tissue massage in your tent. Take a guided foraging hike and learn how to identify various plants, or join a sunrise Vinyasa class and greet the dawn. On Tuesday evenings, Firelight Live offers live musical entertainment, as well as libations from the bar. Within a short walk of Firelight is a cafe serving pastries and coffee, a steakhouse where guests can play a special game of poker on certain weeknights, and more. For a glamping experience that offers luxury and access to wilderness, Posh Primitive in the Adirondacks features log-embellished canvas tents, freshly prepared meals made with homegrown veggies, and an in-house guide service that will create a custom trip for you and your family. Rates vary. See also: 11 of the Best Glamping Experiences in New York State. 
From castle stays to rooftop bars, discover New York State's incredible luxury experiences and don't forget to share your photos with #ISpyNY.