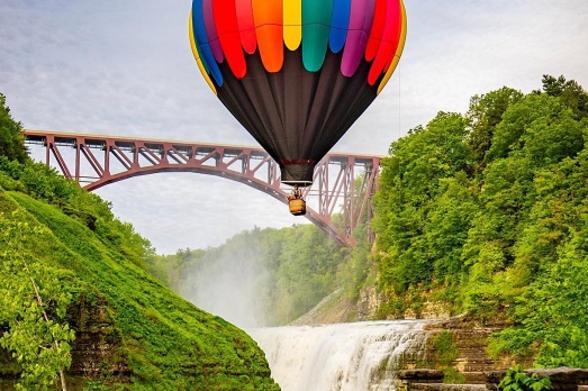 From the serene shores of Long Island to the mighty Niagara Falls, New York's 180 state parks offer endless unique opportunities to explore nature and experience exciting new adventures. From ziplining oceanside to hot air ballooning over waterfalls to drinking from mineral springs and gawking at gushing geysers, the diverse landscapes of New York State parks offer unforgettable experiences for everyone.
There are no bad seats or bad views in a hot air balloon, especially when it's soaring over the "Grand Canyon of the East." Balloons Over Letchworth provides a literal bucket-list experience offering balloon launches within Letchworth State Park. On your sky-high adventure you'll see exclusive views of waterfalls, gorges, and natural beauty in panorama. For an even more magical experience, go up in the fall during peak foliage when nature's colors truly come alive. Letchworth State Park also features the Autism Nature Trail, a first-of-its-kind experience in nature designed for visitors on the autism spectrum and with a range of abilities—appropriate and enjoyable for all abilities and ages.

Credit: @rmdragon on Instagram
Embrace your wild side at WildPlay! The outdoor aerial adventure course operates at two distinct state parks: Jones Beach State Park on Long Island and John Boyd Thacher State Park in the Capital-Saratoga region. At Jones Beach State Park you can zip the day away on a 700-foot oceanside zipline, explore 100 aerial adventure games, and leap into thin air on the 40-foot WTF (What's To Fear) jump! Conquer your fears with tightropes, log bridges, giant swings, cargo nets, and more, all with a bird's-eye view over historic Jones Beach. At WildPlay at Thacher Park you'll start with a training session on the ground to get comfortable using the ziplines and the continuous belay system. Then, surrounded by the Helderberg mountains and lush greenery, you'll climb up a ladder and start making your way from tree to tree by walking across tightropes, climbing up cargo nets, gliding down ziplines, flying through the air on rope swings, leaping onto swinging logs, and balancing on wobbly bridges. 

Photo courtesy of Maid of the Mist
Hear the roar of 600,000 gallons of water crashing down around you as you embark on an unforgettable journey to the base of the American Falls and Horseshoe Falls on the world-famous Maid of the Mist. This world-renowned boat cruise can only be experienced in Niagara Falls State Park. It  offers an immersive and wet experience (poncho provided) into the falls on an all-electric boat that provides a quiet, smooth rideallowing you to fully focus on the sheer might of Mother Nature. Want even more falls? Check out Cave of the Winds where you will be outfitted in ponchos before descending 175 feet into the awe-inspiring Niagara Gorge. Exit the elevator cave and find yourself on a series of wooden walkways that will bring you to unbelievable "Hurricane Deck" where you are within feet of the crashing Bridal Veil Falls and surrounded by tropical storm like conditions-even on the calmest of days.

Credit: @ddm_foto on Instagram
At Green Lakes State Park, two things are crystal clear– the water, and now the kayaks! Transparent 'Crystal Kayaks' can be rented at the boat launch and they offer a one-of-a-kind way to see what's just below the water's surface while paddling. Green Lakes is about 190-feet deep, so for views of plant-life, fish, reefs, and limestone, you'll want to stay closer to the shore. These kayaks are extremely popular and limited in amount, so be sure to get there early to start your aquatic adventure!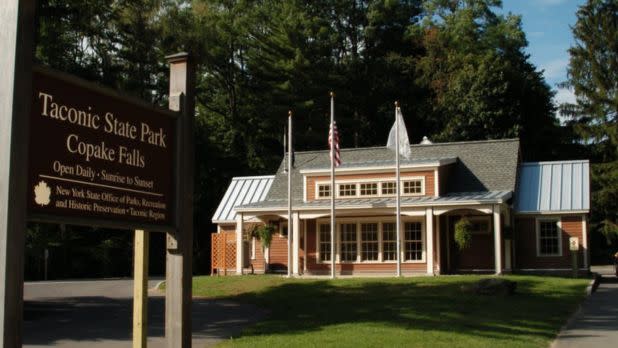 All aboard the brand new, as well as the first and only full-scale railroad in a New York State Park! This standout attraction showcases the historic Copake Iron Works in Taconic State Park. Built and run entirely by volunteers, the Pomeroy Family Railroad runs on a 950-foot loop and the engine pulls two retrofitted ore carts carrying children and adults of all ages. The train replicates the narrow-gauge railroad that transported iron ore from the nearby mine to the blast furnace at the Copake Iron Works during the 19th century.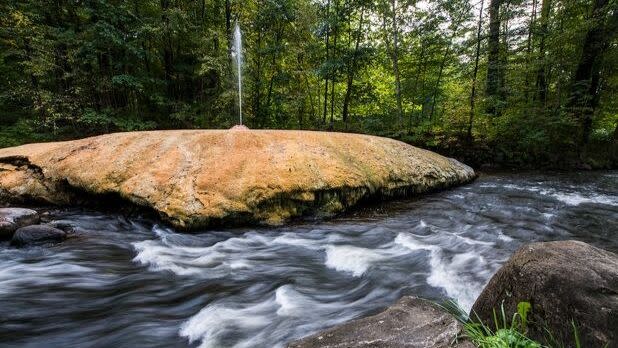 It's all in the name at Saratoga Springs, home to Saratoga Spa State Park. This lively city has been historically known as a thriving health and spa destination due to the area's naturally carbonated mineral waters. There are currently 21 public mineral springs in various locations throughout Saratoga, 11 of which can be found right in the state park. You'll regularly see people filling large drinking containers right from the springs! All 21 are safe to drink from (bottle recommended), but no two springs taste exactly alike: each has its own distinct mineral makeup, diverse characteristics and healing properties, resulting in unique flavor profiles. After you've hydrated, take a luxurious and healing soak in a Saratoga mineral bath at Gideon Putnam Resort (located within the Saratoga Spa State Park). 
Take a journey into the wild at Bear Mountain State Park! This expansive and beautiful state park offers so much more than just fishing, swimming, hiking, biking, and cross-country skiing, on its more than 5,000 acres. While visiting the park you can also explore the Trailside Museums and Zoo! Trailside is located on a short section of the Appalachian Trail overlooking the Hudson River. The paved trail takes you up-close to exhibits where you can view native wildlife including: Black bears, eastern coyotes, porcupines, bald eagles, and more. Four quaint stone museums are also situated along the trail: The Reptile, Amphibian, and Fish Museum, The Geology Museum, The Nature Study Museum and The History Museum.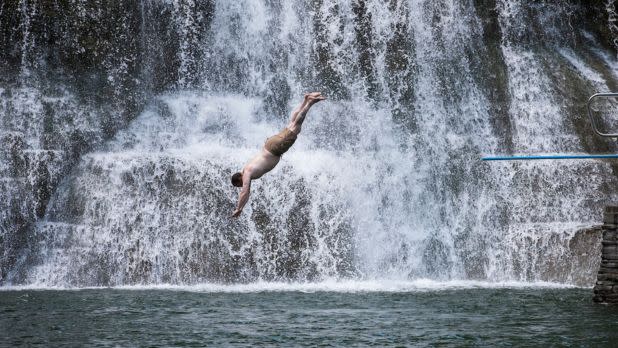 For a swimmingly good time, head to one of New York's most unique swimming holes, Enfield Falls at Robert H. Treman State Park. The swimming hole has a 30-foot cascading waterfall feeding into it, but it is set up like an actual pool, with lifeguards on duty, roped-off areas based on depth, and built-in steps for entering the water. In the deep end (approximately 20 feet deep) there is a diving board and ladders to climb up. After you cannonball or dive in, dry off and have lunch at the picnic area before exploring the park's 12 waterfalls.
Land and water clash at the 597-acre Chimney Bluffs State Park, sculpting the most dramatic landscape on the Lake Ontario shore. Walk along the 1.29-mile bluffs trail and experience massive earthen spires shaped by glaciers from the last Ice Age or opt for a (great) lake-side stroll, where you'll feel like you're at the ocean all while being surrounded by towering bluffs.
---
Share New York State adventures with us on TikTok, Instagram and Twitter with #ILoveNY and #iSpyNY, and tag us on Facebook!