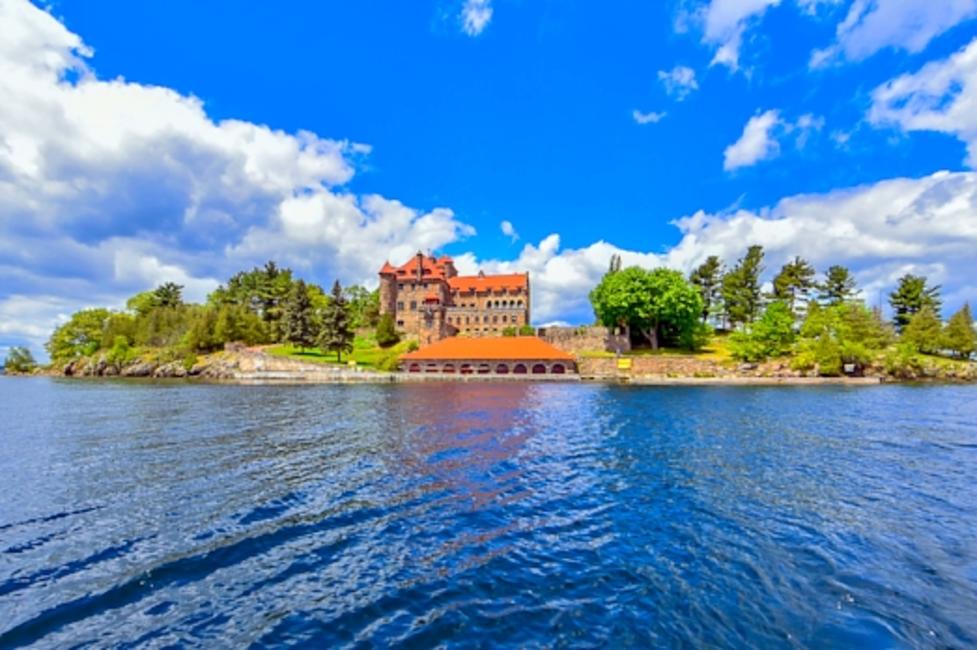 New year, new adventures—and no better place than New York! 2019 is the year to stand in awe at the top of Niagara Falls, taste new foods, and meet a world-famous giraffe. Make the most of the cold weather at the country's premier ski destinations and savor summer by kicking back on idyllic beaches. We've pulled together some of the most quintessential New York experiences in the state for you to check off your bucket list this year. So read on and start planning your 2019 travels!
Rock Climb and Hike the 'Gunks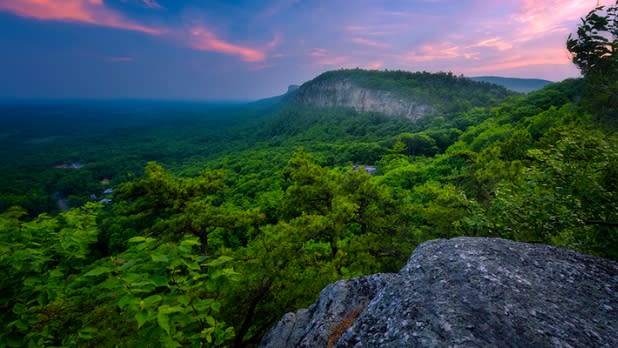 This year, believe that you can move mountains—or at the very least, climb them! The Gunks (short for the Shawangunk Mountains) are a beautiful mountain ridge that lies across the border of the Hudson Valley and Catskills regions. They're a world-famous rock-climbing destination, thanks to their accessible cliffs and scenic views. Mountain Skills Climbing Guides in Stone Ridge offer a fantastic course for beginner outdoor climbers. You can also enjoy the beauty by hiking any of the hundreds of trails in Minnewaska State Park and the Mohonk Preserve.
See Niagara Falls from Goat Island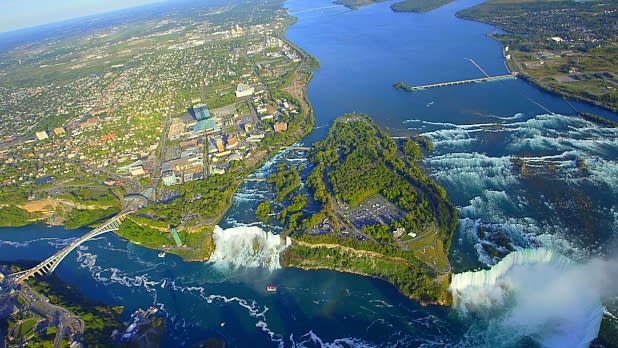 Goat Island is a) fun to say, and b) a gorgeous little island within Niagara Falls State Park that offers spectacular close-up views of the Falls. You can bring your bike to ride around its paved loop trail, or just stroll along its paths and foot bridges which take you right up the crest of the rushing water. You'll also find trails leading to Bridal Veil Falls, Luna Island, and Three Sisters Islands. Get to Goat Island by foot, car, or by tram.
Celebrate the Miracle of Flight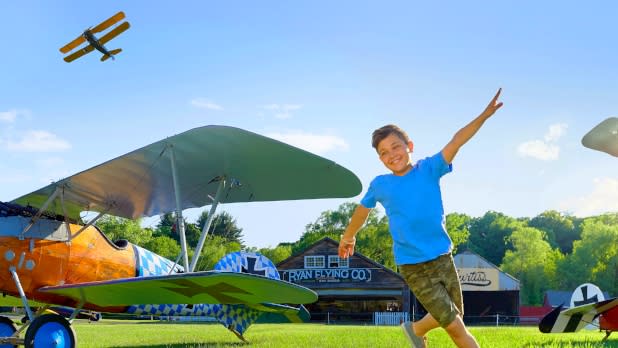 We're so inundated with new technology these days, sometimes it's fun to take a step back from our smartphones to simply marvel at early innovations. The Old Rhinebeck Aerodrome in Red Hook takes you back in time with its collection of restored vintage planes from the golden age of aviation which even includes rare war planes. Starting in June, you can also see the historic planes up in the air at one of the museum's exciting air shows. Each year on Memorial Day Weekend, head to Jones Beach on Long Island for a stunning display of aerobatic prowess. Military and civilian pilots show off their skills with choreographed flips, spins, turns, and formations, best watched while lying on your back in the soft sand.
Sleep Under the Stars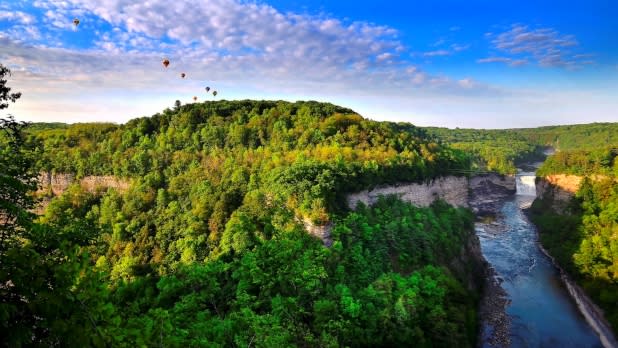 Reconnect with nature and spend at least one weekend sleeping in the great outdoors this year. Thanks to all our beautiful woodlands, you can find amazing hiking and camping in all corners of the state. In the heart of the Adirondacks, Ausable Chasm has tent campsites with electric hookups and affordable family cabins which put you right next to private trails, tubing, rafting, rappelling, and rock climbing. Camp out in Watkins Glen State Park in the Finger Lakes to explore its gorgeous gorges and waterfalls. Letchworth State Park, nicknamed "Grand Canyon of the East," has been named the best state park by USA Today. You'll find swimming, hiking, and fishing opportunities, and of course, truly epic views of the canyon and its majestic waterfall. Who's ready for s'mores?
Hit the Beach!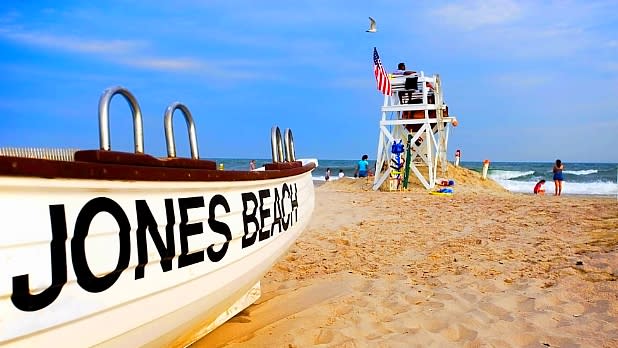 Calling all beach bums! When it's summertime and the weather is fine, head out to Long Island, the capital of East Coast beaching. Cooper's Beach in Southampton has been rated one of the country's best beaches by expert "Dr. Beach" for its picturesque white sand dunes. At the massive Jones Beach State Park, you'll find multiple beaches and access points, with lifeguarded areas perfect for families, plus boardwalks, fishing piers, and concession stands. You can also rent chairs and umbrellas. An outdoor amphitheater makes the ideal venue for summer concerts. If you'd prefer something a little less salty, you'll find your perfect lakeside relaxing at Otsego Lake in Central New York and Lake George in the Adirondacks.
Hit the Slopes!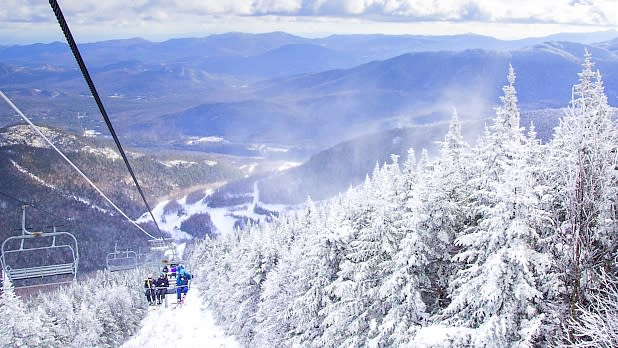 New York is so good at making winter fun, it actually has more ski resorts than any other state in the country. The mountains are steep, the forests are beautiful, and its history of winter sporting goes waaay back. Whiteface Mountain can hook you up with all cold weather sports, from the classic to the cutting edge. You can ski and snowboard, as well as find lessons for either one at all levels. They also have cross-country ski trails, a spectacular gondola ride over the mountain, and ice skating on an actual Olympic Speed Skating Oval (Lake Placid hosted the games in 1932 and 1980!). From the observation deck, watch ski jumpers perform incredible feats of athleticism, and finally, you can actually try bobsledding on the Olympic track with a guide, or the Lake Placid Skeleton Experience on your own. Winter goals = made.
Laugh Until Your Sides Hurt at the National Comedy Center

Credit: Dan Swack
You deserve a new year full of laughter. So take matters into your own hands and head to the National Comedy Center in Jamestown. Take a tour through the history of comedy and all its diverse genres. Best of all, the exhibits are interactive, so everyone in the family can test their skills at cartooning and performing the routines of world's greatest comics. Get ready to LOL!
Live in the Past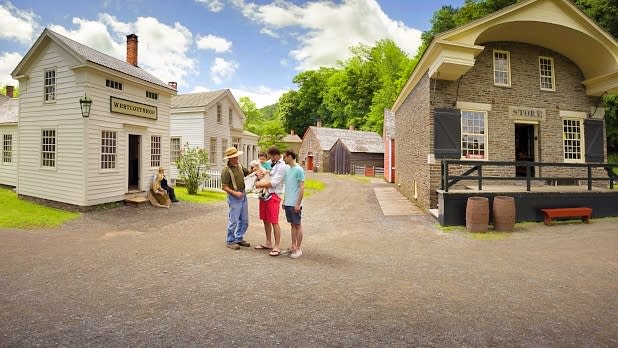 With all its rich history, New York has developed fun and interactive ways to learn about the past. Visit one of its many living history museums and where the stories from textbooks come to life. At the Farmers Museum in Cooperstown, step into the 1800s where you can interact with costumed villagers and farm animals, take a seat in a one-room schoolhouse, and watch the blacksmith go about his work making tools. Just outside of Rochester, the Genesee Country Village & Museum is the state's largest living history museum, and illuminates three separate time periods: the first settlers (1790–1820), the formation of town centers (1830–1860), and the birth of industry (1860–1900). Kids will have the chance to play vintage games and make crafts. And if you want to explore American military history, come see a battle reenactment at Fort Ticonderoga in the Adirondacks, the site of the legendary American victory during the Revolutionary War.
Celebrate with Pride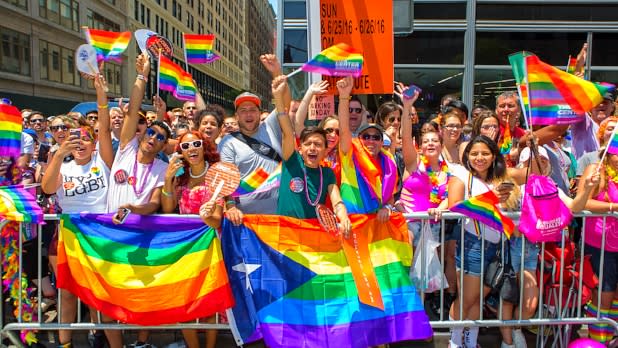 NYC is home to brilliant and beautiful festivities during Pride month, including the annual parade, but this year is going to be extra special. 2019 marks 50 years since the historic Stonewall Uprising. To commemorate the spark of the movement, New York City will host the events of Stonewall50 and the sixth edition of WorldPride. It's actually the first time the global festival will be held in the U.S., and it's expected to draw millions of domestic and international attendees. The theme of the dual-celebrations is "Millions of Moments of Pride," a tribute to all the moments of Pride that take place world-wide. But the party isn't just in NYC—events will be happening across New York State all month long, from special performances, to film festivals, to rooftop parties, rallies, and marches.
Play Vintage Pinball and Arcade Games at Strong Museum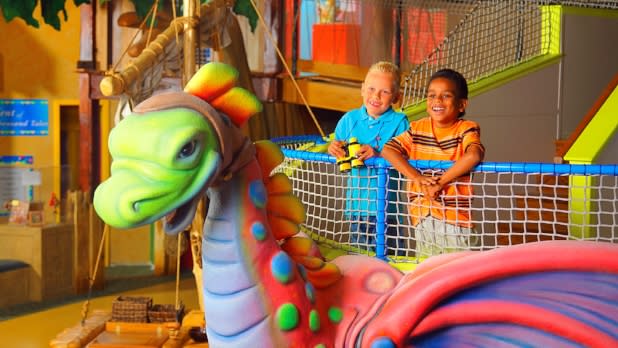 Don't you think your year could use a little more play time? There's an easy fix to be found at Rochester's expansive Strong National Museum of Play! You'll find interactive exhibits perfect for all ages, from an enormous play grocery store, to obstacle courses, comic books, vintage arcade games, and pinball. There's also an indoor butterfly garden that's kept warm and balmy all year round, so it's the perfect escape from your normal routine any time of the year.
Spend a Night in Your Very Own Castle on Your Very Own Island

Credit: Steve Sturtz
Any fairy tale fans in the family? Take a boat ride out to Dark Island on the Saint Lawrence River, where you'll find the magnificent Singer Castle. Once the home of the president of the Singer Manufacturing Company, today the castle is open for guided group tours and even the chance to literally sleep like a king or queen. The castle's Royal Suite, actually an entire wing of the castle, can fit up to six people and the package includes dinner and breakfast. It's not the cheapest accommodation, but it is a once-in-a-lifetime experience. Inquire for rates.
Expose Kids to Art in a Setting They'll Love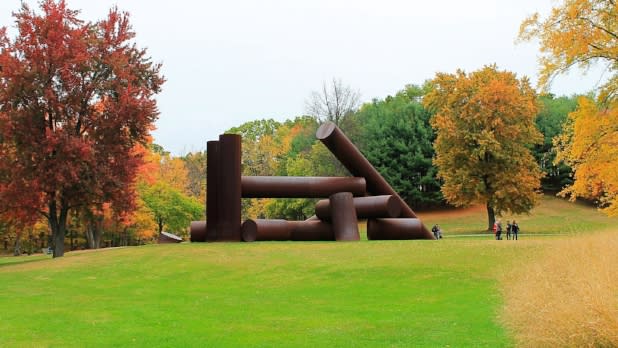 Looking to inspire a love of the arts? New York's more unusual destinations for world-class art will show the kids that art museums don't have to mean standing still in quiet spaces. Walk amongst massive pieces of sculpture on 500-acres of grassy fields at Storm King in the Hudson Valley. Starting in May they offer children's programs every Sunday, such as sculpture-making, watercolor painting, and fun ways to learn about the environment. Griffis Sculpture Park in East Otto has more than 250 enormous works of art that beg to be touched and climbed, as well as sculptures that live along nature trail, waiting to be discovered. Art Omi in Ghent is another fantastic option for larger-than-life works of sculpture and architectural art. They also offer artful playgroups and workshops for kids, as well as drawing classes for teens and adults. All are great for getting in exercise, finding inspiration, and taking your most creative selfies.
Walk Among the Treetops at the Wild Center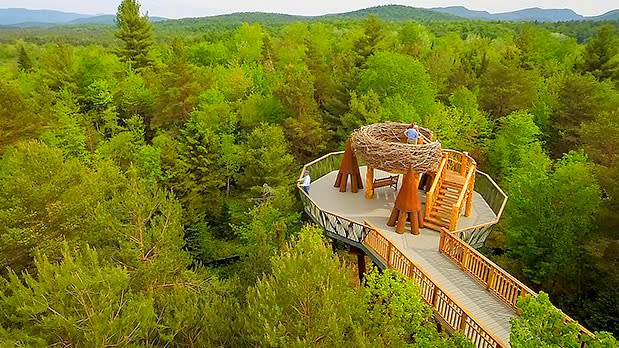 Walking under the shade of great big trees is amazing on its own, but the Wild Center in the Adirondacks flips a stroll through the forest on its head. Its "Wild Walk" is an elevated trail through the treetops that puts you at eye-level with the branches and birds. Get even more in touch with your wild side by climbing into the human-sized bird's nest or bouncing around the giant spider's web hammock. Inside the center you can learn all about different species of fish, turtles, plants, and other forest inhabitants.
Watch (and Try!) Glass Blowing at Corning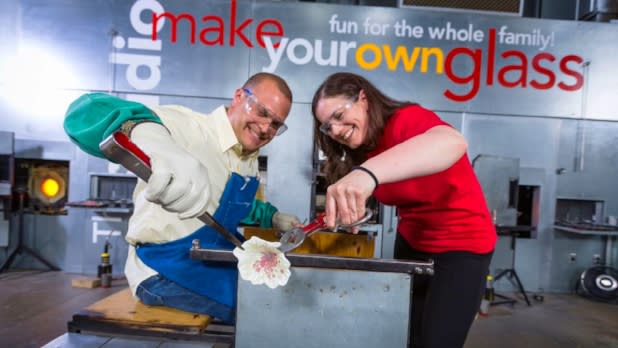 Enter a world of mind-boggling glass art at the Corning Museum of Glass in the Finger Lakes. You can explore collections of glass art from the last 35 centuries! And not only can you watch live glass-blowing demonstrations, you can actually try it for yourself. With the museum's family-friendly "Make Your Own Glass" experiences, you have the option to craft beads, frames, flowers, ornaments and more—all out of real, hot molten glass.
Visit April the Giraffe at the Animal Adventure Park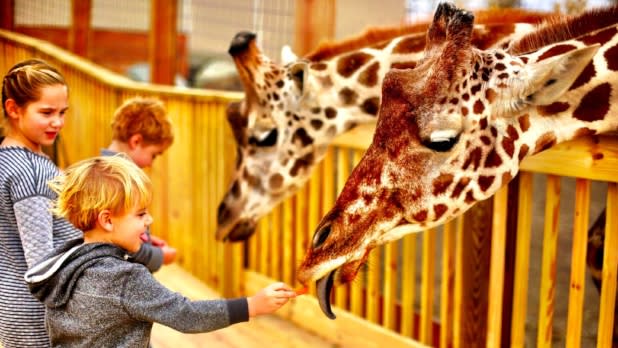 Everybody loves a new baby, especially when that baby is a beautiful new calf born to a world-famous giraffe! That's right, everyone, April the Giraffe is expecting! And since 1.2 million people tuned in for her last birth, this one is sure to be the event of the year. Visit her before or after the baby comes (no exact due date confirmed, but the rumor is early spring) at the Animal Adventure Park, 20 minutes outside of Binghamton. The Park also happens to be the winner of our 2018 bracket of New York State attractions, so it's basically recommended by thousands of voters. Besides celebrating with April, swing by for the chance to feed camels, tortoises, monkeys, lemurs, and parrots.
Check Out a World-Class Professional Sporting Event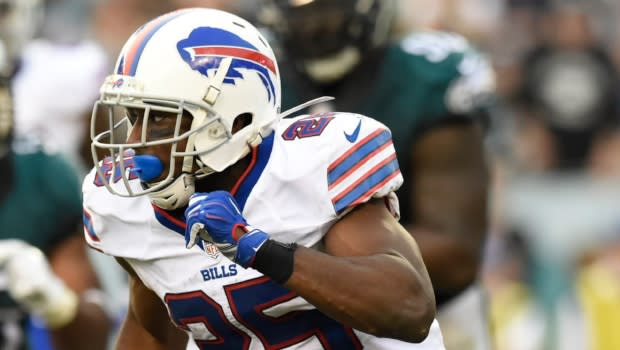 Okay, sports fanatics, this one's for you. Just pick your sport and we've got a professional, heart-stopping team for you to watch live here in New York State. Of course, you can see a Yankees or Mets game, or experience a live football game with the Buffalo Bills. The Buffalo Sabres, New York Islanders, and New York Rangers will fulfill all your ice hockey dreams. Don't miss the US Open in Flushing Meadows-Corona Park in Queens. The Knicks and Nets are here for you, basketball fans. Catch New York City FC in action if soccer's your thing. NASCAR action will come to Watkins Glen International this August, and the 2019 PGA Championship will be held at Bethpage State Park on Long Island.
Watch for Whales in Montauk

Credit: James Katsipis
You will never forget the magic of witnessing the world's largest mammals rising to the ocean's surface to say hello. The Viking Fishing Fleet Ferry Service offers whale-watching tours that take you past Montauk Lighthouse. Joining you onboard will be a marine biologist ready to answer all your questions and point out any whales, dolphins, turtles, and birds. In 2018 their tours had a 100% whale-spotting success rate, so make your reservations now!
Winery Hop in Picturesque Settings

Credit: Seneca Lake Wine Trail
You haven't experienced the true taste of New York until you've tried award-winning local wines made with homegrown grapes. The Finger Lakes region, for example, has such wine-friendly terrain that wineries have been popping up for decades. Now you can follow three unique winery trails, the Cayuga Lake (America's first wine trail!), Keuka Lake, and Seneca Lake Wine Trail. Because each one traces around a lake, you'll often find exquisite views of the water to accompany your tastings. Likewise, the North Fork of Long Island has become a go-to destination for those who love wine, with more than 35 tasting rooms along the North Fork Wine Trail, some of which offer ocean views.
Savor and Celebrate Local Food

All over the state, New Yorkers celebrate the foods that make life so delicious, often with hilarious costumes, unique traditions, and lots of samples. Both the towns of Cuba and Saugerties have their own Garlic Festivals and Saratoga Springs and Troy have dedicated celebrations of chowder. Get all the wings you want at the two-day Buffalo Wing Festival over Labor Day weekend, and indulge your chocolate cravings at the I Love Chocolate Festival on Long Island. Head to the annual Great New York State Fair in Syracuse for fried Oreos, meat on a stick, and creative food truck fair. For the best of the best maple syrup and products, don't miss out on the Maple Weekends in March, when maple farms around the state host pancake breakfasts for the public. For fresh, seasonal produce as well as baked goods, gourmet jams, sauces, handmade soaps, pottery, and more, don't miss a stop at the year round Troy Waterfront Farmers' Market.
Treat Yourself

Credit: Revette Studio
Step away from the stressors of everyday life and find peace and tranquility at YO1, the brand new state-of-the-art wellness center in the heart of the Catskills. YO1 offers holistic healing in the forms of Ayurveda, naturopathy, acupuncture, yoga, and more. Receive a one-on-one assessment from a Wellness Counselor who will work with you to determine a customized course of activities. You'll find access to a cutting-edge therapy and fitness center, an outdoor amphitheater, and a delicious healthy food program by renowned Chef Gaurav Navin. Plus, the surrounding 1,300 acres of forested natural beauty set the perfect atmosphere for introspection and rejuvenation. You'll feel prepared and ready for whatever comes your way in 2019.
Share New York State adventures with us on Instagram and Twitter with #ILoveNY and #iSpyNY, and tag us on Facebook!