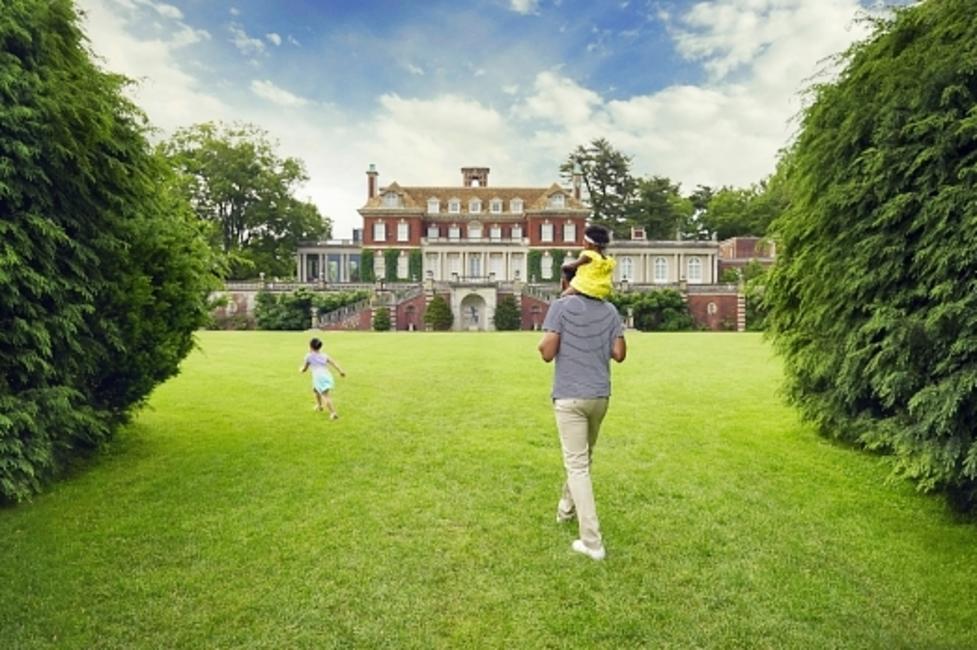 2018 is here! Have you started planning your travels for the year? For a little inspiration, check out these must-see locations you need to see before the clock strikes 2019. From a mountain coaster in New York's southwest corner to elegant mansions on Long Island, there's more than enough to fill your 2018 calendar. So, put in for some vacation days and check on those school breaks: New York State adventure awaits. 
1. Feel the mist on land and by boat at Niagara Falls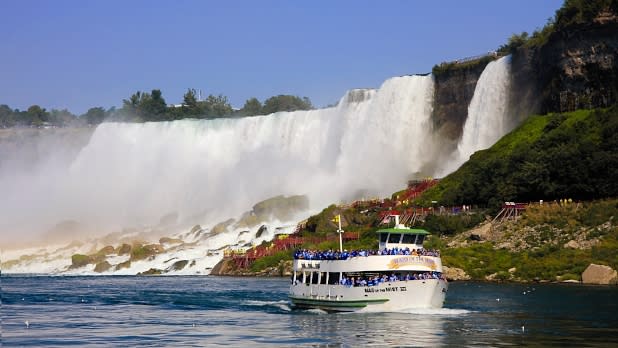 Experience a natural wonder of the world at Niagara Falls USA. Depending on the season, you can feel the cool mist of the Falls on the Maid of the Mist or by land from Niagara Falls State Park. In need of a more thrilling adventure? You can also explore the Cave of the Winds in the warmer months to feel the rushing streams of Bridal Veil Falls. 
2. Zoom down the Mountain Coaster at Holiday Valley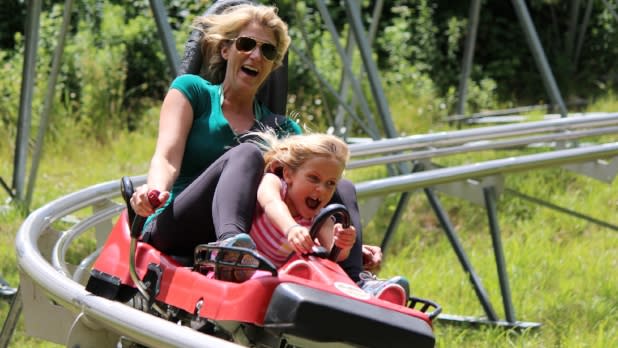 Visit Holiday Valley Mountain Resort for a thrilling ride down the Mountain Coaster. Choose to ride alone or with a pal along zig-zagging rails that pull you up and down hills through a forest. It's a must-do for thrill seekers - and it's open year-round!
3. Soar through the air with a balloon ride in Letchworth State Park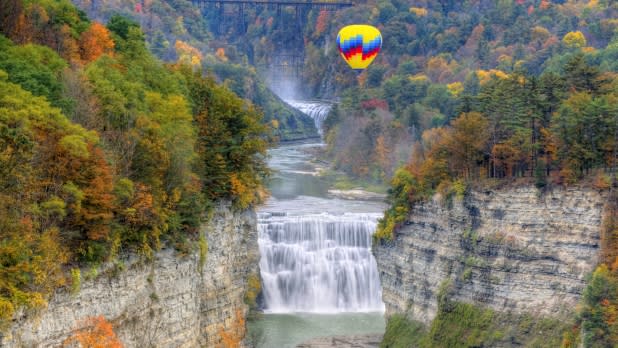 You haven't really seen Letchworth State Park until you've seen it from above. Known as the Grand Canyon of the East, this 14,350-acre New York State Park is filled with dramatic waterfalls and gorges carved by the Genesee River - some over 600 feet high! Contact Balloons Over Letchworth to book your experience May through October - and be sure to do it early; unsurprisingly, flights tend to sell out. 
4. Take in the sights, sounds and flavors of the Great New York State Fair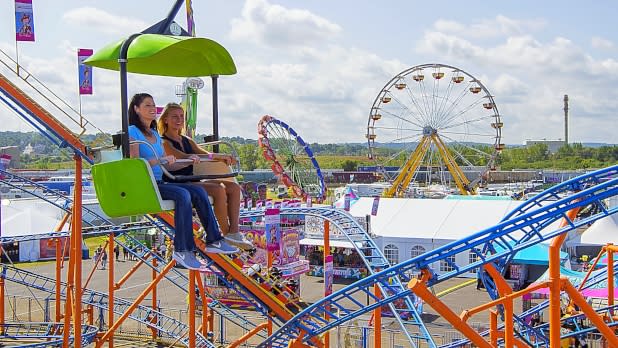 Every year, the Great New York State Fair goes bigger and better, with more delicious food, exciting rides, unbelievable attractions, and exclusive concerts from acts like Kesha, Migos, and the Moody Blues. But the fair isn't just for the kiddies: Wine slushy, anyone?  
5. Cool off with a tube ride through Ausable Chasm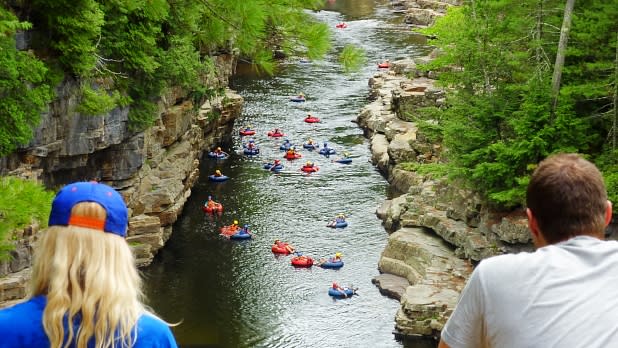 Coast through the ancient rock formations at one of the oldest attractions in North America. Ausable Chasm in the Adirondacks first opened to the public in 1870, and has been delighting visitors with nature trails, scenic vistas and waterfalls ever since. 
6. Wander through the Sunken Forest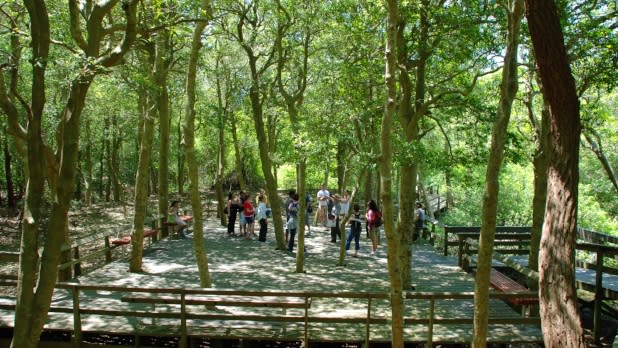 Located right behind Fire Island's sandy beaches - close enough to hear the crashing waves - you'll find the Sunken Forest, a rare maritime woodland that gets its name from an optical illusion. (The trees aren't actually "sunken"; it just seems that way since they sit below the dunes.) Go on a quiet stroll along the serene mile-long boardwalk, or take a Ranger-guided tour. Be sure to take a dip in the pristine Atlantic, just a few hundred feet away, before your ferry ride back to "the mainland."   
7. Fall in love with America's pastime at the Baseball Hall of Fame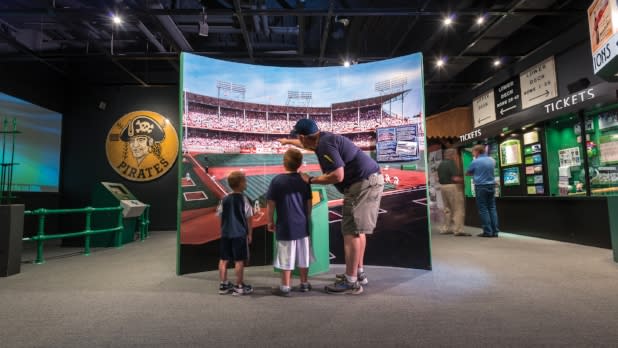 Visit the National Baseball Hall of Fame Museum in Cooperstown for a deep dive into America's favorite sport. With 317 Hall of Fame members' bronze plaques and  60,000 square feet of exhibit space, the museum offers plenty to explore. Be sure to bring the kids so they can play in the interactive Sandlot Kids' Club.
8. Frolic among the cherry blossoms at the Brooklyn Botanic Garden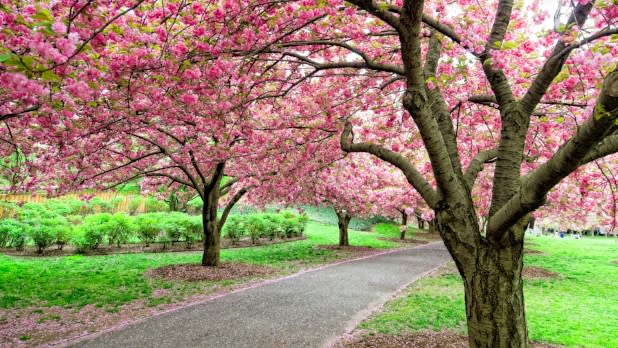 Every spring, the 52-acre Brooklyn Botanical Garden explodes with vibrant pink blossoms in its famous cherry trees. It's one of New York City's most picturesque natural phenomena, and it lasts just a few weeks, culminating with the popular Sakura Matsuri celebration of Japanese culture. But even if you can't make it in the spring, this natural wonderland is open year round. Bring your camera. 
9. Experience the view from Tibbetts Point Lighthouse in the Thousand Islands.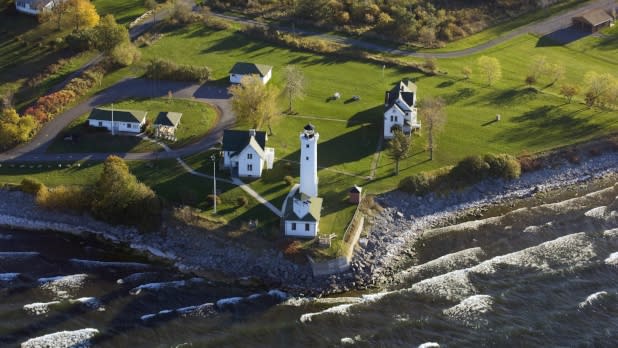 Visit the spot where the St. Lawrence River and Lake Ontario meet at Tibbetts Point Lighthouse. Built in 1827, the lighthouse contains the only working Fresnel lens in Lake Ontario. The views here are truly awe-inspiring.  
10. Pose with alfresco art at Storm King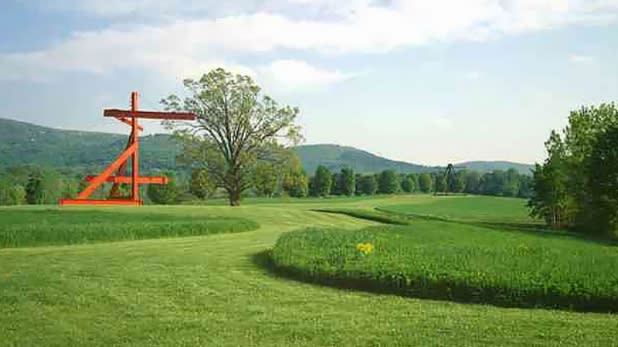 Storm King Art Center in the beautiful Hudson Valley has welcomed art lovers from across the globe for more than 50 years. Its 500 acres of rolling hills and fields hold a collections of more than 100 sited structures, a handful of which are interactive (check the visitors map for guidance). There's also educational programming for kids every Sunday, May through November. This also happens to be one of the most Instagrammable locales in the entire state; remember to tag #ISpyNY when you post.  
11. Try buffalo wings in the place where they were invented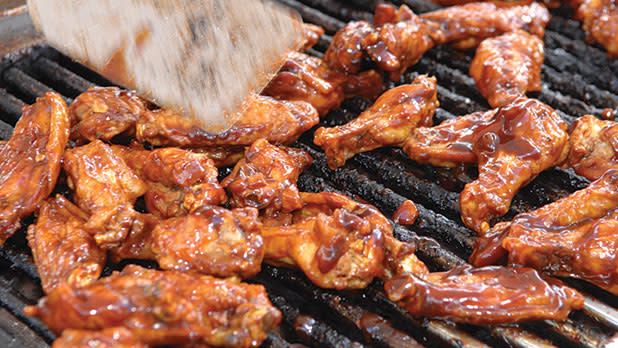 You can take your taste buds for a wild ride in Buffalo, and your first stop in town should be Anchor Bar, where the buffalo wing was born. Whether you prefer your wings super spicy or with just a hint of heat, you haven't tasted buffalo wings until you've had them in the Nickel City. 
12. Go fly fishing in the Catskills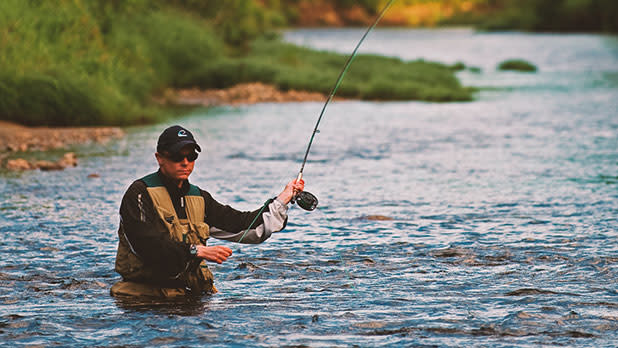 Where better to try fly fishing than in its birthplace? Head to the Catskills for a fun day of casting with the whole fam. Even if you're not into spending time in the river, you can learn about the history of the fascinating sport at the Catskills Fly Fishing Center and Museum.  
13. Stand in a spot where activists changed the course of American history in Seneca Falls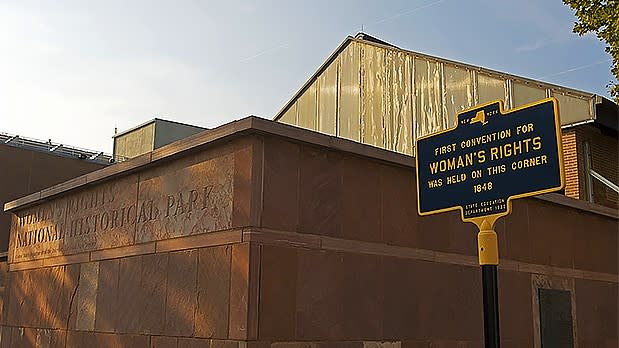 In July of 1848, women's suffragists including Elizabeth Cady Stanton, Lucretia Mott and Frederick Douglass came together at the Wesleyan Chapel in Seneca Falls. They were among the signers of Stanton's Declaration of Sentiments, which laid the groundwork for women's right to vote - in New York in 1917, and two years later in the rest of the nation with the passage of the 19th Amendment. Today you can visit that hallowed site, now part of the Women's Rights National Historic Park. While you're there, be sure to check out the National Women's Hall of Fame a couple blocks away. 
14. Explore the natural playground at Panama Rocks
It's hard to believe that a mere 400 million years ago, much of western New York was covered with a shallow sea. Today you can see (and climb on!) rock formations that formed in the Paleozoic era at Panama Rocks Scenic Park, 15 acres of stunning nature that explorers of all ages will love. 
15. See a show under the stars at Bethel Woods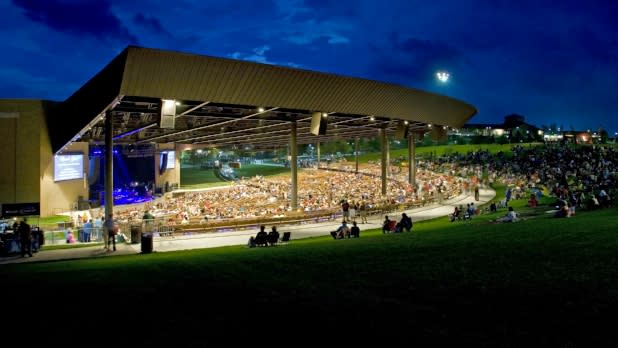 From large music festivals to more intimate performances, Bethel Woods Center for the Arts is the perfect place to catch a concert in the summer - and the open amphitheater means you can star-gaze while you listen. You can also contemplate history while you're here; this was the site of the original 1969 Woodstock Music Festival, which is extensively documented in the Museum at Bethel Woods. The 2018 summer lineup hasn't been announced yet, but big-name acts like Brantley Gilbert, Neil Diamond and Sting all played here in 2017.  
16. Turn back time at the Gold Coast Mansions of Long Island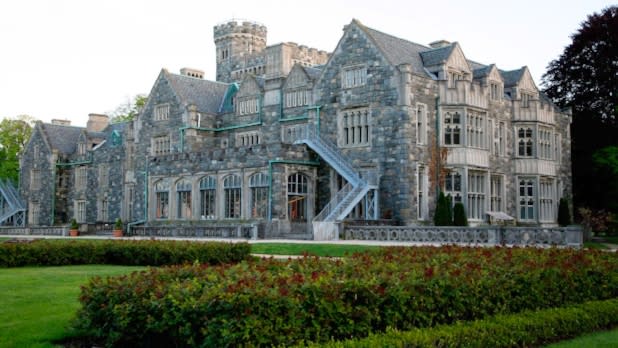 Take a journey back in time to a world of elegance, art and excess during a visit to the Gold Coast Mansions of Long Island. Built during the Gilded Age, these architectural treasures embody the wealth and culture of the Great Gatsby era. Some of these historic homes were once occupied by great Americans like Theodore Roosevelt and Walt Whitman. 
17. Spend a summer day at Saratoga Race Course
Head to the Saratoga Race Course from mid July through early September to bet on the world's fastest horses - or just take in the sights and sounds of this iconic summer spot, which has been thrilling visitors since 1863. The Travers Stakes, happening this year on August 25, is the most popular day of the season, and makes for some of the summer's best people-watching. (Pro tip: Wear an awesome hat for the best see-and-be-seen action.) 
18. Discover the depths of Howe Caverns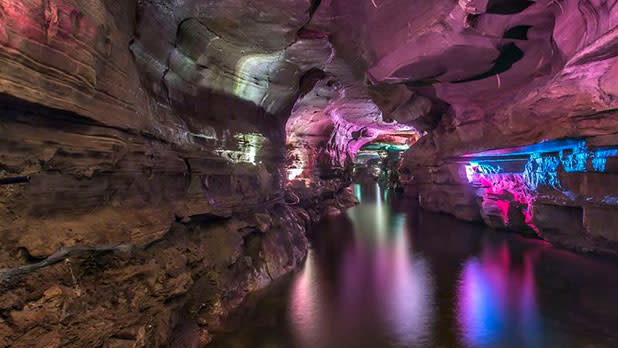 Descend 156 feet into Howe Caverns for a deep-underground adventure the whole family will love. You'll travel through limestone corridors and pass massive boulders until you discover a highly photogenic subterranean riverbed. Back on the surface, you'll find a zip line, climbing wall, ropes course and more. A variety of tours and packages are available for spelunkers of all ages and abilities. 
19. Go island hopping in the 1000 Islands
There are a thousand reasons to visit the Thousand Islands of New York - and its beautiful islands are just one of them. Hop around from island to island visiting some of the region's storied castles with Clayton Island Tours. 
20. Rent your own boat and explore the Erie Canal with the Erie Canal Cruise Line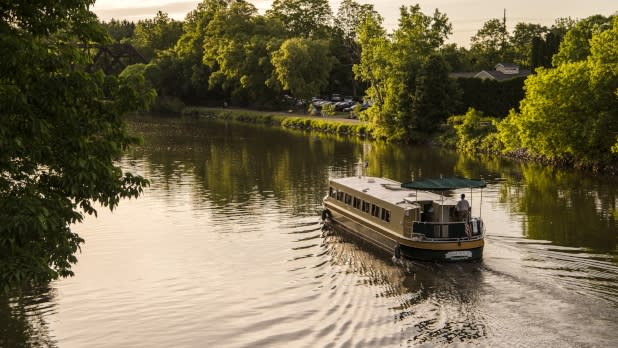 Cruise along the Erie Canal on a self-drive boat for a one-of-a-kind experience. As you float along, you'll pass pristine wilderness and charming villages that popped up along this historic waterway, which was vital in the development of New York State - and the nation. Boats come equipped with everything you need, including state rooms, a full kitchen and bathrooms. Set sail for a weekend getaway you'll never forget. 
Share New York State adventures with us on Instagram and Twitter with #ILoveNY and #iSpyNY, and tag us on Facebook!