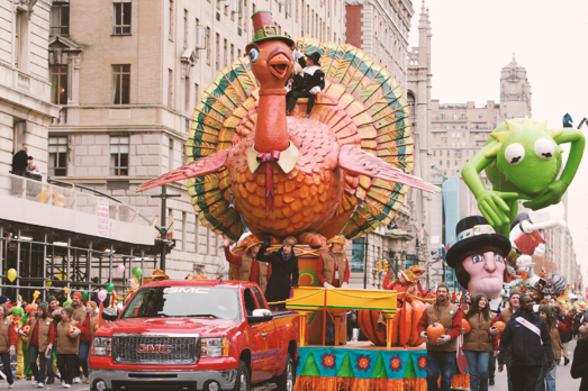 Thanksgiving is a time for laughter, love, and sharing. Bond with the people you love, doing your favorite activities as you celebrate in New York State.
Turkey Trot
Kick your metabolism into high gear before the Thanksgiving eatathon begins with the annual Troy Turkey Trot in the Capital-Saratoga region. Compete with a 5k, 10k, one-mile Turkey Walk and Grade School Mile—an event for everyone means bonding for the whole family.
The Parade
Most people spend Thanksgiving morning watching the Macy's Thanksgiving Day Parade on television. But why do that when you can be a part of the action? Join 3.5 million fellow Americans from across the country in a collective, colorful and invigorating day of thanks in Manhattan. Watching the floats with family and friends will make for memories you could never forget.
Wine + Chocolate
What better way to detox from Thanksgiving dinner than with a celebration of wine and chocolate! Head to the New York State Fairgrounds Saturday, November 24 for the Syracuse Wine and Chocolate Fest to decompress from holiday stress with locally bottled varietals and locally made chocolates.
See the State
With the state transitioning out of autumn colors and into that winter-y stillness, Thanksgiving weekend is the perfect time to tour New York State...whether by bike, train, plane, or automobile. Not sure what the best mode of travel is for you? Here's your ultimate guide to touring the state this holiday weekend.
Take a Hike
How does exploring a scenic vista, air crisp and clear, after taking down some Thanksgiving leftovers sound? Grab your family and friends and a pair of hiking boots to travel some of the country's most stunning vistas this holiday weekend—all right here in New York State.
Visit a Farmers' Market
Alas—Thanksgiving has traditionally become a day allotted to giving thanks for the blessing of the harvest. Mark New York State's harvest with a visit to a local farm or farmer's market. Laugh with your family and friends as you wander through pumpkin patches and corn mazes, then pick up some locally-grown produce for Thanksgiving dinner.
Learn Some History
Thanksgiving is also a tradition that can be traced to a Pilgrim and Puritan feast in Plymouth in the early seventeenth century. Take this weekend to get back to your roots by delving into New York State history. Whether you prefer fine art, rustic crafts, science, or live history reenactments, there is a New York museum and/or historic site for just about everyone. Draw up your own path of heritage exploration using our Path Through History site.
Don't forget to post photos of your New York adventures on Instagram and Twitter with #iSpyNY and #ILoveNY and tag us on Facebook!