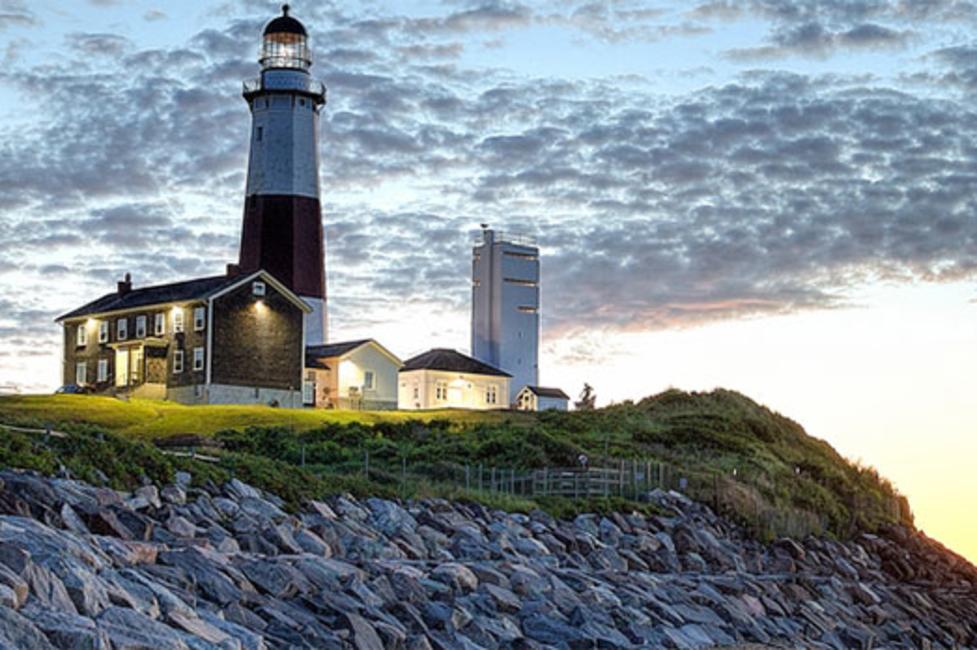 You may be surprised at how easy it is to get to the nearby regions of the Hudson Valley and Long Island from New York City, even if you don't have access to a car. We've got some easy day trips (or weekend getaways) on the train to show you a whole new New York than you may be used to, from beautiful beaches to marvelous mountains. With gorgeous scenery outside the window and no worries about driving or parking, everyone in the family can enjoy the journey as well as the destination. New York Getaway packages from the Long Island Railroad and Metro-North make it even easier to have two vacations in one or an escape from your daily routine!
Splish and Splash on Long Island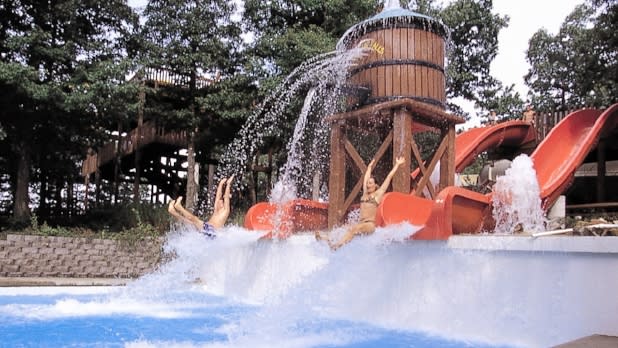 One of Long Island's best places to visit with kids, Splish Splash, was voted a Top American Waterpark by the Travel Channel. With 96 acres of water slides, rides, and attractions, plus a tropical bird show, food courts, picnic areas, and shops, there's something for everyone in the family.
Thrill seekers have a blast venturing through wild rides and slides at every turn, like the unique new hydromagnetic water coaster and Riptide Racer. For easygoing fun, there's a lazy river, refreshing wave pools, and playful kiddy zones like the Elephant Slide and Monsoon Lagoon. Pack a towel and sunblock and you're good to go!
Consider taking a cab to explore the fascinating Long Island Aquarium, just five miles east in Riverhead. A host of kid-friendly places to stay include the waterfront Hyatt Place LI/East End, right next door to the Aquarium. Directly behind the Hyatt, Treasure Cove Resort Marina rents kayaks, canoes, and stand-up paddleboards for easy gliding on a gentle stretch of the Peconic River. The hotel also provides free shuttle service to many nearby attractions including beautiful Ponquogue Beach, one of the Hamptons' most popular beaches, with a snack bar, pavilion, changing rooms, and free admission (parking fees only).
How to get there: Take Long Island Railroad from Penn Station in Manhattan to Riverhead (2 hours 15 minutes, includes transfer at Ronkonkoma; fare $15–30). Call ahead to reserve a 10-minute taxi ride from Riverhead train station to Splish Splash. All County Taxi (631-727-0707) charges about $10 for a family of four. MTA Rail/shuttle-bus packages include round-trip rail fare, connecting shuttles, and attraction admission.
Play Your Heart Out at Playland Amusement Park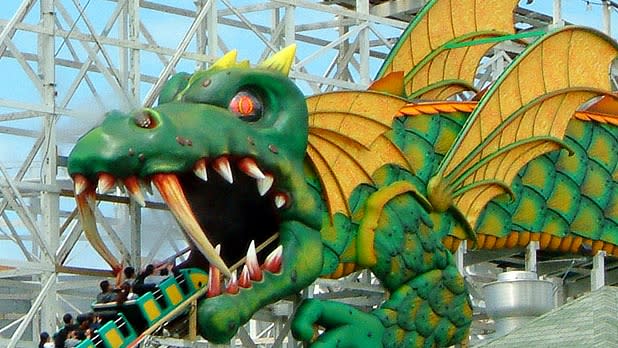 Catch a train to Rye in the Hudson Valley, where Playland has everything you need for a perfect day trip. On the shores of the Long Island Sound, this well-maintained 1928 landmark defines one-stop fun with a beach, pool, boardwalk, fishing pier, an ice-rink open all year long, and 50(!) rides. Thrills for kids of all ages range from Kiddyland's colorful carousel to the splashy Log Flume, soaring Sky Flyer, and original wooden Dragon Coaster with a 128-foot plunge.
Sit down to tasty meals in the new waterside restaurant or indulge in the concession stand classics, from burgers to funnel cakes and cotton candy. Family entertainment includes daily concerts, magicians, and Friday-night fireworks. To help you travel light, Playland rents strollers, beach chairs, umbrellas, and lockers. (Admission: $30; $20 kids under 48"; $10 spectators)
How to get there: Take Metro-North from Grand Central Terminal in Manhattan to Rye Station (about 45 minutes; fare: $7–19). Call ahead for a six-minute taxi ride to Playland Park. Purchase Street Taxi (914-967-0500) charges about $15 for a family of four. Check out MTA getaway packages that include admission and train tickets.
Take a quiz! Find the right summer amusement ride for you!
Catch Sun Rays on Long Island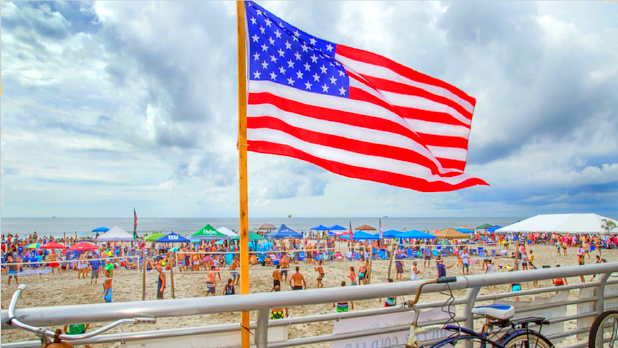 Less than an hour from Manhattan, discover Long Beach's white sands, ocean swimming, iconic 2.2-mile boardwalk, and fun festivals. Long Island's first barrier island east of NYC, it's easy to reach by train and a favorite spot for families. No need to lug your gear on the train—rentals of beach chairs and umbrellas are available. Grab lunch at the Boardwalk Cafe market hall and enjoy the East Games Area's shuffleboard, bocce ball, table tennis, and more.
This seaside resort's simple pleasures make for a relaxed day trip. If you're looking for more high-flying adventures, reserve family trapeze lessons with I.Fly Trapeze Long Beach, available for ages 4 to 104. Imagine the pictures you'll post!
How to get there: Take Long Island Railroad from Penn Station in Manhattan to Long Beach Station (about 50 minutes; fare: $6–20). Walk a few blocks to the beach or ride with Long Beach Taxi (516-432-7500). Check the website for Long Beach Express trains and MTA getaway packages that include train tickets and beach passes.
Read more: Your Summer Guide to Beaching on Long Island
Climb Historic Montauk Lighthouse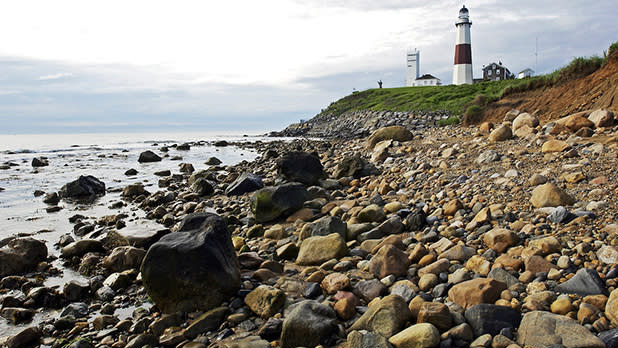 The views go on forever at the eastern tip of Long Island, and so does the fun! Stroll through Montauk Village to browse the shops, grab a bite to eat, or relax on the beach. Next, explore the 1796 Montauk Lighthouse and keeper's house museum. You can climb the 137-step spiral staircase to the top (children must be at least 41 inches tall), for spectacular views of the Atlantic Ocean. Follow a path down the bluff to explore the rocky beach; this one's not for swimming, but there are plenty of other beaches nearby. Next stop: Gosman's Dock. Browse the unique shops and then head up to the roof deck for casual dining with fresh local seafood and panoramic views.
How to get there: Take Long Island Railroad from Manhattan's Penn Station to Montauk (3 hours; switch at Jamaica to the Montauk train). The escorted MTA Montauk Lighthouse getaway tour visits three areas: Montauk Village, the lighthouse, and Gosman's Dock. The package (adults: $50.50; children age 5–11: $35.50) includes discounted round-trip rail, bus transportation to all three locations, and admission to Montauk Point Lighthouse.
Experience the Magic of Flight at Old Rhinebeck Aerodrome
Bring your sense of adventure and your camera. Exhibits fly at the Old Rhinebeck Aerodrome, a living aviation museum that has been entertaining, educating, and flying families for more than 50 years. This one-of-a-kind museum showcases more than 60 airworthy antique planes from the Pioneer Era to the Golden Age of Aviation (1927–47).
Kids love the historic air shows and barnstorming demonstrations. Cheer for the hero and boo the villain in recreated WWI dogfights, or put on Snoopy-style helmets and goggles for a thrilling biplane ride. Open daily from 10 am to 5 pm, May through October, the museum presents air shows Saturdays and Sundays, from 2 to 4 pm. Biplane rides for up to four passengers are available by reservation.
If you want to stay over, family-friendly hotels nearby include Rhinebeck's historic Beekman Arms & Delamater Inn, a charming property with spacious rooms, suites and guest houses clustered around a courtyard. Fun fact: the colonial-era inn happens to be America's oldest continuously operated hotel.
How to get there: Take Amtrak from Penn Station to Rhinecliff Station (about 1 hour 45 minutes; fare: $15–50). Call ahead to arrange a ride to the Old Rhinebeck Aerodrome in Red Hook, seven miles from Rhinecliff Station. Rhinecliff Taxi (845-532-5788) charges about $15 for a family of four.
Ride/Drive option: Take Metro-North from Manhattan's Grand Central Terminal to Poughkeepsie (about 1 hour 50 minutes; fare: $9–25). Before traveling, reserve a Zipcar (located at the station) for the 23-mile drive (about 35 minutes) to the Old Rhinebeck Aerodrome in Red Hook. MTA getaway packages include admission and train tickets.
Kayak and Paddleboard on Great South Bay

Long Island's idyllic beaches, bays, and salt marshes host naturally refreshing family outings. Suited to all generations and ability levels, the Dinghy Shop on beautiful Great South Bay has a sandy beach and everything you need for a great day on the water. The sports shop, set in a historic seaplane factory, offers sailing and safety lessons and rents top-notch kayaks, paddleboards, and sailboats.
Dinghy Shop knows how to make visits fun for everyone in the family, including guests with special needs. Beach umbrellas and sand toys are loaned for littles who love to dig in the sand and make spectacular castles while older kids and adults head out to explore the local waters via kayak or paddleboard. Life jackets and paddles are provided. Picnic tables shaded by canopies make waterside picnics a breeze.
For smooth sailing, call ahead for information and reservations: 631-264-0005.
How to get there: Take Long Island Railroad from Penn Station in Manhattan to Amityville Station (about 1 hour; fare: $8–16). A ride with Lindy's Taxi (631-473-0707) to the Dinghy Shop takes about six minutes and costs about $15 for a family of four. Check out MTA getaway packages that include train tickets, taxi, and two-hour kayak or paddleboard rentals.
Meet Art and Nature at Storm King Art Center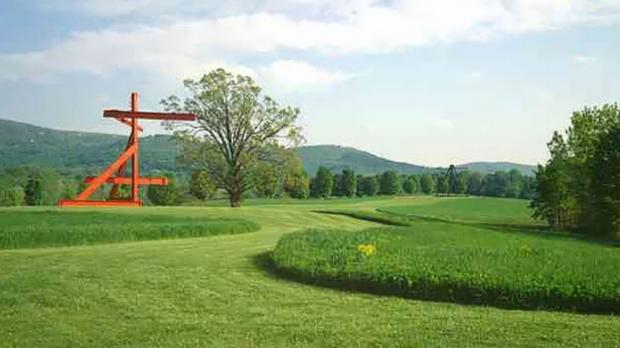 A perfect mix of art and nature, Storm King Art Center is one of the world's leading sculpture parks. On 500 scenic acres, the ever-changing landscape and sky create a dramatic backdrop for a collection of more than 100 large-scale sculptures. Families enjoy time discovering art together in the great outdoors, where kids can roam, run, play, and explore the meadows, rolling hills, and woodlands. The splendid scenery is Instagram gold.
Onsite find an outdoor café, bike rentals, accessible trams, free tours, and seasonal family and music events. Bring comfy shoes, a picnic lunch, and bug repellent.
How to get there: Take NJ Transit from Penn Station to Salisbury Mills Cornwall (about 1 hour 30 minutes; roundtrip fare: $16.70 kids, $34 adults), just three miles from Storm King by taxi. Another option is Metro-North from Grand Central Terminal in Manhattan to Beacon (about 1 hour 25 minutes; fare: $9–22). Before you travel, reserve a taxi, Uber or a Zipcar (located at the station) for the 12.7-mile (25-minute) drive to Storm King Art Center, in New Windsor across the Hudson River. MTA getaway packages include admission and train tickets. Note: Storm King offers shuttle service to and from Beacon train station on weekends and holiday Mondays.
Coach USA's Storm King Art Center bus packages go directly from the ShortLine Terminal at Port Authority and drop you off on-property. Packages ($48 adults; $24 children ages 5–11) include round-trip bus transportation and admission to Storm King. Seating is first-come-first-served, so plan to arrive at Port Authority an hour before your departure time if you are visiting in October, peak leaf-peeping time in the Hudson Valley.
Get Close to Nature at Bear Mountain

A natural choice for family excursions, Bear Mountain State Park has shaded picnic groves, a lake for fishing, and hiking trails to breathtaking views. Explore four trailside museums and the small zoo, a menagerie of rescued local wildlife like owls, coyotes, and of course bears. Row boats on Hessian Lake, swim in the massive pool ($2 adults; $1 kids 6–12), and play on woodsy playgrounds.
A fan favorite, the merry-go-round, features hand-carved native animals, from black bears to red foxes and swans. It spins year-round in a pavilion beside the lovely Bear Mountain Inn, where the restaurant presents serene views and global cuisine created with locally sourced foods. Get snacks, lunch, or ice-cream at the Hiker's Café or concession stand.
With so much to see and do, you may want to extend your getaway. Book a stay in the park's stone-and-timber Bear Mountain Inn, Overlook Lodge, or Stone Cottages.
How to get there: Take Metro-North from Grand Central Terminal in Manhattan to Peekskill (about 65 minutes; fare: $8–23). Reserve a 15-minute taxi ride to Bear Mountain. Bynum Taxi (914-737-3753) charges about $28 for a family of four. You can also travel by bus: Coach USA runs day trips from NYC to the Bear Mountain Inn (about 90 minutes).
Be Inspired in the Hudson Valley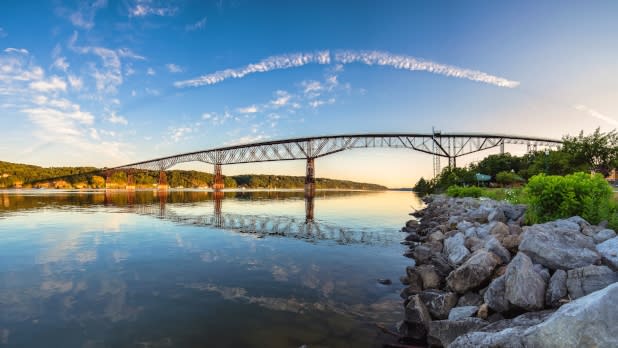 Experience the Hudson Valley's spectacular beauty from the Walkway Over the Hudson. The longest pedestrian bridge in the world, this marvel of adaptive-use architecture stretches 1.28 miles across the river, presenting thrilling vistas every step of the way. As you stroll 212 feet above the Hudson, it feels like you're floating on air!
From Poughkeepsie train station, it's about ¾ of a mile to the walkway entrance. Near the east entrance, you can explore the hands-on Mid-Hudson Children's Museum and Poughkeepsie's Little Italy, staying true to its roots with festivals and eateries serving authentic dishes, deli, and pastries.
To see how people who made history lived, visit nearby Hyde Park's national historic sites: Franklin D. Roosevelt Home, Top Cottage, Eleanor Roosevelt's Val-Kill, and the magnificent Vanderbilt Mansion. Walk the scenic grounds and stop to smell the roses in lovely gardens. Admission is free for kids through age 15.
Of course, with so much to see and do, you may want to stay longer. Local hotels include the kid-friendly Hampton Inn & Suites Poughkeepsie, offering family packages and amenities like a pool and free breakfast. Both Uber and Lyft serve the area, and taxis wait at the station for arriving trains.
How to get there: Travel to Poughkeepsie via Metro-North from Grand Central Terminal (about 1 hour 50 minutes; fare: $9–25) or Amtrak from Penn Station (about 1 hour 30 minutes; fare: $26–51). Dutchess County Transit's hourly shuttle ($1.75) runs from Poughkeepsie station Monday–Saturday (except holidays), and National Park Service's free Roosevelt Ride runs on Sundays and holidays, May–October. Both shuttles will bring you to the FDR Home visitor center, with connections to the other Hyde Park sites.
You can also reserve a taxi (B&B Taxi: 845-704-7000) or Zipcar, located at the station, for the six-mile drive to FDR's home (12 minutes) or eight-mile drive to Vanderbilt Mansion. See Amtrak's New York by Rail or MTA getaway packages for discounts and more information.
Adventure in LEGOLAND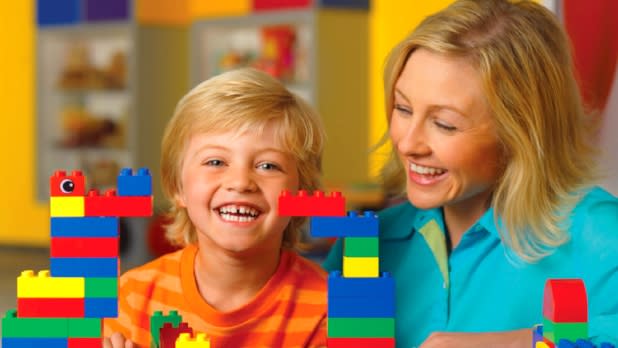 Step into the ultimate Lego box, Legoland Discovery Center Westchester, and enter a magical world of adventures. Besides building amazing creations with an outrageous variety of Lego pieces in ten play zones, kids and parents can fly in enchanted carts on Merlin's Apprentice ride, explore a spectacular interactive city built with 1.5 million bricks, build and race Lego cars, and watch a 4-D movie in the Lego Cinema. The new climbing wall and Ninjago City Adventure test kids' ninja skills.
Get your tickets in advance as they sometimes sell out. While you could definitely spend the whole day exploring this giant indoor playground, other nearby Yonkers attractions include the Hudson River Museum, offering family programs and a state-of-the-art planetarium, and Science Barge, a unique floating farm and science museum.
How to get there: Take Metro-North from Grand Central Terminal in Manhattan to Yonkers (about 30 minutes; fare: $5–11). A taxi line awaits all trains at the station; it's just six miles to Legoland. If you want to explore the area, reserve a Zipcar (located at Yonkers station) before traveling. MTA getaway packages include train tickets and admission.
Bring the Harvest Home

Sprout Creek Farm
Bite into a sweet crisp apple you've just picked, or pick a perfect pumpkin, as you take in the dazzling fall colors. Families come from near and far to celebrate the harvest and pick the rich bounty at friendly farms in the Hudson Valley, one of the nation's major producers of fall fruit.
MTA's Farm Fresh Beacon tours let you create your own day of adventures. A hop-on/hop-off looping shuttle will pick you up at the Beacon train station and makes stops at Fishkill Farms, Meadowbrook Farm, and Sprout Creek Farm. Pick apples or pumpkins, pet farm animals, and sample delicious local foods and sweet cider. Fees are included with your ticket (Tours run on certain weekend dates in the fall.)
How to get there: After you've made online reservations (at least 48 hours in advance) with EscapeMaker, purchase your rail/bus package ticket from Metro-North. Take the train from NYC's Grand Central Station to the Beacon station (about 1 hour 25 minutes), where a shuttle will meet the trains arriving in Beacon at 10:16 am and 12:16 pm. Package price from NYC: $55 adults; $29 children ages 5–11; $27 children under age 5.
Direct bus tours from NYC to Hudson Valley farms are available via EscapeMaker's Dutchess Farms, Apple & Pumpkin Picking Weekends on October 27–28. Catch the bus in NYC to be transported to fragrant and colorful apple orchards and pumpkin patches. You can then take a hop-on/hop-off shuttle throughout the day to visit bountiful pick-your-own apple and pumpkin farms and explore the historic town of Rhinebeck or Red Hook. Depending upon fruit availability, stops might include Greig Farm, Rose Hill Farm, Mead Orchards, and Kesicke Farm, which also features a friendly petting zoo and an abundant farm market.
Celebrate Autumn in Sleepy Hollow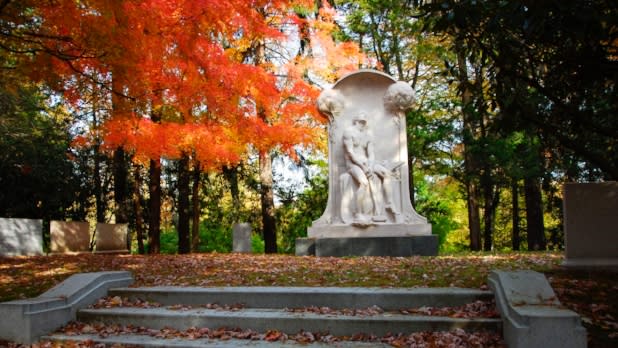 Experience the magic of autumn in beautiful Sleepy Hollow, where families delight in a season full of one-of-a-kind events at Historic Hudson Valley homes. On Labor Day weekend, Philipsburg Manor hosts CORNucopia, a unique corn festival with music, farm tours, corny games and mazes, and rare treats from sweet corn ice cream to hand-crafted root beer.
See where the Legend of Sleepy Hollow began, in author Washington Irving's storybook home. Every weekend from October 6 to 28, Sunnyside hosts Home of the Legend, with tours of the whimsical house and gardens, stories about Irving and his famous tales, 19-century games and Headless Horseman art activities. This daytime event is a perfect prelude to an evening at Van Cortlandt Manor's wildly popular Great Jack O'Lantern Blaze. Get tickets in advance; they sell out fast.
See Historic Hudson Valley for more events, from a dramatic performance of Irving's Legend at the Old Dutch Church (across the street from Philipsburg Manor) to the truly terrifying trails of Horseman's Hollow at Philipsburg Manor.
In Tarrytown, shops and restaurants line a charming Main Street. Nearby, in Pocantico Hills, the Blue Hill Café & Grain Bar at Stone Barns Center (named one of the World's 50 Best Restaurants in 2018!) prepares delicious farm-to-table snacks and salads (in addition to extravagant multi-course dinners). Eat in the courtyard and take a stroll around the farm.
How to get there: Take Metro-North from Grand Central Terminal in Manhattan to Tarrytown Station (35–45 minutes; fare: $7–20). Call ahead for a 10-minute taxi ride to Sunnyside, Philipsburg Manor or Stone Barns Center. Knapp-McCarthy Taxi (914-631-8294) charges about $14 for a family of four. To go directly to Van Cortlandt Manor (11 miles from Sunnyside), take Metro-North to Croton-Harmon (50–70 minutes; fare: $6–14); taxis meet most trains at the station.
Don't forget to post photos of your New York adventures on Instagram and Twitter with #iSpyNY and #ILoveNY and tag us on Facebook!