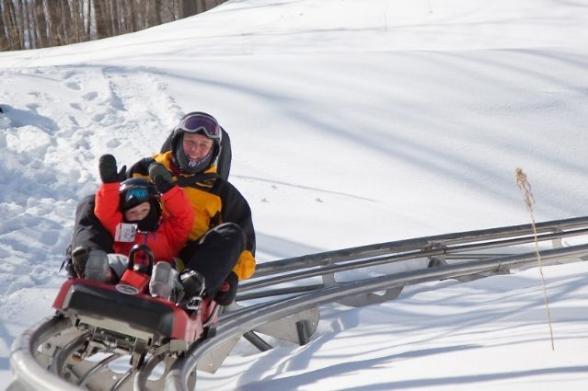 Get outside and experience a fun outdoor winter activity in New York and you'll understand why this is a favorite season. Things to do in winter include captivating hikes, exhilarating mountain coaster rides, walks to visit frozen waterfalls or fountains, strolls through sculpture gardens, and a range of sports and activities for those in search of relaxation or an adrenaline rush. Whether you're setting out for another ski trip or trying an exciting new adventure for the first time, New York has you covered! 
Masks are encouraged, but optional in most settings per New York State guidelines. Individual businesses or attractions may require mask wearing. Call ahead and check websites and social media to make sure attractions and amenities are open and available.
Updated: 1/17/2023
Skiing and Snowboarding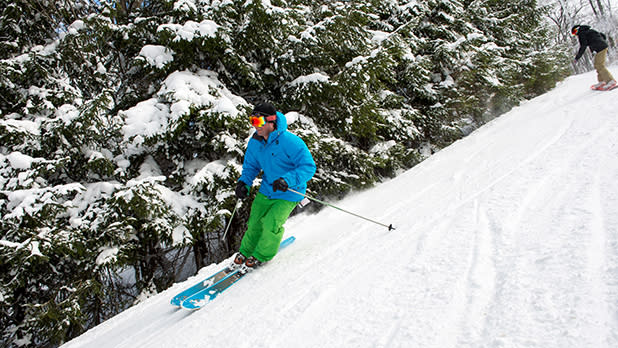 New York State has more ski areas than any state in the nation, so New Yorkers are always a short drive away from great skiing and snowboarding. Maybe you are a lifelong skier looking for a black diamond trail, including the greatest vertical drop in the Northeast at Whiteface in the Adirondacks. Or maybe you are a beginner heading for one of the smaller hills that specialize in first-timers in areas like the Catskills and Hudson Valley. There are also exciting opportunities to ski during the week or try night skiing, plus resorts that are fun for the whole family. Visit I Ski New York for snow reports, vacation packages, and more. 
Winter Hikes and Nature Walks
Even for those who love nature, it's sometimes easy to forget just how stunning and serene a winter walk can be. For some, it means a serious hike up one of New York's high peaks. For others, it's strapping on skis for a vigorous trek at one of New York's cross-country ski facilities. For still others, it means putting on boots or snowshoes to peacefully walk the trails of a nature preserve or multi-use trail. From walking the nature trail at the Roger Tory Peterson Institute in Jamestown to bird watching at Montezuma National Wildlife Refuge in the Finger Lakes, to state parks and Audubon sanctuaries across the state, the opportunities are endless. Check out our list of 10 Best Winter Hikes in New York for more.
Cross-Country Skiing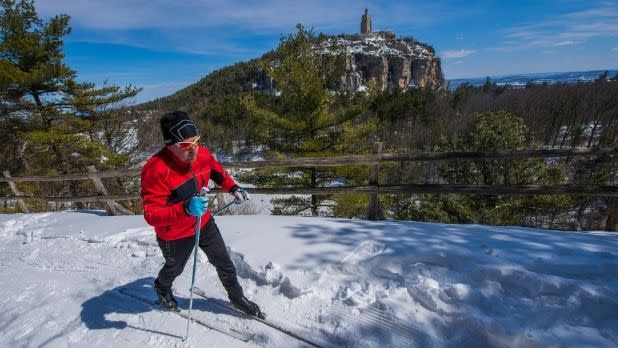 One of the best things to do in winter and a great way to enjoy New York's rich natural landscapes is to cross-country (or XC) ski on quiet forest trails. There are a wide variety of opportunities throughout the state, from beginner to advanced trails, in parks or at ski areas, along river shorelines and mountain ridgelines, and in secluded backcountry. Find XC skiing near you on I LOVE NY's cross-country skiing page, which also has information on how to get started with the sport and more. 
Ice Fishing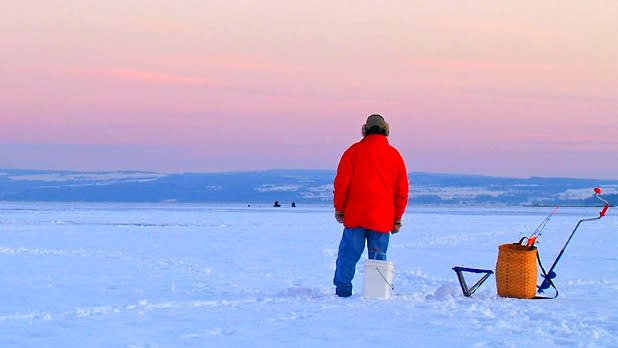 New York's many lakes and rivers continue to attract fishing enthusiasts in the winter, albeit for a much different type of experience. Ice fishing involves finding a sufficiently frozen body of water, then bringing specialized equipment as well as chairs and shelter out onto the ice, and cutting holes for fishing. Lake Ontario in the Finger Lakes and the Salmon and Oswego Rivers in Thousands Islands-Seaway, and Adirondacks bodies of water such as Lake George are among the best-known ice fishing spots in the state. New York's Department of Environmental Conservation has a helpful guide for beginners, "Learn How to Ice Fish," and our Ice Fishing in New York page features listings for locations and guides that can help those who are new to the sport. 
Dogsledding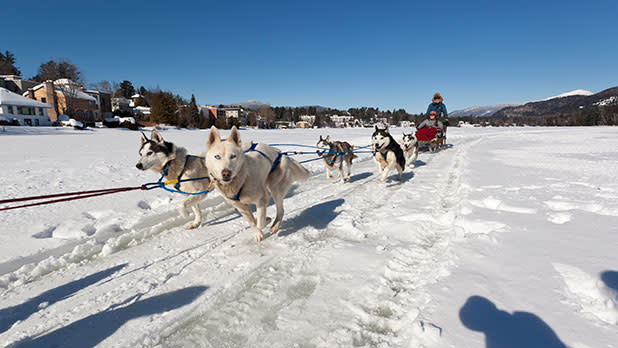 You don't have to be in the Arctic to have an authentic dog sled experience. Most winter days in the Olympic village of Lake Placid, dog sled rides are available on frozen Mirror Lake from Thunder Mountain Dog Sled Tours and Mike Arnold Dog Sled Rides. Rides are first-come, first-served, and you can walk down to the ice and pay the drivers directly. Sit on the sled, cover yourself with a cozy blanket, say mush, and enjoy the ride! Before or after your winter canine encounter, you can skate the plowed two-mile-long ice track that circumnavigates the entire lake. 
Tobogganing and Tubing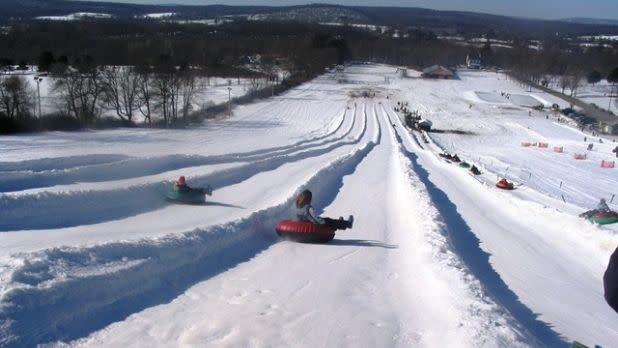 Tobogganing is more than the sledding-down-a-hill experience you remember as a kid. In select spots in New York State, toboggan chutes can be as high as three stories tall. The chutes at Chestnut Ridge Park, 20 miles south of Buffalo in the Greater Niagara region, have been operating since the 1930s from atop an impressive sledding hill. The chute in Lake Placid in the Adirondacks sends tobogganers onto frozen Mirror Lake, leading to competitions among family and friends to see who can go the furthest. It's a thrilling ride no matter what. Many ski areas in New York State offer downhill winter fun where you don't even have to stand up. Tubing is a family-friendly activity that is like sledding with bounce. Get in an inflated tube and hold on for the ride! Sometimes, double tubes are available that allow kids to ride with a parent or friend. 
Winter Villages and Holiday Markets 
Whether shopping for the holidays or eyeing new year's sales, New York can make the experience festive and fun. At the Bank of America Bryant Park Winter Village, merchants set up shop in temporary glass structures around a massive ice rink. There's great shopping with cozy winter vibes at Main Streets around New York State, in villages like Northport on Long Island, Clayton in Thousand Islands-Seaway, and Hammondsport (pictured) in the Finger Lakes. 
Ice Biking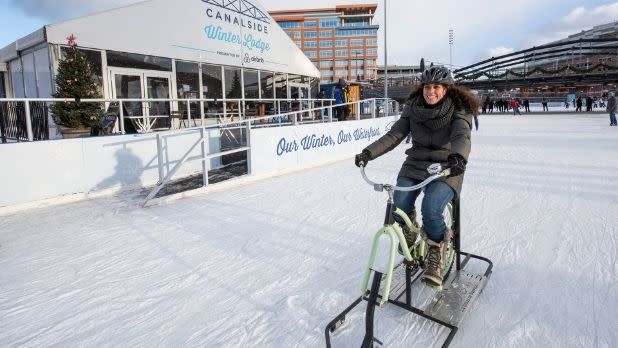 Even if you don't skate, Buffalo's ice bikes allow for a fun and accessible frozen experience for all ages. Featured on "The Today Show," these unique vehicles allow riders to pedal and steer around the rink at Canalside Buffalo just as if you were on a regular old street bike. The bikes were developed and manufactured right in the area, so you will be having a one-of-a-kind New York experience.
Curling 

Credit: @sistums on Instagram
This winter ice sport in which teams slide stones across ice aiming for a target or "house" became surprisingly popular during the 2018 Winter Olympics when the United States men's curling team won its first-ever gold medal. Curling has a much longer history in New York, however, with team clubs throughout the state including one of the oldest in the country, the Utica Curling Club, founded in 1868. That club and others are good places to find information about how to get started with the sport. For those who want to try curling immediately, a few places in the state allow groups to rent a curling "sheet" or lane. 
Fat Bikes 
The same plumped-up bicycle tires that allow mountain bikers to explore incredibly challenging terrain make exciting winter adventures possible on two wheels. Many ski areas and parks now offer access to fat bikes in winter, and sections of the Empire State Trail will also attract fat bike riders this winter, giving visitors more ways to see New York's natural beauty up close. Find a place to ride via our Biking in New York page.
Snowmobiling
Few outdoor activities rival the rush of snowmobiling, and few places offer the terrain and climate to experience it the way you can in New York. The Adirondacks boasts more than 800 miles of groomed trails, hotels, and other lodgings that cater to snowmobilers, as well as the trails at Old Forge, considered the Snowmobile Capital of the East. I LOVE NY's Snowmobiling in New York page has tips on licensing, rentals, and more, to help get out on the trails and experience the thrills of riding the state's well-maintained trails.
Mountain Coasters and Ziplining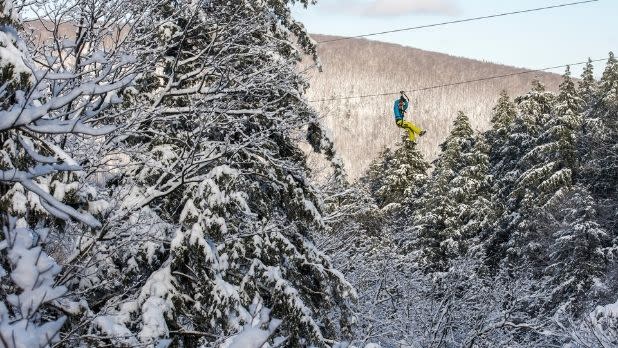 You don't need to be on snow or ice to zip down a mountain in winter. Mountain coasters put you on a sled that goes down a metal track where you control the speed. The Sky High Mountain Coaster at Holiday Valley Resort in Ellicottville, in Western New York's Chautauqua-Allegheny religion, has a rise of 283 feet and zooms you down 15 curves, 12 waves, and a huge spiral. On the other side of the state, the new Cliffside Coaster at Mount Van Hovenberg near Lake Placid is the longest in America, racing alongside the historic 1980 Olympic bobsled track. Try ziplining above snowy landscapes at Bristol Mountain Aerial Adventures and Greek Peak Mountain Resort.
Frozen Waterfalls and Fountains

Credit: @im.notjustdesign on Instagram
Need a new outdoor game this winter? Try hunting out easily accessible waterfalls and fountains that freeze over, creating surreal beauty in the process. Some good places to start include High Falls, a 95-foot-tall waterfall in downtown Rochester; the fountains at the New York Botanical Garden and in Central Park in New York City; and Taughannock Falls State Park (pictured), where an overlook remains open in winter when trails to the base are closed. Of course, two of New York's most famed attractions, Niagara Falls and Letchworth State Park, feature some of the most grandiose and inspiring frozen waterfalls anywhere! 
Outdoor Ice Skating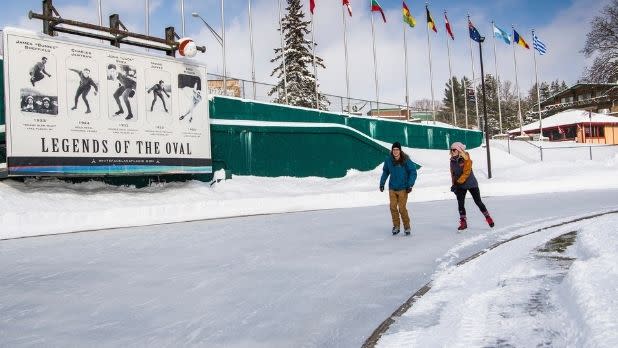 New Yorkers love to strap on their skates and glide across the ice every winter. As its name implies, Bear Mountain Ice Rink in the Hudson Valley offers an impressive view. You become part of Olympic history when you skate the outdoor speed skating oval in Lake Placid (pictured) where Eric Heiden won five Olympic Gold Medals during the 1980 Winter Olympics. Two different rinks are available indoors as well, next door at the Olympic Center. New York City has skating in Central Park, Bryant Park, and more. Skating is also available at Syracuse's Clinton Square Rink and at Canalside Buffalo.
Sculpture Parks and Historic Sites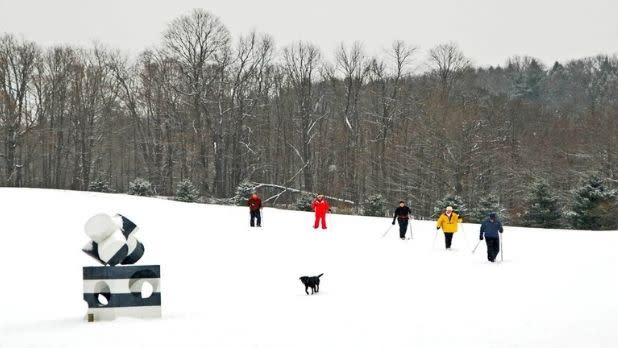 If you want to see or learn something while taking a winter walk, a number of New York sculpture parks and historic sites remain open in winter. At Art Omi (pictured) in Ghent in the Hudson Valley, you can stroll among 60 works on 120 acres from dawn to dusk every day except holidays. Twenty minutes away in Hudson, the 250-acre grounds of Olana, with landscape designed by Hudson River School artist Frederic Church, are open daily from 8 am to sunset with five miles of carriage roads. Griffis Sculpture Park in East Otto, south of Buffalo, features sculptures of steel and other structures on 450 acres of woods, fields, and even ponds. Though the tour road is closed, guests can park and walk the battlefields at Saratoga National Historic Park, where the British Army surrendered for the first time in the history of the world, in what became the turning point of the American Revolution.
---
Please remember to prepare ahead when heading outdoors in New York in Winter. Read How to Practice Responsible Recreation in New York State for more.
Share your New York State adventures with us on Instagram and Twitter with #iSpyNY and tag us on Facebook!