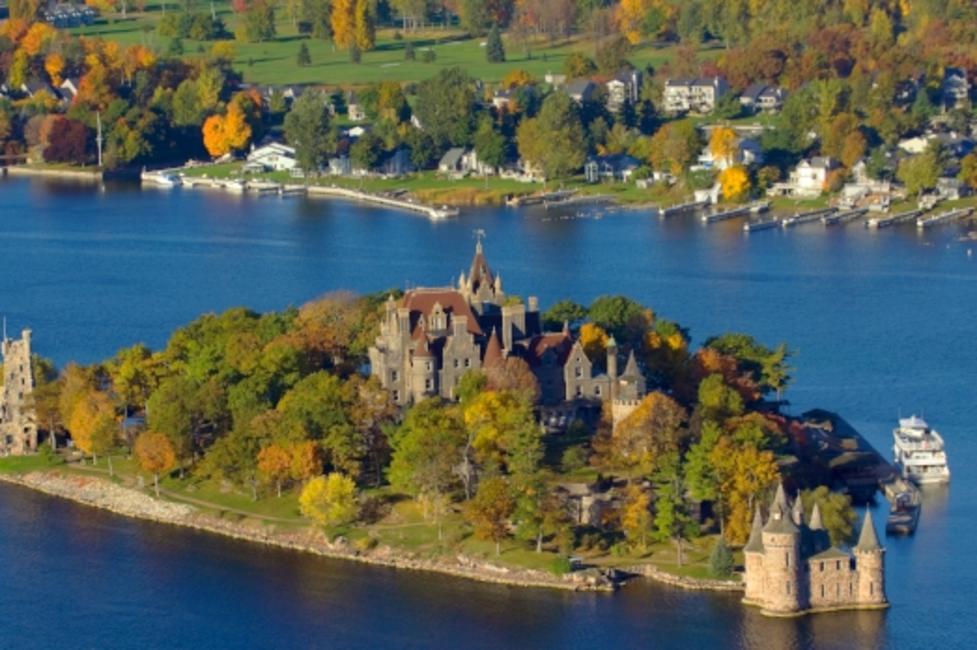 Is there anything more magical than when tree-covered hills and mountains turn brilliant shades of red, orange, and yellow? Or when little faces light up with delight at the sight of funny Halloween costumes? Or the smell of fresh apples, and even better—fresh apple pie? The jury is out! Fall is an incredible time in New York, thanks to numerous festivals, breathtaking nature, pumpkin-picking (or chucking), and more! Learn how to make the most of the season before winter's chill is upon us.
1. Enjoy wine harvest season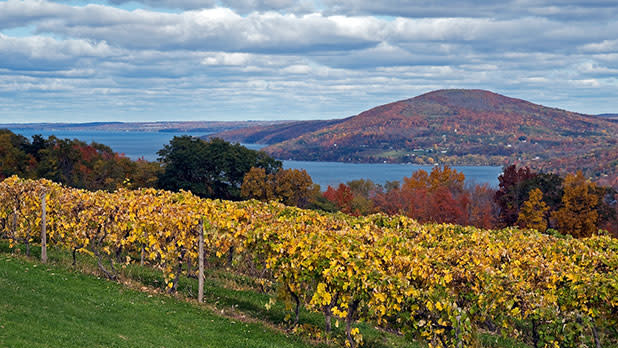 Wine lovers are notoriously good at coming up with reasons to drink wine ("It's 5 o'clock somewhere!") but fall really is a great time to tour Long Island Wine Country and Finger Lakes Wine Country. Harvest season generally runs from mid-August through October which means a flurry of wine-making is happening right now. Visit any of the wineries to learn about the process, from grapevine to bottle, in relaxing atmospheres, like that of sustainable North Fork winery McCall Wines. Plus, a bunch of wineries will be hosting special seasonal events, such as the 29th Annual Hunt Country Harvest Festival at Hunt Country Vineyards, featuring grape-stomping, pumpkin-painting, and free wine tastings, or "Harfest" at Wagner Vineyards where you can enjoy free wine and beer, live music, and more.
Read more: Family-Friendly Wineries, Breweries, & Cider Mills
2. Feel on top of the world at Mohonk Preserve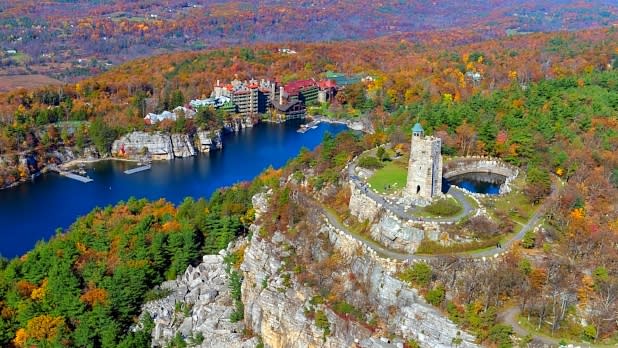 Looking for the perfect spot to hike, bike, rock climb, horseback ride, bird watch, and simply bask in the glory of fall foliage? Look no farther than Mohonk Preserve in the Catskills. You can select your hike from options that range from short and leisurely to very challenging, and you'll find level carriage roads which make enjoying nature easy for all levels of fitness. Swing by the visitors center for kid-friendly puzzles, games, nature stories, and even live animals. If you're feeling ambitious, try the Labyrinth and Lemon Squeeze hikes, which wind through crevices, up wooden ladders, and over a number of rock scrambles, or choose the much more manageable Sky Top Trail, for panoramic views that include the majestic Mohonk Mountain House.
3. Be at one with nature in Watkins Glen State Park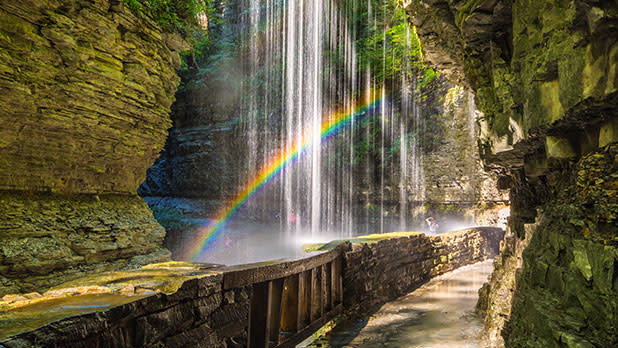 Fallen leaves crunching underfoot, gurgling brooks, and rushing waterfalls: find some of the most beautiful natural scenery in Watkins Glen State Park this season. Hiking the Gorge Trail is not overly challenging (though you will find many stairs) and it will take you past 19 waterfalls in total. One of these is the Cavern Cascade, which tends to spray passersby, so raincoats or ponchos are recommended! The trail closes in the beginning of November and gets more and more crowded as the weather warms up in the spring and summer, so fall is pretty much your sweet spot for a perfectly peaceful excursion.
4. Retrace the steps of new Americans at Ellis Island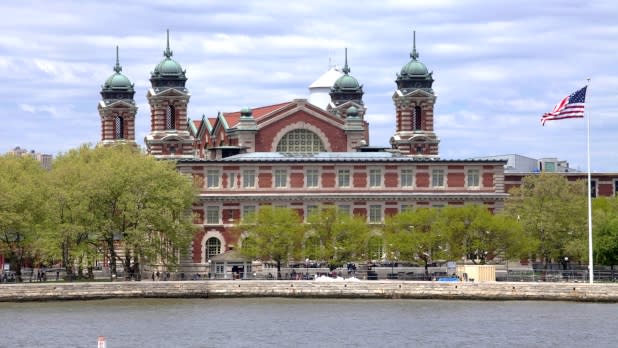 New York has always been the world's portal to the rest of the country, and for 12 million immigrants who arrived between 1892 and 1954, Ellis Island was their very first taste of America. In fact, it's estimated that more than 100 million Americans today are the descendants of those immigrants, so if that doesn't include you, it most certainly includes someone you know! Enjoy the ferry ride from Battery Park to Liberty Island, say "Hi" to Lady Liberty (and check out the museum inside her pedestal), then sail to Ellis Island and picture yourself in the shoes of someone determined to start a new life. You can take a guided tour or a self-guided audio tour to learn all about the experiences of those who crossed through, or sign up for the "hard hat" tour of select areas including certain wards in the Ellis Island Hospital, the kitchen, and laundry building.
5. Explore the new and improved Thacher State Park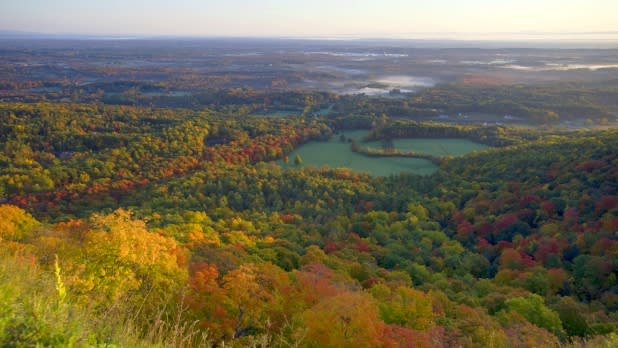 Another autumn wonderland to visit this season is just a 30-minute drive from Albany at the John Boyd Thacher State Park along with its brand-new 8,240 square-foot visitors center. On a clear day, Thacher offers up sweeping views over the Helderberg Escarpment, the Hudson-Mohawk Valleys, and the Adirondack and Green Mountains. The new center's outdoor observation deck is a great place to soak it all in. Before or after your hike, check out the Emma Treadwell Thacher Nature Center to learn about the rich geology of the escarpment, see a live honeybee hive, bird-watching vantage points, fossils, and more. You can also find volleyball courts, playgrounds, and plenty of picnic areas.
6. Crack up at the National Comedy Center

Credit: Dan Swack @swackman
Why not add a few laughs to your fall bucket list? We've got just the thing: The now open, brand-new National Comedy Center in Jamestown. Come to explore the more than 50 interactive exhibits which bring to life every different style and genre of comedy, from vaudeville acts and slapstick to even Internet memes! You can create your own cartoons, compete in laugh battles to make your friends crack a smile before you do, and try stand-up karaoke, where you perform classic routines from legendary comics.
Read more: 10 of Our Favorite Things at the National Comedy Center
7. Discover the "Heart" of the Thousand Islands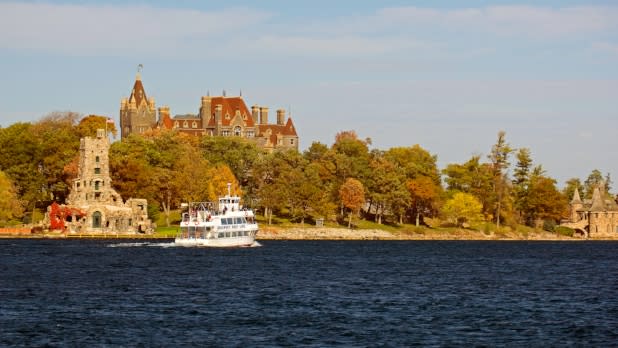 If you haven't yet visited the magical Boldt Castle on Heart Island, the 120-room summer home of the late 1800s, early 1900s millionaire George C. Boldt, go now! Its season lasts until October 21 when it closes up shop until spring. Take a sightseeing boat tour to the castle, soaking up stunningly scenic foliage along the way, then explore this real-life fairytale castle and hear about its tragic, romantic past.
8. Go fall fishing

Credit: Destination Niagara USA
Besides delicious apples, pumpkins, squashes, and gourds, there's something else in season during fall: a whole bunch of fish! If you want to get your fishing on this autumn, you can find brown trout, rainbow trout, and brook trout in the Beaver Kill in "Trout Town USA," the small town of Roscoe. The Catskills are the birthplace of modern fly-fishing and the Beaverkill Angler can help you out. Additionally, try picturesque Lower Niagara River where Smallmouth Bass season is September and October, Chinook and Coho salmon season runs from September through November, and the Steelhead show up in November and December. If you need some help putting a trip together, Niagara Region Charter Service offers reasonably priced packages including the boat, fishing equipment, and bait.
9. Fall in love with the foliage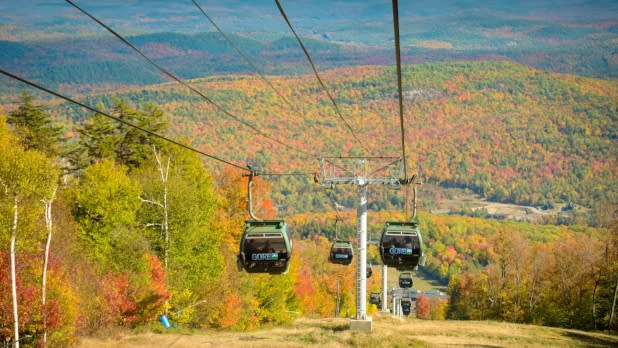 First things first, gorgeous foliage is one of the best parts of fall in New York, and making it even better are the plenty of epic ways to see it. Visit the "Grand Canyon of the East," Letchworth State Park, always gorgeous, but especially stunning in the fall. Take the eight-seater Cloudsplitter gondola ride at Whiteface Mountain, for example, which passes over thick forestry, streams, and Lake Placid, and lands you on an observation deck and picnic area. Gore Mountain has a scenic gondola ride as well, offering dramatic vistas of the High Peaks and Southern Adirondacks. Want a more active way to soak up those red and orange hues? Try ziplining through 'em! Hunter Mountain offers zipline tours that let you fly for a straight 4.6 miles about 600 feet above the Catskills. And you can always ride the Sky Flyer Mountain Coaster at Holiday Valley—as long as you don't mind all the colors turning into a blur!
10. Prep your perfect Jack O'Lantern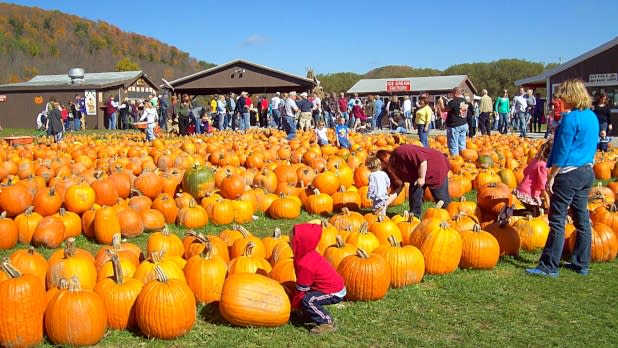 The tradition of carving your own Jack O'Lantern is best when you start with a pumpkin you picked your very own self. Get that creative inspiration flowing as you hunt for the perfect size and shape from a number of farm options. Have your pick from thousands of pumpkins at Pumpkinville in Great Valley, as well as their ten varieties of winter squash. They lend you a wheelbarrow to take with you so no size of pumpkin is off limits. Central New York's Critz Farms escorts you to its pumpkins on a tractor ride. Kids can also have a blast on the two playgrounds while adults sip beer, wine, or cider in their Brewing & Cider Co. Tasting Room. Make new friends at the petting zoo at Tim's Pumpkin Patch in the Finger Lakes after you're done picking, and half an hour outside of Buffalo the Great Pumpkin Farm is packed with fun fall activities, including a pumpkin slingshot(!!), a corn maze, hay maze, crafts, and a zombie paintball train (which takes you on a ride through the woods while you shoot paintballs at zombies). Sign. Us. Up!
11. Get your art—and foliage—fix at Storm King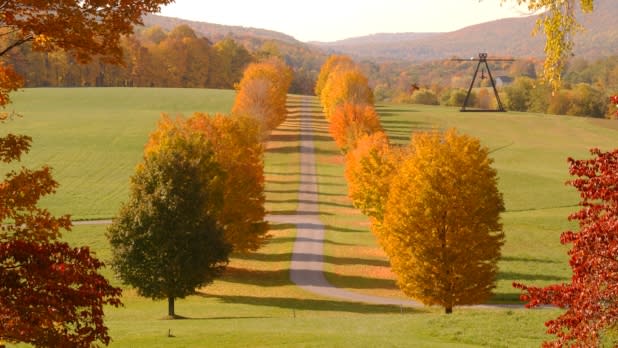 There are a few reasons that larger-than-life sculpture park, Storm King Art Center, calls autumn its peak season. The dramatic landscape covered in magnificent fall colors makes the most beautiful backdrop to awe-inspiring works of art. Given that the grounds span a whopping 500 acres, the cool air will keep you refreshed as you get in those steps. Bring a picnic to enjoy while the weather is still nice (and maybe make a pitstop at the Woodbury Common Premium Outlets a 15-minute drive away to stock up on sweaters!). Whatever you do, you're going to want to bring your camera; selfie opportunities like these don't just come along everyday!
12. Lose yourself (then find your way) in a corn maze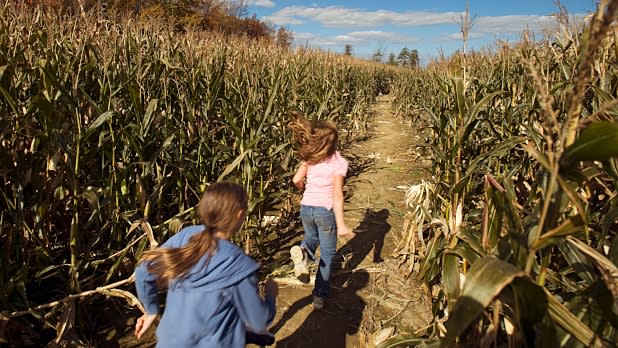 One amazing thing about autumn is that even though corn might seem like a summer food, its harvesting season starts in October and wraps up by the end of November. And you know what that means: Corn mazes are here! Go all in at the Amazing Maize Corn Maze at Ellms Family Farm in Ballston Spa, one of the largest, most popular mazes. Little ones can get in on the fun too since they offer a kiddie corn maze (specially designed so you can't actually get lost). On Long Island, Harbes Family Farm hides gnomes for you to find in their corn maze, and Lewin Farm changes their maze design every single year so you have a guaranteed new challenge to tackle. Outside of Buffalo, find a corn maze and a grape maze at Becker Farms in Gasport with a "Pumpkin Fiesta" during fall weekends.
13. Work up an appetite for turkey at the Macy's Thanksgiving Day Parade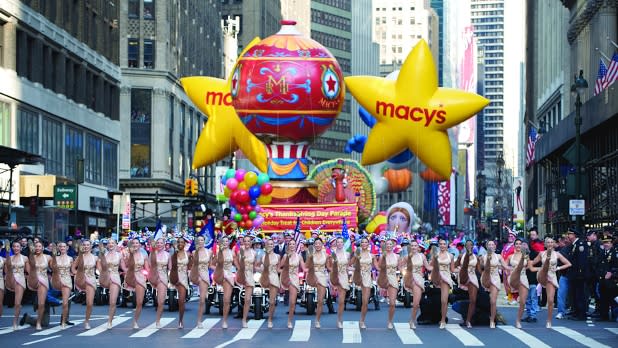 Don't miss this highlight of the season! Before you meet up with the rest of the family and eat yourselves into turkey-induced comas, join the cheering onlookers to witness the enormous, gracefully cruising balloons, festive floats, marching bands, and even theater performances at the Macy's Thanksgiving Day Parade.
14. Feel extra festive at a special fall festival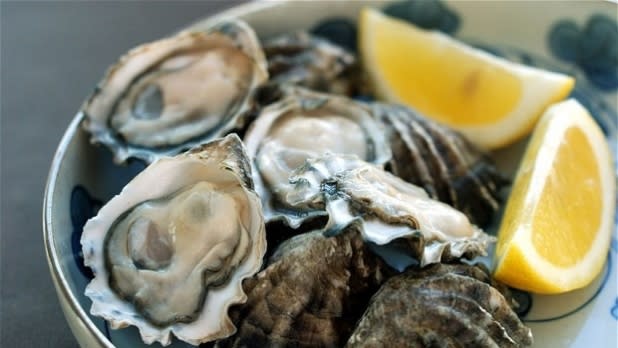 We know that fall is full of national holidays, but there's always room for more celebration, so try out one of the MANY many festivals happening statewide. First, you've got the Oyster Festival, the East Coast's largest waterfront festival all about oysters in Oyster Bay (where else!). You'll find oyster-eating contests, oyster-shucking contests, more than 140 vendors selling items in shady tents, as well as midway rides, a petting zoo, and pirates! Get cozy at the Sheep & Wool Festival in the Hudson Valley, with workshops, crafts for kids, and lots of loveable goats. At the Naples Grape Festival in the Finger Lakes, you'll find the world's best grape pies (and ice creams and jams), live music, artisan crafts to shop, and more. Finally, the Ellicottville Fall Festival in Western New York hits right during peak foliage season, so be sure to ride the chairlift at Holiday Valley, check out the street vendors of foods and crafts, and enjoy live music performances with the most gorgeous background possible. Naples Grape Festival September 29 and 30; Ellicottville Fall Festival October 6 and 7; Oyster Festival October 13 and 14; Sheep & Wool Festival October 20 and 21
15. Become a New York haunted-history buff

Batcheller Mansion Inn, @Amityphotos.com
Ghost- and history-lovers, unite(!) on the Haunted History Trail of New York State. If you believe in spirits, you know that New York is steeped in the supernatural remnants of its long history. Discover more than 65 of the state's spookiest, creepiest locations and events, from ghost hunts and tours to haunted inns. You can follow the trail year-round, but really, what better time is there to explore than around Halloween? Some locations are appointment-only so check the website to read up on the background of each spot and make advance plans. Happy haunting!
16. Paddle the North Branch of the Moose River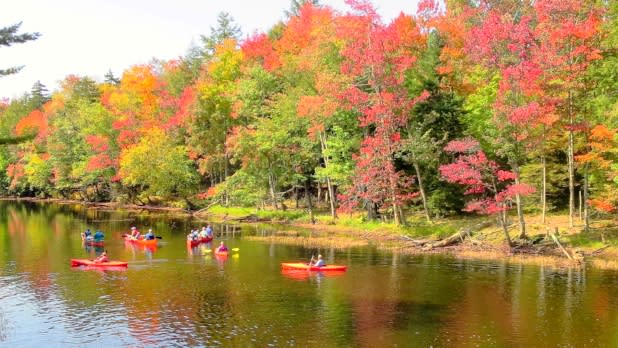 One of the most beautiful and peaceful ways to enjoy nature before it gets too cold is taking a leisurely paddling trip on the Adirondacks' scenic Moose River. Stop at Tickner's Canoe in Old Forge to rent canoes or kayaks (they also provide drop-off and pick-up service to and from the water), and enjoy up to 11 miles of some of the calmest river waters, surrounded by trees, birds, and wildlife. You'll even pass a bunch of sandy beach areas where you can pop out of your boats for a picnic.
17. Donut miss out on apple cider donuts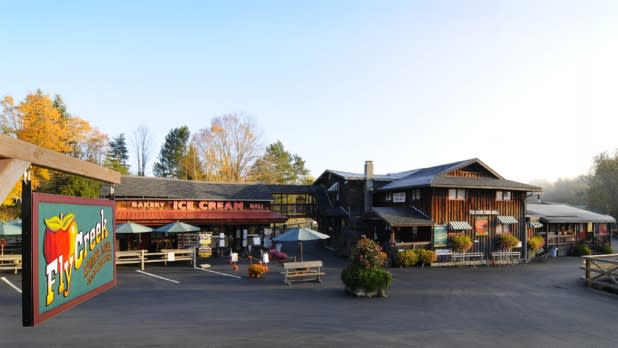 You didn't possibly think we'd publish a fall bucket list without including apple cider donuts on it, did you?? Well good, because sinking your teeth into crunchy sugar crystals and fluffy, cake-y donut centers is an absolute must. Head to the Fly Creek Cider Mill just west of Cooperstown where you can see how cider is made from scratch and enjoy a refreshing apple cider slushie from the Snack Barn & Bakery (alcoholic versions available for adults!) along with your donuts. The farm store at Indian Ladder Farms, half an hour from Albany, has cider donuts that are out-of-this-world and make the perfect treat after you've picked a few bushels of your own apples. They also sell artisan-crafted jewelry, home goods, unique toys, and more.
18. Celebrate Halloween with animal friends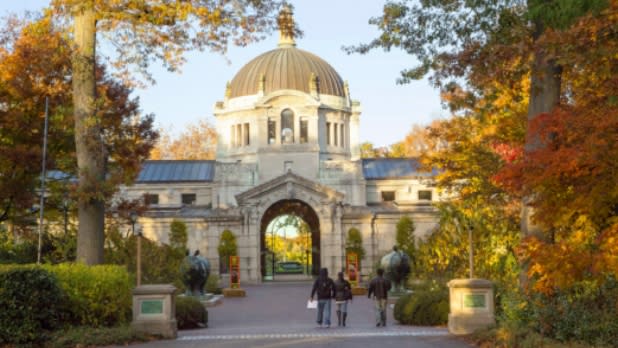 Did you know Halloween isn't just for humans? New York's zoos hold special fun events for the holiday, such as the Bronx Zoo's "Boo at the Zoo," which includes face- and pumpkin-painting, storytelling, magic shows, a costume parade, hayrides, and more! The Rosamond Gifford Zoo in Syracuse holds its own Zoo Boo with trick-or-treat stations, a fortune teller, Monster Mash Dance Party, fun treats, and games. Or, kick the spookiness up a notch at the Animal Adventure Park where you can take a "flashlight safari"! Guided only by flashlight, wander the zoo grounds and see what the animals are up to when humans are normally out of sight. Don't worry, nothing will jump out at you because nobody wants to frighten the animals. If your little ones are afraid of the dark, bring them to the daytime Trick or Treat events on October 13 and 21.
19. Have a blast at a haunted house
Zombies, vampires, skeletons, ghosts, demons—you'll find everything you need to get your spook on at one of New York's best haunted houses. Perhaps the biggest opportunity isn't one house but the 65-acre 250-year-old farmland upon which you'll find the Headless Horseman Hayrides and Haunted Houses in the Catskills. You can take a mile-long hayride, walk through a spooky corn maze, and test your limits in the seven haunts, which include a motel, slaughterhouse, tomb, and circus sideshow. Oswego County's Frightmare Farms offers an indoor and outdoor labyrinth and a Condemned Mine Trail in addition to the haunted house (those prone to claustrophobia, avoid this one!). Frightworld in Buffalo has five attractions designed to terrify, and makes ample use of strobe lights, disorienting music, fog, and plain old screaming to add to the sensory experience.
20. Pick the freshest apples at a world-class New York orchard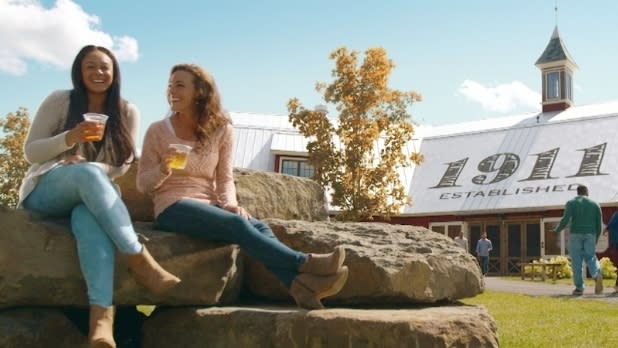 'Tis the season to pick your own produce! The weather is cool and pleasant, and there is absolutely nothing like the fresh, crisp smell of apple orchards in autumn. You can't go wrong at Beak & Skiff, the 104-year-old family farm consistently rated the #1 apple-picking destination in the country by USA Today. You can pick from 15 varieties of apples on their hundreds of acres of farmland, as well as purchase donuts, pie, and local products from their farm store. Kids will enjoy their playground and pony rides available only in the fall while adults can head to the tasting room to sip hard ciders, spirits, and apple wines. Everything starts from apples grown at the orchard, processed in their Cider Mill, and finally distilled in their Cider House or Distillery. Check out our other recommended apple orchards here.
21. Go "Punkin Chunkin" in Clayton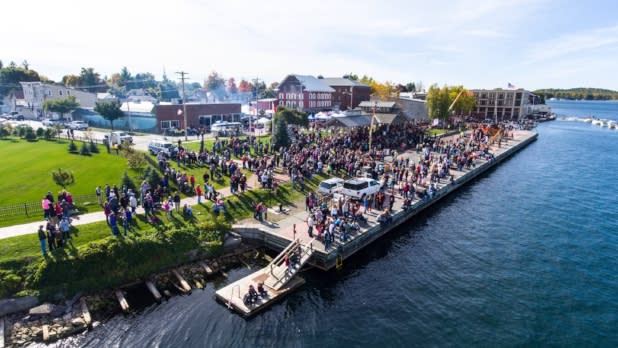 What is punkin' chunkin', you might ask? Well, only the delightful American tradition of chucking pumpkins via catapult for the sheer satisfaction of seeing them soar through the air. A spectacular example can be found at the Clayton Marina. Come witness (or participate in) the youth, adult, and Chunk Norris rounds of the chunkin' competition (the Chunk Norris is actually a special 3000-foot catapult!). The chunkin' will be followed by a fundraising BBQ contest (meals are open to the public), and a farmers market runs all day.
22. Experience the magic of the Jack O'Lantern Blaze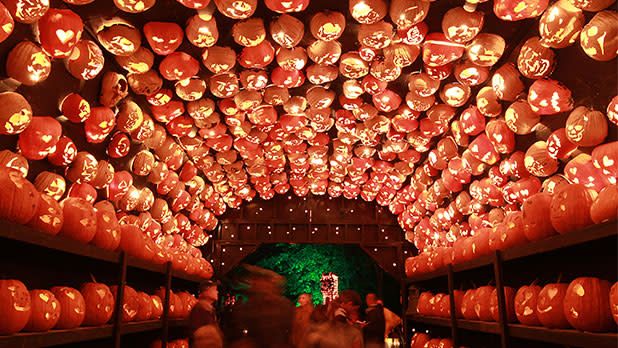 Somewhere between spooky and jaw-droppingly gorgeous lies the Hudson Valley's annual Jack O'Lantern Blaze. Thanks to thousands of volunteers and a team of professional artists, you can walk among thousands of intricately carved Jack O'Lanterns—and not just your basic toothy grins, either! There'll be pumpkin clowns, animals, towers, bridges, dinosaurs, and more. The whole experience is made all the more immersive with synchronized lighting and an original soundtrack. September 28- November 24
23. Let the night lights guide your way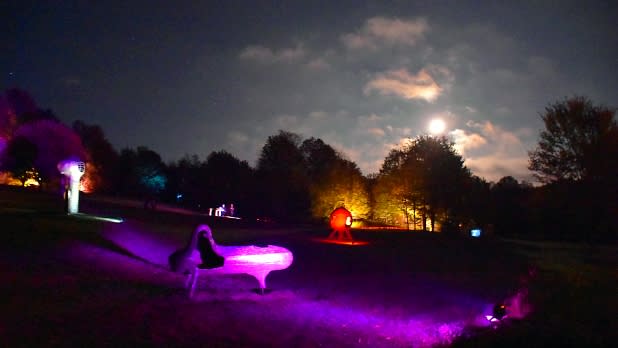 The gorgeous grounds of Griffis Sculpture Park in East Otto become extra magical during their "NIGHT LIGHTS" event each fall. You'll have 12 evenings during which you can roam the grounds and find the paths illuminated by colorful, theatrical lighting designed to amplify the experience. The trails might have a few unlit patches between the pieces, so guests are welcome to bring their own flashlights.
24. Feel refreshed on a rocky hike
Summer hikes are great—but sweaty. While the leaves are turning all the shades of the sunset and the air is crisp but not too cold, get your hiking fix on some of New York's most stunning rock formations. One unbelievably gorgeous option is Chautauqua County's Panama Rocks, a varying landscape of rock towers, crevices, passageways, and even caves, all overgrown with ferns, moss, and winding tree roots. You'll also find some of the country's oldest (500+ years old!) trees, as the area is included in the Sierra Club's Guide to the Ancient Forests of the Northeast. If your kids don't have the patience for simply appreciating nature, they can keep busy searching for hidden gold on the treasure hunt. Rock City Park in southwestern New York makes for another breathtaking beauty. The hike is only about 45 minutes so you can follow it up with a visit to the museum, the rock room, and the gift shop. Go now before ice makes the rocks to slippery to hike!
Don't forget to post photos of your New York adventures on Instagram and Twitter with #iSpyNY and #ILoveNY and tag us on Facebook!