Can fall in New York get even more colorful? Besides the changing leaves, come experience apple picking, haunted houses, cider donuts, and so much more! Whether you're sipping locally made wines or fall-themed craft beers, picking the perfect pumpkin, hiking to scenic summits, or attending a festival, this season will surpass your expectations. Get ready to breathe in that crisp air—fall in New York is a time to create vivid memories.

Find your way through a corn maze

Credit: @rbkbagel on Instagram
Test your problem-solving skills during back-to-school season by navigating through a corn maze. Head to The MAiZE in North Tonawanda to explore the "Impala" car maze, and the supernatural-themed mazes. For an extra challenge, make your way through the mazes at night! In Ballston Spa, try the Amazing Maize Corn Maze at Ellms Family Farm, which takes about 90 minutes to complete. Bringing younger kids? Have them follow along the Kiddie Maze, where there is no getting lost! At Long Acre Farms, outside of Rochester, navigate the five-acre logic cornfield where you'll have a gameboard, and staff members are stationed throughout the maze to keep you from getting lost.
Discover incredible fall foliage

Credit: Gore Mountain
From breathtaking mountain vistas and treetop vantage points to forested hiking trails and picturesque waterfalls, there are a multitude of places to find brilliant fall foliage in New York State. Look for shades of red, orange, and yellow on a gondola ride at Whiteface Mountain, overlooking the Adirondack Mountains. Gore Mountain (pictured) has a scenic gondola ride as well, offering dramatic vistas of the High Peaks and Southern Adirondacks. Interested in exploring on foot? Walk through centuries-old rock formations, around giant tree roots, and past hidden caves surrounded by trees with brightly colored leaves at Panama Rocks Scenic Park in Panama. If a waterfall hike piques your interest, Watkins Glen State Park in the Finger Lakes is the place to go! With 19 waterfalls and 200-foot cliffs, the two-mile Gorge Trail tends to be busiest in the spring and summer, making fall a perfect time to visit.
Experience art and history outdoors

Credit: @dhheck on Instagram
See the incredible colors of fall as you explore Storm King Art Center, a 500-acre outdoor museum in the Hudson Valley. Check out "Mark Dion: Follies," an exhibit featuring 13 of Dion's architectural follies that fit into the art center's unique landscape. The exhibit is open until November 11. Also enjoy the work of Jean Shin, as part of the "Outlooks" exhibition series. The exhibit features an expansive picnic table made using wood from maple trees that were taken down from the art center's historic "Maple Allée." The communal table is used as a location for conversations, and various programs. The exhibit is open through November 24. Art Omi, located in Ghent, features paintings, drawings, as well as sculptures and architectural pieces by several different artists both in a gallery and across more than 100 acres. Starting October 12, check out "Statues" by Francesca DiMattio, which includes domesticity-themed pieces. The Farmers' Museum (pictured) in Cooperstown will take you back in time with a mix of demonstrations, hands-on activities, and exhibitions showcasing rural life in the United States, featuring more than 20,000 artifacts. The museum is open through October 31. 
Fly amongst the treetops on a zipline 

Credit: Beautiful Destinations
Follow your adventurous side ziplining above and through the season's changing leaves. Race approximately 36 stories down a private mountain at Kittatinny Dual-Racing Ziplines in Barryville. Take in the beautiful views of the Delaware River as you fly above the trees. Tours are available through October, and reservations are recommended. New York Zipline Canopy Tours at Hunter Mountain (pictured) will exhilarate you as the fastest, highest, and longest zipline canopy tour in North America. Try the Mid-Mountain Canopy Tour or SkyRider during the day, or zoom down the mountain at night under the stars as part of the Night Zip Tour. Tours are offered daily, and reservations are strongly recommended here as well.
Explore magnificent castles 

Credit: @vivid_aerial_photography on Instagram
Live like you're in a fairytale at one of New York State's majestic castles. The Thousand Islands' Singer Castle is an impressive structure with detailed architecture and furnishings—on your visit, try to find one of the castle's many secret passageways! Singer Castle, located on Dark Island, is open on weekends from Labor Day to Columbus Day, and select weekdays. Venture to the Hudson Valley's Bannerman Castle (pictured) to learn about the significant history of the Scottish-style castle. Both guided and self-guided tours are offered through October. For a self-guided tour, board the Estuary Steward boat from Beacon or Newburgh to get to the castle. Long Island's Gold Coast is home to OHEKA Castle, a historic mansion built 100 years ago. Take a tour of the estate and gardens, or perhaps spend a night or two in one of the castle's lavish guest rooms. 
Hike short-but-scenic trails   

Credit: Gerald Berliner
Head to the mountains to experience the brilliant colors of fall. Explore natural land and miles of trails at the Mohonk Preserve (pictured), located in the Shawangunk Mountains. For an Adirondack hike with scenic summit views of mountains filled with fall foliage, try Mount Severance in Schroon Lake, which is approximately 2.4 miles round trip. Take advantage of New York's Department of Environmental Conservation Hike With Us program, offering guided hikes throughout September and October in the Catskills.
Test your bravery during spooktacular happenings

Credit: Jim Logan, Courtesy of Sleepy Hollow Cemetery
Looking for a spooky activity this Halloween season? New York State has you covered! Venture to the Hudson Valley's Sleepy Hollow Cemetery (pictured) to learn the history behind the well-known cemetery. Various tours are offered throughout fall including the "Classic Evening Lantern Tours" and the "Murder and Mayhem Lantern Tours." For a thrill, ride through the village of Sleepy Hollow on a haunted hayride October 25–26, but don't let the Headless Horseman get you! Make your way through five creepy haunted houses at Frightworld in Amherst, select days September 28–November 3. Bring your family to Fright Fest at the Great Escape & Hurricane Harbor in Queensbury, weekends September 28–October 27. Family-friendly activities such as trick-or-treating, a costume contest, and a scream contest will be held during the day. If you're looking for more fright, walk through the park after 5 pm to explore a blacklight maze and halls filled with zombies.
Say cheers to harvest season

Atwater Estate Vineyards, Finger Lakes | Credit: Walter Arnold
Wine lovers rejoice! Harvest season is underway in New York State, which means it's time to tour Long Island Wine Country and Finger Lakes Wine Country. Sample red, white, sweet, dry, and dessert wines at Duck Walk Vineyards while overlooking 30 acres of vineyards in the Hamptons. In the Finger Lakes, drink a glass of wine while taking in the sunset over Seneca Lake from the deck at Atwater Estate Vineyards through Columbus Day. Sample world-class wines during a tasting experience at the Dr. Konstantin Frank Winery along Keuka Lake. Venture to nearby Heron Hill Winery to enjoy live music on the terrace on Sundays throughout September, and in the tent on Sundays throughout October. Prefer ciders? Take advantage of Finger Lakes Cider Week, September 27–October 6 to try ciders from across New York State. On opening night, Rootstock Ciderworks in Williamson will have live music along with cider and spirits tastings. Enjoy Cider Sunday at Cornell University October 6, where you'll walk through Cornell's orchards, hear from researchers, and sample fresh-pressed juice—tickets are $5. 
Find the apple of your eye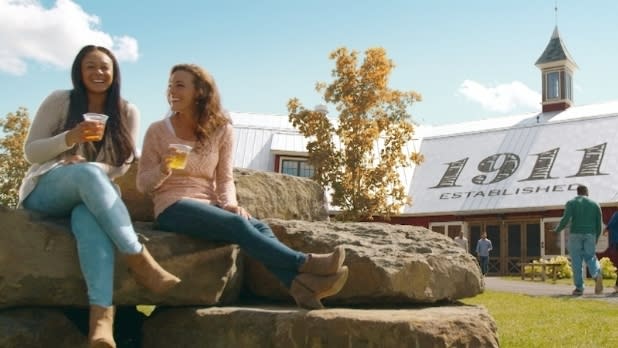 McIntosh, Empire, Fuji, Red Delicious, Macoun—the list of New York-grown apples goes on and on. Pick your own apples or purchase them in the Apple Barn at Beak & Skiff (pictured) in Lafayette. While you're there, taste-test the orchard's 1911 ciders, spirits, and wines. Find apples in the Capital Region at Indian Ladder Farms in Altamont, where you can also get homemade pies, cider, produce, and more. For freshly made cider donuts, head to Fly Creek Cider Mill & Orchard in Cooperstown, Cider Belly Doughnuts in Albany, and Mayer Brothers Cider Mill and Bakery in West Seneca.
Choose, chuck, or carve the perfect pumpkin

Credit: Tom Nycz for Historic Hudson Valley
How do you choose your jack-o'-lantern pumpkin? Do you go for the biggest pumpkin in the patch, or maybe one with interesting features? Find your pumpkin at Old McDonald's Farm in Sackets Harbor and then enjoy hayrides and a corn maze. Fall activities are running from mid-September through Halloween, so you'll have plenty of time to join the fun! Pick out a pumpkin, and interact with farm animals, at Pumpkinville in Great Valley from September 14–October 31. Visit the Great Pumpkin Farm in Clarence from September 14–October 31 to get pumpkins, gourds, and mums to pump up your fall spirit. The Great Pumpkin Farm also hosts a pie-eating contest, pumpkin slingshots, a pumpkin drop, and a petting zoo. In addition, there are many pumpkin-related events happening throughout fall across New York State. See pumpkins fly through the air at Clayton's Punkin Chunkin on October 19, when teams compete to see how far their pumpkins can soar using trebuchets and catapults. Watch pumpkins light up the night at the Great Jack O'Lantern Blaze (pictured) in Van Cortlandt Manor, September 20–November 30. More than 7,000 carefully carved jack-o'-lanterns will be featured in unique sculptures of a 25-foot-tall Statue of Liberty, signs of the zodiac, and more, thanks to a team of more than 1,000 volunteers and professional artists.
Sample seasonal New York State beer

Credit: ThisIsCooperstown.com
Head to Oktoberfest at Hunter Mountain for authentic German entertainment, food, and drinks. Oktoberfest is held four weekends in a row, September 28–October 20. Each weekend opens with a different theme, from "Ciders in the Catskills" to "Wine Tasting on the Mountain," and all weekends offer free admission. Try unique seasonal beers or stick to year-round favorites like Rare Vos or Witte at Brewery Ommegang (pictured) in Cooperstown. The Adirondacks' Lake Placid Pub and Brewery always has six house beers on tap, and pub food options to choose from. For a seasonal beer, try the Pumpkin Ubu Ale, Lake Placid Festbier, or Autumn Rye. Brooklyn Brewery, located on the north side of the borough, offers Brooklyn Oktoberfest and Post Road Pumpkin Ale during the autumn season. As the temperature begins to fall in the Capital region, Druthers Brewing Company features their Oktoberfest and Harvest Apple beers.
Satisfy your taste buds at food festivals 

Credit: VisitLakeGeorge.com
This fall, enjoy a plethora of food festivals, including the Lewiston Harvest & Hops Festival held September 28–29. Home to more than 130 food and craft vendors, along with a farmers' market, this is not to be missed. Brickyard Brewing Company will offer special beers, and several wineries and distilleries from the Greater Niagara region will have samples available. Try both upscale and classic cuisine made by chefs from local restaurants at Taste of the North Country Food Festival (pictured) in Glens Falls on September 29. Listen to live music and watch culinary demonstrations as you sample the flavors of the region. Little ones can have fun jumping around in the bounce house. Head to Monument Square in Troy for the Annual Chowderfest on October 13. Stroll through downtown Troy trying, and judging, chowder from local restaurants.
Cheer on runners or participate in seasonal races 

Credit: Saratoga Bridges
Fall is a perfect time for running—cool temperatures, crisp air, and a beautiful backdrop of changing leaves. Run or walk beneath towering trees at the Saratoga Spa State Park at the Great Pumpkin Challenge (pictured) on October 12 in Saratoga Springs. The start time is 9:30 am, and runners must register prior to race day. The event includes a 5K walk or run, a 10K run, and a one-mile fun run for kids 12 and under. See spectacular foliage as you run through the village of Rhinebeck at the Fall Foliage ½ Marathon & 5K on October 13. The half marathon begins at 10 am and the 5K starts at 10:15 am. Additionally, be inspired by more than 50,000 runners at the New York City Marathon on November 3! Runners from around the world will test their stamina as they run 26.2 miles through the five boroughs of New York City while the entire city cheers for them on the sidelines.
Get goosebumps touring haunted sites

Credit: AmityPhotos.com
Follow the Haunted History Trail to discover some of the most haunted sites in New York State. From hotels and museums to cemeteries and houses, test your bravery at these historic locations! Known for its stately appearance along Lake George, and its luxurious accommodations, the Sagamore Resort (pictured) in Bolton Landing is also known as a popular haunt for more than a few ghosts. The Erie Canal Museum in Syracuse offers docent-led tours featuring the history and paranormal occurrences of the building. If you're feeling extra brave, stay overnight at the Hinsdale House in Hinsdale to experience the many spirits that haunt the house.
Binge on cinema at a film festival
'Tis the season for film festivals. Watch incredible films and celebrate talented filmmakers at the 57th New York City Film Festival September 27–October 13. Some of this year's films include "The Irishman" by Martin Scorsese, "Motherless Brooklyn" by Edward Norton, and "Sibyl" by Justine Triet. Single tickets go on sale September 8 at noon. Attend the 20th Woodstock Film Festival October 2–6 to see independent film premieres, listen to panel experts, and connect with other film lovers. See more than 100 independent films with varying perspectives at the 27th Annual Hamptons International Film Festival October 10–14 in the Hamptons. In addition, the 4th Annual Adirondack Film Festival, October 17–20 in Glens Falls, features more than 100 films, a family series, and panel discussions.
Relax in style with these weekend getaways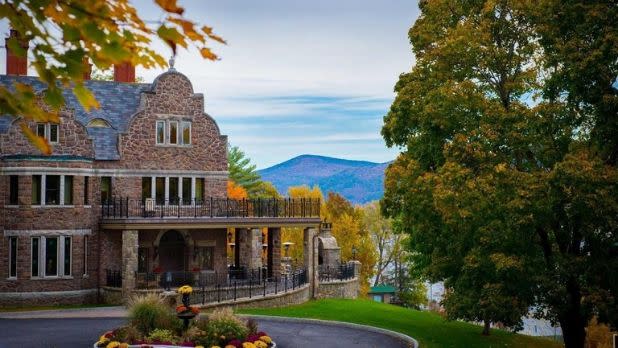 Escape for a few days to immerse yourself in the beauty of fall in New York. Interested in seeing fall foliage reflect over calm water? The Inn at Erlowest (pictured), a Queen Anne stone castle, sits along the shores of Lake George. Each suite has its own unique decor and is named to reflect a piece of local history. While you're there, enjoy an exceptional meal at the inn's four-diamond restaurant. Exploring Niagara Falls? The Red Coach Inn, which overlooks the Upper Rapids of Niagara Falls, is the perfect place for a weekend away. The Tudor-style property has a welcoming ambiance. Find serenity in the Catskill Mountains at Scribner's Catskill Lodge in Hunter. The lodge offers 38 guest rooms and suites that are decorated with a modern, contemporary atmosphere in mind.
Find tranquility while camping 

Credit: @escapebklyn
Truly disconnect from your daily routine with a fall camping trip. Pack your gear and get on your way! Allegany State Park-Red House Area in Salamanca is open year-round, with cottages and cabins available any time and campsites available through the end of October. Relax as you take in the views of fall foliage by walking or biking through the park. Camping at Letchworth State Park, the "Grand Canyon of the East," is available through October 20, and cabins are available until mid-November. Explore the more than 60 miles of hiking trails or learn about the park's ecology at the Humphrey Nature Center. Looking for something that's rustic yet luxurious? Try glamping at Posh Primitive (pictured) in the Adirondacks. With queen-size beds and a wood stove in each cabin, it's the perfect location to relax after a day of fall hiking. 
Get hooked on fall fishing 

Credit: Destination Niagara USA
Cast a line into fish-filled waters this fall. The Catskills are considered the birthplace of American fly fishing, so it's no surprise there's an abundance of excellent fishing spots throughout the mountains. Head to the region's Delaware River or Esopus Creek, where you can find a variety of fish including brown and rainbow trout. If you're looking to catch a big one, try the main stem of the Upper Delaware River. Fishing season for trout runs through October 15. Spend a day on a fishing charter along the St. Lawrence River with the Alexandria Bay Fishing Guides Association. Home to Muskellunge, better known as "Muskies," the St. Lawrence is a top place to visit during the fall season. The Muskie season runs through the end of November. Additionally, try picturesque Lower Niagara River (pictured), where Smallmouth Bass season is September and October, Chinook and Coho salmon season runs from September through November, and the Steelhead show up in November and December.
Take a walk on the wild side at the zoo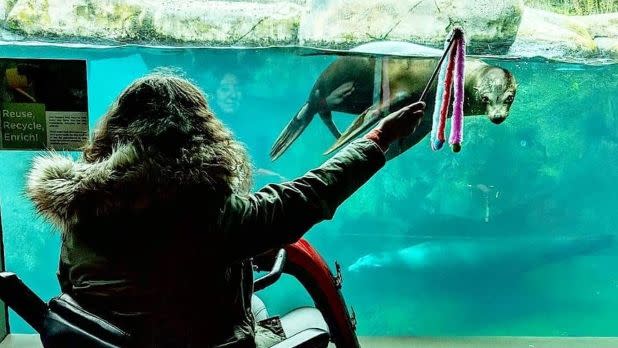 Seneca Park Zoo, the Buffalo Zoo, and Animal Adventure Park all offer visitors the opportunity to see different species of animals while highlighting the importance of conservation. Seneca Park Zoo (pictured) in Rochester provides a home to hundreds of animals including sea lions, snow leopards, red pandas, bald eagles, and more. Celebrate Halloween at the Buffalo Zoo with trick-or-treating and extended access to animal exhibits October 11–12. Central New York's Animal Adventure Park houses more than 250 animals including African lions, squirrel monkeys, Cayuga sucks, aquatic slider turtles, as well as the famous April the Giraffe and her babies, watched by thousands on the park's giraffe-cam. Put on your costume and bring your flashlight for trick-or-treating October 18–19. Would you rather find treats during the day? Try the daytime trick-or-treating at the park October 19–20. From September 3 to October 20, the park is open on Fridays, Saturdays, and Sundays.
Travel the Path Through History
October 12–14 is Path Through History Weekend, which means it's time to honor the many historic and cultural destinations across the state. From the 1890 House Museum in Cortland and the Antique Boat Museum in Clayton to Ausable Chasm in the Adirondacks and the Fire Island Lighthouse on Long Island, historical sites are offering special events and exhibits all weekend long!
Cheer on your favorite New York sports teams 

Credit: Buffalo Bills
Deck yourself out in your team's colors, grab some nachos, and get ready to watch your team win! With three major sports seasons overlapping, you'll have no problem finding a game to attend this fall! Football Sundays (and Saturdays for college games) are some of the best things about the weather changing. Catch a professional game at New Era Field watching the Buffalo Bills (pictured) or wear your orange to the Carrier Dome at a Syracuse University football game. Finish out the baseball season at a New York Yankees or New York Mets game in New York City. Can't wait to be sitting against the glass? Watch the puck drop at a New York Rangers, New York Islanders, or Buffalo Sabres professional hockey game, as the season starts at the beginning of October.
Make a splash at indoor water parks

Think water parks are only for the summer? Not in New York State! The new-in-2019 Kartrite Resort & Indoor Waterpark (pictured) in the Catskills is the state's largest indoor waterpark. With winding water slides, a lazy river ringed with waterfalls, and an air temperature of 84 degrees all year long, Kartrite can feel like a tropical oasis on colder days. Head to the Adirondacks' Six Flags Great Escape Lodge & Indoor Waterpark for a day of adventure. Whether you prefer to splash through water fountains, speed down a water slide, or relax along the lazy river, there is something for all swim levels. Also, test your boogie board surfing skills at the wave simulator or take a stand-up surf lesson with a trained instructor. With two themed hoops and a 1,000-square-foot "court" in the water, challenge your family and friends to a game of basketball in the Cove at Greek Peak Mountain Resort in the Finger Lakes. Not into basketball? The Whitewater Wave Pool, the Rapids, and Big Bear Falls will keep you busy!  
Don't forget to post photos of your New York adventures on Instagram and Twitter with #NYLovesFall and #ILoveNY and tag us on Facebook!