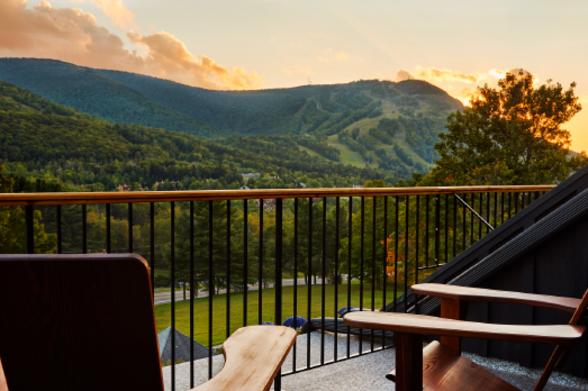 Updated: 2/9/2022
Now that the weather's fine, we've got vacation on our minds. Maybe you don't get many days off for travel but that doesn't mean you and your partner should give up on getting away! Read on for quick, easy, and super romantic trips around New York State.
Remember to social distance and wear a mask as required by state guidelines. Call ahead and check websites and social media to make sure attractions are open and available. 
Niagara Falls (Greater Niagara)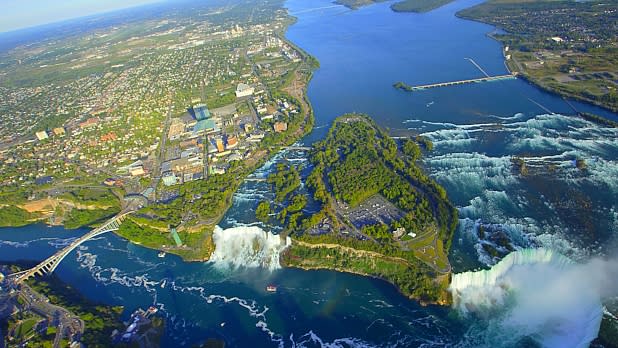 We're pretty sure we don't have to sell you on why Niagara Falls is romantic—after all, it's one of the top honeymoon destinations in the country! But it's only one part of the trip. Book your room somewhere cozy and charming, like the Tudor-style Red Coach Inn, just a few minutes from the Falls, with some rooms offering amazing views. The Inn offers a Romance Package that includes scattered rose petals, a bottle of bubbly, chocolates, and dinner. The Honeymoon Package includes all of that plus a wine tasting and late checkout. Step out the front door and you're already on a path that leads to Goat Island, a little plot of land within Niagara Falls State Park with awesome views of the Falls. On weekends between mid-May and mid-June, and every day between mid-June and Labor Day, watch fireworks sparkle and crack above the Falls, illuminating the rushing water. Colorful LED lights turn the Falls into a work of art every night. It's magical and the perfect sight for a romantic evening stroll. Take the romance to the max and book your own helicopter tour with Rainbow Air Inc., Helicopter Tours. Or take it easy and enjoy some intense cuteness at the Aquarium of Niagara's penguin exhibit and book a table at Wine on Third for an atmospheric setting, delicious cocktails, and excellent food.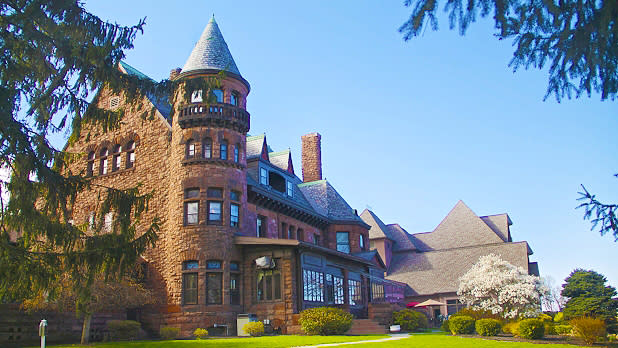 Take your Prince/Princess Charming for a getaway in an 1880's castle in the heart of the Finger Lakes. Choose from Belhurst's three lodging options, the castle, a Georgian Revival Mansion, and an inn—all offer luxurious and elegant accommodations. The castle and inn both overlook Seneca Lake while White Springs Manor, the historic mansion, offers views of vineyards and a pond. Belhurst's staff will guide you through a tasting of their award-winning wines, or opt for the food and wine pairing dinner. The tasting room also has craft beers and ciders, so it's equipped to please all palates. You don't have to travel far, or at all, for a delicious romantic dinner; just book a table at Edgar's Steakhouse or Stonecutter's, the two excellent restaurants on premises. To unwind even more, take yourselves to the Isabella Spa-Salon inside the castle for massages, skin treatments, manicures, facials, hair care, and reflexology. When you've had enough pampering, venture outdoors to the lovely Seneca Lake State Park, for fishing, boating, biking, and hiking...then return back to Belhurst for more pampering.
Beacon (Hudson Valley)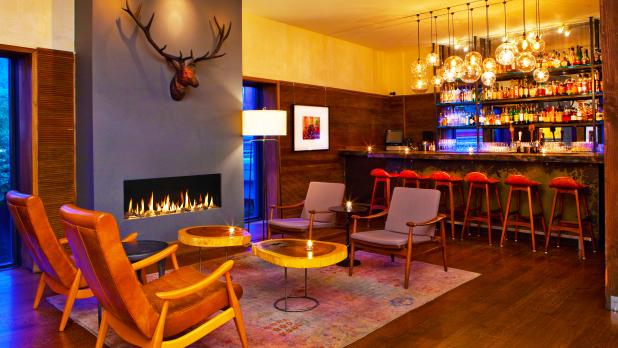 Located in the heart of the Hudson Valley, the town of Beacon brims with couple-friendly activities. First, set your home base at The Roundhouse at Beacon Falls. Quite literally circular, the Roundhouse is a historic mill that's been transformed into a complex with lodging, a cozy lounge with fireplace (pictured), and a romantic restaurant on Fishkill Creek. The dining patio overlooks gorgeous gurgling waterfalls and the rooms are bright and chic. You're close to numerous hikes thanks to Mount Beacon, Breakneck Ridge, and Bull Hill—all offer stunning panoramic views from their peaks. Work up a sweat, then come back into town for a cold beer at Hudson Valley Brewery or 2 Way Brewing Company. Feel inspired together at the world-renowned center for art, Dia:Beacon. The museum is housed in what used to be a Nabisco box printing factory, giving curators and artists wide open spaces to flex their creativity. It's the perfect stop to spark some insightful conversation over dinner. Finally, get your last look at the beautiful nature from 212 feet in the air on the Walkway Over the Hudson, the world's longest elevated pedestrian bridge. Other noteworthy detours include the Poughkeepsie Waterfront and Franny Reese State Park for more sights and, of course, opportunities for hand holding.
Brooklyn (NYC)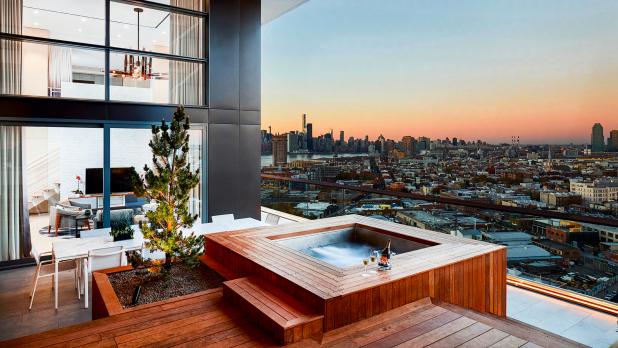 You've seen a million rom-coms set in Manhattan, but with its charming brownstones, a smattering of cobblestone streets, and an epic nightlife, Brooklyn can make for an interesting and very romantic alternative. Treat yourselves to a weekend in the trendy Williamsburg neighborhood and check into The William Vale (pictured), a luxury hotel recommended by Forbes Travel Guide and ranked amongst the best hotels in NYC by U.S. News. The elegant rooms offer spectacular views of the city skyline. Set your sights and appetite on Maison Premiere for cocktails, oysters, dinner, dessert, wine, beer, or brunch. Reservations are accepted up to a month in advance, so plan ahead! (Maison Premiere does accept walk-ins, but one look at the thoughtful decor and exquisite lighting and you'll see why it's one of the most popular date-night spots in all of New York City.) Once you've had your fill of aphrodisiacal bivalves, hit up the town. Brooklyn Bowl is a super-happening scene if you want to get competitive; the pumped-up bowling alley features first-rate food and drink, and often hosts well-known musical acts. Nitehawk Cinema plays new and old films and lets you order snacks and drinks right to your seats in the theater.
St. Lawrence River (1000 Islands)

Photographer: Steve Sturtz
Live your own fairy tale. You and your sweetheart can spend a night together in a castle on its very own island. Singer Castle (pictured), the once-home of the president of the Singer Manufacturing Company, offers tours to the general public during the day, but also the chance to partake in a luxurious sleepover. Book your stay in the castle's Royal Suite (actually an entire wing). Your room has a king-size canopy bed, of course, and complimentary dinner and breakfast are included. While in the area, you should definitely island-hop to Boldt Castle (reopening in May). You can't sleep over at this one but you can tour the picturesque castle and learn all about its romantic yet tragic history. George C. Boldt, the proprietor of the Waldorf Astoria Hotel, had the castle built for the love of his life, his wife Louise. But she died suddenly and he never returned. Another option is the 1000 Islands Harbor Hotel, a magnificent waterside hotel that's also fit for a king (maybe a slightly more modern king). Consider your date plans made and visit one, or all, of the wineries along the 1000 Islands Seaway Wine Trail. Or, combine the wine and the water views in one delightful wine and cheese cruise with Classic Island Cruises. Your tour is a relaxed three and a half to four hours long and includes a bottle of Coyote Moon wine of your choosing plus local meats and cheeses.
Saratoga Springs (Capital-Saratoga)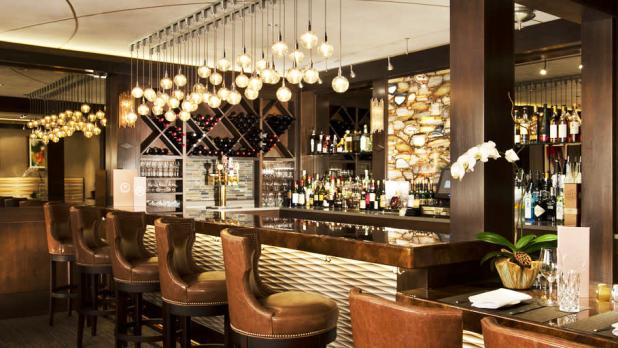 Some folks love camping, but for others, a sleeping bag on the ground isn't exactly the picture of romance. Enter glamping, the best of all worlds. Saratoga Escape Luxury Glamping rents 300-square-foot tents that come with a queen-size bed, mini fridge, table, chairs, bedding, towels, and full ventilation, and right outside is your own BBQ grill, fire pit, and picnic table. Enjoy the refreshing feeling of sleeping outdoors but with creature comforts so you can focus on bonding with your boo. Freshen up and head somewhere to eat, like 15 Church Restaurant (pictured) for outstanding seasonal American food. And you simply cannot summer in Saratoga Springs without spending a day at the Saratoga Race Track. Starting mid-July, the thoroughbred racing season begins. Place your bets, or show up just to watch the action, or bet each other—loser buys dinner! Book seats in the grandstand, reserve picnic tables in advance, or BYO lawn chairs and cooler. Plan at least one date night at the Saratoga Performing Arts Center, where names as big as Dave Matthews Band, Phish, and Zac Brown Band come to perform. Check the summer schedule on the SPAC website and buy your tickets now!
Cooperstown (Central)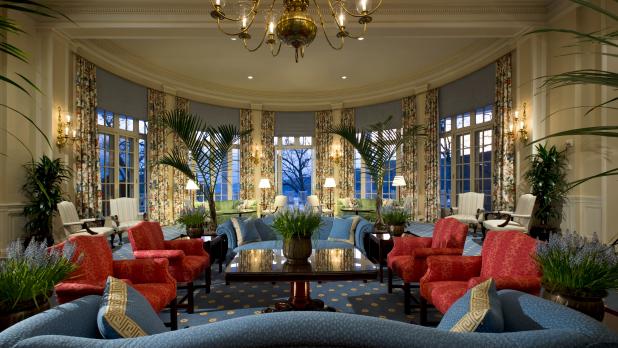 Cooperstown is, famously, a baseball town, so if you're a baseball couple, it's an obvious choice. If you're not a baseball couple (or one half of a baseball couple), Cooperstown has a wonderfully romantic non-sporty side that makes for the perfect getaway. Stay at the historic and majestic Otesaga Resort (pictured) situated right on the shores of Otsego Lake, aka the "Glimmerglass." Swim in the lake or the resort's outdoor pool, rent bikes, canoes, boats, and paddleboards, or visit the onsite Hawkeye Spa. Try an Alpine arnica deep tissue massage, Swedish massage, seaweed body wrap, facials for men and women, and more. Play a match of tennis or a round of golf on the award-winning Leatherstocking Golf Course. Just a fifteen-minute drive away, tour the famous Brewery Ommegang, a hype-worthy craft brewery. See the entire fascinating process of how the beer is made, taste samples, and walk away with a souvenir beer glass. If you happen to plan your Cooperstown trip between July 7 and August 20 in 2023, you're in luck! You'll be able to attend the Glimmerglass Festival, a celebration of arts with an incredible lineup of opera and musical theater performances.
Hunter Mountain (Catskills)

Credit: Read McKendree
Make for the mountains with your loved one this summer. Scribner's Lodge (pictured) is a beautiful contemporary lodge with many rooms featuring private decks, perfect for taking in the romantic views of the Catskill Mountains. You'll also find luxurious additions like rain showerheads, lofted beds, and large windows. The lodge is at the foot of Hunter Mountain, a very popular skiing destination in the winter and a more relaxed but equally beautiful spot in the warmer seasons. Take your adventure partner to try the Scenic Skyride, a 3,200-foot-long chairlift ride to the summit with breathtaking views. If you're truly gutsy, try New York Zipline Adventures' Skyrider Tour, the longest zipline in North America, or any of the other ziplines and ropes course obstacles. After the adrenaline rush wears off, find some calm and relaxation at the Hudson-Chatham Winery Tasting Room, where you can sip local wines and nosh on cheese plates, charcuterie, and tapas. If you want to enjoy nature without soaring through it, take a leisurely walk around the gorgeous Mountain Top Arboretum, open every day from dawn till dusk. Check out its website for maps and self-guided tours of the four main areas. You'll pass boardwalks, forest, bogs, marshes, and wildflowers, an excellent place to stop and take selfies amongst the roses.
Greenport (Long Island)

Credit: Jen Rozenbaum
Combine ocean views with local wineries, amazing food, and a reasonable drive from New York City and you have the picture-perfect couple's trip in Greenport, on Long Island's North Fork. Book your room at the Harborfront Inn at Greenport for views of Peconic Bay, Greenport Harbor, and Shelter Island. You'll also receive access to a nice outdoor pool and complimentary breakfast. A morning coffee on a private balcony overlooking the water? Yes, please! From May, you can take amazing couples photos at the nearby Lavender by the Bay (pictured), one of the country's largest lavender farms. June and July are the best months to visit to find the largest varieties in bloom but May will still be lovely. Pick your own lavender or shop for soaps, lotions, and other items from the charming gift store. The North Fork of Long Island features dozens of respected wineries, so choose at least one to visit, like the popular Sannino Vineyard. Try Cabernet Francs, Merlots, Cabernet Sauvignons, White Merlots, and Chardonnays in the tasting room, a renovated 1900's-era barn. After you wine, it's time to dine! Take your sweetheart to Barba Bianca, a waterside Italian restaurant run by a renowned chef, Frank DeCarlo, featuring a menu that focuses on the farm and sea.
Lake Placid (Adirondacks)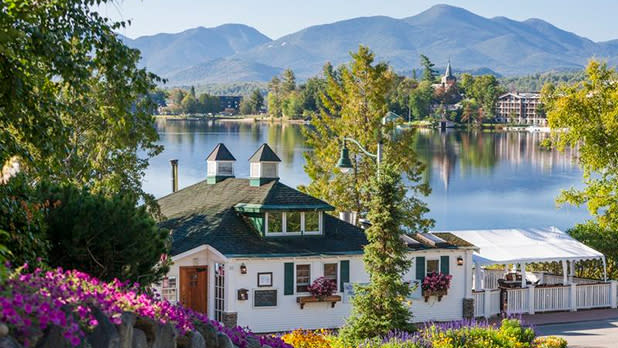 Welcome to the ultimate rest and relaxation station in the Adirondacks. The Mirror Lake Inn Resort and Spa (pictured) promises a view of Mirror Lake and the mountains in every single one of its 131 rooms. The rustic aesthetic is cozy and comfortable, and some of the rooms have attention-getting features. The Kiwassa Suite, for example, has a lofted whirlpool tub next to the big comfy bed. Mirror Lake Inn houses three distinct restaurants on the lakeshore: The View Restaurant, Taste Bistro & Bar, and The Cottage Restaurant. All use farm-to-table local ingredients and offer cocktails, craft beers, wines, and spirits, and all are open for breakfast, lunch, and dinner. The View Restaurant is rated the #1 place to eat in Lake Placid on TripAdvisor, so you don't have to worry about trading convenience for quality. The lake is a great place to cool off on hot summer days, with paddle-boarding, kayaking, canoeing, and swimming. The resort has its own private sandy beach and rents the boats as well as bicycles. If you love adorable small towns, dip into the village of Lake Placid and explore the antique shops, jewelry stores, bookstores, and more. Treat your love to the most spectacular views on Scenic Tours with Adirondack Flying Service. You'll soar over the mountains together, and it's only $70 per person with two people. Perfection.
Chautauqua (Chautauqua-Allegheny)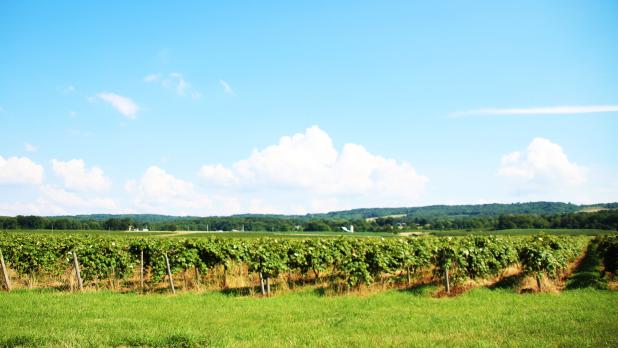 You and your love with fall head over heels in love for the idyllic surroundings in Lake Erie Wine Country. Indulge in an upscale stay at the Spencer Hotel and Spa, where you can choose between Junior Suites (don't let the name fool you, they're huge!) and guest rooms, most of which offer porch access and dreamy views of Chautauqua Lake. You might notice a few nods to your favorite books in various rooms. In fact, the Spencer prides itself on being the first literary-themed hotel in the country. Each guest room is dedicated to a famous author and features furnishings by local artists. The hotel offers an Inn the Mood package, which adds to your stay a candlelight breakfast, champagne, chocolates and rose petals with complimentary snacks and beverages. When you're ready to venture out, enjoy the fact that there are 23 wineries within 50 miles waiting to be visited. The majority charge only about $1–5 to sample the wines, if they charge at all. A complete listing of the wineries can be found at Lake Erie Wine Country website. If you're feeling lucky, take your honey to the Seneca Allegany Casino.
---
Share your New York State adventures with us on Instagram and Twitter and tag us on Facebook!