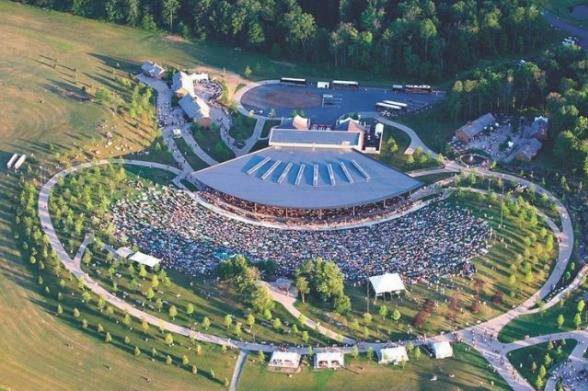 Credit: @bethelwoodscenter on Instagram
Summer will be here before you know it, and now is the time to start booking tickets and accommodations for some of the state's hottest activities and attractions. Don't wait until the last minute! Here are 10 summer trips to start booking now.
Masks are encouraged, but optional in most settings per New York State guidelines. Individual businesses or attractions may require mask wearing. Call ahead and check websites and social media to make sure attractions and amenities are open and available.
Updated 2/24/2023
1. A Hamptons Beachside Vacation (Long Island)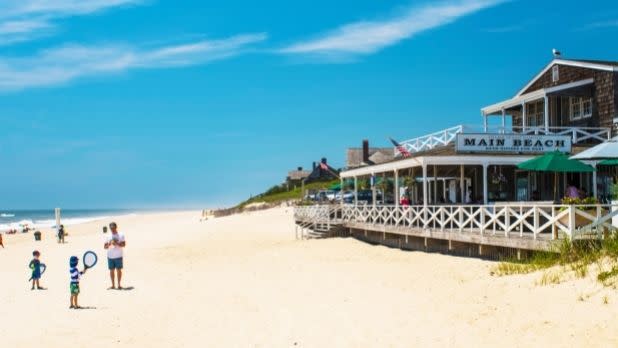 Summer rentals and resorts fill up fast here, so now's the time to make sure you have your Hamptons place in the sun. You'll find popular hotels on and close to the beachside, including the Southampton Inn, The Topping Rose House, Barons Cove, The American Hotel, The Quogue Club at Hallock House, and Gurney's Montauk Resort & Seawater Spa.
With your reservation set, you can start planning your vacay. Pristine sandy beaches may be all the doctor ordered for your ultimate Hamptons getaway, but this ritzy enclave has plenty more to explore, with outdoor activities such as surfing, horseback riding, and fishing for outdoor enthusiasts; as well as cultural institutions, like the Parrish Art Museum, and the Pollock Krasner House & Study Center (opens May 4, 2023), and wineries like Wolffer Estate and Duck Walk Vineyards. Discover even more great things to do in the Hamptons here.
2. Reserve Your Saratoga Race Season Tickets (Capital-Saratoga)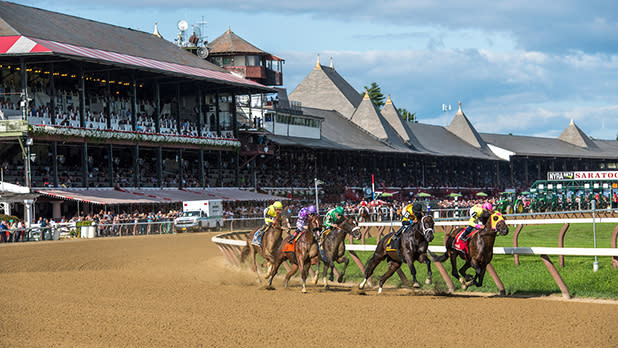 A great New York State tradition gets underway in July in Saratoga Springs with the historic Saratoga Race Course hosting its annual summer meet. Special events this meet include the $1 million Whitney Stakes and the 153rd running of the $1.25 million Travers States. Don't miss out on the action - book your stay in Saratoga Springs now at top-rated lodgings like The Gideon Putnam, reopening May 1, 2023, which presents classic hospitality surrounded by the serenity of Saratoga Spa State Park; or the downtown Adelphi Hotel, which focuses on luxury and modern design while carrying on the spirit of a historic and charming retreat.
3. Book Your Glimmerglass Festival Tickets (Central New York)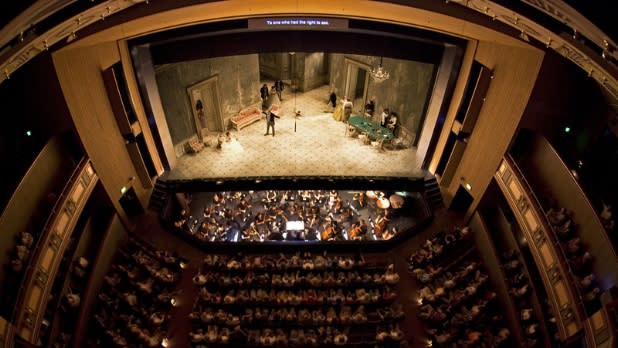 Start planning now for this summer's 2023 Glimmerglass Festival and a riveting visit to Cooperstown! This internationally-acclaimed festival has always been a home for new and exciting productions of opera and musical theater, presenting both familiar and rarely performed operas in a magnificent setting overlooking Otsego Lake. Book a "Night at the Opera" experience for previews, tours, a chance to meet the performers, and picnic meals on spacious lawns. You can choose from 40 performances taking place in July and August, including Romeo and Juliet, and Grammy-winning countertenor, Anthony Roth Costanzo's An Evening with Anthony Roth Costanzo, with members of the Young Artists Program. Tickets recently went on sale and are selling quickly, so purchase yours now! Hot tip: purchase tickets to multiple shows for the best discounts.  
4. Stake Your 4th of July Fireworks Viewing Spot (New York City)

Credit: @clickforthekingdom on Instagram
In New York City, the annual Macy's 4th of July Fireworks will light up the night over the water in Midtown Manhattan! Make reservations as soon as they become available at peak viewing spots and rooftop bars across Manhattan, Queens, and Brooklyn. Or see the fireworks from the water on the Circle Line's Fourth of July Fireworks Cruise. You'll also find public viewing spots for free, but make sure to lay out your picnic blanket and claim your spots early (Roosevelt Island and Domino Park in Brooklyn typically offer great views of the show over the East River). Stay tuned for details on this year's fireworks spectacular!
5. Hop Aboard North America's Largest Mountain Coaster (Adirondacks)
The largest mountain coaster in North America is ready to thrill you this summer with amazing Adirondack mountain views around heart-pounding curves! Formerly a bobsledding track used in the Winter Olympic games, the Cliffside Mountain Coaster at Mt. Van Hoevenberg in Lake Placid runs for 1.4 miles and is set up so you can drive your own car along the track, controlling the speed. Race your family and friends alongside the 1980 bobsled track to the bottom! Tickets, which go fast, can be booked here. Prices are $55 for Ages 9+ (if riding alone) and ages 18+ (if riding with a child passenger); child passengers ages 3-12 can ride for $10.
6. Book a Private Overnight Stay at Singer Castle on Dark Island (Thousand Islands-Seaway)

Credit: @rbbramlett on Instagram
Rich in history and beauty, Scottish-inspired Singer Castle on seven-acre Dark Island in the St. Lawrence River invites you to explore its intricate architecture and puzzling secret passageways! Be King or Queen of Singer Castle for the evening when you book the Royal Suite, an entire wing of the castle that can sleep up to six people. Your reservation also includes a catered dinner in the evening and an extended private personal tour. Inside and outside the castle, you'll discover 28 rooms, a five-story clock tower, four-story boat house, heated squash court, pergola, and rose garden, as well as hidden passageways into almost every room and outbuilding. 
7. Make Your Camping Reservations Now (Statewide)
Camping is one of the best and most affordable family vacations. Whether you like to rough it, follow historic pathways or live luxuriously, New York camps have something everyone will love. With camping season officially opening on May 19, campsite reservations are already starting to flood in. Many private campgrounds can be booked through CampNewYork.com. Public campgrounds are operated by the New York State Office of Parks, Recreation and Historic Preservation, and the Department of Environmental Conservation. In 2021, New York State partnered with Tentrr to offer 45 new, fully outfitted sites at four State Parks in the Hudson Valley. New reservations for all available State Parks sites—including tents, trailers, RVs, cabins, yurts, and cottages—can be made by calling 1-800-456-CAMP or reserved online. 
8. Buy Your Chautauqua Institution 2023 Season Pass (Chautauqua-Allegheny)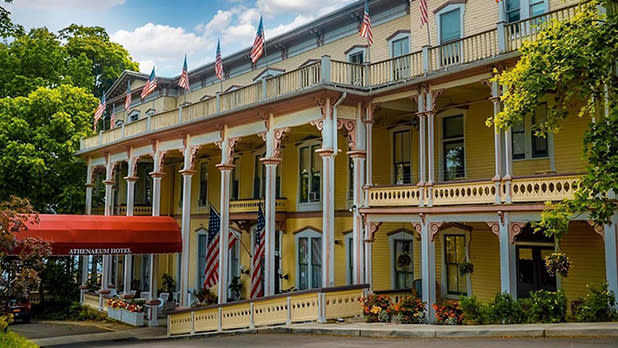 Every summer, thousands of artists from all across the globe flock to the truly unique cultural center that is Chautauqua Institution for its nine-week summer celebration of the arts, education, religion, and recreation, and renowned morning lecture series. This summer's program is taking place June 24 - Aug. 26, with scheduled entertainment including Pride and Prejudice by Kate Hamill, Mike Lew's Tiny Father, directed by Tony-Award nominated Moritz von Stuelpnagel, Pete McBride, Maureen Corrigan, the Washington Ballet, and the Chautauqua Symphony Orchestra. Located on beautiful Chautauqua Lake near Jamestown, the institution also boasts sporting activities and on-grounds accommodations. Online sales of gate passes and tickets are on-sale now. You can book a room at the historic Athenaeum Hotel or rent a lake house near the grounds of the institution.
9. See NASCAR Action at Watkins Glen (Finger Lakes)
Since 1956, Watkins Glen International has hosted road racing events of nearly every class, including Formula One, World Sportscar Championship, Trans-Am, Can-Am, the International Motor Sports Association, and the IndyCar Series. The top racing series of the National Association for Stock Car Auto Racing, the NASCAR Cup Series, returns to Watkins Glen International on August 20th, 2023 for the NASCAR Go Bowling at The Glen, the only NASCAR event in New York State. Order your tickets now and be there to experience this thrilling event on this historic road course!
10. Get Tickets or Season Passes to One of New York's Outdoor Performance Venues (Statewide)

Credit: @bethelwoodscenter on Instagram
Get ready for a music-filled summer in New York State!
In the Hudson Valley, Caramoor's 2023 summer season returns June 4 - August 18, celebrating music's power to unite people, heal divisions, and inspire discovery. This year's lineup will be announced March 1, but last year's performers included Yo-Yo Ma & The Knights, Las Cafeteras, Lara Downes, Pedrito Martinez, and many others. 
In the Catskills, Bethel Woods Center for the Arts presents a summer concert season that offers a diverse mix of performances, exhibits, festivals, and art programs. Upcoming late spring and summer shows include Robert Plant & Alison Krauss, Shania Twain, Jason Aldean, Zac Brown Band, The Goo Goo Dolls, and Big Time Rush. Don't miss out on your favorite performers; get your tickets now.
One of the pre-eminent "jewel in the crown" summer music and arts festivals in North America for over 50 years, the Saratoga Performing Arts Center (SPAC) will present the return of its resident companies, the New York City Ballet and the Philadelphia Orchestra this summer, with a spectacular and diverse program starring world-renowned soloists Yo-Yo Ma and Gil Shaham, returning for the first time in a decade with a special SPAC premiere leading Vivalidi's The Four Seasons. The season will also feature a diverse line-up of artists including Emmy-, Grammy-, and Tony- Award-winning legend Audra McDonald, global "little orchestra" Pink Martini, featuring China Forbes, and pianists Isata Kanneh-Mason and Bruce Liu. Other upcoming shows include Foreigner, Pentatonix, Guns N' Roses, ZZ Top & Lynyrd Skynyrd, The Dave Matthews Band, Eric Church, and Zac Brown Band. Don't miss out; order your tickets now!
---
Don't forget to post photos of your New York adventures on Instagram and Twitter with #iSpyNY and tag us on Facebook!