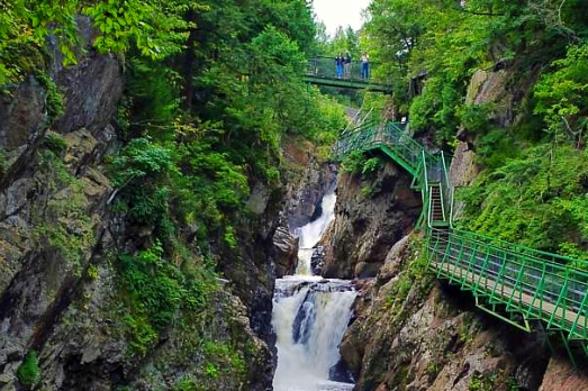 We all want a solid two-week block of vacation days in the summer, but even if you can't get that much time off, you can still get some R&R! Read on for 11 magical summer getaways right here in New York State that will only take a weekend to have you feeling refreshed and revived. 
Masks are encouraged, but optional in most settings per New York State guidelines. Individual businesses or attractions may require mask wearing. Call ahead and check websites and social media to make sure attractions and amenities are open and available. 
Updated 04/19/2023
Saranac Lake (Adirondacks)
Immerse yourself in the rugged beauty of the undisturbed nature in Adirondack Park and the charm and culture of Saranac Lake village. Though it shares the surrounding scenery with the village of Lake Placid, Saranac Lake sees fewer tourists, making it a bit calmer—though by no means "sleepy." Check out High Falls Gorge, a nature park with a short trail that crosses over bridges—some with glass bottoms—to see the Ausable River cascading over cliffs. You can't miss a trip to the Wild Center's famous "Wild Walk," an elevated treetop path through the forest with a playful human-sized bird's nest and spider's web.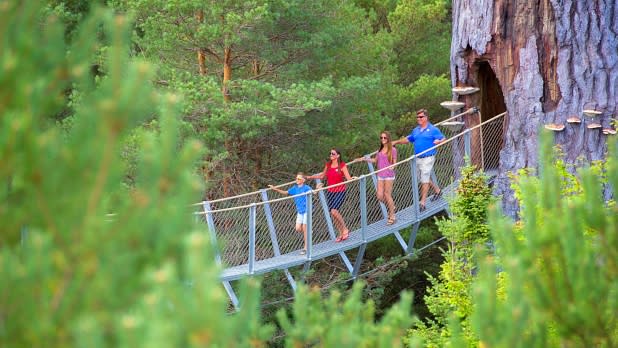 Back in town, little ones can take a spin on the beautifully handcrafted Adirondack Carousel next to a playground and picnic tables. If the kids are too old for a carousel (though...is anyone too old for a carousel?) and are itching for adventure, surprise them with a jet ski tour with Adirondack Watersports. Hotel Saranac, renovated in 2018, is a chic lodging option in the center of everything, and Gauthier's Saranac Lake Inn is situated right at the edge of the lake so you can roll out of bed and dip your toes in. Hit up the cozy Origin Coffee Co. for specialty coffee and buttermilk biscuits, or try a sandwich at Blue Moon Cafe where they make all their own bread.
Hunter (Catskills)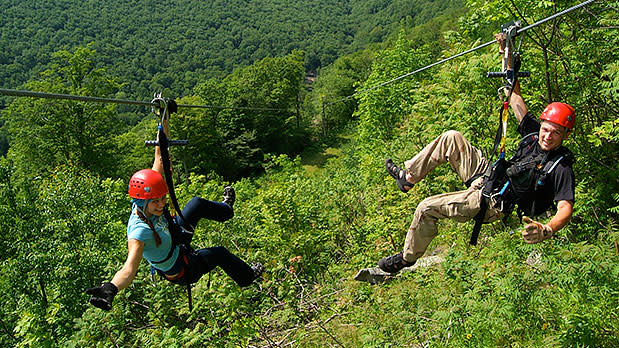 Why is world-class ski destination Hunter on a list of summer getaways? Because outdoor ziplining, swimming, fly-fishing, and more prove that there is no wrong season to visit. First off, set down your bags at Scribner's Lodge where you'll fall in love with the interior design and atmosphere that are both elegant and cozy, or at Hunter Inn, with its sizeable rooms and two-story suites. Then get ready to take in some serious scenery on Hunter Mountain's Scenic Skyride, a six-passenger chairlift the family can ride 3,200 feet up to the summit, passing over mind-boggling views of the Catskill Mountains. If you want the views with a bit more action, try New York Zipline Adventures' Skyrider Tour, the longest and highest zipline in North America (don't worry, they have other, milder zipline tours as well!).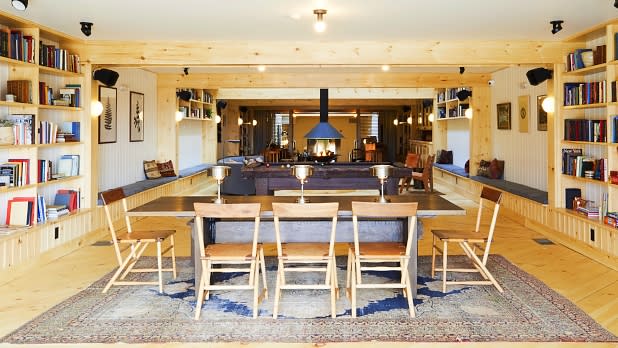 For some ground-level fun, kick back, have a picnic, and swim at Dolan's Lake. After you've worked up an appetite, head to Mama's Boy Burgers where you can eat outside and build your own perfect burger, followed by thick and creamy milkshakes. For an unusual treat, check out the Last Chance Antiques & Cheese Cafe, a cheese-focused restaurant, antique shop, and live music venue. Swing by their gourmet shop for vintage candy, chocolates, honey, syrup, and cheeses.
Rocking Horse Ranch (Hudson Valley)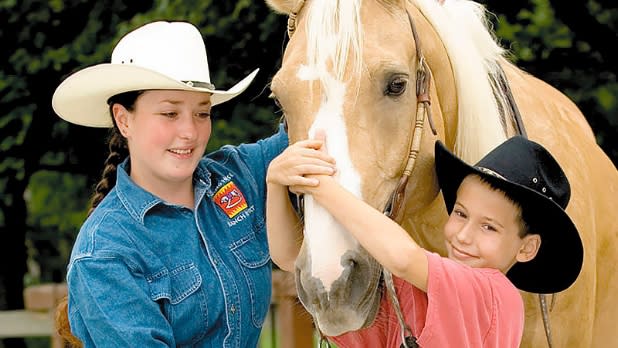 Dreaming of a getaway where you don't have to plan too much? The 2018 and 2022 TripAdvisor Travelers' Choice award-winning Rocking Horse Ranch Resort is your all-inclusive, one-stop family fun shop. The rooms in both the Main Lodge and the Oklahoma Building are clean and spacious. As you can probably guess from its name, the ranch offers horseback riding with options for all skill levels, including a pony ride area for little ones.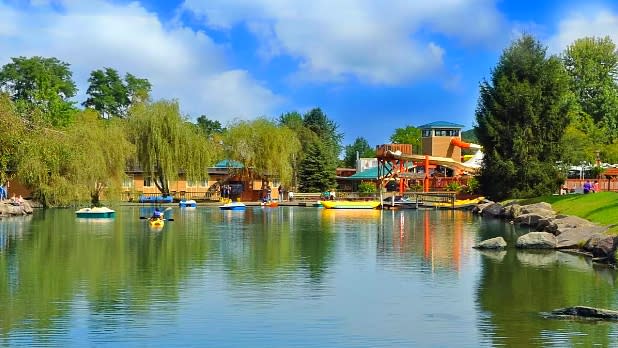 The resort has its own massive indoor waterpark to help you stay cool and entertained on hot days. Kids will never run out of things to do, given the arcade with mini-bowling, nightly live performances, a BB gun shooting gallery, archery range, and "Galactic Heroes" laser tag. Roam the gardens,relax and unwind in the Eldorado Hot Springs, and try the "Mountain Tubing Adventure," a summer version of snow tubing. Each morning you'll have trouble choosing what to eat from all the options in the massive breakfast buffet, likewise with the sundae bar after dinner. Plus, hot chocolate, coffee, and snacks are on offer 24/7.
Buffalo (Greater Niagara)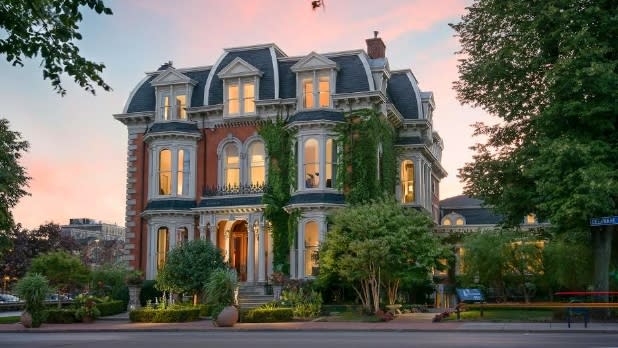 Whether you're ready to check Niagara Falls off your bucket list, or you're just after some delicious Buffalo chicken wings—both are valid goals, by the way—head to the city of Buffalo for arts, culture, and fun family activities to fill your weekend getaway. Post up in the Courtyard by Marriott Buffalo Downtown/Canalside for nice views overlooking the water, or the luxurious Victorian Mansion on Delaware, both placing you in the heart of all the action. The Buffalo Museum of Science offers incredible, interactive exhibits, like Buffalo in Space and an enormous play supermarket for young kids. The museum also houses a robust dinosaur exhibit with an elephant bird egg, which was long thought to be a replica but recently proven to be the real deal!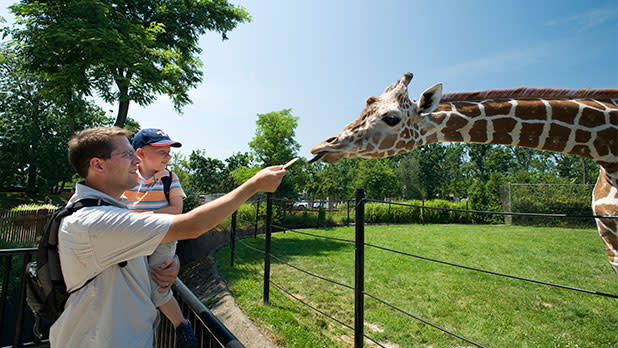 Architecture lovers can pop into the Frank Lloyd Wright's Martin House Complex for a quick tour before exploring the Buffalo Zoo and its beautiful animal habitats, including a Gorilla House, indoor Rainforest Falls, and the "Arctic Edge." Get the full taste of Buffalo by grabbing tickets to a Buffalo Bisons game, soaking in the sights on a Buffalo Harbor Cruise, and, most importantly, chowing down at the site of the original Buffalo chicken wings with a pilgrimage to Anchor Bar. If you need a palate cleanser after all the wings, another fun option is Hertel Avenue Poutine & Cream in the city's charming historic district. Deciding between a decked-out mason jar milkshake and fresh, piping hot poutine is simply too difficult...so we recommend getting both.
Saratoga Springs (Capital-Saratoga)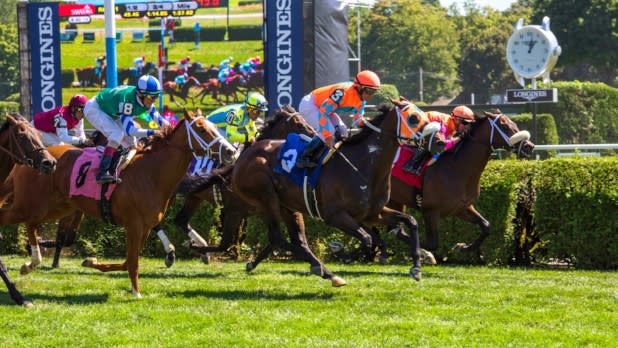 Known for its healing natural mineral waters ever since the late 19th century, Saratoga Springs has long been one of the nation's go-to getaway destinations. And even if all you want is that precious R&R, don't worry, there are plenty of things to do to keep the more restless members of your family happy and entertained. Take the world-famous Saratoga Race Course, for example, where kids will delight in getting to see the horses march through the picnic areas as they make their way to the track. Watch the races from the grandstand or displayed on big screens placed throughout the premises, and check out the Saratoga Family Zone for games, a selfie booth, and more.

Photo Credit: Saratoga County Chamber of Commerce
Satisfy your culture craving at Saratoga Performing Arts Center, where you can catch classic music and dance performances. Dig into big, beautiful French toast and pancake breakfasts at Sweet Mimi's Cafe & Bakery, and head to Druthers Brewing Company for dinner, where you'll enjoy delicious burgers, mac & cheese made with homemade pasta, and good brews. Hit the hay downtown at the Embassy Suites by Hilton Saratoga Springs, or for something a little homier, try the Saratoga Farmstead B&B and its locally sourced breakfast menu.
Shelter Island (Long Island)
A local island vacation without the crowds? Sounds too good to be true, but it can be found between Long Island's North and South Forks on peaceful Shelter Island. Stay at the Gatsby-era Pridwin Hotel for incredible views of the shore, or in one of the bright, nautical-themed rooms at the pet-friendly West Neck Guesthouse. There are beaches all over the island, but Crescent and Wades both provide a lifeguard. A word to the wise: the sunset from the West-facing Crescent Beach is absolutely breathtaking.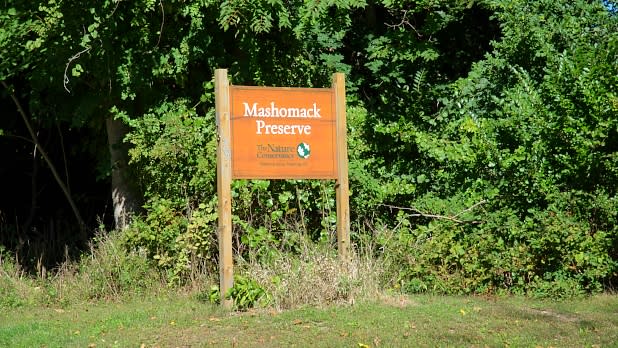 Because the island is flanked by two peninsulas, the water is naturally calm and perfect for kayaking, so head to Shelter Island Kayak to rent kayaks and paddleboards. Try a hike in the gorgeous Mashomack Preserve on a number of trails ranging from short and sweet to 11 miles long. While you're there, check out Sylvester Manor, the home of a European settler family that dates back to 1651. While the manor is temporarily closed, the grounds are free to roam, and a farm stand is open on Saturdays. After a day of exploring, stop in at Maria's Kitchen for the freshest fish tacos and scrumptious Mexican cuisine.
Skaneateles (Finger Lakes)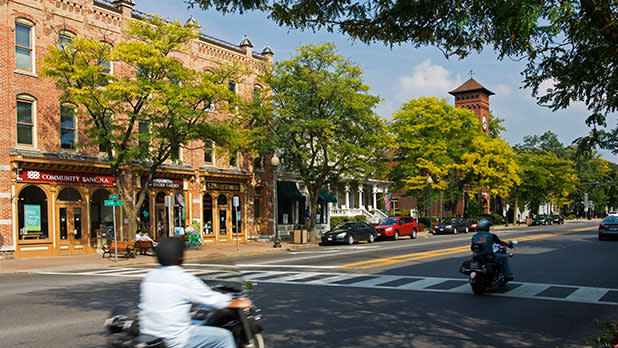 The village of Skaneateles, where the downtown runs right up against the Skaneateles Lake, is the bucolic remedy you've been waiting for to get rid of everyday stress. The lake water is so pure that more than 220,000 households in and around Syracuse use it unfiltered! Stay in one of the beautiful, rustic rooms at Finger Lakes Lodging by Mirbeau. Another option is Skaneateles Suites where you can book the family a private bungalow or opt for their classic hotel rooms (or the Main House, which sleeps up to eight people). Skaneateles Lake is breathtaking, and you'll understand instantly upon seeing it why so many people call its bright blue waters the prettiest of the Finger Lakes.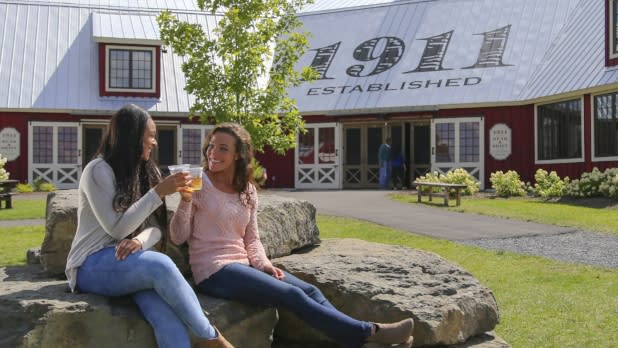 Visit the public beach for swimming and snorkeling, or take a sightseeing cruise with Mid-Lake Navigation. Explore nature with a nice hike on the Charlie Major Nature Trail where you'll pass remnants of its days as a railroad in the 19th century. Try apple cider at Beak n' Skiff, the #1 apple orchard in the country! Be sure you make it to the famous Doug's Fish Fry for the freshest, crispiest fried fish sandwich served on a soft hamburger bun. Grab breakfast and delicious scones, cinnamon buns, whoopie pies, pop tarts, and more, all baked daily from Skaneateles Bakery.
Alexandria Bay (Thousand Islands-Seaway)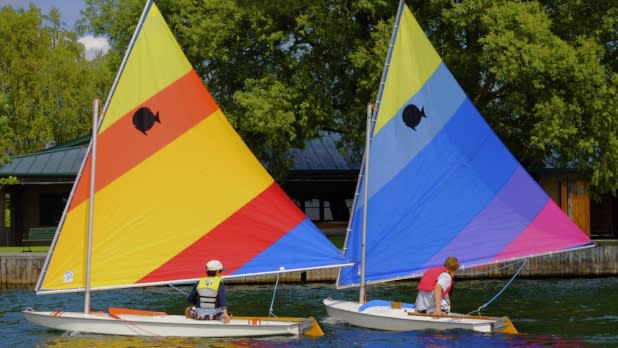 Escape to Alexandria Bay where you'll be perfectly situated to explore thousands of islands sprinkled on the St. Lawrence River between the U.S. and Canada (hence the region's name of Thousand Islands!). Stay at Capt. Thomson's Resort (opening for the season on April 28) or the family-run Edgewood Resort for rooms with a view overlooking the water and passing boats. And since boating is a way of life here, learn about all the history of watercraft at the Antique Boat Museum (reopening for the season on May 6). You can walk right up to more than 300 unique, preserved boats and paddle around French Creek Bay aboard a traditional St. Lawrence Skiff, included with the cost of admission.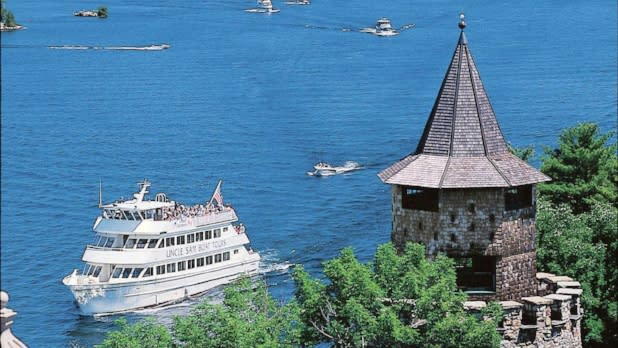 For a more in-depth (and a bit more luxurious) water tour, Uncle Sam Boat Tours offers an exciting "Millionaires Row Tour," which is a one-hour trip that focuses on beautiful homes like Boldt Castle and Casa Blanca! Riley's by the River (reopening in May) delivers on the promise in its name—it is right by the river. Hop out of the docking station and sit down at a table to munch on paninis, sweet potato fries, and fresh seafood. 
Queens (New York City)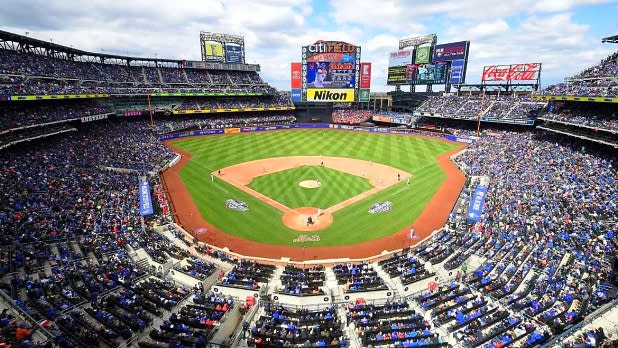 There is so much more to New York City than just Manhattan! The massive borough of Queens has so much to do, see, and eat that we're betting you'll have a hard time fitting it into one weekend. First of all, it's the home of the Mets, so you can finally see them in action (ticket prices start as low as $16), or simply tour the stadium for $15–20. Next up, visit the super fun Museum of the Moving Image where you'll find a massive permanent exhibit dedicated to the Muppets and their creator, Jim Henson, as well as interactive experiences, like adding your own voiceover and sound effects into classic movies. Head to the NY Hall of Science for another amazing, hands-on museum adventure, with 450 interactive displays that make science fun and exciting for all ages. Learn about physics and step into the immersive digital "Connected Worlds" exhibit about different environments.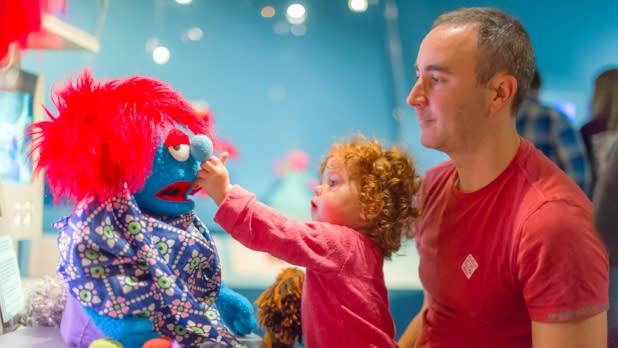 Queens is home to gorgeous Rockaway Beach where families can barbeque, play volleyball, build sandcastles, and swim. Plus, it's the city's only legal surfing beach, so here's your chance to ride the waves of the Atlantic. Rest up at the Ravel Hotel or the Boro Hotel in Long Island City. From either hotel, take about a 20-minute walk to Queensbridge Park and gaze over the Manhattan skyline. Finally, to get a true taste of Queens' international flavor hit up the Queens Night Market which opens every Saturday night from 5 pm to midnight from April 29 through mid-August. Roam row after row of stalls hawking jerk chicken, Moldovan waffles, Indonesian street food, Hungarian chimney cakes, crispy, juicy empanadas, and more.
Jamestown (Chautauqua-Allegheny)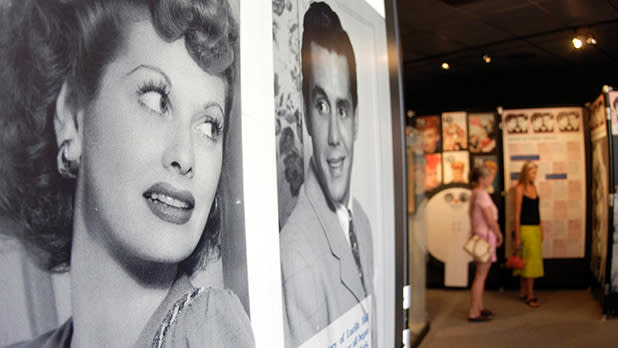 Calling all comedy connoisseurs, and people who just like to laugh. The National Comedy Center in Jamestown features more than 50 immersive exhibits celebrating the art of comedy, letting you trace the history of comedy from the days of Charlie Chaplin up to today's Internet memes. You can also test your comedy chops with games and competitions, and even fake pie fights! Swing by the Lucille Ball-Desi Arnaz Center, a tribute to the town's native star. This museum takes you into the lives of the actors who brought us beloved characters Lucy and Ricky, and offers a behind-the-scenes look at the making of the show, including costumes and sets (you can actually step into a recreated Tropicana nightclub!). Summer is one of the best times to visit the Chautauqua Institution, a lakeside resort and cultural center that hosts lectures and arts performances, including ballet, opera, and choir concerts. Reconnect with nature at the Audubon Community Nature Center, a 600-acre wetland preserve home to more than five miles of trails, an arboretum, educational gardens, and perfect picnicking spots. You can also explore its Nature Center where you can meet and learn about live animals.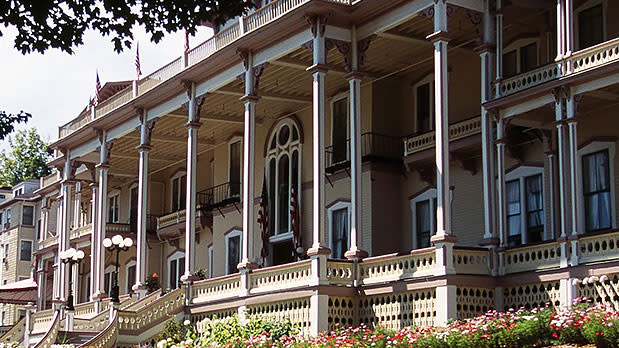 Finally, spend some time by sparkling Chautauqua Lake where you'll find one of the nation's oldest continually operating amusement parks, the Midway State Park, replete with vintage midway rides and games, including a charming carousel, mini-golf, go-karts, bumper boats, and old-fashioned treats. Spend your nights in the sleek and convenient Hampton Inn & Suites Jamestown or the Comfort Inn Jamestown - Falconer. 
Binghamton (Central NY)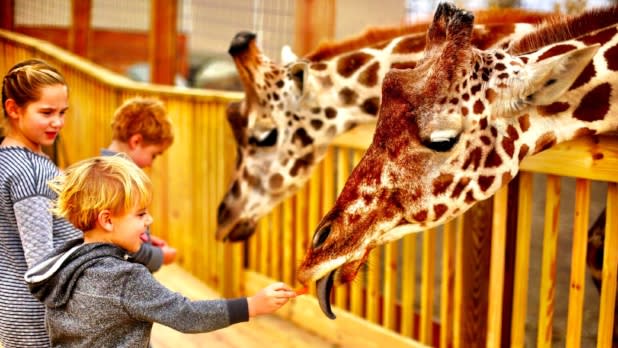 In Binghamton, you can pack river exploration, world-famous animal exhibits, local BBQ delicacies, and more into one incredible weekend. Spend your nights in the centrally located DoubleTree by Hilton Hotel Binghamton, or lounge by the outdoor pool at the Residence Inn by Marriott. You'll have to try the city's original Spiedie ("speedy") sandwich at least once. Visit local hotspot Lupo's S&S Char Pit to try the signature cubes of marinated meat cooked on a skewer and sandwiched in a soft Italian long roll. Say "Hi" to all of your animal friends at the Animal Adventure Park.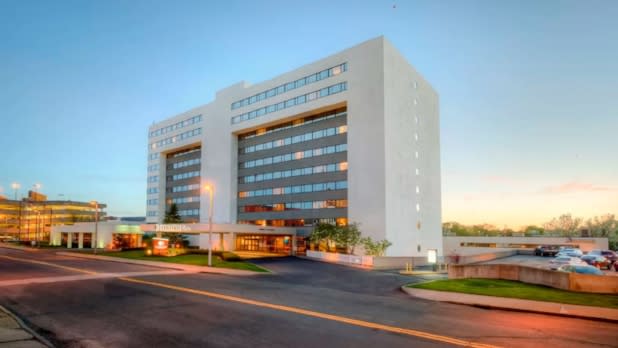 Let loose at the Discovery Center with interactive play-learning at exhibits including a kiddie supermarket, a full-size fire truck, TV station, and Story Garden. Take your science-loving family members to the Roberson Museum and Science Center for playful explorations of science, history, and culture, as well as the region's largest model train display and a 50-seat digital planetarium. Get out onto the stunning Susquehanna River with canoe and kayak rentals from Enchanted Gardens and tour Iroquois and Algonquin homelands. Finally, snag a table at the Lost Dog Cafe and sit down for affordable, casual New American cuisine with out-of-this-world desserts, such as the deep-fried cheesecake known as mushishi.
---
Don't forget to share your summer vacation with us! Share New York State pictures on Instagram and Twitter with #ISpyNY and tag us on Facebook!