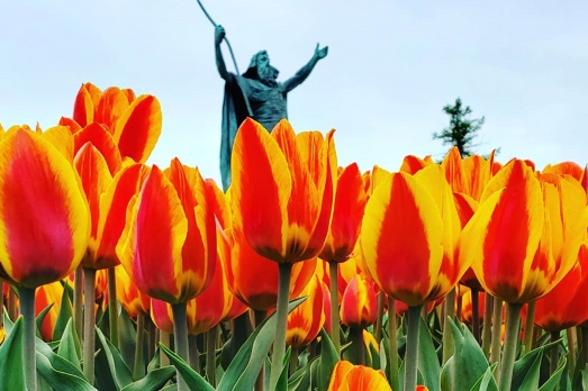 Spring in New York State means the return of baseball, popular festivals, and bursts of flower power at botanic gardens. From outdoor festivities to indoor amusement, the season is all about new beginnings, so get inspired by these fun-filled spring weekend trips throughout New York!    
Masks are encouraged, but optional in most settings per New York State guidelines. Individual businesses or attractions may require mask wearing. Call ahead and check websites and social media to make sure attractions and amenities are open and available. 
JUMP TO: March 25-26 | April 1-2 | April 8-9 | April 15-16 | April 22-23 | April 29-30 | May 6-7 | May 13-14 | May 20-21 | May 27-28 | June 3-4 | June 10-11 | June 17-18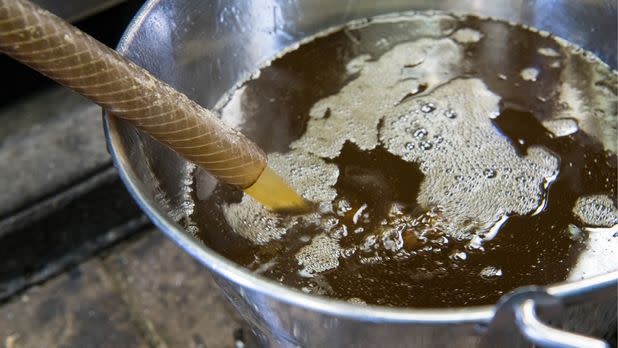 WHAT TO DO: The "Maple Capital" of Warren County is pulling out all the sticky stops throughout March with Thurman Maple Days. New York State is second only to Vermont when it comes to maple production in America, and Thurman is home to five commercial maple farms including Toad Hill Maple Farm and Hidden Hollow Maple Farm. March right into maple magnificence and savor samples of maple candy, cotton candy, cream, and of course maple syrup. Enjoy free tours of maple sugaring operations, tastings, demonstrations, and shop for sweet souvenirs. Now that you're in a maple-induced sugar rush, what better time to use that energy to explore the peaks, valleys, and lakes within the expansive Adirondack Park. Venture into the largest marble cave entrance in the east at Natural Stone Bridges & Caves. Take a historical tour of Fort William Henry Museum and afterwards stroll the scenic lakefront walkway, in the heart of Lake George. Looking for indoor adventure? Slip and slide around the Great Escape Lodge & Indoor Waterpark.
WHERE TO EAT: Locally-sourced ingredients, craft cocktails, and homemade desserts can be enjoyed at The Bond 1786. Farm-to-table fare and surf & turf is on the menu at 10 McGillis. Olde Log Inn serves up high quality pub food in an Adirondack cabin environment.
WHERE TO STAY: Courtyard by Marriott Lake George offers a look into the life of a local as it's nestled in the heart of Lake George Village. Enjoy a stay steeped in history at the Fort William Henry Hotel & Conference Center. Live in the lap of luxury at The Sagamore Resort.
Catch Orchids in Bloom and Baseball in The Bronx, April 1-2 (New York City)
WHAT TO DO: Batter up! The New York Yankees 2023-2024 season begins on March 30, featuring home games at Yankee Stadium (pictured) on April 1 and 2. Before you catch a game, stop and smell the orchids at The Orchid Show at the New York Botanical Garden. The show, now in its 20th year, features the theme "Natural Heritage" presented by acclaimed artist, Lily Kwong. Revel in a meditative and captivating design inspired by her ancestral connections to the natural world. When the sun goes down, immerse yourself in a new mesmerizing view during Orchid Night. Continue your sight-seeing with visits to popular Bronx attractions including Wave Hill, The Van Cortlandt House Museum, and Bartow-Pell Mansion Museum. After your fill of history, get some play time at the Bronx Children's Museum, or be one with the penguins and waddle over to the Bronx Zoo, one of the largest zoos in the United States. Round off your weekend by celebrating the 50th anniversary of hip-hop in its birthplace with a visit to the Universal Hip Hop Museum exhibit at Bronx Terminal Market.
WHERE TO EAT: Elevate your appetite with authentic Italian cuisine at Enzo's of Arthur Avenue. Grab a legendary city slice to-go at Louie & Ernie's Pizza. Celebrate soul food and hip-hop at the eclectic Beatstro.
WHERE TO STAY: What was once a destination for theatergoers, the Opera House Hotel is now the borough's first boutique hotel. Bring the pup along to the pet-friendly Wingate by Wyndham Bronx, right by Yankee Stadium or opt for the nearby Residence Inn by Marriott.
Come Alive with Cooperstown, April 8-9 (Central New York)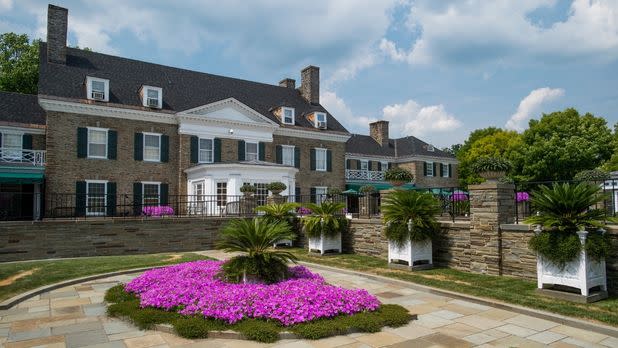 WHAT TO DO: Marvel at the museums as April ushers in the reopening of the Fenimore Art Museum (pictured) which houses one of the country's most comprehensive and exceptional collections of American folk, fine, and Thaw Collection of American Indian Art. The Farmer's Museum also reopens in April, and a visit there means experiencing the interplay among trades, village life and agriculture in New York State circa 1845. Spend the rest of the day swinging by the National Baseball Hall of Fame, what better time to visit than at the start of baseball season? No Sunday scaries this weekend, instead you'll be in dreamland as you check out Glimmerglass State Park which overlooks the crystal-clear Otsego Lake. Before you head home, toast to a great weekend at the beloved Brewery Ommegang, a spot as famous for its live music as it is its brews.
WHERE TO EAT: Check out Bocca Osteria for an upscale Italian bistro, while Mel's at 22 serves up the best of American cuisine. The Cooperstown Diner offers all the beloved diner classics in a family-friendly setting.
WHERE TO STAY: The Inn at Cooperstown is an award-winning fully renovated historic hotel, originally built in 1874. Luxury accommodations can be found at The Otesaga Resort Hotel, rightfully earning the AAA Four Diamond Award. Stay in the neighboring town of Oneonta at the Courtyard by Marriott Oneonta.
Head into the Woods in Woodstock, April 15-16 (The Catskills)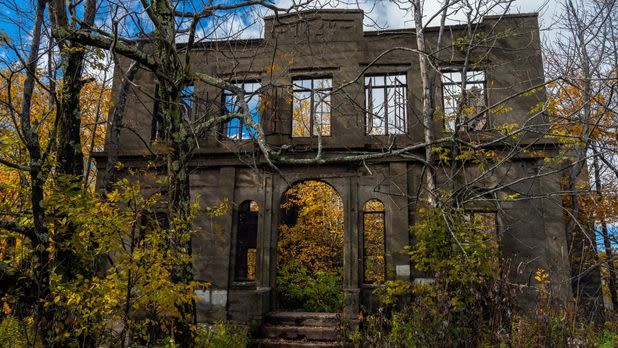 WHAT TO DO: The spirit of the 1960s and early 1970s is alive and well in Woodstock, New York where peace, love, understanding, art, and music still reign in this quaint village nestled in the Catskill Mountains. Venture into majestic woods and check out some incredible outdoor spectacles like the Overlook Mountain House (pictured), a hike offering a unique combination: a historic fire tower, mountain house ruins, and impressive views of the Hudson River Valley and Catskills. Descend from the Overlook summit and ease into a light hike or bike along the Ashokan Reservoir which shows off panoramic views of the Catskill mountains and the reservoir that services New York City's water supply. Rest up and save some energy for tomorrow so you can rock out at Opus 40, a must-see, six-acre environmental bluestone sculpture built from an abandoned quarry by one man, Harvey Fite. If you're more in the mood for a little R&R, retreat to the beautiful and serene Karma Triyana Dharmachakra Tibetan Buddhist Monastery. Finish your weekend with spectacular sights at the world's largest kaleidoscope in nearby Mount Tremper.
WHERE TO EAT: Phoenicia Diner is an Instagram-popular food spot for its classic diner aesthetic and even more picturesque eats. SILVIA features an open-kitchen environment with locally-sourced, fresh ingredients. For fresh, organic, vegan fare stop by the Garden Cafe Woodstock.
WHERE TO STAY: Hotel Dylan is the ideal setting for those seeking to unwind and explore the majestic Hudson River Valley. Tucked behind a waterfall along a babbling brook, the Woodstock Way Hotel is a contemporary 12-room hotel just steps away from Woodstock's iconic town center. For a family and budget-friendly stay, try the Holiday Inn Express & Suites Saugerties.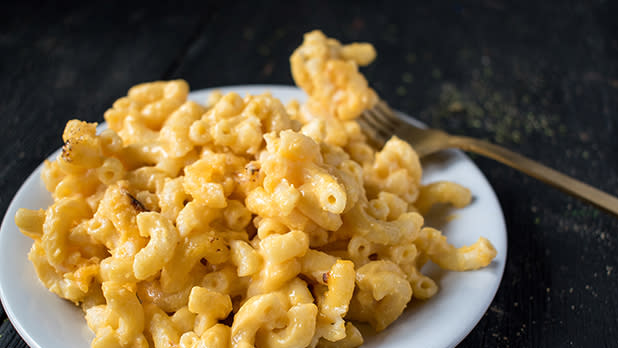 WHAT TO DO: You cheddar believe the Hudson Valley Mac & Cheese Festival is a great place to be on April 22. Equally as enticing as the main event is the venue it's held at, Brotherhood Winery which happens to be America's oldest winery. Sample scrumptious mac and cheese concoctions from some of the finest restaurants and chefs in the Hudson Valley. All tickets include a free tour of the winery. Walk off all that pasta at Storm King Art Center, just 10 minutes away, this 500-acre outdoor sculpture park is renowned for its mostly outdoor large-scale art pieces. After your day of food and fun, save some energy to spend tomorrow at the awe-inspiring Bear Mountain State Park where you can picnic, bike, hike, and enjoy the park's 5,000+ aces. The weekend may be coming to a close, but it's not the end of the road until you've made a final pit stop at the Motorcyclepedia Museum.
WHERE TO EAT: Jones Farm is a destination for foodies and shoppers alike! Grab a specialty coffee, baked good, mac and cheese or soup at 2 Alices Coffee Lounge. Twins Eating House is a veteran-owned and operated venue serving American comfort classics.
WHERE TO STAY: Bear Mountain Inn is a historic 1915 inn that was recently renovated returning to its original rustic splendor, while another historic hotel, the Thayer Hotel at West Point has been a celebrated part of American history since 1926. Enjoy all of the classic amenities and offerings of the Holiday Inn Express & Suites Middletown.
WHAT TO DO: Bloom into spring at the Buffalo Cherry Blossom Festival, held at the Japanese Garden in Delaware Park and Buffalo History Museum (pictured). The festival's highlights include a 'hanami' (cherry blossom viewing) in the garden, live music, pink boat rides, taiko drumming, pink parade, origami, Japanese cultural displays, and food trucks. A pop-up tea ceremony will also take place on the Portico of the Buffalo History Museum. Now that you're showered in flowers, the roaring waters of Niagara Falls State Park will make for a refreshing next stop. The fantastic flora doesn't stop at the cherry blossom festival, spend the next morning at the Buffalo and Erie County Botanical Gardens, and then save some time for a walk on the wild side at the Buffalo Zoo. Before you head out, check out charming and lively Canalside, the heart of downtown Buffalo's waterfront revitalization where you can grab a bite before you hit the road.
WHERE TO EAT: Grab a slice to-go at Joe's New York Style Pizza, or sit down at an upscale, inviting dining atmosphere at Dapper Goose, or check out the beloved Betty's, an eclectic venue serving global cuisine. 
WHERE TO STAY: The picturesque InnBuffalo offers nine suites within a historic boutique hotel. For convenience and comfort, opt for the Wyndham Garden Buffalo Downtow or Hyatt Regency Buffalo, both conveniently close to downtown.
Stroll among the Cherry Blossoms at Brooklyn Botanic Garden, May 6-7 (New York City)
WHAT TO DO: There's no better time to visit the Brooklyn Botanic Garden (pictured) than in the height of cherry blossom season. Check out the cherry watch page to get a preview for what to expect when you visit. One of the best spots to view the blossoms is the Japanese Hill-and-Pond Garden. Other spectacular scenes within the BBG include the Children's Garden, Rose Garden, Lilac Collection, and Discovery Garden. Later, walk next door to the Brooklyn Museum, one of the oldest and largest art institutions in the country featuring collections of Egyptian, American, Asian, and Islamic art. Before you wind down for the day, take a picturesque stroll around Prospect Park. Wake up refreshed for a walk of some of the best city skyline views on the legendary Brooklyn Bridge. Close out a wonderful weekend by catching a live performance or film at BAM (Brooklyn Academy of Music).
WHERE TO EAT: Shane's Brooklyn is a staple for a bountiful brunch, while Cheryl's Global Soul offers diverse globally-inspired fare. Barboncino Pizza is the place to go for a classic slice of Brooklyn.
WHERE TO STAY: For a boujee experience with a rooftop bar and sweeping views, stay at the Hotel Le Bleu. For more budget-friendly stays, opt for the Comfort Inn Prospect Park-Brooklyn or Hilton Brooklyn New York.
Baaaask in Baby Animal Days, May 13-14 (Capital-Saratoga)
WHAT TO DO: Cuddle up with goats, piglets, ducklings, chicks, bunnies and more at baby animal days at Indian Ladder Farms. When you're done petting precious creatures, stop in the farm market for their legendary cider donuts and apple cider, pastries, pies, local produce and so much more. Grab some grub at the tasting room and biergarten, which serves farm-to-table fare and a dozen hard ciders and beers made right on-site! Take a self-guided tour via the nature trails and view the pick-your-own fields, the Heldebergs in the near-distance, and even more animals as you venture around the farm. Just down the road from Indian Ladder Farms is John Boyd Thacher State Park, situated along the Helderberg Escarpment, one of the richest fossil-bearing formations in the world. Ideal for hiking, picnicking, and a thrilling adventure course, the park provides a marvelous panorama of the Hudson-Mohawk Valleys and the Adirondack and Green Mountains. Conserve your energy because Sunday is going to be just as fun-filled as Saturday. The Albany Tulip Festival at Washington Park is the perfect way to spend the day. The 81-acre "crown jewel" bursts with colors from in-bloom tulips– more than 140,000 in 150 different varieties. The event also includes dozens of artisan craft sellers, two stages of live entertainment, a fine arts show, food trucks galore, and KidZone family fun destination. 
WHERE TO EAT: The outdoor dining patios are just as enticing as the menus at Olde English Pub, Iron Gate Cafe, Cafe Madison, and El Mariachi, all in downtown Albany.
WHERE TO STAY: In the heart of downtown Albany, stay at the Renaissance Hotel with luxury amenities, a stunning bar, and soaring views out of every window. Comfort and convenient accommodations can be enjoyed at the downtown Fairfield Inn & Suites and Hilton Albany.
WHAT TO DO: Live it up for the last weekend of the 10-day Rochester Lilac Festival in Highland Park (pictured). Now in its 125th edition, this is the largest free festival of its kind in North America, welcoming spring in upstate New York. Enjoy expansive collections of lilacs, featuring more than 1,800 bushes and over 500 different varieties. Additional activities at the festival include a kids' zone, food booths, and exhibitors. There is no shortage of spring splendor in Rochester. Next up, visit your favorite animals at the Seneca Park Zoo, or play the day away at The Strong Museum. Fill the rest of your stay taking snapshots of the world's oldest photography museum and one of the oldest film archives, the George Eastman Museum, or booking a cruise along the Erie Canal aboard the Colonial Belle, offering rides beginning May 12.
WHERE TO EAT: Nosh is a premiere evening dining destination, blending unique dishes and libations with a warm, inviting, social ambiance. The Gate House is known for its use of organic, artisan ingredients, and how it operates 100% on solar and wind power.  Trata is the ideal spot for happy hour specials and upscale, contemporary American fare and cocktails.
WHERE TO STAY: The Inn on Broadway is Rochester's only and unique luxury boutique hotel, offering travelers an ideal location in the heart of downtown's East End Theatre District, while the Hilton Garden Inn Downtown and Comfort Suites of Rochester offer affordable and convenient locations to all of the best sites and bites in Rochester.
Feel the rush at the Jones Beach Air Show, May 27-28 (Long Island)
WHAT TO DO: Sky's the limit at the Jones Beach Air Show! The United States Air Force Thunderbirds are headlining the 19th annual air show which offers free admission, taking place on the pristine Jones Beach. This event sees up to 200,000 people, so get there early (before 8:00am) for prime parking. While you're there, get your adrenaline going at WildPlay, an aerial adventure park showcasing a 700-foot oceanside zipline. Ground yourself after a day of looking up and stroll along the spectacular 2-mile Jones Beach boardwalk. Spend Sunday at Long Beach, just a 20 minute drive from Jones Beach. Benefit from all that comes with being a beach bum by enjoying the sand, waves, boardwalk, live music, surfing, beach volleyball, and plenty of dining options.
WHERE TO EAT: For fresh seafood, there is no place better than DJ's Clam Shack Wantagh, while Dirty Taco + Tequila offers a hybrid of a Los Angeles taco truck and Miami liquor stand. Snaps American Bistro is a great spot to sit down in a casual, modern setting and enjoy classic American cuisine.
WHERE TO STAY: For a wide range of amenities and luxuries, book a stay at the Garden City Hotel, an iconic AAA Four Diamond-hotel, and member of Preferred Hotels and Resorts. Allegria Hotel is a year-round beachfront escape that embodies relaxed elegance, sophistication and style. For always-reliable accommodations and convenience head to the Long Island Marriott.
Tune into your creativity at Arts in Ithaca, June 3-4 (Finger Lakes)
WHAT TO DO: Appreciate the arts at Ithaca Festival, where this year's theme is "Planet Ithaca." This free festival takes place at Ithaca Commons and is designed to celebrate the artist in everyone. There will be great festival merchandise to purchase on site. A staple of the festival is the spring craft fair which features nearly 100 local and regional vendors showcasing their unique creations and small batch craft foods and beverages. An arts festival would not be complete without live performances, so you'll get to enjoy over 70 performances throughout the city, from local community groups to touring artists. The itinerary for the rest of the weekend involves art in its most natural form– nature! Fall in love with Ithaca's waterfalls (there are more than 150). A few of the most popular ones are Buttermilk Falls, Robert H. Treman State Park, and Ithaca Falls). Go with the flow and sip your way to the next destination, the nearby Six Mile Creek Vineyards, just one of the Finger Lakes' many famed wineries. If you'd rather opt for the indoors, engage your mind through interactive exhibits and programs at the family-friendly Sciencenter.
WHERE TO EAT: Moosewood is a must-try while in Ithaca, as it is an internationally famous restaurant which has produced 12 vegetarian cookbooks (with over 6 million copies sold) highlighting their natural vegetarian, seafood, and ethnic cuisine. MIX is a vibrant spot offering eclectic small plates and craft cocktails, plus live jazz and blues on weekends. Viva Taqueria & Cantina is the place for margaritas and sangria to complement healthy and delicious Mexican dishes.
WHERE TO STAY: The Hotel Ithaca puts you directly in The Commons, you couldn't ask for a better location for your stay. Bring the pups to Ithaca Marriott Downtown on the Commons, a pet-friendly hotel with beautiful accommodations. For a getaway that offers deluxe accommodations, fabulous food, premiere wines, a destination spa and adventure experiences all in one, book La Tourelle Hotel.

Credit: 1000 Islands River Rat Cheese
WHAT TO DO: Taste the best of New York at the Great New York State Food & Wine Festival,  held at the Cerow Recreation Park Arena. Exhibitors come from every region of New York to offer their "Made in New York" goods including: candy, cheeses, nuts, sauces, herbs and spices, maple products, apple cider, cookies, ice cream, and of course, NYS wines. Once you've got your fill of sweet and savory treats, take to the seas and book a boat excursion to Boldt Castle and/or Singer Castle. Use Sunday to revel in the Thousand Islands' rich culture and history, with visits to any of the notable museums: Antique Boat Museum, Thousand Islands Arts Center, and Thousand Islands Museum. 
WHERE TO EAT: Koffee Kove Restaurant is a cozy, neighborhood diner with homestyle American grub and seasonal outdoor dining. For riverfront dining, fresh baked breads, and eclectic cuisine stop by Bella's. Handmade pasta and woodfired pizza combined with a stunning view of the St. Lawrence River makes Di Prinzio's Kitchen a must-try.
WHERE TO STAY: 1000 Islands Harbor Hotel is idyllically set on the banks of the St. Lawrence River and welcomes guests with luxury accommodations and unmatched hospitality. The Mckinley House Bed and Breakfast is a Queen Anne Victorian built in 1890, restored to its original grandeur, including a beautiful curved front porch. For a nautical stay, book the Riveredge Resort which boasts breathtaking views of the St. Lawrence River from your own personal balcony.
Explore art outdoors at Griffis Sculpture Park, June 17-18 (Chautauqua-Allegheny)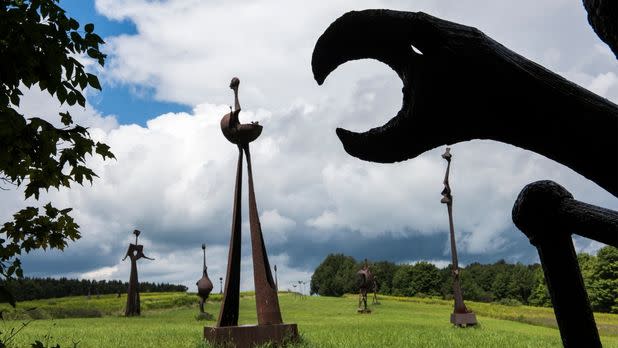 WHAT TO DO: Get outside and explore the grounds of the largest sculpture park in North America, Griffis Sculpture Park (pictured). This 450-acre park displays more than 250 large-scale sculptures dispersed through miles of hiking trails in a variety of natural habitats including forests, ponds, wetlands, and alpine meadows. After you've conquered the ground, take to the sky at Sky High Aerial Adventure Park, a playground in the trees featuring a series of platforms and bridges. Toast to a fun-filled day with beers and bites at Ellicottville Brewing Company, winner of multiple International World Beer Championship awards. Rest up so you wake up refreshed to start Sunday with a delightful walk along the trees and gardens of Nannen Arboretum. Continue your stroll from the arboretum directly to Washington Street, a quaint main street filled with shopping and dining options. Grab a sweet treat at Watson's Chocolate, which has been locally loved for over 75 years and is famous for its sponge candy. Find a fun gift for a loved one (or yourself) when you walk into the whimsical Purple Doorknob, a vibrantly-colored storefront home to an eclectic curation of socks and fun accessories.
WHERE TO EAT: The Gin Mill is the ideal place to catch a game and be entertained, featuring big screens made for live sports, pub grub, draft beers, and live music. Dina's is one of Ellicottville's finest restaurants, as it prepares satisfying, healthy foods that appeal to a health-conscious clientele.
WHERE TO STAY: Seneca Allegany Resort & Casino is a destination in and of itself, operating as a state-of-the-art resort with expanded world class gaming, an exclusive full-service spa, salon and fitness center, and a retail outlet. For budget-friendly accommodations with all of the standard amenities and conveniences, book at the Inn at Holiday Valley or Wingate by Wyndham Ellicottville.