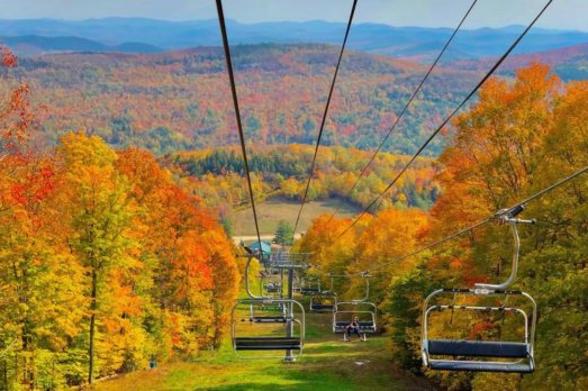 During the fall season, New York State is an outdoor playground with many opportunities to take in fall foliage and farm harvests. You can hop on a bike or lace up your hiking shoes to hit trails leading into the woods or waterways across different parts of New York. Choose to take a more scenic route, pick apples and pumpkins, or figure out your way around a corn maze. Festivals are in full swing too, with seasonal events and Halloween happenings to delight or frighten you. No matter how you would like to experience autumn in New York, we've got you covered.
Masks are encouraged, but optional in most settings per New York State guidelines. Individual businesses or attractions may require mask wearing. Call ahead and check websites and social media to make sure attractions and amenities are open and available. 
Originally published: 10/5/22
From Long Island to Greater Niagara, there are plenty of apples ripe for the picking! Whether you're a fan of Jonagold, Red Delicious, Mutsu, or apple goodies like tasty ciders and fresh-baked pies, New York State's orchards have it all, and then some. In the Hudson Valley, Apple Ridge Orchards gets high marks not only for apple picking but also their apple cider donuts and petting zoo. The Capitol-Saratoga region's Indian Ladder Farms (pictured) in Altamont has u-picking seven days a week, plus a tasting room and biergarten serving up their own beers and ciders along with delicious farm-to-table fare. Greater Niagara's Becker Farms in Gasport has a handy field report posted on their website letting you know what apples are available before you go! Round out your day at the farm making friends with alpacas and pot belly pigs at their farm animal exhibit and playground or jump in the wagon for a coffee and pie tour. Long Island's Milk Pail U-Pick Farm in Water Mill has over 20 apple varieties and even pumpkins to pick from the vine!
Looking for the perfect pumpkin? New York's farms have got you covered — with loads of Halloween fun and harvest season festivities to boot! Will's Cackleberry Castle Pumpkin Farm in Camden will keep you entertained with outdoor movies after dark and Halloween attractions including a family-friendly walk through a cornfield. On Long Island, Hank's PumpkinTown is a pumpkin-palooza, with all shapes and sizes to pick off the vine. There's also a giant corn maze, a jumping pad for kids, and narrated hayride tours. The pumpkin patch at Sunnyside Gardens in Saratoga Springs has some really big gourds! Their seasonal setup is kid-friendly with hay sculptures and scarecrows, train rides, a Hall of Flame with over 300 carved jack o'lanterns, and a butterfly room. Great Pumpkin Farm (pictured) in Clarence is also plentiful on pumpkins—with some featuring painted characters that you can take home for $10!
Corn Mazes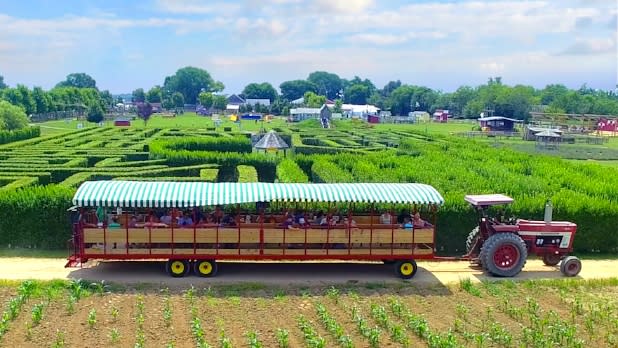 Be a-MAZE-d as you wind your way through intricately designed corn fields that have been transformed into massive puzzles. Kelder's Farm is showing big love to the Big Apple with their corn maze design this year- the iconic I Love NY logo!  "Mr. and Mrs. Potato Head" is the theme for this year's Great Adirondack Corn Maze at Tucker Farms. It's open until the last weekend in October every Thursday through Sunday, with flashlight nights on Fridays and Saturdays. Once the sun sets, there will be a bonfire and all the fixings for s'mores! Dare to enter the "Field of Screams"? Schuyler Farms in Schuylerville touts a seven-acre Haunted Maze, open on Fridays and Saturdays through October 28. Long Island-based Harbes Family Farm (pictured) goes all out with three corn mazes spread out across their Mattituck, Jamesport, and Riverhead locations with Wizard of Oz and Robin Hood themes. Things get a bit freaky at its Riverhead orchard as creepy characters come out at night delivering thrills and chills as you find your way out of the maze.  

Credit: @spakx on Instagram
Gain an appreciation for art and the outdoors under bright blue skies and amid splendid fall foliage at New York State's spectacular sculpture parks. In Queens, large-scale sculptures and mixed media installations fill the open-air studio at Socrates Sculpture Park (pictured), with bonus views of the East River waterfront. The 120-acre Art Omi in Ghent has more than 65 pieces of art and architecture on view while the 500-acre Storm King Art Center in New Windsor has a picturesque landscape filled with walking paths surrounded by larger-than-life sculptures. More than 250 sculptures are spread out across Griffis Sculpture Park in East Otto, which is split off into two sections with miles of trails through a variety of terrain. Cazenovia's Stone Quarry Hill Art Park holds a visiting artist program amid this 104-acre site for art in nature. Opus 40 in Saugerties is the work of sculptor Harvey Fite, who created a behemoth bluestone quarry masterpiece amid meadows and forest paths.
Outdoor Living History Museums

Credit: @gcvmuseum on Instagram
Travel back in time amid these museums that bring the past into the present with period actors and displays recreating sights and sounds from another era. Immerse yourself in the colonial period at Staten Island's Historic Richmond Town, which in October features pumpkin picking on the weekends at Decker Farm. Get a taste of mid-19th century farm life at Long Island's  Old Bethpage Village Restoration, which you may recognize from HBO's "The Gilded Age." Genesee Country Village and Museum (pictured) in Mumford spans from 1795 to 1900 through historic homes and buildings that you can see with a walk or trolley ride. New York's rural antiquity is both the focus of The Farmers' Museum in Cooperstown, which was part of a 19th-century farm, and Old Stone Fort Museum in Schoharie, a complex holding three centuries of the state's history. Dating back just before 1700, Queens County Farm Museum remains an undisturbed farmland, with a store and produce stand, apiary, and livestock such as goats and sheep. It holds events such as the Amazing Maize Maze and Harvest Dance Celebration showcasing representatives from ten Native American nations. See a more eloquent side of past living at Boscobel House & Gardens in Garrison, on a guided tour of the grounds of this Federal-style home overlooking the Hudson River. The landscape of Lyndhurst in Tarrytown, a Gothic Revival mansion, can be seen either through a daily ground pass or included on one of the tours of the mansion.    
Fall Cruises
A day cruise on New York's lakes and rivers provides another course for admiring fall foliage. NYC's Classic Harbor Line has fall-themed cruises sailing up the Hudson River (pictured) to the Palisades on a schooner or a circa 1920s yacht (with the latter offering a brunch cruise). German food and seasonal beers are on tap for Circle Line's Oktoberfest cruise sailing 40 miles up the Hudson River near Hook Mountain. Up in the Adirondacks, the Lake George Steamboat Company has cruises departing Monday-Saturday until October 9 and fall sightseeing cruises on Saturdays October 3-28. Castles and lighthouses join the fall foliage display in the Thousand Islands and you can take it all in with Clayton Island Tours and Uncle Sam Boat Tours, offering cruises daily through mid-October, weather pending. Clayton Island Tours runs the Rock Island Lighthouse cruise through the end of October.
Zipline and Treetop Adventure Courses

Marvel at surrounding trees while moving past them via a zipline or an adventure course. Catamount Mountain Resort (pictured) in Hillsdale has an Aerial Adventure Park, featuring a network of nine trails with 150-plus challenge elements connected by cable, wood, and rope. Their Catamount Zip Tour touts itself as the longest zipline in the U.S. at 5,523 feet long with speeds of 55+ mph. The Bronx Zoo Treetop Adventure includes a 400-foot-long zipline high across the Bronx River and back, with a bird's-eye of the water and a hardwood forest. In Ellicottville, Holiday Valley Sky High Aerial Adventure Park contains a series of platforms, obstacles, bridges, and ziplines with 13 courses of varying difficulty levels. A chairlift ride to Spruce Lake runs Saturdays and Sundays through October 29. The Holiday Valley Climbing Forest has nine trees outfitted with color-coded climbing holds from very easy to very challenging. A kids' area with two trees is where the youngest climbers can go about six feet up and back down (open until October 30).
Farmers' Markets
Can't make it to a farm this fall? Let the farm come to you at one of New York's many farmers' markets. Greenmarkets NYC manages the 50-plus markets throughout NYC including their flagship, Union Square Greenmarket (pictured), where you can get a taste of local farms in the middle of the big city. The impressive Rochester Public Market, a staple since 1905, is open Tuesday, Thursday, and Saturday year-round with indoor and outdoor vendor booths and food stands. Jamestown Public Market ends in October and happens on Saturdays in downtown Jamestown, while Fredonia's Summer Market runs until the end of October on Saturdays. The Millbrook Farmers Market happens on Saturdays until October 28, catering to all your shopping needs.

Credit: @mattbanks on Instagram
Whether you're an avid or aspirational hiker, New York's nature trails have something to match all levels. If you're in the Adirondacks, and up for a challenge, the Adirondack High Peaks are a collection of 46 peaks that range from 3,820 to 5,344 feet in elevation within the Lake Placid region.  If you complete them all, you can become a '46er! Saranac Lake's Bloomingdale Bog Trail follows along an old railroad corridor turned end-to-end trail. Prospect Mountain (pictured) in Lake George starts from the village and becomes a moderate to difficult, 3.2 round trip route with rewarding views. Hudson Valley's Old Croton Aqueduct Trail goes along a conduit that provided NYC with fresh water until the 1880s. The Hudson River Gorge Wilderness is a rugged region of the Adirondack Forest Preserve with ponds and steep cliffs climbing up the sides of cascading waters. Referred to as the "Grand Canyon of the East,"  Letchworth State Park has 66 miles of hiking trails that span the Greater Niagara and Finger Lakes regions. Its biggest attraction is the Genesee River roaring through a gorge over three major waterfalls between cliffs. Some are as high as 600 feet in places!  Long Island's Caumsett State Historic Park Preserve is along a scenic peninsula extending into Long Island Sound, with bridle paths and nature trails over acres of woodland, meadows, rock shoreline, and salt marsh.
Cycling and Mountain Biking

Credit: Mark Hamilton
Seeing New York on two wheels is a fun way to take in the colors of fall. From world-class museums to fascinating historic sites, there's so much to discover on the Empire State Trail (pictured), a 750-mile system of trailways going from New York City through the Hudson River Valley, west to Buffalo along the Erie Canal, and north to the Champlain Valley and Adirondacks. The Erie Canalway Trail follows along the famous man-made waterway spanning between Albany and Buffalo. The Mohawk-Hudson Bike-Hike Trail is a paved shared-use path connecting Albany and Schenectady counties. The Adirondacks has 14 New York Scenic Byways going along the St. Lawrence Seaway and down the Adirondack Coast. The Catskills has various cycling routes around the region, going from the easy Monticello Loop to the difficult Grand Fondo Loop. Windham Mountain Bike Park (closes October 15) welcomed four new trails for the 2022 season amid this downhill riding experience with the longest jump trail on the East Coast. Finger Lakes' Cayuga-Seneca Canal Trail lacks the region's gorges or waterfalls but instead provides a tree-lined corridor that's nice to ride, walk or run along.
Get behind the wheel, roll the windows down, and choose the scenic route to experience a fall road trip that's well worth the ride. See mountains, waterways, rolling farmlands, and more as you cruise along the 52-mile Catskill Mountains Scenic Byway, which also connects to arts centers, hotels, and restaurants including the Phoenicia Diner. The more rural Shawangunk Mountains Scenic Byway (pictured) offers scenic vistas of mountains, farmlands, and the Rondout and Wallkill valleys. Hudson Valley's Seven Lakes Drive takes you on a scenic route through Harriman State Park to Bear Mountain, while Long Island's North Fork Trail Scenic Byway goes past wineries, farms, and hamlets. The Finger Lakes' Seneca Lake Scenic Byway is a 19-mile corridor with stops to make along the way, including Wagner Vineyards Estate Winery, a popular wine tasting destination on the eastern shore of Seneca Lake.
Pedestrian Bridges and Walkways

Take a walk of a different kind in New York. Get up above the streets of NYC on The High Line, an elevated park and greenway on the site of a former New York Central Railroad track between 30th and 34th Streets and 11th Avenue and the West Side Highway. Recently, the High Line added the Moynihan Train Hall Connector, a pair of interconnecting 600-foot-long bridges allowing pedestrians to walk all the way from the Meatpacking District straight to Penn Station. Elevators are at various points along the High Line but check on its elevator status page before visiting. The Brooklyn Bridge is perhaps the city's most noted walkable span, but you can also cross by foot on The High Bridge, NYC's oldest standing bridge connecting Manhattan and The Bronx. The Williamsburg Bridge goes over the East River and connects the hip Brooklyn neighborhood to Manhattan's Lower East Side while Wards Island Bridge crosses the Harlem River. Walkway Over The Hudson is an elevated pedestrian and cyclist bridge between Poughkeepsie and Highland with breathtaking 360-degree views of the Hudson River and surrounding scenic valley. The Hudson River Skywalk  is a six mile out-and-back pedestrian walkway connecting two national historic landmarks, the Thomas Cole Site and Frederic Church's Olana, with sweeping views of the Hudson River Valley and the Catskill Mountains. 

Credit: Walter Wlodarczyk/NYC & Co.
Go beyond pumpkin farms with these Halloween happenings. The Great Jack O'Lantern Blaze takes place at Van Cortlandt Manor in Croton-on-Hudson (through November 19) and at Old Bethpage Restoration Village in Long Island, (through November 5). At either venue, admire an incredible display of over 7,000 hand-carved jack o'lanterns carved by a team of artisans. A NYC tradition, the Village Halloween Parade (October 31) brings out creative costume makers and parade marchers and marshals heading up 6th Avenue.  Dress in your best Halloween costume and join the Bronx Zoo for their annual Boo at the Zoo. This family-friendly Halloween bash features an exciting costume parade, spooky stories, pumpkin carving, magic demonstrations, and wildlife theater shows. (September 30 through October 29, Saturdays and Sundays, and Monday, October 9). Held on October 21, the Halloween Fest and Parade on Riverhead's Main Street features a coffin race, trick or treating, and a goblin parade. Parades aside, some New York cemeteries offer public tours including Mount Hope Cemetery in Rochester, Green-Wood Cemetery in Brooklyn, Sleepy Hollow Cemetery, or Woodlawn Cemetery in The Bronx.  
Fall festivals aren't just about hauntings and the harvest. From October 4-8, Tupper Lake Plein Air Festival encourages artists to capture the fall beauty of this town within the Adirondack Mountains. Take your taste buds on a world tour on the streets of downtown Saratoga Springs at the 2023 Saratoga International Flavorfeast (October 7) with delectable cuisines from France, China, Japan, Mexico, Italy and more. Festival admission is free but each sampling costs $1. At Heckscher Park in Huntington, the Long Island Fall Festival (October 6-9) includes four stages of entertainment, a world-class carnival, arts and craft vendors, international food courts, a farmers' market, and plenty of activities for the kids. Behind the New York Hall of Science at Flushing Meadows Corona Park, the Queens Night Market reflects the culinary and cultural diversity within this NYC borough with small businesses serving up native cuisines from all across the globe, featuring up to 100 independent vendors where all bites are capped at just $6. It happens on Saturdays until October 28.
Outdoor Patio Views
Going to a winery or cidery in the fall is nice, but one with lovely outdoor patio views is even nicer. On the western shore of Cayuga Lake, Sheldrake Point Winery is a 155-acre lakeside property with its east-facing vineyard gently sloping almost to the water's edge. In fact, the tasting rooms are accessible by water; boats up to a certain length can tie up at one of eight slips. Red Hook Winery in Brooklyn is within a former warehouse with their tastings overlooking the waterfront and the Statue of Liberty. For an extra cost, Angry Orchard in Walden offers walking tours of their orchards and use of a treehouse. A 2021 Winery of the Year winner, Quartz Rock Vineyard in Marlboro is an idyllic spot to enjoy a wine flight at a picnic table while soaking in the beautiful views of the Hudson Valley.  
---
Don't forget to post photos of your New York adventures on Instagram and Twitter with #iSpyNY and tag us on Facebook!