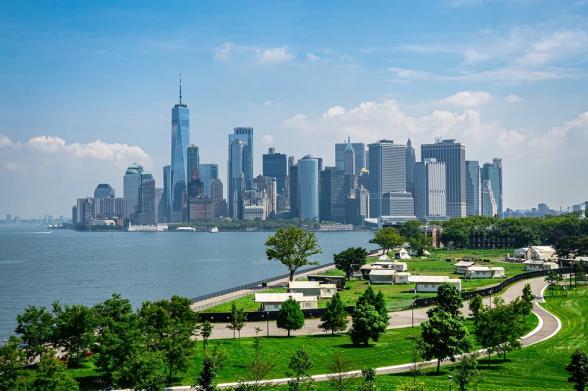 Credit: @kingy27nyc on Instagram
Are you looking to get in touch with nature this Earth Day? New York State is the place to visit! Home to more than 250 state parks, recreational trails, and boat launches with wilderness spanning 700,000 acres in the Catskill Mountains and 6 million acres in the Adirondack Park, New York has no shortage of forever wild experiences. For those with electric vehicles, charge up at stations across New York State, or hop on public transit and head to these eco-friendly destinations throughout the state! 
Masks are encouraged, but optional in most settings per New York State guidelines. Individual businesses or attractions may require mask wearing. Call ahead and check websites and social media to make sure attractions and amenities are open and available.
Beacon (Hudson Valley)
For a day full of eco-friendly fun, head to this NY Certified Silver Climate Smart Community, only an hour-and-a-half train ride from New York City. Practice responsible hiking and follow the Leave No Trace principles on the trails of the highest peak of the Hudson Highlands at Mount Beacon. Not only will you be able to admire the Hudson River from over 1,500 feet high, but you'll unlock one of the most rewarding and breathtaking views of the Hudson Valley. A 10-minute walk from the Beacon Train Station will land you at the former Nabisco Printing Factory turned world-class art gallery, Dia: Beacon, or on Main Street where you'll find the walkable, bustling heart of the city and if you're driving, electric vehicle recharge stations. Discover locally-owned consignment shops like Vintage: Beacon and Blackbird Attic, and be sure to give plant-based favorites like Kitchen & Coffee, Homespun Foods, and Peaceful Provisions a try.
Ithaca (Finger Lakes)
This charming Finger Lakes city is the first in the US to implement a 100% carbon-neutral city climate policy! Throughout the Ithaca community, you'll find tons of conveniently located electric vehicle recharge stations for your travels. For your daily dose of climate education, head to the Museum of the Earth and learn about the human impact on the atmosphere at permanent exhibits like Changing Climate: Our Future, Our Choice. Build your connection with nature on a Garden tour through the colorful Cornell Botanic Gardens, or the three-acre Ithaca Children's Garden in Stewart Park (pictured), located along the Cayuga Waterfront Trail. Walk through the four-block pedestrian-only area of downtown Ithaca Commons filled with 100+ unique shops, street vendors, and restaurants — like the internationally famous Moosewood Restaurant with a plant-based menu and vegan wines. If you're looking for a weekend treat, browse fresh produce, hand-made crafts, delicious food, and more from over 100 local vendors at the Ithaca Farmers Market, taking place every Saturday and Sunday.
Lake George isn't called the Queen of American Lakes for nothing! Its dazzling, crystal clear waters are one of the cleanest in the country and so high in quality that New York State recognizes it as drinking water! The Amtrak to Fort Edward will put you just a 20 minute taxi ride outside of Lake George Village where you'll find a community that goes above and beyond to protect its natural resources. Discover the pristine waters for yourself at Million Dollar Beach or rent a bike for a scenic ride on the 9.4-mile paved Warren County Bike trail stretching from Lake George to Glens Falls. Appreciate the lake's beauty from 2,030 feet above sea level on Prospect Mountain, where you'll witness breathtaking views of Lake George, the High Peaks, and Vermont. If you're driving an EV, charge up the car at one of the eight recharge stations on Canada Street, while you explore the village's walkable main street, filled with locally owned businesses and antique shops.
Did you know that Saratoga Springs is home to the only active geysers east of the Mississippi River and 21 public mineral springs with drinkable water? Discover the water's naturally-carbonated, refreshing taste (and believed healing properties) on one of Saratoga Spa State Park's hiking trails like Geyser Spring, which leads you to the magnificent Geyser Island Spouter (pictured). After your exploration, head into the walkable city center just 1.7 miles from the nearest Amtrak station and home to a treasure trove of locally-owned restaurants, businesses, activities, and EV recharge ports. Stroll down Broadway, the lively main street, and try out restaurants like Country Corner Cafe for dishes made with local ingredients, Uncommon Grounds is using ethical coffee practices, and Scallions features a menu filled with vegetarian and vegan options.
Clayton (Thousand Islands-Seaway)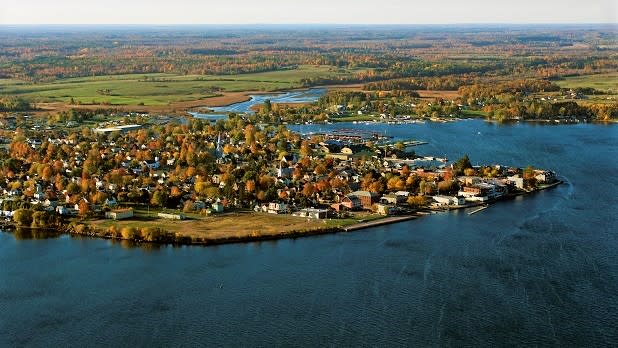 This quaint town, surrounded by the gorgeous St. Lawrence River, is as much a gateway to the Thousand Islands as it is to eco-friendly experiences! Explore the natural side of the Thousand Islands on the glittering waters of the French Creek in a kayak rental or from a hiking trail on foot. Afterward, relax with a premium craft beverage made from locally-grown grains and fruits at Clayton Distillery, whose design and construction were based on US Green Building Council's LEED principles. The facility incorporates passive solar heating and cooling, energy-efficient lighting and machinery, and the waste heat from the distilling process is used to heat the building and water on the property. Not to mention, they also recycle the by-products from the distilling process (leftover grain and water), that's then used by local farmers as animal feed. The award-winning Saint Lawrence Downtown Tasting Room also has craft spirits distilled with 100% St. Lawrence River water and a farm-to-table chateau restaurant along the river. 
Patchogue (Long Island)
Visit this scenic seaside destination, named a 2022 Tree City USA by the Arbor Day Foundation, and only a two-hour train ride from NYC. Home to eco-friendly eats, a walkable downtown, and endless water adventures, Patchogue is the place to be. Enjoy a salty breeze and the nature of the sea at Shorefront Park (pictured), currently being remodeled to restore natural habitats, add a new walking trail, and improve water quality. Leave the car to charge at the Village Hall while you check out local downtown gems like Blue Point Brewing Company with a sustainability plan that includes partnering with the Billion Oyster Project to aid in the restoration of the New York Harbor, and adding solar panels at new locations to offset electricity by 100% within the next five years. Not to mention its legendary brews, live music, and great atmosphere. Foodies looking for a tasty plant-based brunch should head over to Toast Coffeehouse for their full lineup of vegan breakfast and lunch specialties. 
Woodstock (Catskills)
The 1969 Woodstock Music Festival didn't actually take place in this iconic Catskills town, but with a main street full of locally-owned businesses, scenic outdoor adventures, plant-based food, and more, this town is all about peace, love, and happiness. Hit the trails of the Catskill Forest Preserve, spanning 286,000 scenic acres, and admire the tranquility of protected New York wilderness. Be sure to practice responsible hiking while you appreciate the stunning views of Overlook Mountain (pictured), the southernmost peak of the Catskill range. Leave the car at the Community Center electric vehicle recharge station and explore the town on a rental bike from Overlook Mountain Bikes or wander down Tinker Street on foot, filled with all kinds of handmade, one-of-a-kind crafts. You'll find delicious plant-based offerings on many restaurant menus throughout the community, but you'll want to head over to the Garden Cafe, for a delicious vegan menu.   
Ellicottville (Chautauqua-Allegheny)
Credit: @jtague94 on Instagram
Tucked away in the valleys of the Allegheny Plateau is the village of Ellicottville. Cherish the outdoors year-round at Holiday Valley where you'll find several of their environmental initiatives in action including limiting vehicle idling to five minutes, implementing a pilot program from Modern Disposal for Single Stream Recycling, reusing all oils and lubricants from the maintenance facility for heat in the winter, and a new fuel-efficient snowmaking machine that produces lower emissions. Rent a bike and explore miles of country roads and the rolling hills of Cattaraugus County, or climb through the Sky High Aerial Adventure Park (pictured), where pathways are made from chips and logs from culled trees. On the town's two main streets, Monroe and Washington, you'll find pre-loved collections at Betsy's Consignment, hand-crafted espresso drinks prepared by Ellicottville Coffee Company's own small-batch roasted coffee beans, and a menu dedicated to plant-based delights like vegan pork tacos at Balloon's Restaurant.
Beyond baseball and a vibrant arts and culture scene, Cooperstown is an oasis for environmental adventures. Charge up at the electric vehicle recharge station right off the main strip and hit the waters of the East Coast's longest river on a kayak rental. For a truly amazing nature experience, head to the Sleeping Lion Trail at Glimmerglass State Park (pictured) and admire Otsego Lake on your journey around Mount Wellington. The Farmers' Museum will provide all you need to know about local agriculture and farm animals. For award-winning, hand-crafted spirits made with New York State-grown grains, stop in at Cooperstown Distillery, the town's first and only distillery.
Governors Island (New York City)
Hop on a ferry to Governors Island, New York City's car-free haven, and experience gorgeous views of Manhattan and the surrounding harbor. Enjoy the peace and serenity of one of the city's most unique green spaces amid 3,500+ trees on a bike rental or on foot. Learn about urban farming on a tour or at a garden and nutrition workshop at GrowNYC's Teaching Garden, a one-acre urban farm filled with fresh vegetables, fruits, and herbs! Even better, produce grown at the Teaching Garden is donated to local food pantries - over 30,000 pounds of produce have been donated in the past three years! The Island has also collaborated with the Billion Oyster Project as part of the Oyster Restoration Research Partnership, constructing the Governors Island Reef in the Buttermilk Channel. Keep an eye out for Governors Island's new hybrid ferry being introduced in 2024! The vessel will switch between zero-emissions battery-only power and battery-assisted hybrid power with diesel backup, and is predicted to reduce carbon dioxide emissions by about 600 tons annually.
Lewiston (Greater Niagara)
Explore local eco-friendly-focused shops, a lively walkable main street, gorgeous outdoor adventures, and more, just 30 minutes by car north of Buffalo and 15 minutes from Niagara Falls State Park! Tour through some of the state's most beautiful landscapes on a Maid of the Mist E-Boat tour. The all-electric, zero-emission boats are the first of their kind in the United States and use batteries that recharge up to 80% between each trip! Grab a bite to eat at the Silo, where you'll find delicious American favorites and a restaurant committed to reducing its carbon footprint by incorporating practices like using ethically and locally sourced ingredients and recycling used fryer oil into biodiesel to power their food truck! A trip to Lewiston isn't complete without a visit to Artpark, the outdoor amphitheater committed to working with the surrounding Indigenous communities to create sustainable land-based programming that works in harmony with nature. 
---
Share New York State adventures with us on TikTok, Instagram and Twitter with #ILoveNY and #iSpyNY, and tag us on Facebook!