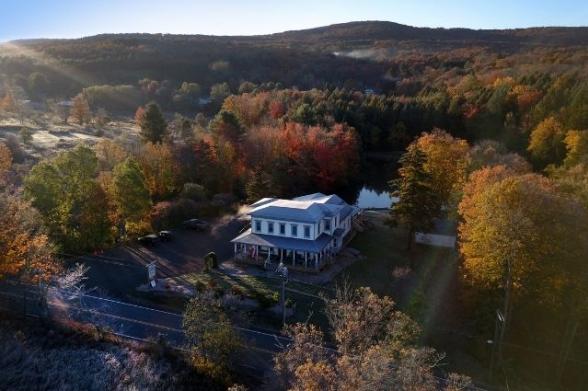 Credit: Justin Negard
Experience New York fall foliage while enjoying a memorable stay in a hotel or inn. Throughout New York State, you'll find exciting hotels perfectly situated for eye-popping fall foliage views and memorable explorations, as well as charming places to spend a cozy weekend. Grab your favorite sweater, pack your bags, consult the I LOVE NY Fall Foliage Report, and get ready to spend a night or more at these New York hotels and places to stay.
Masks are encouraged, but optional in most settings per New York State guidelines. Individual businesses or attractions may require mask wearing. Call ahead and check websites and social media to make sure attractions and amenities are open and available. 
Originally published 09/28/2020

Credit: Ernesto Roman
Just driving around the Catskills in the fall is a breathtaking experience, but you can take it to the next level with a stay at the Deer Mountain Inn. Perched in the hills above the town of Tannersville, the 168-acre wooded property offers plenty of foliage, while the inn's six rooms offer coziness and charm, with details like an original stone fireplace, large windows overlooking the grounds, and lofted ceilings, depending on the room. The inn can arrange bike rentals and other activities to your taste. To view foliage from new heights, take a 12-minute drive to the Hunter Mountain Skyride. There's more great hiking as well as kayaking, canoeing, and other activities at North-South Lake Campground and Day Use Area, 10 minutes away. Deer Mountain Inn, rates from $325 per night.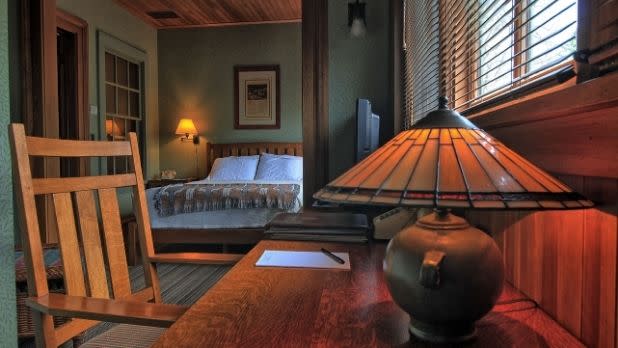 Built in 1895, this historic inn is located across the street from the Roycroft Campus, a National Historic Site that features original, restored buildings from the early 20th century Arts and Crafts movement. The inn actually predates the campus and retains a cozy feel and style that's perfect for fall. Use the Roycroft Inn as a home base to explore the campus, which looks even more impressive bedecked in autumnal colors, and enjoy the slowed-down small-town living of East Aurora. Visit Vidler's 5 & 10, a classic mid-20th Century variety store, enjoy the region's historical sites at Millard Fillmore House or the Elbert Hubbard Museum, and for an inspiring fall foliage experience, drive five minutes and walk the trails at Knox Farm State Park. Roycroft Inn, rates start at $145 per night.

Credit: Justin Negard
Country living doesn't get better than sitting on a front porch rocking chair gazing out at the brilliant fall foliage colors in a small town. Mill Pond Inn, housed in a lovingly restored structure originally built in 1879, offers a cozy fall getaway removed from the big city. The on-site tavern sources from local farms for most of the ingredients year-round. The back deck overlooks a pond that reflects the changing leaves. And nearby activities abound, with world-famous Howe Caverns, hiking favorite Vroman's Nose, and country lifestyle boutique extraordinaire Beekman 1802 all just a half-hour drive. Mill Pond Inn, rates start at $165 per night.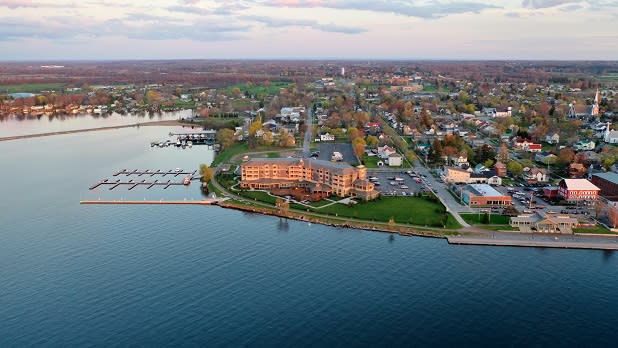 At this hotel in the charming village of Clayton, fall foliage may not be the first thing you notice, given the magnificent waterfront views of the St. Lawrence River. But the fall colors along the riverside add a dynamic element to the Thousand Islands experience. The hotel is within walking distance to shops, restaurants, and the Antique Boat Museum. Want to take a scenic drive? Head to historic Tibbetts Point Lighthouse, about 20 minutes by car, on a route that passes through the small town of Cape Vincent, then hugs the waterfront and ends at a point overlooking Lake Ontario. 1000 Islands Harbor Hotel, rates from $119 per night.
Named a 2022 and 2023 Travelers' Choice Best of the Best, Rocking Horse Ranch is an all-inclusive getaway with horseback riding and other child-friendly activities. Its Hudson Valley location makes it especially appealing in fall, when a stay at the Rocking Horse can include a ride or walk through the 500-acre property, mountain tubing, or a bonfire set against the crisp evening air. Most visitors stay onsite for the weekend, though there are fall visits to nearby apple orchards, golf outings, and picnic lunches arranged through the ranch. Other places to visit within a short drive include the Walkway Over the Hudson—with its spectacular fall views of the river—and Mohonk Preserve, with memorable hiking any time of year but especially in fall! Rocking Horse Ranch, rates from $499 per family per night, all-inclusive.

Credit: Courtesy of Lake Placid Inn
This 40-room boutique hotel opened in summer 2020 in the heart of Lake Placid Village. Many of the rooms and suites offer lake and mountain views, and stepping outside the main entrance puts you in the middle of the stunning Adirondacks scenery. The location makes it easy to stay close to the hotel and enjoy shopping, dining, and major Lake Placid attractions like the Winter Olympics Museum. For those wanting to take advantage of Adirondacks outdoor adventures amid fall foliage, Experience Outdoors, is a seven-minute drive and features six different ziplines and two rappels on Scotts Cobble Mountain (open through October 30). The 22-acre private nature park High Falls Gorge offers a scenic one-mile walking trail with views of Whiteface Mountain and Ausable River (open through October 29). Lake Placid Inn, rates start at $135/night.

Credit: Courtesy of Delaware North
Gideon Putnam is perfectly located for fall foliage viewing. The resort is located in the 2,200-acre Saratoga Spa State Park, which features hiking, mineral springs, and many other memorable features. The hotel itself is home to Roosevelt Baths and Spa, with mineral baths and spa treatments, and is pet-friendly! Besides taking in the fall colors on a walk in the park, visit park attractions such as the Saratoga Automobile Museum or drive five minutes to downtown Saratoga Springs for shopping and dining. While there, wander over to Congress Park for more natural springs and landscaped trails. Gideon Putnam, rates start at $157/night.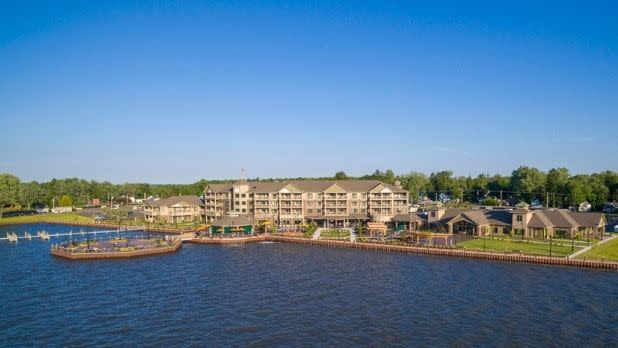 This nine-acre resort located on the waterfront of Chautauqua Lake in the small village of Celoron is a leaf peeper's dream come true. Not only can you experience fall foliage around the picturesque lake, but take a scenic 20-minute drive to Panama Rocks for unbelievable hiking in crevices and caves—peer up at fall's oranges, reds, and yellows from trails that snake between 60-foot-high rocks. Back near the Chautauqua Harbor Hotel in Jamestown, exciting cultural diversions await. The National Comedy Center, just seven minutes away, celebrates comedic legends such as hometown hero Lucille Ball as well as current-day stand-up stars and more, while the Roger Tory Peterson Institute of Natural History is a must for nature lovers, with a center, gallery, and library devoted to the premier artist-naturalist of the 20th century. Chautauqua Harbor Hotel, rates start at $159 per night.
Credit: @jblatz716 on Instagram
The Lake House on Canandaigua is a stylish lakefront property with 125 rooms and suites, a world-class spa, restaurant (the Rose Tavern), and an outdoor fire pit perfect for crisp fall evenings. Named the best resort hotel in the state by Travel + Leisure, the Lake House offers visitors stunning views from its expansive grounds along the westernmost of the Finger Lakes, as well as unique nearby activities. The 30-mile Canandaigua Lake Wine Trail is a fantastic entry into this respected wine region—and what's better than an outdoor wine tasting amid fall foliage? The Lake House's sister property, New York Kitchen, offers a restaurant, classes, and more—the chefs here even collaborated on I LOVE NY's New York Recipes section! The nearby  Bristol Mountain also offers scenic skyrides with a breathtaking view of the fall colors from new heights. The Lake House on Canandaigua, rates start at $239 per night.
Credit: @khoggard on Instagram
One of Long Island's best-kept secrets, Shelter Island is a 29-square-mile island a few minutes' ferry ride from the charming North Fork and South Fork towns of Greenport and Sag Harbor (respectively). The Shelter Island House is a laid-back place to stay and enjoy the fall foliage, either from your room, on a walk to Sunset Beach, or partaking in the island's favorite pastime, a bike ride. You can dine on property at 18 Bay Restaurant, or explore the many dining options within walking distance or a short drive (as well as those in Greenport and Sag Harbor). Also nearby is the breathtaking Mashomack Preserve, with tidal basins and magnificent views, as well as beaches for an autumn stroll. And don't forget to visit Long Island's North Fork and South Fork wineries during your stay! Shelter Island House, rates from $195 per night.
Call New York City the concrete jungle all you want, but take note that there are over 18,000 trees in Central Park alone! For an amazing view of these trees in their fall foliage glory, stay at this Midtown Manhattan hotel on Central Park South. The Essex House is an art deco landmark that first opened in 1931, and now has 426 rooms and 101 suites under the JW Marriott flag. It's a short walk to the Central Park Zoo, the Museum of Modern Art, and Top of the Rock Observation Deck. JW Marriott Essex House, rates from $528 per night.
---
Share photos of your New York adventures on Instagram and Twitter with #ILoveNY and #iSpyNY and tag us on Facebook!