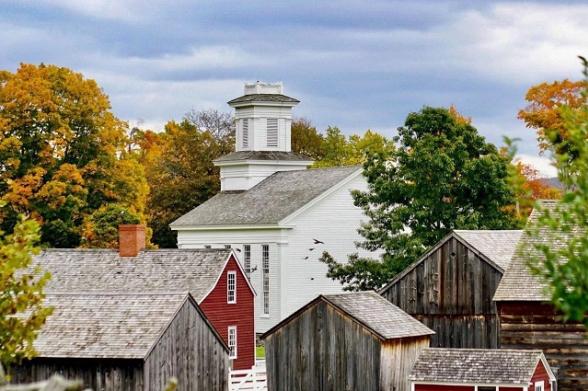 New York State's quaint towns and villages can be as picturesque as a postcard or as captivating as a TikTok, especially in the fall when their nature spots sparkle with colorful foliage and their downtowns get dressed up for the season. From the river banks of the Thousand Islands to the foothills of the Catskill Mountains, pay a fall visit to these New York State destinations to Halloween, enjoy the harvest, and experience small town charm.   
Call ahead and check websites and social media to make sure attractions and amenities are open and available. Masks are encouraged, but optional in most settings per New York State guidelines. Individual businesses or attractions may require mask wearing.
Updated 08/25/2023
JUMP TO: Hudson Valley | Thousand Islands-Seaway | Catskills | Long Island | Finger Lakes | Central New York | Chautauqua-Allegheny | Adirondacks | Capital-Saratoga | Greater Niagara
Hudson Valley
Sleepy Hollow 

Courtesy of Historic Hudson Valley
With haunted hayrides, blazing pumpkins, and of course, the Headless Horseman, Sleepy Hollow sure does know how to do Halloween. This village is not only the setting for Washington Irving's famous Legend of Sleepy Hollow but it's also where the author is buried. Take a daytime or nighttime lantern-led walking tour at Sleepy Hollow Cemetery to see Irving's final resting place. Sunnyside, his home in Irvington, treats visitors to performances of the classic tale (pictured). Learn about another Sleepy Hollow legend, Hulda of Bohemia, at events being hosted at Rockefeller State Park Preserve and the Old Dutch Church. Explore the myths and mysteries of the visually-stunning, eight-sided Armour-Stiner Octagon House on a special fall tour. Immerse yourself in a pumpkin wonderland at the Great Jack O'Lantern Blaze happening at Van Cortlandt Manor in Croton-on-Hudson, with over 7,000 illuminated jack o' lanterns on display until November 19. Costumed characters will take over Main Street at the Village of Tarrytown Halloween Parade (October 28) all culminating with a thrilling post-parade block party.
Rhinebeck
Sweater weather is finally here and Rhinebeck has the perfect way to celebrate! Whether you knit or crochet, you'll find all the essentials for creating cozy threads at the New York State Wool & Sheep Festival (October 21-22). Also be sure not to miss everyone's favorite Leaping Llama contest. On Sundays, get your fill of fresh produce, baked treats, and perhaps a nice gourd for your porch at the Rhinebeck Farmers' Market. Head into town for some shopping at Periwinkles at Rhinebeck, known for their bath and body products, and Paper Trail, an emporium of home goods and fine stationery. Beekman Arms & Delamater Inn (pictured) puts on its autumn best decking out the front lawn with pumpkins, hay bales, and mums making for the perfect photo op whether you're staying in one of the guest rooms at the charming colonial estate or indulging in Sunday brunch at the tavern. Step away from town to take in fall colors at Ferncliff Forest, an old growth forest preserve filled with plenty of trails and a 79-foot fire tower providing amazing panoramic views of the Hudson Valley.
Thousand Islands-Seaway
Clayton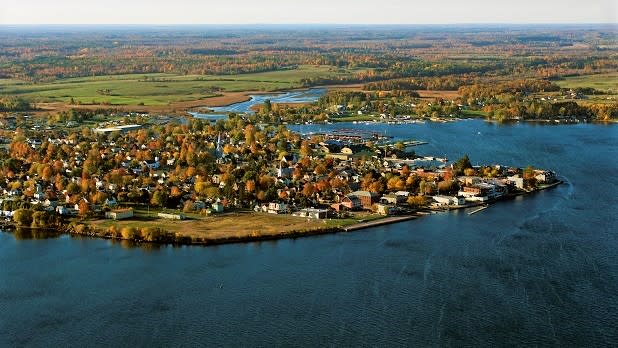 Soak up the small town vibes as you embark on unique fall adventures in this quintessential waterfront village (pictured). The quaint specialty shops, galleries, and restaurants get decked out for the season along Riverside Drive, where you can grab a bite to eat and watch the boats out on the water at The Channelside and Di Prinzio's Kitchen. Celebrate Halloween the Thousand Islands way with a costume party and karaoke aboard a Sunday Funday cruise with Clayton Island Boat Tours along the magnificent St. Lawrence River (October 30). Get ready to do the "Time Warp" at the renowned Clayton Opera House which will be presenting a special showing of the cult classic "Rocky Horror Picture Show" (October 28) and experience interactive movie magic with "Hocus Pocus" on October 13. Join in on a Clayton tradition as the town says goodbye to their old pumpkins at the annual Punkin Chunkin (October 15). Not only can you watch pumpkins get catapulted into the river, but you can also chow down on some succulent barbecue and get some fresh goods at the farmers' market. 
Sackets Harbor 
Businesses in downtown Sackets Harbor go all in on their Halloween displays and fall decor with plenty of hay bales, corn stalks, mums, and pumpkins to feast your eyes on. Old McDonald's Farm (pictured) is the spot to pick out your own jack-o-lantern from a giant pumpkin patch, get lost in two corn mazes, indulge in a warm homemade cider donut, and take a hayride. Afterwards, head to 1812 Brewing Company, a lakeside brewery in a restored train station that delivers a variety of gastropub fare and house beers, including "Col. Ichabod Crane's Revenge" a spiced pumpkin ale inspired by The Legend of Sleepy Hollow. If the weather's fine, dine alfresco amid the patio and garden setting at Tin Pan Galley, a globally-inspired American brunch and lunch spot inside a building listed on the National Register of Historic Places. One unexpected spot for fall foliage is Sackets Harbor Battlefield, which played a key role in the War of 1812. For even more natural exploration, the 140-acre S. Gerald Ingerson Preserve leads you along forests of oak, pine, and maple. 
Catskills
Bethel

Courtesy of Bethel Woods Center for the Arts
Bethel Woods Center For The Arts, aka the home of Woodstock, is putting a groovy spin on family-friendly Halloween fun with "Peace Love and Pumpkins" (through October 29; pictured). Wind through the garden trails lit aglow with thousands of unique hand-carved jack-o-lanterns and pumpkin art featuring festival icons from Janis Joplin to Jimi Hendrix, dinosaurs, mermaids, witches, and much more. There are special themed nights, including a Sensory Friendly Experience (October 23). Get into the spirit of 1969 with a stop at Hector's Inn, where the psychedelic sign on the front lawn proudly proclaiming itself as "Woodstock's Original Watering Hole" gets paired up with scarecrows and pumpkins in the fall. All-day breakfast and lunch is on the menu at Bethel Market Cafe where you can get some "laid back" sandwiches and "far out" soups. Grab a cup of joe at Java Love Coffee Roasting Co. and enjoy it on the hill overlooking White Lake or lounging on the front porch at a vintage porcelain kitchen table. Lake Superior State Park is a lovely spot for a leisurely fall stroll or picnic.
Callicoon 

Credit: Sullivan Catskills
Amid the banks of the Delaware River and in the foothills of the Catskill Mountains sits the enchanting town of Callicoon. Treat yourself to an interactive Halloween getaway at the stunning Villa Roma Resort, which is hosting a thrilling Sopranos-themed Murder Mystery Weekend (October 27-29). Fancy a bit of shopping? The Callicoon Farmers' Market  is always hopping on Sundays. Litt Home & Book can provide a spellbinding experience with vintage goods, while Wool Worth is stocked with knitting supplies and offers classes on the subject.  In the mood for dinner and a movie? Grab a burger or some crispy wings at Rafter's Tavern or some New York-style pizza at Peppino's before heading over to the charming and historic Callicoon Theater (pictured).
Narrowsburg
The charming small town of Narrowsburg really goes big on fall fun! Watch lumberjacks show off their chops at the annual Narrowsburg Logging Days (October 7). There will also be a bake off as well as a beard and mustache contest! Fort Delaware Museum of Colonial History plays host to Halloween in Narrowsburg (October 21), featuring trunk-or-treat in the parking lot, a haunted house, corn maze, and more. On Sundays through October 28, Narrowsburg Farmers' Market hosts farmers, food producers, and artisans at this gorgeous open-air market behind The Narrowsburg Union. For a bite to eat, stop at The Laundrette where you can enjoy wood-fired sourdough pizzas and salads amid the beautiful backdrop of the Delaware River. Explore Narrowsburg on foot via three village walking trails that take you through Historic Main Street and along the beautiful Delaware River.
Long Island
Old Bethpage
Escape into a wonderland of over 7,000 hard-carved jack o'lanterns as Old Bethpage Village Restoration is transformed into Blaze: Long Island (September 22- November 5). You'll find yourself meandering through a trail of pumpkins passing by this living history museum's 19th-century buildings and historic barn. If you don't mind something scary, the nearby Bayville Scream Park is a frightful destination with a haunted mansion, asylum, fearful fun house, and a temple of terror.
Stony Brook
Fall fun goes into overdrive at Stony Brook Village as dozens of scarecrows take over the walkways for the annual Scarecrow Competition (pictured). The best part? Whether you're shopping for delicate decoupage trays at Ben's Garden, embarking on a beer and cheese tasting at Brew Cheese, or enjoying some comfort food at Sweet Mama's, you can vote for your favorite scarecrow at any of the shops and eateries. Winners will be crowned at the Annual Halloween Festival where there will be trick-or-treating, music, dancing, games and more!  You can also visit a historic grist mill, admire the fall foliage by kayak or paddleboard while journeying along Stony Brook Harbor, or explore the natural beauty of Avalon Nature Preserve.
Finger Lakes
Ithaca
Ithaca is an ideal spot to take in the changing colors of the season on a waterfall trail or lakeside stroll, but fall also offers the opportunity to delve into this college town's dark past with a Haunted History Tour (through October 28). Trek into nature via Cascadilla Gorge Trail (pictured), a short corridor between downtown Ithaca to the Cornell campus. Go even further at the 100-acre Cayuga Nature Center, home to a six-story treehouse offering a bird's-eye view of the forest canopy, a gorge and waterfall, and more than 5 miles of walking trails. The historic main lodge, built in 1939, houses the Finger Lakes' largest public aquarium. Dining in Ithaca provides many options, including the pioneering Moosewood Restaurant, Coal Yard Cafe, Liquid State Brewing Company  and Ithaca Beer Co. Sample autumn's bounty at Ithaca Farmers Market, where you can try crisp offerings from Eve's Cidery!
Corning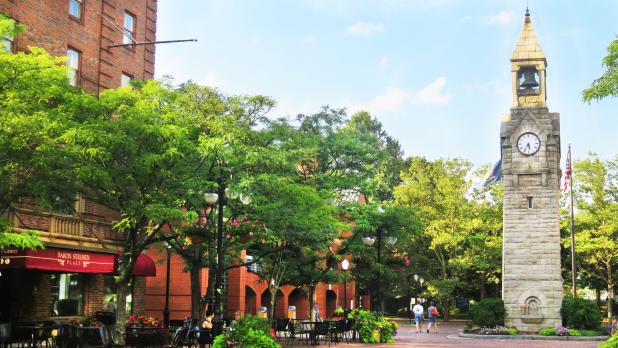 Every fall, Corning celebrates its unique history and a rather curious mystery surrounding the making of Thomas Edison's first light bulb with 12-days of festivities known as The Days of Incandescence. You'll feel as if you've been transported back to the 1880s on historic walking tours through the iconic Gaffer District (pictured) and themed farmers' markets where everyone is encouraged to join in on the fun by donning a period piece. The renowned Corning Museum of Glass also gets into the fall spirit with glassblowing classes where you can create your own glass pumpkin and fall foliage pendants. Experience the wonders of fall foliage up close at the 200 acre Houghton Land Preserve as you walk among oak, hickory, birch, maple, and pine trees in one of the Southern Finger Lakes hidden gems.
Central New York
Cooperstown
Cooperstown may be the home of baseball but that won't stop it from getting in on Halloween fun. The whole community gets in on the action with Pumpkin Glow (October29), as they add their best jack-o-lanterns to the Cooperstown Art Association's luminous display. With Hyde & Shriek! Candlelight Ghost Tours (October 6- 28) you'll quickly find out why Hyde Hall was featured on Ghosthunters and in a PBS Haunted Mystery Special. Hear the spine-tingling tales of a widow's curse, the "woman in white," and the piano that "plays tirelessly." Looking to tone down the fear factor? The Cooperstown & Charlotte Valley Railroad has just the ticket with their family-friendly Pumpkin Patch Trains (October 21-22) that take you on a scenic ride in the middle of fall foliage season to their pumpkin patch. Embark on an eerie lantern-lit tour of the shadowy grounds of the Farmers' Museum (pictured) during the Things That Go Bump in the Night Ghost Tours (Friday and Saturday eveningsOctober 13-28). Hear the many mysteries and ghostly happenings that have occurred in the 19th-century historic village from the tale of a young ghost who roams the rooms of Bump Tavern to the mysterious early morning strikes on the anvil in the Blacksmith Shop. During each tour, be prepared to hold your breath as Michael Henrici brings a classic Edgar Allan Poe tale to life.  Even the National Baseball Hall of Fame and Museum gets into the spirit of the season with its Halloween Celebration (October 31), complete with a trick-or-treat adventure and Hall-O-Fame trivia.
Rome 
Rome has plenty of fall fun ranging from family friendly to frightening. Navigate your way through a labyrinth of nightmares at the truly terrifying Cayo Industrial Horror Realm or opt for the Rome Art & Community Center's  Annual Halloween House (October 6,7,13 and 14) that has a Trick-or-Treat Street, Haunted Trail, face painting, a bounce house for the kids, and even a pub named Dracula's for take-out snacks and refreshments. Wood Creek Hollow is celebrating five years of fears with a creepy hayride, a brand new "Psycho Path" walking trail, the Crypt Keeper's Courtyard where you can find comforting seasonal treats or get a tarot reading, and Pat's Pumpkins & Such Patch where you can snag an adorable jack-be-little. Fall Fun Days at Fort Rickey Discovery Zoo (September 23- October 30) has antique tractor pull rides, pumpkin painting, a corn maze, a campfire with s'mores, and plenty of fall food favorites including cider, fresh donuts, homemade fudge, chili, and mac and cheese. Take a stroll through the Rome Paranormal Manor Haunted House (October 6-7 and 13-14), a terrifyingly transformed carpenter house made to test your fortitude.
Chautauqua-Allegheny
Ellicottville
Holiday Valley rings in autumn with their Fall Foliage weekends when you can take in the colorful sights from the air with a chairlift ride on weekends through October 30. On November 11, Holiday Valley Beer and Wine Festival Weekend brings forth the region's best craft brewers, wineries and cideries, where you can sample their popular choices or try out several new and unique flavors. Live entertainment compliments the two-session event. Pumpkinville (until October 31) is the place for picking a pumpkin, watching apple cider being squeezed, or relaxing and enjoying a 360-degree view of gorgeous fall foliage. Don't forget to raise a toast to the season at Ellicottville Brewing Company with a pint of Pumpkinville ale.
Adirondacks
Peru
The riverfront town of Peru will surprise you with its gorgeous farmland and mountain views that become even more spectacular as the leaves change color. Get a taste of fall living on the farm at Rulfs Orchard, where you can get your hands on some fresh apples and pumpkins, meet some friendly alpacas and goats, and pick up some drool-worthy apple crumb pie (pictured). There's also a corn maze that you can tackle by day or on special flashlight nights for an extra challenge.  Learn about rural and farm life in the Adirondacks prior to the 1950's with antiques, interactive exhibits, and demonstrations at the Babbie Rural & Farm Learning Museum. Kick back with friends and family over a hearty meal at Livingood's Restaurant & Brewery where you can go for signature crab stuffed haddock or comfort fries loaded with pulled pork or fried chicken.
Queensbury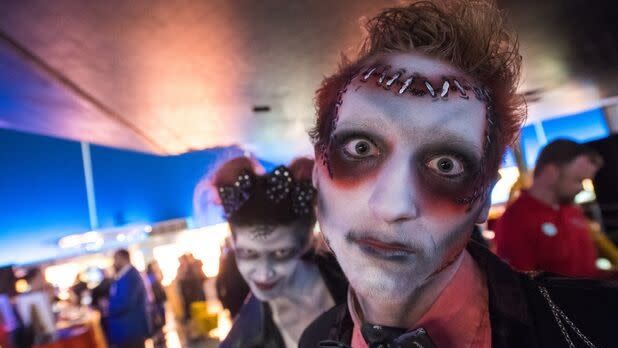 Nestled in the foothills of the Adirondack Mountains, this town is the perfect spot to soak in the fall scenery of the gorgeous Lake George area. Canoe, kayak, or fish at the serene Glen Lake before diving into a hearty meal at The Docksider from their porch overlooking the water. Recharge at the elegant Queensbury Hotel where you can nosh on some wood-grilled flatbreads or bite into a juicy burger at Fenimore's Pub after pedaling Gurney Lane Mountain Bike Park. Experience some thrills and chills at Six Flags Great Escape's Fright Fest (pictured). During the day, children can delight in Boo Fest, the Monster Mash, and a Trick-or-Treat-Trail, but once nighttime settles in zombies, creepy clowns, and other evil beings bring terror to the park! If you're looking for more fall fun, check out the Lake George Village Oktoberfest. (October 6) or see pumpkins get launched at Adirondack Brewery's Pumpkin Chunkin' event (November 4).
Capital-Saratoga
Saratoga Springs
Saratoga Springs may be known for horse racing and as one of America's first spa destinations, but this hot spot peaks during fall with happenings getting you out and about. Explore Greenridge Cemetery during a popular History and Symbolism walking tour (October 14) or learn a bit of history with entertaining and not so frightening stories courtesy of Haunted Saratoga Ghost Tours (Fridays and Saturdays September 1-November 4). Hop on board the "Ghosts of Saratoga Trolley Tours" (October 5, 12,19, 26) for eerie good fun as you scope out haunted spots including the famous Canfield Casino. Prefer something more seasonal instead of scary? Take in fall foliage via one of the Saratoga Corinth & Hudson Railway's vintage train rides on weekends in October. Their Autumn Express service passes gorgeous scenic views of the Southern Adirondacks, while The Pumpkin Picker (October 7-8 and 21-22)  is a family-friendly ride leading to and from a pumpkin patch. Wee ones can even bring a pumpkin back on board! The Adirondack Cruise and Charter Company has fall foliage cruises through October that take passengers along Saratoga Lake's colorful splendor and provide a fun history lesson. One of the best spots for setting foot amid fall foliage is at Saratoga Spa State Park (pictured), with several paths perfect for strolling such as their Geyser Loop Trail. In Ballston Spa, Ellms Family Farm makes for a stop for pumpkins and gourds with pick-your-own ops, corn mazes, and hands-on activities that bring an engaging way of experiencing life on the farm. Bibliophiles will find page turning events at Saratoga Book Festival (October 10-15) with author presentations, book chats and signings, and a library marketplace. The Great Pumpkin Challenge (September 30) runs through the Saratoga Spa State Park with a 5K and 10K (walk, run or roll). The day also includes a 1 Mile Fun Run for kids 12 and under.
Greater Niagara
Lewiston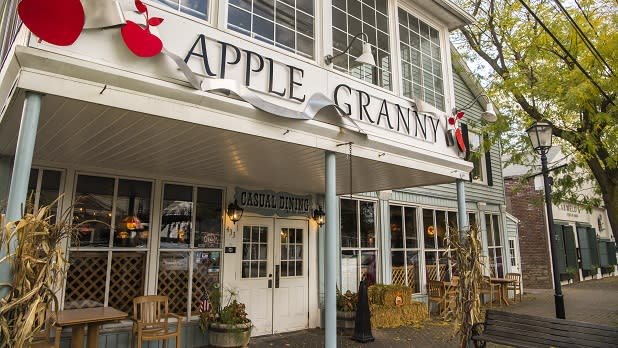 Experience the dark side of this quaint and adorable town outside Buffalo as you meet at the Lewiston Peace Garden to explore the haunted history from the village to the cemetery with Marble Orchard Ghost Walks (Saturdays until October 28). For a fall drive, Lewiston falls along the Niagara Scenic Parkway Trail,  a 15-mile stretch of highway that skirts the edge of the Niagara River as it rushes from the falls to its rendezvous with Lake Ontario. You can also opt to take Discover Niagara, a free shuttle service that stops at 21 sites along the parkway. Stop for a bite to eat under the massive covered (and heated!) outdoor patio at Lewiston Stone House, grab a burger at  Cask + Cow, try the award-winning fish fry at Apple Granny (pictured), choose one of six daily brews at The Orange Cat Coffee Co., or dive into a pizza at Gallo Coal Fire Kitchen.
Lockport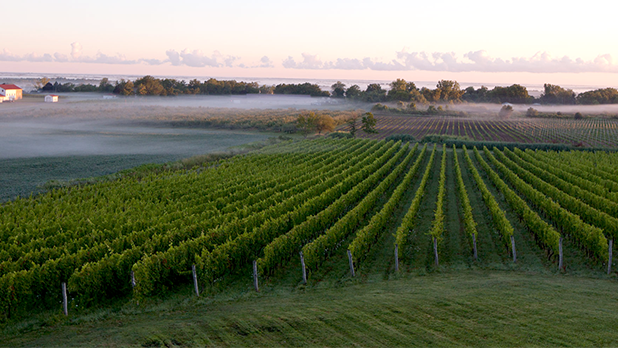 Navigate the waters of history and cruise your way through Lockport's famous "Flight of Five" with Lockport Locks & Erie Canal Cruises. Stay dry with a stroll past giant oak trees and a soothing waterfall at John B. Austin Nature Trail, where you can choose from one of three walking trails ranging from .5 to 1.5 miles. Uncork the flavors of the harvest at Arrowhead Spring Vineyards (pictured), Freedom Run Winery, and Honeymoon Trail Winery. Looking to eat like a local? Pop by Reid's Drive In, an old school fast food joint serving up burgers and fries, sit down for some home-style cooking at Dee's Sugar Shack, and bite into some American classics at Tom's Diner, located right near the historic Erie Canal Locks 34 and 35. 
---
Don't forget to post photos of your New York adventures on Instagram and Twitter with #iSpyNY and tag us on Facebook!