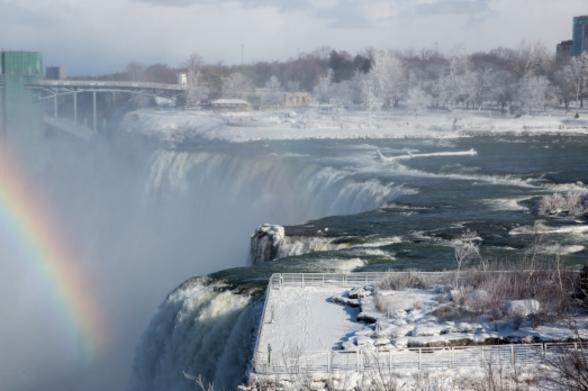 We know you might still be focused on prepping for Thanksgiving, but here's the thing about winter getaway destinations in New York—they're AMAZING! So it never hurts to start planning your trip early to make sure you get a room in that cozy lodge or put together that perfect itinerary of things to do without stressing at the last minute. Read on for 11 ideas of where you can have a blast this winter. During your weekend getaway, please remember to keep six feet apart from others not in your household and bring a mask or face covering to wear when it's not possible to maintain social distancing. Call ahead or check attraction websites and social media for the most current information on openings and amenity availability while staying as local as possible.
1. Lake Placid (Adirondacks)
The Adirondack Mountains were made for winter. Get in on the magic by booking a room at the gorgeous and cozy Golden Arrow Lakeside Resort in downtown Lake Placid. Besides its stunning view overlooking Mirror Lake, the ample amenities include a sauna, steam bath, two whirlpool tubs, pool, and a racquetball court. Even better, the resort is also eco-friendly thanks to its local and organic foods, expansive recycling program, and its energy-saving guest rooms.
If you can, plan to visit during the colder parts of winter for a very special activity. Once the lake freezes, Thunder Mountain Dog Sled Tours (pictured) is open for business! You can take a quick loop around Mirror Lake. Feel free to sit back and enjoy because these pups love to run. If the dogs aren't your thing, there's more than one way to have a winter adventure on the lake. The Lake Placid Toboggan Chute, formerly a ski jump trestle, lets you slide down from 30 feet high, shooting across the ice (sometimes reaching a distance of more than 1,000 feet!).
Head to Whiteface Mountain for downhill skiing and the chance to skate on the actual 1980 Olympic Speed Skating Oval! For something more low-key, enjoy the spectacular view from the eight-passenger Cloudsplitter Gondola. The gondola carries from you from the Main Base Lodge to the observation deck at the peak of Little Whiteface Mountain. From there, you'll be able to see the forest, the surrounding mountains, Lake Champlain, and the village of Lake Placid.
2. Highland (Hudson Valley)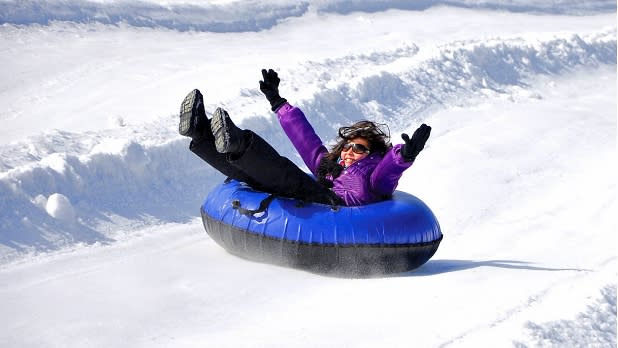 Rocking Horse Ranch Resort is a dream getaway for families. There are a ton of things to do at the resort itself so the kids will be wildly entertained without you having to plan a thing. First of all, as the name implies, this is definitely a place for people who love horses. They offer rides for all levels—walking, trotting, or cantering. Kids on the smaller side can also ride ponies for an option that's a little lower to the ground. If you don't feel like riding, take a horse-drawn carriage ride, or, at night when the horses are resting, a tractor-drawn wagon ride will bring you to a campfire to make s'mores!
The resort's Winter Fun Park has all the equipment you need for skiing, ice skating, and snow tubing (pictured). Don't forget to bring a bathing suit! Sure, it might be the dead of winter, but Rocking Horse's massive indoor waterpark will transport you to warmer (85-degree, to be exact) times. Kids will love careening down the 250-foot water slide or splashing around at the Aqua Station. As if that weren't enough, there's also an arcade, a Fun Barn with climbing walls and a bounce structure, and an indoor archery range.
3. Buffalo (Greater Niagara)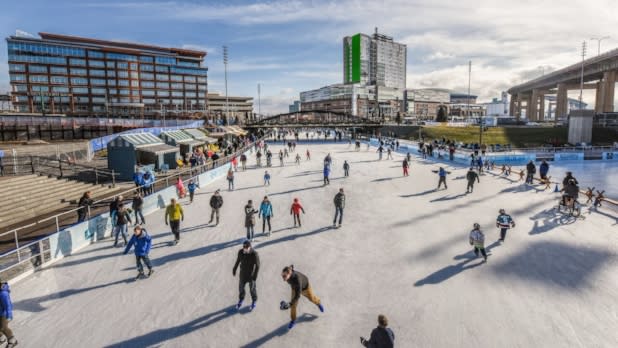 Even though a glimpse of magnificent nearby Niagara Falls all icy and frozen over is reason enough to go, Buffalo has plenty more reasons to extend your trip as long as possible. Head to the Aquarium of Niagara where you can see penguin feedings (it's one of the few places where you can see Humboldt penguins!), sea lion shows, and special talks with animal experts throughout the day—all included in the cost of admission.
Canalside Buffalo (pictured), the city's waterfront, is perfectly equipped to offer a unique winter experience. It's the only place in the country where you can try riding on ice bikes—special bikes that let you ride on top of the ice at Canalside's massive outdoor skating rink. You can also rent skates and enjoy the crisp air gliding on your own two feet. Grab a bite at the restaurants, food trucks, and vendors that gather on weekends, or take a ten-minute drive to the birthplace of the original Buffalo chicken wings, Anchor Bar.
Finally, take a 50-minute drive out of the city to Hidden Valley Animal Adventure in Varysburg to take a horse-drawn sleigh ride through the snow, with some complimentary hot cocoa to warm up with afterward. Stay at the Courtyard by Marriott Buffalo Downtown/Canalside or a central location in the city's downtown, and if you're a hockey fan, don't miss the chance to see the Buffalo Sabres in action while the season is in full swing!
4. Rochester (Finger Lakes)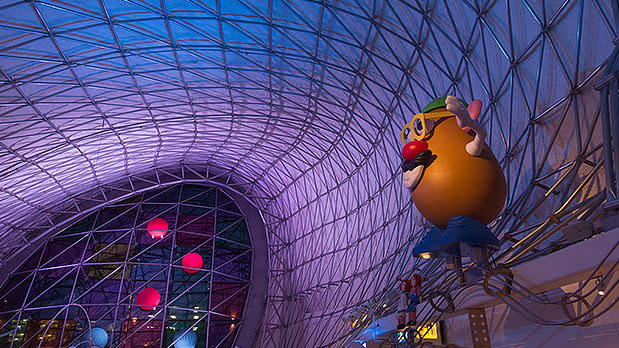 The weather outside might be frightful, but the balmy weather in the Dancing Wings Butterfly Garden is so delightful! Upstate New York's only year-round indoor butterfly garden offers the perfect way to escape the cold without getting too far away from the frosty fun. It's located within the Strong National Museum of Play (pictured), an enormous and well-designed museum that is a definite crowd-pleaser. The exhibits are highly interactive and built to spark the imagination. Topics range from comic books to arcade games, aquariums, outer space, and sports. It's also so large that it's rarely ever too crowded.
Just next to the museum, strap on skates and glide around Dr. Martin Luther King, Jr. Memorial Park. It's only $5 for adults, $2 for kids ages 17 and under, and $14 for families. A one-hour drive south of the city brings you to Swain Resort where you can rent ski and snowboarding equipment and take lessons no matter your skill level. Another winter sports option is Bristol Mountain, where you can ski where members of the US and international freestyle aerial ski teams train. Hilton Garden Inn Rochester Downtown is a perfect place to post up thanks to its clean, elegant rooms, and heated indoor pool!
5. Manhattan (New York City)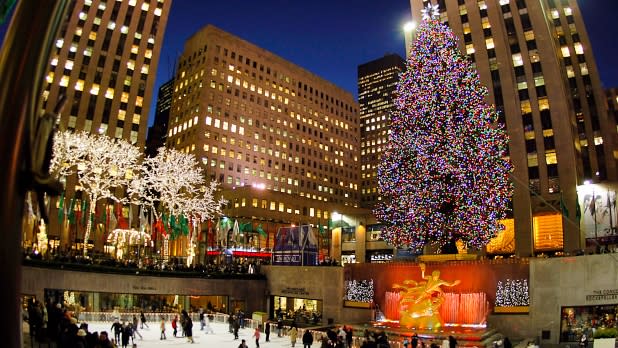 Manhattan is arguably one of the most enchanting places on earth during the holiday season. The city folk are in bright spirits, the window displays are amazing, and there are so many memorable experiences waiting for you. Skyline Hotel will put you close to everything at reasonable rates and has an amazing indoor pool with a view.
You know you have to go ice skating at Rockefeller Center (pictured). There is just nothing like looking up at that big festive tree and the surrounding buildings, all glowing with lights. The lines can be long but the waiting area is heated. Head up to the Bronx for the unmissable annual Train Show at the New York Botanical Garden. It is an absolute delight to see more than 175 mini models of iconic New York buildings such as the Brooklyn Bridge, Yankee Stadium, the Statue of Liberty, and One World Trade Center. There are also plenty of programs for families, including a family film series, play trains, and sing-along performances.
The city is also the ideal place to find perfect gifts and stocking stuffers thanks to charming and cozy winter villages and holiday markets. Bryant Park Holiday Market has its own full-size skating rink and Christmas tree. You'll find artisan crafts, tasty treats, and hundreds of souvenirs to choose from. Check out the slightly smaller Union Square Holiday Market, which keeps growing larger! This year you'll find a warming station and lounge, a Kids' Art Studio, and a Little Brooklyn.
6. Hempstead (Long Island)

Credit: Suffolk County Vanderbilt Museum
We know Long Island probably comes to mind when you're dreaming of great beach vacations, but there's so much wintery fun to be found here as well! Stay at the Ramada by Wyndham Rockville Centre for a convenient and comfortable home base at great rates. It places you just a ten-minute drive from Hempstead Lake State Park, which, if there's snowfall during your visit, has the ideal sledding hill off of Lakeside Drive.
You'll also be super close to one of the cutest winter activities: seal watching! Harbor seal-watching season starts in December, and the nearby Captain Lou Fleet in Freeport offers special tours to see them. A naturalist will accompany the cruise to teach all about seals and warm drinks are offered inside the heated cabin when you want to take a quick break from the cold. If the weather is extra nippy outside, take little ones to escape the chill at the Long Island Children's Museum where interactive exhibits encourage them to climb, build, learn, and explore.
Drive one hour to the Vanderbilt Museum & Planetarium in Centerport (pictured) for an amazing day trip with the family. The summer mansion of William K. Vanderbilt II—world-traveler, collector, and one of the richest men in his time—was turned into a fascinating and beautiful museum. Take an informative tour of his incredible home, admire the view of the Long Island Sound, and then visit the state-of-the-art planetarium to learn about the stars.
7.  New Paltz (Hudson Valley)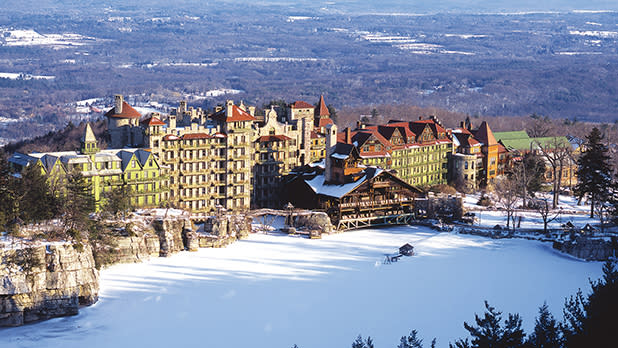 Less than a two-hour drive north of New York City, you'll find yourself surrounded by rugged mountain ridges, forests, and the small-town charm of New Paltz, home to the very special Mohonk Mountain House (pictured). Rooms can be on the pricier side, but even a one-night stay (weekdays only) in this stunning lodge-style resort (visited by past guests including John Rockefeller, Andrew Carnegie, and Teddy Roosevelt) is worth it. Despite its long history, the rooms have been kept in impeccable condition and almost all have their own fireplace. Amenities include a 33,000-square-foot spa, fitness center, game room, library, and indoor swimming pool.
Besides feeling pampered inside the resort, the Mohonk Mountain House offers plenty of activities to keep you happily busy. Take a historical tour of the House and grounds, enjoy a horse-drawn carriage ride, or go for a spin on the ice skating rink. The grounds are covered in trails for hiking, snowshoeing, and cross-country skiing.
On the way to or from New Paltz, make a stop in the adorable town of Beacon to visit the world-renowned art museum, Dia:Beacon. In what used to be a Nabisco box-printing factory, you'll find large-scale sculpture and art. In some parts the museum architecture is the art, using the walls and even floors to play with space and your perceptions.
8. Syracuse (Finger Lakes)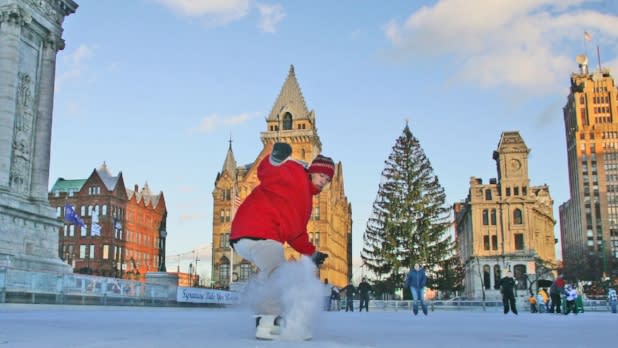 If you want to explore a winter wonderland, consider the country's snowiest major city, according to weather.com—Syracuse! Stay at the beautiful Barrington Manor Bed and Breakfast, a regal English Tudor home where you can warm up by the fireplace and enjoy a delicious home-cooked breakfast. Syracusians are so into winter (one of the city's slogans is #OfficialHomeOfWinter) that they turn their frosty landscape into art. Take a drive through the city's famous outdoor light show along Onondaga Lake, Lights on the Lake. The display is two miles long and features fantastic twinkling structures of lights, such as a Fantasy Forest, the Land of Oz, and of course, Santa!
The Clinton Square Ice Rink downtown (pictured) is calling you to come skating. Surrounded by some of the city's most beautiful buildings and a giant glowing Christmas tree, skate rentals are cheap and there are lockers to store your things, a snack counter, and parking lots close by.
Finally, if you're looking for an indoor activity, you can find enough fun to fill a day or more at the enormous Destiny USA mall. Besides more than 250 shops and outlets, check out the full-size indoor go-karting track, the world's largest indoor suspended ropes course, a 325-seat comedy club, and WonderWorks, an interactive educational learning fun zone!
9. Holiday Valley (Chautauqua-Allegheny)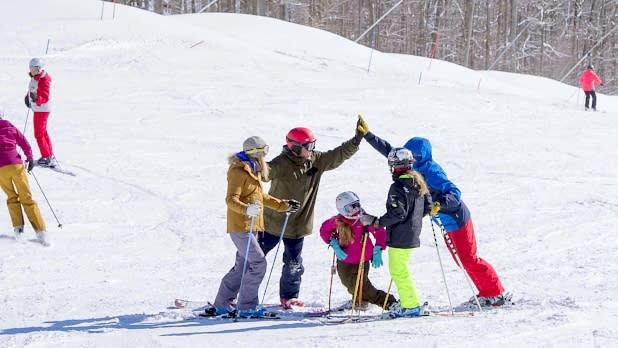 Ellicottville in Western New York is downhill-skiing country, making it a definite go-to for your next winter getaway. Check into the Inn at Holiday Valley where you couldn't be closer to the slopes. This family-friendly inn is part of the Holiday Valley Resort, and perfectly equipped for winter with a heated indoor/outdoor pool and hot tub, fireplaces in each room, and a winter shuttle to get you to and from the base lodge.
Holiday Valley offers snowboarding and downhill, cross-country, and telemark skiing lessons for all ages. If you just want to get down the mountain with zero skill involved, go snow tubing! Four miles from the resort, the Holiday Valley Tubing Company has got you covered. It even has a Lil' Tubers area for the tiniest of tubers. And you cannot miss a ride on the Sky Flyer Mountain Coaster. It's a bit like a roller coaster, but lower to the ground, and it hugs the natural curves of the mountain as you go down. If that sounds a tiny bit frightening, don't worry, you can control the speed using levers on the car.
After a day of exercise and chill, head to the Ellicottville Oasis Spa (also part of the resort) to relax with a hot stone massage, body wraps, or pedicure—which feels extra wonderful after a day in ski boots!
10. Watertown (Thousand Islands-Seaway)
If you just love winter and all the fun things it brings—find a whole community of kindred spirits in Watertown, AKA Snowtown USA, AKA an epic citywide celebration of the season. Join in on-ice carvings, concerts, a snowshoe 5K race, a film festival, fireworks, and so much more. The festival takes place on dates throughout the month of February, so you have plenty of time to experience a part of it.
Can't make it during February? No problem! There is plenty to do in all winter months. Explore the beautiful trails in Thompson Park on cross-country skis or snowshoes. They have beginner, intermediate, and advanced trails. Or visit New York State Zoo at Thompson Park.
Looking for some of the best snowmobiling in the state? Drive just 45 minutes to the Flat Rock Inn at Tug Hill Plateau for affordable rentals and access to 800 miles of trails. You can also hit up the slopes at Watertown's own Dry Hill Ski Area. Rest up at the Holiday Inn Express & Suites Watertown-Thousand Islands where you can soak in the heated pool and be super close to all the fun.
11. Saratoga Springs (Capital-Saratoga)

Credit: Saratoga County Chamber of Commerce
Saratoga Springs offers exciting outdoor winter activities that will get your blood pumping warm, comforting spas, and indoor fun to enjoy after facing the cold. Check in for a night or two in one of the beautiful rooms at the Residence Inn by Marriott, Saratoga Springs where you'll be close to downtown. Just half an hour's drive away is the very beginner-friendly Willard Mountain. You can rent equipment and take lessons in downhill skiing and snowboarding, or check out the separate area of the mountain designated specifically for snow tubing. Saratoga Spa State Park has two ice-skating rinks, one of which is also available for playing ice hockey. Whether you skate or not, the park is an amazing place to walk around during winter. Even when there's snow on the ground, you can still find the natural mineral springs flowing, and their minerals turn the surrounding snow brilliant shades of red and orange.
After you've enjoyed looking at the water, it's time to get in it! At Roosevelt Baths & Spa you can take a warm soak in the naturally fizzy mineral waters, something New Yorkers have done ever since the early 20th century! For some more fun indoor time, young kids will love the Children's Museum at Saratoga for learning disguised as play. Or head to the National Museum of Dance, the only museum dedicated solely to dance in the country. The exhibits delve into all aspects of diverse dance cultures, and the museum has an interactive area for children.
Share photos of your New York adventures on Instagram and Twitter with #ILoveNY and #iSpyNY and tag us on Facebook!