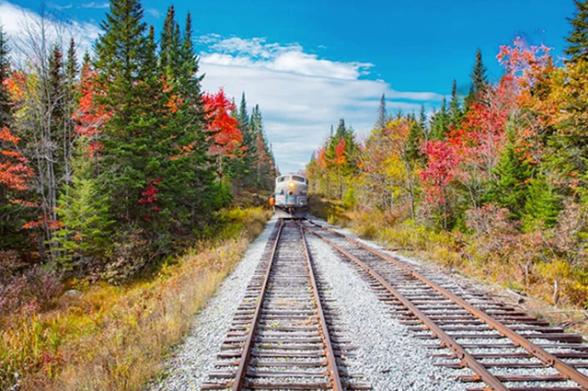 There are many great ways to view New York State's amazing fall foliage, including by car, boat, hot air balloon - and train! Here are some ways to see and access the best of the state's fall colors from New York City to Niagara Falls by rail. You can also combine your rail trips with hiking and biking adventures to get even better views of the leaves. All aboard! 
Masks are encouraged, but optional in most settings per New York State guidelines. Individual businesses or attractions may require mask wearing. Call ahead and check websites and social media to make sure attractions and amenities are open and available. 
Amtrak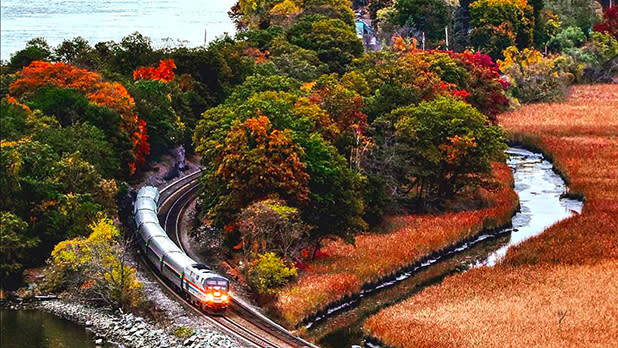 Credit @thecityandthesubway on Instagram
With service from New York to Niagara Falls, there is no better way to see the most of New York's amazing fall color than with Amtrak's Empire Service. Stops along the way include Albany, Syracuse, Rochester, and Buffalo. Even better, Amtrak now has a Carry-On Bicycle Service on certain cars so travelers can now take a train to the Empire State Trail (pictured) and then bike (or hike!) to see the fall foliage statewide. 
The Empire State Trail features several hiking and biking trails, ranging from the more urban Manhattan Greenway Trail, less than 4 miles from Moynihan Train Hall, to the Walkway Over the Hudson is the Hudson Valley Rail Trail (accessible via the Poughkeepsie Amtrak station), to the Albany-Hudson Electric Trail further upstate, to trails that pass Rochester and go into the furthest reaches of the western part of New York State. With plenty to explore, you can marvel at the Hudson River and Erie Canal from multiple vantage points, and hike and bike past lakes, creeks, horse farms and marshlands that make for an especially scenic adventure.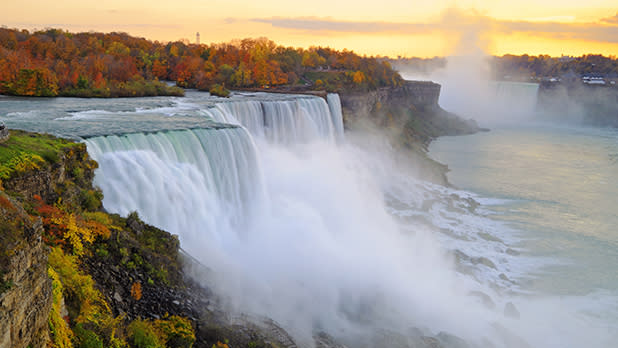 If you don't bike or hike, go on an urban leaf-peeping adventure with Amtrak stops from New York City to Niagara Falls. In Rochester, check out the fall colors at Genesee Valley Park, a Frederick Law Olmstead-designed park featuring spacious lawns and a trail that runs alongside the Genesee River. Buffalo's Delaware Park, also designed by Olmstead, has several areas bursting with trees that turn glowing shades of gold and red in autumn. See autumn's spectacular display of color become the perfect backdrop for the amazing Niagara Falls (pictured) and the Niagara River's gigantic, swirling whirlpool at nearby Whirlpool State Park.
With the I Love NY Amtrak Discount you can escape the city and explore New York State without breaking your wallet. You'll receive 15% off your next adult tickets and 50% off children's tickets. From the Hudson Valley to the Adirondack mountains and beyond, check out all the things to love in New York State. 
Long Island Rail Road (LIRR)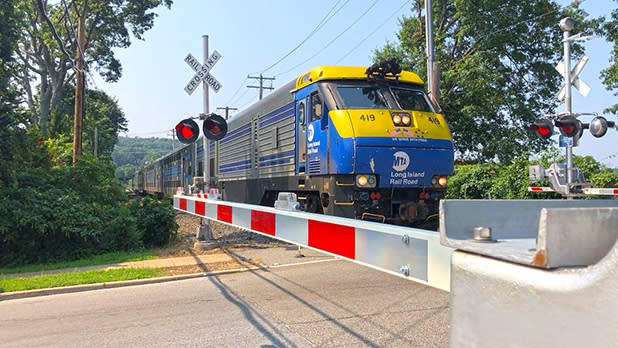 Credit @thelongislandrailfan on Instagram
With its cool, crisp days, and colorful foliage, Long Island is a perfect place to explore in autumn, and the Long Island Rail Road is your ticket to discovering unique attractions in charming towns. If you're a cyclist, good news! The MTA waived bicycle permit requirements and fees, so you can bring your bike along for free. Here are a few stops to add to your fall calendar: 
Oyster Bay (pictured): Planting Fields Arboretum State Historic Park, a short taxi ride from the Oyster Bay stop on the LIRR, blazes with brightly colored trees in autumn, and features over 400 acres of formal gardens, trails, and historic buildings. Stop at the nearby Oyster Bay Brewing Company for a delicious, refreshing beer before taking the train home.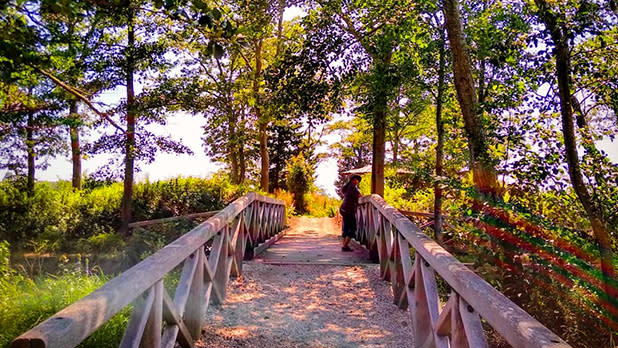 Credit @renaissance_curious_george on Instagram
Great River: Bayard Cutting Arboretum State Park (pictured) not only features colorful fall foliage, but also wildlife like osprey and turtles. In addition to the trees changing color, the park also boasts evergreen forests of Spanish firs and holly trees. 
Farmingdale: Just a mile from the station, you can explore Bethpage State Park's hiking and biking trails (including five miles of the Long Island Greenbelt Trail) make spotting amazing fall foliage easy.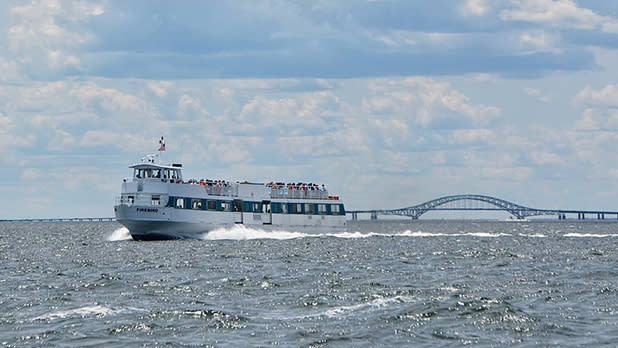 Credit @yoknapatawpha on Instagram
Port Washington: Sands Point Preserve, in Sands Point, is a 10-minute taxi or car ride from the Port Washington train station. It features one of the few intact historic houses remaining from Long Island's Gold Coast era, as well as six nature trails for leaf peeping.
Bay Shore: Fire Island Ferries (pictured) provides maritime transportation for fall day trips from Bay Shore to Fire Island National Seashore. Mid-fall is the perfect time to enjoy nature and the backcountry portions of Fire Island.
Metro North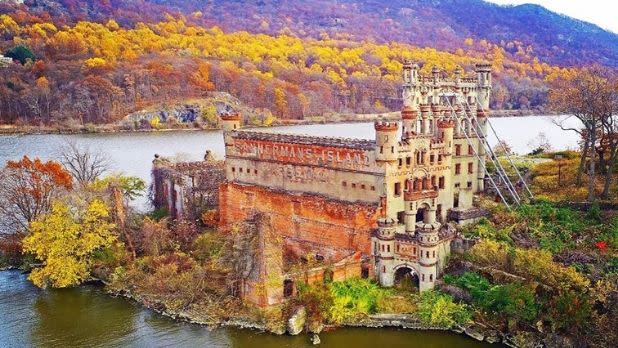 Credit @vivid_aerial_photography on Instagram
Like the LIRR, the Metro North offers an easy way to some of the best leaf peeping destinations along the Hudson River from NYC to the Hudson Valley. Here are stops you can't miss – and yes, bikes ride free on the Metro North too!
Poughkeepsie: Take in the views from the nearby Walkway Over the Hudson State Historic Park.
Beacon: Go for a hike on Mount Beacon or take a Zipcar or NY Waterway ferry over to Newburgh to explore the historic waterfront, Motorcyclepedia Museum, Washington's Headquarters State Historic Site, and Downing Park, a nature and wildlife area perfect for viewing the foliage. 
Peekskill: Explore the downtown and the waterfront of Peekskill, where the views from the station capture both south and north along the Hudson River with great views for taking photos. Peep colorful Hudson Highlands foliage from the city's Riverfront Green Park. 
Cold Spring: Check out the quaint village, explore the historic district, take a ferry to Bannerman Castle (pictured), kayak or paddleboard on the Hudson River, and much more!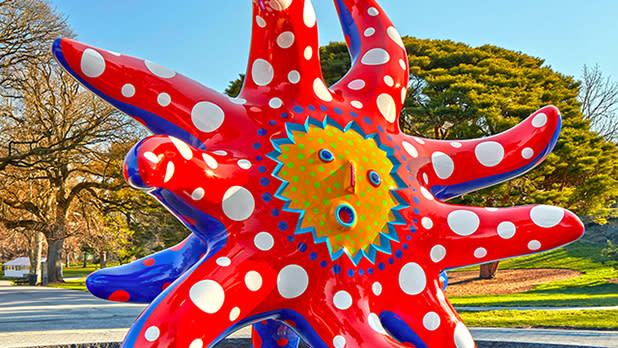 New York City (Botanical Garden station): The Bronx features some of NYC's best leaf peeping and nowhere is that more true than at the New York Botanical Garden (across the street from the station), where you'll be dazzled by a brilliant 250-acre display of changing leaves in brilliant shades of orange, crimson, and gold. Take the Wild Asia Monorail ride at the neighboring Bronx Zoo for stunning foliage and exotic animal sightings. 
Additionally, in late October and early November, Metro-North runs additional fall foliage "leaf peeper" trains on the Hudson Line. The two-hour train rides travel along the Hudson River's eastern edge, offering impressive views of the 540-foot Palisades cliffs and endless miles of bright autumn foliage.
Take a Scenic Train Ride on a Historic Railway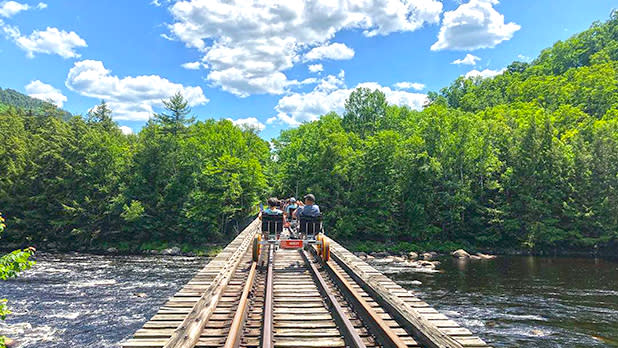 Credit @leeshgreenery on Instagram
One of the best ways to view New York State's spectacular autumn is aboard an historic scenic railway.
The Adirondack Railroad lets you discover the beauty of the Adirondacks by transporting you to Thendara (Old Forge) from Utica, which is accessible by Amtrak. The Utica to Thendara trip is truly a unique experience. You'll enjoy the region's renowned foliage traveling through forests, and over rivers and streams, before spending a full afternoon in Old Forge enjoying the outdoors and visiting local shops and restaurants.
Don't forget to post photos of your New York adventures on Instagram and Twitter with #iSpyNY and #ILoveNY and tag us on Facebook!