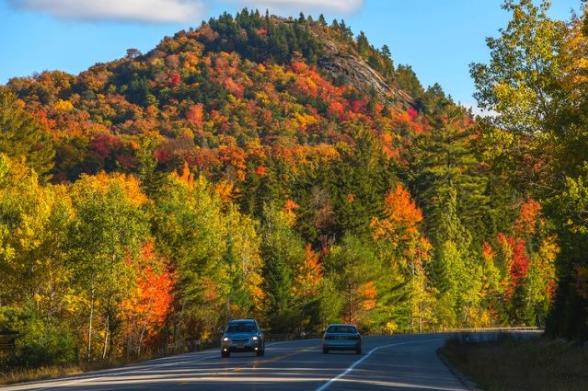 New York State transforms into a patchwork of luscious red, orange, and yellow foliage in the fall, but the magic won't last long! To help you plan your fall getaway, here's a look at where to see beautiful foliage from the Catskills to Long Island, Adirondacks to the Finger Lakes, and all across New York State throughout the colorful season.
Editor's Note: Peak times are approximations based on prior years' fall foliage reports, and fluctuations may occur. For the most up to date information for the 2023 season, sign up to receive our weekly Fall Foliage newsletter for a look at current conditions and check our reports starting in September before planning your trip.
The change in color from the bright greens of summer to the brilliant hues of fall follows a predictable pattern across the state. Historically, it begins high in the Adirondack and Catskill mountains in early September, and spreads out and down across the hills and valleys of the state, ending with peak foliage on Long Island and in New York City in mid-November. It takes about two weeks for the color to complete its cycle in any given area, with peak brilliance lasting three to four days in any one spot.
Originally Published 9/2/2022
JUMP TO: Adirondacks | Catskills | Chautauqua-Allegheny | Thousand Islands-Seaway | Central New York | Capital-Saratoga | Finger Lakes | Greater Niagara | Hudson Valley | Long Island | New York City
ADIRONDACKS
The Adirondacks (pictured) has one of the longest fall foliage seasons in the country, with the areas of Lake Placid and Tupper Lake typically reaching peak ahead of other areas of the region. 
Of course, with its six-million acres of wilderness, the best way to soak in the fierce fall colors is with a hike. Experienced hikers can tackle Mount Haystack, the third highest peak in New York, and Ampersand Mountain, a three-mile trail that starts off easy but gets steeper and rockier the further on you go. For something a little less intense, Mount Arab's one-mile climb treats you to incredible views of Tupper Lake (pictured) and the surrounding landscape. At the top, there's a museum and even a fire tower to climb if you want to be even higher.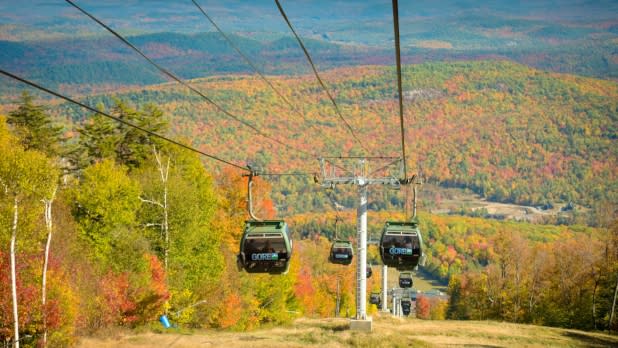 The fall foliage experience is not just limited to hiking. Fall colors will greet you as you zip line down the path of Nordic ski jumpers at the Olympic Jumping Complex; Gore (pictured) and Whiteface mountains offer scenic gondola rides; and the Wild Center takes you along an elevated trail through the color-changing treetops.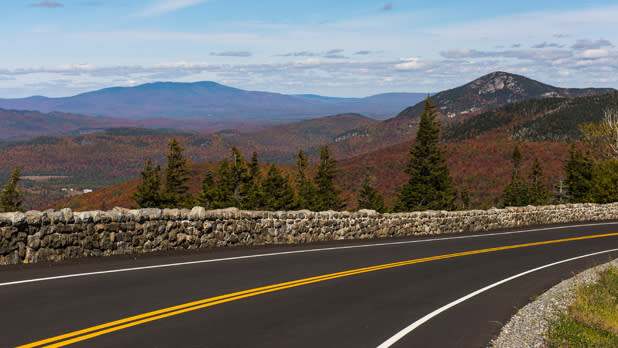 Immerse yourself on a scenic drive up Whiteface Mountain Veterans' Memorial Highway (pictured) through October 9 to reach the top of New York's fifth-highest peak or cruise along Prospect Mountain Veterans Memorial Highway where on a very clear day you can even catch a glimpse of Canada's Laurentian Mountains. Tired of driving? The Adirondack Scenic Railroad guides you through remote forests and over sparkling rivers with a five-hour Fall Foliage Train Ride out of Utica.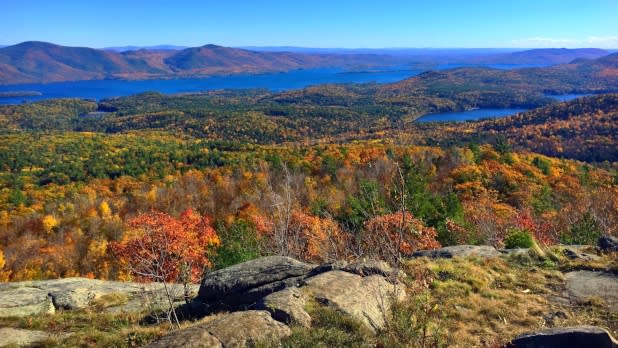 Float above the treetops on a hot air balloon ride over Lake George (pictured) or raise a glass to fall in the Lake Champlain region and other parts of the Adirondacks coast, which are ripe with wineries and cideries. Try Highlands Vineyards — a family-owned and operated winery with breathtaking views of Lake Champlain. For more ideas, check out Top Things to Do in the Adirondacks this Fall.
Historically, peak times for the Adirondacks have been late September to mid-October. Check the 2023 Fall Foliage Report for the latest updates.
CATSKILLS
The rolling hills and lushly forested mountains of the Catskills are a feast for the eyes when leaves start to transform into vibrant autumnal hues.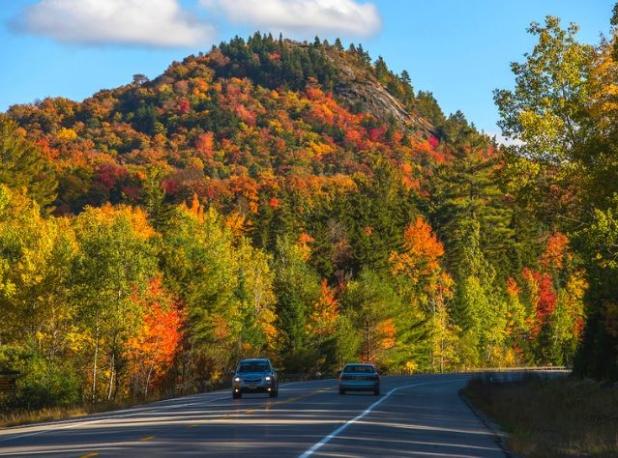 Take in the views from the comfort of your own car with a drive along Catskill Scenic Route 30 (pictured), Catskill Mountains Scenic Byway, and Upper Delaware Scenic Byway. Small towns oozing with charm from Roxbury and Roscoe to Windham and Woodstock are worth exploring if you find yourself passing through. Hop aboard the pedal-powered Catskill Rail Explorers and steer yourself on a scenic and relaxing rail ride. 

Credit: Beautiful Destinations
Get closer to nature on the Catskill Scenic Trail. Once home to rail lines, this 26-mile path is perfect for hiking, biking, and horseback riding. You may come across osprey, great blue heron, and otters as you take a leaf-peeping stroll along the 15-miles of trails at the Basha Kill Wildlife Management Area. Completing the Catskills Fire Tower Challenge will reward you not only with a bird's eye view of expansive fall landscapes from the likes of Hunter and Overlook mountains, but also a special prize of luxury hiking equipment. Miles worth of foliage views will also greet you on the six-passenger scenic skyride (pictured) at Hunter Mountain.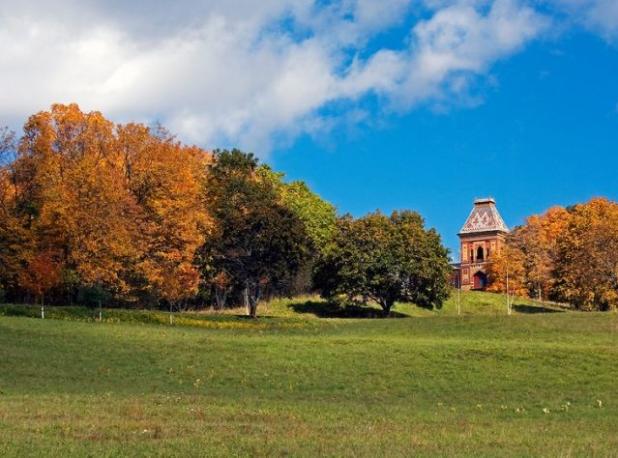 Looking for a waterfall? The Catskills has plenty, some of which have inspired the likes of poet William Cullen Bryant, as well as Thomas Cole and other Hudson River School painters. (Tip: Cole's home is also an ideal fall foliage spot and has the added bonus of being connected to Olana State Historic Site (pictured) via a stunning walk over the Hudson River Skywalk).
With relaxing retreats ranging from cozy cabins to camp sites, family fun at Hull-O-Farms (pictured), and breweries like West Kill hugged by hillsides resplendent in foliage, you'll find plenty of reasons to fall in love with the Catskills this autumn. 
Historically, peak times for the Catskills have been early to mid-October. Check the 2023 Fall Foliage Report for the latest updates.
CHAUTAUQUA-ALLEGHENY
Enchanted mountains and tranquil lakes set amid a backdrop of brilliant fall colors make Chautauqua-Allegheny a beautiful destination for the autumn season.
A visit to Lucille Ball Memorial Park outside of the Queen of Comedy's native Jamestown (pictured), will offer you the chance to snap a picture with two statues made in her likeness, including the viral "Scary Lucy," and enjoy postcard views of Celoron Lighthouse as red, gold, and orange trees line the Chautauqua Lake shore. Five miles of hiking trails at the Audubon Community Nature Center lead you through fields, woods, and wetlands. In early October, this wildlife sanctuary transforms into an Enchanted Forest for a special non-scary Halloween event where you'll walk along lit trails and encounter talking animals.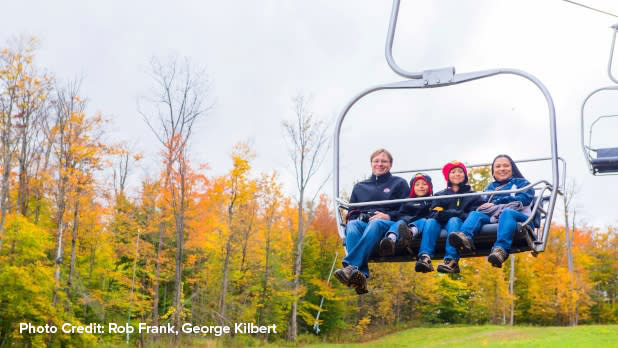 Challenge yourself with a treetop obstacle course at Mountain Adventures at Peek'n Peak Resort (pictured) and Holiday Valley Sky High Adventure Park, which also boasts a mountain coaster.

Credit: Jonathan Weston
With a commanding view of Lake Erie and 70-acres of treetops, Luensman Overview Park offers one of the best bird's eye views of the foliage in this region. Soak in the season's fall splendor as you weave your way through towering rocks in ancient forests that are home to 800-year-old hemlocks at Panama Rocks Scenic Park (pictured). The treasured Allegany State Park is a wilderness playground with beautiful lakes and lush forests that make it a fall foliage hotspot with cabins and campsites available through the end of October and a variety of cottages available year-round. Griffis Sculpture Park is another great destination where monumental statues meet nature trails.
A climb to the top of the 61-foot tall Dunkirk Lighthouse will give you one of the best views not only of Lake Erie, but also the tree-covered land. A historic steamboat ride aboard the Chautauqua Belle (through September 30) provides a unique perspective of the foliage that surrounds the beautiful Chautauqua Lake (pictured).

Courtesy of Johnson Estate Winery
Sample grapes off the vine as the tree-covered hillsides framing Johnson Estate Winery (pictured) show off their stunning hues and take a fall wagon ride at Sprague's Maple Farms to their antique sugarhouse where you can sample maple cake donuts and apple cider (last weekend of September and first two weekends of October).
Historically, peak times for Chautauqua-Allegheny have been mid-October. Check the 2023 Fall Foliage Report for the latest updates.
THOUSAND ISLANDS-SEAWAY
Seasonal colors will take your breath away as they pop up across Thousand Islands-Seaway and its enchanting castles, pristine waterways, and lush treescape.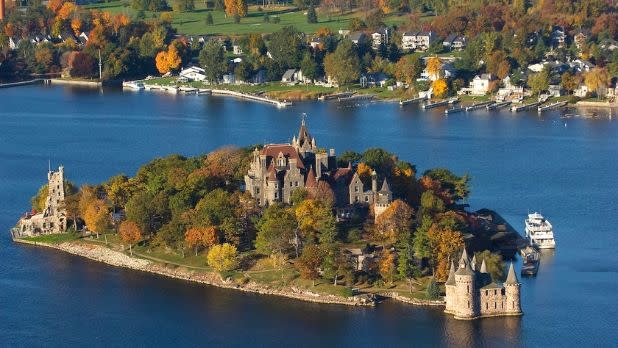 As the colors of fall reflect on the surface of the St. Lawrence River's crystal clear waters, you'll experience a double-foliage effect that can easily be enjoyed aboard a cruise. See islands, Boldt (pictured) and Singer castles, the Rock Island Lighthouse, and more with Clayton Island Tours and Uncle Sam Boat Tours, running cruises through the end of October. A scenic fall drive along the Great Lakes Seaway Trail will take you to the historic Tibbetts Point Lighthouse, which sits on the tip where the St. Lawrence River meets Lake Ontario.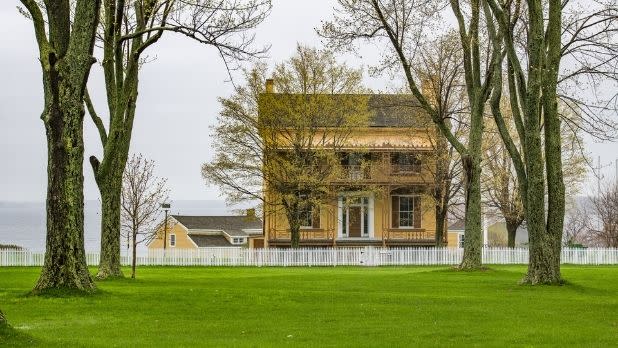 Fort Ontario, which was used as a Holocaust refugee center during World War II, and Sackets Harbor Battlefield (pictured), the site of two battles in the War of 1812, let you experience foliage with a dash of history. The 1,100-acre Robert G. Wehle State Park is another great leaf-peeping spot that also offers stunning views of Lake Ontario on cliffs that rise 80 feet above the water.

Credit: Walter Arnold
Fall also marks harvest season and you can get a taste of the islands at its countryside wineries (pictured) that will have you pairing delicious reds and whites with the reds, golds, and oranges of the leaves.
Historically, peak times for the Thousand Islands-Seaway have been mid- to late-October. Check the 2023 Fall Foliage Report for the latest updates.
CENTRAL NEW YORK
There are many ways to experience the stunning foliage in Central New York when the leaves start showing their fall colors.
Top off your fall hike with a waterfall picnic amidst a sea of orange, red, and yellow foliage at the 167-foot Chittenango Falls State Park (pictured), where rushing waters cascade over 400 million-year-old bedrock. Catch a glimpse of majestic red-tailed hawks and golden eagles as they make their late fall season flights at Delaware Otsego Audubon Society Sanctuary, where you can feast your eyes on sweeping views of the Susquehanna River valley.

Credit: @csi518 on Instagram
The historic Hyde Hall (pictured), Salisbury Center, and Fox Creek covered bridges backed by a canvas of foliage make the perfect setting for a fall picture. Fun fact: Hyde Hall, built in 1825, is the country's oldest standing covered bridge.
If your favorite way to take in the fall colors is with a scenic drive to a cool new destination, then Route 20 and Route 28 are solid bets. The first will take you to Cazenovia, a cool small town with a quaint main street and historic buildings nestled on a lake by the same name. Meanwhile, Route 28 will take you to the home of baseball in Cooperstown, where in addition to a museum dedicated to the sport, you'll find the Farmers' Museum and Fenimore Art Museum (pictured), which both offer stellar foliage views.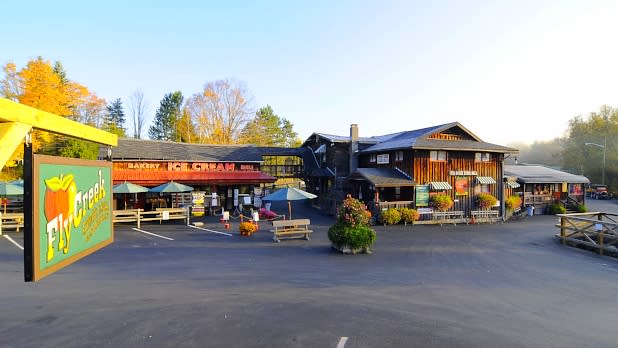 If apple picking and ciders are on your fall checklist, then make sure you make time for Fly Creek Cider Mill & Orchard (pictured). Seasonal brews are also on tap at Central New York's breweries so you can enjoy the tastes of fall in beer form. Brewery Ommegang rolls out All Hallows Treat, an imperial chocolate and peanut butter stout that tastes like dessert, while Good Nature Farm Brewery comes back with a brew that's anticipated every year— the Great Chocolate Wreck that's named in honor of a 1955 freight train incident involving Nestlé chocolate.
Historically, peak times for Central New York have been mid- to late-October. Check the 2023 Fall Foliage Report for the latest updates.
CAPITAL-SARATOGA
Leaf-peeping in the Capital-Saratoga region is a real treat and a perfect fall getaway.
You can't go wrong with exploring the tree-bordered mineral springs in Saratoga Spa State Park (pictured) and the colorful woodlands of John Boyd Thacher State Park, but there's even more to discover in Peebles Island State Park, Washington Park, Vroman's Nose, Saratoga Battlefield, Five Rivers, Congress Park, and Albany Pine Bush Preserve. If the soundtrack of rushing water is what you need to enhance your fall vibes, then Cohoes Falls is sure to please.
Find your zen deep in the woods at the Grafton Peace Pagoda, one of only three found in the country. Surrounded by forest, it's the perfect spot to truly savor the moment.
Head into the capitol city and view the foliage from on high from the observation deck at Corning Tower or take in the sights with Dutch Apple Cruises (pictured) through the end of October.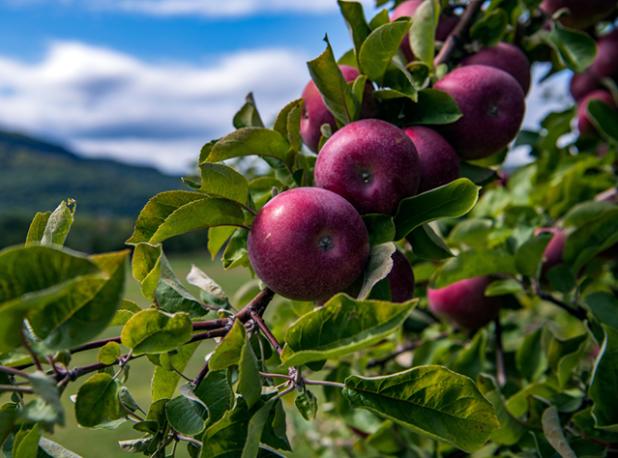 Celebrate the state's official fruit at one of this region's many farms and orchards, including Indian Ladder Farms (pictured), Bowman Orchards, and Stanton's Feura Farms, where apple picking, hayrides, cider donuts, and corn mazes are all on the agenda. 
Historically, peak times for Capital-Saratoga have been mid-October. Check the 2023 Fall Foliage Report for the latest updates.
FINGER LAKES
The Finger Lakes region is rife with pristine lakes bordered by lush hillsides, sun-kissed vineyards, and bountiful farmsteads—all the pieces needed for a fulfilling fall getaway.
Experience it all with a scenic drive from Ithaca to Seneca Falls along Cayuga Lake Scenic Byway. Thirsty Owl, Buttonwood Grove, Long Point, and Heart and Hands (pictured) are among the wineries serving up lake and foliage views with their pours. The Montezuma National Wildlife Refuge is also worth a stop to see migratory birds and changing leaves. Autumn means planting season at Deacon's Garlic Farm and you can learn all about dairy farming at Trinity Valley.
On Cayuga's southern tip lies Ithaca, where you can bask in the fall shades and 500 foot cascades of Buttermilk Falls State Park (pictured) or scope out Taughannock Falls State Park and its waterfall that's even taller than Niagara Falls. About 30 minutes west, you'll discover Watkins Glen State Park and its 19 waterfalls cascading past 200-foot cliffs into an awe-inspiring gorge. To the north of Cayuga, you'll find Seneca Falls, a quaint canalside town noted for being the birthplace of women's rights and home to the National Women's Hall of Fame and Elizabeth Cady Stanton House.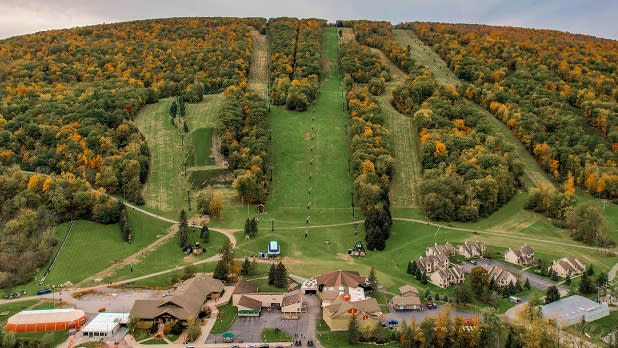 Unique fall adventures await at Bristol Mountain (pictured), where you can embark on a zipline canopy tour among the trees or hop on a skyride for jaw-dropping views of Finger Lakes foliage. For a more laidback leaf-peeping excursion, set sail with the Canandaigua Lady, a 19th century replica of a double decker paddlewheel boat.
Historically, peak times for the Finger Lakes have been mid-October through early November. Check the 2023 Fall Foliage Report for the latest updates.
GREATER NIAGARA
In autumn, trees surrounding Niagara Falls (pictured below) transform into a kaleidoscope of fall colors that you have to see to believe.

Credit: Getty Images
The Maid of the Mist is running tours through November 5 so you can feel the spray of the falls on your face while soaking in the colorful foliage. Whirlpool State Park will have you hiking along the Niagara Gorge while the equally stunning Letchworth State Park is a picturesque postcard of autumnal scenery with its three waterfalls surrounded by lush forest. Enjoy it with a hike or a hot air balloon ride through the end of October.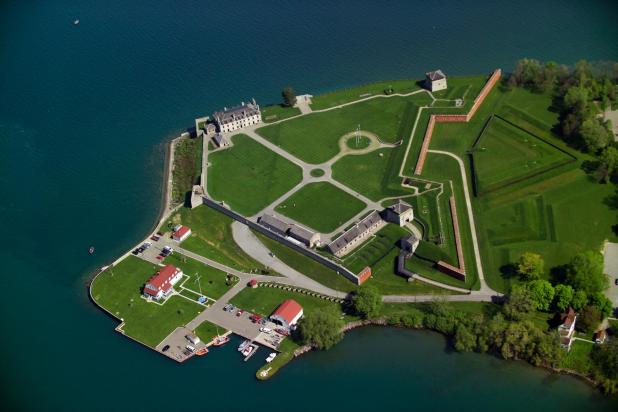 Living history demonstrations and a spectacular view of Lake Ontario await you at 18th-century Old Fort Niagara (pictured) while the nearby Artpark lets you explore trails, the Niagara River Gorge, and outdoor art installations including a Percussion Garden where visitors can make music together.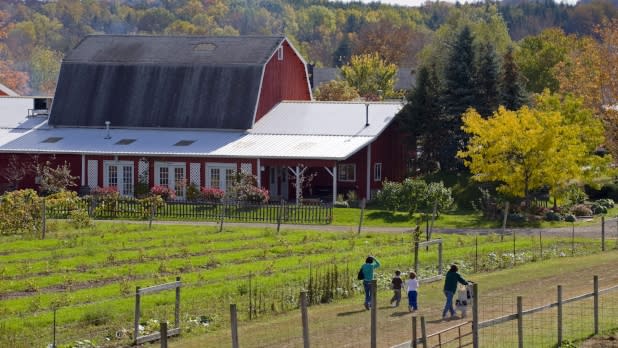 The waterfront is also breathtaking along the Erie Canal, whether you're strolling the Canalside boardwalk or sailing on the Spirit of Buffalo. Lockport is another charming canal town where you can learn about the Flight of Five on a fall cruise (until October 15) before capping off the day with a taste of farm life and countryside views at Becker Farms & Vizcarra Vineyards (pictured). The Medina Railroad Museum will show you around the canal and foliage-adorned wooded scenery on a two-hour round trip tour aboard a vintage train car. 
Historically, peak times for Greater Niagara have been late October to early November. Check the 2023 Fall Foliage Report for the latest updates.
HUDSON VALLEY
Fall puts on a spectacular show in the Hudson Valley as it sets the region aglow with a vibrant palette of red, yellow, and orange.
West Point's Trophy Point affords one of the most breathtaking views of the Hudson River Valley and is also home to the Battle Monument, one of the largest columns of granite in the world. See West Point from a different perspective from the grounds and gardens of Boscobel House (pictured), which also has spectacular views of the valley. The stately mansions of Lyndhurst, Kykuit, Franklin D. Roosevelt's Springwood home, Vanderbilt and Olana all dazzle with their river vistas and tree-covered landscape views.

Photo Courtesy of Beautiful Destinations
Forge the river journeying across Hudson River Skywalk and Walkway Over the Hudson (pictured), or if a hike is more your style, wander into the woods. Harriman State Park is packed with 200 miles of trails, lakes, and reservoirs, and the 97-acre Croton Gorge Park is ideal for a fall picnic as you watch the dam waters tumble down rocks in spectacular fashion. The leaf-peeping paradise of Mohonk Preserve and its 8,000 acres of forests, fields, and streams is also a popular fall destination. Due to recent storm damage, parts of Harriman State Park are currently closed until further notice. Please call or check the website for updates.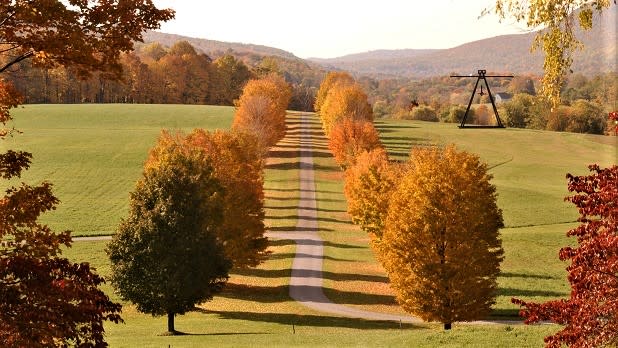 Nature and art collide at Storm King Art Center (pictured), Art Omi, and Opus 40, where monumental sculptures meet the sky and surrounding landscape creating a dramatic effect. The manicured Innisfree Garden also makes for a good spot of fall exploration and contemplation.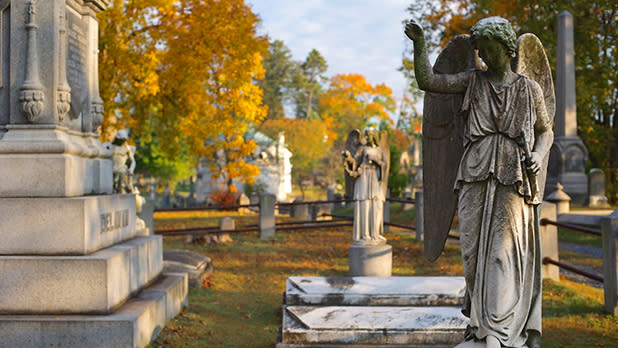 History buffs and Halloween enthusiasts alike can soak in the scenery while taking in a guided tour of Sleepy Hollow Cemetery (pictured) to learn about Washington Irving and his famous story of The Legend of Sleepy Hollow. Fall views are also on display along with hayrides, a corn maze, petting zoo, and more fun at Kelder's Farm and load up on apples and fresh apple cider donuts at Harvest Moon Farm. 
Historically, peak times for the Hudson Valley have been mid-October through early November. Check the 2023 Fall Foliage Report for the latest updates.
LONG ISLAND
The white sand beaches of Long Island may make this region synonymous with summer, but it's equally as stunning in the fall, especially when foliage season kicks in.
The sprawling estates of the glamorous Gold Coast mansions including Planting Fields Arboretum (pictured), Oheka Castle, Old Westbury Gardens, and Vanderbilt Museum, offer some of the most breathtaking views as the leaves change. The Nassau County Museum of Art, housed in a Gold Coast mansion, sits on 145 bucolic acres with a sculpture garden, arboretum, gardens, and trails perfect for a day of fall exploration.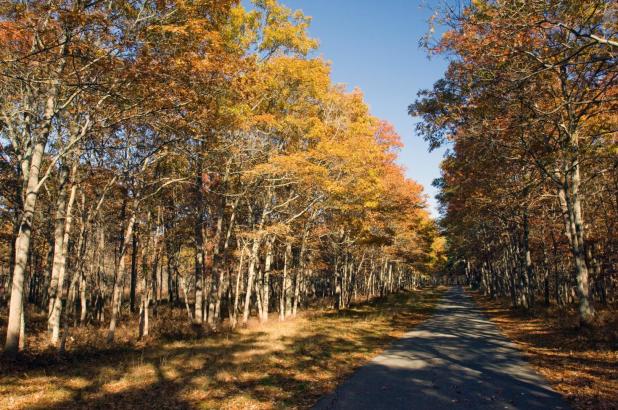 Reach the tops of Fire Island (tower is temporarily closed) and Montauk Point lighthouses to look out over the land and sea, or venture into the woods at Connetquot River (pictured), Caleb Smith, and Caumsett.
Indulge in farm fresh flavors and embark on a barnyard adventure at Harbes Family Farm (pictured), taste seasonal brews at Oyster Bay and Greenport breweries, and discover the exciting vinos coming out of Long Island Wine Country. 
Historically, peak times for Long Island have been early to mid-November. Check the 2023 Fall Foliage Report for the latest updates.
NEW YORK CITY
Fall in New York City is a magical time when splashes of bright autumn colors burst through the cityscape.

Credit: Getty Images
Immerse yourself in nature in Manhattan's Central Park (pictured) soaking in lake views from Bethesda Terrace as summer greens fade into fall shades, which can also be viewed from the sky at the Top of the Rock. Near the northern tip of the island, explore medieval art in a French monastery at The Met Cloisters in Fort Tryon Park overlooking the Hudson and the stunning display of fall colors across the river.

Photo by Julienne Schaer
There's some serious foliage to behold in the other boroughs. Prospect Park is home to Brooklyn's only lake and the waterfront Brooklyn Bridge Park (pictured) offers the perfect blend of nature and the city. Encounter deep reds and bright yellows of oak trees that are over 150 years old at Forest Park in the heart of Queens. A leisurely fall stroll through the gardens of Wave Hill in The Bronx will take your breath away as you gaze across the Hudson River and are met with sweeping views of the Palisades. 

Credit: Tagger Yancey IV
Staten Island's Snug Harbor Cultural Center & Botanical Garden (pictured) offers a serene setting for fall foliage viewing as the Tuscan and Chinese gardens come alive with beautiful autumn colors. Nestled on a hillside, the tranquil grounds of the Jacques Marchais Museum of Tibetan Art are ideal for a day of quiet reflection as the season's colors wash over you.
Historically, peak times for New York City have been early to mid-November. Check the 2023 Fall Foliage Report for the latest updates.
---
Don't forget to post photos of your New York adventures on Instagram and Twitter with #iSpyNY and tag us on Facebook!