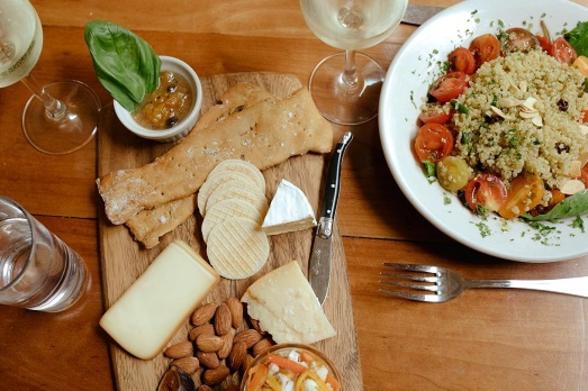 Ah, fall. The cooler air and shorter days signify that harvest season is here! Throw on your favorite flannel and celebrate this special time of year in New York State by discovering tasty treats and fresh delicious eats from the Hudson Valley to Buffalo this fall, along with some special spots for haunted feasts.
Masks are encouraged, but optional in most settings per New York State guidelines. Individual businesses or attractions may require mask wearing. Call ahead and check websites and social media to make sure attractions and amenities are open and available.
Originally published: 10/17/22
New York City plays host to one of the most iconic Halloween parades around, but it's also giving visitors plenty to scream about on the food scene. 
Every day is Halloween at the East Village's Tim Burton-themed Beetle House, which also pays homage to other horror icons including Edgar Allen Poe and Washington Irving. The $60 prix-fixe "poltergiest feast" menu features The Edward Burger Hands, which is kept together with a pair of scissors that you get to keep, or a Sweeney Beef, a filet mignon that's topped off with a straight razor that you also get to take home. Also, don't be surprised if Edward Scissorhands or Jack Skellington join you at the dinner table. Dig into a comforting shepherd's pie or sophisticated truffle gnocchi at Lillie's Victorian Establishment, with locations in Times Square and Union Square. The elegant bar and restaurant evoking the "gin palaces" of old transforms into a Victorian nightmare with skeletons hanging from the walls and creepy dolls swinging from the ceiling fans.
Chelsea's Oscar Wilde (pictured) delivers on its mission that "life should be lived to its fullest, with a touch of sophisticated debauchery." The Victorian-style bistro has more scary clowns and skeletons than one dares to count amid its elaborate design that features a massive marble fireplace from France, 26 antique clocks all set to the time of Oscar Wilde's death, and a whiskey bar made out of a player piano. For a magical experience, The Cauldron in the Financial District is serving up a fantasy-inspired menu and Halloween-themed cocktails, plus classes to concoct your own boozy potions.
For haunted dining: Finger Lakes

Courtesy of Belhurst Castle
Ever wanted to dine with ghosts? You may want to set an extra plate at the table at these Finger Lakes restaurants that are rumored to be haunted. 
Don't be surprised if you get poked or feel a cold spot at the Wayside Irish Pub in Elbridge, where ghostly sightings have been reported since the 1960s. Doors open on their own and mysterious whistling can sometimes be heard at Union Tavern in Rochester, which was rumored to have originally been purchased in 1819 by an ex-pirate. Miles Wine Cellars, located in an early 1800s Greek revival mansion overlooking Seneca Lake in Himrod, embraces its strange happenings and hauntings with a wine simply named "Ghost." 
Dine and stay at Belhurst Castle (pictured) in Geneva or the 1867 Parkview Inn in Owego if you dare as both have their share of ghost stories that are bound to keep you up at night.
What better way to enjoy New York's bounty than with a meal that puts vegetables first?
The pioneering Moosewood Restaurant, which wrote the book on vegetarian cooking (actually 14 books) and is considered to be the country's longest-running vegetarian restaurant, has been a mainstay in the hip Downtown Ithaca Commons since 1973, serving up exciting dishes like Moroccan chickpea stew and green curry. Just around the corner, you can enjoy a full vegan plate at Hawi Ethiopian Cuisine (pictured), where all entrees come with unlimited injera, a delightful sour fermented pancake-like flatbread. Angelhearts Diner serves up plenty of old school vibes with its classic checkered floor and vintage booths while putting a new spin on the menu, cooking up vegan comfort food made from scratch including tofu benedict and chick'n & waffles. While there's meat on the menu at the farm-to-table Agava Restaurant, housed in the former East Ithaca Train Station, it has plenty of vegetarian and vegan options with a wide variety of salads, wood-fired flatbreads, and meat-free burgers to choose from.
Looking to stay in the heart of downtown Ithaca to put you within walking distance of the city's amazing food and shopping? The Hilton Garden Inn or William Henry Miller Inn, where you can experience 1880s charm with all the comforts of the modern age, are great bets.
For seafood lovers: Long Island

Credit: @yorkcny on Instagram
While foliage, apple cider donuts, and pumpkin picking may be the first things to come to mind when thinking of fall, the cooler waters of the season also make it the perfect time for harvesting oysters. With a plethora of oyster farms scattered across Long Island, this region is the prime spot to get your hands on these bold and briny treats. Every year, Oyster Bay hosts Oyster Fest, the East Coast's largest waterfront festival, attracting more than 150,000 attendees! This year's festival takes place on October 14-15.
Travel anywhere on the island and you'll find a number of restaurants from Peter's Clam Bar in Island Park to Popei's Clam Bar in Bethpage proudly serving this local delicacy and other amazingly fresh seafood. Bay Shore's Salt & Barrel has an elegant dining room and hip speakeasy bar where you can learn how to shuck an oyster or sample a flight from the bourbon library. Catch Oyster Bar in Patchogue serves fresh local seafood daily including locally-harvested raw oysters that can be slurped straight from the shell or roasted and fried. Locally-made baked buns and rolls also take their lobster rolls and crab cake sliders to the next level. Sample the finest fruits de mer at Louie's Prime Steak & Seafood, a Port Washington staple since 1905. This waterfront restaurant features a curated raw bar with Blue Point Oysters and Long Island Little Neck Clams, boasts amazing views of Manhasset Bay, and was even featured in the comedy Meet the Parents. Little Creek Oyster Farm in Greenport, serves up fresh shucked oysters and local beers at their cozy harborside shack that was once a bait and tackle shop.
Go for the Gold Coast experience by booking a stay at the elegant Oheka Castle or soak in amazing ocean views at Gurney's Montauk Resort & Seawater Spa.
For wine and cheese lovers: Thousand Islands-Seaway

Courtesy River Rat Cheese
Fall at New York's vineyards means one thing: it's grape harvesting time! If your idea of a celebration isn't complete without the classic pairing of wine and cheese, then the Thousand Islands-Seaway is the place to be. 
Try fresh cheese curds that squeak between your teeth or sample New York cheddars aged to perfection at River Rat Cheese (pictured), located just a block away from the beautiful St. Lawrence River. Bella-Brooke Vineyard has a charming tasting room located in a renovated late 1800s barn and a covered deck to enjoy the serene setting. Taste hand-crafted wines and take in views of the beautiful vineyards at Otter Creek Winery or savor the flavors of the award-winning wines at the Thousand Islands Winery's historic farmstead located beside the mighty St. Lawrence River. 
To enjoy even more magnificent waterfront views, stay at the 1000 Islands Harbor Hotel which is within walking distance to shops, restaurants, and the Antique Boat Museum.
Cooler temperatures mean sweater weather, hot cups of tea, and of course—apple season! Whether they're in pies, cider, or munched right after picking, apples are always a palate pleaser. Some of the best apple orchards are situated right outside of New York City, in the beautiful Hudson Valley.
Dr. Davies Farm is home to more than 5,000 apple trees spread across 65 acres. Picking poles are available, but the kiddies should be able to manage as the orchard has plenty of low-hanging fruit. (The farm is cash-only.) With gorgeous views of the Catskills in the background, you can pick-your-own apples in September and October at Greig's Farm. For lunch, hit up the cafe for a classic burger or pulled pork sandwich and stop in at the market to stock up on Hudson Valley produce, cheeses, meats, and seasonal pies. Hurd's Family Farm caters to the season. Expect plenty of apple-picking opportunities, a two-acre corn maze, a playground, nature trails, and a cow-train ride. Kids can jump for joy on a bounce air pillow, meet farm animals, feed fish off a dock, and take on a giant slide.
For adults, Bad Seed Co and the Angry Orchard brew delicious and crisp hard apple cider, and they offer tastings, tours, special events, and more.
Stay at the idyllic Victorian castle resort Mohonk Mountain House, or if romance is the theme to your weekend, look no further than Mount Merino Manor—check-in, relax, and take it all in.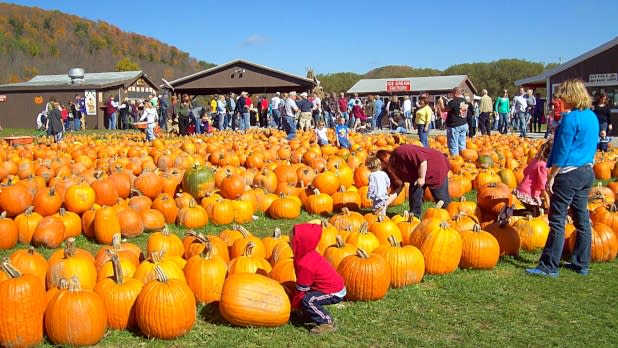 It's not fall unless we've ventured to the pumpkin patch, and as anyone who's enjoyed a pumpkin-spiced coffee can tell you, these gourds aren't just for decoration. Pumpkinville has pumpkin lovers covered, with pumpkin pies, cookies, bread, muffins, and donuts, as well as plenty of seasonal fun like a corn maze and hayrides. Awald Farms also offers plenty of pumpkin-based treats, as well as a pickable pumpkin patch and berry farm. They offer a selection of fresh fruit, vegetables, homemade jams, jellies, crafts, and more. (It's never too early to start holiday shopping!) 
Stay nearby at the gorgeous and historic Heather's Inn or the lake-facing Chautauqua Harbor Hotel—make sure you take time to relax on the lawn and view a stunning sunset.
For sweet teeth: Buffalo

Credit: Platter's Chocolate
As the weather shifts from warm summer days to the crisp autumn air, the Buffalo-Niagara region delivers an entirely new seasonal experience. For the sweet tooth in us all, Buffalo is a perfect destination this fall. From chocolate to ice-cream, Buffalo is not to be missed.
Start at Platter's Chocolates with a walking tour of the factory that highlights the history, production, and art of chocolate-making. Tour participants will see each step of the chocolate-making process, talk with chocolate experts, and enjoy samples of Platter's famous sponge candy—a crunchy sweet unique to the region. King Condrells promises "to make your sweet tooth smile." Try the Buffalo Snowballs, Buffalo Chips, or the Sea Salt Caramel Shakes. Anderson's Frozen Custard has handmade ice cream, signature frozen custards, and a featured sweet of the month.
If all that candy has given the kiddies an energy boost, walk off the chocolate with a hike at Eternal Flame at Chestnut Ridge or Knox Farm Skate Park. Visit Akron Falls Park where you can bike through the woods or play baseball or softball. Take in all that nature has to offer with a stroll through the Reinstein Woods Nature Preserve.
Check in for the night at the historic Roycroft Inn or the luxurious boutique hotel Mansion on Delaware.

Credit: Paola + Murray
With so many local farms and farmers' markets, and the rise in popularity of local eating, the Catskills has become one of the top culinary escapes in the nation.
While exploring the beautiful Catskills this fall, there are a few farm-to-table restaurants not to be missed. The Heron in Narrowsburg is open for brunch and dinner and incorporates the agricultural resources of the region into its menus as much as possible. Deer Mountain Inn in Tannersville offers rustic and luxurious lodging, as well as an excellent menu with a variety of simple and small plates with locally sourced ingredients. Peekamoose Restaurant & Tap Room is the founding establishment of farm-to-table restaurants in the Catskills and has paved the way for many. The Arnold House Tavern in Livingston Manor has a cozy pub-like atmosphere and a standout menu with ingredients like trout straight from the Beaverkill River.
Lucky Dog Farm & Café utilizes fresh, local, and organic ingredients, many of which come from the Lucky Dog Farm.
Scribner's Catskill Lodge offers comfy and classic country accommodations with breakfast served daily, cooked by your hosts with love and ingredients from right down the road. While you're there, there's no shortage of outdoor adventures to keep you entertained (and help you burn off some of that delicious food.)
Cooperstown is a lakeside getaway perhaps best known for the Baseball Hall of Fame, but it also has a rich brewing history. Upstate New York has been fertile ground for American hop production since before Prohibition, and the culture stands strong all these generations later.
Start sipping your way through Central New York's best brews at Brewery Ommegang, where you can grab a bite from the cafe or embark on a guided tasting at one of New York's best Belgian-style craft breweries. If you can pull yourself away from all that deliciousness, continue on to nearby Council Rock Brewery, then pop over to Cooperstown Brewing Company before ending your day lakeside with a burger and pint at Hawkeye Bar & Grill.
The area's most famous non-beer attraction is, of course, the Baseball Hall of Fame, definitely worth a visit while in town. But there's plenty more to see, including the historic Farmers' Museum, the Fenimore Art Museum, fishing on Otsego Lake, and hitting the links (or perhaps just the spa) at the Otesaga Resort Hotel. Another option for those looking to make a weekend of it is the nearby Lakes 'N Pines Motel, offering hours of entertainment with water sports, paddle boats, fishing, and swimming in both indoor and outdoor heated pools.
If you love a beer, and are ready to take relaxation to the next level, a trip to Cooperstown is perfect for you this fall!
---
Share New York State adventures with us on TikTok, Instagram and Twitter with #ILoveNY and #iSpyNY, and tag us on Facebook!