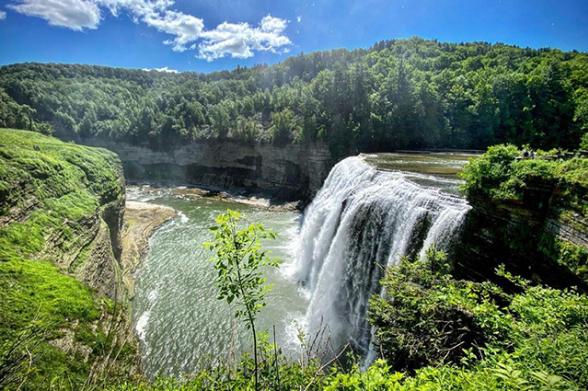 Credit: @kb.hikes on Instagram
Summer is the time to create long-lasting family memories in New York State. Exciting opportunities for fun await, from state-of-the-art theme parks to activities on the water to kid-friendly picturesque parks. Thrill-seeking families will find mountain coasters and those in search of relaxation can visit beaches or take gentle hikes to waterfalls. There's literally something for everyone to make a New York State family vacation one of the most memorable of a lifetime.
Masks are encouraged, but optional in most settings per New York State guidelines. Individual businesses or attractions may require mask wearing. Call ahead and check websites and social media to make sure attractions and amenities are open and available.
Originally Published 05/27/2021 | Updated 07/11/2023
See the "Grand Canyon of the East" at Letchworth State Park (Greater Niagara)
With the Genesee River roaring through a gorge over three major waterfalls and between cliffs as high as 600 feet, it's no wonder Letchworth State Park is known as the "Grand Canyon of the East." Within the park's more than 14,000 acres, you'll find over 66 miles of hiking trails, as well as trails for horseback riding and biking, in addition to opportunities for whitewater rafting, kayaking and hot air ballooning. Grab a bite to eat at the nearby Whistling Farmer Pub, then stay overnight at Letchworth's Glen Iris Inn or take advantage of the park's tent and trailer campsites. There's also a mile-long Autism Nature Trail, which features eight different stations, including cuddle stations, alone zones and several spaces for physical activities.
Get Up Close with Art, History, and Nature in the Hudson Valley (Hudson Valley)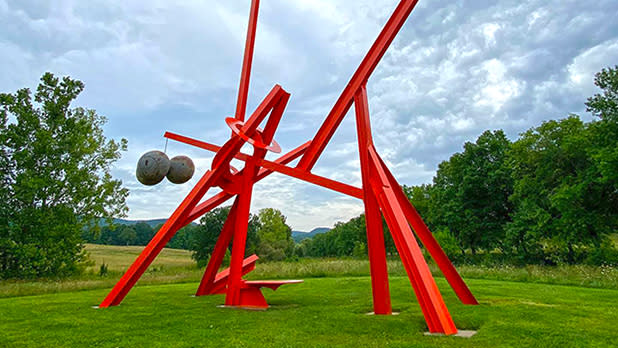 How many different ways can you say "amazing"? That's what you'll be asking when you visit Storm King Art Center (pictured) in New Windsor, a 500-acre outdoor museum where visitors experience monumental large-scale sculptures and site-specific commissions and the harmonious yet dramatic interaction between the sculptures, the sky, and the surrounding landscape. Also in the area is the National Purple Heart Hall of Honor, which collects, preserves, and shares the stories of Purple Heart recipients (members of the American Armed Forces who have been wounded or killed by enemy action) for all conflicts for which the award has been available. Nearby in Mountainville, Schunnemunk State Park features more than 3,300 acres of rolling meadows, and spectacular mountains where hikers encounter elevations up to 1664 feet and thrilling 360-degree views of adjacent valleys, portions of the distant Hudson River, and surrounding forest and farm lands. Looking for something to eat? Cosimo's On Union in nearby Newburgh features pasta, meat, and fish dishes all based on traditional recipes and elevated by sourcing the finest available local ingredients.
Ride the Rides, Eat Fun Foods, See a Concert at the Great New York State Fair (Finger Lakes)
The 2023 Great New York State Fair will take place August 23 - September 4 in Syracuse, with thrilling amusement rides, games, and attractions for all ages on the Midway, and so much more! See daily concerts from pop, rap, country, and rock acts including REO Speedwagon, Tyler Hubbard, Theory of a Deadman, George Thorogood and The Destroyers, and Chubby Checker, to name only a few. Sample tasty treats from the Fair's iconic culinary experiences such as the Pizze Fritte and sausage sandwiches, and wash them down with a wine slushie. Check out the farm animals on display and learn about New York's agriculture. The Great New York State Fair is back!
Cruise Down Mt. Van Hoevenberg on the Cliffside Coaster and Visit Lake Placid (Adirondacks)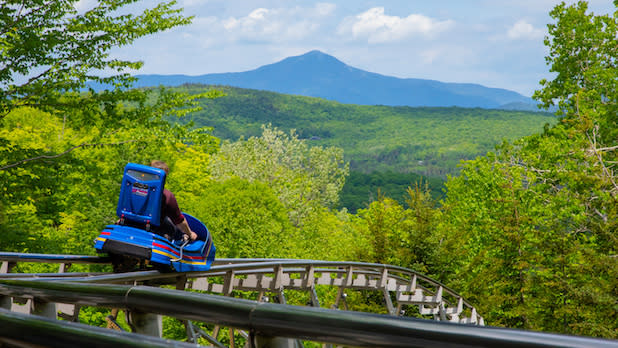 Take an exciting ride down Mt. Van Hoevenberg on the Cliffside Coaster. Enjoy a scenic ride to the top, then zig and zag along the tracks on the longest coaster ride in the United States. Control the coaster's speed as you descend, taking in the scenic beauty of the Adirondacks and views of Olympic sites like the bobsled track. Next, explore the Olympic Center and Museum up close and visit shops along Main Street in Lake Placid. Drive about five minutes and take in some history with a visit to the John Brown Farm State Historic Site, celebrating the life and achievements of the famed abolitionist. Nearby Mirror Lake offers all sorts of water activities; rent a kayak, paddle boat, or try a hydro-bike (like a floating bicycle) at Mirror Lake Boat Rentals. Once you've worked up an appetite, have a burger or fried chicken sandwich at family-friendly favorite Lisa G's.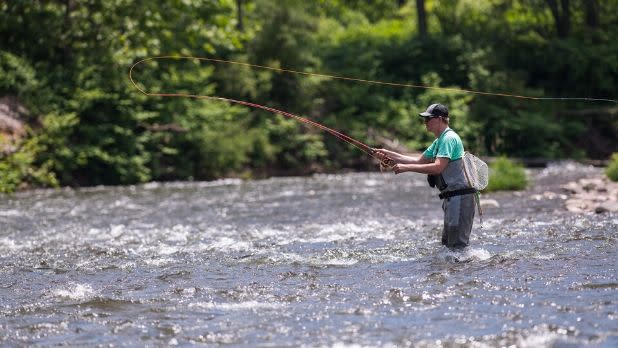 Whether you're looking for a relaxing and tranquil day fly fishing or a more adventurous trip centered around sport fishing, New York has endless options of places to cast a line. Experience fly fishing in the birthplace of the sport, in the Catskills, or explore Lake Ontario and its tributaries, including the Salmon River, in the Finger Lakes. Long Island features fishing in the Atlantic Ocean, the Long Island Sound, and many bays where you can fish amid scenic beauty. New York's Department of Environmental Conservation has information about fishing licenses as well as guides to the state's 70,000 miles of rivers and streams for freshwater fishing, as well as details about saltwater fishing in New York State.
See a Castle, Antique Boats, and More in the Thousand Islands (Thousand Islands-Seaway)

Credit: George Fischer
This 120-room Rhineland-style Boldt Castle and yacht house are one of the Thousand Islands' top attractions. In 1900, millionaire George Boldt commissioned a six-story castle for his wife, Louise. When Louise passed in 1904, Boldt was too heartbroken to continue construction. Restored in the 1970s, the castle today offers visitors a unique look into a storybook setting. While in the Thousand Islands, don't miss the Antique Boat Museum in Clayton, the largest collection of antique and classic boats on display in North America, home to over 300 unique and beautifully-preserved vessels. Families love taking a speedboat ride through the islands in a triple cockpit runabout. The Clayton area also offers an 18-hole mini-golf course, bumper cars, bumper boats with water blasters, and more at River Golf Adventures, and horseback trail rides. For casual dining on the St. Lawrence River, check out Bella's (open May through October) for breakfast or lunch.
Become One With Nature in Tupper Lake (Adirondacks)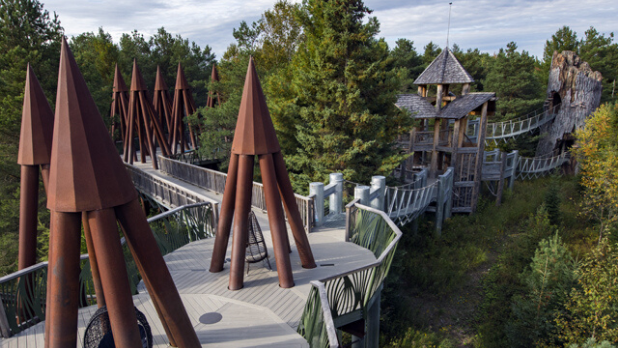 For a great all-day outdoor experience, head to the Adirondacks and the 115-acre Wild Center & Wild Walk. You and your family will get closer to the natural world with trails, guided canoe trips on the river, and a staff ready to show you around and answer questions about the wild world of the region. The star of the Center's outdoor experience is the Wild Walk, with more than 1,000 feet of bridges and platforms rising over the top of an Adirondack forest, with a four-story treehouse, swinging bridges, a spider's web where people can hang out, and a giant-sized bald eagle's nest where one can look over the Adirondacks from a rare point of view. For more hiking, start a leg of the Tupper Lake Hiking Triad, a family-friendly three-mountain effort that's the perfect entry for new hikers. The mountains, Mount Arab, Coney Mountain, and Goodman Mountain, are all a short drive from Tupper Lake and range in duration from one to 1.7 miles. End your day with great Italian food at great prices at Little Italy Restaurant & Pizzeria in Tupper Lake.
Explore Craft Brewing at its Finest with a Visit to Brewery Ommegang and Cooperstown (Central New York)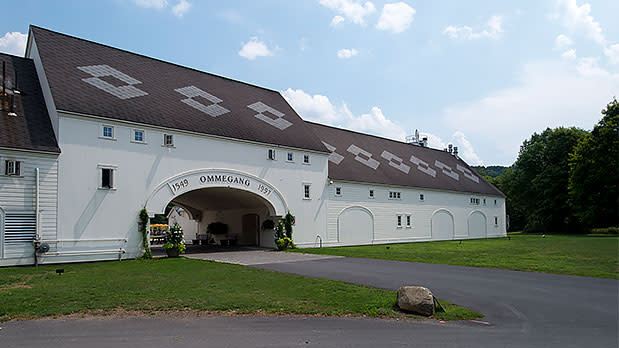 ​
Cooperstown's hometown Brewery Ommegang, open since 1997, is a pioneer in craft brewing with an international following by beer connoisseurs. Ommegang is located on a 136-acre farmstead that includes the brewery and expansive grounds that feature lively events like "Fire Pit Fridays." There's also the 100-seat Cafe Ommegang, which offers a menu featuring Belgian-inspired delights and many locally grown ingredients, with food and drink for the whole family to enjoy. While in Cooperstown, explore the birthplace of baseball with a visit to the National Baseball Hall of Fame and Museum. Located in the village, this world-famous museum has preserved the National Pastime's history, honored its excellence, and connected generations. For another activity, you might wish to step back in time and show the kids how people lived back in the mid 19th century at The Farmers Museum, enjoy the beautiful scenery on the Cooperstown and Charlotte Valley Railroad, and recreate at Glimmerglass State Park.
Experience the Thrill of Racing Days in Saratoga Springs (Capital-Saratoga)
Saratoga Race Course offers summer race days that are fun for the whole family, from watching the thrilling horse races to exploring the historic facilities and grounds, which date to 1863. The summer meet season runs July 13–September 4, so plan a weekend visit now! While in the area, check out Saratoga Spa State Park, with fun recreational activities for all ages. Families enjoy swimming, and golfing along with hiking, biking, and fishing. Completing this great family destination, the park is also home to two museums, a resort and spa, and a performing arts center, as well as a museum dedicated to automobiles. Be sure to grab a bite to eat at one of the many fine local restaurants, like Hattie's Restaurant, which has been serving delicious Louisiana-style favorites including fried chicken, fried catfish, jambalaya, gumbo, slow-cooked spare ribs, and more since 1938.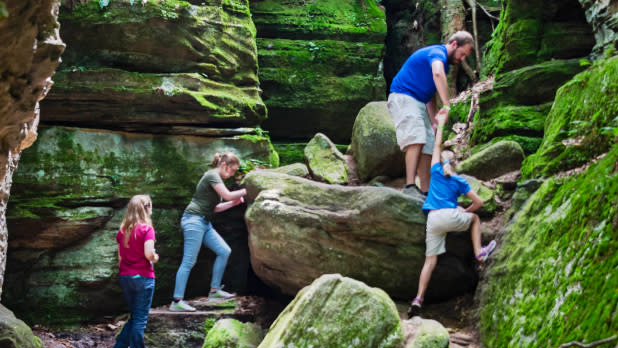 Step WAY back in time and experience 15 acres of the Paleozoic ocean floor at this incredible scenic park established in 1885. Natural attractions to explore include towering rocks and cavernous dens, where the tortured roots of ancient hemlocks snake between ancient rocks that erupt from the earth to stand 60 feet tall. You can hike the trails around the rocks and navigate through the nooks, crevices, and caves, and the park includes informational signs that explain the geology, as well as an educational treasure hunt for the kids, and picnic tables for lunch. A short drive away, Chautauqua Institution comes alive each summer with a unique mix of fine and performing arts, lectures, programs, classes, and community events for all ages—all within the beautiful setting of a historic lakeside village. Hungry? Try the Dutch Village Restaurant & Gift Shop in nearby Clymer for a terrific variety of American foods, from chicken and steak to fish and burgers.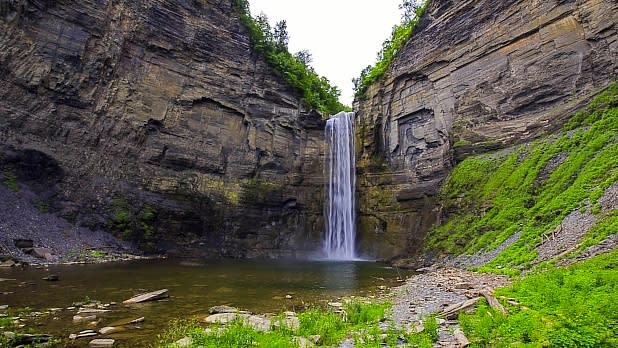 Chase some waterfalls this summer and head to the most famous Finger Lakes state park, Watkins Glen State Park, where you will be left spellbound as you follow the glen's stream, which descends 400 feet past 200-foot cliffs and generates 19 waterfalls along its course, all within a two-mile area! You might also want to head a little northeast to Taughannock Falls, one of the highest falls east of the Rockies, where the water drops 215 feet and you can swim, camp, and picnic, as well as enjoy an annual lakefront summer concert. For a delicious 'cooling off,' visit Sunset View Creamery, just 10 minutes from Watkins Glen for tasty ice cream, and some "cow cuddling," a 30-minute experience that recognizes the calming influence of these docile creatures. Unwind with a Captain Bill's cruise on Seneca Lake, and enjoy great food and drink at Rooster Fish Pub on the south end of Seneca Lake.
Feel the Rush of Waterfalls and More in and Around Niagara Falls State Park (Greater Niagara)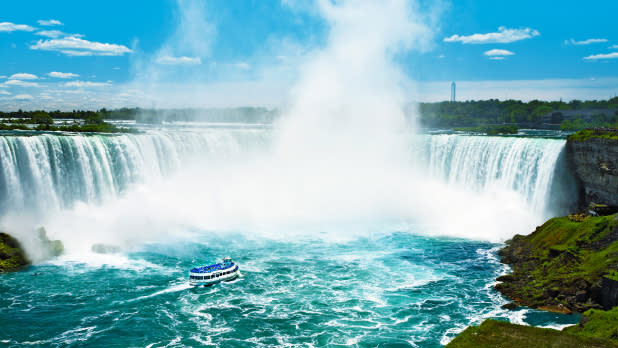 The oldest state park in the United States, Niagara Falls State Park offers some of the most jaw-dropping views in the country. This Frederick Law Olmsted-designed park is located on 400 acres of lush terrain where you'll find protected wildlife and an array of exciting activities and fantastic attractions. The landscape architect also designed Central Park and created a wonderland that surrounds Niagara Falls and includes gardens, more than 15 miles of hiking trails, and stunning views at every turn. Take the Cave of the Winds tour and hike near the base of Bridal Veil Falls, or don a rain slicker and boat around the bottom of the gorge in the famed Maid of the Mist (pictured). An ocean of discovery awaits nearby at the Aquarium of Niagara, where you can visit rescued marine mammals, watch penguins play, and even touch and interact with sharks and stingrays! For dinner, find family-friendly fare such as award-winning Banh Mi Nachos (fried wontons with Vietnamese pulled pork) and a build-your-own-burger, and for the adults, a wide variety of New York State craft beers at Griffon Gastropub Niagara Falls.
Take in a Sunset at Selkirk Shores State Park and Experience History in Sackets Harbor (Thousand Islands-Seaway)
Outstanding fishing, popular hiking and biking trails, and spectacular sunsets over one of the Great Lakes make a visit to Selkirk Shores State Park a must for lovers of beauty and adventure. Extend your stay at a campsite or cabin rental along Lake Ontario. While in the area, take a trip to Sackets Harbor, where you can see the historic battlefield that was the site of two battles during the War of 1812, and which features summertime guides dressed in military clothing of 1813 reenacting the camp life of the common soldiers. Stop for dinner at the historic Sackets Boathouse Restaurant & Bar. It was originally a boathouse built in the 1940s and has spectacular views of the harbor.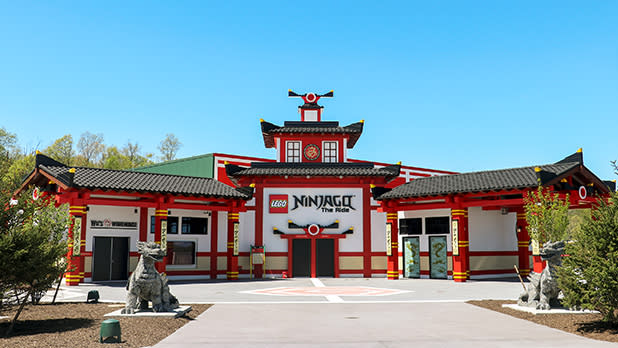 Opened in 2021 in New York State, LEGOLAND New York Resort in Goshen is the ultimate LEGO® theme park destination for kids ages 2–12 and their families! With more than 50 rides, shows, and attractions on 150 acres it's the largest LEGOLAND theme park in the world. [Visit 8 Reasons the LEGOLAND Theme Park Should Be Your Next Summer Vacation for more.] While you're in the area, hike the trails along the waterfalls of Neversink Gorge. There are both easy trails for beginners and moderate trails for those with more hiking experience. In the evening, enjoy American cuisine at Delancey's while you overlook the historic horse track in the dining room.
Hit the Beach and Go Hamptons Hopping (Long Island)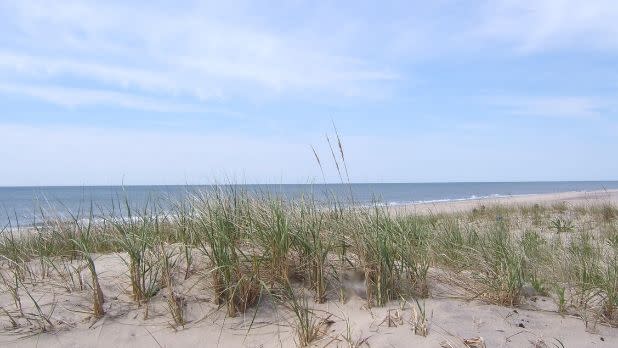 With white sandy shores and the backdrop of nature and historic mansions, Coopers Beach (pictured) in Southampton is often rated among Dr. Beach's Top Ten Beaches in America, consistently named on other listings of America's Top Ten Beaches, and perfect for you and your family. The beach boasts full facilities including concessions, a bathhouse, and chair and umbrella rentals. The celebrity-famed resort area of the Hamptons on the South Fork offers an array of year-round activities. Delve into history and art at museums including the Sag Harbor Whaling and Historical Museum, and the Parrish Art Museum. Shop or window-shop at the various boutiques, and dine at family-friendly restaurants like RUMBA, serving up a unique combination of Island-inspired food and premium handcrafted rum libations on the Shinnecock Bay (accessible by boat). 
Have Fun Along the Hudson River in Manhattan (New York City)

Credit: @usa.fotos on Instagram
Discover and explore a legendary aircraft carrier at the Intrepid Sea, Air & Space Museum, featuring the space shuttle Enterprise, the world's fastest jets, and a guided missile submarine at this amazing waterfront museum on New York City's West Side. Onboard the carrier, families can interact with history through hands-on exploration, stories of heroism, and firsthand accounts of the people who were there. While you're on the West Side's waterfront area, visit Little Island, opened in 2021, which enchants visitors of all ages with its unique design, programmatic offerings, and pathways leading to outlooks with extraordinary cityscape views high above the water. Another good way to get above it all is at the High Line, a public park built on a historic freight rail line elevated above the streets on the West Side. Feeling sporty? The West Side's Chelsea Piers Sports & Entertainment Complex, a 28-acre sports village with plenty of excitement for the whole family, features the Golf Club, Manhattan's only year-round outdoor driving range; two indoor ice rinks; batting cages; and much more. Satisfy your appetites with a memorable culinary and cultural experience at City Winery, a unique stop combining a fully functioning winery with intimate concerts, food and wine classes, and fine dining.
---
Share photos of your New York adventures on Instagram and Twitter with #ILoveNY and #iSpyNY and tag us on Facebook!