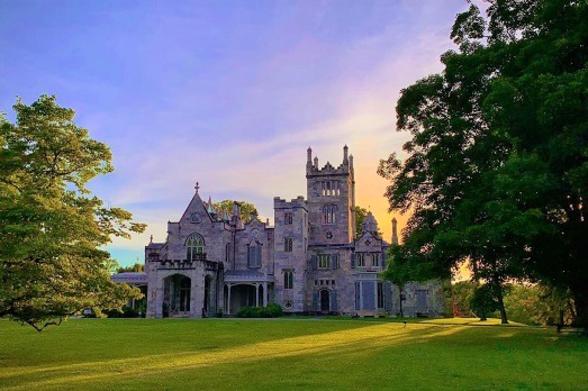 Credit: @jahv on Instagram
Magnificent landscapes, historic estates, eclectic museums, art in unique settings, Gilded Age mansions, and a renowned food scene — the Hudson Valley truly has it all. Though it boasts million dollar views that attracted the nation's richest families and inspired some of the greatest works of American art, exploring one of National Geographic Traveler's Top 20 must-see places of the world without breaking the bank has never been easier. 
Masks are encouraged, but optional in most settings per New York State guidelines. Individual businesses or attractions may require mask wearing. Call ahead and check websites and social media to make sure attractions and amenities are open and available.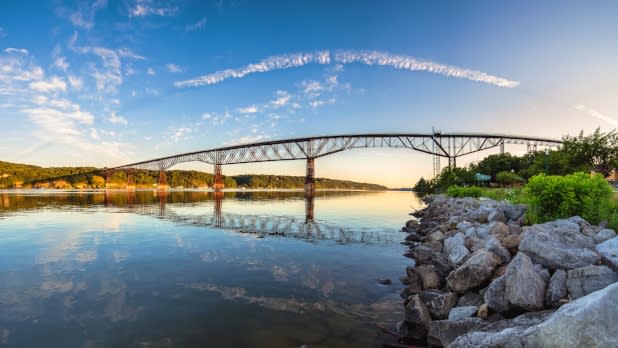 The world's longest elevated pedestrian bridge stretches 212 feet above the majestic Hudson River on the site of a former railroad bridge built in 1888. You can walk, jog, bike, or rollerblade your way across free of charge for priceless views of the river, Catskill Mountains, and resplendent landscape. Find everything from coffee to kettle corn on both sides of the bridge, where food trucks and vendors set up shop in warmer months. Treat yourself to some ice cream at Frozen Caboose on the Highland side.
2. Hike the Appalachian Trail
The Appalachian Trail stretches 2,190 miles from Georgia to Maine, with nearly 100 of those miles running through the Empire State. In fact, the first section of the trail opened in 1923 from Bear Mountain State Park (pictured) to Harriman State Park and hikers can still trek this historic path filled with tranquil lakes and awe inspiring vistas. Bear Mountain State Park also features a Merry-Go-Round with hand-carved animals and the Trailsides Museum and Zoo where you'll find reptiles, fish, bears, and the lowest elevation point on the entire Appalachian Trail at 124 feet. (Vehicle and attraction fees may apply.)
3. Experience the best of Beacon
Rich in history and small town charm, plan the perfect day trip to Beacon on the eastern shore of the Hudson River just a 90-minute Metro-North train ride from NYC. Once you're in town, the Beacon Free Loop shuttles you to all the hotspots at no cost. From Hudson Beach Glass to Glazed Over Doughnuts, Main Street is packed with shops and food spots to pop into. Get a change of altitude on Mount Beacon, the highest peak of Hudson Highlands, where you can hike along the abandoned tracks of what was once the world's steepest incline railway, past the ruins of an old hotel and casino, and up a fire tower for stunning 360-degree views.
Dia:Beacon (pictured) is a top destination for art lovers. This former Nabisco box printing plant now houses an impressive collection of artwork from the 1960s to the present. Tickets are $20 for ages 12 and up, $5 for kids ages 5-11, $12 for students, and $12 for visitors with disabilities (with free admission for accompanying care partners). Get discounted rail and admission tickets with an MTA Away. Hudson Valley residents receive free admission to Dia:Beacon on the last Sunday of each month. 
4. Visit a brewery, cidery, winery, or distillery
Taste the Hudson Valley terroir at picturesque wineries, rustic cideries, hopping breweries, and innovative distilleries without breaking the bank. Nationally-recognized Angry Orchard has cider flights for $12 (barrel room tours are $25), Hudson Ale Works serves up beer flights for $10 and a la carte tacos for $3.50, and Tuthilltown Spirits Farm Distillery (pictured) offers a $12 self-guided tasting tour plus a quaint spot for a relaxing picnic with the sights and sounds of the Shawangunkill River. Find palate pleasing wines and wow-worthy views along the 80-mile Shawangunk Wine Trail, featuring $15 tastings at Brotherhood, America's old winery, and $12 tastings with a souvenir glass at Clearview Vineyard.
5. Make new friends at the farm or zoo

Photo Courtesy of Dutchess Tourism, Inc.
Go where the wild things are at Trevor Zoo (pictured) in Millbrook, the only zoo in the country located on a high school campus. From bobcats to red pandas, meet the 80 exotic and indigenous species from five different continents cared for by students in exhibits spread across six acres. (Admission: $6 adults, $4 kids ages 4 to 12, $4 Seniors 65+, Free for children 3 and under.) Have a legen-dairy time at the 777-acre Muscoot Farm in Katonah. Visit the farm museum, explore historic buildings, hike scenic nature trails, and make friends with adorable barn animals at this interpretive farm that's all about family and fun. Best of all, it's free! Drop by for an hour or stick around a while to bond with the cows, horses, donkeys, sheep, goats, chickens, turkeys, ducks, and pigs.

Credit: Courtesy of Ulster County Tourism
It won't cost you a penny to get those endorphins and dopamine levels up exploring this trail that runs along the rail bed of the former Wallkill Valley Railroad between Gardiner and New Paltz. Hikers, joggers, bikers, and horseback riders will encounter a variety of birds and wildlife along with stunning views of the Shawangunk Ridge and the Wallkill River while winding through forests and fields. Snowshoers and cross-country skiers can even enjoy the trail in the winter. Marvel at manmade landmarks like the Rosendale Trestle, an enormous restored bridge that's more than 100 years old and 940 feet long, and the iron Springtown Bridge (pictured) in New Paltz that fans of the movie A Quiet Place are sure to recognize.
7. View art under the open sky

Credit: @wunderlust on Instagram
Fresh air, blue skies, and art as grandiose as the land it stands on? That's what's in store when you visit Hudson Valley's sculpture parks! The 120-acres of fields and forest at Art Omi (pictured) in Ghent are punctuated by large-scale sculptures by contemporary artists that can be enjoyed on a picnic, bike ride, or stroll. Admission is free, but a $10 donation is encouraged. The PepsiCo headquarters in Purchase are home to the Donald Kendall Sculpture Garden, featuring an incredible collection of works by 20th century luminaries amid magnificently tended gardens — all of which can be enjoyed free of charge. One man, an abandoned bluestone quarry, and 40 years resulted in the epic stonework sculpture that's the centerpiece of Opus 40 in Saugerties. Admission is $11 for adults; $9 for seniors, students and veterans; and $5 for children under five. Discover over 100 large-scale sculptures as you explore the sprawling meadows, rolling hills, and woodlands by foot, bike, or tram at Storm King Art Center's 500 scenic acres on the banks of the Hudson River. Ticketing is per-vehicle with single and double occupancy rates at $23 on weekdays and $30 on weekends per person. The price is lowered by a few dollars for cars carrying three to six people; veterans and their family are offered free admission on Veterans Day (up to six people per vehicle).
8. Go mansion hopping

Credit: @jahv on Instagram
The Gilded Age is alive and well at the palatial Hudson Valley estates once home to the country's rich and powerful. Tarrytown's Lyndhurst (pictured), one of America's finest Gothic Revival mansions, sits on 67 acres overlooking the Hudson River and in its lifetime was home to a New York City mayor, wealthy merchant, and railroad tycoon. Explore the grounds for $10, opt for a grounds pass and mansion tour for $25, or experience it on a special free day on September 2. The Classical Revival-style villa Kykuit in Sleepy Hollow was home to four generations of the Rockefeller family. Visitors can see antiques, classic cars, horse-drawn carriages, immaculate gardens, and a modern art collection fit for the MoMA on a $20 tour of the 40-room mansion.
The Federal-style Boscobel, boasting one of the finest decorative arts collections, is surrounded by lush gardens, woodland trails, and spectacular views of the Hudson River and West Point. (Grounds admission: $14 adults, $12 seniors,  $7 children ages 4-18. Guided house tours $24 adults, $21 seniors, $13 children ages 4-18, free for children under 4.) The 54-room Beaux Arts style Vanderbilt Mansion, standing on 200-scenic acres, is one of the oldest Hudson Valley estates. Walk the perfectly symmetrical Italian-inspired formal gardens and soak in the "Millionaire's View" of the Hudson River for free. See how the other half lived with a $10 house tour that's free for those aged 15 and under. 
9. Explore the legend of Sleepy Hollow 
Immerse yourself in The Legend of Sleepy Hollow in the Hudson Valley village where the classic American tale was set. Visit author Washington Irving's gravesite on a free self-guided walk of Sleepy Hollow Cemetery and get a taste of mid-19th century life at the writer's two-room Dutch stone cottage Sunnyside amid picturesque grounds on the banks of the Hudson River (check website for pricing). 
Visit the Old Dutch Church and Burying Ground (free) where the Headless Horseman rose from his grave and cross the site of the bridge where the Galloping Hessian hurled his head at Ichabod Crane. En route to Philipsburg Manor, which also makes an appearance in the ghostly tale, Sleepy Hollow pays homage to the 1819 short story with an 18-foot tall steel sculpture and smaller granite carving of the Horseman chasing Crane. In October, Sleepy Hollow gets into the Halloween spirit with haunted hayrides, festive decor, and the Great Jack O' Lantern Blaze.

Credit: @d_rebz on Instagram
Head to the Culinary Institute of America in scenic Hyde Park for a behind the scenes look at the kitchens where top chefs from Anne Burrell to Roy Choi sharpened their skills. Get the CIA Experience on $15 public tours that let you explore the science of taste, connect you with chefs in training, and take you inside Roth Hall where the culinary magic happens (free campus tours for prospective students available). Indulge in exquisite dishes cooked by rising stars with a $29 prix-fixe lunch at on-campus restaurants Bocuse and American Bounty. The brewhouse also offers 25% off food Tuesday-Thursday. The Apple Pie Bakery Cafe is a casual spot for sweet and savory treats, coffee, and CIA-brewed beer (no reservations required). Walk off your meal on the nearby Walkway Over the Hudson!
11. Spend a day with the Roosevelts 
Get a glimpse into the life and legacy of the 32nd and longest-serving president of the United States at Franklin D. Roosevelt's lifelong home in Hyde Park, Springwood (pictured). A $10 guided tour will take you inside the 15-room home to learn about Roosevelt the man, while the nation's first Presidential Library & Museum provides an in depth look into his four-term presidency ($10 for adults, $6 seniors). The site is run by the National Park Service, which offers passes and discounted admissions. Explore over 1,000 acres of gardens and picturesque walking trails, see the president's personal retreat at Top Cottage, and visit the Rose Garden where Franklin and his wife, Eleanor, are buried (grounds and garden are free). Just down the road you'll find Eleanor Roosevelt's modest Val-Kill home, the only national historic site dedicated to a first lady. Access to the grounds and one-hour guided tour of the cottage are free. 
12. Learn American Revolution history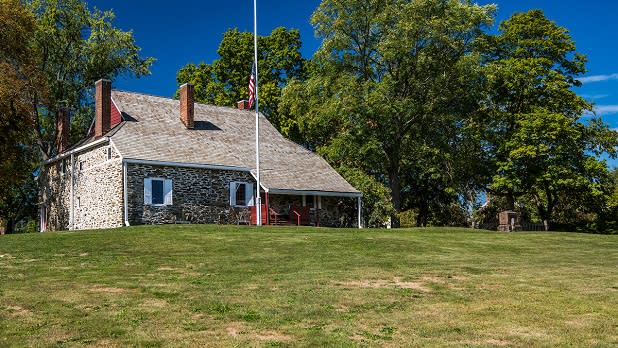 The Hudson Valley, often described as "the landscape that defined America," played a central role during the Revolutionary War. Visit the site of one of the last battles in the northern colonies at Stony Point, where you can take a free self-guided tour of the 88-acre grounds, which includes a museum and the first lighthouse built on the Hudson River. In Newburgh, visit the fieldstone farmhouse that served as George Washington's headquarters (pictured) in 1782 and 1783 and tour the rooms where history was made in the critical months of the American Revolution ($7 adults, $5 students and seniors, free for children 12 and under). The West Point Cemetery, on the grounds of the US Military Academy, served as a burial ground for American Revolutionary War soldiers and early West Point inhabitants long before 1817, when it was officially designated as a military cemetery. Explore military history and walk the paths of generals and presidents on a tour ranging from $19 to $22.
13. Explore unique museums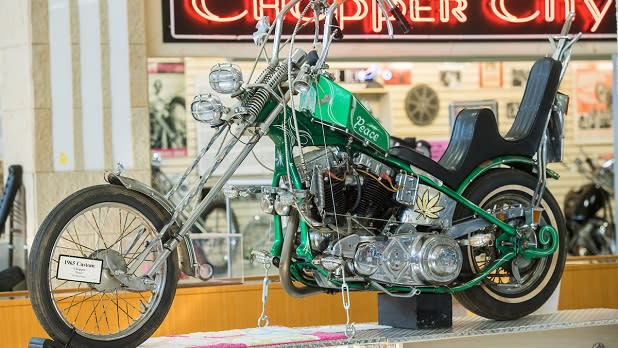 There's plenty of fun and learning to be had at unique Hudson Valley museums. Get your motors running at the 85,000-square-foot Motorcyclepedia Museum (pictured) featuring more than 650 motorcycles built since 1897. On Thursdays, admission is free for those 17 and under and just $5 for everyone 18 and up. The sky's the limit at Old Rhinebeck Aerodrome Museum & Air Shows, home to one of the country's largest collections of antique airplanes and thrilling air shows featuring vintage World War I era biplanes (museum admissions is free for children 5 and under, $8 for youth ages 6-17, seniors ages 60 and over, and active or retired military members, and $12 for adults 18+; air show and museum costs extra).
In Hudson, explore the history, culture, technology, and service of firefighting at the FASNY Museum of Firefighting ($12 adults, $8 children ages 3 and older, free for children under 3) and Kingston is home to the Hudson River Maritime Museum (save with the family rate which covers 2 adults and children under 18 for $25.00) and Trolley Museum of New York ($12 adults, $10 seniors, children ages 6-12, first responders, active military personnel, and veterans, and free for children up to age 5).

Credit: @its_jb0 on Instagram
Travel back centuries on this well-preserved French settlement in New Paltz as you explore 300 years of history with a stroll along Historic Huguenot Street. Gaze at this 10-acre site's beautifully preserved 17th-century stone homes, buildings including a reconstructed 1717 French church, and artifacts. Download the free Historic Huguenot Street Walking Tour app for a look at what's inside. Guided tours are $12 for adults, $10 for seniors, students, and children under 13: $10, and free for veterans, active military families, and children under 6.
15. Visit the homes of Hudson River School artists 
The natural beauty of the Hudson Valley gave birth to the first great American art movement. Visit the Thomas Cole National Historic Site to see the sweeping views of the Catskill Mountains that inspired the famous paintings by the Hudson River School founder. Explore the gardens and grounds at no charge; guided tours of Cole's home and studios are $18. You'll enjoy even more Hudson Valley views from hundreds of feet in the air as you make your way across the Hudson River Skywalk to artist Frederic Edwin Church's greatest masterpiece, Olana State Historic Site (pictured). Olana's 250-acre artist-designed landscape features five miles of carriage roads and a Persian-inspired house at its summit. The grounds are free and open daily from 8am to sunset; guided tour prices vary.
---
Share New York State adventures with us on TikTok, Instagram and Twitter with #ILoveNY and #iSpyNY, and tag us on Facebook!