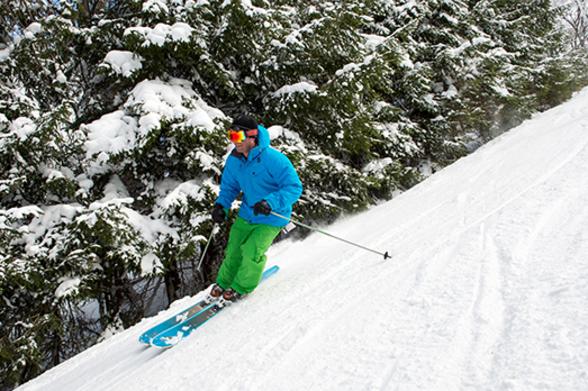 Plan a winter getaway in New York to take advantage of world-class museums, thrilling outdoor adventures, and so much more! You won't have to travel far to find a suitable and unique diversion, whether you're looking to go cross-country skiing amid outdoor sculptures, drink locally-made craft beer by a fire, or visit a hidden gem attraction or a natural (winter) wonder. 
Masks are encouraged, but optional in most settings per New York State guidelines. Individual businesses or attractions may require mask wearing. Call ahead and check websites and social media to make sure attractions and amenities are open and available.
Originally published: 11/17/2020
New York City | Long Island | Hudson Valley | Catskills | Capital-Saratoga | Central New York | Adirondacks | Finger Lakes | Thousand Islands-Seaway | Chautauqua-Allegheny | Greater Niagara 
New York City

Credit: Anna Pakman
Bank of America Winter Village at Bryant Park (pictured): This annual pop-up shopping experience and New York City's only free admission ice skating rink turns Bryant Park into Manhattan's outdoor living room in winter. Shop for holiday gifts for family and friends, strap on skates, and take a spin around the rink surrounded by Manhattan's dazzling skyline. Bump, slide, and spin on bumper cars on the ice; Cozy up with a festive cocktail and delicious food in The Lodge, a rinkside open air, après skate escape; Or revel inside your own private igloo just steps from the iconic ice-skating rink, surrounded by midtown skyscrapers. Timed and advanced reservations required.
MoMA PS 1: This branch of the beloved Museum of Modern Art brings experimental and cutting-edge art to a spacious site in Queens. Founded in 1971, PS 1 continues to innovate today, with current exhibitions like "Rirkrit Tiravanija: A LOT OF PEOPLE" which traces four decades of the artist's career and features over 100 works, from early experimentations with installation and film, to works on paper, photographs, ephemera, sculptures, and newly produced "plays" of key participatory pieces. Advanced tickets required.
New York Botanical Garden: This is one of New York City's best hidden-gem attractions, with over a million plants spread out across 250 acres and in buildings like the historic Enid A. Haupt Conservatory, a Victorian-era glasshouse and an architectural masterpiece. The conservatory also hosts the immensely popular Holiday Train Show, featuring miles and miles of toy train tracks weaving through the displays of flora November 17, 2023–January 15, 2024. Advanced tickets required for the Botanical Garden. 
Long Island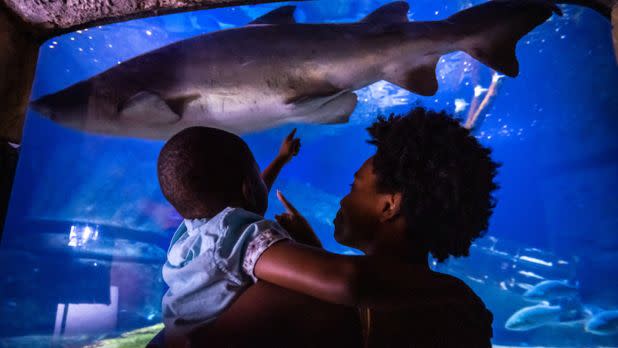 Parrish Art Museum: Housed in a show-stopping building designed by Herzog & de Meuron, the museum aims to highlight the creative legacy and global reach of the East End. 
Long Island Aquarium (pictured): Here's an experience that's fun and educational! The Long Island Aquarium features engaging indoor and outdoor exhibits that teach kids (and adults) of all ages about marine wildlife. Get up close to nature's most awesome creatures, from fearsome sharks to playful river otters—you can even sign up to take a penguin selfie! The aquarium also boasts one of the largest coral reef displays in North America, frequent sea lion shows, and interactive, hands-on displays. 
Seal Watching with Captain Lou Fleet: Bundle up and get out on the water this winter to see seals frolicking in their natural habitat! The Captain Lou Fleet seal-watching boats leave from Freeport to cruise among the winter seal habitats of Hempstead Bay. A naturalist will be on hand to discuss the area's marine biology and to explain seal behavior. Advanced tickets required. 
Cradle of Aviation Museum: This massive museum features one of the greatest collections of air and spacecraft in the world, from the biplanes used in the early days of flight to lunar landing modules that can show you what it's like to land on the surface of the moon! The museum and education center has 75 air and spacecraft on display across eight galleries and exhibitions covering topics like the Apollo moon landing, World War II, and more. 
Hudson Valley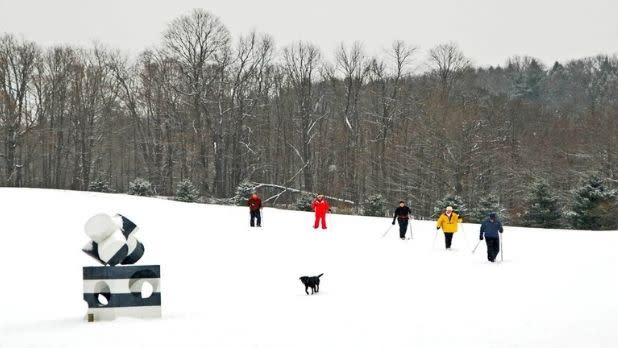 Art Omi (pictured): Every spring through fall, visitors stroll, picnic, and bike through the Fields Sculpture Park at Art Omi, with rotating exhibitions of large-scale outdoor works set amid 300 acres. In winter, this unique institution offers an unusual way to experience art when it opens its fields to cross-country skiers and its rolling hills to sledders—when the snow cooperates. Even on a cool, clear day devoid of snow, Art Omi offers an incredible opportunity to experience art outdoors, free of charge.
Katonah Museum of Art: This under-the-radar art museum in Westchester county features three to four thoughtfully curated annual shows, as well as lots of programming aimed at increasing children's exposure to visual arts. Currently on display through January, 2024, Stories of Syria's Textiles: Art and Heritage across Two Millennia which highlights textiles' outstanding contributions to Syrian culture during antiquity and between the mid-nineteenth and mid-twentieth centuries, as well as today.Advance timed entry tickets are recommended.​
Downtown Rhinebeck: A charming, walkable town dotted with historic buildings and framed with views of the Catskill Mountains, Rhinebeck is a great place to spend a day. Just two hours north of New York City by car or by train (Amtrak to Rhinecliff station, a short taxi ride away), Rhinebeck offers shopping, dining, and much more. Browse the many independent lifestyle and fashion boutiques along E. Market and other nearby streets. Make sure to leave time for antiquing at the Beekman Arms Antique Market, a multi-dealer emporium behind the historic Beekman Arms hotel, which dates back to 1776. 
Mohonk Preserve: This 8,000-acre preserve along the Shawangunk Ridge has more than 40 miles of trails for hiking, snowshoeing, and cross-country skiing on groomed carriage trails. A favorite hiking spot throughout the year, Mohonk becomes even more magical in winter, with expansive views of Hudson Valley and the Catskills mountains, and enough space to get blissfully lost in nature.  
Catskills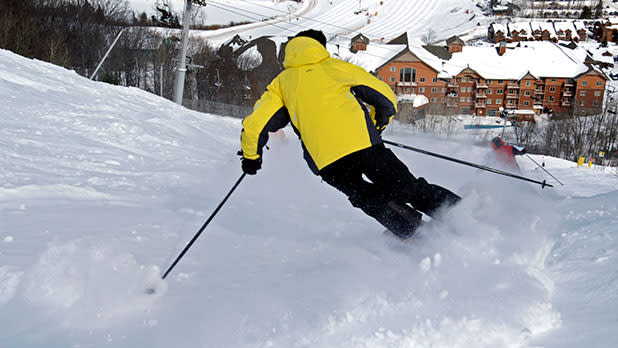 Skiing and Snowboarding: The Catskills region features some of New York's most popular skiing and snowboarding areas, including Hunter Mountain (pictured; 67 trails, 320 skiable acres), Windham Mountain Club (54 trails, 285 skiable acres), Plattekill Ski Mountain (40 trails, 112 skiable acres), Belleayre Mountain (50 trails, 174 skiable acres), and Holiday Mountain Ski & Fun Park. Many of these ski areas offer not only skiing but tubing and other family-friendly activities. Book early and aim for weekdays when possible and enjoy skiing in the scenic Catskill Mountains!
Thomas Cole National Historic Site: The 19th century English painter Thomas Cole became enamored with the Catskills after moving to the United States, painting sweeping landscapes of the region and creating what came to be known as the Hudson River School artistic style. His studio, which became his home, is now a national historic site. The grounds are open daily from dawn to dusk.
Catskill Scenic Trail: Built on former railroad lines, this 26-mile trail passes through bucolic Catskills scenery—in the woods and along the Delaware River. Its wide path makes it perfect for running, cycling, horseback riding, and, when it snows, cross-country skiing, snowshoeing, and snowmobiling.
Capital-Saratoga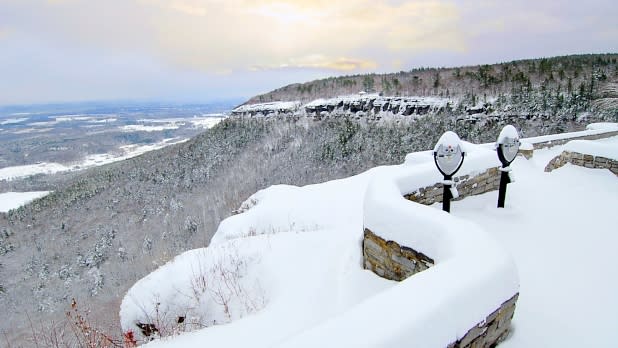 John Boyd Thacher State Park (pictured): Known for its gorgeous Hudson and Mohawk Valley views and its location along the Helderberg Escarpment, one of the richest fossil-bearing formations in the world, Thacher State Park offers a winter escape just outside of Albany. The park's nature trails meander through woodlands and meadows amid 2,155 acres. Stop in at the Emma Treadwell Thacher Nature Center to learn about the park's mineral formations, wildlife, as well as for hiking and cross-country skiing trails that start at the center. 
West Mountain: There are fun winter activities for the whole family at this ski area in Queensbury, about halfway between Saratoga Springs and Lake George, and only an hour north of Albany. Skiers and snowboarders will find 35 trails across 126 skiable acres—with over a dozen trails open for night skiing! There's also tubing on several well-maintained trails and renovated dining area for rejuvenating ski breaks. 
Schenectady Stockade Historic District: New York State's first historic district offers visitors the rare opportunity to see a neighborhood as it existed 300 years ago. This section of Schenectady has 40-plus English and Dutch houses from pre-Revolutionary times. Walk amid the history and visit several buildings and properties maintained by the Schenectady County Historical Society (advanced registration required), including the riverside Marbee Farm, founded in 1705!
Albany Institute of History & Art: Founded in 1791, this is New York's oldest museum! Known for its collection of Hudson River School paintings, the museum focuses on life in the Hudson Valley from the 17th century to present. Besides art, the institute's collection features period furnishings, personal objects of significant Hudson Valley residents, and photographs.
Central New York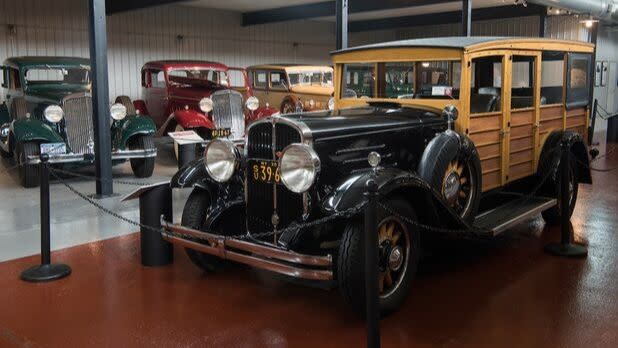 Northeast Classic Car Museum (pictured): Fans of early 20th century automobiles will love this institution, one of the largest car museums in the Northeast. The museum houses the most complete collection of cars made in New York State, including many models from the Syracuse-based Franklin Automobile Company, known for its innovations in car manufacturing in the early 1900s. Other exhibits include vehicles from the pre-war and post-war eras, all displayed in showroom condition.
Chittenango Landing Canal Boat Museum: Once an important waterway connecting New York City all the way to the Great Lakes, today the Erie Canal offers illuminating looks at history. At this museum, which features the only recovered historic dry dock in New York State along the canal, learn about how boats were built and repaired along this key route. It's located inside Old Erie Canal State Historic Park, which has a 36-mile trail along the remains of the Old Erie Canal, with landmarks such as historic bridges and small aqueducts along the way. The park also offers outdoor recreation, including fishing, bicycling, hiking, and in winter, snowmobiling. 
Schoharie Crossing State Historic Site: See the incredible ruins of the Schoharie Aqueduct at this site dedicated to the preservation and interpretation of the Erie Canal. The visitor center features the Pathway to Empire exhibit, tracing the history of the canal and its impact on the growth of New York State and the United States. Outside, the grounds offer opportunities for hiking, biking, cross-country skiing, and snowshoeing with up-close views of the Erie Canal. 
Fenimore Art Museum: Housed in a gorgeous property overlooking Otsego Lake in a house once owned by famed American novelist James Fenimore Cooper, this museum is a must-visit for American folk art fans. It is also home to the Thaw Collection of American Indian Art, which spans more than 1,000 years of art history and which has traveled to renowned institutions such as The Met for special exhibitions.
Adirondacks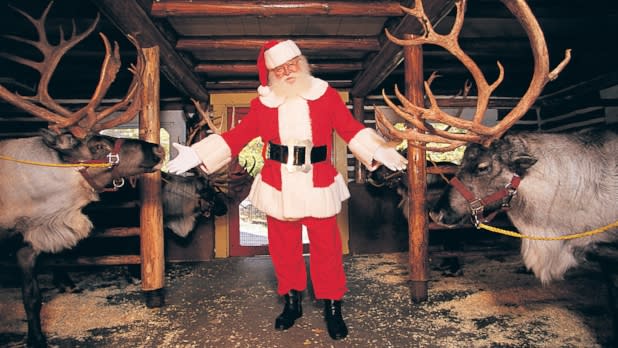 North Pole Village (pictured): As Christmas approaches, check in on Santa and his helpers at Santa's Workshop in the hamlet of North Pole Village, in the shadow of Whiteface Mountain. Started in 1949 and considered to be the nation's oldest theme park, Santa's Workshop is open year-round for fans of Jolly Old St. Nick, but it shines during the holiday season, when events like Yuletide Family Weekends help amp up the spirit. These weekends, aimed at families with children ages 2-10, delight with a visit from Santa himself and other activities. After sundown, on winter weekends, experience the Village of Lights to really get your family in the holiday spirit!
XC Ski Center at Lapland Lake: Interested in trying cross-country skiing for the first time or simply want to up your game? This Adirondacks school, founded by an Olympic cross-country skier, has rentals and lessons with trained instructors for all levels. Once you're up and skiing, prepare to ski some of the most beautiful woodland trails anywhere as you glide through the Adirondack Preserve.
Crown Point State Historic Site: Go for a walk, cross-country ski, or snowshoe amid the ruins of French Fort St. Frederic, a strategic site along Lake Champlain during the colonial wars. Originally constructed in the 1730s, the fort became a main base for the British, who built new fortifications and enclosed seven acres, making it one of the largest British forts in North America. The history, ruins, and prime location along the lake today make Crown Point State Historic Site an exciting place to visit.
Finger Lakes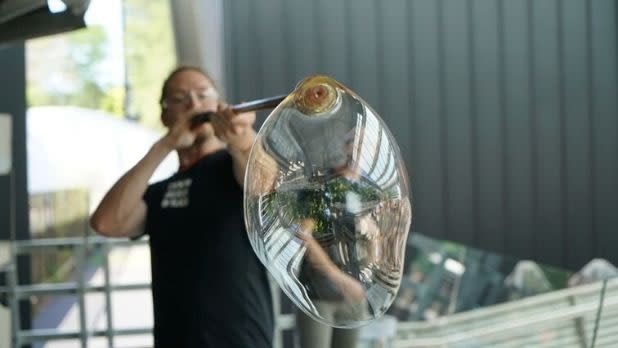 Corning Museum of Glass: Glassmaking covers a wide range of interests, including art and design, technology and science, and history—the Corning traces the practice back more than 3,500 years! It's a lot of ground to cover, and this is a large museum, where you can spend an entire day and still not see everything. The impressive glassblowing displays, extensive gallery spaces, and interactive displays regularly leave visitors awestruck, while the chance for you and your family to make your own glass—with help from the Corning's experienced glassmakers—can't be missed! Advanced tickets and reservations for activities such as glassmaking are required.
Greek Peak Mountain Resort: Greek Peak is a large ski resort with 55 trails, six aerial lifts, two surface lifts, beginners' slope, and more spread out across 220 skiable acres. The mountain also features three terrain parks and the full-service Nordic Center, with groomed cross country and snowshoe trails, and a tubing center with 15 lanes. Food and drink options, and other activities, round out the family-friendly experience at Greek Peak. 
Museum of the Earth: Ithaca's stunning natural history museum features displays such as the Hyde Park Mastodon, one of the most complete mastodon skeletons ever found, and a 44-foot-long right whale skeleton.  
Thousand Islands-Seaway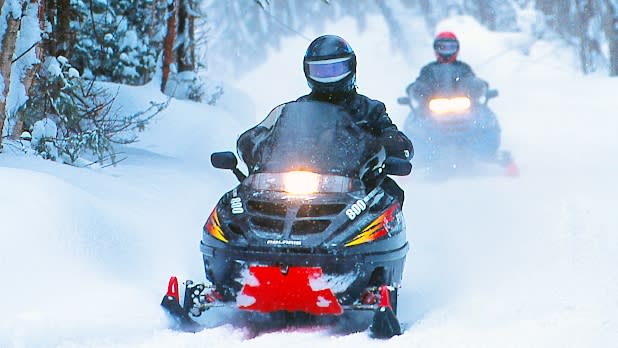 Tug Hill (pictured): This 2,100-square-mile area between Lake Ontario and the Adirondack Mountains is heavily forested and receives the heaviest snowfall in the eastern United States. This makes Tug Hill an ideal spot for snowmobiling, one of the most popular winter pastimes in this lightly populated region—it's estimated that there are only about 50 people per square mile! 
Village of Clayton: A quaint, walkable village any time of year, Clayton is a special place in winter. The waterfront setting and small-town feel are a charming combination as you shop for locally made cheeses and other food specialties at River Rat Cheese, browse at the village antique shops, and pick up a bottle of wine to go from Coyote Moon on the River, the tasting room of one of the best-known Thousand Islands wineries.
Frederick Remington Art Museum: Enthusiasts of American art must visit this museum, devoted to the 19th century New York artist known for paintings and sculptures of the Old West, Frederic Remington. Occupying an entire block in historic Ogdensburg, the museum displays the artist's original paintings, drawings, sculptures, correspondence, and personal possessions. A few minutes away is the connected Eva Caten Remington Education Center and Kid's Place, with interactive play areas and a fully stocked art studio for budding young artists. 
Dry Hill Ski Area: This ski area is less than 10 minutes from downtown Watertown, offering affordable family skiing, night skiing and snowboarding, snowtubing, and more. Enjoy live entertainment every Friday with Music @ The Hill! 
Chautauqua-Allegheny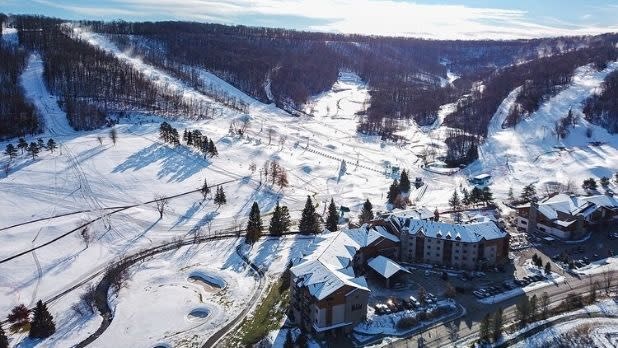 Holiday Valley (pictured): This ski area in Ellicottville offers a range of family-friendly activities, making it perfect for a quick, action-packed getaway. Skiers and snowboarders have plenty of options—Holiday Valley features 60 slopes spread out across 290 skiable acres, with 13 lifts across four different faces. There's extensive night skiing and snowboarding too, with 41 trails remaining open after dark. Further adventures include a half pipe, four terrain parks, and Holiday Valley Tubing Co., as well as the famed Sky Flyer Mountain Coaster, a rollercoaster-like experience along the mountain terrain. 
Salamanca Mall Antiques: Established in 1998, Salamanca Mall Antiques is now one of the largest in the nation, with 30,000 square feet of shopping space and more than 1,000 individual vendors and more than 1 million items. This spacious mall is a treasure-hunter's paradise and gets raves for its selection on TripAdvisor. 
Allegany State Park: This 65,000-acre state park becomes a true winter wonderland in colder months, offering outdoor adventures such as cross-country skiing and snowmobiling on groomed trails, ice fishing, bird watching, and more. The park's Red House Creek area is home to one of the most photogenic bridges in all of New York, the historic Thomas L. Kelly covered bridge. 
Fenton History Center: Named for Reuben E. Fenton, New York State's governor from 1865-1868, this history center showcases Jamestown's past as an important industrial city through to its present. Permanent exhibits focus on Jamestown's furniture industry, the evolution of children's toys, and a tribute to Lucille Ball, Jamestown's favorite daughter and the inspiration behind two other local institutions: the Lucille Ball Desi Arnaz Museum and the National Comedy Center.
Greater Niagara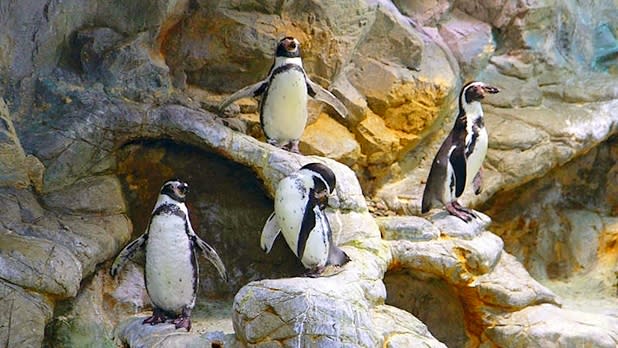 Aquarium of Niagara: If you haven't been to this gem of an aquarium near Niagara Falls, now's a great time to come see the exciting new displays. In the last few years, the Aquarium of Niagara opened its interactive shark and stingray exhibit. Come get up close with sharks, rays, and crabs, and check out the aquarium's popular Penguin Coast (pictured) and Aliens of the Sea exhibits. Don't forget to say hi to Stryker the Seal, the sea lion that predicts whether we'll have a long, cold winter or a shorter one. 
Rolling Hills Asylum: New York State has its share of haunted attractions, but this may be the spookiest of them all! The former asylum and poorhouse, built in 1827, is now the creepy centerpiece of a 60,000-square-foot complex comprising three buildings and a tunnel, not to mention the home to any number of ghosts. Watch the calendar for ghost hunt tour availability and be prepared to be scared! Advanced tickets required.
---
Share New York State adventures with us on TikTok, Instagram and Twitter with #ILoveNY and #iSpyNY, and tag us on Facebook!