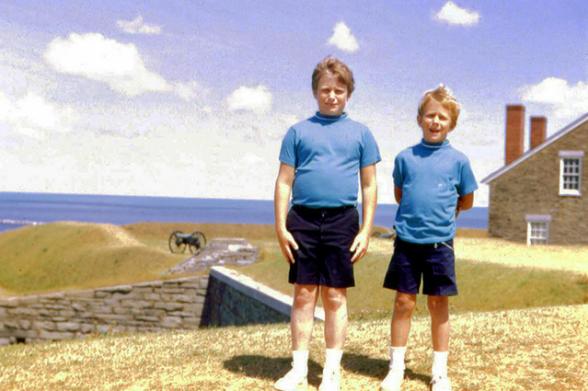 We don't know about you, but some of our best trip-inspirations come from family and friends. When we hear the words "Let me tell you about an amazing trip I took..." our ears perk up and our pencils start taking notes. Members of the I LOVE NY team have explored all corners of New York State and share some great trip tips below to inspire you as you create your own family travel memories. Remember to social distance and wear a mask as required by state guidelines. Call ahead and check websites and social media to make sure attractions are open and available.
Multi-Generational Family Fun in Lake George (Adirondacks)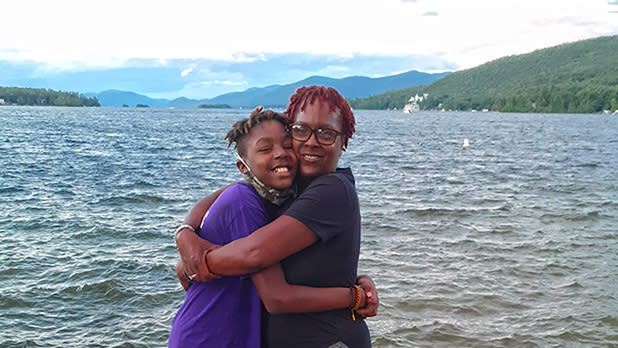 By Lynette Hughes, Admin Support Team
Lake George is hands down my favorite vacation spot and has become my regular family vacation destination. Each year, our trip is a little different—sometimes I bring my children, other years just my grandson, and sometimes all on my own for some much-needed R&R. The area is steeped in history and historical sites, and we often make the Fort William Henry Museum one of our regular stops, both for the Revolutionary War artifacts and the beautiful views of the lake. While in the village of Lake George, we make sure to visit the shops and arcades, and wrap up the day with some ice cream.
No trip to Lake George would be complete without some fishing. I am an avid fisherwoman and take my grandson to help him learn to love fishing as much as I do—so far, it's working like a charm! There are several bait and tackle shops around the lake that can direct you to on-lake fishing opportunities or point you toward other bodies of water to explore. 
On the way home, a stop at the French Mountain Commons and the Factory Outlets of Lake George are always a good idea, where you can find national retail outlets side-by-side with local shops and grab a bite at Log Jam Restaurant. Of course, the kids are more excited to visit Great Escape and Hurricane Harbor, a Six Flags amusement park, where they can ride the rollercoasters, splash at the waterpark, and play at the arcades. Lake George has so much to see and do every season of the year, with varied and unique lodging options to fit anyone's style and taste. See you there! (Lake George, by Lynette Hughes)
Albany: Capital of Family Fun (Capital-Saratoga)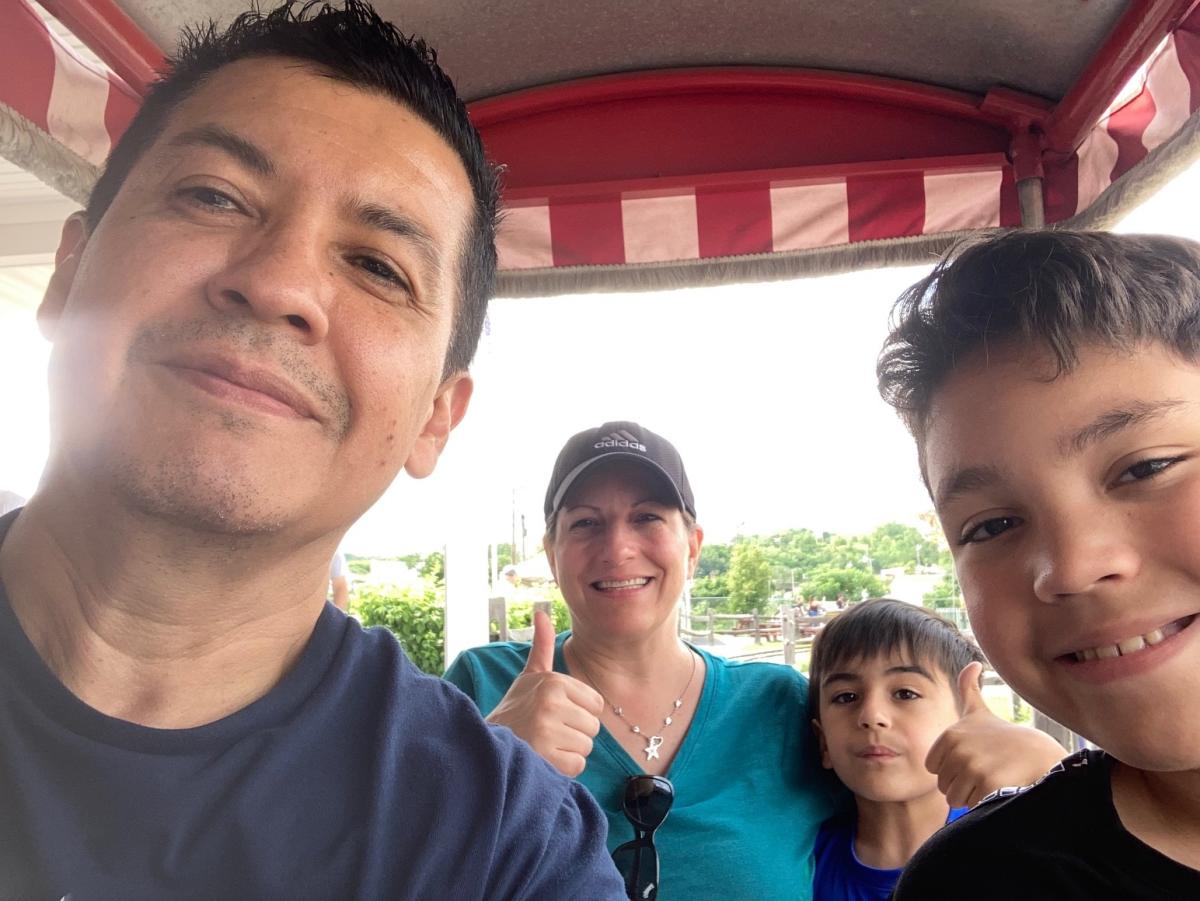 By Kelly Baquerizo, Tourism Grants Team
Every time I would drive down I-787 with my boys in the car, they would beg to go to Huck Finn's Playland. So one day, when we were looking for something fun, affordable, and technology-free to do together as a family, we got out our sunglasses, put on some sunscreen, and headed to the playland. There are rides that our seven-year old son enjoyed such as the helicopter ride and the 4 x 4 cars on the track. And our 12-year old son enjoyed the roller coaster and the paratrooper (he rode this one twice!). Dad and I especially enjoyed the easy ride, and music, of the Merry-Go-Round.
After about two or so hours of rides, everyone was ready for a treat. The concession stand offers a variety of yummy and budget-friendly snacks. We relished our concession finds in the covered picnic area conveniently located right at the edge of the park.
After a gentle ride on the train with scenic views of the entire playland, we called it a day, but with the promise to come back again before the summer ends. If you are planning your next Albany area trip, our family also makes regular trips to the Empire State Plaza and the New York State Museum. Families can also enjoy a stroll and picnic in Washington Park, get out in a kayak at the Corning Preserve boat launch, or take a tour of the New York State Capitol building. 
Fall Fun in Central New York (Central New York)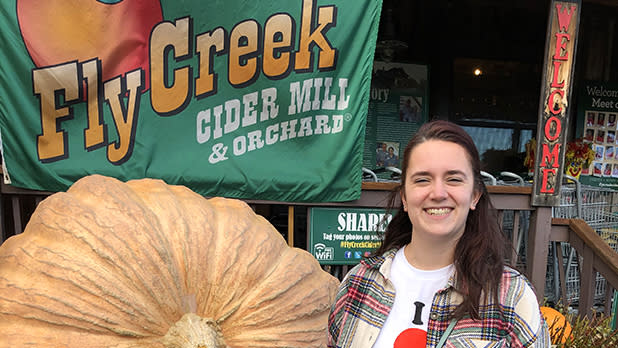 By Alyssa Fox, Tourism Grants Team
Autumn in Central NY is fantastic! Each year I take a trip with my mom to explore the Central NY area. My mom and I share a love of natural beauty and driving down I-88 towards Oneonta offers spectacular views of the leaves without crowds. Since I love hot chocolate in chilly weather, we stop at Latte Lounge before shopping on Main Street at The Underground Attic Vintage. My mom taught me to sew which developed my affinity for clothing so I love to see what vintage goodies I can find. A short drive from Main Street, Marketplace on Chestnut Street houses three stories of antiques. I picked up a ukulele there! On our way out of town we stop at New York Salvage to pick up some corbels for a project, The Depot for some garbage sauce (a delicious specialty wing sauce they make), and Brooks BBQ for their famous chicken!
From Oneonta, we head to Fly Creek Cider Mill to pick up some treats. My favorite part is the fudge counter, specifically the fudge covered apples, a seasonal treat I can't get enough of! After exploring the mill, we buy cider donuts and head off to Cooperstown.
Cooperstown has great shops along Main Street as well as some great places to eat, but our main event is the "Things That Go Bump in the Night Ghost Tour" at the Farmer's Museum. I love Halloween so doing something spooky is a must for me. Our tour guide, Joelle, leads the group with a lantern and tells us about the history of the museum and spooky ghost stories. At the end of the tour, my mom and I immediately bought tickets for a tour the next weekend as well (no two tours are the same). After that, we headed back home and enjoyed our fudge apples! 
Rediscovering the Sullivan Catskills (Catskills)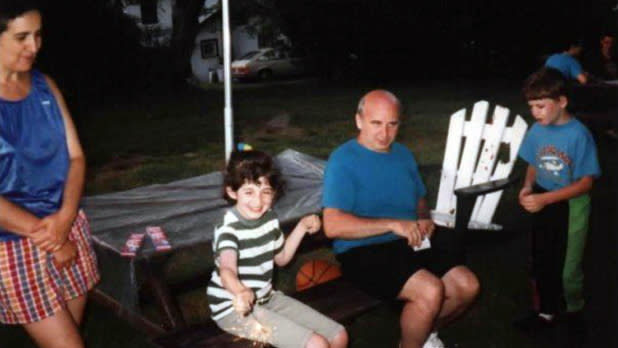 By Anna Pakman, Digital Team
Growing up in NYC, I remember vacation time being family time. Every summer, my extended family would pile into small cottages in a bungalow community near the village of Monticello in the Catskill Mountains. We bonded over card games, the fresh fish that my cousins and grandfather caught for our dinner on their morning trips to Swan Lake, and the wild blueberries my grandmother picked along the road. Though our little bungalow community is no longer there, my brother and I recently returned to Sullivan County to pass these same memories along to my young nephew. 
What I love about the region is that nature is all around you, both in the mountain views and fresh air, and in the farm-to-table cuisine that it is famous for. A few of my favorite local places to eat are Main Street Farm in Livingston Manor and Northern Farmhouse Pasta in Roscoe. A stop in the charming towns and villages of the region is a must to get the full Catskills experience. Woodstock is unique in that it still has the same hippy vibe associated with the festival of the same name. Nearby Woodstock Farm Animal Sanctuary is a great place for animal lovers of all ages and their mission of rescuing farm animals really spoke to me as someone who seeks out attractions that value social responsibility when I travel. 
Childhood Dreams Come Alive in Oswego (Thousand Islands)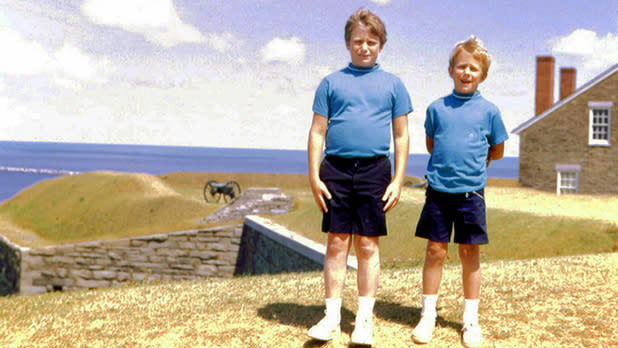 By Eric Scheffel, Public Relations Team
Many of my most memorable family vacations were spent visiting historic sites, including several in New York State. My father was a history buff and took great joy in sharing his knowledge of historical events and places with my brother and me. Rather than just tell us about events of the past, he would do his best to try and show us the places where history was made. Our Empire State destinations included Cooperstown, Hyde Park, and my favorite of all, Oswego, where my brother and I spent hours joyfully exploring and running around the grounds of Fort Ontario State Historic Site.
Spending time in the fort was magical. Like most kids my age, I'd made forts to play in with my friends—on land, in trees, and even underground—and was thrilled to be able to have a real fort to explore. Best of all, the fort was in its appearance of the early 1840's with 1863 to 1872 improvements, as it is today, meaning the military reenactors were dressed in Civil War era uniforms. I felt like I was in an episode of F Troop, my favorite TV comedy set around the same era. As far as I was concerned, this was a real-life Fort Courage (the mythical fort in the television series) and the guardhouses, powder magazine, barracks, cannon, and the ramparts with their amazing Lake Ontario views were all part of this show come to life.
Fifty years later, I still consider my visit to Fort Ontario one of my all-time favorite trips. Traveling across New York State by car that year with my mom, dad, and brother is something that I will always treasure. Be sure to add Fort Ontario to your Oswego itinerary, and you can also add Oswego Speedway, the H. Lee White Marine Museum, Starr Clark Tin Shop & Underground Railroad Museum, and the Erie Canalway National Heritage Corridor.  
Waterfalls and Vineyards in Ithaca (Finger Lakes)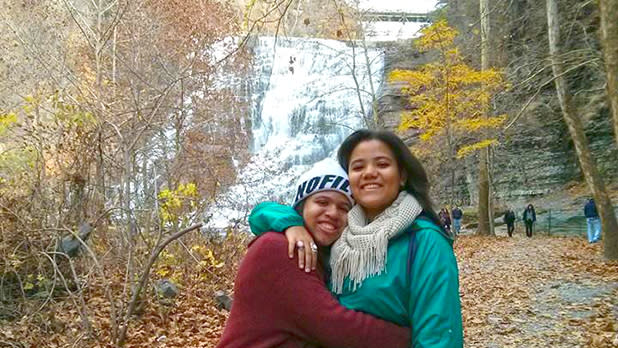 By Danielle Lee, Digital Team
My parents and sister came to visit me in Ithaca for Family Weekend during my fall semester at Ithaca College. Of course, that meant I had to show them the very best that my small and quaint college town had to offer. We started with a tour of Ithaca College, and then we made our way to Ithaca Falls on Fall Creek. Reaching the falls was a simple, short, and easy walk for my parents, and we were met with gorgeous rushing waters and even some fly fishers! It was the beginning of November and most of the leaves had already painted the ground, partnered with a crisp breeze. 
We then drove to the Ithaca Commons for sandwiches at Collegetown Bagels (CTB), a popular spot among the college kids, and checked out some of the shops. The next morning, we enjoyed waffles covered in strawberries, bananas, whipped cream, chocolate syrup, and so much more at  Waffle Frolic. Since I had dance practice after breakfast, my parents and sister went to Six Mile Creek Vineyard, one of many wineries in the Finger Lakes. My sister sipped on classic Ithaca Root Beer while my parents tried all the red wine their hearts desired. While we enjoyed several more family excursions in and around Ithaca throughout my college years, this trip will always be my favorite! 
Long Island
By Kelly Garofalo-Wilkins, Tourism Policy Team
My husband and I were excited to take our brand-new baby girl on her first beach vacation!   After some research, we decided Montauk, with its serene sandy beaches and plenty of picturesque state parks, was a perfect choice. We made it a family affair, inviting my husband's sisters and their young kids, and had such a blast on this original "sibling weekend" that we immediately booked to come back the following year, staying at the Wavecrest Resort Hotel both times. 
The best part of the resort is the direct access to its own private beach complete with beach chairs, loungers, and umbrellas—all you need to bring is sunscreen and towels! What could be better than front row seats to watch your kids joyously play in the pristine sands and rolling waves of the famed south shore beaches? I'll tell you what: an unexpected whale show! Much to our surprise, each and every day we watched with awe as several humpback whales breached just a few hundred yards off the coast to snag a snack.
We spent most days on the beach letting the kids play in the sand and waves before packing up to head into town. As a typical beach town, there are plenty of trendy retail shops, tasty restaurants, and souvenir stores to buy that coveted "Montauk. The End." sweatshirt. After leisurely strolling through town and having a brief happy hour at Montauk Brewing Company, we were off to dinner. Our two favorites were Salivar's Clam & Chowder House and Navy Beach.  All of this was usually topped off with homemade ice cream at John's Drive-In or a stop at Sundae Donuts to splurge on their gourmet donuts like Cinnamon Toast Crunch, B&W Birthday Cake and donut infused ice cream. Finally, we'd head back to the resort for an evening bonfire on the beach to watch the stars until the kids fell asleep in our arms.
A few other things we were able to squeeze in were a trip to the famous Montauk Lighthouse and a fishing charter with Viking Fleet.
A Spirited Trip to Chautauqua-Allegheny (Chautauqua-Allegheny)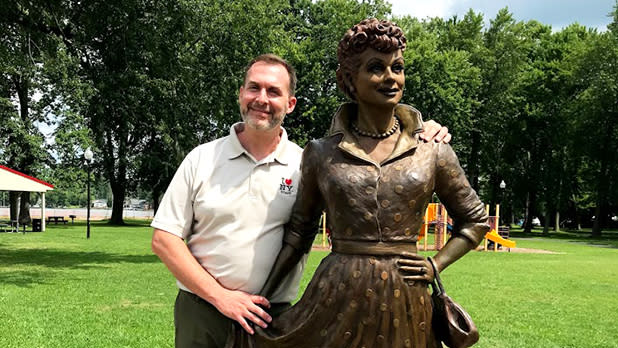 By Ross Levi, Executive Director of Tourism
My spouse and I made a grand trip to Western New York State, with the Chautauqua-Allegheny region as our focus. Our first stop in the region was the Lily Dale Assembly, a community where spiritualists have been meeting every summer since the late 1800s. We were amazed to attend an outdoor "message service" where a medium drew pictures of spirits he was visualizing that were connected to people in the audience.
Later that day, we arrived at the Chautauqua Institution, the lakeside arts community that would be our home base for the next three days. While we would be taking a number of day trips during our stay, we also afforded ourselves of the amenities of the institution, especially its cultural offerings, from a concert by the Chautauqua Symphony in the outdoor amphitheater, to a drama that was part of the new play workshop, to a nighttime magic show. We enjoyed meals on-site at the historic Athenaeum Hotel, including the bountiful breakfast buffet.
We ventured out one day to Panama Rocks Scenic Park to hike among the towering rock formations and through their sometimes massive, and sometimes thrillingly narrow crevices. Another day, we explored the costumes, television sets and memorabilia at the Lucille Ball - Desi Arnaz Museum in Lucy's hometown of Jamestown. Just steps away, we experienced the state-of-the-art interactivity of the National Comedy Center, laughing along with comedic greats from George Carlin to The Simpsons.
Our departure from the Chautauqua Institution didn't end our vacation. As we headed out of town, we made a morning stop to explore the geological wonders of Rock City Park. 
Arts and Sights in the Hudson Valley (Hudson Valley)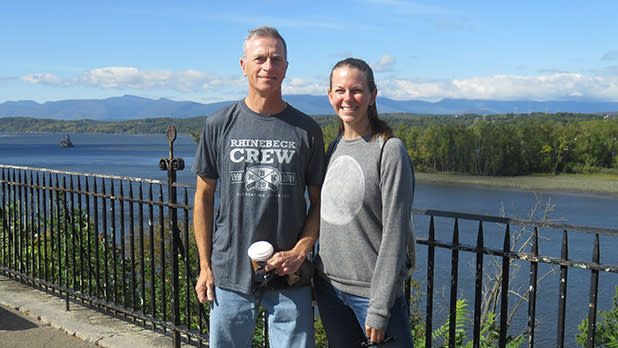 By Erin Faherty, Digital Team
My dad and I took a trip to the Hudson Valley a few autumns ago. He is an artist, so I knew we had to include some attractions that reflect the artistic history of the area. We started off at Storm King Art Center and marveled at their large-scale outdoor sculptures by geniuses such as Alexander Calder and Mark di Suvero—and of course, posed with Manashe Kadishman's Suspended (1977), pretending to hold it up ourselves. We visited art galleries in the town of Hudson and walked the Hudson River Skywalk  between Olana State Historic Site and Thomas Cole National Historic Site, the birthplace of the Hudson River School and the modern art movement in the United States.
In Kingston—one of my favorite towns along the Hudson River—we got on the water at the Hudson River Maritime Museum, taking the charming Rondout Lighthouse Tour on a solar-powered tour boat. We had a nice waterfront dinner at Mariner's Harbor, then settled in for beers, book browsing, and a bluegrass performance by Eugene Tyler Band at Rough Draft bar & books, an amazing independent bookshop on one of the corners of the only spot in the US where all four corners are home to pre-Revolutionary War buildings.
I knew my dad would love the Old Rhinebeck Aerodrome Museum & Air Shows, but I had no idea that it would also delight me as much as it did. The dozens of antique automobiles, motorcycles, and flying machines themselves are impressive but the air show that the attraction puts on with the vehicles is a five-star experience. It's funny, interactive, and perfect for children and adults of all ages. I do feel that I should have sprung for a 1929 biplane ride for us, but there's always the next trip!
NYC Family Travel (New York City)
By Lisa Soto, Public Relations Team
I was born in The Bronx, and my father always made sure that my brother and I knew that we lived in the greatest city in the world. He took us horseback riding in Pelham Bay (just as he did when he was a kid), Yankee games, the Puerto Rican Day Parade and we went to Orchard Beach nearly every Sunday for BBQ, swimming, and of course the weekly salsa concerts.
In the early '80s my brother and I moved upstate, so NYC became our annual summer vacation with dad. He took us all over the city and made us tourists in our hometown. We went everywhere, from Coney Island for rides and Nathan's Famous hot dogs, to the New York Hall of Science in Queens. We even went all the way to Staten Island for free ferry rides and fantastic views of lower Manhattan. Dad loved taking us on walks through Central Park and to iconic destinations like the Statue of Liberty. The gem room at the American Museum of Natural History was one of my favorites, while my brother preferred the bird's eye view of the city from the Empire State Building.
Looking back, I truly appreciate those summers in the city with my dad. Childhood memories are priceless, and the memories that we made during our summer vacations in NYC will last a lifetime. 
Letchworth, Again and Again
By Heather McElhiney, Tourism Industry Relations Team 
Some of my fondest childhood memories are of all of the family camping trips we took throughout New York. Naturally, I wanted my daughter to have some of the same experiences and discover the world of cooking on a campfire, sleeping in a tent, and how all of nature can be your playground. 
New York has so many camping areas and options throughout the state—it is really hard to choose just one! We decided to go someplace new for all of us, and it is no wonder that  Letchworth State Park fit the bill, as USA Today readers have voted it both the best attraction in New York State and the best state park in the United States! Travelers have their choice of lodging: camping sites and cabins for the adventurous, or the beautiful Glen Iris Inn for those that prefer a softer sleep. We, of course, chose to camp. 
Letchworth really does have it all, and we spent our first trip trying to pack it all in: hiking trails and waterfalls, history and architecture, playgrounds and swimming pools, wildlife and scenic views at every turn. Known as the "Grand Canyon of the East", the Genesee River is as impressive as it is beautiful, and we spent many hours following the river through the 20+ miles of park. 
We loved it so much that we went back many times over the next 18 years, each time revisiting some favorite trails and discovering new adventures to take. We also discovered more activities in and around the park, such as the Castile Cider Mill and Balloons Over Letchworth. Day trips to the Greater Niagara region, including Niagara Falls State Park and Buffalo, offer endless excursions for all groups and ages as well. We have been to Letchworth in every season, and they are all spectacular in their way, as are the memories and stories we share.