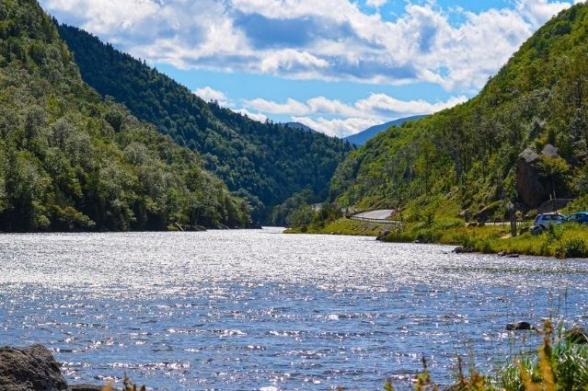 Credit: @edwardsgparham on Instagram
 
Trust us, if you don't plan ahead, summer will be over in the blink of an eye. Be sure to make the most of the gorgeous weather and longer days. We've rounded up everything for your most adventurous and memorable summer to-do list, from beaches to county fairs to music festivals, and plenty of getaways into the beautiful outdoors. You'll never have to spend another summer day wondering what to do.
Remember to social distance and wear a mask as required by state guidelines. Call ahead and check websites and social media to make sure attractions are open and available.

Credit: Courtesy of @maidofthemist
Catch some serious spray off the magnificent Niagara Falls from the deck of the famous Maid of the Mist! The boat tour brings you right into the belly of the beast, so to speak, and 600,000 gallons of falling water causes quite a splash. If you're craving even more water adventure, kick things up a notch with Whirlpool Jet Boat Tours. On the tour, you'll travel through the Niagara River Gorge right into the heart of Devil's Hole Class 5 rapids! It sounds risky, but don't worry, these boats are specially designed to withstand turbulence. Summer is the best time to go because you most definitely will end up soaking wet! (Prefer to stay dry? Covered boats are also available.)

Credit: @grainandgrit on Instagram
Calling all beach enthusiasts! For fine white sands and surf bathing along 6.5 miles of beach along the Atlantic Ocean, look no further than Jones Beach State Park, a world-famous beach located in the center of Long Island. If you're looking for sheer luxury, try Coopers Beach in Southampton, rated number two in the nation by esteemed beach expert, "Dr. Beach." Coopers is famous for its white sand dunes and stunning nearby mansions. Beautiful, clean, and quiet Main Beach in neighboring East Hampton is another Dr. Beach favorite. Also check out Hither Hills State Park in Montauk, open to the public and home to the incredible "walking dunes" of Napeague Harbor. How do they walk? The wind can actually move 80-foot high mounds of sand! But slowly, over time. Kiddos can climb all over the playground and come watch the weekly sandcastle-building contests every Thursday from June 30–August 25.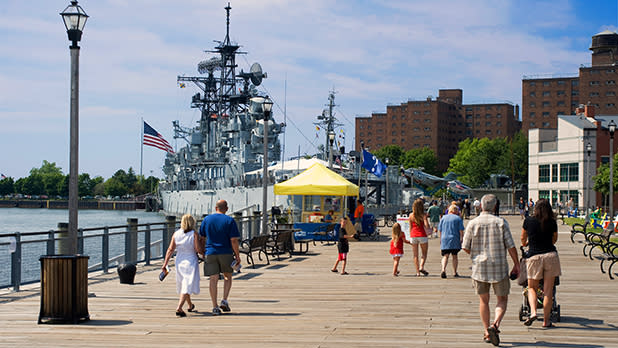 Make your way down to the heart of downtown Buffalo for hours of fun in the sun at Canalside, a waterfront revitalization along the Erie Canal. Every year, Canalside hosts over a thousand events, from children's games to outdoor yoga, to concerts, movie nights and more. All along the water's edge, you'll find restaurants, food trucks, and game tables. Rent a kayak or water bike to take in views of the city from the water and bask in the summer vibes.
Head to where the wild things are: the Wild Center in the Adirondacks! This can't-miss stop is designed to create new and exciting experiences in nature. The famous "Wild Walk," for example, lets you stroll on an elevated trail through the treetops and includes playful elements like a human-sized bird nest or an enormous hammock-like spider web. It's also highly educational, with exhibits about various local species of animals inside the learning center. You'll feel at one with nature in no time.

Credit: @sethmehlenbacher on Instagram
Nestled in the southwest corner of the Finger Lakes region, Letchworth State Park is a breathtaking hidden gem of the North East, offering scenic beauty in all four seasons. Surrounded by lush forests, the 14,350-acre State Park features three large waterfalls between cliffs as tall as 600 feet, carved by the Genesee River. In addition to over 60 miles of hiking trails, Letchworth offers trails for horseback riding and biking, as well as whitewater rafting, kayaking, and hot air ballooning.

Credit: @kathybuccio on Instagram
Summer is the season for a day out at one of New York State's iconic theme and amusement parks. Head to the world's largest LEGOLAND in Goshen in the Hudson Valley for seven themed lands of LEGO fun, an all-new hotel experience, and a brand new water playground opening this year! Grab your bathing suit and your nerves of steel, because Six Flags Darien Lake in Western New York has enormous water slides, artificial whitewater rapids, and, for the truly bold, the Tornado. Plunge down a 132-foot-long tunnel and come shooting out into a massive cone which you ride like a penny in a funnel. If it rains, get a splash of adrenaline at Kartrite Resort and Indoor Waterpark in the Catskills — New York's largest indoor waterpark. The architecture alone is a thrill to behold because these rides and slides are truly massive, including lazy rivers, indoor surfing, a lagoon for the little ones, and even a mellow water spring area for parents seeking some peace and quiet. And if you crave thrills that don't involve any water, Adventureland on Long Island has an amazing spinning roller coaster called Turbulence, which actually spins you as you ride up, down, and around the loops. Or try the Coney Island Cyclone at Luna Park. This quintessential New York experience will have you white-knuckled and still itching to ride again.

Credit: @gocooperstown on Instagram
Sports fans will go gaga for the exhibits at the National Baseball Hall of Fame & Museum in Cooperstown. Walk the great hall and find your favorite baseball legends and explore all the memorabilia. The kids can even pick up a scavenger hunt to add more fun to the tour. There's so much American history and culture wrapped up in the sport that it brings out the nostalgia and pride in even non-sports fans. Best of all, July 22–25 is this year's Hall of Fame Weekend, so you can watch baseball history in the making. Visitors can attend the induction ceremony, award presentation, Parade of Legends, roundtable discussions, and more.
Put the pedal to the metal! Drive your car on the track at Watkins Glen International, home to the 1968 Formula One United States Grand Prix. You'll drive two laps around the 3.4-mile circuit before pulling up to the finish line to snap a photo. Or come to watch professional racing all summer long, including the popular NASCAR Race Series in August. Check out the schedule of spectator events on their website here.

Credit: @edwardsgparham on Instagram
The Adirondack Park comprises more than 6 million acres, larger than Yellowstone, Yosemite, Glacier, Grand Canyon, and the Great Smoky Mountains national parks combined! There are thousands of lakes and ponds, and miles of rivers and streams, with plentiful canoeing and kayaking opportunities. There's also amazing hiking, thanks to the 46 mountains that make up the Adirondack High Peaks with more than 1,800 miles of marked trails, including trails accessible to people with disabilities. Whatever your outdoor adventure preference, you'll find it in the largest park in the continental U.S.!
Take to one of America's largest playgrounds in the trees at the Sky High Adventure Park this summer. Navigate your way through log bridges, ropes courses, and more at the difficulty level of your choosing. Adventure awaits around every corner of Sky High, including an Aerial Park with obstacle courses and zip lines across 5 acres of woods, a Climbing Forest with a 40-foot climbing wall, a Mountain Coaster that zigs and zags through the forest, and Gem Mining for a yesteryear experience that mimics old-fashioned panning for gold. For scenic views, take a chair lift ride up to Spruce Lake, or if you're searching for more thrills, grab your mountain bike (or rent one at Sky High) and head up the mountain for a 4-5 mile "race loop" and trails catering to all levels.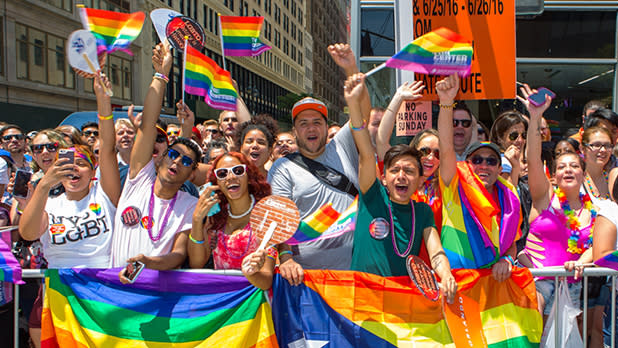 Pride is on every summer bucket list, and folks from all over the world are coming to celebrate. Of course, you'll want to attend the NYC Pride March in Manhattan on June 26, but also make your way to Long Island, the birthplace of Harvey Milk, for its annual Pride celebration. For the first time in its 32-year history, LI Pride will be held in the Village of Farmingdale. LGBTQ events include a parade, concert, and festival. The ripple of joy reaches all the way to Niagara Falls, which will be lit up in rainbow colors on June 30.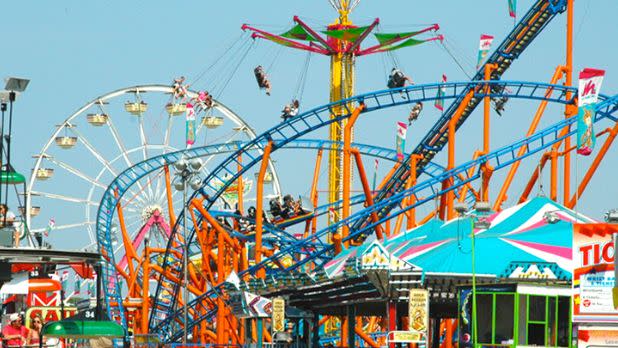 Don't let summer get away without attending at least one county fair, or The Great New York State Fair in Syracuse (August 24-September 5), the first and longest-running state fair in the country that gets bigger every year. Expect animals, fireworks, battered and deep-fried morsels, carnival rides, competitions in everything from jam-making to storytelling, and big-name music headliners—this year's lineup includes Boyz II Men, Nelly, the Dropkick Murphys, Foreigner, and more. The Erie County Fair is the state's largest county fair and the third-largest county fair in the country. From August 10–21 it will provide a fantastic taste of local New York culture, and even has an exciting STEM Pavilion to highlight the region's growing dedication to science, technology, engineering, and mathematics. The Dutchess County Fair in the Hudson Valley is close to NYC and includes a historical experience amid the array of rides, food offerings, and activities. Costumed actors tell stories and you can step into recreated historical buildings including a printing press, train station, schoolhouse, and more.
Throughout summer, a number of historical and cultural holidays and events take place, with celebrations held across the state. Held every year on June 19, Juneteenth, an official state holiday in New York State, commemorates the abolition of slavery and the preservation and promotion of African American heritage. In Buffalo, The 47th Juneteenth Festival of Buffalo is one of the largest Juneteenth celebrations in the U.S., taking place in Martin Luther King Jr. Park. In August, share in the culture, history, and resilience of Harlem throughout Harlem Week (pictured), a two-week-long festival with over 100 events, featuring performances, food, sports, and more (August 12–21). August is National Black-Owned Businesses Month, dedicated to celebrating and supporting black-owned businesses nationwide. Check out our blog for inspiration on black-owned businesses to visit in New York State. 2022 is also the bicentennial of Harriet Tubman's birth, with events taking place throughout the state. For more information, see our highlights on Black History & Culture in New York State.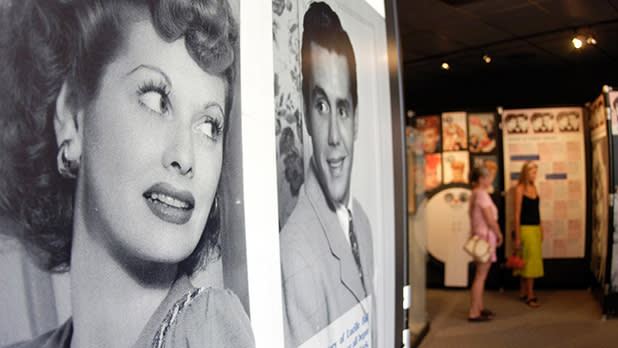 Laugh all summer long at the leading celebrator of comedy history in Jamestown! Known for being the hometown of Lucille Ball, this western New York city is home to the National Comedy Center – the world's largest center dedicated entirely to comedy! Fans of the beloved classic sitcom and comedy lovers alike can enjoy  a larger-than-life I Love Lucy experience at the Lucille Ball-Desi Arnaz Museum, a specialty museum celebrating the life and work of America's most loved and famed comedy duo. Head to Jamestown this summer for the Lucille Ball Comedy Festival (August 3–7) featuring special events and performances by comedian Jeff Foxworthy, and Saturday Night Live legends David Spade, Rob Schneider, and Kevin Nealon.

Credit: George Fischer
Grab a cold pack of beer or some lemonade and get ready to relax by the water before it's time for dinner—fresh fish is on the menu! Picturesque Lake Ontario and its tributaries offer world-class sportfishing, with the chance to reel in a steelhead, Chinook, or walleye. If you're dying to go fishing farther from the shore but don't own a boat, K&G Sportfishing and 1000 Islands Fishing Charters offer charters and professionally guided trips, so round up the gang. Be sure and read up on how to get a fishing license before you cast your line! New York's Thousand Islands also has two gorgeous rustic castles for your family to explore this summer. Boldt and Singer castles both date back to the early 1900s when they were built by wealthy American magnates for their families. Venture out on the boat and be mesmerized by their architecture as you learn all about their history on guided tours, or just explore these architectural gems on your own. From August 5–7, head to the 58th Annual Antique Boat Show & Auction in Clayton, where you can marvel at the vessels, make a bid, or enjoy some sailboat rides, vintage skiff rowing, and more!

Credit: @bethelwoodscenter on Instagram
Dance it out this summer at one of New York's many music festivals. The Freihofer's Saratoga Jazz Festival (June 25–26) has two stages for performers, including an amphitheater that typically features big names, and a "Jazz Discovery" Stage to see up-and-comers. Add some oomph to your Independence Day weekend with the Ellicottville Summer Music Festival (July 1–3), where Asia is among the headliners this summer. The Buffalo Philharmonic will also play a score to a fireworks show. Bring the kids! Children 12 and under get in free.

Credit: Courtesy of Finger Lakes Wine Country
​​What better time than summer to sip on a glass of wine overlooking a vineyard? Thankfully, New York State has plenty of wineries and trails in world-famous regions throughout the state. Head to Pellegrini Vineyards and Bedell Cellars in Long Island's North Fork for international medal-winning wines. Brotherhood, America's oldest winery, is another can't-miss stop for wine lovers in the Hudson Valley, offering tours through its vast network of underground cellars used throughout Prohibition. Sip and savor your varietal of choice with scenic lake views along one of the Finger Lakes' most revered wine trails: Cayuga Lake Wine Trail, Keuka Lake Wine Trail, and Seneca Lake Wine Trail. Find your New York State winery getaway here.

Credit: @_lionelm on Instagram
Taste the best of what the summer season has to offer at one of New York State's mouth-watering food festivals. Head to Syracuse in June for the annual Taste of Syracuse (June 3–4), Central New York's largest food and music festival, with over 60 restaurants and food vendors in attendance. In August, make your way to Hudson Valley Ribfest (August 19–21), a family-friendly grilling event that caters to everyone (even vegans, vegetarians, and pescatarians!). For Buffalo wing lovers, the mecca of Buffalo wing events is the National Buffalo Chicken Wing Festival (September 3–4), located right where the recipe originated.  

Credit: @j_bono on Instagram
Take a tour of New York State's scenic canals this summer at your own pace or at a canal event! The Erie Canalway Challenge is now open for registration, welcoming everyone to participate in cycling, paddling, running, hiking, rolling, or walking along the New York State Canal System spanning 524 miles! Choose your own mileage goals or plan a wellness getaway to remember. From June 3–5, it's Fairport Canal Days, one of the state's most popular canalside arts festivals that is now in its 45th year! Technically a chasm rather than a canal, grab your kayak and head to Ausable Chasm a.k.a the Grand Canyon of the Adirondacks, for a leisurely row through naturally formed sandstone aging back 500 million years. 

Credit: @chq1874 on Instagram
Some of the biggest art festivals and performances take place in the summer months, taking advantage of longer, warmer days. On June 14, enjoy free admission to some of the world's finest art collections on the Upper East Side along Fifth Avenue at the Museum Mile Festival in New York City. Visit the hometown of Wizard of Oz author L. Frank Baum and participate at the Oz-stravaganza (June 3–5), the largest and longest-running Wizard of Oz-themed festival in the world at the All Things Oz Museum in Central New York. Check out Corn Hill Art Festival (July 9-10) in Rochester, the award-winning summer arts festival that takes over nine streets and features hundreds of artists and musicians from across the country, with beer and wine gardens to enjoy from. For outdoor performances, grab your free ticket to Shakespeare in the Park in Central Park's open-air Delacorte Theater for modern reimaginings of Richard III (June 17–July 17) and As You Like It (August 10–September 11). The Hudson Valley also hosts its Shakespeare Festival (July 7–September 18), with a modern retelling of Romeo & Juliet. The Chautauqua Institution's (pictured) nine-week summer season begins, welcoming over 100,000 people for a schedule of performing and visual arts events, workshops, and lectures.

Credit: Courtesy of Revette Studio
With flowers and trees in full bloom, and long bright days, there's no better time to recenter, connect with nature, and kickstart your wellness goals for the year. Nestled in the tranquil Catskills Mountains, YO1 Wellness Resort & Spa (pictured) offers the ultimate wellness getaway, with health programs, spa treatments and curative therapies tailored to your personal goals to help you relax and reset. The 20th Annual Solstice in Times Square takes place on June 21, with all day yoga classes for first-timers and experienced yogis. Register for the Lake Placid Marathon & Half Marathon on June 12 and run through the charming village of Lake Placid with epic mountain views along the route. If you like to keep things simple, detox and destress from everyday life on a camping trip in one of New York State's beautiful State and National parks for some calming forest bathing.

Credit: @brett_schaber_88 on Instagram
New York State is the setting for some of the greatest moments in film and television, with hundreds of productions filmed in the Empire State every year. See how many sights you can cross off our must-see list of Great Movies and TV Shows Featuring New York Attractions. From June 8-19, New York City will host the Tribeca Film Festival, an annual film festival celebrating storytelling across film, music, games, art, and other immersive experiences. 
---
Don't forget to post photos of your New York adventures on Instagram and Twitter with #iSpyNY and tag us on Facebook!