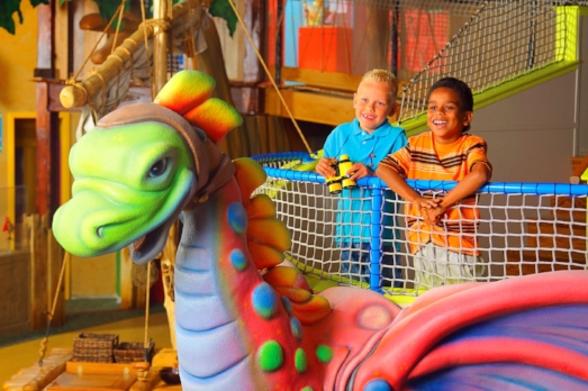 Updated 3/23/23
Kids grow up fast—almost too fast. While you won't be able to keep them little and cute forever, you will be able to create plenty of memories during a much-needed family getaway. Here's our guide on where to take them every year in New York State.
Age 1: Stay at a Lakeside Resort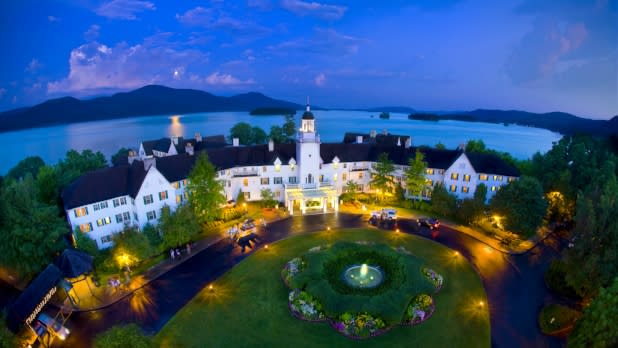 When traveling with babies, sometimes a quiet chilled-out vacation is just what you need. Many of New York's pristine lakes are home to relaxing resorts with plenty to do on-property, making it easy to plan around nap time. The Sagamore Resort near Lake George stands out for their lakeside pool and babysitting service, the Whiteface Lodge in Lake Placid offers large rooms with kitchen facilities (perfect for catering to little ones), and the all-inclusive Mohonk Mountain House in the Hudson Valley takes all the stress out of vacation planning with a cruise ship-style schedule of activities and events.
Age 2: Visit a Sculpture Park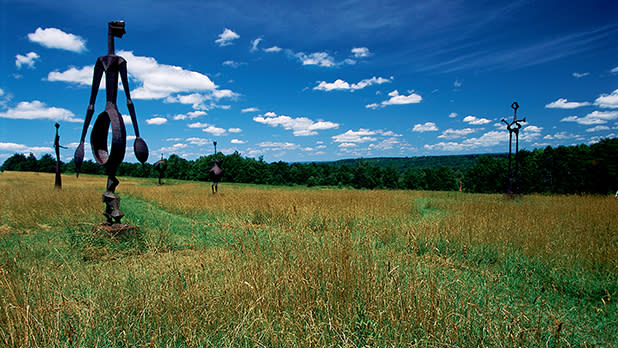 New York State has several unique sculpture parks offering awe-inspiring avant-garde art for parents to marvel at and plenty of grassy expanse for toddlers to run around in. Storm King Art Center is just north of NYC in the Hudson Valley. Admission is free for kids under four and trams are available to take you around the 500-acre property—perfect for when the tikes tire out. Griffis Sculpture Park is located an hour south of Buffalo in the Chautauqua-Allegheny region. Unlike traditional museums, Griffis encourages visitors to touch and even climb into many of its art pieces.
Young kids will love building sand castles and splashing in the surf of New York's sandy shores. While the Hamptons are famous for being the playground of the rich and famous, you don't have to have a multi-million dollar vacation home to enjoy East Hampton's Main Beach or Southampton's Cooper Beach—both of which have been named as top beaches in the U.S. by the experts at Dr. Beach. Jones Beach offers a more accessible getaway, complete with a lively boardwalk. For an adrenaline rush, fly high at WildPlay at Jones Beach, an outdoor aerial adventure course.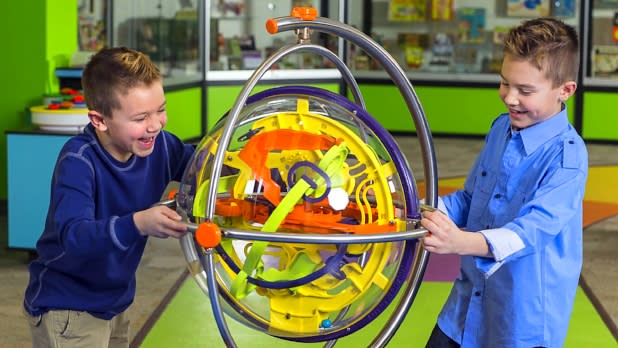 All children's museums are fun, but you haven't seen anything like the Strong National Museum of Play in Rochester. The only museum in the country dedicated to the history and exploration of play, its interactive exhibits pack in plenty of fun to keep the whole family busy all day long. Kids will love exploring a life-sized storybook, riding on an old-fashioned indoor train, attending "Super Powers School" in the comic book exhibit, getting down in the DanceLab, and so much more. Parents will get a dose of nostalgia going through toy and video game collections featuring favorites from their own childhoods.
Age 5: Say Hello to New York's Cutest, Furriest, and Wettest Residents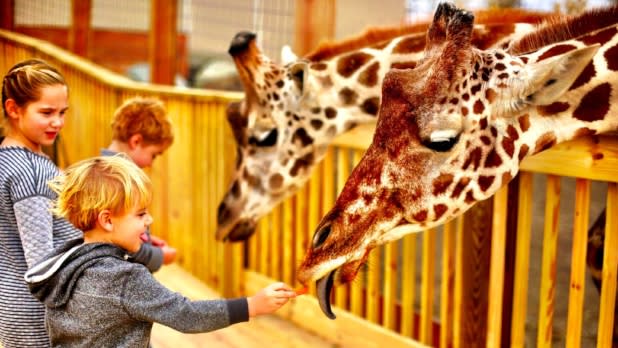 Venture through African Plains and take a monorail ride on a safari through Wild Asia at NYC's Bronx Zoo, the largest metropolitan zoo in the country. The Buffalo Zoo has a claim to fame as well — it's the country's third oldest — and is home to some of the world's most exotic, endangered wildlife. The Animal Adventure Park just outside of Binghamton is the perfect place to experience encounters with your favorite animals. Meet and feed penguins, hang with the sloths, or even have breakfast with the giraffes! You can watch a sea lion show and even take a sea lion selfie (kisses not guaranteed) at the Long Island Aquarium in Riverhead, which also features ray petting stations, penguin encounters, a submarine simulator ride, and lots of colorful fish.
Age 6: Enjoy Family Time Under the Stars with a Camping Adventure
Sitting around the campfire, s'mores, starry nights—camping in New York State will be remembered fondly for years to come by the whole family. Whether you prefer being surrounded by the impressive high peaks of the Adirondacks, fancy a deep-woods escape at Allegany State Park or lakeside fun in the Catskills, are looking to rough it, or want to rent a fully outfitted cabin, you'll find something you love in New York State. Visit the Department of Environmental Conservation website to book campsites and rentals in State Parks. For those feeling a little fancier, glamping sites like Firelight Camps in the Finger Lakes and Collective Hudson Valley offer a nature experience that doesn't sacrifice luxury.
Age 7: Explore Real-Life Island Castles in the Thousand Islands

Credit: Steve Sturtz
Take your little prince or princess on an adventure that's steeped in history. First, take a ride with Uncle Sam's Boat Tours to familiarize yourself with the St. Lawrence Seaway, home to exactly 1,864 distinct islands. Then visit Heart Island to explore Boldt Castle, an early 20th-century estate built to rival the great castles of Europe. Continue on to Dark Island where you will find the equally impressive Singer Castle. Take a 45-minute guided tour to learn about the castle's history, or go all in and rent the entire castle for an overnight stay. The Royal Suite features two bedrooms that sleep up to six and come with a catered dinner and breakfast.
Age 8: Visit a Historic Lighthouse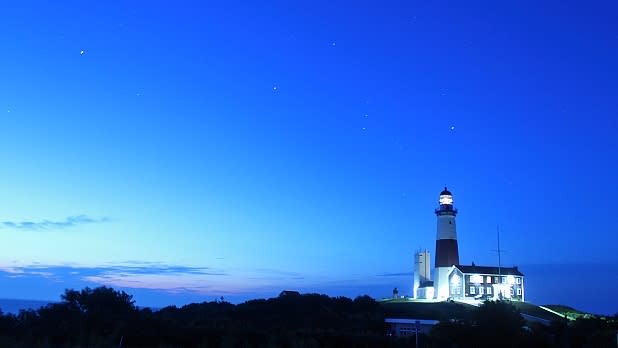 Thanks to New York's rich maritime history, anywhere there's water there's a beautiful lighthouse to explore nearby and oh so much to learn. Did you know that many lighthouse keepers were actually women, thanks to a tradition that dates back to the Revolutionary War? (Someone had to get the job done while the guys were fighting the British!) Montauk Point Lighthouse at the very tip of Long Island is the state's oldest—its construction authorized by one George Washington—and is still active today. Dunkirk Historical Lighthouse and Veterans Park Museum on Lake Erie offers an incredible view of the lake from the top as well as a museum of military artifacts that budding history buffs will love. The Glass-Bottom Boat Tour to Rock Island Lighthouse in the Thousand Islands puts a new spin on getting there in style with an awe-inspiring look at the underwater life of the crystal clear St. Lawrence River.
Age 9: Go Tubing!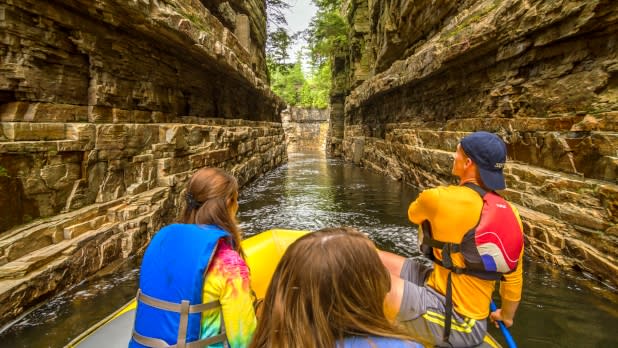 Whether you want to float along a lazy river or slide down snow-covered slopes, it's always tubing season in New York State! In warmer months, journey through ancient rock formations at Ausable Chasm, aka the Grand Canyon of the Adirondacks, or hit the waves on the Delaware River with a tubing excursion organized by Lander's River Trips. In winter, hit the tubing hills at Mount Peter, which offers a 600-foot ride down and a conveyor ride back up top. Go even further on Hunter Mountain's 1,000-foot-long lanes. Touted as the largest snow-tubing park in New York, Hunter also offers a snack bar, fire pit, and more for families to enjoy.
Age 10: Make a Splash at a Water or Amusement Park  
Known as the "Thrill Capital of New York", Darien Lake offers plenty of amusement the whole family will love, as well as a summer concert series featuring major acts and fright fest weekends in the fall. Perfect 84-degree weather can be had year-round at Greek Peak Cascades Indoor Water Park at Hope Lake Lodge. Great Escape & Splashwater Kingdom gives visitors a shot of adrenaline with more than 100 thrilling rides, shows, and attractions.
Age 11: Make Your Own Glass or Mine for Diamonds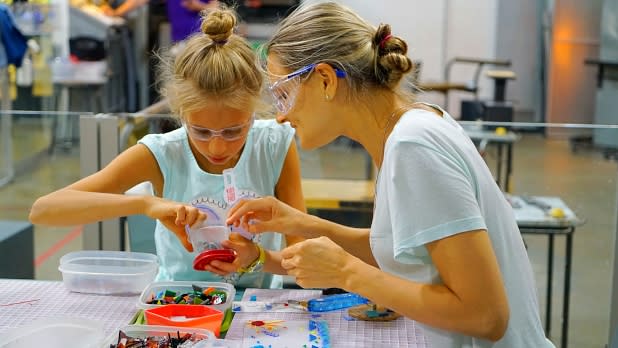 Sure you could buy a beautiful piece of glass art or jewelry, but it's way more fun to make your own. The Make Your Own Glass workshop at the Corning Museum of Glass lets budding artisans try their hands at glassblowing, fusing, and flameworking to make their own ornaments, pendants, photo frames, and more. Herkimer Diamond Mines give young prospectors an equally unforgettable experience. Bring your tools of choice and get ready to chip, chisel, and hammer your way through this (no joke) 500-million-year-old treasure—lucky miners get to keep all the gems they find and the "Build and Share" activity center lets you fashion them into wearable keepsakes.
Age 12: Push the Whole Family to New Heights at an Aerial Adventure Park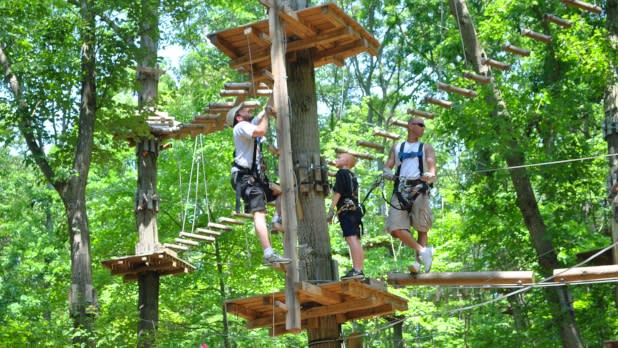 Strap on that harness and get ready to climb, swing, and soar at the Sky High Adventure Park at Holiday Valley Resort in Ellicottville. While you're there, be sure to take a thrilling ride on the mountain coaster that zigs and zags on its way down the mountain. Catamount Aerial Adventure Park, the largest of its kind in the Northeast, offers an exciting aerial forest adventure with courses available for all ability levels. Visit the Adventure Park at Long Island after dark to experience its magical "Glow in the Park" night climbs where the ropes are illuminated with strings of lights.
Age 13: Chase Waterfalls at Scenic State Parks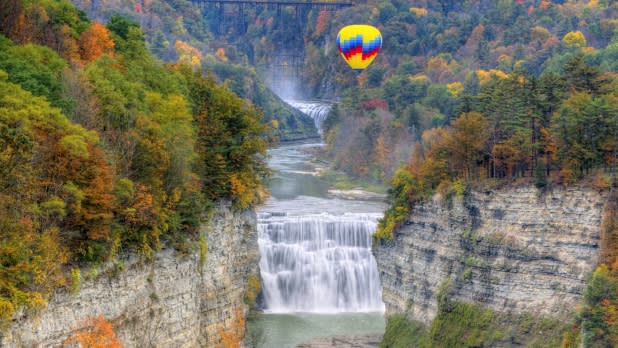 If there's one thing New York has no shortage of, it's waterfalls. The epic Niagara Falls has been on bucket lists the world over for years, and every family needs at least one blue poncho photo for the vacation album. Letchworth State Park, recently voted the #1 State Park in the nation by USA Today, has some magnificent falls of its own, which you can see from scenic overlooks or by splurging on a hot air balloon ride. Coming in close at #3, Watkins Glen State Park, has a jaw-dropping gorge trail that passes by 19 waterfalls.
Age 14: Take in a Show at a Premier Performing Arts Venue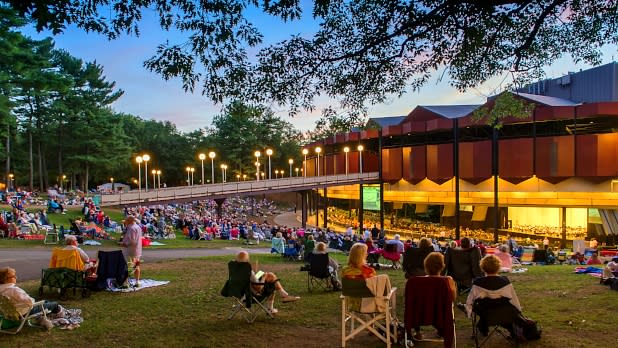 A crown jewel of the vaudeville era, today the beautiful Proctors Theater in Schenectady is home to top-tier entertainment including concerts, films, and national tours of Broadway shows. Another well-preserved gem from the "roaring twenties," Buffalo's Shea's Performing Arts Center, plays host to Broadway's hottest shows including The Six and Dear Evan Hansen. Located on the site of the original Woodstock Festival, the main stage pavilion at Bethel Woods Center for the Arts plays host to outdoor concerts featuring major acts all summer long. Likewise, the Saratoga Performing Arts Center (aka "SPAC"), offers a robust concert series on the grounds of the gorgeous Saratoga Spa State Park—big name performers range from The Jonas Brothers to the Zac Brown Band.
Age 15: Go City Slicking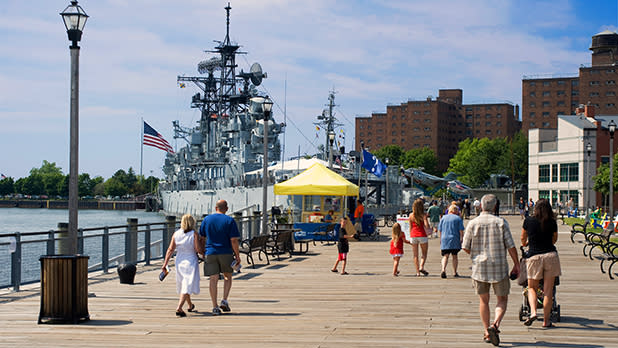 While New York City is on many a bucket list—and for good reason!—Upstate New York's cities pack in plenty of big city fun on a more manageable (and affordable) scale. Buffalo, aka the "Queen City," offers hip neighborhoods to explore, unique shops, a thriving art and food scene, as well as plenty of outdoor recreation at Canalside and Harborfront thanks to its location on Lake Erie. The birthplace of the ubiquitous Buffalo wing, it comes as no surprise that the city boasts a Buffalo Wing Trail. Rochester has an equally cool vibe that even the most "over-it" teen will appreciate. The George Eastman Museum will gain the appreciation of Insta-enthusiasts and one is never too old to visit (or re-visit) the Strong Museum of Play. Beloved local hot spot Funk n' Waffles pairs two things that are universally awesome: live music and delicious waffles that can be ordered with sweet or savory toppings. Sports fans will find a lot to love in Syracuse, so impress your teen with courtside tickets to see the Syracuse Orange play at the Dome. Destiny USA is much more than your average shopping mall with bowling, laser tag, go karts, and more on offer.
Age 16: Explore New York's History as a Beacon for Social Justice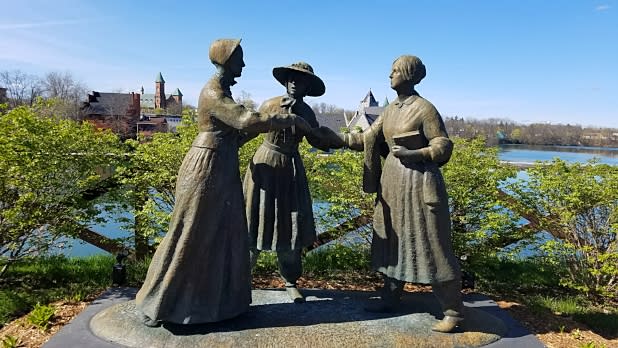 Your woke teen will appreciate the opportunity to trace the actual footsteps of the leaders who helped shape some of the most important equal rights movements in our nation's history. Visit the Harriet Tubman House in Auburn to learn more about arguably the most famous conductor of the Underground Railroad. The nearby town of Seneca Falls is home to the National Women's Hall of Fame and was the site of the 1848 women's rights convention, which led to women getting the right to vote. Download the I LOVE NEW YORK mobile app for a free audio tour of Seneca Falls, complete with stories of its remarkable history. The Stonewall National Memorial in New York City commemorates the Stonewall Uprising of 1969, a pivotal moment in the fight for LGBTQ rights.
Age 17: Fly High on a Zip Line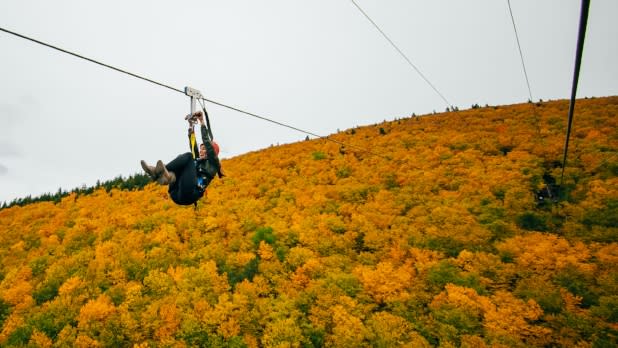 The New York Zipline Adventure Tour at Hunter Mountain is one of those "only in New York" things. It's the second largest zip line in the world and the highest, fastest, and longest zip line canopy tour in all of North America. Soar past stunning fall foliage, majestic mountains, and seas of green flora. For a ziplining experience with more urban flavor, visit Buffalo RiverWorks, where you can soar between three abandoned grain silos...and climb a rock wall, break out of an escape room, rent a kayak, have dinner, and see a concert—all without leaving the venue.
Age 18: LOL at the National Comedy Center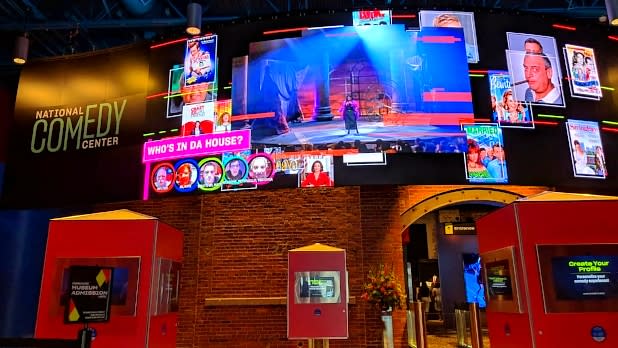 Anyone who likes to laugh (read: everyone) will love the National Comedy Center in Jamestown, NY. With an impressive collection of content that adapts to your personal sense of humor thanks to some of the most advanced technology you'll find at a museum anywhere in the world, the Comedy Center offers hours upon hours of fun. Budding comics can try their hand at dozens of interactive exhibits that include the Microsoft AI-powered Laugh Battle where you have to make your opponent crack a smile, a comedy karaoke lounge, and a Make A Meme station. While the entire main floor is kid-friendly, your freshly minted adult will appreciate having access to the 18+ only Blue Room—a small section of the museum featuring dirty jokes and other just-for-grown-ups things.
Bonus: When They Turn 21...Go on a Craft Beverage Tour!

While they'll always be babies in your eyes, with nearly 1,000 producers of craft beverages, New York State is the perfect place to celebrate this momentous coming of age. The Long Island, Finger Lakes, and Hudson Valley wine countries, in particular, are full of award-winning wineries. Join one of several organized tours or plot out your own. Some worthy stops include Brotherhood Winery, which happens to be the country's oldest, Prohibition Distillery in the Catskills, serving up award-winning spirits in one of the hippest areas of the state, and Brewery Ommegang, just a few miles from the National Baseball Hall of Fame, a home run among craft beer tasting rooms.
---
Don't forget to post photos of your New York adventures on Instagram and Twitter with #iSpyNY and #ILoveNY and tag us on Facebook!