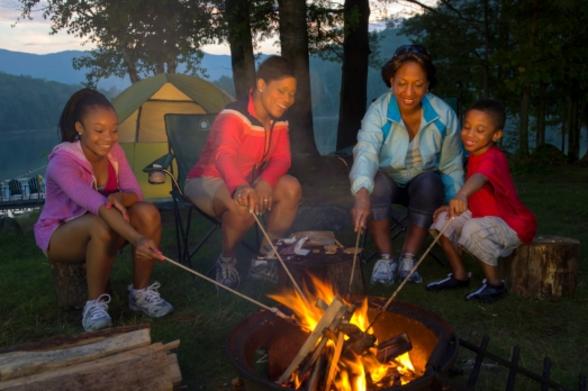 Whether your family loves bumming at the beach, exploring charming little towns, or soaking in the natural beauty of mountains and lakes, you can find it all in New York—no matter your budget. We found top-notch local escapes all over New York with lodging for less than $200 per night, with affordable family-friendly activities nearby. So read on and get excited: Summer will be here before you know it! 
Masks are encouraged, but optional in most settings per New York State guidelines. Individual businesses or attractions may require mask wearing. Call ahead and check websites and social media to make sure attractions and amenities are open and available. 
Originally Published 05/20/2019
Set up camp (Hudson Valley)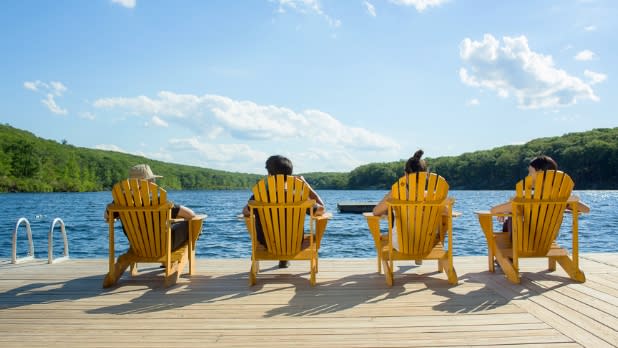 No childhood is complete without at least one camping trip. Show young ones the magic of the outdoors by pitching a tent in one of the Hudson Valley's beautiful state parks. A 30-mile drive north of the George Washington Bridge brings you to Harriman State Park. Set up camp at the Beaver Pond Campground, equipped with showers, laundry facilities, picnic tables, and a fire ring, just a stone's throw from the idyllic Lake Welch Beach ($10 vehicle parking fee during swimming season). Alternatively, travel a bit farther to Taconic State Park ($8 vehicle entrance fee during swimming season). Plentiful trails fit for all levels lead you to breathtaking views of Bash Bish Falls and perfect fishing spots. Both camping ground fees range from $15–22/night.
Live large at Lake George (Adirondacks)
As endorsements go, Thomas Jefferson's "Lake George is without comparison, the most beautiful water I ever saw," is pretty high up there. Set up home base a seven-minute drive from the water at the Mohican Resort Motel. True to its name, with an outdoor pool, heated indoor pool, hot tub, playground and basketball court, the Mohican has the feel of a resort at motel prices. If you're bringing bikes, the Warren County Bikeway starts right across the street. In addition to sunbathing and swimming at nearby Million Dollar Beach (free, though there's a $10 parking fee), you can also admire the beauty of Lake George aboard the vintage Minnie Ha-Ha Paddlewheel boat (adults $22, kids 4–11 $11, kids under 4 free). Nearby, learn some local history at the nearly 270-year-old Fort William Henry Museum (adults $22, students 15-21 $18, kids 5–14 $11), a re-created fort that served as a set for the movie The Last of the Mohicans. Lake George; rates start at $135/night.
Make timeless memories in Saratoga (Capital-Saratoga)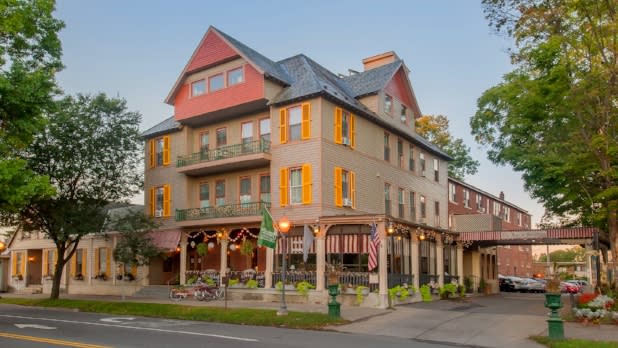 The Inn at Saratoga is the oldest operating hotel in this historic town, and you'd be hard-pressed to find a place to stay with more charm. Vintage Roadmaster bicycles are free for guests to use for up to two hours a day. Ride to Congress Park and take a spin on the historic wooden carousel ($1 a ride). Learn about crucial events of the Revolutionary War at Saratoga National Historical Park (free), the landmark where the British army first surrendered to American troops in 1777. Then take the little ones to play (and learn) at the Children's Museum in its new location at the Lincoln Baths . You can always hop in the car for a 14-minute drive to Brown's Beach (ages 12 and over $5, kids 5-11 $3, free for others) to swim, kayak, canoe, and play volleyball. After the kids have gone to bed, adults can sip craft cocktails while hearing live music in the Inn's Side Room cocktail parlor, which looks like it was lifted straight out of a Victorian period piece. Saratoga; rates start at $169/night.
Never run out of fun (Catskills)
If you're looking for an affordable family resort with enough activities to keep everyone entertained, consider the Crystal Brook Resort in the Northern Catskills. Crystal Brook is owned and operated by a German American family who provides their guests with a taste of their culture along with nonstop summer fun. Visitors can sample German cuisine in the Mountain Brauhaus, the resort's very own Bavarian beer hall where they feature live musical events. They also boast a lengthy list of on-site activities and amenities, such as a swimming pool, spa, basketball court, bocce ball court, a tennis court, croquet, hayrides, weekly movies, and more. This is all in addition to the surrounding natural beauty. You and your family can explore trails, brooks, and waterfalls just steps away from your room. For some high-speed action, drive 23 minutes to the Zoom Flume Water Park (ages 8 and up $39.99, ages 3–7 $32.99, under 2 free) for water slides with names like "Typhoon Twister" and "Black Vortex" as well as the world's largest water park zip line. Round Top; rates start at $105/night.
Read More: 14 of the Best Catskills Hiking Trails for Every Level of Hiker
Go beyond baseball in Cooperstown (Central NY)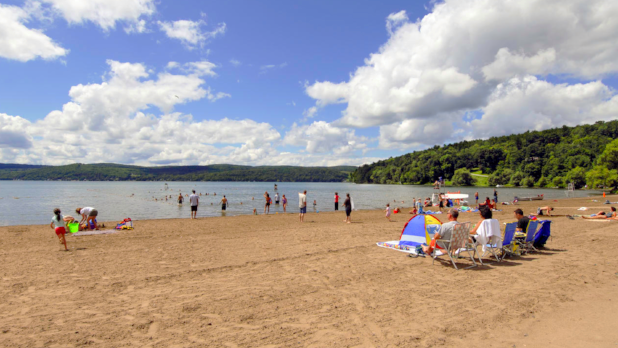 Cooperstown, home to the National Baseball Hall of Fame, is an obvious choice for baseball-loving families, but there's really something for everyone. At the Bayside Inn & Marina you'll find some of the most affordable, conveniently located motel rooms, inn rooms, and cottages right on the shore of Otsego Lake. Go for a dip before breakfast or soak up some afternoon sun on the lawn chairs. If you own kayaks or boats—here's the perfect place to put them to use. Canoes and kayaks are also available to guests, free of charge. You can find an even bigger beach and plenty of hiking at the nearby Glimmerglass State Park ($7 vehicle entrance fee June 20 to Labor Day). Drive 12 minutes into downtown where you can explore Cooperstown via trolley, visit local museums, go shopping, and dine at any of the numerous family restaurants. Cooperstown; room and cottage rates start at $149/night.
Return to nature (Chautauqua-Allegheny)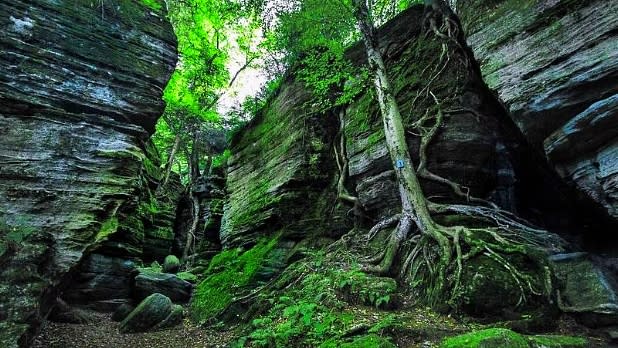 Find the perfect blend of culture, nature, and fun in one affordable vacation by heading to Chautauqua Lake. Settle in at the Chautauqua Suites Hotel & Expo Center, which offers a free shuttle service to and from the nearby Chautauqua Institution, an enormous community cultural center. For six weeks during the summer, the Institution offers theater, musical and dance performances, art exhibits and more. Kids will love to uncover the magic of 60-foot high crevices, hidden caves, and passageways at the Panama Rocks Scenic Park (General admission is $10 for adults, $7 forkids 6–12, and free for kids under five), which lies within a certified "Ancient Forest"—the trees are older than 500 years old! Finally, don't leave without visiting Alpacaville, a farm where you can meet Alpacas and shop for the softest souvenirs made from their wool. Mayville; rates start at $149.99/night on weekdays and $179.99 on weekends.
Chase waterfalls (Finger Lakes)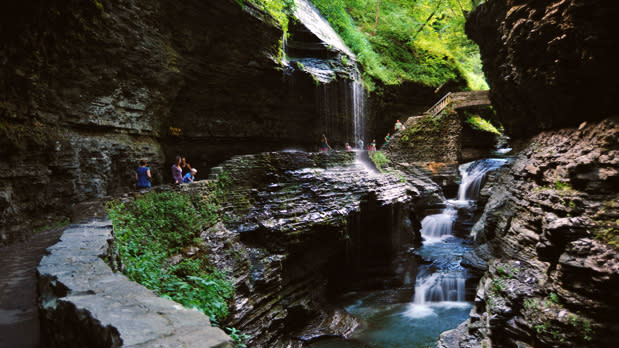 Watkins Glen State Park ($10 vehicle entrance fee) is home to some of the most stunning natural scenery in the Finger Lakes, making it a perfect getaway packed with memorable (and affordable) family activities, like swimming, fishing, and camping. Stay at one of the motel rooms, cabins, or adorable A-frame chalets at the adjacent Seneca Lodge and enjoy the convenience of dinner and breakfast served seven days a week. A 25-minute drive will bring you to the Corning Museum of Glass (adults $22) where children (age 17 and under) enter for free, and one ticket can be used over two days! Families can admire mind-boggling glass art and sculpture and come back later to get creative at kid-friendly glass-working classes. Next, head to the Watkins Glen Farm Sanctuary (adults and kids 3-17 $15, kids under 2 are free) where you can make friends with hundreds of adorable rescued farm animals. Watkins Glen; motel rooms and cabins start at $100/night, A-frame chalets start at $180/night.
Experience a farm and Niagara Falls (Greater Niagara)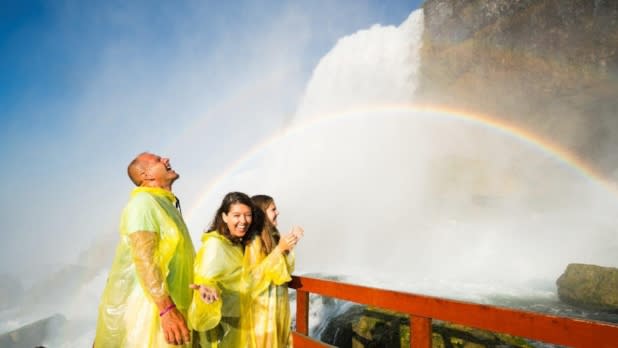 Becker Farms is not your typical farm stay. Between their fruit orchards and the picturesque Vizcarra Vineyards lie affordable yet luxurious cabins. Each has modern furnishings and its own private veranda from which you can watch the sun rise or set. Check out the farm's "U-Pick" calendar to see which berries are in season during your visit. There's a limited number of cabins so be sure to book well in advance! Plus, less than an hour's drive away lies the unmissable Niagara Falls. Experience them via the classic Maid of the Mist boat tour, (adults $28.25, kids 6–12 $16.50, younger kids free), or try a tour of the Cave of the Winds (adults $21, youth $17 for summer), which brings you 175 feet into the Niagara Gorge to the "Hurricane Deck," just feet away from the crashing water. Gasport; rates start at $200/night.
Get the most out of the Big Apple (New York City)

Photographer: Thanassi Karageorgiou/Museum of the Moving Image.
"What? An affordable family stay in New York City" you ask? You bet! Find perfectly affordable hotel rooms for the family just one subway stop from Manhattan at the Collective Paper Factory. And there are plenty of free and cheap activities for families around the city. See the city from a new angle with a stroll on the High Line, play on the enormous stone slide in the Billy Johnson Playground in Central Park, gaze up at the iconic ceiling in Grand Central Terminal, watch Friday night fireworks from the boardwalk in Coney Island, and so much more. One particular can't-miss stop is the Museum of the Moving Image (adults $20, kids 3–17 $10, younger kids free) in Queens. The exhibits are super fun and interactive, including one where you can add your own voiceover and sound effects into classic movies. There is also a permanent exhibition dedicated to the Muppets and their creator, Jim Henson, that shows how Kermit and other familiar faces came to life. Queens; rates start at around $159/night.
Feel like a king or queen of the castle (Thousand Islands-Seaway)
This summer, take your family island-hopping without spending a fortune! Escape to the Thousand Islands, where you can stay in one of the darling rooms at the well kept, centrally located Clipper Inn restaurant and motel. From the inn, you're a 9-minute walk from Clayton Island Tours (The Boldt Castle and Two-Nation Tour is $28 for adults, $16 for kids 5–12, and younger kids are free) and a 16-minute drive from Uncle Sam Boat Tours for a shuttle to Boldt Castle (adults $10, kids $6.50, younger kids free). Boat tours are the only way to reach Boldt Castle, the family summer home of the early 20th-century millionaire George C. Boldt. The Boldt mansion and yacht house offer an incredible look back in time as well as the unique excitement of exploring a real-life castle. If your little ones have had their fill of history, a 9-minute drive from the inn will bring you to New York State's largest go-kart track (1 lap for $8.50). Clayton; rates start around $118/night.
---
Don't forget to post photos of your New York adventures on Instagram and Twitter with #iSpyNY and tag us on Facebook!