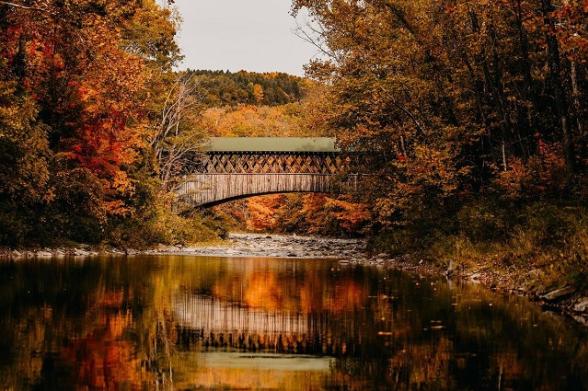 Dreaming of quaint, simpler times? Covered bridges seem to possess this magical gift to transport us to a peaceful break from the present with the power of aesthetically pleasing architecture of days gone by along babbling brooks and rivers. Step back in time and go on a picturesque road trip through history to 13 of New York's most enchanting covered bridges. 
Masks are encouraged, but optional in most settings per New York State guidelines. Individual businesses or attractions may require mask wearing. Call ahead and check websites and social media to make sure attractions and amenities are open and available.

Credit: @csi518 on Instagram
If you love history, a trip to Hyde Hall Covered Bridge needs to be at the top of your list. Sitting atop Shadow Brook for close to 200 years, this Official Path Through History site is the oldest covered bridge, not just in New York State, but in the nation. Located on the grounds of Hyde Hall, a 19th-century neoclassic country mansion regarded as one of America's most remarkable buildings, you can spend the day touring the grounds and crossing the bridge to Glimmerglass State Park for expansive views of the glittering Otsego Lake and surrounding forests.
For those looking to continue a historic tour through the years, you're in the right place – transport yourself to an age of classic Americana with a short drive to nearby Cooperstown to see why this picturesque small town is known as the home of the country's favorite pastime at the National Baseball Hall of Fame and Museum.
While the Fox Creek Covered Bridge in Schoharie may be the youngest span on this list, it fully delivers with its old school charm and rustic look. This modern bridge was built in 1982 and features a concrete arch topped with a lattice-style cover, evoking the 19th century grace of other historic covered bridges. Just down the road you'll find the Old Stone Fort Museum, which was attacked during the Revolutionary War. Explore the rich history of the Schoharie Valley among the site's seven historic buildings that include a barn and a one-room schoolhouse, plus exhibits highlighting unique artifacts from 350 million-year-old fossils to Schoharie's first automobile, a 1903 Rambler.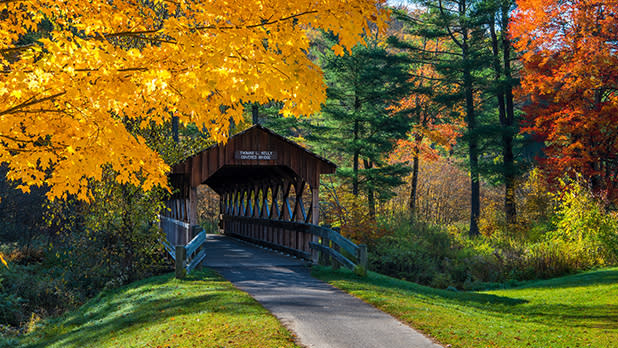 Nestled in the heart of Allegany State Park lies one of New York's most photogenic bridges. Just a short walk along a paved pathway from Red House Lake camping area, the bridge spans 110-feet across Red House Creek. The open lattice design provides diamond-shaped viewpoints across the river to the surrounding forest that looks postcard pretty in every season. 
A quaint covered bridge in the Lake Champlain area of the Adirondacks, Ticonderoga's Kissing Bridge looks like a building straight out of a fairytale picture book. Head on a stroll through Bicentennial Park and cross the pedestrian bridge for scenic views of the La Chute River and the Carillon Falls waterfall. Be sure to visit the nearby town of Ticonderoga and stroll its quaint downtown and historic sites, including Fort Ticonderoga, the site of America's first victory in the Revolutionary War, with stunning views overlooking Lake Champlain.
The most-well known historic covered bridge in the Adirondacks stands proudly across the mighty Ausable River. The Jay Covered Bridge was built in 1857, getting its iconic cover a year later, and boasts a Howe truss design. Pedestrians have this 175-foot beauty all to themselves as the bridge is open only to foot traffic meaning you can easily stop at the many viewpoints along the way that create a beautiful frame of the rocky river and mountainous wilderness. Just 30 minutes away, discover one of America's original tourist attractions at Ausable Chasm. Known as the "Grand Canyon of the Adirondacks," this two-mile-long sandstone river valley gorge carved out by glacial activity 500 million years ago is full of stunning vistas and rushing waterfalls that can be explored along five miles of scenic trails or with rafting, tubing, and lantern tours in warmer months.
A gravel-laden path leads you to the enchanting Copeland Covered Bridge that will leave you feeling like you've jumped into the pages of a spellbinding storybook. At just 35-feet in length, it's easy to describe this bridge as cute, but it's also the only covered bridge still standing in Saratoga County and the only one in the state with a Queenspost truss design. Originally built in 1879 by a local landowner to get his livestock safely to pasture over the bubbling Beecher Creek, it's now a peaceful spot to take in views of the natural surroundings and gorgeous cascading waterfall. It sits about 40 minutes outside beautiful Saratoga Springs, a hub for thoroughbred horse racing and home to Saratoga Spa State Park, famous for its healing mineral waters and classical bath and spa house.
A trip to Washington County is a must for covered bridge fans. It's home to four of these delightful structures, with the Rexleigh Bridge and its unique cast iron "shoes" acting as a glorious red beacon of Americana amid a gorgeous scene of trees and neatly farmed meadows, stretching 107 feet across the Battenkill River. Fans of "Hamilton" and American history will want to visit the Revolutionary War sites in the area, including the home of General Philip Schuyler, whose daughter married Alexander Hamilton, and Saratoga National Historical Park, where the Battle of Saratoga marked the turning point in America's fight for independence.

Credit: Linda Schott
It doesn't get more picturesque than the Eagleville Covered Bridge. With its venetian red exterior and white portal trim, this bridge that also spans the Battenkill River bursts out from the trees like a delicate rose. Not only is it a popular fishing and swimming spot, but its location on the edge of the 983-acre Battenkill State Forest makes it an ideal destination for a day of hiking and adventuring. It's also a short drive away from the Shushan Covered Bridge Museum, which houses a collection of antique farm equipment and machinery.
The rich red barn-like facade of the 1857-built Buskirk Covered Bridge, one of just three in the state sporting the classic Howe truss design, is the perfect setting for a selfie in any season. Seeing the bridge reflected on the surface of the Hoosic River is sure to inspire wonder. It should come as no surprise that the landscapes of this region and even the bridge itself were immortalized in paintings by popular folk artist Grandma Moses. You can visit her home in nearby Eagle Bridge, where her great grandson displays his work carrying on the family's artistic legacy and folk art tradition.

Credit: Michael W. Chorazy
Tucked away in one of New York State's oldest campgrounds in a secluded natural paradise within the Catskills stands the charming Beaverkill Covered Bridge. Built in 1865, the 98-foot long wooden span perched atop the peaceful Beaverkill River features a beautiful lattice truss design, fieldstone abutments, and timber approach. A hotbed for fly fishing, you can try your hand at the sport or watch others reel in the region's famous trout while enjoying a picnic and soaking in the sights of the surrounding forest. To learn more about the history of the birthplace of American fly fishing, a museum dedicated to this cherished pastime is just a 10-minute drive from the bridge.

Credit: @evderev on Instagram
Take a scenic drive through the Catskills' valleys and mountain villages of the Catskills and you'll arrive at one of New York's most beautiful covered bridges. Built in 1844, Perrine's Covered Bridge is one of five covered bridges in Ulster County and the second oldest bridge in New York. Spanning the Wallkill River, this historic landmark blends into the forest, and is just minutes away from New Paltz. For film lovers, take a detour and hike or bike on the Wallkill Valley Rail Trail, one of the filming locations used in the film "A Quiet Place."
Planning to visit the Livingston Manor Covered Bridge? Make sure to bring your fishing pole as this historic span crosses Willowemoc Creek, an ideal spot for catching trout in the fly fishing tradition that's native to this land. Built in 1860, this beautiful bridge got a much needed facelift in 1984 after being closed for more than four decades. To this day, it maintains its charm and original beauty, which can be gazed upon from a picnic bench at the park that neighbors the 103-foot-long span. Stay around a while to discover why Conde Nast Traveler dubbed Livingston Manor "the new poster child of bohemian Catskills living." With antique shopping on Main Street, two breweries, food ranging from succulent barbecue to wood-fired pizza, and The DeBruce, an upscale 12-guestroom inn that has become a hot culinary destination thanks to its immersive nine-course tasting menu, you'll want to make this small town your next weekend getaway.

Credit: @csi518 on Instagram
Kick off a scenic drive through the Catskills with a picnic lunch in the park that sits adjacent to the Downsville Covered Bridge, where you can admire picturesque views of the East Branch of the Delaware River and the wooden span that stretches across it. At 174 feet, it's the longest covered bridge currently in use in New York State. The park boasts one of 12 historic signs that launches you on a self-guided 50-mile historic driving tour through the hills, valleys, and quaint mountain communities throughout the Town of Colchester, where nature lovers can explore the 7,000 acre Bear Spring Mountain Park, one of the state's recreation jewels.
---
Share New York State adventures with us on TikTok, Instagram and Twitter with #ILoveNY and #iSpyNY, and tag us on Facebook!