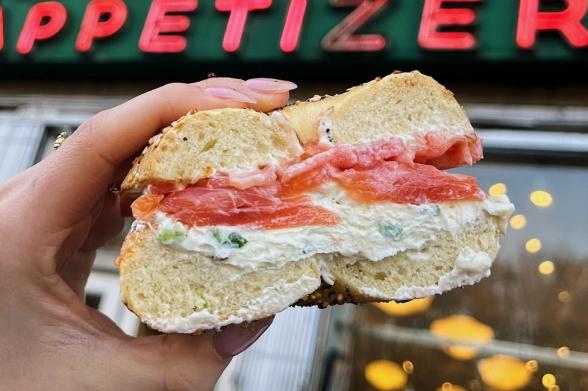 Credit: @cbudzruns on Instagram
New Yorkers know good food. And they're not afraid to let you know it. From iconic dishes branded as the best of New York across the world to lesser-known inventions across the state you have to try for the ultimate local experience, the options are seemingly endless! Make sure you add these famous and unique New York foods to your next getaway.
Masks are encouraged, but optional in most settings per New York State guidelines. Individual businesses or attractions may require mask wearing. Call ahead and check websites and social media to make sure attractions and amenities are open and available.
Looking to make a bucket list checklist of all the foods you have to try in every region of New York State? Download the full list here!
ADIRONDACKS
1. Michigan "Red Hots" (Plattsburgh) 
A specialty in Plattsburgh and the surrounding area, this steamed beef (and only beef) hot dog on a steamed bun is topped with a meaty sauce dubbed "Michigan sauce". Pick yourself up a red hot at one of McSweeney's Red Hots diners or the popular roadside Clare & Carls Hot Dog Stand.
CAPITAL-SARATOGA
2. Potato Chips (Saratoga Springs) 
Did you know the potato chip originated in Saratoga Springs? Invented in 1853, the potato chip is of course one of the world's most popular snacks. Order Original Saratoga Chips for a taste of these crispy salty treats from their source, or try New York Chips cooked in avocado oil.
3. Oboys (Saratoga Springs)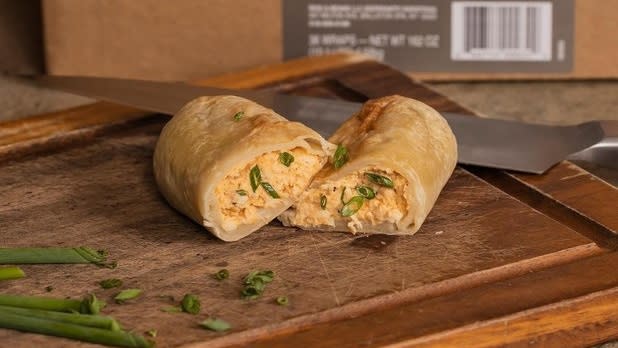 Credit: @originaloboy on Instagram
From "Doughboy" to "Oboy", this Saratoga Springs creation from Esperanto restaurant is a combo of mild spices, chicken breast, cheeses, and green onions inside a delicious chewy golden brown dough. If you can't make it to Esperanto, never fear! The popular Oboy is found in dozens of locations across the state, with Esperanto providing a handy location finder for you.
4. Peppermint Pig (Saratoga Springs)
Looking to add some sweetness to your savory Saratoga selection? The traditional holiday-favorite Peppermint Pig™ also hails from the famous spa village. Created by candy makers in the 1880s, this festive treat is a hard candy made with sugar and peppermint, poured into an adorable pig-shaped mold. Head to Saratoga Candy Company to browse their selection of the famous family treat!
5. Mini Dogs (Troy)
A local specialty in Troy, these pint-sized sausages covered in meat sauce can be found all across the region. Invented by Greek immigrant Strates Fentekes in 1922 when he opened his restaurant New Way Lunch (now called Hot Dog Charlie's), the mini chili dogs of Upstate New York are now a local staple. If you can't make it to the original restaurant that started it all, there are two other restaurants hailed for mini dogs in the region: Famous Lunch and Gus's Hot Dogs.
6. Mozzarella Sticks with Raspberry Sauce (Albany)
Who would have thought that mozzarella sticks and raspberry sauce would be the perfect match? Albany. Albany did. And surprisingly, it works. You have brie and jam, cheese and fruit. It just makes sense. Try it at Ralph's Tavern and Scubbers Wings.
CATSKILLS
7. Trout
Did you know the Catskills is considered the birthplace of American fly fishing? And it's no wonder the area is famous for its abundance of trout fishing and flavorsome fish served fresh in restaurants across the region. The town of Roscoe is even affectionately nicknamed 'Trout Town USA'. You'll find popular restaurants serving fresh trout, including the popular Hennings Local which serves almond-dusted rainbow trout and sesame-seared trout from the kitchen of Norwegian chef Henning Nordanger.
CENTRAL NEW YORK
8. Spiedie (Binghamton)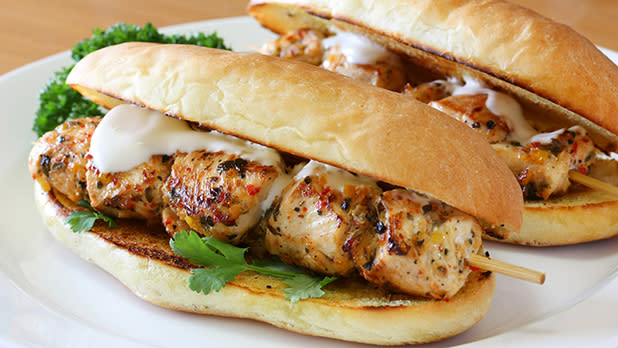 Cubes of lamb, chicken, or beef slowly marinated overnight in a vinegar "spiedie" sauce cooked on skewers atop a soft Italian bun have been a staple of Central New York since the 1920s. Visit Binghamton in August and attend the annual Spiediefest, a three-day event with Spiedie cooking contests, hot air balloon launches and rides, live music, and more!
9. Utica Greens & Beans (Utica)
A twist on traditional Sicilian and Southern Italian sauteed greens, this 1980s Italian-American creation features escarole, hot peppers, and garlic served in restaurants all around the Utica area.
10. Tomato Pie (Utica)
Credit: @nommomnyc on Instagram
Similar to a pizza, the tomato pie perfected in Utica is a thick dough pie with  sweet tomato sauce and a light dusting of cheese served at room temperature. For an authentic Utica tomato pie, head to My Charlie's Pizza, or the restaurant considered to have put the tomato pie on the map and winner of Best Tomato Pie in the US – Roma Sausage & Deli!
11. Chicken Riggies (Utica)

Chunky rigatoni with chicken, a creamy marinara sauce with heavy cream, wine, butter and sweet peppers combines to serve the ultimate Italian-American entrée. Created in Utica in the 1970s, this simple yet delicious chicken and pasta dish has become a popular worldwide creation with numerous variations. Local favorites include Bella Regina in Utica, The Vigneto Restaurant in Rome, and a unique spin on the classic dish at Pastabilities in Syracuse.
12. Cold Cheese Pizza (Oneonta)
Credit: @foodioppo on Instagram
Around 40 years ago, Tino's Pizza in Oneonta discovered that the simple act of adding cold, shredded mozzarella to a standard slice of pizza could change the entire flavor profile of pizza itself: the crust tastes sweeter, the sauce tastes sharper, and even the texture is unique!
13. Turkey Joints Candy (Rome)
Not actually made from turkeys, but named instead in reference to its appearance, this unique candy manufactured in Rome has been a local tradition for decades. Invented by Nora's Candy Shop, the boney-looking candy sticks have a silvery, sugar coat filled with rich chocolate and hazelnuts.
CHAUTAUQUA-ALLEGHENY
14. Ice Wine (Lake Erie Wine Country)
Found across numerous wineries in the Western New York region, ice wine is a dessert wine made from grapes that have been frozen while still on the vine and left to freeze naturally in the vineyard. The Lake Erie Wine Country in the Chautauqua-Allegheny region is home to several vineyards specializing in ice wine, including the Best Dessert Wine Medal Winner Vidal Ice Wine from 21 Brix Winery. For more wineries in the idyllic Lake Erie Wine Country region, see here.
FINGER LAKES
15. Garbage Plate (Rochester)
When you're looking for a bit of everything (and we mean everything), look no further than Rochester's Garbage Plate. The local invention from 1918 contains a plate with the choice of a cheeseburger, hamburger, white or red hots, Italian sausage, chicken, or grilled cheese, served alongside home fries, french fries, baked beans, and/or macaroni salad. Head to Nick Tahou Hots, the home of the original Garbage Plate just outside of downtown Rochester. Other local favorite spots include hotdog award-winning Dogtown, and The Red Fern for a vegetarian spin on the classic dish.
16. White Hots (Rochester)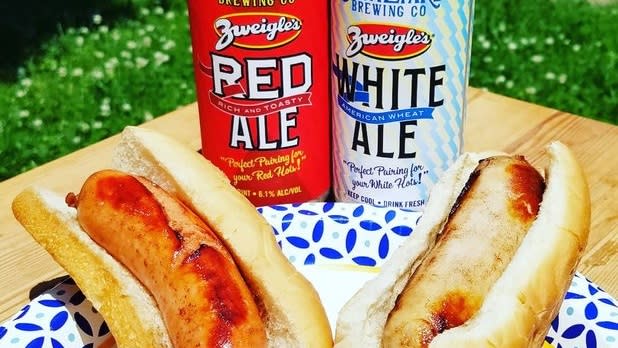 Credit: @stoneyardbrewingcompany on Instagram
When German immigrants came to Rochester, they set out on a mission to create a cheaper alternative to commercial hot dogs. Thus, the white hot was born. Made with uncured pork, veal, and beef, white hots are now considered more of a gourmet delicacy, with a spicy mustard flavor that gives the white hot dog its special kick. While you can pick up a white hot around many places, try Zweigle's, known as one of the places that made white hots famous.
17. Salt Potatoes (Syracuse)
New York has Irish immigrants to thank for salt potatoes, created in the 19th  century by those working in the salt mines around the Syracuse area. The popular side dish with salty crusty outsides and creamy fluffy insides is said to have originated from workers boiling small unpeeled potatoes in salinated brine mined from salt springs. You can find traditional salt potatoes at Irish restaurants like Kitty Hoynes Irish Pub and Restaurant and Riley's, as well as the popular Dinosaur Bar-B-Que.
18. Grape Pie (Naples)
Photo courtesy Arbor Hill Grapery & Winery
Invented in one of America's greatest wine regions, this sweet pie was born from pie competitions held in the 1960s as part of the annual Naples Grape Festival. Many bakeries across the region have grape pie for sale. You can also try a pie and wine tasting at Arbor Hill Grapery & Winery.
19. Ice Cream Sundae (Ithaca)
The famous sweet treat was created when Reverend John M. Scott, a Unitarian Church minister, and Chester Platt, co-owner of Platt & Colt Pharmacy, created the first historically documented sundae. As the birthplace of the sundae, Ithaca takes its ice cream seriously. Head to Ithaca's favorite ice cream shop Purity Ice Cream Co for premium ice cream in a retro setting. 
BONUS! State Fair Foods:
GREATER NIAGARA
20. Buffalo Wings (Buffalo) 
Credit: @_lionelm on Instagram
The iconic Buffalo wing is a no-brainer for this list. Originating in Buffalo in the 1960s, the first Buffalo wings were created by the owner of Anchor Bar and became an instant hit. Grab yourself some original Buffalo wings in the city and bar they were created in. Other local favorites include La Nova and Dinosaur BBQ. For those who want to turn their Buffalo wings outing into a wing-swept adventure, check out the Buffalo Wings Trail.
21. Beef on Weck & Loganberry (Buffalo)
Considered a quintessential dish of Buffalo cuisine, this popular sandwich was brought to the region by 19th-century German immigrants. Consisting of thinly sliced rare roast beef on a Kummelweck roll (similar to a Kaiser roll but with a salty crust), you can find this meaty treat at local favorites Charlie the Butcher, Schwabl's, and many others.
22. Sponge Candy (Buffalo)
A unique and delicious treat and a popular souvenir, this chocolate-covered toffee candy with a light and airy consistency was first made at Fowler's Chocolate Shoppe in Buffalo at the beginning of the 20th century. Today you can find the candy at the still-operating Fowler's Chocolate Shoppe and other candy makers across the area, such as Niagara Chocolates, Watson's, Antoinette's Sweets, and more.
23. Orange Chocolate Buffaloes (Buffalo)
A candy that is both cute and delicious! Orange Chocolate Buffaloes combine smooth milk chocolate and natural orange flavoring, poured into a small buffalo mold. Widely available throughout Western New York, you can pick up the delicious candy from many local candy shops and souvenir stores, including Parkside Candies, a retro-themed candy maker.
24. Jell-O (LeRoy)
Enjoyed by people around the world, but few know that this famous dessert was invented in the small town of LeRoy in Western New York. Today, you can take a trip to the town's very own Jell-O Museum.
HUDSON VALLEY
25. Philadelphia-style Cream Cheese (Chester) 
Despite its name, the favored bagel topping was invented in Chester, New York in the 19th century! Enjoy some Philadelphia-style cream cheese at these 14 New York Bagel Shops You Have to Try.
26. Apples!
There's a reason why New York State's official food is the apple and NYC is dubbed 'The Big Apple' – apples abound in the Empire State! The Hudson Valley region is home to one of the state's top apple-growing regions producing millions of pounds of apples per year. Find an apple orchard for apple picking in the summer and fall in the region here.
BONUS MENTIONS for foodies…
27. Brotherhood Winery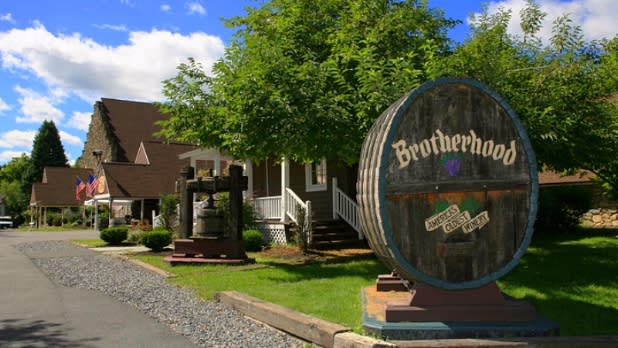 New York State is home to the oldest winery in the country – Brotherhood. The winery was able to stay open during Prohibition due to the wine they made for church services. Today you can visit the tasting room and tour the largest underground cellars in the country.
28. Culinary Institute of America
Photo courtesy of CIA New York Restaurants
The world's premier culinary college, the Culinary Institute of America is where soon-to-be world-renowned chefs get their start. You can take a tour of the famous college, dine in at student-staffed restaurants, and even take a cooking class.
LONG ISLAND
29. Grandma Pizza 
Credit: @jackivore on Instagram
As the name suggests, this pizza was invented with a grandmother's love. Created by home cooks on Long Island, this Sicilian-style pizza is baked in a square pan with a thin crust topped with a simple tomato sauce and fresh mozzarella. Simple and delicious, the beloved menu item is available in many pizzerias throughout the region. Local favorites for grandma pie include Bellagio Pizza in Famingdale, LaPiazza in Merrick, and Umberto's in New Hyde Park.
30. Cold Lobster Roll
With the Atlantic Ocean and Long Island Sound lapping at its shores, Long Island is the obvious choice for the cold lobster roll. Refreshing and light, it's a popular option during the hot summer months with many seafood restaurants and food trucks along the coast serving this delicious and classic dish. For a side of seafront views, head to Duryea's on Montauk and Orient Point or the retro seafood shack The Lobster Roll on Amagansett.
31. Fresh Shucked Oysters 
Credit: @yorkcny on Instagram
With more than a dozen oyster farms and an annual Oyster Fest, it's safe to say, Long Island knows oysters! Take a trip to an oyster farm such as Blue Island Oysters by Fire Island, or head to a waterfront raw bar restaurant like SALT in Merrick.
32. Long Island Clam Chowder
A variation of the classic New England clam chowder, Long Island clam chowder is a pink, tomato-based chowder, typically consisting of chopped clams, potatoes, onions, celery, and a variety of herbs and spices, thickened with a roux or crushed crackers. Popular local favorites include Chowder Bar in Bay Shore and Peter's Clam Bar in Island Park.
NEW YORK CITY
While there are thousands of options at your fingertips in NYC, these are just a few must-try items for your NYC food travel bucket list.
33. NY-style Pizza (Manhattan) 
While NY-style pizza is available in every corner of the state, we made it the headline for the place in which it was born - NYC. Even though you can find a good slice just about anywhere, some especially great choices include Mama's Too!, Joe's Pizza, and Paulie Gee's. For more great pizzas across the state, check out our blog on 11 of the Best Pizza Places in New York State.
34. Bagels with Lox (Manhattan) 
Credit: @cbudzruns on Instagram
Right after pizza, bagels are probably next on the list of New York City's best-known foods. Even though neither Lox, nor bagels, originated in NYC, the simple act of putting them together was a uniquely New York creation. You can get the real deal New York bagel at some of the city's veritable institutions, including Russ & Daughters and Ess-a-Bagel.
35. Chicken & Waffles (Manhattan)
While chicken and waffles have reportedly been around for hundreds of years, it wasn't pushed into the culinary lexicon until the 1930s, when Joseph Wells and Herb Hudson began serving the iconic dish at Wells Supper Club in Harlem and are now a staple of New York brunches everywhere. For a taste of chicken and waffles from the "Queen of Soul Food" herself, try Sylvia's Restaurant. Other fan favorites include Melba's Restaurant and Rabbit's Chicken & Waffles.
36. Cronut (Manhattan)
Shaped like a doughnut and made from croissant-like dough filled with flavored cream and fried in grapeseed oil, the Cronut was created and trademarked in 2013 by French pastry chef Dominique Ansel. Visit the patisserie where it was first made in SoHo and try one of the signature monthly cronut flavors.
37. Hot Dogs (Brooklyn)
You can grab a New York hot dog on almost every street corner, but it's worth visiting the source at Nathan's Famous Hot Dogs on Coney Island in Brooklyn. In the summer months, you can enjoy the boardwalk, beach and amusement park. Don't forget to head to Nathan's Famous in July for the annual hot dog eating contest!
38. NY-style Cheesecake (Manhattan)
Credit: @eyelm on Instagram
Arnold Reuben, owner of Reuben's Restaurant and Delicatessen and The Turf Restaurant, is credited with creating the New York cheesecake in the 1920s. Try Junior's Cheesecake in Brooklyn or near Times Square, to see why some call it the home of New York's best cheesecake.
39. Pastrami on Rye (Manhattan)
The pastrami sandwich with layers of spiced, smoked, and steamed brisket on rye bread was invented at Katz Delicatessen and appeared in Jewish delicatessens on the Lower East Side in the late 19th century. You can visit Katz Delicatessen today, which is also the site of the famous diner scene from When Harry Met Sally.
40. Baked Alaska (Manhattan)
The classic American Baked Alaska is often attributed to Charles Ranhofer, chef at New York's famous Delmonico's in 1867, and said to have been named in honor of the purchase of the state of Alaska. Delmonico's is currently closed, but you can find yourself a delectable baked Alaska from local favorites Nat's on Bank in the West Village and Dirty French on the Lower East Side.
41. Frozen Custard (Brooklyn) 
Photo by Anna Pakman
In 1919, when ice cream vendors Archie and Elton Kohr from Coney Island realized that when they added egg yolks to ice cream, it had a smoother texture and helped ice cream stay cold longer, they knew they'd created the perfect treat for hot summer days along the boardwalk. Pick yourself up this summertime staple along the boardwalk at Coney's Cones.
42. Black & White Cookies (Manhattan)
A popular treat across the United States, this classic NYC dessert is soft and cake-like, frosted with half chocolate and half vanilla icing to create its signature black and white appearance. Introduced by Bavarian immigrants in the 1900s, the iconic cookie is sold in countless bakeries, cafes, and delis. Try the classic black and white cookie at NYC's famous Upper West Side gourmet emporium Zabar's, William Greenberg Desserts, and Russ & Daughters.
BONUS mentions!
43. Bacon Egg & Cheese 
The BEC or the bacon-egg-n-cheese as it's affectionately pronounced, is something New Yorkers can't believe no one out of state CAN'T understand, and seem to wonder why this isn't a menu option available worldwide. Originally made in England and brought to US shores during the Industrial Revolution in the mid-late 1800s, the BEC became popular after World War II and is now a NY staple in delis on almost every street corner. Need something filling and delicious in a rush? New Yorkers said, "sign us up".
44. Soft Pretzels
Another classic item adored by New Yorkers and a must-try for out-of-towners, picking up a warm and salty soft pretzel from a street cart as you stroll into Central Park is a delight.
THOUSAND ISLANDS-SEAWAY
45. Thousand Island Dressing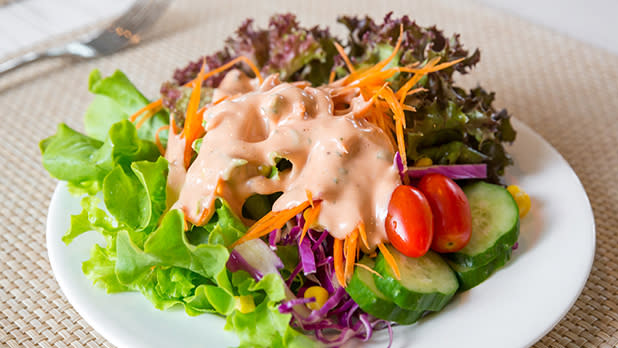 Last but not least, the salad dressing that's also a favorite on many sandwiches across North America owes its name to the scenic Thousand Islands region of New York. You can find bottles of locally-produced Thousand Island dressing at 1000 Islands River Rat Cheese in Alexandria.
---
Want to be featured on our social? Tag us on Facebook, Twitter, Instagram and TikTok with #NYLovesSummer and #ISpyNY!