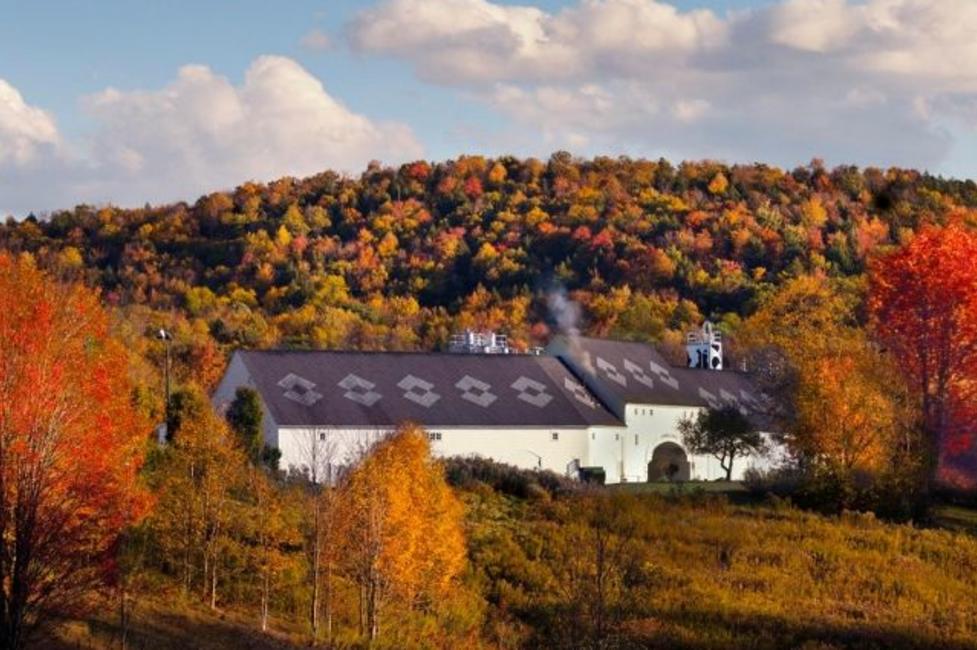 New York State is home to celebrated wine regions, the verdant farm-to-table hotbed in the Hudson Valley, and some of the best microbrews, cheeses, and chocolates found anywhere. Why not take a self-guided culinary adventure and discover the bounty of the Empire State? Local organizations have done most of the work for you in creating food and wine trails to help you discover favorites at your own pace and find delicious off-the-beaten-path places along the way! For a guided experience, take a tour with a local expert. However you choose to experience New York State's exciting food and beverage trails and tours, bring your appetite!

Credit: Drew Brown
There's something special about experiencing a famous dish in the city where it all began. The Buffalo Wing Trail is your chance to do just that. With 13 pubs and restaurants cooking up their best buffalo wings, those who embark on the trail are in for a treat. Head to Buffalo's Anchor Bar to sample creations from the birthplace of the buffalo wing. Hot-wing lovers should check out Duff's Famous Wings (pictured) in Amherst. For a little bit of both—crispy and hot—try Gabriel's Gate in Buffalo's Allentown neighborhood.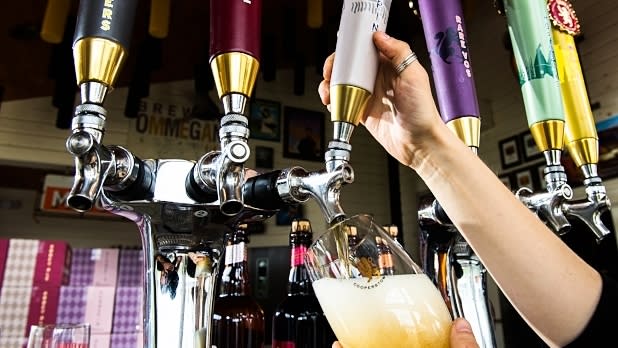 Looking for a home-run beverage trail experience? Head to Otsego County for a tasting or tour at one or all of the nine establishments on the Cooperstown Beverage Trail! Try the latest Belgian brew at Brewery Ommegang (pictured), sample Bear Pond Winery's locally produced white or red wines, and find handcrafted ales at Red Shed Brewery. The other locations on the 37-mile trail are Butternuts Beer & Ale, Rustic Ridge Winery, Fly Creek Cider Mill & Orchard, Pail Shop Vineyards, Cooperstown Distillery, and Cooperstown Brewing Company. Create a unique keepsake of your trip by getting stamps from each location on your copy of the trail guide and earn yourself a free Cooperstown Beverage Trail glass by visiting all nine spots!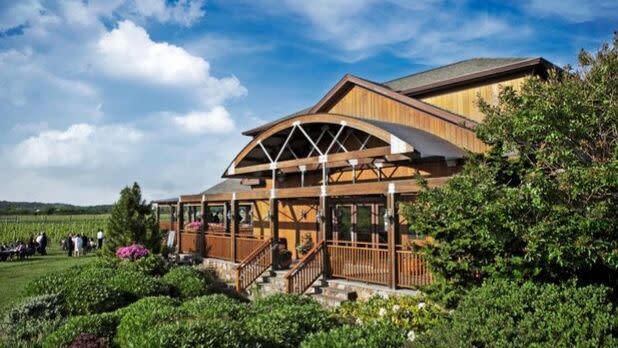 Long Island's rolling vineyards of the North Fork are the sources of celebrated, world-class wines. The North Fork Wine Trail features more than 35 wineries that offer tastings and vineyard tours. Check out Macari Vineyards (pictured) or Jamesport Vineyards to taste while overlooking rows of perfectly planted grapes. Venture to Greenport for an incredible view of the Long Island Sound while sampling handcrafted wines from Kontokosta Winery. Beer lovers rejoice, as Long Island is also home to several breweries. Between the Wave Chaser IPA at Montauk Brewing Company and the Toasted Lager at Blue Point Brewing Company in Patchogue, Long Island just may be the keeper of your new favorite beer. Prefer spirits? Visit Long Island Spirits to see how they produce their potato vodka from locally grown potatoes and, of course, have a taste!

Credit: Brown's Brewing Company
Put on your comfortable shoes and venture to Troy for a local culinary experience on foot. Taste of Troy Food Tours offer guided adventures through the historic riverside city's best restaurants and breweries. Unlike a trail, these tours are reserved in advance, led by local experts, and include visits to predetermined restaurants to sample their top dishes. Some of the delicious activities include: sampling tea at The Whistling Kettle, tasting craft beer at Brown's Brewing Company (pictured), and savoring Chef Marla's Reuben dip sandwich at the Illium Cafe. Food isn't the only thing on the tour's "menu." You'll feel as if you've gone back in time as you learn about the Collar City's rich history, impressive architecture, and unique culture. Each tour is three hours and ends with a visit to Troy's year-round farmers' market, the perfect spot to shop for local food. Also, explore nearby downtown Albany for a food tour in New York's capital city. Tours run from May through the end of October. 
It stands to reason that the Finger Lakes' incredible ascent as a wine region would encourage cheesemakers in the area to craft farmhouse cow's and goat's milk cheese to produce hyper-local pairings. The Finger Lakes Cheese Alliance's trail includes 12 farms and producers that create their own cheeses. Don't just take our word for it. Go visit the farms yourself! See how Shtayburne Farm's handcrafted cheeses are made, learn how to milk a goat by hand at Side Hill Acres Goat Farm in Candor, and get free cheese samples on either a self-guided or guided tour of Sunset View Creamery in Odessa. These are just a few of the many authentic farm experiences available along the trail. 
Farm-sourced food, craft beverages, and desserts—what more could you ask for? With 27 establishments participating in the Central New York Food and Beverage Trail, you'll explore Madison County one taste at a time. Start your day with a coffee and a freshly baked cinnamon bun from HipStir Cafe in Oneida. Next, enjoy a farm-to-table meal at Madison Bistro in Wampsville, followed by a refreshing beer at Good Nature Farm Brewery & Tap Room in Hamilton or Erie Canal Brewing Company (pictured) in Canastota. Let the participating location know you're stopping by as part of the trail for a chance to discover active discounts and giveaways! 
Have you tried ice wine—made using grapes that were frozen while on the vine? While exploring Lake Erie Wine Country, stop by Sparkling Ponds Winery in Ripley to sample their award-winning ice wine as well as an array of reds and whites. The winery even has a three-bedroom vacation villa on site! As you travel from winery to winery through charming towns tasting the region's unique offerings, enjoy a meal at family-owned Guppy's Restaurant & Tavern in Bemus Point or the elegant Webb's Captain's Table Restaurant in Mayville. Head to 21 Brix Winery in Portland for a dry red or sweet white and Woodbury Vineyards in Fredonia for seasonal fruit wines made with 100 percent fruit juice. For incredible views of Lake Erie, sip your glass of wine as you overlook the vineyards at Noble Winery (pictured) in Westfield. If you plan to visit with a group of eight or more people, reservations at the wineries you'd like to visit are recommended.

Credit: Courtesy of Taste 1000 Islands
The Thousand Islands-Seaway Wine Trail features eight family-owned wineries with scenic views of the St. Lawrence River, island castles, and lush farmland. The region produces whites, reds, and rosés using different varieties of grapes, including hybrid grapes that can withstand extreme seasonal temperatures. The Frontenac, Frontenac Gris, Marquette, and La Crescent cold-hardy (or frost-resistant) varieties are frequently used in the region. Thousand Islands Winery in Alexandria Bay uses a blend of four varieties including cold-hardy Marquette grapes to produce their Captain's Select wine. Sample the distinct flavors of the region at Otter Creek Winery in Philadelphia or Busted Grapes Winery in Black River, among others. For a special treat on a hot day, try the wine slushie at Coyote Moon Vineyards (pictured) in Clayton. 

Credit: Pennings Farm Market
Enjoy apple season all year long with the Warwick Valley Apple Trail. Drive along rolling hills through Orange County to each of the six scenic locations on the trail: Applewood Orchards & Winery, Apple Ridge Orchards, Masker Orchards, Ochs Orchard, Pennings Orchard & Farm Market (pictured), and Warwick Valley Winery & Distillery. Although seasonal produce, baked goods, hard ciders, wine, and spirits are available year-round, visit the orchards during the fall season for bonuses of fresh cider donuts, pumpkins, and apple picking. 

Credit: Corning & Southern Finger Lakes
Are you a dessert person? Satisfy your sweet tooth along the Chocolate Trail in the Gaffer District of Corning. From ice cream and martinis to cupcakes and truffles, you'll be in chocolate heaven! Explore the downtown shops, cafes, and restaurants as you indulge in each decadent bite. Make it a weekend event by enjoying the Chocolate Trail Package at the Radisson Hotel Corning, which includes a chocolate treat in your room, vouchers for a chocolate martini or pecan ball at an on-site restaurant, and a voucher for a handcrafted gift at the Corning Museum of Glass. 

Credit: Kevin DePodwin, Table to Farm Tours
Become immersed in the Catskills with Table to Farm Tours. Meet directly with the farmers on their land to see how your food makes it from the farm to your plate. Take the Weekend Kick-Off Tour to see how maple syrup is made at a sugar shack, watch how gouda cheese is made on a ninth-generation family dairy farm, interact with farm animals, and sip a cocktail prepared with locally produced spirits at a distillery. Table to Farm Tours offers a few different excursions, including seasonal options with varying prices, locations, and days.

Credit: @wildwoodz95 on Instagram
Inspired by surrounding mountains, pristine lakes, and relaxing landscapes, restaurants along the Adirondack Lakes Cuisine Trail offer carefully crafted dishes and beverages to fuel your Adirondack adventures. Try the American Fish Stew at Blue Moon Cafe or the Roasted Rainbow Trout at Campfire Adirondack Grill + Bar after a day of paddling on Saranac Lake. Some of the other "stops" along the trail include The Well Dressed Food Company (pictured), The Fiddlehead Bistro, Raquette River Brewing, and Nori's Village Market. 

Credit: David Katz
New York City offers so many incredible and diverse food options that it can be daunting trying to figure out where to start. Why not ask the pros for help? With six tours to choose from, Foods of New York Tours provides a firsthand look into the city's culinary delights. Feel like you've traveled to Italy on the Nolita & Little Italy's Secrets Tour as you learn about the history of the neighborhood, complete with a sampling of burrata, brick oven pizza, and rainbow cake. Additional tours on offer include Heart & Soul of Greenwich Village, Chelsea Market & the Highline, the Original Greenwich Village, Flavors of Chinatown, and the Best of Brooklyn.
For more information about New York State's food and beverage trails, visit Taste NY.