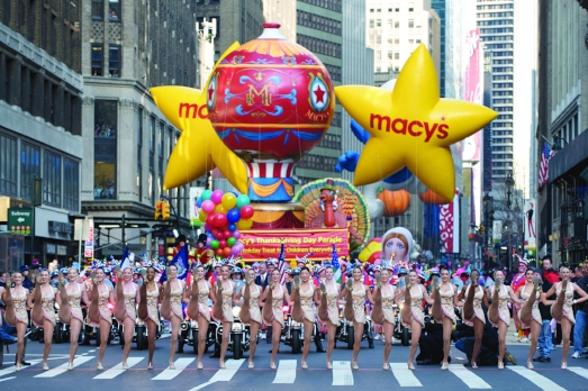 November in New York State is the perfect time to plan a spur-of-the-moment adventure. From delighting in wondrous festivals and parades to indulging in locally made goodies and getting a jump start on holiday shopping, New York State's 11 regions offer events, thrills, and fun for all! Discover one of the longest-running rodeos in the Northeast, tour a retired submarine, and celebrate the newest inductees into the National Toy Hall of Fame this month, only in New York State!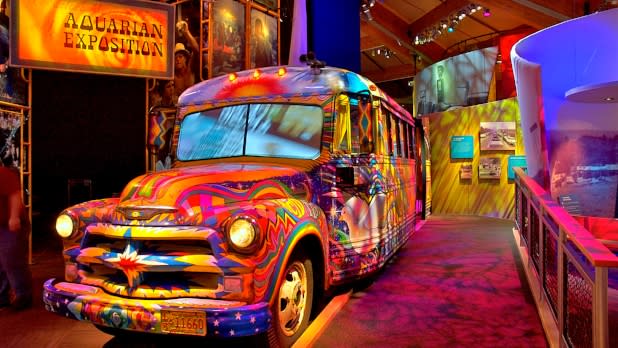 This November, get in one last visit to Bethel Woods before it closes for the season on December 31. If you haven't already toured the Museum's exhibits, now's the time to do so. Explore the transformative decade of the 1960s leading up to the Woodstock Music & Art Fair, from the rise of the "Nuclear Family," to the battlefields of Vietnam, even the iconic fashions of the time, you'll be transported into the past as you wind through the museum's exhibits. After a tour through the museum, join in a family-friendly art class and learn how to make a macrame wall hanging or luminaria, enjoy a meal at Yasgur's Cafe (named for Max Yasgur, who owned the field where the festival took place), or enjoy one of the center's many events and performances. This November, several concerts are slated, including Max Weinberg's Jukebox. This party of a performance includes a farm-to-table dinner and songs from the Beatles, Bruce Springsteen, and The Rolling Stones. Don't miss a stroll through the Bindy Bazaar Trails, a large-scale public art installation with origins tracing back to Woodstock. The center will reopen for the 2020 season in April; Bethel Woods; Ticket prices vary. 
The Great Jack O'Lantern Blaze (Hudson Valley)

Credit: Tom Nycz for Historic Hudson Valley
Just because Halloween is over, it doesn't mean that the spooky festivities are! The Great Jack O'Lantern Blaze continues its fiery display every weekend in November. Wander through a Jack O'Lantern-lit wonderland to see swooping bats, a Pumpkin Planetarium, and more. Held at the historic Van Cortlandt Manor in Croton-on-Hudson, don't miss a tour through the Museum of Pumpkin Art, where "classic paintings get the gourd treatment." The Blaze is open weekends through November; Croton-on-Hudson; Admission prices vary.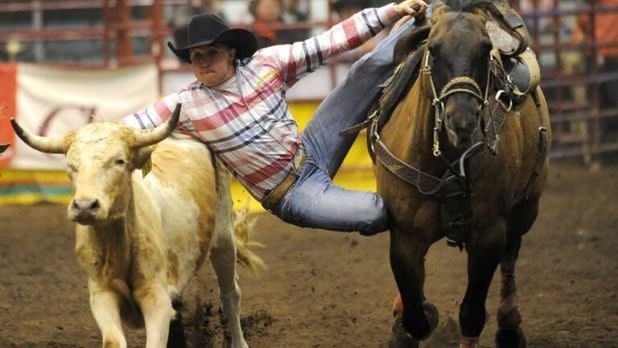 Feel like you're in the wild west in New York State at the Adirondack Stampede Rodeo, celebrating nearly 30 years of incredible competition. Don your cowboy boots and hat, and watch as cowboys and cowgirls compete in steer wrestling, barrel racing, bronco riding, bull riding, and more! Set to a professionally produced sound show, and featuring top national and regional competitors, this is one of the state's most unique experiences on offer this November. After the rodeo, the audience is invited to the Round-Up Party in the Heritage Hall. And if you feel inspired to try your hand at being a cowboy or cowgirl yourself, check out one of the nearby dude ranches in the Adirondacks like Ridin-Hy Ranch Resort in Warrensburg, for a unique getaway offering horseback riding, a cattle drive, and nightly bonfires. November 1–2; Glens Falls. Prices vary.

Credit: Bill Wippert/Buffalo Sabres
It's hockey season in Buffalo, and there's no better way to spend an afternoon or evening in November than at the KeyBank Center cheering on your team. Currently first in the Atlantic Division, the Sabres have the home advantage several times in November. Get your tickets and your Sabres gear ready for game day! If you have some time before the game, explore Canalside Buffalo, a short walk from the arena. This attraction offers family-friendly experiences, dining, and nature parks. Don't miss the Ralph C. Wilson, Jr. Children's Museum, where kids and parents alike will delight in the interactive exhibits and programs. For fans of big ships and military history, a stop at the Buffalo & Erie County Naval & Military Park is a must. As the largest inland naval park in the U.S., visitors have the opportunity to see naval vessels up close. From the USS Croaker, a World War II-era submarine, to the USS Little Rock, the only guided missile cruiser on display in the U.S., these are exhibits you can only experience in Buffalo! Sabres home games are November 2, 14, 16, 19, 27, 29; Buffalo; Ticket prices vary for all games and attractions. See also: How to Experience Fall and Winter Sports
Saratoga County Restaurant Week (Capital-Saratoga)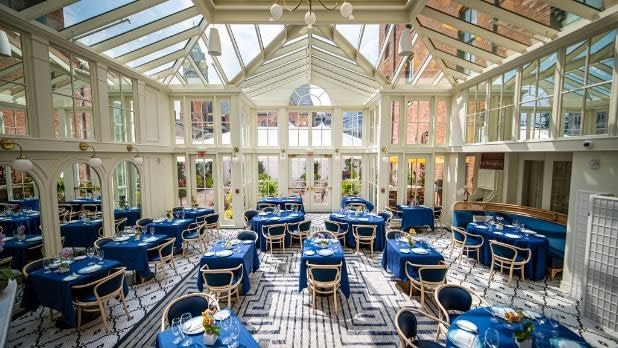 Think restaurant week is just for locals? Think again! Saratoga County Restaurant Week offers seven days of prix-fixe lunch and three-course dinners at participating Saratoga favorites like Chez Pierre, offering French cuisine in a bistro atmosphere, Salt & Char, offering a mouth-watering menu for Restaurant Week that includes seared scallops with saffron jus and baby artichoke risotto, and The Blue Hen, offering a three-course, $30 dinner featuring wood-fired roasted fish, and a brownie sundae with banana foster ice cream, spiced chocolate mole sauce, and hazelnut whipped cream. A trip to Saratoga Springs for restaurant week? It's the port-poached amarena cherry on top of your November! November 4–10; Saratoga Springs; Prix-Fixe menu $10, $20, and $30. See also: 48 Hours in Saratoga Springs, NY
Holiday Valley Beer and Wine Festival (Chautauqua-Allegheny)​

Credit: William Bacon
This year marks the fest's 16th anniversary, and craft beverage fans will delight in finding new flavors amid the 100 craft beers, wines, ciders, and spirits available for sampling. Roam three floors of the Holiday Valley Lodge to experience live music, great drinks, and a smorgasbord of favorite pub foods. A festival ticket includes a $5 food voucher redeemable in the cafeteria for everything from poutine to pretzel necklaces. New this year is the Friday Night Party, Trucks-N-Brews. Featuring a bonfire, live music, food trucks and special breweries on tap, enjoy a fun night of festivities before the festival officially kicks off on Saturday. Round out the weekend at Keg 'n Eggs Breakfast on Sunday. November 8–10; Ellicottville; Ticket prices vary.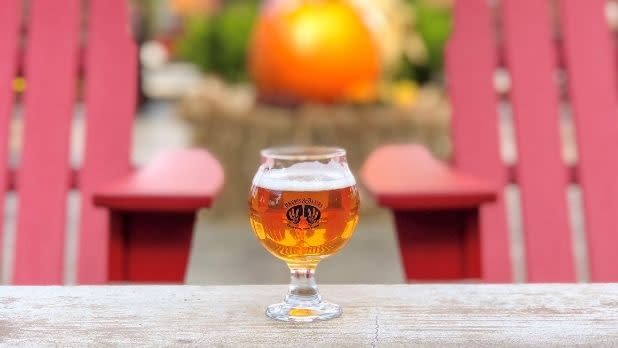 This inaugural event is perfect for craft beer lovers. Held at Clayton's 1000 Islands Harbor Hotel overlooking the picturesque St. Lawrence River, the festival will offer samples of 100+ craft brews from more than 20 New York State breweries. Your festival ticket includes 10 tastings, a souvenir Brewfest glass and hors d'oeuvres. After the festival wraps up, head down the street to the Clayton Opera House, where Roomful of Blues, an eight-piece band led by guitarist Chris Vachon, will take the stage at 7:30 pm. All proceeds from the weekend's events will benefit the Thousand Islands Central School Backpack Program and the local Food Pantry. November 9; Clayton; Adult admission is $25; designated driver tickets are free. Extra tasting tickets will be available for $2 each. Concert tickets additional.
Herkimer County Arts & Crafts Fair (Central New York)
For those who enjoy hunting for treasure, or prefer to gift a unique work of art to loved ones at the holidays, the 43rd Herkimer County Arts & Crafts Fair, one of the largest arts and crafts fairs in New York State, is a must. Shop 120 vendor stalls on the Herkimer College Campus to find handmade pottery and baskets that are both art and for everyday use, as well as original paintings, gourmet treats, and jewelry. Your attendance also benefits the community—all proceeds from entry fees go toward the college's tuition scholarship program. November 9–10; Herkimer; $4 entry fee. Children five years old and younger get in free.
National Toy Hall of Fame Celebration (Finger Lakes)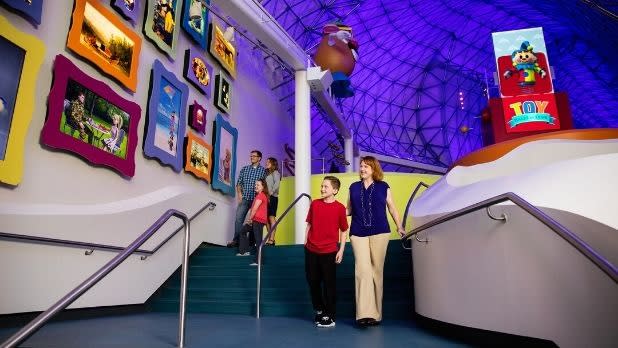 Part fashion, part nostalgia, the National Toy Hall of Fame Celebration Weekend offers fun for all ages. The Strong Museum in Rochester's Toy Hall of Fame will celebrate Barbie's 60th anniversary, honor newly inducted toys, and provide plenty of opportunities for the kid in all of us to play with toys this November. This festival features performances by Checkers the Inventor and his robot sidekick, Snoozer, as well as fashion shows featuring models walking the runway in looks inspired by Hall of Fame inductees. Play with the larger-than-life versions of a Magic 8 Ball and UNO, color with Crayola Crayons, and explore The Strong's exhibits during your visit. November 9–10; Rochester; General admission $16, ages two and younger get in free.
Macy's Thanksgiving Day Parade (New York City)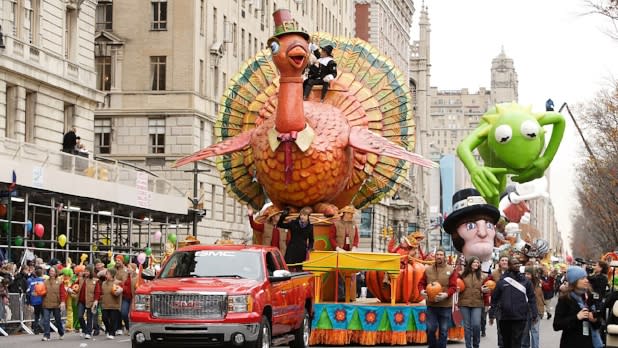 For millions, watching the Macy's Thanksgiving Day Parade is a Thanksgiving Day tradition. If you feel like you've watched it live on TV long enough, and want to experience the wonder in-person, head to Manhattan this November for its 93rd anniversary. Look for the Snoopy balloon (rumored to be getting a makeover this year), wave to the parade floats, and enjoy the star-studded acts performing along the 2.5-mile parade route. To get a good viewing spot along the parade route, it's recommended that spectators arrive before 6:30 am. Wear warm clothes and bring a thermos of warm coffee or hot cocoa to help you stay warm. If you happen to be in the city the day before the parade, you can see the balloons being blown up near the American Museum of Natural History just off of Central Park West. November 28; Manhattan; Free to attend. 
Basilica Farm and Flea Holiday Market (Hudson Valley)
Forget getting a jump start on holiday shopping—go shopping for yourself at this gathering of makers and artisans at Basilica Farm and Flea Holiday Market in Hudson. More than 100 vendors, including 25 first-timers, offer a collection of handmade pottery, artwork, children's clothes, small-batch coffee beans, antique photographs, and more. Shop for handmade leather bags, children's toys, and jewelry before enjoying the bountiful farm-to-table eats available for purchase from select regional chefs. Hosted in Basilica Hudson, a reclaimed, solar-powered factory from the 1800s, the market offers a shop-local alternative to Black Friday. Dates: November 29 through December 1; Friday 12–7 pm, Saturday/Sunday 10 am–5 pm; Hudson; General admission $5, kids ages 12 and under get in free. See also: 48 Hours in Hudson, NY
This year marks the 30th anniversary of this holiday extravaganza at the Cradle of Aviation Museum in Garden City. Get in the holiday spirit with free ice skating (including free skate rentals), take a mouth-watering trip through a gingerbread village, and marvel at designer Christmas Trees, pre-decorated and for sale. Proceeds from holiday tree sales will be donated to Cerebral Palsy of Nassau County. Enjoy live entertainment from talented dance and choral groups, find out if you're on the naughty or nice list when Santa visits, shop for unique gifts from craft vendors, decorate cookies, and more. November 29–December 1; Garden City; $10 children and $15 adults.
Don't forget to post photos of your New York adventures on Instagram and Twitter with #iSpyNY and tag us on Facebook!