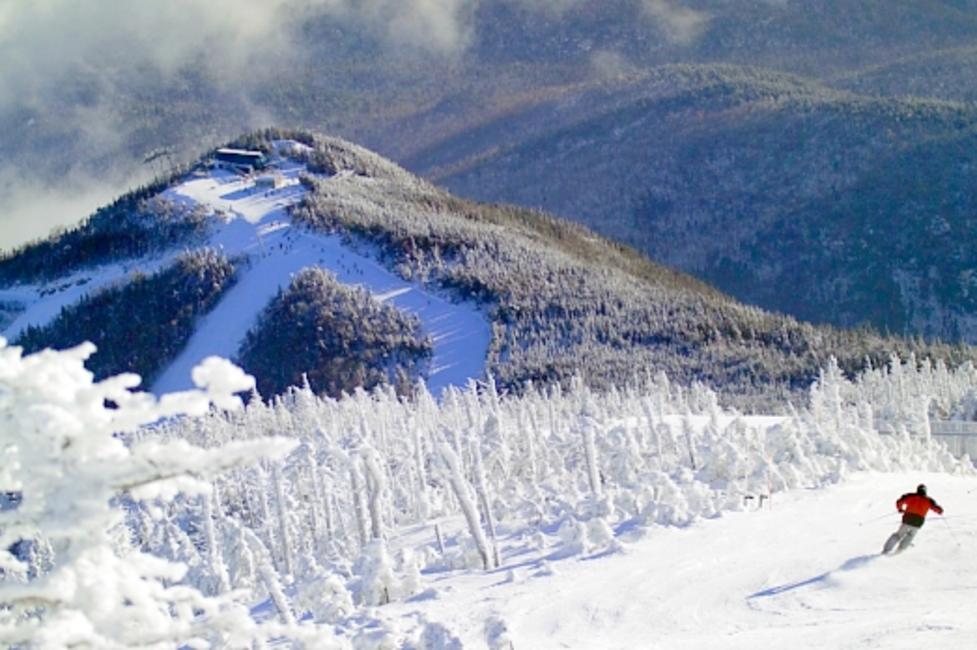 It's the most wonderful time of the year, especially in New York State. Every winter, New York turns into one big wonderland. We have more ski resorts than any other state, brilliant museums for adults and children who want to warm up indoors, incredible cold-weather wildlife, and endless ways to stay moving all season long. Check out our ultimate New York bucket list of items to have the most exciting, memorable winter yet!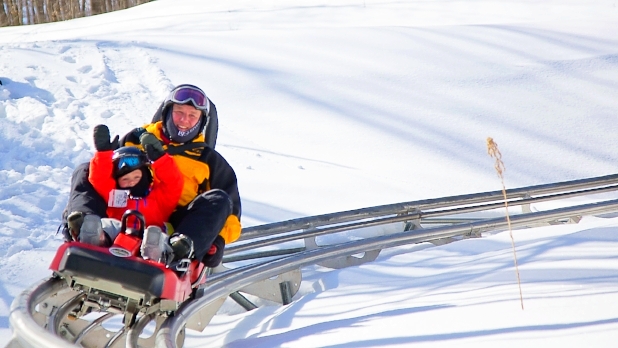 Winter turns New York State's soaring mountains into giant natural playgrounds—and New Yorkers are great at finding new ways to enjoy the landscape. This winter, head to the Holiday Valley ski resort to ride their unique Sky Flyer Mountain Coaster. After you're strapped in, the car will be pulled up 283 feet before sending you off "flying" down the mountain. You'll ride over waves and curves, one jump, and a large spiral. You can ride alone or with a friend or little one over the age of 3 (drivers must be 16 or older). You can control the speed by pulling levers in the car or just enjoy the ride. Afterward, check out Holiday Valley's amazing ski slopes and warm up with hot chocolate in one of its several lodges.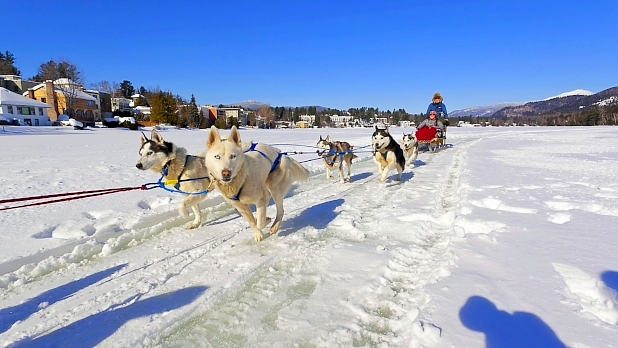 One of the most exciting and, frankly, cutest ways to celebrate the natural beauty of the Adirondacks in winter is taking a ride on a sled pulled by dogs. Thunder Mountain Dog Sled Tours offer two options. The Loop of Mirror Lake tour takes you around the lake—once it's thoroughly frozen, of course. Alternatively, the Adirondack Wilderness tour takes you on an exciting adventure through the woods. These pups are working dogs so rest assured that they love to run with their pack.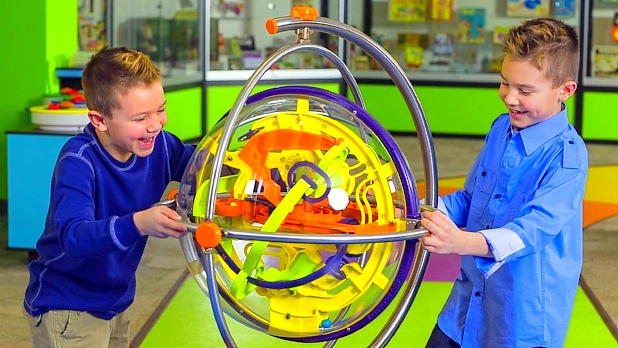 We know the short cold days of winter can have kids feeling a little restless and cooped up inside the house, and we've got the perfect solution. Rochester has an entire museum dedicated to play and it happens to be one of the largest museums in the country. All the exhibits are highly interactive and let kids (and adults!) explore electronic games, obstacle courses, a large toy supermarket, giant Etch-a-Sketches, sports, and more. There's also a year-round indoor butterfly garden to help you forget all about the cold weather outside.
4. Learn how to ride an ice-bike at Canalside Buffalo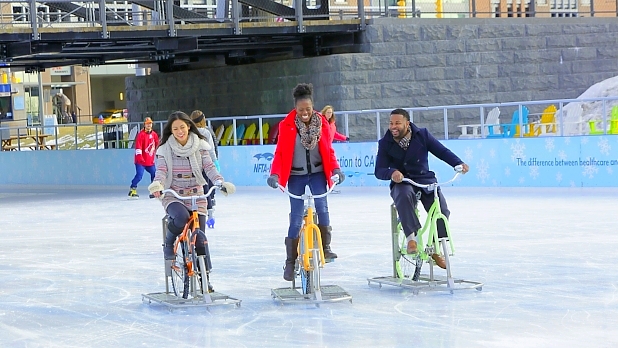 You've probably tried biking. You've probably tried ice skating. But have you ever tried ice-biking? We're guessing not! This winter is your chance to experience this unique sport on the large open-air ice rink at Canalside Buffalo. Don't worry, it's as easy as riding a bike, but it takes place on top of the ice. The bikes are super stable and have two little platforms on either side that you can stand on, so there is zero risk of falling over. If you feel like a fish out of water on ice skates, this might be the perfect activity for you. Plus, Canalside gets super festive during the winter. There are plenty of restaurants, food trucks, and vendors to check out after working up an appetite.

Credit: Suffolk County Vanderbilt Museum
Get your history fix this winter with a tour of the stunning former home of William K. Vanderbilt II. His mansion has been converted into a museum filled with collected art and wonders from his travels. The house itself is a beautiful Spanish Revival overlooking the Long Island Sound, and walking around its majestic hallways feels like exploring a time capsule of the Gilded Age. In fact, it's one of the few surviving Long Island Gold Coast estates. Once you've explored the mansion, head on over to the 147-seat state-of-the-art Charles and Helen Reichert Planetarium. Gaze up at the stars on its 60-foot dome, or soak in the real thing from the rooftop observatory on Friday nights, weather permitting. An astronomy educator will guide you on what to look for through a telescope.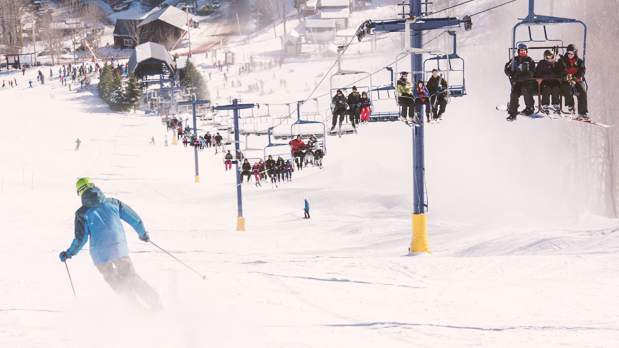 While there are so many excellent skiing destinations in New York State, definitely add family-owned Plattekill Mountain in the Catskills to your itinerary. The slopes are spacious, uncrowded, and very well maintained. They offer skiing and snowboarding lessons for all levels, from ages four and up. For the littlest skiers, Plattekill has a special  "SNOWKIDDING" program which turns the fundamentals of skiing into fun games so they'll love the sport as much as you do. Aprés-ski, feel warm and toasty next to the fireplace in the lodge.
7. Admire the art at Dia:Beacon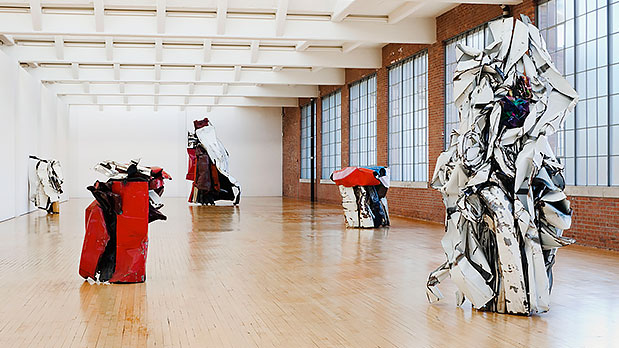 Feel inspired this winter with a visit to the world-renowned Dia:Beacon art museum in the heart of the Hudson Valley. What used to be a factory to print boxes for Nabisco is now a museum with enormous works of art and sculpture. Some pieces fill an entire room, and some pieces are the room, using the walls or floor itself in creative ways. It's sheer heaven for fans of contemporary and modern art, but even if you don't 100% understand what you're looking at, it's still awe-inspiring to feel dwarfed by expansive works of art.
8. Go snowmobiling at Tug Hill State Forest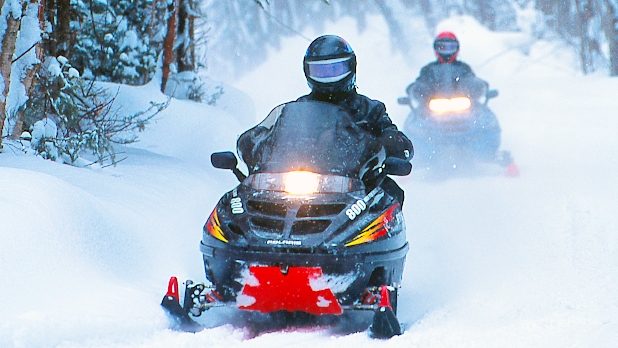 The thrill of motorcycling meets winter fun (safely!) at Tug Hill State Forest. Bring your own vehicle, or rent from Flat Rock Inn at Tug Hill Plateau, and enjoy access to more than 800 miles of snowy groomed trails. Plus, after you're happily exhausted, you can stay overnight at the Inn, or just pop in for a warm meal at the restaurant. Rentals are only for ages 18 and up.
9. Feel sporty at the Olympic Complex in Lake Placid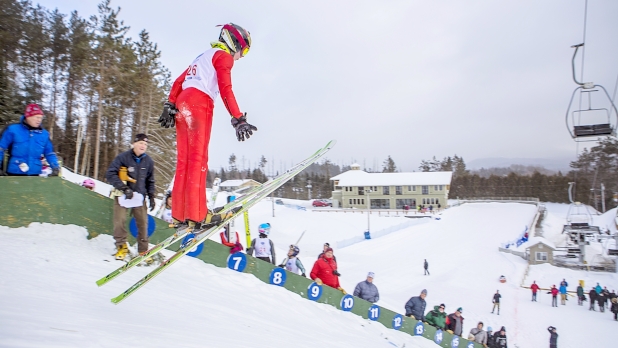 2022 is so far away, but you don't have to wait to get some Winter Olympics excitement! You can find a whole lot of it in Lake Placid, home to the games in 1932 and 1980. Head to the observation deck at the Olympic Jumping Complex to see where ski jumpers launch into thin air, as well as panoramic views of the Adirondack Mountains. Check out the Olympic Museum and even go ice skating on the actual Olympic Speed Skating Oval before warming up at the fire pit. Finally, you—yes, you!—can try bobsledding on the actual track with professional drivers and brakemen, or try the Lake Placid Skeleton Experience solo.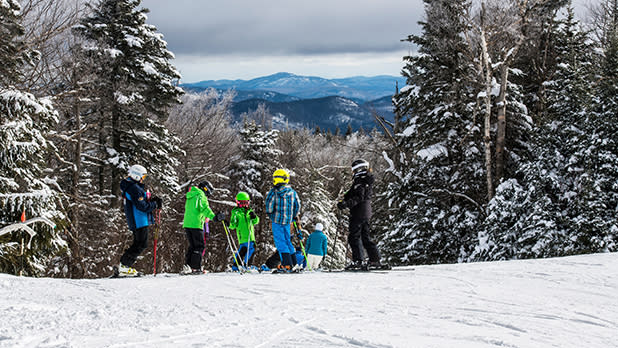 Gore Mountain is well-known for its variety of long-run trails for all levels of skiing and snowboarding against an unforgettable backdrop of the Adirondack Mountains. This year, the snowmaking system has been overhauled to allow trails to open earlier and terrain to be expanded faster! Your snowy slope time is maximized with 14 lifts, a high-speed gondola, and two high-speed quads. Check out their Holiday Camps on long weekends, daily lessons for ages 4 to 12, and the new headquarters for the Mountain Adventure programs for kids in the expanded base lodge.
11. March over to see the penguins at the Aquarium of Niagara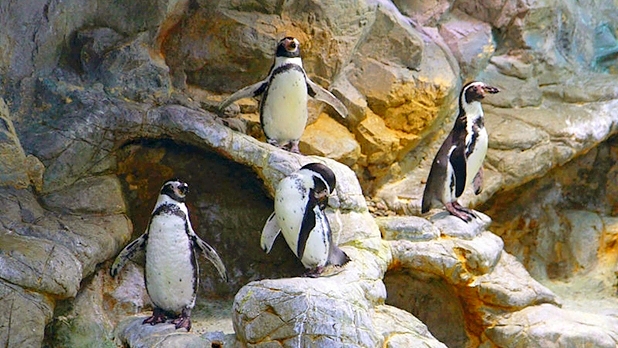 If you need a break from the chilly weather, well darling, it's better down where it's wetter! ...Not necessarily under the sea, but definitely at the amazing Aquarium of Niagara. Come to see sharks, sea lions, sea horses, a giant Pacific octopus, and plenty of penguins! The aquarium built a brand new habitat for a colony of endangered Humboldt penguins in March of 2018, so it's one of just a few places in the country to see them. Your regular admission tickets include watching penguin feedings, talks with animal experts, and sea lion shows. You can also splurge a bit on either a sea lion encounter or a penguin encounter, where you can touch, feed, and interact with one of these amazing animals yourself.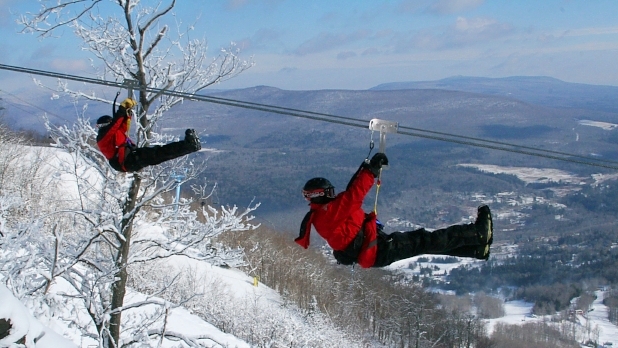 See the snowy slopes from above as you glide over Hunter Mountain on the world's second-longest zipline, the Summit SkyRider Tour. You'll feel like you're flying on the incredible 4.2-mile-long ride, and you can even race a friend! Hunter Mountain also has fantastic groomed lanes that are perfect for snow tubing if you or someone in your group has a fear of heights. There are a snack bar and fire pit to warm up your fingers and toes after you're done feeling like Superman, or a flying squirrel.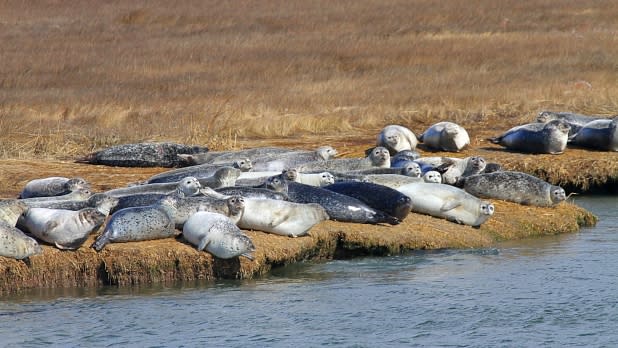 Take advantage of the season by seeking out adorable plump harbor seals! The seal-watching season begins in December so make plans now to head to Freeport, Long Island and board one of the special tours with Captain Lou's fleet. The boat has a heated cabin stocked with warm beverages where you can thaw cold toes and fingers. A naturalist aboard the ship will accompany the tour, explaining all about these majestic creatures. December 28–April 6
13. Find the perfect gifts and treats at a holiday village

Credit: Stephanie Perez
When you imagine the North Pole, are you picturing warm twinkling lights, hundreds of charming little gifts, seasonal treats, and warm drinks? Well, you can actually find something pretty similar at one of New York City's three major holiday villages where you'll find everything you'd want to gift your friends, family, and self. Visit the market in Bryant Park and you're perfectly situated to take a spin on the full-size ice-skating rink next to a giant Christmas tree. The Union Square Holiday Market is growing larger, with new themed sections, including one dedicated entirely to food! And, brand new this year, the Brooklyn Museum is setting up the spacious Winter Fest, with crafted goods, delectable bites to eat, and activities like rides, events, visiting Santa, and more. The Winter Village at Chautauqua is another amazing holiday market farther out west where you can find amazing shopping and dining options, meet up with Santa, go for a sleigh ride, and witness the proud participants in the "Reindog" Parade.
14. Chill out while ice fishing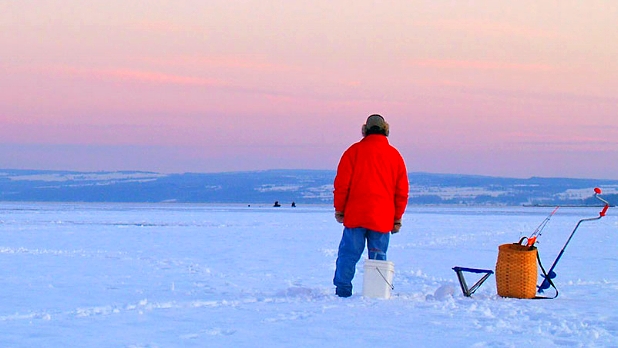 Enjoy the calm of New York's icy landscapes by heading out on an ice fishing adventure on frozen Lake Ontario, Oneida Lake, or Skaneateles Lake. Sandy Pond, or North Pond, at the east end of Lake Ontario is a hotspot for ice fishers seeking pike, perch, panfish, bluegills, and sunfish. Just about one hour away, Oneida Lake is another reliable go-to for perch and panfish, as well as walleyes. There's nothing more relaxing than enjoying the quiet snowy lake and seeing what bites!
15. Stay warm and wildly entertained at Destiny USA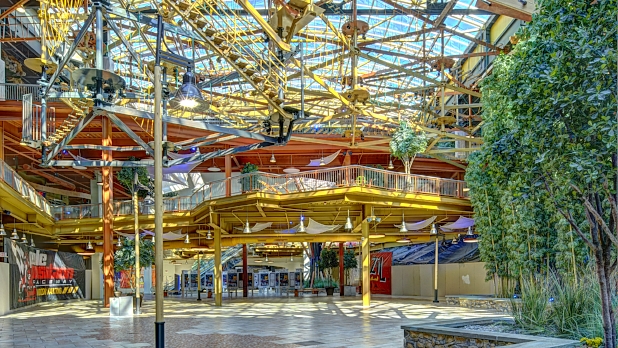 Destiny USA is a mall that pushes the very definition of the word "mall." As New York State's largest shopping center, it's home to more than 250 shops and outlets, more than 30 dining options, an indoor go-karting track, ropes course, comedy club, and museums. Later this winter, the indoor wonderland is getting even better with the brand new Apex Entertainment Center. There will be a multi-level laser tag arena, bumper cars, bowling, VR experiences, and more. Plus, the new venue is getting its own full-service American kitchen and tavern.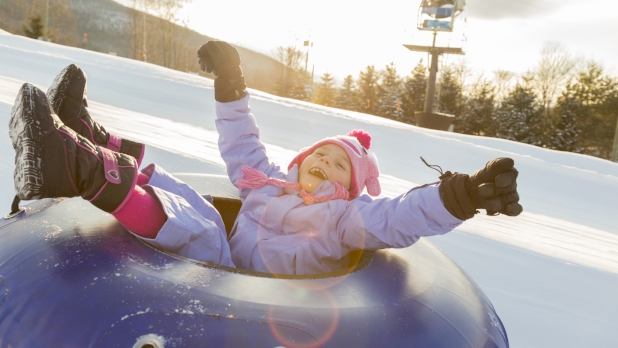 Snow tubing involves zero skill, minimal effort, and the fun payoff is HUGE. What's not to love? Head to Windham Mountain for some of the best conditions in the country. Barrel down a 650-foot snowy slope, then ride the conveyor lift back up to do it all over again! There are no height or age restrictions as long as you fit in the tube, so the whole family can partake.
17. Take a trip to the North Pole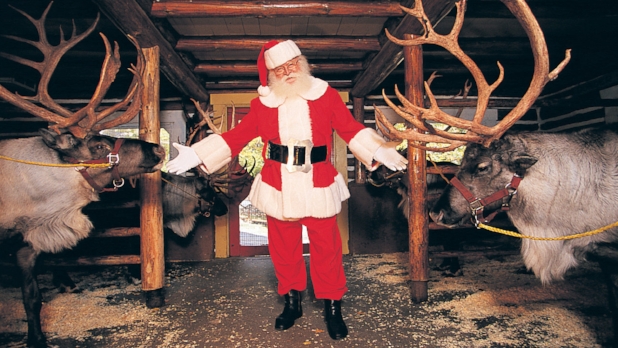 Yes, you can visit the North Pole right here in New York! Just head on over to the North Pole theme park in the Adirondacks where you'll find an abundance of holiday cheer and fun activities throughout the season. Walk around Santa's Workshop to see where the magic happens and meet the big man and the missus themselves. Little ones will have a blast on the carousel, steam train, and kiddie rides, while everyone will love exploring the bake shop, candy shop, and reindeer barn. You can even send letters from the post office, postmarked from the North Pole, if you know anyone who needs a reminder that Santa is indeed real.
18. Explore state parks on snowshoes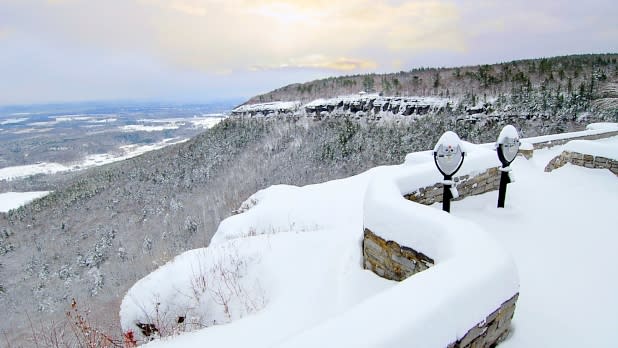 Don't let New York's thick snowfall get in the way of exploring the beautiful state parks. Both John Boyd Thacher State Park and Thompson's Lake State Park are the perfect spots to strap on cross-country skis or snowshoes and trace the plentiful pristine trails. At Thacher Park, try the three-mile Fred Schroeder Memorial Trail which loops through the woods and past an overlook from High Point. In the adjacent Thompson Lake Park, swing by the Emma Treadwell Thacher Nature Center for information on all the various trails and even snowshoe rentals.
19. Learn about heroic New Yorkers at the Equal Rights Heritage Center

 
Don't miss a visit to Auburn's brand-new Equal Rights Heritage Center in the Finger Lakes, opening mid-November. Informative, beautiful displays will guide you through the fascinating stories of Americans who fought for civil rights right here in New York. Feel awed and inspired as you make your way through exhibits on abolition, the Underground Railroad, women's suffrage, and LGBTQ history.

Credit: Michael Bloom
Finally, consider your winter complete with a visit to the regal yet super-cozy Mohonk Mountain House in New Paltz. The resort looks like a cross between castle and ski lodge—when it's covered in snow, you'll feel like you're in a fairy tale. If you're spending the night, take an enchanting ride in a horse-drawn carriage ride, or go for a spin on the ice-skating rink. You can also purchase a day pass and hike, cross-country ski, or snowshoe your way around beautiful trails on the Mohonk Preserve.
Share photos of your New York adventures on Instagram and Twitter with #ILoveNY and #iSpyNY and tag us on Facebook!