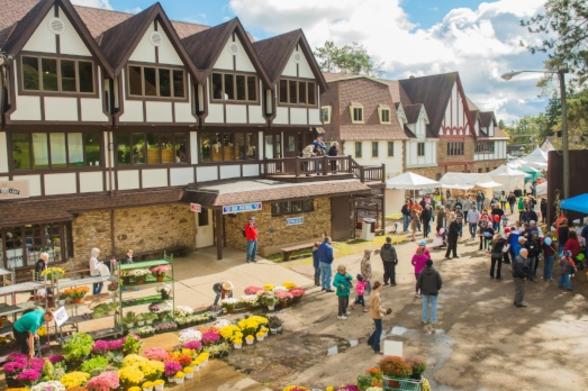 With summer vacation over and winter holidays months away, it might seem as though somebody hit the pause button on family fun. But the weather outside is cool and crisp and New York fall foliage is simply spectacular—so don't sit this season out! An affordable weekend getaway is all you need to enjoy the weather, nature, and each other. Read on for 10 amazing trips that each can fit into a weekend and won't break the bank!
Remember to social distance and wear a mask as required by state guidelines. Call ahead and check websites and social media to make sure attractions are open and available.
Updated 08/30/21
Live It Up at Lake George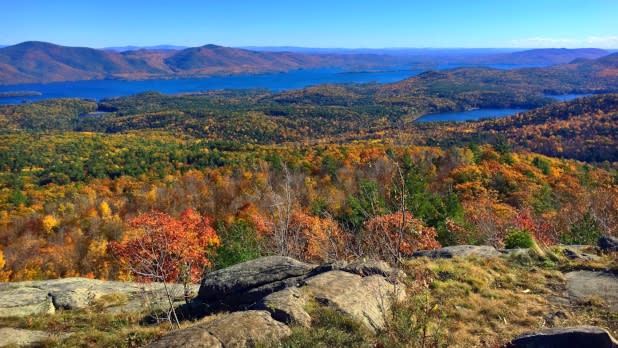 Lake George offers up some prime leaf-peeping beginning the last weekend of September. Consider booking rooms at the Heritage of Lake George Motel where the rooms are cozy and comfortable and only a short walking distance from a bunch of nearby things to do in town. Another option is the gorgeous Courtyard Lake George where you can book rooms with stunning views of the Lake. Pop over into the village where you can explore the reconstructed 263-year-old Fort William Henry Museum and Restoration (adults $19.95, kids 5–14 $9, seniors $15.95). Actors will bring to life the local military history from the French and Indian War, including interactions with Native Americans and the role women played in supporting the army. With all that history comes a rich collection of ghost stories, which is why, until October 31, most Thursdays through Sunday nights, you can sign up to take a ghost tour of the old fort (adults $18, kids 5–15 $8), illuminated only by candlelight!
There's also a ton of great hiking nearby, with plenty of options to choose from. Try the Shelving Rock trail, an hour-long hike easy enough for kiddos that will lead you to epic views of Lake George, or the Shelving Rock Falls Trail, which takes you down to the lake to find picnic areas and a little waterfall. Balance out all the nature with a stop at the Adventure Family Fun Center, where the whole family can get competitive with laser tag, indoor go-karts, bumper cars, and more. Heritage of Lake George Motel double bed unit rates $84–109, Courtyard Lake George double-bed units starting at $239. Adventure Family Fun Center Go-karts Single Rider $7.50, Passenger $2, Laser Tag $8.50, Drop Tower $5, Bumper Cars $5, Paint Ball $5 (50 Shots) or $10 (110 Shots)
Fly the Coop and Head to Cooperstown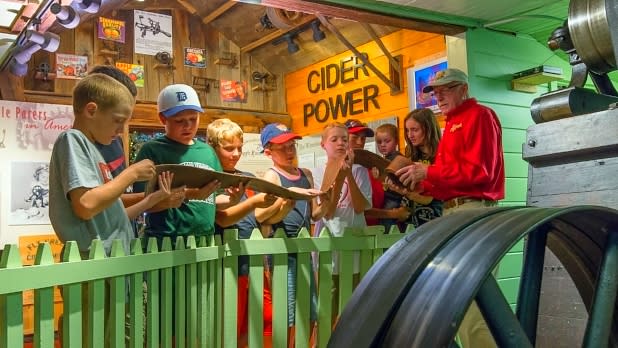 With baseball season coming, the very fun, baseball-centric Cooperstown starts to get less crowded, so you have more space to enjoy it. It also means more rooms are available to book at places like the Best Western Cooperstown Inn & Suites, just four and a half miles from the National Baseball Hall of Fame & Museum (adults $25, kids 7–12 $15). While the HoF is sheer heaven for baseball fans, it does a great job of making the significance and history of the sport interesting and accessible even for non-fans, and they offer scavenger hunts for little kids!
Be sure to take the four-minute drive from downtown to check out the Farmer's Museum (adults $12, kids 7–12 $6), one of the oldest rural life museums in the country. We're willing to bet that anyone who thinks history is boring has never experienced it come to life like it does here, thanks to the recreated village, costumed period actors, livestock, craft demonstrations, and workshops. Many exhibits are interactive, so you can get hands-on with setting type in the print shop, hammering out a nail ring in the blacksmith's shop, making rope, or clapping and stomping your feet along to live music in the tavern. And since some of the best perks of autumn are fresh, crispy apples, perfectly tart apple cider, and piping hot apple cider donuts—find all of them at Fly Creek Cider Mill (pictured). This 160-year-old water-powered cider mill offers tours that let you see how the cider is pressed. Follow that with a stop in the Snack Barn & Bakery where you can sample specialty foods and dig into fresh apple pie. Best Western Cooperstown Inn & Suites double bed units starting at $129.
Check Out New Experiences in Chautauqua

Credit: Rob Frank; George Kilbert
Not all resorts cost an arm and a leg! Chautauqua's Peek n' Peak Resort (pictured) offers family packages that include a stay in its lodge-style inn, pool passes for four people plus a large pizza, soft drinks, ice cream, and a family s'mores kit (aka all the ingredients of an amazing time), all for as little as $139/night. Plus, the resort has a ton of fun activities right on site, including its luxury pool complex, play zone center, and its Mountain Adventures ropes course. Step outside the resort and there are a ton of amazing and affordable attractions nearby.
You must stop by the National Comedy Center (ticket prices range from $12.50–$25.50), less than an hour away in Jamestown, where you can laugh until it hurts at more than 50 interactive exhibits dedicated to the art of comedy. It's totally interactive, as you can create your own cartoons and try stand-up karaoke—performing classic routines from some of the greatest comics in history. Only a 20-minute drive will bring you to Panama Rocks Scenic Park (adults $8.25, kids 6–12 $6.25, seniors $7.25, kids 5 and under free), where the gang can explore 60-foot-high crevices, hidden caves, and passageways. It's incredibly gorgeous, and will bring out the explorer in you!
Wake Up to Gorgeous Nature in Watkins Glen

Credit: Beautiful Destinations
New York's natural beauty becomes even more magical in the fall, and Watkins Glen offers the perfect vantage point. Stay at one of the rustic and charming motel rooms, cabins, or A-frame chalets at Seneca Lodge which serves dinner and breakfast seven days a week. With the Lodge as your home base, you are right at the edge of the incredible Watkins Glen State Park (pictured). The park's trails will guide you past cliffs and a total of 19 individual waterfalls, sometimes even having you walk underneath them! Picnic tables and pavilions are available for a lunch break.
Just a 25-minute drive away is the Corning Museum of Glass (adults $20, kids 17 and under free), where you'll find incredible sculptures, live glassmaking demonstrations, and even the chance to try glassmaking yourself. Through November 30, you can make your very own glass pumpkin ($33 + shipping), as well as check out the all-glass Thanksgiving feast display while the museum cafe serves hot cider, pumpkin pie, caramel apples, and more. Drive one hour northeast to Bristol Mountain for the most jaw-dropping views of Finger Lakes foliage from their Sky Rides, a 15–20-minute ski-lift trip (adults $10, kids 3–12 $7). Seneca Lodge cabins range from $70–$120 per night, 3-bedroom A-frames range from $170–$190 per night, motel rooms range from $85–$110 per night.
Celebrate Fall at Niagara Falls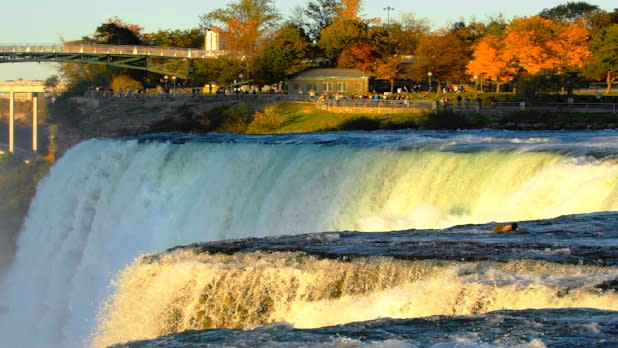 There really is no bad season to take the family out to see one of the country's greatest natural wonders, but there are a bunch of reasons why fall is so great at Niagara Falls. First of all, it's not as crowded as it is during summer, nor is it too cold to get close to the action. Take a Maid of the Mist boat tour (adults $25.25, kids 6–12 $14.75), running until November 7, which takes you right up to the falls—don't worry, they provide the ponchos! Cave of the Winds tours (adults $19, kids $16) run until October 18, and bring you down 175 feet by elevator to a "Hurricane Deck" within spraying distance of the Bridal Veil Falls.
An amazing rainy day plan—or just a terrific can't-miss stop—is the Aquarium of Niagara (adults (ages 13+) $19.95, seniors (ages 60+) $17.95, kids 3–12 $14.95), where the price of general admission includes penguin feedings, sea lion shows, and talks with experts throughout the day. Settle in for the night at the Holiday Inn Niagara Falls-Scenic Downtown for affordable room rates in the heart of the city. From there, Becker Farms is less than an hour drive away. Besides an out-of-this-world farm bakery, they've got fantastic U-pick selections of more than 10 different kinds of apples. Double bed units starting at $125 at Holiday Inn Niagara Falls-Scenic Downtown. Becker Farms U-Pick $5.50, includes access to the apple orchard and a 4-quart bag of apples.
Camp Out Under the Stars in the Catskills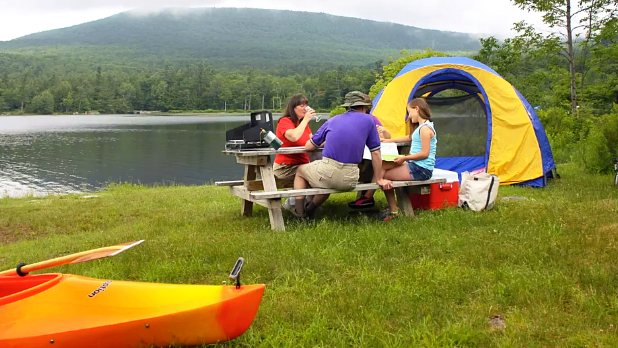 In the Venn diagram of affordable + fun getaways, outdoor camping is smack dab in the middle, so don't let the cool autumn weather slip away without one memorable weekend in the great outdoors. North-South Lake Campground (pictured) is an ideal spot for a family camping trip, with two lakes with beaches, two picnic areas with pavilions for rent, plenty of tables, fireplaces, and charcoal grills, a playground for the kids, as well as flush toilets, hot showers, kayak and paddleboat rentals, and a trailer dump station. Plus, you're perfectly located right at the entrance to great and easy hiking trails that lead to some beautiful vistas, like the two-tiered 260-foot Kaaterskill Falls.
Only 15 minutes in the car will get you to Hunter Mountain, where you can ride its famous Scenic Skyride (adults $15, kids 7–12 and seniors 65 and over $12), a six-seater open-air chairlift trip over the Catskill Mountains, 3,200-feet up to the peak of Hunter Mountain. There's also some great fishing at the campground, which requires that you book a permit in advance online or over the phone (1-day permit for residents $5, non-residents $10). Drive about 90 minutes east and you'll reach Beaverkill River, an area famous for its fly fishing, particularly during the fall, where the DEC annually stocks more than 18,000 brown trout. Rainfall picks up in early September and spurs a high activity season before the season ends November 30—plus the foliage adds the perfect background. Check out the New York State DEC's guide to parking spots all along the river. Campground $20 per night (out-of-state residents surcharge additional $5 per night)
Have a Fun-Filled Farm Weekend in the Hudson Valley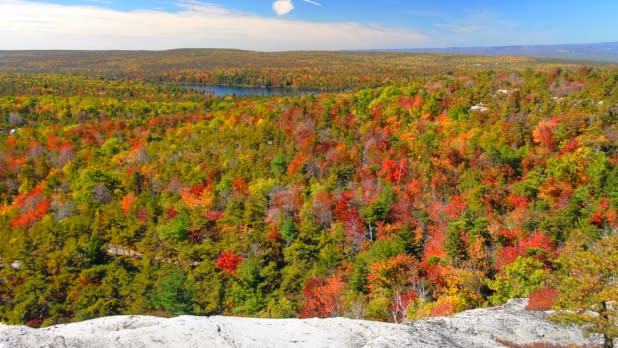 Take a break from your hectic day-to-day and slow things down at a bed and breakfast in the country. Country and Farm B&B in the Hudson Valley lets you experience farm life along with clean, cozy rooms and a breakfast of fresh fruit, croissants, muffins, yogurt, and juice delivered right to your door. They have their own horses that will be very pleased to meet you and your little ones, along with a few dogs (feel free to bring your pup for an overnight stay for only $10 extra a night!), chickens, bunnies, and more. It's also right next to the lovely Minnewaska State Park, which has plenty of hiking trails for all levels.
Five minutes in the car will bring you to Kelder's Farm, where you and the kids can enjoy hayrides, work your way through the corn maze, milk a cow, meet all the little angels in the petting farm, see the honeybees at work, and play on the enormous bouncy "jumping pillows," all for $16.49 per person on weekends. They also offer pick-your-own apples and pumpkins ($3 per person)! You get to take a hayride to the pumpkin patch for added fun. Country and Farm B&B weekend rates start at $185/couple including breakfast + $15/additional person
Make Long-Lasting Memories on Long Island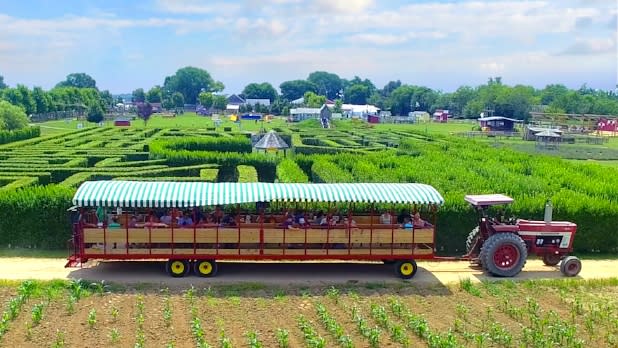 We know it's sad to say goodbye to beach season but luckily Long Island is still an amazing place to spend the weekend even if it's too nippy to dip your toes in the ocean. Hilton Garden Inn Riverhead is an affordable hotel that is a short drive from many of the North Fork's family-friendly attractions. Just 15 minutes away by car, Goodale Farms lets you stop in and feed their adorable goats, while nearby Harbes Family Farm (pictured) and its offshoots around the North Fork offer everything from apple and pumpkin picking to corn mazes, hayrides, and more. You can also check out their Barnyard Adventure (prices range from $20.95 on weekends) for their barnyard animal petting zoo, Jumbo Jumpers bounce pillows, motorized tricycle rides, chick observatory, and more.
North Fork isn't just about the kids, of course—it's also famed for its wineries! Stop into the tasting room at McCall Wines to sample award-winning pinot noir and merlot, and pick up a souvenir or two (or however many fit in the car). Double bedroom rates starting at $165.
Discover New Adventures in New York City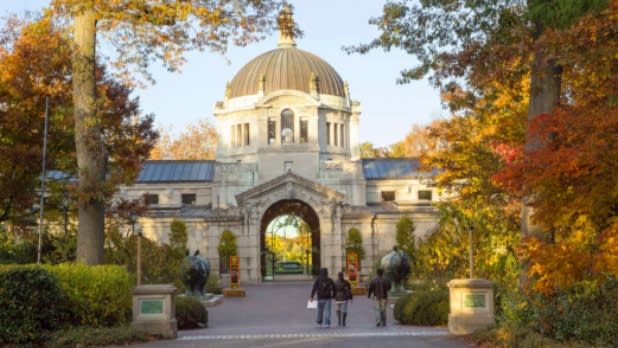 We know, we know, New York City is not known for being super-affordable, but we swear it's doable! First of all, the Howard Johnson by Wyndham Long Island City has lovely rooms at reasonable rates and is centrally located. Head into Manhattan and take the 2 train up to the Bronx Zoo (pictured, general admission: adults $39.95, kids 3–12 $29.95, seniors 65+ $34.95). Weekends, visit "Boo at the Zoo," a series of family-friendly Halloween activities, including magic shows, costume parades, a maze, pumpkin carving, live music, a haunted forest, animal encounters, and more.
From Times Square, you can take the 3 train down to Wall St. and walk to Pier 11 / Wall St. to take the ferry to Liberty and Ellis Islands (adults $30.50, kids 4–12 $19, seniors 65+ $25). Learn all about the 12 million immigrants who passed through on their way to citizenship. You can also take the F train into Queens, transferring to the 7 and get off at 111 St. for the New York Hall of Science  (adults $16, kids 2–17 and seniors 62+ $13). They have literally hundreds of interactive displays about topics like outer space, various ecosystems, and more, that sneak a little learning into all the fun. They also feature daily science demonstrations, so you can watch some cool chemistry in action, understand how planes actually fly, or even, if your stomach can handle it, watch a cow's eye dissection (Hey, one kid's "yuck" is another kid's "Awesome!!"). And in terms of free NYC activities, what beats a colorful autumn stroll through Central Park? Double bedroom rates starting at $165.
Have All the Fall Fun in Albany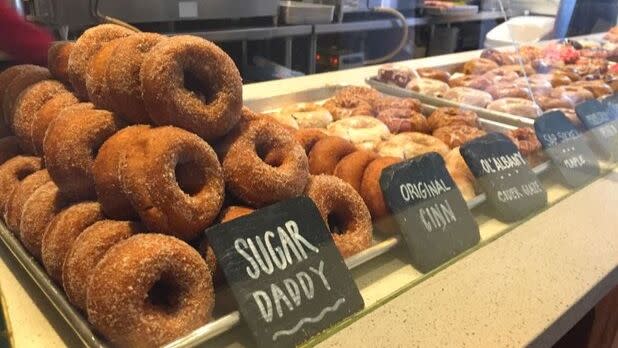 New York's capital city has got it all: tasty treats, perfect parks, and reasonable rates. Post up at the Hampton Inn & Suites Albany - Downtown for nice rooms at nice prices in the heart of the city. From there, start exploring the city with Dutch Apple Cruise & Tour's narrated Hudson River Sightseeing Cruise (adults $22.99, kids 3-10 $12.99) to learn all about the city's history and points of interest, and enjoy an all-around fun ride. Next up, the Albany Pine Bush Preserve is absolutely gorgeous this time of year. Walk the trails on your own or take a guided tour with a naturalist. Their Discovery Center has tons of hands-on activities, like making your own sand dune and touching snakeskin.
Mountain Ridge Adventure is only a 30-minute drive away and offers a fantastic kids' ropes course adventure for $55. That's three hours to climb, leap, balance, and zip line surrounded by the beauty of the forest treetops. Finally, consider Cider Belly (pictured), a must-stop while you're in the city because these donuts are famous—we're talking, "If you could only eat one cider donut, it should be this donut"-good. Double bedroom rates starting at $165.
Don't forget to post photos of your New York adventures on Instagram and Twitter with #iSpyNY and tag us on Facebook!