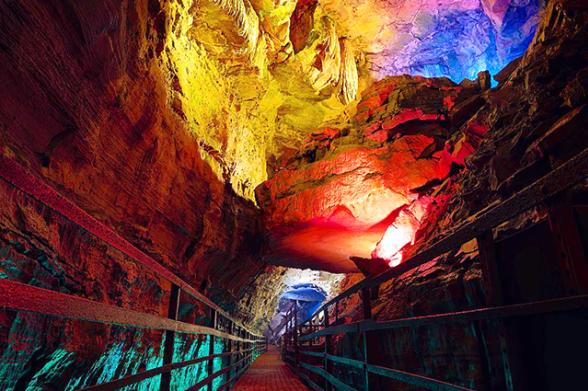 Credit @m_squazzo on Instagram
No matter your travel style or interests, there are still great last-minute getaways awaiting in New York State - even if you haven't made your reservations yet! From food tours, to exploration of caves, historic forts, and fossil-rich cliffs, to a relaxing day of antiquing with that special person in your life, New York State has the perfect last-minute trip for you. 
Masks are encouraged, but optional in most settings per New York State guidelines. Individual businesses or attractions may require mask wearing. Call ahead and check websites and social media to make sure attractions and amenities are open and available. 
Updated 4/11/23
Romantic
Day Trip: Spend the Day with Your Sweetheart Antiquing in Hudson (Hudson Valley)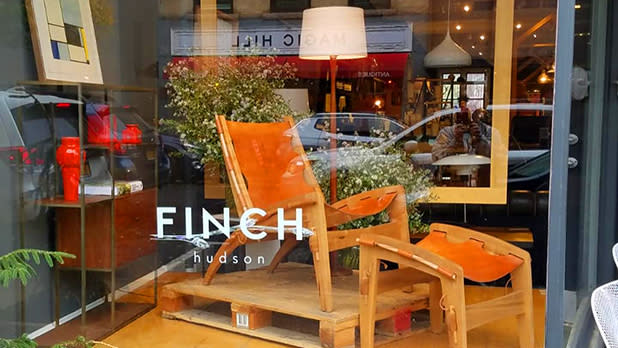 CREDIT @DANBURSZTYN ON INSTAGRAM
For a great day trip with that special person in your life, spend the day in the charming City of Hudson searching for one-of-a-kind finds that will enhance your home and are priced to sell. This former factory town, just two hours from Manhattan, is now a free-spirited, thriving city, featuring a great dining and shopping scene highlighted by dozens of antique shops on Warren Street, the mile-long district that runs uphill from the Hudson River. Antique shops to check out include 3FortySeven, Sutter Antiques, FINCH hudson, and Red Chair on Warren. Dine at Wm. Farmer and Sons, a boutique hotel and restaurant serving food with inspiration from the season using locally sourced ingredients. Best of all, you can experience Hudson without a car—the train station is a short walk from Warren Street and Amtrak will get you there and back.
Overnight: Take a Relaxing, Romantic Getaway to Ithaca (Finger Lakes)

CREDIT @AUGUSTMOONSPA ON INSTAGRAM
Take a relaxed and romantic overnight excursion, complete with an on-site spa, by checking into the family-owned and hospitality-driven La Tourelle Hotel, Bistro, and Spa in Ithaca. Enjoy the quiet setting of LaTourelle's expansive grounds, which are just a couple miles from downtown Ithaca, and near South Hill Cider and Liquid State Brewing Co. Explore nature along the Buttermilk Falls State Park trail system, which connects to the hotel grounds, and set out on an adventure of food and wine discovery along the Cayuga Lake Wine Trail. And, for a more intimate, luxurious experience -- try the Inn at Gothic Eves, encompassing eight spacious luxuriously-appointed guest rooms with cathedral ceilings, and featuring first-rate spa services. 
Multi-generational
Day Trip: Experience the Best of the Empire State at the Great New York State Fair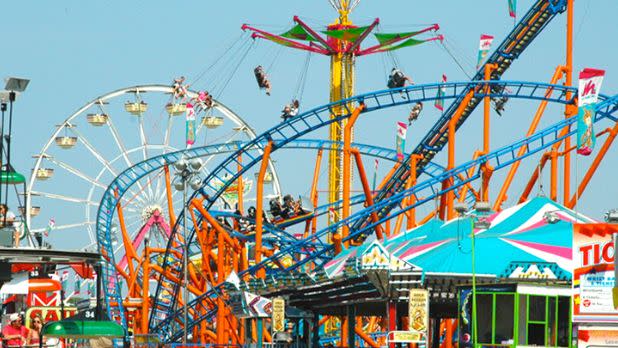 Experience one of the largest and oldest state fairs in the United States, the Great New York State Fair! You'll delight in traditional fair favorites such as agriculture displays, midway games, and Ferris wheels. Hungry and thirsty? Eat up delicious fried fare and wash it down with a New York State brew or the renowned "wine-slushie." The State Fair offers a variety of family fun activities along with cultural presentations and world-famous entertainment acts. This year's lineup includes  REO Speedwagon, Tyler Hubbard, Theory of a Deadman, George Thorogood and The Destroyers, Bret Michaels, Matt Stell, Chubby Checker, and many more!
Overnight: Live, laugh, and learn in and around Chautauqua (Chautauqua-Allegheny)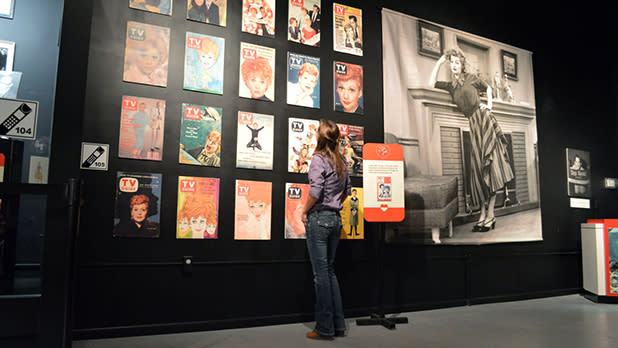 For an enlightening getaway that mixes fun, laughter, and yes, learning, head to Chautauqua County. Visit the gorgeous Chautauqua Lake for great views and boat rides, and Chautauqua Institution for culture, including dance, opera, visual arts, author lectures, poetry, theater, plus recreation like golf, tennis, swimming, or sailing. Less than a half hour away in Jamestown, discover the art and history of comedy at the National Comedy Center which celebrates the art of comedy. Laugh and learn about the greats, from Chaplin to Seinfeld and SNL to modern-day memes, via more than 50 interactive exhibits and immersive experiences. Nearby to the Comedy Center, the Lucille Ball - Desi Arnaz Museum celebrates the lives, careers, and legacies of the "First Couple of Comedy," and their incredible impact on the world. Recreate your own Vitameatavegamin commercial, watch unaired scenes, and view props and sets from their classic television show, "I Love Lucy."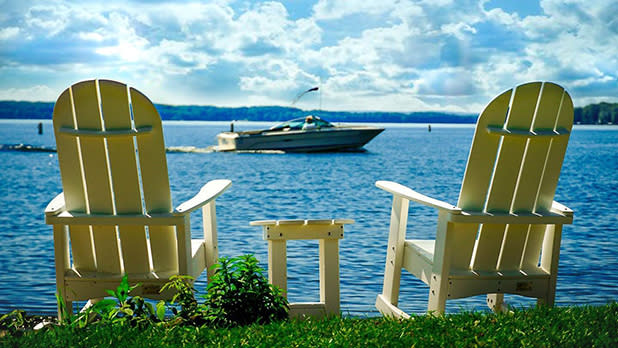 CREDIT @CHQ1874 ON INSTAGRAM
Just 14 minutes from Jamestown, Panama Rocks Scenic Park is waiting for you with 15 acres of the Paleozoic ocean floor and a magical natural landscape of winding corridors between 60-foot-high rocks. Hike the trails around the rocks and navigate through the nooks, crevices, and caves. Rest and relax in close proximity to Chautauqua Institution's many events and experiences by staying on its grounds at the Athenaeum Hotel.
Friends Trip
Day Trip: Celebrate the Revival of Buffalo's Waterfront at Canalside (Greater Niagara)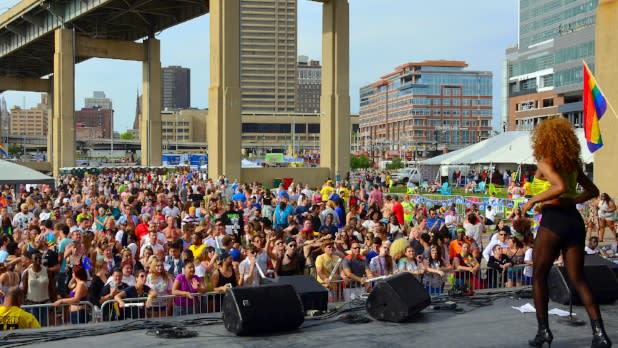 CREDIT @PETERJCIMINO ON INSTAGRAM
Buffalo's legacy as an important transportation and industrial center rose from its impressive waterfront, and Canalside. In the footprint of the Erie Canal on 21 historic acres in downtown Buffalo, Canalside is the heart of the city's waterfront revitalization, buzzing with activity year-round. Get a few friends on board and rent kayaks, paddle boards, or water bikes; take a yoga class or a Buffalo River History Tour, jump on the Queen City Bike Ferry to the Outer Harbor and its miles of hiking and biking paths; or relax in a Buffalo sunset chair. Grab lunch at Resurgence Brewing Company, then savor an ice cream cone at Ice Cream at Canalside. For kids, the Ralph C. Wilson Explore 'n' More Children's Museum is a wonderful state-of-the-art place to play and learn after taking a tour of World War II-era ships at the Buffalo Naval and Military Park.
Overnight: Renew or Strengthen Old Friendships over Baseball, Farming, Art, Music, and More in Cooperstown (Central New York)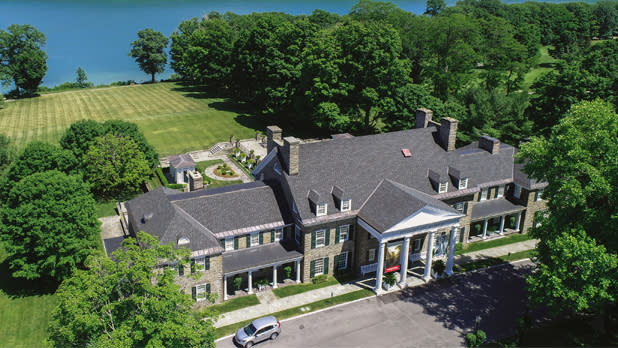 COURTESY OF FENIMORE ART MUSEUM
The charming lakeside village of Cooperstown is known around the world as the home of the National Baseball Hall of Fame and Museum, but it has much more to offer for friends looking for a last minute getaway. A must-see for art lovers is the Fenimore Art Museum, a historic estate-turned-museum which houses renowned collections of folk art and American landscape paintings. This historic village is also home to one of the oldest living history museums in the US, The Farmers' Museum, a former 19th century working farm. Catch a musical performance at the Glimmerglass Festival, a series of internationally renowned theater productions on the shores of Otsego Lake, and sate your thirst and appetite at Brewery Ommegang. Feel like a little wandering? Discover New York State's rich brewing history (it was once the nation's biggest hops-producer) along the 37-mile long Cooperstown Beverage Trail. Stay overnight at the Otesaga Resort Hotel, a grand Federal-style retreat on the shores of Otsego Lake, and enjoy a seasonally fresh menu at The Hawkeye Bar & Grill.
Luxury
Day Trip: Explore the Mansions of the Gold Coast (Long Island)
Travel back to a bygone era along Long Island's North Shore by visiting the Gold Coast and taking a look into the elegant and opulent lifestyles of the elite. Owned by past presidents, artists and aristocracy, many of these homes once hosted royalty, heads of state and stars such as Charlie Chaplin. Often the backdrop for Hollywood productions, the Gold Coast mansions also served as inspiration for F. Scott Fitzgerald's "The Great Gatsby." Many Gold Coast mansions, including the castles at Sands Point Preserve, the Vanderbilt Museum, Sagamore Hill National Historic Site, and the Frick Estate at the Nassau County Museum of Art, are open to the public for tours. Peruse the great rooms that once played host to foreign diplomats, Hollywood royalty and socialites. All estates have limited space and ask that you reserve your visit in advance. Stay at Oheka Castle. Built in 1919, the castle is a member of Historic Hotels of America and features 34 uniquely designed guest rooms as well as a full range of amenities, including a fitness center, in-room massages, and complimentary continental breakfast.
Overnight: Treat Yourself to a Luxurious Stay in Lake Placid (Adirondacks)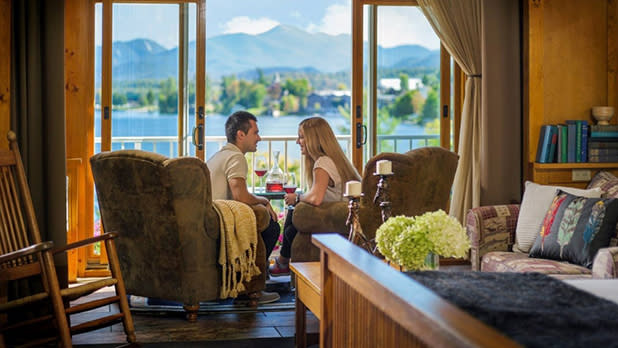 CREDIT @CARRIAGEHOUSECOOKINGSCHOOL ON INSTAGRAM
Forget any worries and bask in the luxury and rustic splendor of an upscale lodge or resort in the village of Lake Placid. The village and surrounding area are packed with interesting and exciting things to do, including exploring the Adirondacks' beautiful scenery and waterways, touring the Olympic Sports Complex, fishing on the Ausable River, shopping along Lake Placid's Main Street, taking a boat tour, hiking Algonquin Mountain, visiting the Wild Center, golfing at Whiteface Club & Resort Golf Course, and much more! Luxurious lodging options include the Mirror Lake Inn Resort & Spa, a AAA Four Diamond upscale spa resort offering an authentic Adirondack experience, with both world-class cuisine and casual dining options amid awe-inspiring views; Whiteface Lodge Resort & Spa, an upscale all-suite resort is a mile from the shores of Lake Placid, featuring plush, Adirondack-inspired suites, including some with whirlpool tubs and fireplaces, plus a fine dining restaurant, a bar and a spa, an indoor/outdoor pool, tennis courts, a movie theater, and a skating rink; and Lake Placid Lodge, a romantic and rustically elegant alpine-style lodge featuring stone fireplaces, deep soaking tubs, endless recreation, and an acclaimed restaurant.
Great For Kids
Day Trip: Enjoy Subterranean Summertime Fun at Howe Caverns (Central NY)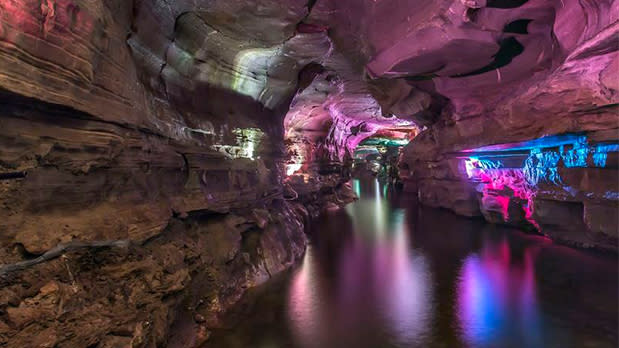 Cool off 156 feet below the earth's surface at Howe Caverns, the largest cavern in the northeast and one of New York State's most visited natural attractions. Take the Traditional Tour for a 90-minute experience with exploration on foot and by boat. You'll wander through a labyrinth of colorfully illuminated twisty, turny rock corridors, and get an even closer look at the amazing rock formations within by taking a boat ride on the "River Styx," the underground river that carved them. For a nighttime experience, try the two-hour Lantern Tour, offered by reservation-only, Friday and Saturday nights in the summer and on select weekends in the winter. The Lantern Tour is only for guests 16 years of age and older. You may also wish to check out the nearby 100-foot underground waterfall at Secret Caverns. Howe Caverns tour prices vary and reservations must be made online. Open daily through Labor Day from 9 am to 5 pm, with Traditional Tours leaving every hour.
Overnight: Find Something for Everyone at Rocking Horse Ranch (Hudson Valley)
A perfect getaway for the entire family, Highland's Rocking Horse Ranch is a year-round, all-inclusive resort featuring beautiful riding trails that are open all year. Whether you're an old hand or meeting horses for the very first time, you're sure to bring home exciting, adventure-filled memories! In addition to horseback riding, Rocking Horse Ranch also features the Northeast's longest Mountain Tubing Adventure. Ride the Magic Carpet Lift to the top of the 'Big Hill', then take the plunge down to experience a thrill the whole family will enjoy (on select fall nights, check out Cosmic Night Mountain Tubing, where you take the plunge under flashing LED lights for an unforgettable ride). You can also climb all the way to the top of the rock climbing tower, or soar 25 feet into the air with the Super Bungee Jumpers. Other great outdoor activities include big banana boat rides, kayaking, paddle boating, canoeing, "Huck Finn" fishing, and more. Unwind at the El Dorado Hot Springs, an indoor/outdoor experience with 98-degree water temperature. Rocking Horse Ranch's award-winning accommodations feature all the comforts of home, including free wi-fi, flat screen cable TVs, refrigerators, and more.
Nature Lovers
Day Trip: Escape to the Great Outdoors at Bear Mountain State Park (Hudson Valley)
If you're feeling cooped up and just want to get away from it all for a day, head to Bear Mountain State Park. Just about 1 hour from midtown Manhattan by car, you can explore the great outdoors with hiking, boating, the trailside zoo, and more. For a beautiful scenic drive, try Seven Lakes Drive, which runs through Harriman State Park to Bear Mountain. 
Overnight: Uncover the Natural Beauty of the Adirondacks at the Wild Center and Wild Walk (Adirondacks)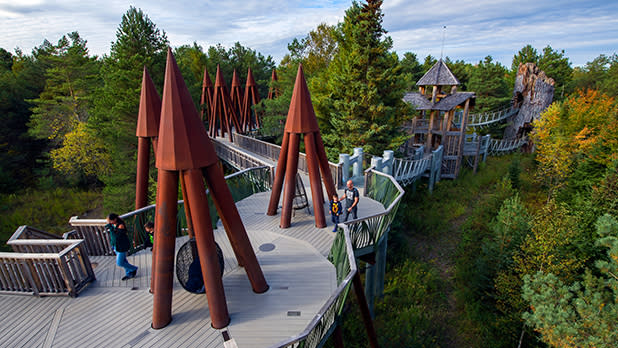 Find new ways to connect with nature and the beauty of the "Forever Wild" Adirondack Park at the 115-acre Wild Center, an all-day outdoor experience in Tupper Lake. Visitors of all ages can get closer to the natural world via trails, guided canoe trips on the river that runs by the Center's campus, and a helpful staff knowledgeable about the wild world of the Adirondacks. The star of the Center's outdoor experience is Wild Walk, featuring more than 1,000 feet of bridges and platforms rising up into and eventually over the top of a living Adirondack forest! And that's not all - it also has a four-story treehouse, swinging bridges, a spider's web where people can hang out, and a giant-sized bald eagle's nest where visitors can look over the Adirondacks from a rare point of view. You'll find plenty of nearby accommodations, including White Pine Camp, a lovingly restored Adirondack Great Camp that once was the summer White House of President Calvin Coolidge; and Gauthier's Saranac Lake Inn and Hotel on Saranac Lake. 
Foodies
Day Trip: Celebrate  and delight in an Iconic American Food Along the Steuben Burger Trail (Finger Lakes)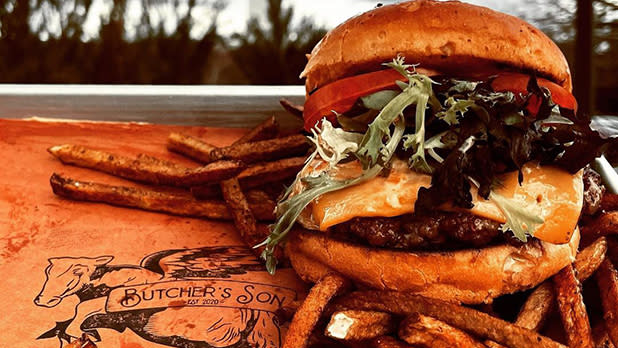 CREDIT @BUTCHERS_SON_CORNING ON INSTAGRAM
The Steuben Burger Trail celebrates, honors, and spotlights the best joints in Steuben County for this iconic American (some say German) food dating back as far as the late 19th century. The Burger Trail's Top 10 Fan Favorite Burger Joints include long-standing go-to burger joints, restaurants with a nostalgic feel and great food, as well as brand new establishments garnering a lot of attention for their creative flavorful cuisine. There are over 65 dining establishments throughout Steuben County offering their own diverse and delicious takes on one of America's favorite comfort foods.
Overnight: Explore the International Food Neighborhoods of Queens (New York City)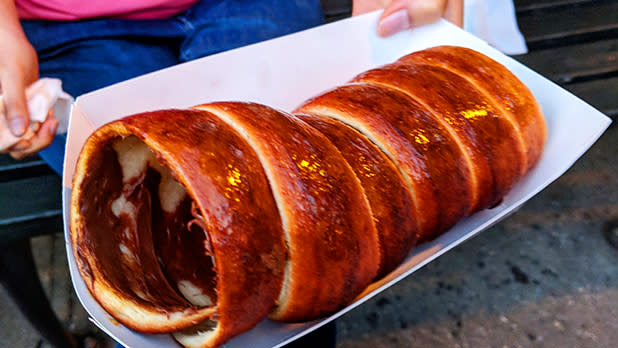 The borough of Queens is the most ethnically diverse urban area in the entire world, with a Guiness Book of World Records-topping 138 languages spoken by its residents, although some say there are even more! Add some delicious and affordable variety to your culinary life with a visit to one or more of the renowned international food neighborhoods in the borough. You'll discover new things to eat, learn about different cultures, and have money left to try even more new tempting eats from abroad. 
For delicious and authentic Chinese Food, head to Flushing's Chinatown. Two-thirds of Flushing's population is Asian American, and there is a terrific selection of Chinese restaurants, including Happy Lamb Hot Pot, and Asian Jewels Seafood Restaurant. Queens Koreatown originated in Flushing but now includes Murray Hill, where you can find a great variety of Korean restaurants, such as Ssam Tong Korean BBQ, and Hahm Ji Bach. If you're looking for Indian food, consider Jackson Heights. For something off the beaten path, try Phayul, a small Tibetan café with an inexpensive menu featuring fried rice, big bowls of fragrant soup and delicious steamed dumplings (called "momo") handmade before your eyes. Queens' Richmond Hill is home to Little Guyana, a 30-block stretch that's home to a large portion of New York City's sizable Guyanese population, as well as many immigrants from India and Trinidad and Tobago, and is one of the international districts that bolsters the borough's reputation as the City's most diverse. Singh's Roti Shop specializes in doubles (a deep-fried, curry-filled snack) and roti (the pumpkin and tomato stand out among the vegetarian fillings), while Heat Caribbean Kitchen & Lounge features Caribbean fusion food made fresh, plus handcrafted cocktails served in a modern, rustic, chic setting. Greek food lovers should make it a point to head to Astoria for some amazing dishes. Stamatis Restaurant prides itself on being simple, authentic, and an accurate representation of what you might find in Greece. Finally, with a brand new bar and killer views from Hunter's Point Park is JACX &Co., a food hall in Long Island City featuring international eateries such as Méxology, Taïm, and Lotus + Cleaver.
For an all-in-one experience, the Queens International Night Market, open Saturdays, offers a large, family-friendly open-air night market featuring up to 100 independent vendors selling food, from Salvadoran pupusas, Cambodian Fish Amok, and Brazilian steak sandwiches to tropical desserts, Romanian-Hungarian chimney cake, and Haitian sweets. You'll also find merchandise and art, and small-scale cultural performances, all celebrating the rich cultural diversity and heritage of NYC and Queens. Stay at the Aloft Long Island City-Manhattan View in Long Island City.
History Buffs
Day Trip: Discover Scenic and Historic Albany (Capital-Saratoga)

CREDIT @DUTCHAPPLECRUISES ON INSTAGRAM
If you're a history buff, you'll want to discover Albany, and with so much history in New York State's capital, you'll want to see as much of the city as you can! Start with a Dutch Apple Cruise, viewing the Albany skyline while cruising the scenic and historic Hudson River. Dutch Apple Cruises offer several different options for sightseeing, including dinner and sunset cruises. Next, take a self-guided or guided tour of the New York State Capitol Building. Completed in 1889, after construction spanning 32 years, the beautiful building is a mix of Italian Renaissance and Romanesque architecture, and a must-see for architectural enthusiasts. There's more to explore in Empire State Plaza including the New York State Museum, and The Egg Performing Arts Center.
Overnight: See History Come to Life at Fort Ontario State Historic Site (Thousand Islands - Seaway)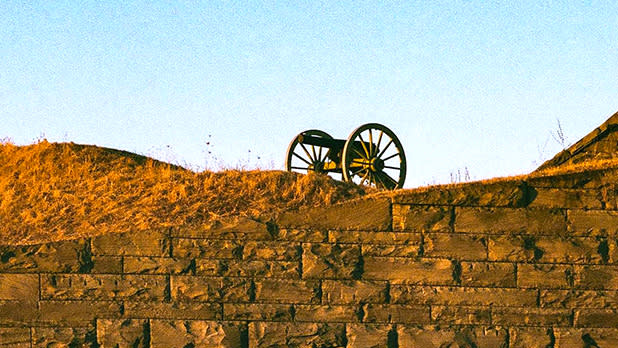 CREDIT @SELISHOTS ON INSTAGRAM
With its wide open spaces and many buildings to explore, Fort Ontario State Historic Site, an official Path Through History site in the City of Oswego, is an ideal destination for all ages to discover nearly 200 years of military history. The fort dates back to 1755, with the fourth and current Fort Ontario built on the ruins of three earlier fortifications which were the site of three French and Indian War and two War of 1812 battles. It was occupied by the U.S. Army through World War II, and was used as a Holocaust refugee center, the only one of its kind in the country. Further explore this chapter of the fort and the city's history at the Safe Haven Holocaust Refugee Shelter Museum. Visitors, especially kids, love the great freedom they have walking the grounds and exploring the entire fort. While you're exploring history in Oswego, be sure to visit the H. Lee White Maritime Museum; featuring 400 years of Oswego County's maritime heritage; and the Richardson Bates House Museum, one of the most intact house museums in New York State with opulent furnishings, artwork and architectural details from the Victorian era. Overnight at the Best Western Plus Oswego Hotel and Conference Center in Oswego, or at the River Edge Mansion Bed & Breakfast, which is about 30 minutes from Oswego, and is listed on the National Register of Historic Places.
Music Lovers
Day Trip: Take a Hip Hop Tour of The Bronx (New York City)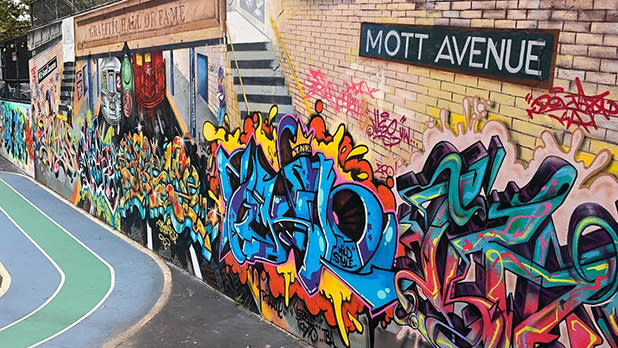 CREDIT @TOBYTREICHLER ON INSTAGRAM
The richness of hip hop culture has influenced people throughout the world, and this year marks the 50th anniversary of hip hop! To mark the occasion, head to the Bronx (the birthplace of hip hop) and check out the Universal Hip Hop Museum. Or take a memorable guided adventure from Midtown Manhattan, the site of the very first hip hop party, through Harlem and the 'Boogie Down Bronx' with Hush Tours. In this immersive experience you'll reminisce and learn as you see classic backdrops and listen to real-time narratives from iconic, charismatic hip hop pioneers. Some of hip hop's most important landmarks you'll see include: the Graffiti Wall of Fame, "Harlem World", the Apollo Theater, and Yankee Stadium. You'll also encounter famous murals dedicated to legends like Big L, Kool Herc, and more (you'll have plenty of time to step off the bus, so you can take selfies in front of these iconic works of art). Part of the fun is seeing if your celebrity tour guide is spotted and shouted out on the streets! (you'll also get the chance to interact with the celebrity guides and take an exclusive group photo of the whole tour crew).
Overnight: Revel in Music History, Enjoy Live Performances, and More at Bethel Woods Center for the Arts (Catskills)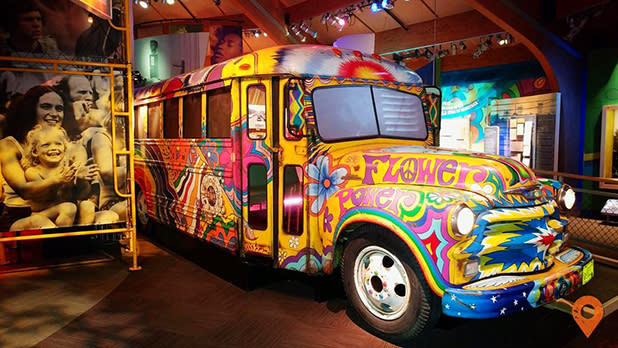 CREDIT @NEWYORKSHERPA ON INSTAGRAM
Head to Bethel Woods Center for the Arts in Sullivan County and take a 'trip' back to the 1960s; explore how important community and collaboration were to the success of the 1969 Woodstock festival and how this idea influences today's events and gatherings. The Center, located on the National Register Historic Site of the 1969 Woodstock Music & Art Fair, is home to a one-of-a-kind cultural center offering a diverse mix of performances and arts programs that inspire the decade that ushered in a new world, and much more. The lush 800-acre campus includes a Pavilion Stage amphitheater with seating for 16,000 (featuring a summer lineup with: James Taylor, Shania Twain, and Chris Stapleton), an intimate 440-seat indoor Event Gallery, the award-winning Museum at Bethel Woods, and a Conservatory for arts education programming. Stay at Villa Roma Resort & Conference Center in nearby Callicoon, a scenic mountain location with virtually every indoor and outdoor amenity.
Adventure Travelers
Day Trip: Embark on a Whirlpool Jet Boat Tour of the Niagara River and Niagara Falls (Greater Niagara)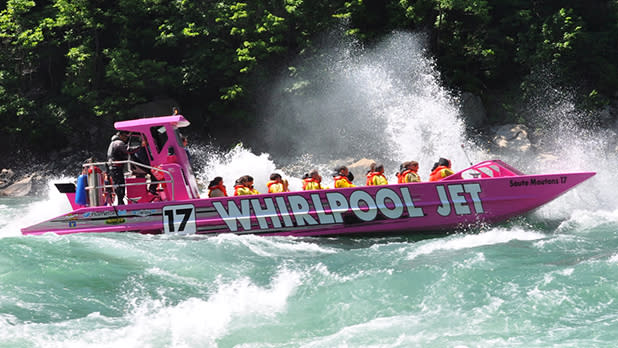 COURTESY OF WHIRLPOOL JET BOAT TOURS 
Looking for adventure? Experience a natural wonder of the world, the mighty Niagara Falls aboard "Niagara's Ultimate Adventure," a 45 minute jet boat tour through the Class V Devil's Hole rapids of the Niagara River! You'll enjoy awe-inspiring scenery and learn about the history of Niagara on a dry or wet tour, as specially-designed 1500 horsepower jet boats plunge directly into the rapids, scooping up hundreds of gallons of water to the delight of you and the other passengers. Don't worry, you can bring your children ages 4 and up aboard the boat! While you're in Niagara Falls, be sure to stop by. 
CREDIT @REGCHUHI ON INSTAGRAM
Are you up for some real high flying adventure? Bristol Mountain's Aerial Adventure Park features more than 7 courses, with varying levels of difficulty, interwoven within the forest canopy. Each course is made up of 12-15 elements (including ziplines, tightrope walks, rope ladders, bridges, and even a skateboard) suspended between platforms that are secured to the trees.You might also want to take a 3-hour Zipline Canopy Tour,  featuring 7 zip lines totaling over 5000 feet, 4 heart-pounding bridges, 2 hikes, 2 off road rides and a final "leap of faith." Each 3-hour tour is led by 2 guides and is limited to 12 participants (reservations recommended). Stay overnight at the Holiday Inn Express Canandaigua, one of the city's finest hotels, just a half mile from the beautiful Canandaigua Lake.
Budget
Day Trip: Spend a Scenic and Adventurous Day Exploring the Helderberg Escarpment at John Boyd Thacher State Park (Capital-Saratoga)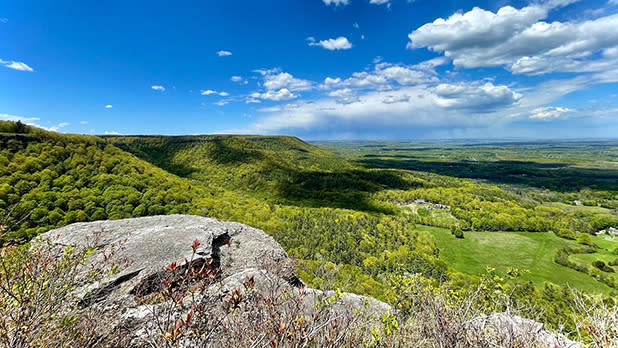 COURTESY OF @THACHERSTATEPARK ON INSTAGRAM
Delight in spectacular panoramas, amazing paleontological history, and plenty of opportunities for outdoor exploration at Thacher State Park, situated along the Helderberg Escarpment. Even as it safeguards six miles of limestone cliff-face, rock-strewn slopes, woodland and open fields, the park provides a marvelous panorama of the Hudson and Mohawk Valleys, and the Adirondack and Green mountains. The park has volleyball courts, playgrounds, ball fields and numerous picnic areas with nine reservable shelters. Interpretive programs are offered year-round, including guided tours of the famous Indian Ladder Trail. The Visitor Center located at Thacher State Park has geological and historical exhibits showcasing the Helderberg Escarpment and its importance on the region. There are over 25 additional miles of trails for hiking and mountain biking, and in winter, cross-country skiing, snowshoeing, and snowmobiling. Get your adrenaline going at the Wild Play Adventure Course: a new adventure course offering 15 zip lines, 60 aerial games, and a 40 ft jump. Hike along the Escarpment Trail, a 3.7 mile heavily trafficked out and back trail that features a waterfall and is good for all skill levels. With a number of activity options, the trail is used from May until October.
Overnight: Go Camping and Be One with Nature!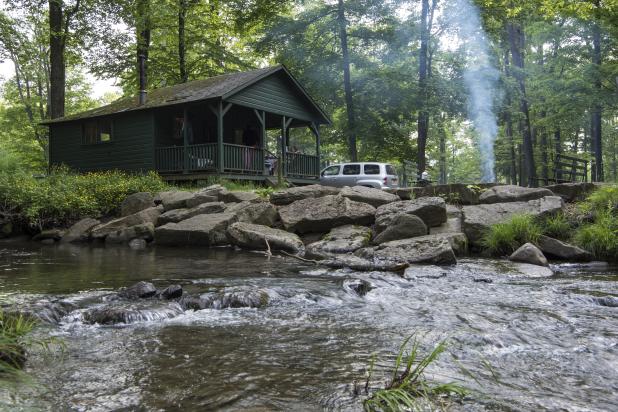 There's nothing quite like immersing yourself in the peace and tranquility of nature with a camping trip in New York State! Your options range from crisp, star-flecked nights in the Adirondacks to the Catskills, where you're never far from amazing family activities like canoeing, hiking, and fishing. Whether you're looking to park an RV, rent a cabin, or pitch a tent under the stars, New York State is the perfect spot for your next camping getaway. You'll find a range of private campgrounds—many can be booked through CampNewYork.com—as well as public campgrounds operated by New York State Office of Parks, Recreation and Historic Preservation (State Parks), and the Department of Environmental Conservation (DEC). Additionally, New York State has partnered with Tentrr to offer 45 new, fully outfitted sites at four State Parks in the Hudson Valley. New reservations for all available State Parks sites—including tents, trailers, RVs, cabins, yurts, and cottages—can be made by calling toll free 1-800-456-CAMP or http://newyorkstateparks.reserveamerica.com Online reservations are encouraged. For the best availability, try midweek.