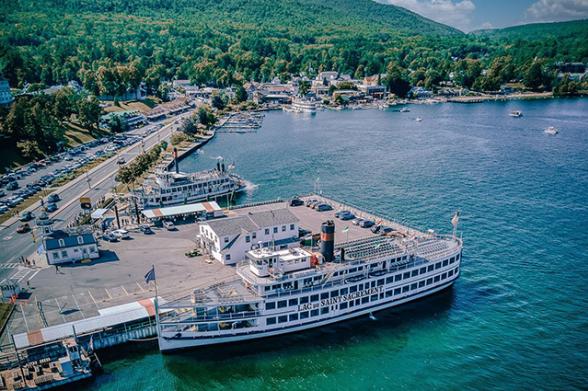 Family vacations are the stuff memories are made of. With 11 regions full of fun things to explore that are sure to please even the toughest little critics, New York has plenty to offer for every type of family – including some very famous ones. See where we'd send your favorite classic and more modern TV families for a vacation in New York State! 
Call ahead and check websites and social media to make sure attractions and amenities are open and available. Masks are encouraged, but optional in most settings per New York State guidelines. Individual businesses or attractions may require mask wearing.
The Bradys (The Brady Bunch): Finger Lakes

Credit: @julitmart on Instagram
The Bradys would find something to please every member of the bunch on a groovy New York vacation in the Finger Lakes. 
Given how much they loved their famous road trip to the Grand Canyon, the Bradys are sure to enjoy the Grand Canyon of the East: picturesque Letchworth State Park (pictured). As they did at the West Coast version, they could also learn more about Native American culture at Ganondagan State Historic Site, where interpretive trails, a 17,300 square foot interactive visitor center and a full-sized longhouse bring the 17th century Seneca town to life. 

Credit: @cgoverts on Instagram
The younger kids especially (but not exclusively) will have a ball among the toys, games, and play areas of the Strong National Museum of Play (pictured) in Rochester. The new video game exhibits (just opened in Summer 2023) include the world's largest playable Donkey Kong arcade game. The nearby Seneca Park Zoo has 90 species of animals the whole family will love.
The grown-ups need some diversion too, and Mike's architectural expertise will make him a perfect leader of one of the six self-guided walking tours of Rochester curated by the Landmark Society of Western New York.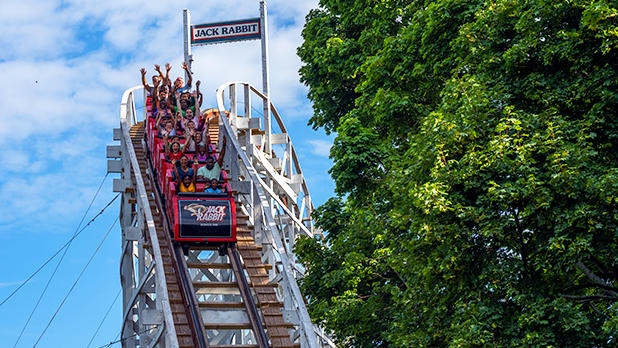 The white sand freshwater beaches along Lake Ontario will appeal to the Bradys' love of sandy family vacations, while Seabreeze Amusement Park (pictured) will remind the bunch of their visit to King's Island. Carol and the girls especially will appreciate learning about women's rights during an excursion to Seneca Falls and a stop at the Susan B. Anthony Museum in Rochester.
Nights can be spent in the playful accommodations and spacious, contemporary indoor and outdoor social spaces of the Hampton Inn & Suites Rochester Neighborhood of Play, or The Chalet at Letchworth State Park with room for all six Brady's, Alice and even one more, in case Cousin Oliver wanted to tag along. 
The Lopez's (The George Lopez Show): Catskills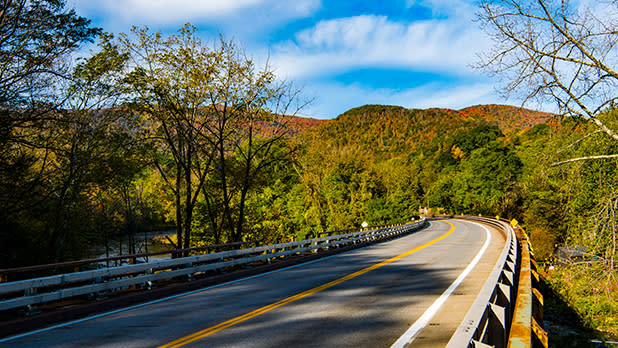 The Catskills are known for breathtaking mountains and forests, pristine lakes and streams, and a wide range of activities a family with interests as diverse as the Lopez's will find easy to love.  Start it off right by taking in the scenic views with a drive along the Catskill Mountains Scenic Byway (pictured) and explore the funky town of Woodstock with a walk down Tinker Street, a quintessential small town main street that mixes a colorful hippie sensibility with trendy eateries. 
While in town, channel your inner George Lopez and play a round of golf at the Woodstock Golf Club (open to guests who present an out of town driver's license and receipt of local vacation rental or hotel booking) and follow it up with a frothy glass of beer made with locally grown and foraged ingredients (like a brew infused with maple sap or a fruity variety made with cherries from the orchard) at West Kill Brewing (pictured). While the actual Woodstock Festival took place in Bethel Woods nearly 60 miles away, Woodstock has its own musical treasure in the form of the Bearsville Theater, which hosts shows throughout summer and fall. 
Angie fell in love with George over a mural, so bring your love to the Thomas Cole National Historic Site, home to an impressive collection of Hudson River School art. Though not as famous as his paintings, Cole was also an avid poet, a fun fact that young bards like Carmen will appreciate. 
The Catskills is also a top destination for thrill seekers like Max. Get that adrenaline pumping with a mountain biking expedition (pictured) or snowboarding session at Windham Mountain.
Spend the night at the luxurious Emerson Resort, which offers fine dining and a luxe spa fit for a "princess" like Angie. One of the resort's claims to fame is its kaleidoshow, which takes place in the world's largest kaleidoscope – a must-see for anyone staying at the Emerson or just passing through town. 
The Addams' (The Addams Family): Hudson Valley


Credit: Bryan Haeffele
The Addams' appreciate a vacation with touches of the creepy and the ooky. New York's Hudson Valley delivers a taste of that alongside beautiful views, historic sites, and farm-to-table dining. 
You don't have to wait until Halloween to revel in the eerie legacy of Sleepy Hollow. The Sunnyside estate of Washington Irving, author of The Legend of Sleepy Hollow and Rip Van Winkle, is just the Thing to mix history and the mysterious. 
Likewise, a guided tour of the Sleepy Hollow Cemetery (pictured) lets guests get up close and personal with historic greats from Irving himself to Andrew Carnegie, Elizabeth Arden, Brooke Astor, and Harry and Leona Helmsley. Taking a lantern evening tour adds to the atmosphere, as does the special Murders & Mayhem tour. 
Founded in 1685, the Old Dutch Church and its adjoining burial ground were both specifically mentioned in The Legend of Sleepy Hollow. During October, the church is the appropriately eerie setting for nightly live retellings of the story of Ichabod Crane and the Headless Horseman. 
Lyndhurst Mansion (pictured) and its 67-acre grounds show off Gilded Age furnishings and 19th century landscape design. The gothic architecture made it the perfect backdrop for movies based on the classic vampire soap opera, Dark Shadows. There are special events year-round like Sunset Jazz on Summer Thursdays, but the Addams' would be likely to enjoy the candle-lit Lyndhurst After Dark tours offered in October even more. 
In fact, the Halloween season is where Sleepy Hollow shines, with special tours, shows, and events happening all over town, including the Great Jack O'Lantern Blaze, with more than 7,000 hand-carved pumpkins set into sculptures taking over the grounds of Van Cortlandt Manor, complete with dramatic lighting and an original soundtrack. 
While Morticia, Gomez, and the children may bemoan the fact they can't actually sleep overnight in one of the area's house-turned-museums, they will feel right at home staying at the aptly named Castle Hotel & Spa. The luxurious, award-winning property with newly renovated suites sits atop one of the highest points in the region, overlooking the Hudson River. 
The Ricardos (I Love Lucy): Chautauqua-Allegheny
Where else would the Ricardos want to vacation but the hometown of Lucy herself? The Lucille Ball - Desi Arnaz Museum (pictured) in the Chautauqua-Allegheny town of Jamestown features replicas of the sets for both their New York City apartment and Hollywood hotel suite. If you're lucky enough to be in town for a special event like the Lucille Ball Comedy Festival, you might also get to visit the Tropicana Room, a recreation of Ricky's famous nightclub.  
Just blocks away, the state-of-the-art National Comedy Center carries on Lucy's legacy of laughter with over 50 immersive exhibits celebrating laughter as practiced in stand-up, movies, TV, comic strips, and more. In recent years, it has been named Best New Museum by USA Today and one of the World's Greatest Places by Time Magazine. 
Visits to the Grape Discovery Center and the over 20 wineries of Lake Erie Wine Country (pictured) spanning 53 miles of scenic vineyards are bound to conjure memories of Lucy's grape stomping adventure–though sipping the wine is likely to be a much more relaxing experience! 
And speaking of scenery, the unique towering rock formations of Panama Rocks and Rock City scenic parks wait to be explored with hiking trails and stunning views. 
Lucy, Ricky, along with vacation buddies Fred and Ethel, can enjoy luxury accommodations with historic charm or modern amenities. The Athenaeum Hotel on the grounds of the Chautauqua Institution has lakeside rooms in close proximity to the daily performances and lectures occurring throughout the Institution's campus, while the Chautauqua Harbor Hotel (pictured) on the shores of Chautauqua Lake offers balconies, al fresco dining, and an expansive patio with fire pits. 
The Gilmores (Gilmore Girls): Capital-Saratoga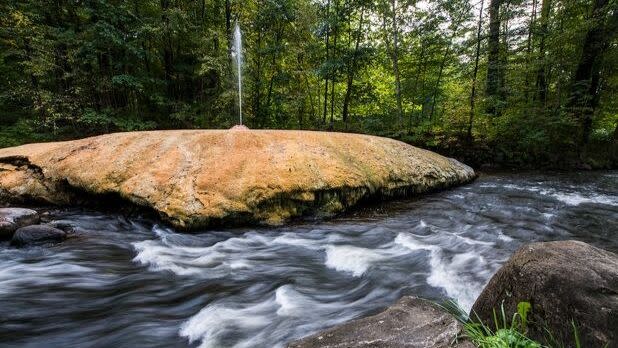 Saratoga Springs is a charming city known for its wealth of mineral waters, world-class horse racing heritage, and vibrant downtown. Just three-and-a-half hours from New York City by train, it makes for a perfect mother-daughter getaway the likes that the titular Gilmore Girls would enjoy. 
Start your trip right by sampling water straight from the springs in Saratoga Spa State Park (pictured). After you've found your favorite spring, engage in some retail therapy on historic Broadway, Saratoga's downtown thoroughfare which is full of shops and restaurants. Saratoga has more restaurants per capita than even NYC, so you'll find plenty of amazing choices like Hattie's Restaurant, a local institution known for its delicious Southern-style food (including a fried chicken dish that beat Bobby Flay's), and Olde Bryan Inn, a cozy restaurant that serves classic American cuisine and has a friendly, welcoming atmosphere. You'll also want to refuel at Saratoga Coffee Traders on Broadway, a Fair Trade Organic coffee shop that serious coffee lovers like Lorelai and Rory are sure to approve of. 
If you're visiting mid-July through Labor Day, put on your fanciest hat, and head to the races at Saratoga Race Track, where the people-watching is almost as thrilling as the competition itself. Speaking of events, you'll find plenty at the world-renowned Saratoga Performing Arts Center (pictured), a music and dance venue that hosts major concerts, ballets, and other cultural happenings.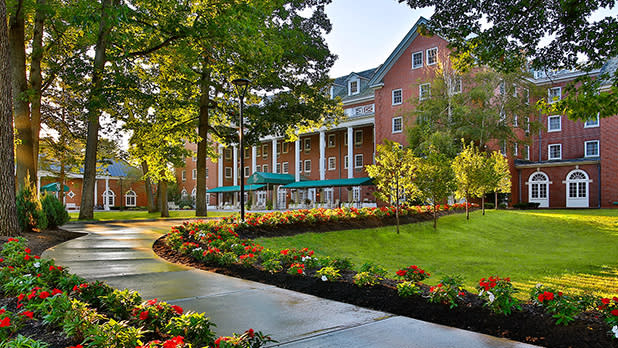 Stay in historic elegance that puts you in the middle of it all at the Gideon Putnam Resort & Spa (pictured), which is located inside Saratoga Spa State Park. Enjoy the hotel's relaxing atmosphere by taking advantage of the full-service spa (18+ only), hotel pool, and several on-site dining options. 
The Banks' (Fresh Prince of Bel-Air): Thousand Islands-Seaway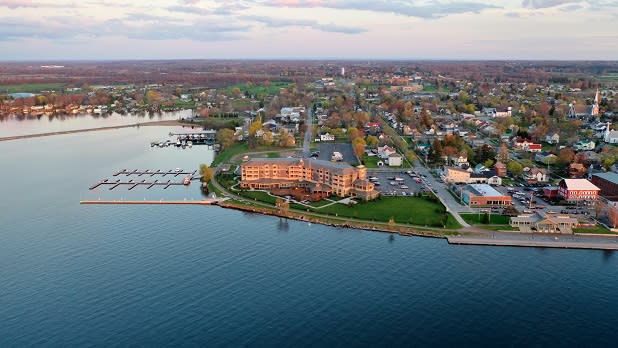 For a bougie getaway worthy of the Banks family from The Fresh Prince of Bel Air, head up to the Thousand Islands-Seaway region. A popular vacation destination for the New York glitterati of the late 19th and early 20th centuries, the area is a popular stop for today's fresh princes and princesses with its fairytale castles and stunning river landscapes.
Roll up to the luxurious 1000 Islands Harbor Hotel (pictured) to get it started and hop on a boat that will take you to one of the nearby island castles.
Boldt Castle located on Heart Island and Singer Castle (pictured) on Dark Island are impressive in their architecture, mimicking the royal manses of Europe. Take a tour and learn about the fascinating history of each. For another unique experience, take a glass-bottom boat tour of the St. Lawrence River learning about fish and wildlife on your way to Rock Island Lighthouse State Park. Boats are as an important mode of transportation in this area as Uncle Phil's Cadillac, so be sure to stop by the Antique Boat Museum to see the largest collection of antique and classic boats on display in North America.
Balance out all the seafaring by visiting some excellent land-based attractions. The Frederic Remington Art Museum features an impressive collection of Western American art and the Starr Clark Tin Shop & Underground Railroad Museum serves as an important tribute to the movement to free enslaved persons. 
The Johnsons (Black-ish) - NYC

Credit: Phoebe Baker
With so many locations important to Black history, New York City would make for the perfect destination on Black-ish in Dre's quest to teach the Johnson family more about their heritage. Harlem was home to a cultural renaissance that elevated Black voices to the global stage. Start your visit at the Schomburg Center for Research in Black Culture, then explore the neighborhood that the likes of Langston Hughes, W. E. B. Du Bois, and Aaron Douglas called home. Enjoy a performance at the Apollo Theater (pictured), whose amateur nights spawned global sensations like Michael Jackson, and get your fill of soul food at the ever-popular Sylvia's or Melba's Restaurant.  While not in Harlem, a performance from the acclaimed  Alvin Ailey American Dance Theater is a must, as is a trip downtown to see the African Burial Ground National Monument.
If your visit to New York City only includes the borough of Manhattan, you're missing out! Many of the city's most exciting sights and coolest neighborhoods are located in the outer boroughs. Brooklyn and the Bronx, in particular, also happen to be steeped in Black history. Once in Brooklyn, visit the Museum of Contemporary African Diasporan Art to explore pressing social and political issues facing the African Diaspora. Head over to the Little Caribbean neighborhood to the east of Prospect Park for some of New York's best jerk chicken and Trinidadian doubles (a chickpea sandwich served on Carribean-style flatbread).  Be sure to also check out the Brooklyn Children's Museum, a haven for families with young kids like Devante.

Credit: Kim McVeigh
Among other claims to fame, the Bronx serves as the birthplace of hip hop. Learn more about its history at the Universal Museum of Hip Hop and take a bus tour that traces the origins of the art form with top-rated tour group Hush Tours (Use promo code "HH50T" for 20% off bus and walking tours valid through September 9, 2023).
In addition to learning about Black history, there's plenty in New York City to cater to the interests of a family like the Johnsons. Rainbow and Zoey would approve of a mother-daughter spa day at the ultra-luxe Italian day spa, QCNY, located on the serene Governor's Island. Junior would enjoy a visit to Wall Street, Diane would get a kick out of the Museum of Mathematics, while sports fans like Jack would appreciate tickets to a Nets or Knicks game. With a vacation to NYC, you really can please everyone. 

Credit: @the_bettylee on Instagram
While there are many wonderful places to rest your head in the city, Black-owned B&B Akwaaba Mansion (pictured) offers a uniquely luxurious and culturally rich experience at surprisingly affordable rates. Located in Brooklyn just 15 minutes from the heart of Manhattan, your room comes with special touches such as a Southern breakfast and a personal concierge.  Other great options include the convenient Aloft Harlem, which puts you just a three-minute walk from the Apollo Theater, or next-level luxury at The Peninsula in Midtown, where Camp Peninsula packages treat young guests to perks like a hotel scavenger hunt, in-room tent set-up where they can "roast" makeshift plushie "s'mores," and kid-centered welcome amenities.
The Huangs (Fresh Off The Boat) - Greater Niagara
Where would the Huang family from Fresh Off The Boat vacation in New York State? The iconic Niagara Falls would be one great destination! Experience the majesty of Niagara Falls State Park with a ride on the Maid of the Mist or go exploring at Cave of the Winds (pictured). 
Beyond the falls, the Greater Niagara region offers plenty to do for the whole family. Six Flags Darien Lake Theme Park has thrills for all! Young kids like Evan will love the marine life at the Aquarium of Niagara, while foodies like Eddie can take advantage of hands-on cooking classes and enjoy a meal at the Niagara Falls Culinary Institute.
The region is also home to Buffalo, dubbed the "Queen City" for its position as the largest and most prosperous city along the Great Lakes in the late 19th and early 20th centuries. The city's claims to fame include playing host to a presidential inauguration, which you can learn about at the Theodore Roosevelt Inaugural National Historic Site (pictured).
Today, Buffalo is reclaiming that glory with an exciting array of attractions waiting to be discovered. Take in one of the 1,000 annual events at the city's waterfront development, Canalside, a veritable playground for all ages and home to both the Buffalo and Erie County Naval & Military Park and Explore & More - The Ralph C. Wilson, Jr. Children's Museum. Nearby, you'll also find the family-pleasing Buffalo Zoo, one of the first in the nation. 
Vacation is a time for discovery, and some of Buffalo's best hidden and not-so-hidden treasures are found through its unique regional food specialties! Eat Buffalo wings (or just wings as they are called here) at Anchor Bar (pictured), where this saucy dish got its start. While in town, try a beef on weck sandwich (Charlie the Butcher makes a great one and has several locations in the city!) and buy some sponge candy to hand out as souvenirs – or just eat it all yourself, we won't blame you!
If you're like the Huangs and looking for convenience in your travels, split your stay between the Hyatt Regency Buffalo and the Hyatt Place Niagara Falls, both of which have spacious rooms that can easily fit the whole crew. 
The Simpsons (The Simpsons): Adirondacks
A trip to the Adirondacks would offer the Simpson family a chance to get away from the hustle and bustle of Springfield and enjoy some quality time together in a beautiful natural setting. Kick your getaway into gear with a taste of Americana on Lake George (pictured). Start off by tubing on the lake with the family and follow it up with the thrills of Krustyland at Six Flags Great Escape theme park. For even more fun, play a round of pirate-themed mini-golf on a landscaped course set among waterfalls and caves at Pirate's Cove Adventure Golf.
Head up to  Lake Placid and Tupper Lake for even more family fun. While Bart may have cost Springfield the Olympics, Lake Placid hosted not one but two Winter Olympic Games. Learn all about it at the Lake Placid Olympic Museum and get the whole family in the game with the bobsled experience.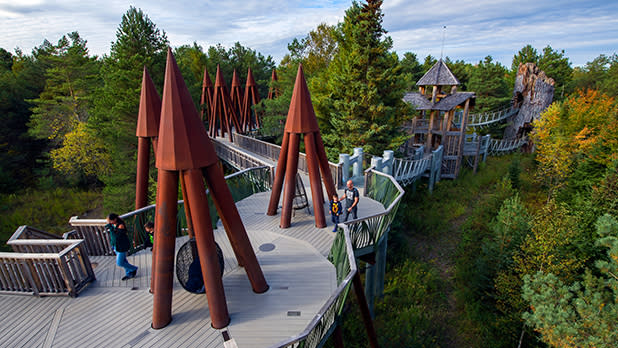 Homer is sure to love a day of fishing on Tupper Lake with a can of Raquette River Brewing beer and sweet treat from The Donut Shoppe on hand. Take in the natural beauty of the area with a walk on an elevated walkway through the forest at the Wild Center or a scenic rail trip on the Adirondack Scenic Railroad.
Keep your Simpsons-inspired family getaway affordable with a stay at the Americas Best Value Inn & Suites Lake George. Placid Bay Hotel in Lake Placid puts you at just an hour away from Tupper Lake and offers fun amenities like complimentary personal watercraft rentals and nights at the fire pit – perfect for making Butterfinger s'mores!
The Pritchetts & Dunphys (Modern Family): Long Island

Credit: Marta Zielinska
Give your Modern Family a week of fun in the sun on the sandy shores of Long Island. If you're looking for something that will please everyone in your crew, book your Dunphy-inspired stay in Nassau County. Start off with a tour of the area's Gold Coast mansions, where Claire will find many a closet to explore – be sure to make time for a planetarium show at the Vanderbilt Mansion (pictured) for your studious Alex-a-like. Speaking of closets, fashionistas like Haley will absolutely love Americana Manhasset for luxury shopping or Tanger Outlets at Deer Park for deals. 
This part of Long Island is also full of outdoor adventure. Thrill-seekers like Luke can look forward to wakesurfing, wakeboarding, waterskiing, or tubing with Oyster Bay Water Sports. Finally, take a relaxing walk on Jones Beach. If you visit during the summer, you can also see top acts perform at Northwell Health at Jones Beach Theater. Stay at The Inn at Fox Hollow, as this all-suite hotel provides room for everyone to spread out.

Photo Courtesy of Gurney's Montauk Resort
For an even posher experience, do like Jay, Gloria and Manny and go all out in the Hamptons. Stay at Gurney's Montauk Resort & Seawater Spa (pictured) and spend the day in its luxe spa to pamper your inner Gloria. If you're a hopeless romantic like Manny, go shopping in downtown Southampton, then stroll the Parrish Art Museum to fill your heart with art, and perhaps cap it all off with a sunset sail. And don't miss the chance to go all the way to the end of the island for that some Long Island history and that frameable family selfie at the Montauk Lighthouse.

Credit: @rjwphoto on Instagram
If a relaxing family-friendly escape that will have you brimming with pride like Mitch and Cam is what you are looking for, you'll find all that and more on Fire Island. Popular with the LGBTQ community, Fire Island boasts 30 miles of pristine beaches with silky sand and clear water to splash around in. Make the most of the island's natural wonders with a visit to the Sunken Forest, where you can stroll along a boardwalk that goes through a dense, shady forest of tall trees. For breathtaking ocean views and a chance to learn about the area's history, visit the Fire Island Lighthouse (pictured). As the sun sets, the island comes alive with nightlife. Get a sitter and hit the clubs and bars, or take in a show at the Arts Project Of Cherry Grove, America's oldest LGBTQ community arts organization. At the end of the day, you'll want to rest your head at The Palms Hotel Fire Island, which offers comfortable rooms in its main building and multi-room cottages.
The Roses (Schitt's Creek): Central NY
The villages and small towns of Central New York will evoke the charm of Schitt's Creek for Johnny, Moira, and the Roses. Sharon Springs, in particular, will make David and Patrick feel right at home with the flagship store of the Beekman 1802 (pictured) skin and body care brand, founded by real-life couple Josh Kilmer-Purcell and Brent Ridge. The similarity with Rose Apothecary is so strong that Beekman 1802 once sold co-branded Rose Apothecary products. There is other boutique shopping and dining in town, and nine individually appointed guest rooms with cooked-to-order breakfast at the American Hotel.   
Just up the road, good old-fashioned Americana continues in Cooperstown. Though best known for the Baseball Hall of Fame and other cultural attractions like the Fenimore Art Museum, Farmers' Museum, and Glimmerglass Festival, Cooperstown boasts other small-town delights as well. Have a drink on the lakeside porch of the historic Otesaga Resort, or take a boat ride on Otsego Lake offering stunning views of the surrounding hills and forests. 
Scenic rides through the countryside's rolling hills will take you to family farms where you can sample local cheeses, and craft drinks along the Cooperstown Beverage Trail. Relax on the Millpond boardwalk of the Fly Creek Creek Mill & Orchard (pictured) with a farm-fresh lunch, ice cream, and cider floats and slushies. Belgian-inspired beers and other delights complement a full calendar of public events at Brewery Ommegang. 
Fans of the quirky Roses will also love the unique Herkimer Diamond Mines where you can prospect for your own quartz crystals hiding in the rocks. You can then turn your finds into custom-made jewelry. Alexis would be impressed.
Another lodging option is the Inn at Cooperstown (pictured). This award-winning hotel built in 1874 is definitely a step up from the Rosebud, with 18 beautiful guestrooms and suites and a fresh  breakfast buffet served daily. 
---
Don't forget to post photos of your New York adventures on Instagram, TikTok, and Twitter with #iSpyNY and tag us on Facebook!