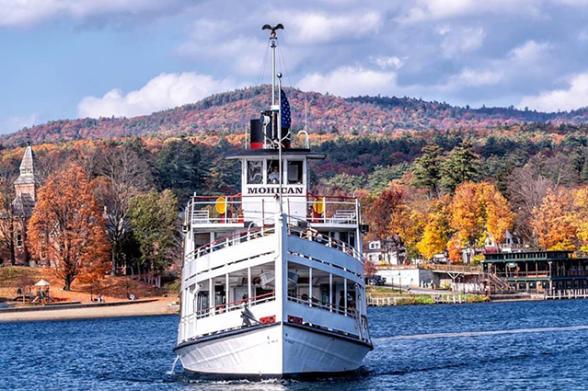 If you're looking to plan a weekend fall getaway to New York State, we've got countless ideas to help you get started. Our suggestions run the entire season of autumn and will bring you to just about every region in New York State. You can go pumpkin and apple picking, attend festivals and Halloween and other holiday events, enjoy a tasting at a winery, brewery or cidery, or simply admire the beauty of fall foliage at many nature spots through New York State. Here are our tips for fall weekend trips in New York. 
Masks are encouraged, but optional in most settings per New York State guidelines. Individual businesses or attractions may require mask wearing. Call ahead and check websites and social media to make sure attractions and amenities are open and available. 
Updated 08/10/2023
JUMP TO: Central New York | Thousand Islands-Seaway | Capital-Saratoga | Greater Niagara | Adirondacks | Finger Lakes | More in Greater Niagara | Hudson Valley | The Catskills | Chautauqua-Allegheny | Long Island | New York City
Apples, Animals, and Trains, Oh My! September 9-10, Central New York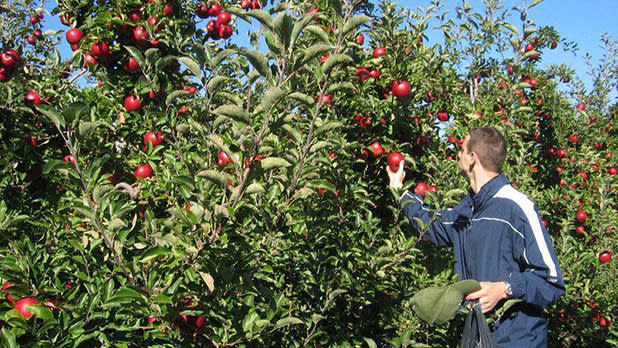 Central New York has plenty of activities for people of all ages to enjoy this autumn. Spend the day at Apple Hills (pictured), a 150-year-old family farm where you can hang with the resident animals or embark on a pick-your-own apple adventure. Their Apple Dumpling Cafe serves homestyle breakfast and lunch orders with table service indoors or outside, and their onsite grocery store is stocked with New York State goodies. 
At Harpursville's Animal Adventure Park, home to Tajiri—the giraffe whose birth was seen all over the world, you can hand feed a penguin, go on a walkabout with a kangaroo, or pre-book other meet and greets with some of the 300 animals at this attraction right outside of Binghamton (open through October). Take a ride through its sister facility, the Preserve Drive Through Park, which operates until October and has rhinos, giraffes, and other wildlife from the Americas, Eurasia, and Africa.

Credit: Destination Marketing Corporation for Otsego County
Take a fall foliage train ride with Cooperstown and Charlotte Valley Railroad (pictured). Their routes go along the Susquehanna River Valley, where fall scenery can be seen in forests and farm fields. Also, their Pumpkin Patch Trains run October 21-22 with a special station stop for passengers to pick out their perfect pumpkin. Speaking of trains, Roberson Museum and Science Center is home to a massive model train room depicting 1950s-era Binghamton, plus exhibits on cats, quilts, and even a thrilling planetarium show. 
Watch LUMA - America's Premier Projection Arts Festival (September 8-9) light up the night and transform Binghamton's buildings into illuminated works of art with projectors and 3D animation. 
Explore Castles and Quaint Villages, September 16-17, Thousand Islands-Seaway
Take an outing on the St. Lawrence Seaway to visit two architectural marvels—only accessible by boat—before they close down for the year. Cruise over to Boldt Castle (pictured) on Heart Island through October 9 to learn the heartbreaking story behind this magnificent structure and scope out antique wooden boats, including some from the original Boldt fleet, displayed at the castle's Yacht House on Wellesley Island, where tours are also available.
Frederick Gilbert Bourne, president of the Singer Sewing Company, called Singer Castle on Dark Island home and you can explore its luxurious interior furnishings, medieval entranceway, and secret passageway through October 15.
The charming village of Alexandria Bay, considered to be the heart of the Thousand Islands, is chock full of restaurants and shops for a perfect fall day out on the town. Riley's By the River touts waterside views with classic American breakfast, lunch, and dinner options. Windows on the Bay at the Riveredge Resort offers amazing bay views from three sides and a casual dining atmosphere, while Wolfes Kountry Kottage is a hot breakfast spot as crowds come in for their well-sized meal portions. As for shopping, the Bay House Artisans sells pieces by local artists and craftspeople, many of which signify the Thousand Islands.
For classic fall fun, head on over to Old McDonald's Farm in Sackets Harbor for their "Fall on the Farm" season through Halloween, complete with pumpkin picking, two corn mazes, and warm homemade cider donuts. 
Experience History, Nature, and Haunted Ghost Tours, September 23-24, Capital-Saratoga
History buffs and nature enthusiasts alike will find plenty of fall adventure in the Capital-Saratoga region. Saratoga National Historical Park teaches a significant moment in the American Revolutionary War and is also the site of the Schuyler House, which once belonged to the father of Angelica, Eliza, and Peggy Schuyler who became household names in the Broadway musical, Hamilton. 
Not only can you snag panoramic views of the Hudson-Mohawk valleys and the Adirondack and Green mountains, but John Boyd Thacher State Park in Voorheesville also has a visitor center with geological and historical exhibits, a nature center, and a thrilling adventure course that will host its annual Trunk or Treat fall festival. Congress Park in Saratoga Springs makes for the perfect backdrop for a picnic spot while Saratoga Spa State Park contains a variety of trails and loops for hiking, cycling or a short drive-thru to bask in the season. Hadley Mountain has an open summit with a fire tower that both provide beautiful overhead views.
Get off your feet and grab your pass for the Schenectady Sips Craft Beverage Trail and taste your way through some of the area's best beers from IPAs and sours to porters and lagers, as well as spirits, mead, and everything in between. Check out the digital passport which gets you one pint, flight, or craft cocktail. Cider more your speed? Check out New York's first farm cidery, Nine Pin Cider Works, and the family-friendly orchard, Saratoga Apple.
Be mesmerized by marine life at VIA Aquarium in Schenectady or head to Ellms Family Farm in Ballston Spa for their corn maze, pumpkin patch, and multiple action zones, or cap off a day of apple picking with a refreshing cider slushy at the 98-acre Bowman Orchards in Rexford.
Get into the Halloween spirit by venturing out with Haunted Saratoga Ghost Tours (pictured) through November 3 and see who brings home the title of biggest pumpkin of the year at the Saratoga Giant Pumpkinfest (pictured) on September 23.
Feel the Mist and Fall Air at Niagara Falls, September 30-October 1, Greater Niagara

Credit: Getty Images
Niagara Falls State Park (pictured) can have some breathtaking fall foliage, as trees turn shades of red and gold amid views of the American Falls, Bridal Veil Falls and Horseshoe Falls. The Cave of the Winds gets even closer to the water with an elevator ride down to Niagara Gorge and then a walk along a set of wooden railways to the "Hurricane Deck" viewing platform while The Maid of The Mist's iconic catamarans bring you close enough to feel the mist as you wear their famous blue poncho.
Discover more unique experiences with a walk amid the history of Old Fort Niagara, which has been along the Niagara River for over 300 years and under the control of French, British and American military forces. The Aquarium of Niagara cares for seals and other marine animals, and is home to Humboldt Penguins and other aquatic life. Niagara Power Vista in Lewiston teaches about hydroelectric power through virtual reality and hands-on experiments. Explore the Erie Canal with a narrated ride through the famed "Flight of Five" and experience the thrill of being raised  and lowered 50 feet in the only double set of locks on the historic waterway with Lockport Locks & Erie Canal Cruises.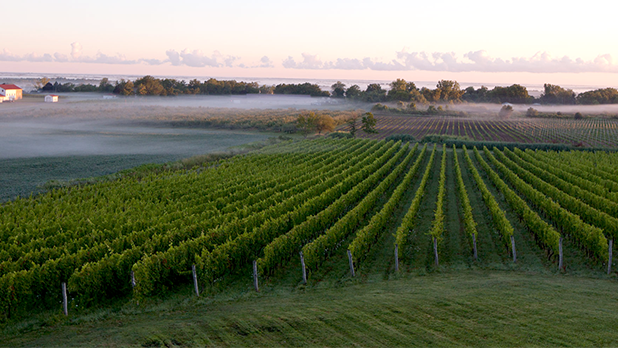 Stop at Arrowhead Spring Vineyards (pictured) in Lockport to savor Pinot Noir, Merlot and Chardonnay, and other estate wines from their grapes. Explore more flavors of the region along the New York Niagara Wine Trail, which thrives thanks to a microclimate well suited for producing wines, meads, and ciders. Becker Farms in Gasport offers U-Pick apples and pumpkins amid its Fall Fun on the Farm (through October 30), plus tours of Vizcarra Vineyards and the farms' brewery.
Get your fall fix and celebrate the harvest at The Great Pumpkin Farm (September 16-October 31) in Clarence where you'll find rides, contests, apple cannons, a boo barn, and so many other attractions, plus the World Pumpkin Weigh-Off on September 30.
Take a Fall Cruise in Lake George, October 7-8, Adirondacks
Get a different view of fall foliage by going on a cruise with the over 200-year-old  Lake George Steamboat Company (pictured), which puts on specialty-themed sailings through the end of October. 
For hiking, Prospect Mountain is a popular spot in Lake George, with a modern-to-difficult 3.2 mile round trip route via an old cable railway that rewards hikers with lovely summit views. As an alternative, take the Prospect Mountain Veterans Memorial Highway, a 5.5-mile winding road. Natural Stone Bridge & Caves in Pottersville has self-guided tours of this geological wonder with a trail descending into lighted caves and grottos.    
The Adirondack High Peaks Wilderness Area is New York State's largest, with two of its highest summits —Mt. Marcy (5,344 feet) and Algonquin Peak (5,114 feet) — along with marked hiking trails leading to several peaks and cascading streams. Hudson Pointe Nature Preserve in Queensbury traces along the banks of the Hudson with a 2.6-mile trail system. Lake George Land Conservancy Preserves & Trails is a collective of passive use trails within the Lake George Watershed with varying routes and skill levels.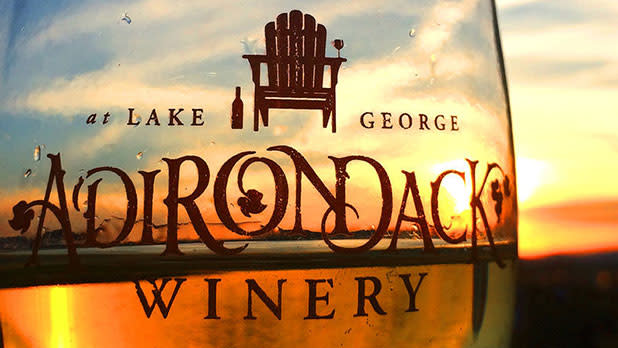 Explore history at the Fort William Henry Museum, a reconstructed British fort built amid the French and Indian War, and search for clues as you navigate your way through towering stalks of corn at Fort Ticonderoga's corn maze through October 15.
Adirondack Winery (pictured) has tasting rooms in Lake George and Queensbury; make a reservation for sampling their semi-sweet fruit-infused wines and traditional dry white and red varieties. Rulfs Orchard in Peru has U-Pick for pumpkins and apples, six greenhouses, a petting zoo, and a kids play area. 
For a special treat, Lake George Village Oktoberfest (October 6-8) turns Canada Street into a Bavarian-style street fair.
Glass Making and Trail Hopping, October 15-16, Finger Lakes
Try your hand at glassmaking (or watch the pros do it) and bring home a unique souvenir to remember your trip by at the Corning Museum of Glass (pictured). Along with this museum, Corning's downtown Gaffer District has a historic Main Street aligned with eateries, including Market Street Brewing Company & Restaurant, and galleries and shops. 
The Rockwell Museum is a Smithsonian Affiliate showcasing the American experience through fine art and has a fun hands-on studio for kids just around the corner with activities inspired by the art and architecture of the museum. 
Ithaca is another prime Finger Lakes destination with popular spots including an assortment of over 150 waterfalls within or near the city and Ithaca Commons, their downtown four-block pedestrian mall that's home to Moosewood Restaurant, a popular vegetarian and vegan enclave.
Go for a bike ride along the Cayuga Lake Scenic Byway, an 87-mile loop surrounding this lake passing by villages and hamlets, wineries, public attractions, and woodland landscapes. Popular nature spots include Watkins Glen State Park, with a nearly 2-mile system of waterfalls and gorges; Wesley Hill Nature Preserve, which covers woods, wildflowers, gullies, and hillsides, and Stid Hill Wildlife Management Area, featuring a 3.7 mile-loop trail at a moderate to difficult level. 
As an agricultural region, Finger Lakes can also be experienced through your palate by exploring the Seneca Wine Lake Trail (pictured), Canandaigua Lake Wine Trail, and ROC/FLX Craft Beverage Trail.    
Have a frightfully good time at HalloweenFest at Lincoln Hill Farms in Canandaigua as you wind your way through the family-friendly walking trail sporting jack o'lantern displays and illuminated exhibits Fridays and Saturdays throughout October.
Canal Rides, Cider Mills and State Parks, October 21-22, Greater Niagara

Credit: @lorlorose on Instagram
Though the air might be cooler, it's still a fine time to get out on the water to soak in the beauty of the historic Erie Canal. Fairport-based Erie Canal Boat Company provides kayak and canoe rentals for people of all abilities on weekends through October while The Colonial Belle offers fall sightseeing cruises on the Erie Canal, with their season coming to a close in late October. It's best to plan ahead and book your ticket in advance. 
Get your fill of all things cider at Buffalo's Mayer Brothers Cider Mill (pictured), known for their ciders and cider donuts. Cider slushies and donuts are all the rage at Smith's Orchard Cider Mill in Pendleton, but you can also get your hands on the raw ingredients by picking your own apples at their 20-acre orchard and sampling cider as it flows straight out of their 100-year-old press. Other pick your own apple farms include LynOaken Farms in Medina, with their season going through the end of October. Also sample wines and ciders at their Leonard Oakes Estate Winery.
Looking to walk off some of those donuts? Take your pick of the state parks that dot this region. Just outside of the village of East Aurora, the Knox Farm State Park is a former estate turned park with woodland and grassland hiking. The Reinstein Woods Nature Preserve in Depew is a family-friendly spot with a 292-acre complex of forests, ponds, and wetlands. The Whirlpool State Park offers viewpoints of the whirling rapids portion of Niagara Falls and also connects to the Niagara Scenic Parkway, a picturesque north-south highway. 
Also not to be missed is the Niagara Falls Underground Railroad Heritage Center, which keeps alive the stories of freedom seekers and the people who sought freedom for them.
Halloween on The Hudson, October 28-29, Hudson Valley 
Sleepy Hollow is the place to be during the Halloween season as it goes all in with haunted hayrides, parades, and other events nodding to the classic American horror tale that made the town famous. Book a walking tour of Sleepy Hollow Cemetery (pictured), the final resting place of Washington Irving, author of The Legend of Sleepy Hollow. You can also explore Irving's cottage, Sunnyside, with a  "Home of the Legend" tour or witness a special performance of the chilling tale under the stars.
For some non-Halloween thrills, a half hour drive away, visitors can spend the day exploring the miles of natural beauty along the Old Croton Aqueduct State Park Trailway, which also offers breathtaking views of the Hudson River and Palisades. Also a short drive away, the New Croton Dam and waterfall get a colorful punch at the 97-acre Croton Gorge Park.
Get back into the Halloween spirit at the Great Jack O'Lantern Blaze (September-November) as more than 7,000 illuminated jack o' lanterns—all designed and hand-carved on site—set off an eerie glow in Van Cortlandt Manor in Croton-on-Hudson. (Tickets for this event go fast, so make sure to book yours early!)
Scenic Drives and Cider Sipping in the Catskills, November 4-5, The Catskills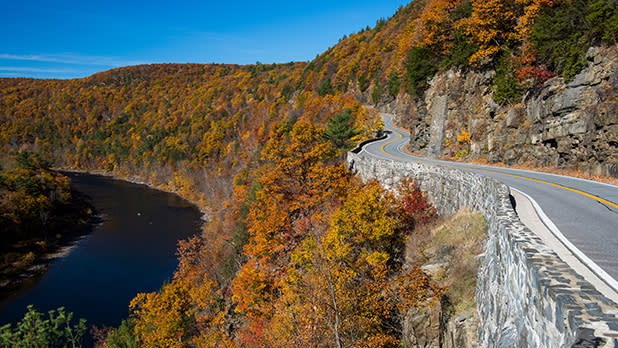 Wanna go for a fall ride? Take scenic drives along the 52-mile Catskill Mountains Scenic Byway through small Catskills towns and along rolling hills and waterways. The 70-mile Upper Delaware Scenic Byway (pictured) parallels the Delaware River and has been called "The Most Scenic Highway in the East" thanks to its beautiful tree-lined corridors and sweeping vistas. Thread through the Great Northern Catskills with a drive along the Mountain Clove Scenic Byway and treat yourself to a stop at Phoenicia Diner, which has called the Catskills home since the 1980s. 
See where musical greats once performed at the Bethel Woods Center for the Arts, the location for the 1969 Woodstock Festival. The museum also chronicles the 1960s up through Woodstock with images, artifacts, and even a hippie bus.
Thanks to good soil conditions, apples harvested in The Catskills make for great hard cider and the perfect finish to a satisfying fall getaway. Wayside Cider's taproom is housed in a restored barn with picnic tables outside that are perfect for indulging in the sharp and crisp flavors of small batch ciders blending wild and dessert apples as you take in views of the tree-covered hilltops. The wood pallet-lined walls of the taproom at Awestruck Ciders is a cozy space to savor the unique releases of their ciders blending fresh-pressed apples with natural herbs and spices. The Catskills Beverage Trail also connects wineries and breweries if you're looking for more flavors of the region.
Seeing Gourds and Gorges in Chautauqua County, November 11-12, Chautauqua-Allegheny
Pack a picnic or explore the gentle quarter-mile trail through a larch and spruce plantation at Chautauqua Gorge State Forest (pictured) with two stopping points along the way to soak in the scenery, which becomes even grander in the fall when leaves become sparse, opening up views of the gorge. The forest connects to the Fred J. Westside Overland Trail, a 24-mile trail system that runs through the Mount Pleasant State Forest, for those looking to extend their hike.
More hiking options include the Chautauqua Watershed Conservancy's Dobbin Woods, a loop trail dotted with white ash, black cherry, and Norway spruce trees, and Panama Rocks Scenic Park (pictured), an old growth forest that takes you through towering 60-foot rock formations for a modest admission fee.
Museums dedicated to honoring comedy legend Lucille Ball, Seneca Nation History, cheese, and the more than 150-year history of grape-growing in the Lake Erie Concord Grape region are sure to enlighten and entertain. To sample the products of these fine grapes, The Lake Erie Wine Country features year-round wineries along the south shore of Lake Erie. Also worth checking out is  Five & 20 Spirits & Brewing in Westfield, which shares space with Mazza Chautauqua Cellars as New York State's first combined brewery, winery, and distillery with a patio space. Mazza does have non-alcoholic drink options.
If adventure is what you're looking for, then add Holiday Valley to your to-do list. Not only can you go zigzagging down a mountain in a pulse-pounding coaster ride, but there are also special events to enjoy, like the Holiday Valley Beer and Wine Festival Weekend (November 11) which brings out the region's best craft brewers, wineries, and cideries for a celebration of music, food, and friends.
Day Tripping and Oyster Tastings, November 18-19, Long Island 
In the mood for fresh oysters? Head to the source on Long Island. Try your hand at oyster shucking, with supervision, at the Little Creek Oyster Farm & Market in Greenport or order some from the raw bar along with other coastal specialties and farm-to-fork delights at Noah's. Long Island's North Fork also has vintage shops and renowned wineries, including Kontokosta Winery, the region's only waterfront tasting room and winery.
In Oyster Bay, explore Sagamore Hill, the former home of President Theodore Roosevelt and his family that is now a U.S. National Historic Site, and the nearby Planting Fields Arboretum State Historic Park (pictured), a 1920s Gold Coast estate which welcomes in fall with the blooming of winterberry, dahlias, irises, and Japanese maples. Designed by the Olmsted brothers, the estate grounds extend to greenhouses, rolling lawns, formal gardens, wooden paths, and plant collections. The Caumsett State Historic Park Preserve in Lloyd Harbor also has nature trails across acres of woodland, meadows, rock shoreline, and salt marsh. 
If you're looking for a special sweet treat in the form of apple pies, donuts, and cider, then a trip to the Jericho Cider Mill is a must.
Exploring The Bronx, November 25-26, New York City

Credit: Anna Pakman
Get a taste of Italy on the Bronx's Arthur Avenue, home to world class restaurants, including Enzo's of Arthur Avenue, and longtime establishments ranging from Mario's Restaurant, a family-run Neapolitan institution since 1919, to Ann & Tony's, a neighborhood fixture since 1927. Shop for artisan foods at the Arthur Avenue Retail Market and get a cannoli from Madonia Brothers Bakery.
Explore the carriage house, gardens, grounds, and majestic interior of the Bartow-Pell Mansion Museum, the last remaining 19th century estate home in The Bronx Pelham Bay area, located in Pelham Bay Park, which is NYC's largest public park—more than three times the size of Central Park!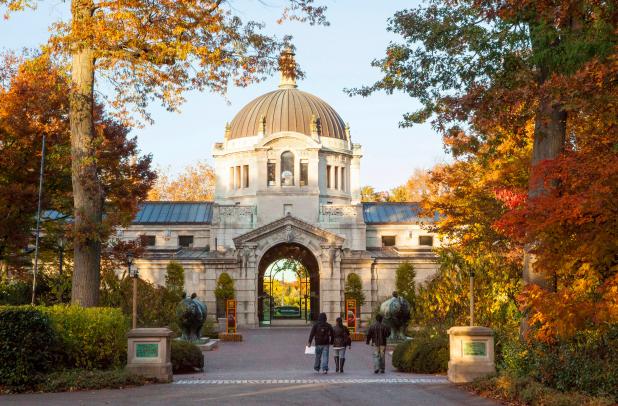 Make a half day at the Bronx Zoo (pictured), which houses more than 10,000 animals including gorillas, giraffes, rhinoceros, and various birds, amphibians, and reptiles. Ride the Wild Asia Monorail to see wildlife from this continent lingering in their habitats. Then round out the day exploring Woodlawn Cemetery, the final resting place for noteworthy entertainers, civic leaders, famous New Yorkers, and entrepreneurs—including Herman Melville, Dorothy Parker, Celia Cruz, Miles Davis, Irving Berlin, and Duke Ellington.
The Bronx Brewery makes its own suds signifying the borough's community, with a taproom and backyard space ideal for enjoying the tasty wares offered by Empanology and Bastard Burgers. 
Get into the spirit of the winter holiday season at the New York Botanical Garden Holiday Day Show (November 18 – January 15), where model trains are on display amid a setup featuring miniatures of NYC's famous landmarks. While you're here, spend some time within the gardens.
---
Don't forget to post photos of your New York adventures on Instagram and Twitter with #iSpyNY and tag us on Facebook!