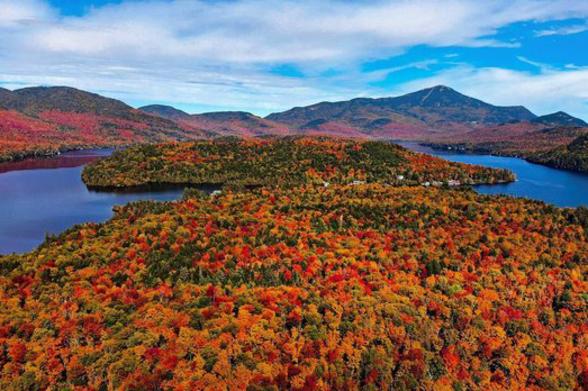 As the crisp breeze of autumn welcomes all things pumpkin spice and vibrant bursts of color, there is no better time to traverse New York's versatile landscapes. Beat the end-of-summer blues by planning your fall getaway, without breaking your budget! From Oktoberfest in the lush Adirondack mountains to cruising through colorful Catskill byways to ghost tours at historic haunts, the change of season is a good reason to pack up and getaway on an affordable adventure.
JUMP TO: Adirondacks | Capital-Saratoga | Catskills | Central New York | Chautauqua-Allegheny | Finger Lakes | Greater Niagara | Hudson Valley | Long Island | New York City | Thousand Islands-Seaway
WHERE TO STAY:
Jump into an autumnal bliss in Lake Placid. Settle in at the Winterberry B&B, where $115/night will place you in the heart of the Adirondacks, one mile from Mirror Lake.
TAKE A HIKE:
You'd be hard-pressed to find better fall hiking than in the Lake Placid area. For easy trails with gorge-ous waterfall views, check out the aptly named High Falls Gorge, where $15.95 will move you through 22 acres of cascading waterfalls, bridges, and unmatched foliage views. For a more moderate hike, take on Rooster Comb Mountain or Cobble Lookout. Expert hikers will meet their match by trekking up one of New York's highest mountains, Whiteface Mountain standing at 4,867-ft. You can also experience the Whiteface summit at low exertion and low cost! Board the gondola and take it to the top for $25, or cruise along the 5-mile Veteran's Memorial Scenic Byway for $20/person. 
GRAB A BITE:
After all that exercise, head downtown and treat yourself to a famous maple soft serve ice cream cone at Emma's Creamery. For $5 who says you can't buy happiness?! Step outside of Emma's and soak in the scenery of majestic Mirror Lake from Mid's Park. For more local food, head to nearby popular spots Sugar House Creamery, Whitney's Maple Spring Farm, or Asgaard Farm.
HIDDEN GEMS:
While you're exploring, don't miss out on the Cascade Lakes just off of the scenic route NY-73. Spend time relaxing on the grass as blue lakes and colorful peaks surround you, or you can launch your own watercraft into the water. Bridge the gap till your next adventure at Jay Covered Bridge, the northernmost historic covered bridge in New York, where bicyclists and pedestrians can pass through and see stunning views of the Ausable River.
EVENTS:
If you're in town September 30-October 1 you'll want to check out the Whiteface Mountain Oktoberfest ($18 admission), and on October 6-8 the Flaming Leaves Festival lights up the Olympic Jumping Complex ($20 admission).
WHERE TO STAY:
Sweater weather is best spent in Schenectady, and a stay at The Landing Hotel for around $150 on weeknights (rates are higher on weekends) will put you in prime proximity to panoramic views of the Mohawk Harbor and to the area's best things to do, see, and eat.
EXPLORE DOWNTOWN:
Start off with a festive beverage from Graham's Coffee Parlor and head to nearby Central Park Rose Garden for sights, sounds, and scenes of fall. Next to the garden is the Central Park Disc Golf Course, where frisbee and golf meet to create a free and fun activity. Football fanatics will want to cheer on the Union College Garnet Chargers at a free home game!
ART AND CULTURE:
Step into a painting at the Van Gogh Immersive Experience, where for $32 through the end of September you can walk into a 20,000-square foot 360º digital art exhibition that highlights Dutch genius, Vincent van Gogh. Get the Broadway experience without breaking the bank at Proctors Theatre, which showcases a calendar full of touring Broadway performances, movies, concerts, and more. Take to the skies at the Empire State Aerosciences Museum, where $8 will have you soaring into a variety of interpretive exhibits, a spectacular collection of restored aircrafts, and the state's largest aviation library. Or submerge yourself into the sea and visit the capital district's only full-scale aquarium, VIA Aquarium ($23 admission) and explore over 25,000-square-feet of oceanic treasure and over 2,000 aquatic creatures.
CONNECT WITH NATURE:
Find peace at the Christman Bird and Wildlife Sanctuary, 20 minutes outside of Schenectady. The 120-acre outdoor oasis boasts a 30-foot waterfall among additional cascading falls, hiking trails, and wildlife. Fall more in love with fall (and the falls) at Plotter Kill Preserve, a 632-acre nature preserve offering trails to stunning waterfalls, the tallest roaring at 60-feet. Another outdoor expedition can be found at the Great Flats Nature Trail, where afterward you can walk to Great Flats Brewing and sip on local beer. The Great Flats name pays homage to the fresh water aquifer underneath Schenectady, which provides the craft beverage's most crucial ingredient – clean and fresh groundwater.

EVENTS:
If beer isn't your drink of choice, head to Bowman Orchards for fresh cider, pick-your-own apples and pumpkins. Every weekend  through October 22 is a fall weekend celebration at the orchard ($20.95 admission) and regular admission is only $5 at the gate or $3 online. If you're in town on October 7, check out the Fall Festival at Maple Ski Ridge. Admission is free and the festival features countless activities, chairlift rides, a car show, hay wagon rides, food and more!
WHERE TO STAY:
Cozy up to a camping voyage in the Catskills. There is no better place for a frugal fall getaway than North-South Lake Campgrounds. For only $22/night (or $27/night for out-of-state visitors) you can book a camping spot and set up under the stars alongside an alluring lake. Take in some of the state's best leaf-peeping right from your campsite as you stroll the sandy beach, paddle on the calm waters, or trek the trails. If you'd prefer to lodge indoors, book a stay at the Mountain Treasure Inn, a bed & breakfast nestled on three acres with panoramic views of the Catskill Mountains, all for rates starting at $139/night.
OUTDOOR SPLENDOR:
Either lodging option places you under 20 minutes from Hunter Mountain, the area's seasonal staple, known for its Oktoberfest weekends (free admission) and scenic skyrides ($16-$24) The skyride will take you to the 3,200-foot summit where you can hike the 1-mile Colonel's Chair Trail to New York's highest-elevation fire tower, offering spectacular views of the Catskill Mountains.
SCENIC SIPS:
If you haven't had your foliage fill, take one of the most scenic drives in the northeast along Route 23A. Twists and turns will open up jaw-dropping landscapes and the sound of mighty waterfalls rushing nearby. On the route you'll pass Hunter Mountain Brewery, where you can enjoy craft beer and pub food on the picturesque patio overlooking the mountains.
GO FISH:
It wouldn't be a trip to the Catskills without letting you know about fly fishing opportunities. Known as the birthplace of American Fly Fishing, the region is full of spots to spend the day casting lines as you soak in vibrant vistas.
WHERE TO STAY:
Cooler weather awaits you in Cooperstown. Cozy into the Lake 'N Pines Motel for around $100/night, or the Brookside Inn At Laurens, about 25 minutes from Cooperstown, for $110/night.
BITES AND SIGHTS:
Make your way into town and grab some slices ($2.75/each) at New York Pizzeria for a picnic at Glimmerglass State Park (entry is free after Labor Day) where you can enjoy superb scenery and walk amongst wildflowers on numerous trails that envelop the crystal-clear Otsego Lake.
MARVELOUS MUSEUMS:
As baseball season nears its peak, take a line drive to the National Baseball Hall of Fame & Museum ($28) and have some major league fun at a minor league price. Nearby you can also visit The Farmers Museum ($15) and cultivate an understanding of the rural heritage that has shaped the region's land, communities, and American culture. The museum hosts fall events including: Harvest Festival, Things That Go Bump in the Night Ghost Tours, and Tractor Fest.

SIPS AND SONGS:
Take your tastebuds on a fall tour of New York State at the famous Fly Creek Cider Mill, where you can witness cider-making and peruse the Mill Store Marketplace, filled with over 500 regional products like extra-sharp cheddar cheese, mill-made fudge, jams, sauces, dips, and more. Here you can also sip on flights of wine, cider, beer, and spirits while overlooking the Millpond. For even more seasonal fun head to Brewery Ommegang and enjoy their famous beers, fantastic foliage vantage points, and free concerts every Friday through the end of September.
WHERE TO STAY:
Crisp air and pumpkin-picking welcome you into Jamestown. Make yourself at home at Shermans Inn on Main Bed & Breakfast, just 25 minutes from Jamestown and $150/night.
FOOD AND FOLIAGE:
Get a caffeine boost to start your day with a fall-themed speciality drink at Crown Street Roasting Company, and mosey over to the Jamestown Farmers Market for freshly picked produce and a wide assortment of local goods. The market runs every Saturday from 10am-2pm through October. The area's finest foliage can be found at the Audubon Community Nature Center, where you can picnic, hike trails, wander through the native tree arboretum, watch birds of prey, and connect with nature, all for free.
EVENTS:
Just a few miles down the road you'll stumble upon Pumpkintown (admission is $14), a harvest-time haven of fun that features a corn maze, pony rides, giant slide, local cider, and of course, pumpkins!

GIGGLES AND GHOSTS:
Roll into endless laughter at the legendary National Comedy Center ($33.50) or you can take advantage of a dual-ticket to the Comedy Center and Lucille Ball Desi Arnaz Museum ($40.50). If your style is more supernatural than silly, book a ghost or mausoleum tour with the Fenton History Center at the Lake View Cemetery, final resting place of Lucille Ball, for only $15-$25.
WHERE TO STAY:
Layer up for a cabin retreat in Ithaca. Through October 8th, you can rent a cabin at Buttermilk Falls State Park for $65/night, and until November 11th you can rent a cabin at Robert H. Treman State Park for $80/night. Both parks feature some of the Finger Lake area's most idyllic waterfalls (Buttermilk Falls and Lucifer Falls, respectively).
CHASE WATERFALLS:
It's easy to fall in love with Ithaca, as the city on Cayuga Lake boasts a whopping 150 waterfalls perfect for perusing, including Ithaca Falls, Taughannock Falls, and Horseshoe Falls.
FLORA AND FAUNA:
Continue on your outdoor excursion with a visit to the Cornell Botanic Gardens. This must-visit 25-acre destination invites you to explore its diverse botanical gardens and scenic trails, as well as 100 acres of the F.R. Newman Arboretum, voted the #1 most beautiful college arboretum. Also free to explore on the Cornell Campus is Sapsucker Woods, a 220-acre sanctuary focused on the study of birds.

TASTE NEW YORK:
If you've worked up an appetite, make your way to the famed Ithaca Farmers Market, open on Saturdays and Sundays at The Pavilion, Tuesdays at Dewitt Park, and Wednesdays at East Hill. Fill your belly (while you keep your wallet full) with reasonably priced local produce, veggies, beverages, dairy, baked goods, and much more! Take your grub to go and hit the road as you cruise the charming countryside along the Cayuga Lake Scenic Byway, winding along the shimmering shores of Cayuga Lake. Wine enthusiasts will savor the flavors and views along the Keuka Lake Wine Trail, or the Seneca Lake Wine Trail, which meanders through rolling hills and vine-covered slopes. Pick-your-own adventure and fully embrace the golden season at Indian Creek Farm, a 100-year-old orchard where you can pick from a plethora of apples and pumpkins, and enjoy freshly made cider and donuts.
WHERE TO STAY:
Feel the breeze in Buffalo and book a stay at the Hampton Inn Buffalo-Amherst or Staybridge Suites Buffalo-Amherst, both 20 minutes outside of downtown but right near the bustling university, for as little as $109/night or $136/night, respectively. To be closer to the action, choose the Wyndham Garden Buffalo Downtown, typically under $200/night.
CRUISE CANALSIDE:
Swing by Buffalo's historic and lively waterfront, Canalside and enjoy weekly free fall events including public skating on the outdoor roller rink, roller rink theme nights, and fitness classes. Here you can also walk the boardwalk, enjoy public art, food, beverages, rent bikes, boats, and more! Additionally at Canalside, you'll find Buffalo Naval Park, where for $18 you can take a self-guided tour of the largest inland park of its kind in the nation. Fun fact: the ships in the park were featured on an episode of Ghost Hunters after haunted activity was reported.
AUTUMN ADVENTURES:
A 30-minute journey from Canalside will bring you to The Great Pumpkin Farm; admission is free on weekdays and fall festival weekend pricing is just $15. The farm and festival features zombie paintball, large jumping pillows, amusement rides, corn mazes (with zombies and clowns), hay rides, a petting zoo, pumpkin cannon, haunted hayrides, and "zillions" of pumpkins! Discover more of the great outdoors 20 minutes outside of Buffalo at Knox Farm State Park, offering 633 acres of diverse habitats including ponds, grassland, woodland, and wetland areas.
WING IT:
Got wings? Venture to the birthplace of the Buffalo wing, Anchor Bar, and dig in to bone-in or boneless wings for well under $20. Buffalo reaches its peak in the fall when the beloved Bills touchdown at Highmark Stadium, but if NFL tickets aren't in your budget, you can still get in on the action and cheer on the boys in blue at no cost! Run it down to Buffalo Sports Garden, Duff's Famous Wings, or Big Tree Inn and catch a game on the big screens at a fan-filled watch party.
WHERE TO STAY:
Ring in the harvest season in Rhinebeck and settle in at Rhinebeck Motel or Jenny's Country Manor Lodge, both under 15 minutes from downtown and around $125/night.
MEANDER MAIN STREET:
Start your getaway with a jaunt along Market Street, the picture-perfect main street in Rhinebeck, adorned with tree lined streets full of unique shops, versatile restaurants, and stunning views. Treat your sweet tooth to a visit at Samuel's Sweet Shop, owned by celebrity trifecta, Paul Rudd, Jeffrey Dean Morgan, and Hilarie Burton! Add some savory samples to your sweet treats and check out the farmers market every Sunday from 10am-2pm through December. You can walk over to Beekman Arms Antique Market to explore a different type of market. This multi-dealer antique emporium is set in a classic two-story barn, with over 30 dealers, and free to browse around.
HISTORIC SITES:
Ten minutes down the road you can take a tour of a 19th century Queen Ann style mansion at Wilderstein Historic Site. Tours of the site are $18 or you are welcome to freely roam the gorgeous grounds comprising 40 acres of extensive walking trails and Hudson River views. For another glimpse into history, the Old Rhinebeck Aerodrome & Museum offers admission for $12 or less and features air shows every weekend through mid-October ($28).
FOREST FROLICS:
Bask in the beauty of autumn leaves at Ferncliff Forest, a 200-acre preserve with well-maintained trails. Climb the preserve's fire tower for jaw-dropping panoramic views of the Hudson Valley and Hudson River. Embrace tranquility at Poet's Walk Park as you enjoy a leisurely 2-mile loop trail leading to a rusticly rare gazebo featuring priceless views.

EVENTS:
If you're in town October 21-22 ewe should check out the Sheep & Wool Festival, an annual gathering of fiber-arts enthusiasts that draws approximately 30,000 visitors and more than 300 vendors. Admission is only $15.
WHERE TO STAY:
Leave summer behind and coast into the haven of Oyster Bay. Book a getaway at the Comfort Inn Syosset-Long Island, just 15 minutes away for only $115/night.
HISTORIC PARKS:
Venture over to Sagamore Hill National Historic Site, where you can explore the grounds of the home of President Theordore Roosevelt for free. While you're nearby, head to the scenic Theodore Roosevelt Memorial Park on Roosevelt Beach. Just down the road is Planting Fields Arboretum State Historic Park ($8 entry fee) where you can take a guided tour ($10) of two acres of greenhouse displays, 22 different gardens, the historic landscape, woodland paths, more than 10,000 different types of plants and beautiful architecture including Coe Hall, a 65-room Tudor Revival mansion. If you're an angler, you're in luck, because Oyster Bay Mill Pond is famous for its brown and rainbow trout, well-stocked each fall. You can also catch naturally reproducing largemouth bass, pickerel, bullhead, and eels in the pond.

OYSTER OASIS:
Give your legs a break and park yourself in the cozy taproom of Oyster Bay Brewing Company. Known as Long Island's Gold Coast Brewery, enjoy a variety of original brews and seasonal favorites. Oh shucks! We can't forget to mention the top reason to visit Oyster Bay this fall… Oyster Fest! The East Coast's largest waterfront festival takes over the Bay on October 14-15 and draws in over 150,000 attendees each year to enjoy delicious food, craft vendors, entertainment, amusement rides, and fun for everyone.
Credit: @victorious_vmm on Instagram
WHERE TO STAY:
What better place to spend apple season than in The Big Apple? For $220 on weeknights you can book a stay at Akwaaba Mansion in Brooklyn, and in trendy Williamsburg you can stay at the Pod Hotel for around $250/night.
PICK YOUR PARK:
To fully appreciate autumn in NYC, visit a selection of the city's most scenic parks. Manhattan's world-famous Central Park has roughly 18,000 trees that turn yellow, orange, and red across its diverse landscapes. Take in the beauty from unique vantage points like The Ramble, Bow Bridge, The Mall, and the Bethesda Terrace. Also in Manhattan is Inwood Hill Park. We recommend taking the Blue Trail leading up to the park's overlook, which showcases gorgeous seasonal vistas of the Hudson River and the Palisades. The Bronx proudly boasts Wave Hill, a 28-acre public garden and estate providing breathtaking views of the eye-popping fall foliage among flower gardens, greenhouses, an alpine house, and cultural center. Entry is free all day on Thursdays, and the garden hosts special free art events throughout the year. Regular admission is $10. Plant yourself in Brooklyn Bridge Park where incredible views of the Manhattan skyline and harbor complement a backdrop of 3,000 colorful trees, six piers, gardens, ecosystems, and nine lawn areas prime for picnicking, playing, and breathing in fresh fall air. And on October 21st, the park hosts a free Harvest Festival!
SEAS THE DAY:
Move from land to sea and cruise the waterways of NYC for free on the Staten Island Ferry. Passengers can take the ferry between Manhattan and Staten Island and revel in remarkable perspectives of the skyline, the Statue of Liberty, and the harbor. When you reach Staten Island you can explore nearby Snug Harbor Cultural Center & Botanical Garden for free. All aboard the NYC Ferry, where $4 will allow you to travel between waterfront communities including DUMBO, Williamsburg, Astoria, and Battery Park City throughout the city via six routes spanning over 60 nautical miles.
MEGA MARKETS:
Can't make it to a farm this fall? The farm comes to you at one of the city's many farmers' markets. The world-famous Union Square Greenmarket features up to 140 regional farmers, fishers, and bakers selling their products to a dedicated following of city dwellers and visitors.

EVENTS:
Looking for Halloween plans? Look no further.The 50th annual Village Halloween Parade is the nation's most wildly creative public participatory event and better yet, it's free! More frightful fall frolicing can be found at the Green-Wood Cemetery, which is not only the final resting place of Leonard Bernstein, Jean-Michel Basquiat, and other luminaries, but its seasonal scenery makes for an enchanting stroll. The cemetery offers a full calendar of events, but we suggest keeping on theme and booking the Green-Wood After Hours ($30) tour on the night of Friday, October 13th. You'll visit the graves of fascinating figures in New York and American history, and the walking tour ends with a visit to the Catacombs, which are normally closed to the public.
WHERE TO STAY:
Fresh foliage meets wondrous waters in Alexandria Bay, and you can revel in the scenery and waterfront views with a cottage stay at the Hi-Da-Way Cottages for $175/night. For a budget-friendly lodge-style retreat, stay at the Edgewood Resort for as little as $150/night.
CHARMING CASTLES:
Begin your getaway by boarding Uncle Sam Boat Tours! Rise into royalty as you cruise to Millionaires Row and tour the historic Boldt (tours run until October 9) and Singer (tours run until October 15) Castles, all for $45.75. When you make your way back to shore, grab a slice to-go at Korner Pizzeria and walk over to nearby Alexandria Bay Park Beach to picnic with a view.
LEAF-PEEPING PLACES:
Keep the outdoor escapade and leaf-peeping going at the nearby 600-acre Minna Anthony Common Nature Center, conveniently located right next to Wellesley Island State Park, a particularly pleasant spot for muskie fishing in the fall.
UNWINE(D):
By now you might be ready for a drink, and there's no better place to quench your thirst than Dark Island Spirits. Try one of their famous slushie spirits– your choice of slushie flavor combined with your choice of craft liquor, for only $8. If wine is your drink of choice, sip the day away at Thousand Islands Winery, one of the largest in the region boasting 40 historic acres. Here you can take a free self-guided tour that includes two tastings, a 40-minute guided tour that includes four tastings and a glass of wine ($10), or a 55-minute guided tour that includes five tastings, a barrel tasting, and a glass of wine ($15).

EVENTS:
If you're in the area on October 7, the winery is hosting Oktoberfest. If you're visiting later in the month, Swan Bay Spooktacular takes over Swan Bay Resort on October 19-21.
---
Don't forget to post photos of your New York adventures on Instagram, TikTok, and Twitter with #iSpyNY and tag us on Facebook!