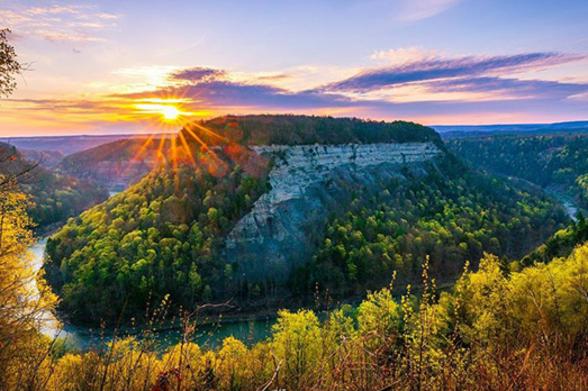 Summer is an incredible time to explore the vast wonders of New York State. From paddling the serene waters of the Finger Lakes to soaking up panoramic summit views in the Adirondacks, or rocking out at free concerts in New York City's Central Park, the options for summer fun are endless. Whether you're seeking a relaxing weekend getaway or an action-packed adventure, New York offers something for everyone, without breaking the bank! So, pack your bathing suits and shades and embark on an unforgettable, affordable getaway.
Jump to: Adirondacks | Capital-Saratoga | Catskills | Central New York | Chautauqua-Allegheny | Finger Lakes | Greater Niagara | Hudson Valley | Long Island | NYC | Thousand Islands-Seaway
Experience the ultimate Adirondack getaway by pitching a tent at the tranquil Luzerne Campground, where for only $22/night, you can revel in lakeside living at Fourth Lake. A more upscale camping experience can be found at Lake George Camping Village, where you can book a cabin from a range of sizes starting at $120/night. From there, it's just a 5-minute drive to the must-visit attraction of the area, Lake George Steamboat Cruises (pictured). Board the Minnie-Ha-Ha or the Mohican, two of America's last remaining steam paddle wheel ships and oldest continuously operated tour boats respectively, for as little as $20-$25.
Enjoy a refreshing swim at Million Dollar Beach (entry is free) while taking in the stunning scenery of paragliders soaring overhead, historic boats cruising by, and the majestic Adirondack Mountains enveloping you. For an unparalleled panoramic view of the village, lake, and mountains, take a moderate 1.5-mile hike up Prospect Mountain, or drive up the scenic Prospect Mountain Memorial Highway for only $10 and hop on the shuttle to reach the summit. There are plenty more hiking opportunities to explore, such as the Pinnacle, Pilot Knob, and Buck Mountain.
Transport yourself back in time to 18th-century living at Fort William Henry and tour the site where two world powers fought for control of North America. (admission $11-$22) Rock out to free live music at the Lake George Summer Concert Series Wednesday nights in picturesque Shepard Park, and take in a free fireworks show on Thursdays starting July 4th. Indulge your taste buds at the Adirondack Winery, where for only $15 you can savor a signature tasting of seven wines and take home a branded wine glass.
To cap off your Adirondack adventure, catch a Glens Falls Dragons ball game, the area's minor league baseball team, and make the getaway a home run. (admission $3-$5)
Credit: @skadadal on Instagram
When visiting the Capital District, you can stay at La Quinta for about $100 per night, situated between Albany and Saratoga Springs. Alternatively, you can opt for a stay at the Holiday Inn Express for about $160 per night right in the heart of downtown Albany, which is the place to be in summer! Attend the popular free concert series, Alive at Five, every Thursday at 5 pm at the Corning Preserve and see local actors put on free outdoor plays at Park Playhouse (pictured) in Washington Park five times a week. This season's performances are Something Rotten and The Secret Garden.
If you're looking for a dose of nature, bring your kayak to Six Mile Waterworks and go fishing, or trek the trails. Thacher Park is perfect for hiking, picnicking, and taking in sweeping landscape views from underneath a waterfall. A different kind of outdoor adventure can be found at nationally ranked Troy Farmers Market. Every Saturday, streets shut down to make way for dozens of local vendors to serve up their specialties, with live music and lively pets adding to the ambiance.
Don't miss out on a Tri-City Valleycats ball game in Troy, where $15 will get you innings of home runs, concessions, fireworks and themed parties on select nights. If you head north 30 minutes to Saratoga Springs, you can take a dip in the Victoria Pool at Saratoga Spa State Park. (pool entry fee $4-$8) More outdoor adventures can be found in Congress Park, Yaddo Gardens, and Saratoga Lake. Saratoga Shakespeare Company will put on free performances of Twelfth Night in Congress Park at 6 pm from July 13-16 and July 19-22. And you can bet on good times being had at the Saratoga Race Course, where the people-watching is just as entertaining as the historic horse racing. (entry fee $7-$10)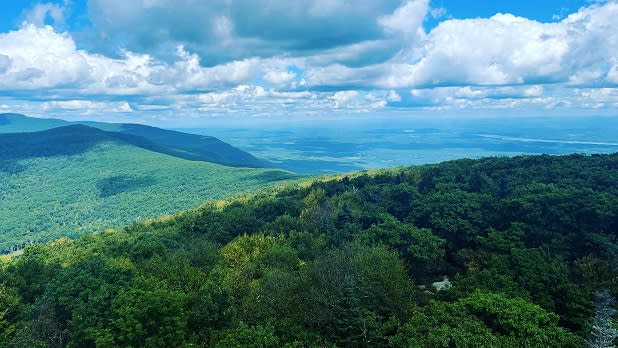 Escape to the enchanting Catskills and relish in a serene camping experience at the coveted Devil's Tombstone Campground. Your pick of 24 lakefront campsites comes at a steal of just $16 per night. Alternatively, venture over to the Woodland Valley Campground for a peaceful retreat at $20 per night.
Embark on a leisurely stroll or bike ride on the Ashokan Rail Trail or cast a line at the Ashokan Reservoir. Discover the remnants of the mountain house ruins and fire tower by hiking up Woodstock Overlook Mountain (pictured). Visit the six-acre environmental bluestone sculpture, Opus 40, constructed by one person from an abandoned quarry. (entry fee $11)
Roll the windows down and breathe in the fresh Catskill air with a drive on the Catskill Scenic Byway or Shawangunk Mountains Scenic Byway. These routes boast magnificent views of the mountains and countryside, and will only cost you the price of gas!
Delve into the rich and art-filled history of the area with a visit to the Thomas Cole National Historic Site. (daily tours begin in May, prices not yet available online) Relive the legendary Woodstock Festival by immersing yourself in the museum dedicated to the 1960s music movement at Bethel Woods Center for the Arts. (entry fee $19)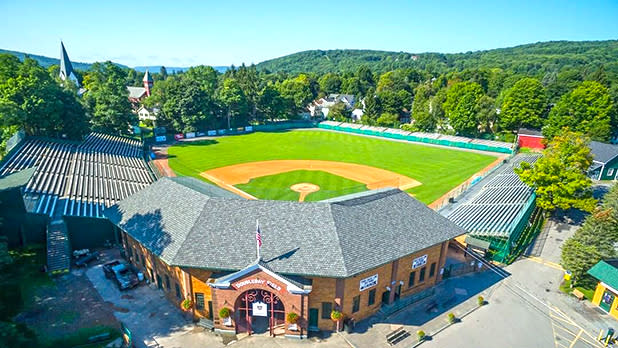 Head to Central New York this summer and stay at the charming Pratt Smith House Bed and Breakfast in Utica, for a mere $75 per night. While there, venture to the nearby Utica Zoo where for just $8, you can walk on the wild side and encounter some of nature's most fascinating creatures.
For the beer enthusiasts, explore the Saranac Brewery, established in 1888 and celebrated for its exceptional brews. If you happen to be in town on a Thursday, take part in Saranac Thursdays, an open-air festival that transforms the streets into a lively hub of live music, beer tastings, and good times.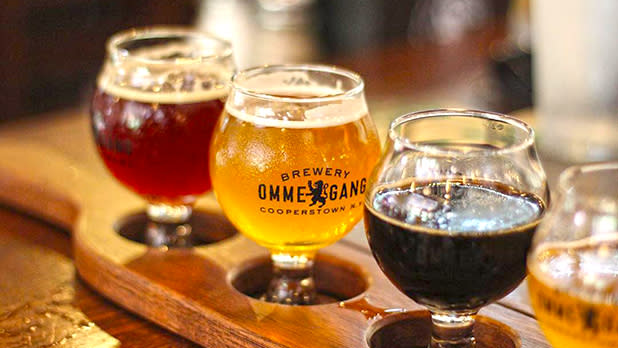 Continue the fun and head to nearby Cooperstown to check out Brewery Ommegang (pictured). Join in on a guided beer tasting for just $15, and take home a complimentary beer glass. Catch one of the top-notch summer concerts hosted by Brewery Ommegang or groove to free live music at the Cooperstown Lakefront Concert Series, held at the bandstand in Lakefront Park every Tuesday evening.
Slide into the Baseball Hall of Fame, an iconic landmark in town that celebrates the legacy of the sport and its greatest players. Whether you're a baseball fanatic or not, the museum offers an enriching experience for all. (entry fee $19-$28) If you haven't had your fill of baseball, catch one of the region's minor league teams in action. The Oneonta Outlaws, Binghamton Rumble Ponies, and Auburn Doubledays (pictured) all guarantee a season of excitement and entertainment for as low as $5-$15 a ticket.
From the outfield to the shores, make your way to Glimmerglass State Park where you can bask in the sun, hike, and swim or paddle the crystal-clear waters of Otsego Lake. (entry fee $7)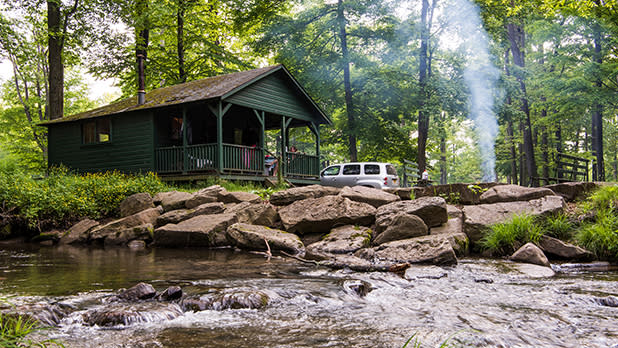 Explore the natural beauty of Allegany State Park Campground (pictured) within the state park which represents an expansive 65,000-acre wilderness of undisturbed forests, valleys, and wildlife, making it the largest state park in the system. Choose from a range of accommodations, including a tent for $18-$30 per night or a cabin or cottage for $90-$170 per night, and take advantage of your serene setting by hiking, biking, fishing, swimming, and boating.
Once you've had your fill of camping, venture to nearby acclaimed Ellicottville Brewing Company, recipient of numerous International World Beer Championship awards. For those seeking a boozy adventure, Lake Erie Wine Country awaits you with its 20 unique wineries and stunning vineyard vistas along the shoreline of Lake Erie.

Summer brings with it a slew of fairs and festivals in the region, and the Chautauqua County Fair is a must-visit from July 18-23, with tickets at $10. The Allegany County Fair from July 17-22 offers a similar experience but for free! The Great Wellsville Balloon Rally from July 21-23 is another free event, featuring over 30 hot air balloons taking flight from Island Park. The Fredonia Farm Festival on August 25-27 celebrates the region's agricultural heritage with live music, food vendors, and a farmers' market. Admission is free, so don't miss out! Garlic lovers can rejoice at the Cuba Garlic Festival from September 16-17, featuring garlic-themed activities, live music, and food vendors. The best part? Admission is free!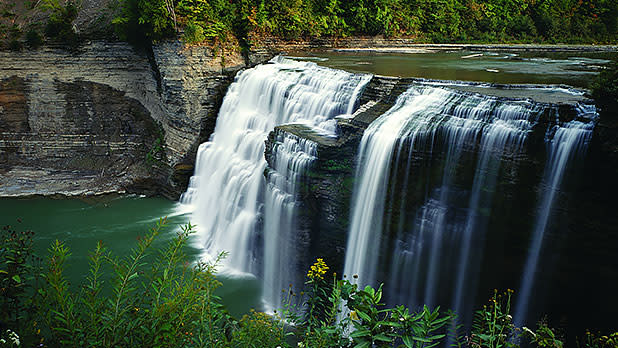 Embark on a memory-making adventure at the "Grand Canyon of the East" by setting up camp at Letchworth State Park campground (pictured). Choose from a range of accommodations, including tent, cabin, or cottage camping, with prices varying from $25 to $140 per night. Another equally enticing state park is Watkins Glen State Park, also offering lodging options in the same price range. Seeking a more refined getaway? Treat yourself to a luxurious experience at moderate prices at the Avon Inn or Bonnie Castle Farm Bed and Breakfast.
The Finger Lakes region is renowned for its awe-inspiring scenery, breathtaking gorges, cascading waterfalls, and crystal-clear lakes. Chase waterfalls from Watkins Glen to Letchworth, and discover Ithaca Falls, Buttermilk Falls, and Robert H. Treman State Park. With a plethora of outdoor activities such as hiking, biking, boating, and fishing, there is something for everyone to enjoy. If you're equipped with a kayak or canoe, you can take advantage of the free launches available at any of the 11 Finger Lakes, or opt for one of the many nearby kayak rentals. For a truly picturesque paddling experience, rent a Crystal Tandem Kayak at Green Lakes State Park for $20 and enjoy a unique view of the glacial lake.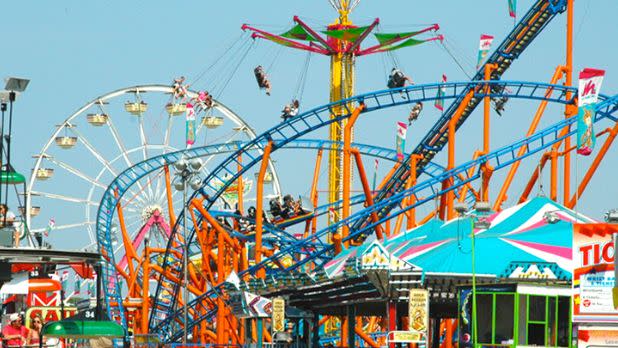 Explore the lush trails and blooming flowers at The Cornell Botanic Gardens in Ithaca, where admission is free. Or sip your way through Finger Lakes Wine Country, boasting three distinct wine trails: Cayuga Lake Wine Trail, Keuka Lake Wine Trail, and Seneca Lake Wine Trail. Not a wine enthusiast? Not a problem. Every weekend in Ithaca, the Ithaca Farmers Market offers over a hundred vendors selling fresh locally grown produce and homemade foods.
Attend the Canandaigua Music & Arts Festival from July 14-16, featuring live music performances, food vendors, and arts and crafts, all free of charge. The Great New York State Fair (pictured) is the quintessential summer event, taking place August 23-September 4 and offering a world of amusement with fair food, big-name performers, thrilling rides, farm animals, captivating exhibits, and more! (entry fee $6)

Sports enthusiasts can catch a ball game or a few! The Finger Lakes region boasts three minor league teams: Syracuse Mets, Rochester Red Wings, and Newark Pilots, with tickets in the range of $5-$20.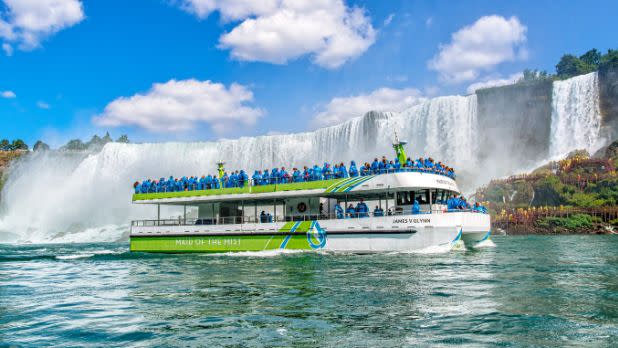 Settle in at Hawthorn Suites by Wyndham Williamsville Buffalo Airport for $93 per night, and you're just 20 minutes away from the revitalized waterfront gem that is Canalside. During summer, Canalside comes alive with exciting entertainment including free concerts and comedy shows. Experience it all from the water by renting kayaks or paddle boards for $25. In the mood for a game? Canalside offers shuffleboard, cornhole, and giant Jenga. Moreover, you can unwind at the man-made beach area, build sandcastles, play beach volleyball, or stroll along the beautiful boardwalk.
Visit furry friends at the Buffalo Zoo, where entry costs $17.95 for adults and $13.95 for children. For nature lovers, the Buffalo and Erie County Botanical Gardens offer a serene outdoor setting and a chance to explore the rich flora of the area, with entry fees ranging from $8.50 to $15.50. A trip to the Greater Niagara area is incomplete without a visit to Niagara Falls State Park. Get up close to the falls with a Maid of the Mist boat tour (pictured) ($28.25/adults, $16.50/kids ages 6-12, free if under 5) or opt for a Cave of the Winds tour, which takes you 175 feet into the Niagara Gorge to the "Hurricane Deck" for a close-up view of the crashing water. ($21/adults, $17/kids)

For foodies, the largest two-day food festival in the United States, Taste of Buffalo, takes place on July 8-9. (no entry fee, but $6 gets you 10 food tickets) The Transit Drive-in movie theater is a great spot to see the latest flicks on the biggest screens, at just $12, you can enjoy two shows for the price of one! Finally, don't forget to catch a game of minor league baseball with the Buffalo Bisons and Batavia Muckdogs, tickets are around $15.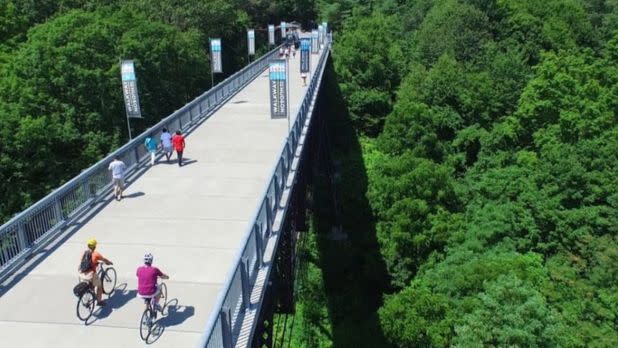 The Hudson Valley is a treasure trove of charming campgrounds, but we recommend Rip Van Winkle Campgrounds in Saugerties. Here, you can book a cozy stay in a tent or a spacious cabin for $43 to $168 per night, respectively. Croton Point Park campgrounds offer equally comfortable tents and cabins for $60-$130. For a more conventional experience, stay at the elegant Hampton Inn by Hilton in New Paltz, available for around $160 per night.
To satiate your appetite, the Hudson Valley has a wealth of farmers' markets, each showcasing a diverse array of local vendors. On Saturdays you can browse around the Hudson Farmers Market, Kingston Farmers Market, or Cold Spring Farmers Market, and on Sundays peruse the Rhinebeck Farmers Market or Beacon Farmers Market.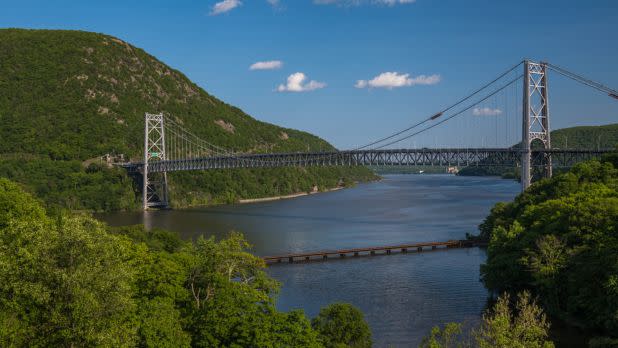 If you're seeking outdoor adventures, head to Bear Mountain State Park (pictured), where you can hike, bike, swim, fish, or rent paddle boats and rowboats at Hessian Lake. (entry fee $10) The Hudson Highlands State Park is also an excellent destination for hiking, fishing, picnicking, and birdwatching.
Frolic the fields of Storm King Art Center, a sprawling 500-acre outdoor sculpture park and museum renowned for its colossal art pieces and stunning landscape. (entry fee $23)
For a free outdoor outing, soar above it all on the Walkway Over the Hudson (pictured), where you can enjoy breathtaking views of the Hudson Valley and river while walking or biking across the 1.25-mile bridge. If you happen to visit in August, don't forget to stop by the Dutchess County Fair, where children get free admission, and adults are charged $15.

Summer concert opportunities are endless in Hudson Valley, many of which are totally free! And if you're in the mood for a ballgame, head to the home fields of the New York Boulders and Hudson Valley Renegades where $7-$12 will get you in on all the action.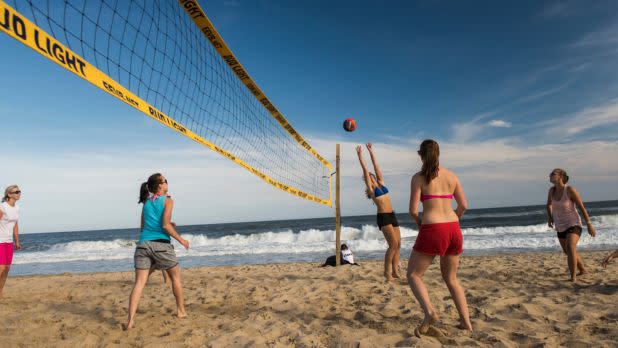 Life is better at the beach! Take a beach getaway without breaking the bank by staying at Sound View Greenport, Driftwood on the Ocean, Greenporter Hotel, or Hyatt Regency Long Island. Long Island boasts some of the best beaches in the country, including Coopers Beach and Main Beach, both of which offer free beach access, but parking will cost you $40 and $50, respectively (it is The Hamptons, after all!) If you're bringing a few friends, split the cost to spend the day soaking up the sun and surf. Jones Beach is another excellent choice, with an entry cost of just $10. Take a walk or bike on the Jones Beach bikeway or catch a free concert at the Jones Beach Bandshell, which features a variety of musical acts throughout the summer. For more free musical performances, check out the Huntington Summer Arts Festival, or the Port Jefferson Harborfront Concert Series, featuring a diverse lineup of musicians.
Venture to the Montauk Point Lighthouse, where you can walk the grounds for free or explore the inside of the lighthouse for a $5-$15 ticket.

Sea your favorite oceanic creatures and have aquatic fun at the Long Island Aquarium, where on your birthday admission is free! ($45.99/ adults, $31.99/kids 3-12) And when it comes to good eats, look no further than John's Drive-in, which has been serving mouth-watering burgers, fries, and ice cream since 1967. Finally, don't forget to save room for peanuts and crackerjacks while cheering on the Long Island Ducks at the ballpark. (Ticket prices $15-$18)
Visiting the city that never sleeps doesn't have to come at a steep cost. Book a budget-friendly stay at the LIC Hotel for as low as $125 per night, or The One Boutique Hotel for $109 per night. Both hotels are in Queens, and from the LIC Hotel you can easily access the subway just two blocks away at 21st St & 44th Ave. From The One Boutique Hotel you can access the subway four blocks away at Main St & Roosevelt Ave.
Take a walk and marvel at sweeping cityscape views from High Line Park, or get in on a game of America's fastest-growing sport, pickleball, at the iconic Wollman Rink in Central Park, which has been transformed into pickleball city through October. (reserve a 1-hour time slot for $5) 
Appreciate art, history, and culture in the city's renowned museums. Admission into the Metropolitan Museum of Art (or The Met) is $30 for adults, $17 for students, and free for those 12 and under. On the first Friday of every month, New York State residents can enjoy free admission from 4-8 pm, courtesy of UNIQLO NYC Nights. The American Museum of Natural History offers pay-what-you-wish admission for all visitors every day. The Brooklyn Museum offers free admission to all visitors on the first Saturday of each month from 5-11 pm. The Whitney Museum of American Art offers pay-what-you-wish admission every Friday from 7-10 pm.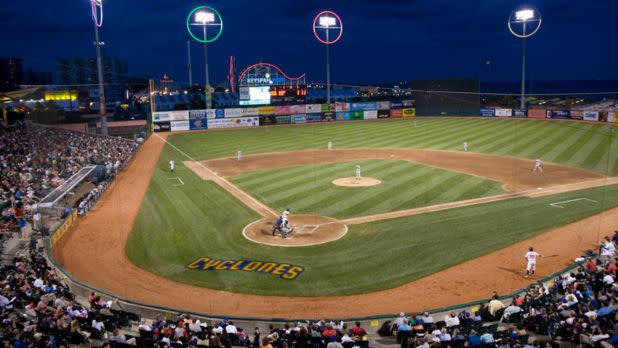 Outdoor live music is bustling in the city, and you simply cannot miss the famous free concerts in Central Park, from GMA Summer Concert Series (pictured) featuring: Demi Lovato, OneRepublic, Hamilton, and Megan Thee Stallion, to SummerStage featuring: Regina Spektor, Vance Joy, Michael Franti & Spearhead, and the Indigo Girls. Washington Square Music Festival offers free classical music concerts at Washington Square Park. Lincoln Center Out of Doors Festival showcases free music, dance, and theater performances at Lincoln Center's plazas and outdoor spaces. BRIC Celebrate Brooklyn! Festival is another famous summer festival that offers free concerts, dance performances, and movies at the Prospect Park Bandshell. And, if you're looking for food and cultural experiences, check out the Queens Night Market, which offers up to 100 independent vendors selling merchandise, art, and food, and featuring small-scale cultural performances celebrating the rich cultural diversity and heritage of NYC and Queens.
Indulge in fine dining on a budget during NYC Restaurant Week in July/August. (dates TBD) Choose from a lunch or dinner option: two or three-course meals at reduced prices from some of the city's best restaurants. (Lunch/$30, dinner/$45, both/$60) For an authentic NYC food experience, grab a $1 slice at 2 Bros Pizza or 99 Cent Fresh Pizza. Grab a flavorful meal from The Halal Guys street carts for under $10. Cap the trip off with a ball game! You don't have to spend a fortune to enjoy baseball in the city. The Brooklyn Cyclones (pictured) and Staten Island FerryHawks rep their boroughs for under $15 per ticket.
Enjoy the splendor of the Thousand Islands-Seaway region without overspending! Stay at 1000 Islands Campground in a tent, cabin, or glamping experience for $36, $57, and $100, respectively. Situated just a few minutes away are the Clayton Island Tours and Uncle Sam Boat Tours, where you can cruise the St. Lawrence River and tour Singer and Boldt castles (pictured), or choose from sunset tours, lighthouse tours, fireworks tours, and sip n' sail tours. (prices vary, but start as low as $20) If you have a liking for maritime history, you can admire nautical vessels from land at the Antique Boat Museum. ($14/adult, $8/youth, $40/family of any size)
Hit the beach, traverse the trails, and pack a picnic at Wellesley Island State Park, where $7 will give you access to the expansive park's offerings. Quench your thirst with the region's finest wines at Thousand Islands Winery, where you can enjoy a complimentary tour and taste up to six wines for just $6, or taste two wines for free! It's movie night at Bay Drive-In movie theater where adults can watch two flicks for $7, kids 7-11 for $3 and kids under 6 are free. Or get on your feet and groove to free music at Summer Concert Series in the Park. If you're visiting in August, cruise up to Rockin' The Bay August 24-27 for a classic rock and classic cars weekend, admission is free!
---
Share New York State adventures with us on TikTok, Instagram and Twitter with #ILoveNY and #iSpyNY, and tag us on Facebook!