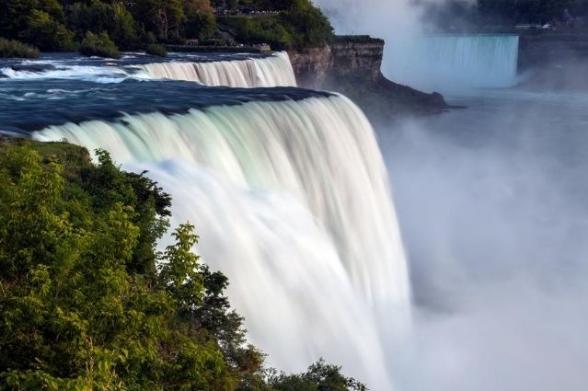 Looking for a getaway that packs in plenty of fun and also happens to be completely wheelchair accessible? Look no further than New York State! From majestic waterfalls to captivating mansions and some of the best displays of modern art in the country, there are lots of things to see and do that are accessible to all. 
Author's note: I personally visited all locations listed below using a wheelchair/scooter except ones marked with a *.
Updated 6/29/22
New York City | Hudson Valley | Long Island's North Fork | Finger Lakes & Ithaca | Rochester | Buffalo, Niagara Falls, & Letchworth State Park | Chautauqua, Jamestown & More | Adirondacks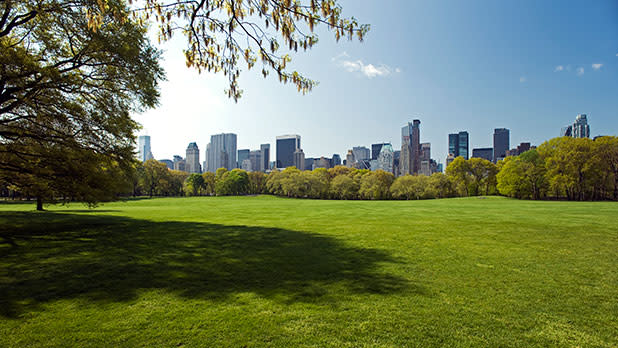 The city that never sleeps offers plenty of things to do that are accessible to all visitors. With the increase in availability of accessible taxis and a fully accessible ferry service, it's never been easier to see the Big Apple on wheels—and to see more of it!
Most major attractions are easily accessible with a wheelchair. You can stroll through Central Park (pictured), take in the bright lights of Times Square, ascend to the top of the Empire State Building*, cross the Brooklyn Bridge, browse the Metropolitan Museum of Art, the Whitney or the MoMA, and tour Ellis Island without encountering any major barriers. During the winter, wheelchair users can go ice skating at The Rink at Bryant Park.* Adapted sleds are also available for younger children. For a treat, stay at the Park Hyatt New York, which boasts a fully accessible saltwater pool, superb accessible rooms, and an enviable location near Central Park.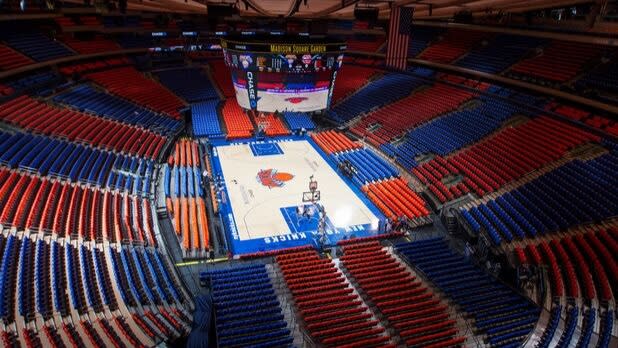 While Broadway theaters were built well before the ADA, an afternoon or evening at the theater is well within reach. Every theater sets aside several accessible seats in the orchestra and some of those are sold for the same price as the lowest cost tickets on the mezzanine. Book these in advance as they tend to sell out for popular shows. Buying directly from the theater box office by phone or in-person can result in significant savings in online service fees. Accessible seating for Broadway and off-Broadway shows can also be obtained through the Theater Development Fund's accessibility programs (TDF Accessibility membership required, there is no fee to become a member). Accessible restrooms are readily available.
Sport and music enthusiasts will find plenty to love at the city's marquee sporting and stadium concert venues, including Yankee Stadium*, Citi Field*, Madison Square Garden (pictured), and the Barclays Center, which all offer plenty of accessible seating with great sightlines and easy access to concessions and restrooms.
As one of the best cities in the world for foodies and welcoming home for immigrants from all over the world, New York City offers everything from authentic budget-friendly ethnic cuisine to globally renowned Michelin-starred meals. Food halls are also a great way to sample delicious eats the world over, go to Italy without leaving the country by dining at Eataly, get your fill of churros and patatas bravas at Mercado Little Spain at Hudson Yards, or go global at the legendary Chelsea Market, or excellent upstarts like Gansevoort Market, Gotham West Market, and Urbanspace, among others. While you're in the Chelsea area, don't miss the High Line, an elevated walkway on the site of abandoned train tracks, accessible via elevators at multiple points.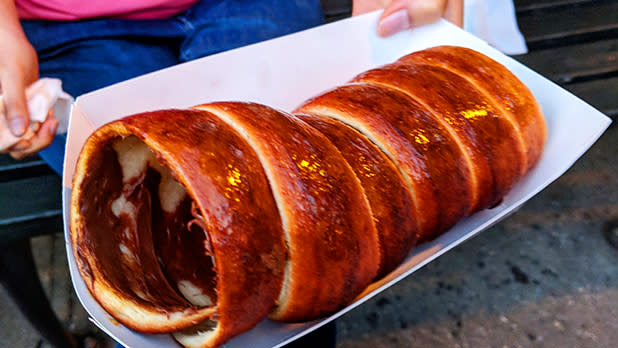 If you're visiting in summer, make a pilgrimage to Flushing Meadows Corona Park for the Queens International Night Market. There you can feast on exotic treats like Tibetan momos (dumplings) and Romanian-Hungarian chimney cakes (pictured). And for a great meal with a side of disability pride, stop by for dinner at the new East Harlem eatery Contento (pictured), which was opened by two wheelchair users and built to be fully accessible from day one. A toast at a wheelchair-height bar with a rolling master sommelier? Yes please!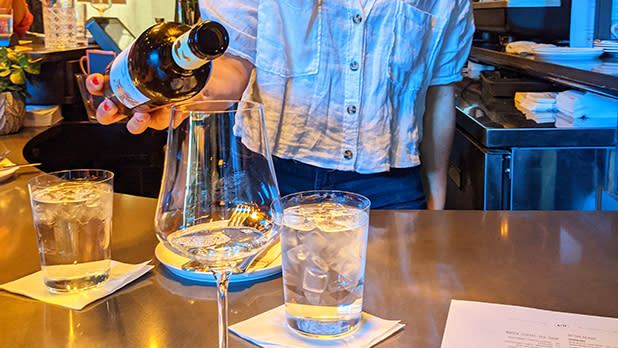 A visit to NYC is not complete without a jaunt to its outer boroughs, which are home to a plethora of hidden gems, diverse neighborhoods, and awe-inspiring views of the Manhattan skyline from recently redeveloped waterfronts. Take the NYC ferry to Hunter's Point in Long Island City or DUMBO in Brooklyn for some of the best skyline photo ops (and the entrance to the Brooklyn Bridge). Visit Williamsburg's Domino Park for waterfront recreation against the backdrop of the historic Domino Sugar Factory and one of the city's hottest dining scenes. Celebrity chef Danny Meyer's taco stand within the park, Tacocina, is not to be missed. Craft beverage enthusiasts can indulge in a tasting at Brooklyn Winery, learn about the process of making spirits at New York Distilling Company and tour Brooklyn Brewery. Back across the river, be sure to check out the nautically themed SeaGlass Carousel in Battery Park. Adults and kids alike can climb inside the fiberglass fish structures, two of which can accommodate a wheelchair.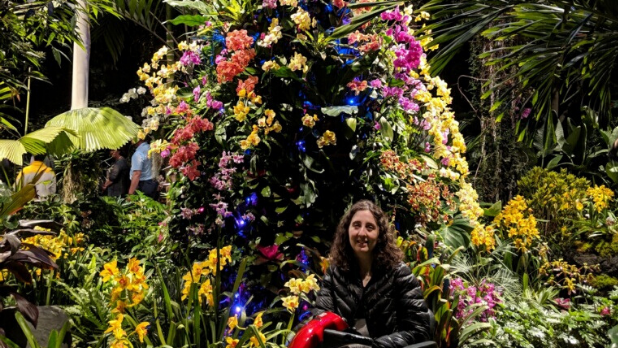 Not to be missed, the Bronx has several of its own must-see spots. The Bronx Zoo offers plenty to do for a day (or two) including a safari ride and a children's petting zoo. Nearby, New York Botanical Garden is a beautiful oasis from city life with a year-round slate of unique exhibits, such as an annual holiday toy train show, and great garden-side farm-to-table eats sourced from the Hudson Valley at Hudson Garden Grill. People with disabilities may receive complimentary admission for a PCA (personal care attendant) at ticket booths or by calling 718-817-8716 in advance. The Belmont section of the borough, which borders the zoo and garden, is home to Arthur Avenue, known as Bronx's "Little Italy." Here you'll find nonnas selling fancy espresso machines and sundries from "the old country" in fluent Italian and restaurants so authentic you'll think you're in Rome. Try one of the potato pizzas at Zero Otto Nove (bonus: it has one of the prettiest accessible restrooms in the city), get some spicy meatballs and the best penne vodka in the game at Enzo's, or grab a sandwich or picnic supplies from one of the venerable neighborhood delis— — Mike's Deli inside the Arthur Avenue Retail Market and Joe's Deli are favorites for their incredible mozz' and salumeria (aka cold cuts). Take an accessible cab from "Italy" to "New England" for a visit to City Island, one of New York's hidden gems that is more reminiscent of idyllic days on Cape Cod than city life, with lobsters and fish fries galore!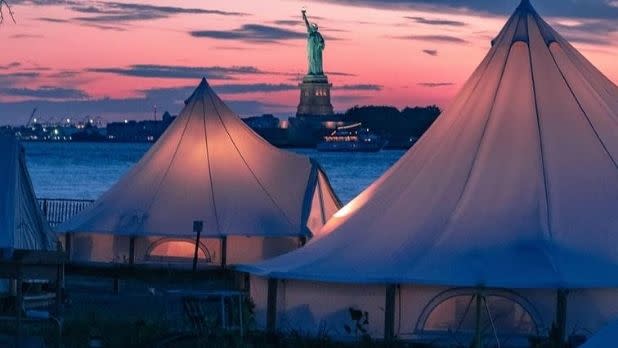 Credit: @collectiveretreats on Instagram
For a vacation within a vacation, head to Governor's Island. Just a quick 10-minute ferry ride from Lower Manhattan and you're on an island oasis with lots to explore. Take the beautifully landscaped ramps up to "The Hills" for 360-degree views of New York Harbor, the Statue of Liberty, and the Manhattan skyline. Explore Castle Williams, a relic from the island's time as a military base, visit New York City's only lavender field, pack a picnic or grab a bite to eat from one of the food trucks – a jerk chicken gyro from Fauzia's Heavenly Delights is a must. If you are able to transfer, relax in a hammock at Hammock Grove or an Adirondack chair with an amazing view of the harbor. The island is so accessible that there is even a universal access path up to the top of two slides in the "Slide Hill" playground.  
For more comprehensive information on accessible travel in NYC, visit nycgo.com.
Anna's Access Tips:
If you are staying in or visiting Manhattan or Downtown Brooklyn, avoid bringing a car as street parking is extremely difficult to find, lots tend to fill up on especially busy days and traffic can be extremely heavy. The outer boroughs tend to be more car-friendly.

Renting a car, however, can make it easier to add on visits to nearby regions like the Hudson Valley, the Catskills, and Long Island (it's like taking two vacations in one!). You can rent a ramp-equipped van from Bussani Mobility, which has locations in Mamaroneck in the Hudson Valley and Smithtown and Bethpage on Long Island, with pick up offered from their respective rail stations. Alternatively, you can also get a van delivered to JFK or Westchester airports or a location within NYC ($150 & up delivery fee each way). Be sure to reserve your vehicle in advance as they book up quickly, especially during peak travel times!

The subway is most often the fastest way to traverse the city but offers some challenges as many stations lack elevators and those that exist are often out of service. Check the MTA's website for the accessibility of specific stations and elevator status before you set out. Gaps between the train and the platform can also be significant and there are no bridge plates available. Board at the "Accessible Boarding Area" signs where the platform is raised slightly for best results. Accessible gates into the station require a Reduced-Fare AutoGate MetroCard, which requires an application in advance. Alternatively, you can also have your travel companion swipe for you on a regular turnstile and let you in from the other side as the gate doors open freely on exit. If you are traveling by yourself, you can ask an MTA employee in the adjacent booth to let you in or press the call button for assistance from station staff where no booth is visible.

LIRR and Metro-North commuter trains offer accessible service out of Penn Station and Grand Central Terminal respectively, and at many stops on Long Island and the Hudson Valley, making it possible to explore more areas of New York State while on your wheelchair accessible NYC vacation. See the Hudson Valley suggestions above for easy trip add-on ideas.

The MTA bus system is 100% accessible and a great way to get a feel for the city as you are above ground the whole time.

All NYC Ferry boats and docks are fully accessible. The Staten Island Ferry and private ferries to the Statue of Liberty and Ellis Island are all accessible too.

Accessible taxis are readily available in all five boroughs by calling the city's Accessible Dispatch Program (646-599-9999‬) or by downloading the Accessible Dispatch app. Be aware that different models of accessible vehicles have different passenger capacities. The Nissan NV200 taxis can only accommodate one other person in addition to the passenger in a wheelchair, while the Toyota Sienna can accommodate four additional guests. The Arro and Curb apps can also be used to hail a wheelchair accessible cab by selecting the WAV option, but only the official Accessible Dispatch program allows you to request a specific size taxi. You can also go old school and hail any accessible taxi you see available on the street. All accessible vehicles have the universal wheelchair symbol painted on the hood of their cars.

UberWAV and Lyft Access are options for those who prefer ride-sharing services.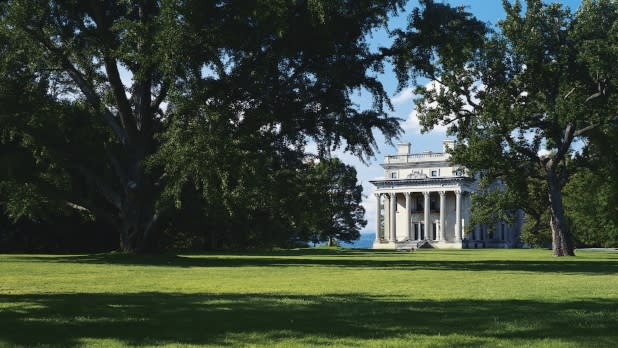 Steeped in history, the Hudson Valley can be either an easy day trip from New York City, thanks to the accessible Metro-North trains you can catch from Grand Central or Harlem, or a great overnight getaway. 
The Home of Franklin D. Roosevelt and Presidential Library & Museum offers a glimpse at a remarkable four-term presidency and the private lives of both FDR and First Lady Eleanor Roosevelt. As the first wheelchair user elected to the country's highest office, innovations that helped make FDR's life easier in his home are on display to visitors today. Unlike many historic homes, both floors are accessible thanks to a lift. Don't miss the opportunity to visit Top Cottage, which many believe is the first completely barrier-free house in the U.S. to be designed by a person with a disability (the back porch also features a stunning view of the Hudson Valley and beyond). While at the historic site, you can also tour Eleanor Roosevelt's home Val-Kill* and the opulent Vanderbilt Mansion (pictured).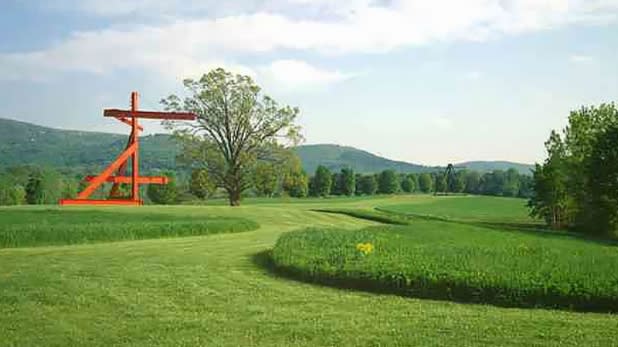 Head down to Sleepy Hollow for some mansion "comparison shopping." Kykuit, the Rockefeller Estate, is a simpler abode than that of the Vanderbilts, if you can call a wealthy industrialist's manse that. A lover of art, Mr. Rockefeller's main extravagance was the transformation of the home's basement into a full gallery. Be sure to choose the "Classic Tour" when you buy your tickets as other options are not fully accessible.
Art enthusiasts will find plenty to love in the region. Visit the village of Nyack to see the river views that inspired Edward Hopper. Hopper fans can tour the first floor of the Hopper House museum without encountering barriers (there is no elevator to reach the second floor). Nyack is also a must-visit for foodies, with a surprising array of authentic international cuisine in a rollable downtown area (though some parts of the village are hilly). Enjoy flavor-rich Filipino cuisine and warm service at Karenderya, which was named one of the top 20 new restaurants in the United States by Esquire in 2018, or satisfy your sweet tooth at Patisserie Didier Dumas (entrance is through a separate ramped entrance that may need to be unlocked so recommend calling ahead).The spacious Dia:Beacon (advance tickets required) offers an ideally accessible canvas for some of the country's best contemporary art in a cavernous former Nabisco box-printing facility. Nearby Storm King Art Center (pictured) is a must-visit on a nice day. A 500-acre landscape of sculptures and a marvel in conservation, Storm King replaces the traditional walls, floor, and ceiling of a gallery with rolling tree-lined hills, the earth, and fresh air. Paths provide access around the property, but you'll need to roll on grass to get closer to the sculptures.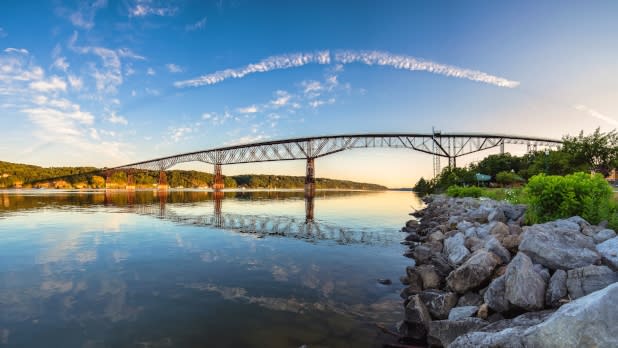 Peep the views that inspired so many artists with a trip to the Walkway Over The Hudson (pictured) in Poughkeepsie. Sloped entry makes it super simple to access the walkway, which is the world's longest elevated pedestrian bridge at 1.28 miles long. Snap your pic in the middle and turn around or continue on to explore the Hudson State Historic Park*.
Whether you're looking to acquire some treasures of your own or simply want to browse, head over to Rhinebeck and go antiquing at the Beekman Arms Antique Barn, whose ground floor shop is accessible (no elevator to the mezzanine, but most things are on the main level anyway).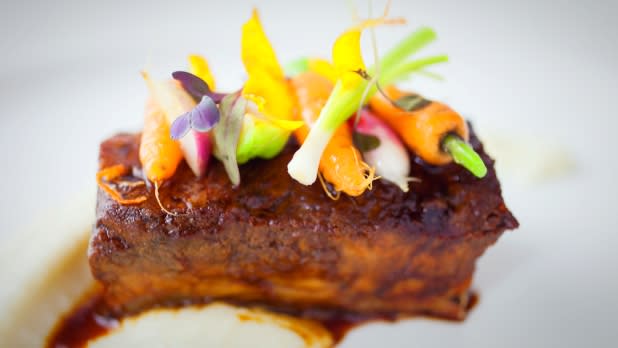 Foodies will want to make a pilgrimage to the nearby Culinary Institute of America (pictured), an institution that has trained some of the nation's best chefs. You can sample the culinary stylings of the next generation of top chefs at three restaurants (be sure to reserve well in advance!) and a bakery café. All restaurant dining rooms are accessible, as is the campus tour*.
Anna's Access Tips:
The best way to see the Hudson Valley is by car, but some of the attractions listed above can be easy day trips from New York City using Metro-North. All trains are accessible, just ask the conductor on the platform to bring a bridge plate to help with gaps when getting on and off the train. Discounted fares are available to people with disabilities. Wheelchair accessible taxi services are not readily available in the region and, where they are, often charge exorbitant rates.

FDR House, Museum, and Library—Dutchess County Public Transit offers hourly bus service year-round from the Poughkeepsie train station, excluding Sundays and holidays. Check the schedule for departure times. 

Walkway Over The Hudson—the walkway entrance is about 3/4 of a mile walk from the Poughkeepsie train station. Sidewalks have curb cuts.

Dia:Beacon—the museum is about a 10-minute walk/roll from the Beacon train station along accessible sidewalks.

Entry to the FDR complex and all tours are free for one person with a disability and up to three guests with the National Parks Access Pass, which you can sign up for onsite or by mail before you go. Documentation showing proof of disability and U.S. residence may be required.

If you don't have your own vehicle, you can rent a ramp-equipped van from Bussani Mobility*, 15 minutes away from the Mamaroneck Metro-North station. Pickup is available from the station. Alternatively, you can also get a van delivered to JFK or Westchester airports ($125 & up delivery fee each way) or a location within NYC ($150 & up delivery fee each way). MobilityWorks delivers to both Newark International Airport ($60 delivery fee each way) and JFK ($120 delivery fee each way). You can also rent a van out of Albany. MobilityWorks ($50 delivery fee each way) and Wheelers Vans ($25 each way delivery fee)* both deliver to the airport and Amtrak station. Be sure to reserve your vehicle in advance as they book up quickly, especially during peak travel times!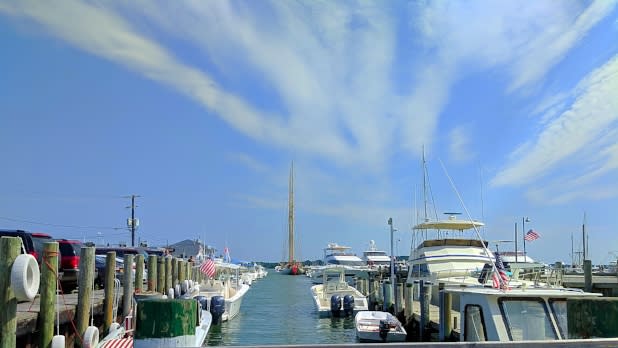 While the nearby Hamptons serve as the playground for the rich and famous, the North Fork's miles of farmland, award-winning vineyards, and charming seaside towns offer many activities that are accessible for all.
It's hard not to fall in love with Greenport (pictured), a seaside village that was named one of the Prettiest Towns in America by Forbes. With most of its restaurants and shops located in a small downtown, Greenport is extremely walkable and accessible via the LIRR station just a couple of blocks from the downtown action. Stop by Noah's for inventive cuisine that highlights the best of what's available from the local farms just outside of town and follow it up with a stop at D'Latte for some authentic Italian-style gelato made onsite. Duck Walk Vineyards in neighboring Southold is a standout in tasting room accessibility with a lowered bar that allows both wheelchair users and those standing to sip on fruity whites and distinctive reds in comfort.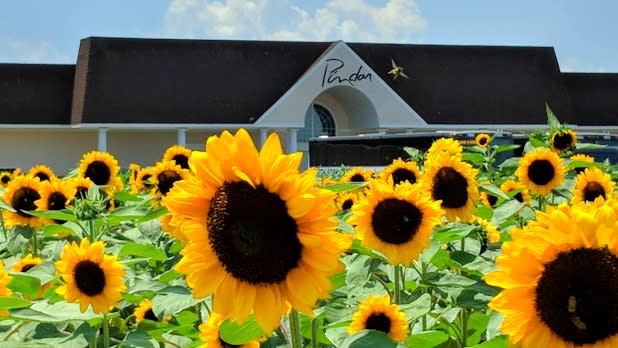 If you're coming from NYC, an easy way to see Long Island wine country is via an MTA Away package. For just $76.25 per person, you can enjoy tastings at two wineries and getting around is super simple as the tour includes rail transportation from the city and local transfers on an air-conditioned coach bus. Wheelchair users should call the LIRR at 718-558-7419 at least 48 hours in advance to ensure that a lift-equipped bus is secured for the tour; each bus can accommodate two wheelchairs or scooters. 
In fall, the local farms come alive with the harvest season, offering plenty of family fun such as apple- and pumpkin-picking, corn mazes, games, and seasonal treats (hello, apple cider donuts). Harbes Family Farm is a great choice for its breadth of activities, though you will have to go on grass and the ground can be uneven in areas.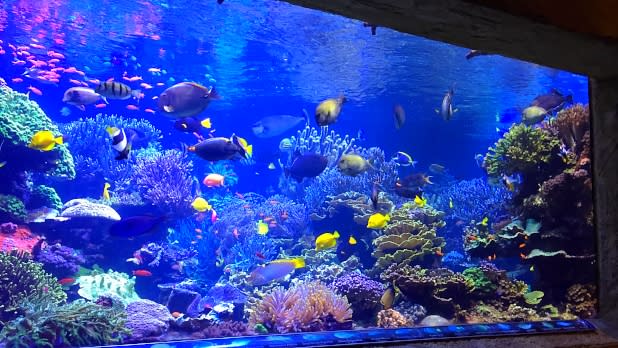 For those staying overnight, the town of Riverhead makes for a great home base. The Hyatt Place Long Island/East End offers several accessible room configurations in an ideal location next door to the impressive Long Island Aquarium (pictured). Cap it off with a waterfront dinner at Jerry & the Mermaid, which serves up some of the region's freshest seafood in a casual nautically themed space.
Anna's Access Tips:
While most towns on the North Fork are accessible via the LIRR, there are only 2–3 trains per day in each direction and local taxi services do not have accessible vehicles. Mattituck and Greenport downtown areas are easily accessible from the train stops on foot/wheel. All trains are accessible, just ask the conductor on the platform to bring a bridge plate to help with gaps when getting on and off the train.

If you're not taking a guided tour, the best way to visit multiple towns and wineries, which are not located on walkable routes, is with your own vehicle.

If you don't have your own vehicle, you can rent a ramp-equipped van from one of the specialty rental services mentioned in the access tips for the Hudson Valley above. Bussani also offers pickup from their Nassau County location near the Bethpage LIRR station.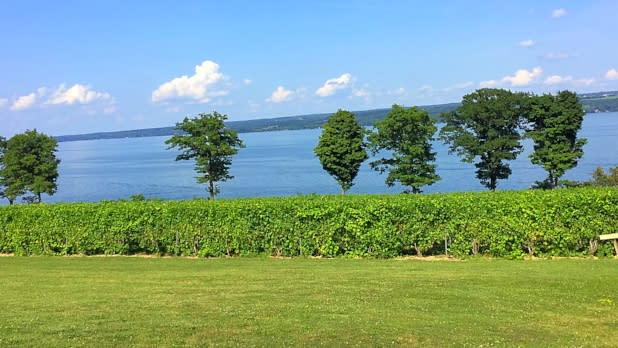 A progressive small city best known for its gorges and as home to Cornell University and Ithaca College, Ithaca serves as a great perch from which to explore the southern portion of the Finger Lakes region.
The recently reconstructed Ithaca Commons offers smooth step-free access to unique shops and eateries. Nearby Aurora Street, known as "Restaurant Row," offers a number of accessible places to dine. You might find it surprising, but Ithaca has more restaurants per capita than NYC. Make sure to save room for an ice cream sundae at Purity Ice Cream, a retro parlor popular with the locals. In fact, the ice cream sundae was invented at a pharmacy in town way back in 1892.

Credit: Brad Marzolf
If it's nature you're here for, head to Taughannock Falls State Park (pictured) to marvel at a waterfall so tall that it, at 215 feet, surpasses even Niagara Falls. For the best view from a seated position, head to the base of the falls on an easy hike along a ¾ mile packed dirt trail that passes other smaller waterfalls and is easy on the wheels.
With so many award-winning wines, a visit to at least one Finger Lakes vineyard is a must. Thirsty Owl Winery (pictured), whose house restaurant has an accessible deck looking out onto Cayuga Lake, makes for a great lunch stop. Bottles consumed in the restaurant are served without markup and all wines are available by the glass for just a few dollars each.  
Take a day trip to the Corning Museum of Glass (pictured), located an hour's drive west of Ithaca. Marvel at centuries-old glass art and learn about the science of glassmaking, take in a gaffer (read: glassmaker) presentation in the accessible amphitheater, or try your own hand at glassblowing. The Make-Your-Own-Glass experience is fully accessible thanks to a little ingenuity. A plastic straw and flexible rubber tubing attached to the glassblowing device allow for easy access from your own chair.
If you're looking for a resort experience, Greek Peak Mountain Resort* is a good place to stay and play. Hope Lake Lodge* has eight wheelchair-accessible rooms, half of which have roll-in showers. The on-site Waterfalls Spa* has massage tables with hydraulic lifts, making for an easy transfer. The Greek Peak Adaptive Skiing Program* offers a comprehensive adapted sports program for skiers and snowboarders of all abilities. Note: the on-site Cascades Indoor Waterpark* does not have pool lifts, but there is zero-entry access to the wave pool.
Anna's Access Tips:
The best way to get around is with your own vehicle. Public transportation is not readily available outside downtown Ithaca. Ithaca Dispatch* (607-277-7777) has one wheelchair accessible taxi available. The taxi can take you anywhere in the Ithaca or larger Finger Lakes area and operates from 7 am–5 pm. Total Transportation* (607-734-6161) in Elmira has an additional three wheelchair accessible taxis that can be used for travel around the Finger Lakes. Both companies ask that rides be booked at least one day in advance to ensure availability.   

Skip the more well-known Watkins Glen State Park despite any well-meaning travel advice you may get. The gorge trail is beautiful, but you have to be able to walk up and down a multitude of stairs to see all of the waterfalls.

If you're a New York State resident, you may not have to pay to enter Taughannock Falls State Park. Residents who have a State Parks Access Pass enjoy free entry for a personal vehicle into state parks and discounts on campsite and cabin rentals across the state. See if you qualify and apply for a pass in advance of your trip by visiting the State Parks website.
Rochester & the Erie Canal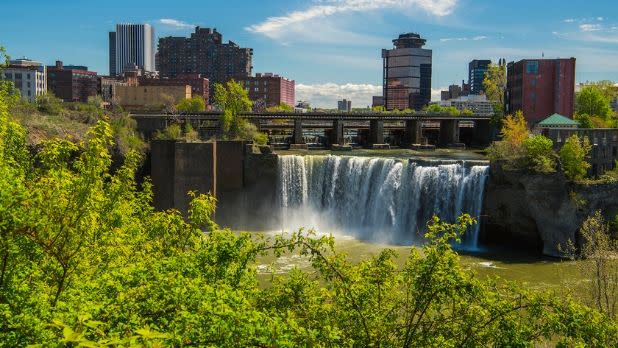 A thriving city that serves as the gateway to the Finger Lakes region, known for its miles of award-winning vineyards and idyllic farmland, Rochester serves up plenty to taste, see, and do.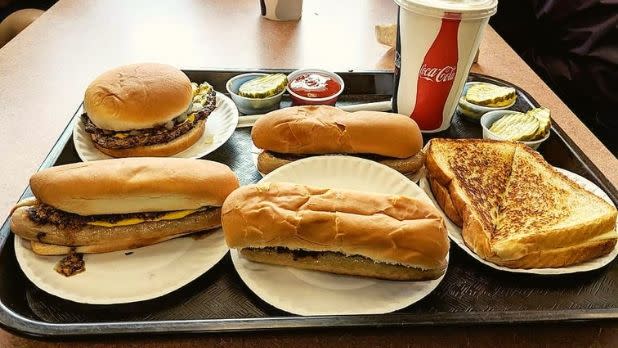 Start your visit with a stop at the Rochester Public Market, where you can sample delicacies and browse more than 300 vendor stalls featuring fresh produce and wares from local farms and artisans. Follow the market workers to the unassuming Zimmerman's Hots shack, where you can chow on an especially delicious sausage, egg, and cheese breakfast sandwich (cash only, but it's just a few bucks). Speaking of sausage, the "white hot" is a variety of hot dog native to Rochester and you will find no greater debate among locals than where you will find the best variety of it. You definitely can't go wrong with Schaller's (pictured), which has been serving up the local treat smothered in mustard and meat sauce (the correct way to eat a white hot!) since the 1950s in a space that serves as a throwback to that bygone era. But there's more to Rochester than sausage, the city's eclectic dining scene offers something for every palate. Here, nosh on the freshest handmade sushi and dishes featuring local seasonal ingredients at Next Door by Wegmans or sample authentic Mexican cuisine with a flare at Ox and Stone.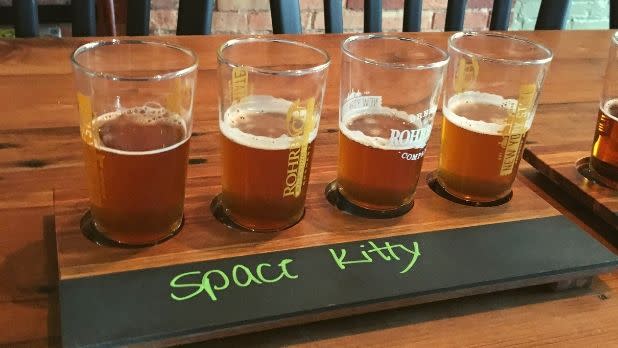 Rochester boasts a booming craft beverage scene with more than 30 breweries, distillers, and wineries within a half-hour drive of the city center. You can easily "tasting room hop" along Railroad Street, with a visit to Rohrbach Brewing Company (pictured) and Black Button Distilling, a grain-to-glass establishment that makes an exceptional range of whiskeys and gins, and a bespoke bourbon cream (accessible via a platform lift with a 700-pound weight limit). Less than two miles away, you can find the acclaimed Genesee Brew House (named for the river that runs through the center of town), whose century-old packaging center is now a destination featuring interactive exhibits, multimedia content, a tasting room, and restaurant. The restaurant's mezzanine level serves as a perfect perch for watching the sun go down over High Falls, a unique urban waterfall, on a nice day. Spend your nights at the Hilton Garden Inn Rochester Downtown, which boasts an excellent ADA-room equipped with a roll-in shower, king-sized bed, and large sitting area.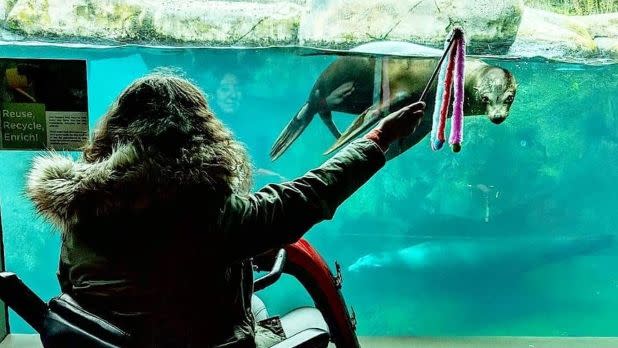 Whether you're traveling with kids or just want to relive your childhood, a visit to the Strong National Museum of Play is an absolute must. Younger kids will love interactive exhibits that let them enter a fairytale, shop till they drop at a kid-sized Wegmans replica, or step onto a Sesame Street set, while visitors of all ages can spend hours playing vintage video games and browsing through the thousands of toys and games on display. The 20-acre Seneca Park Zoo (pictured) offers an impressive array of animals and fun things to do for kids young and old. The zoo's wide footpaths and child-friendly viewing areas make for easy wheeling, and an accessible tram is available for transporting visitors from one end of the zoo to the other.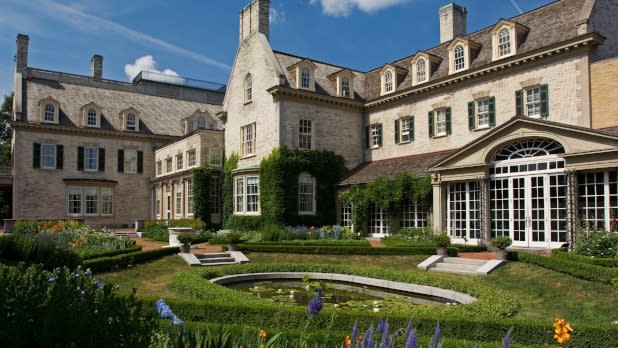 As the longtime center of the optics industry, Rochester has been the seat of innovation in film and photography, resulting in the impressive Eastman Museum (pictured), which pays homage to both art forms, while also offering visitors a chance to explore the historic estate of one George Eastman, founder of the Eastman Kodak Company. Because Eastman's mother used a wheelchair, this is one of the few historic homes with an original working elevator, which visitors can use to access the second floor of the house. Be sure to also stop by the home of another famous Rochesterian: Susan B. Anthony. Visitors to the National Susan B. Anthony Museum and House can join docent-led tours to learn about the life and times of the activist, who played a pivotal part in the suffrage movement, ultimately securing the right for women to vote. While the second floor of this historic home is not accessible, docents can provide an iPad with photos of the upstairs living quarters and talk through that part of the tour. Continue along the "Path Through History" to the Genesee Country Village & Museum, an authentic living history museum set in a 700+ acre 19th-century village about half an hour southwest of Rochester. One notable departure from the 1800s is how many buildings have been made accessible via ramps. While you won't be able to go into every single building, there are enough accessible attractions to fill several hours and the museum offers a discount to visitors with disabilities along with an excellent digital map that details what is and isn't accessible.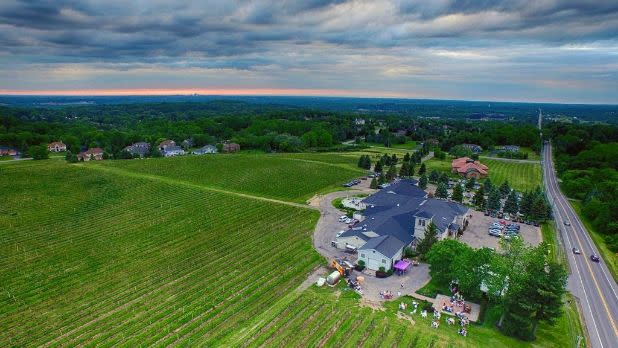 Rochester's enviable location along Lake Ontario and the Erie Canal makes for great adventures on the water. Rochester Accessible Adventures* works with local outfitters to offer adaptive kayaking and biking along the canal. Equipment like hoists to help you get from your wheelchair to the kayak and hand-operated bicycles make these activities accessible to people with almost any type of disability. While making your way along the canal, be sure to explore charming villages like Pittsford and Fairport. Stop by for an authentic Finger Lakes wine experience at Fairport's Casa Larga (pictured), where you can taste local whites and reds, along with a unique creation called ice wine—a sweet wine made from grapes that were frozen while on the vine. Ontario Beach Park* boasts the largest white sand beach in New York. An accessible boardwalk makes for easy rolling and manual beach wheelchairs can be borrowed from the lifeguard station connected to the Rohrbach Community Center, for free during regular beach hours (just bring ID to leave as a deposit).
Anna's Access Tips:
Most Rochesterians drive and the easiest way to see the city is by car. Ramp-equipped rentals are available from Agor Enterprises (airport delivery/pick-up available for a $150 round trip fee) and United Access ($50–100 round trip for airport delivery depending on time of day; delivery to downtown Rochester is also possible, fees vary depending on distance and time of day). Be sure to book well in advance as inventory is limited. If you don't require a ramp, most car rental companies at the airport offer hand controls (some may require 2–3 business days notice).

You can also catch a ride with Apple Transportation, whose fleet includes three wheelchair accessible MV-1 minivans serving Monroe County.  Each vehicle can fit one wheelchair user and three additional riders. Due to the limited number of vehicles, the service requires at least 24 hours notice, but on-demand rides may be possible based on availability and location. Trips on Sundays, holidays, and late evenings incur a surcharge.

With enough planning, public transportation is an option. All RTS buses are accessible and most major attractions are directly serviced by bus routes, however, service tends to be limited to once per half hour on weekdays and once an hour on weekends. Check the RTS website or Google Maps for schedule and route info.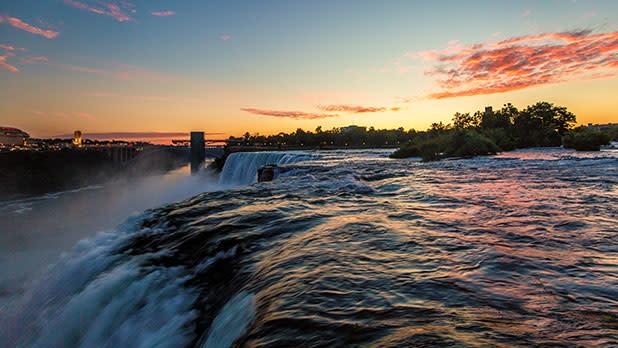 New York's second-largest city offers plenty to do and see and happens to be a cool 30-minute drive from one of the world's greatest natural wonders, Niagara Falls. Featured as one of the New York Times' 52 Places to Go in 2018, the minute you land in Buffalo you know you're in a city that is experiencing its moment.
The ultra-modern Marriott Harborcenter Hotel offers fully accessible rooms and suites. Start by exploring the newly redeveloped Canalside and Harborfront*, which offers everything from lively outdoor concerts and family events to serene waterfront walks (and rolls). Downtown Buffalo is within walking distance, or you can take a ride on the city's metro rail—free and fully accessible above-ground via ramped platforms.

Credit: Erica Eichelkraut Zilbauer
Make your way back using a free audio walking tour on the I LOVE NY app, which has been vetted for the wheelchair accessibility of its route and is accessible to deaf and hearing-impaired users via text versions of all of the audio. While on the tour, marvel at the distinctive architecture, including the historic Shea's Performing Arts Center and the Ellicott Square Building where you can sample local eats, such as Charlie the Butcher's beef on weck. The Albright-Knox Art Gallery* belongs on the itinerary of any art lover, and offers several programs specifically designed for visitors with disabilities. All areas of the museum are accessible via lifts, but visitors with heavier chairs should note that the lift in one area has a total weight limit of 350–400 pounds. Visitors with kids will love the Museum of Science (pictured) and the Buffalo Zoo, which dates back to 1875, making it the third-oldest zoo in the country.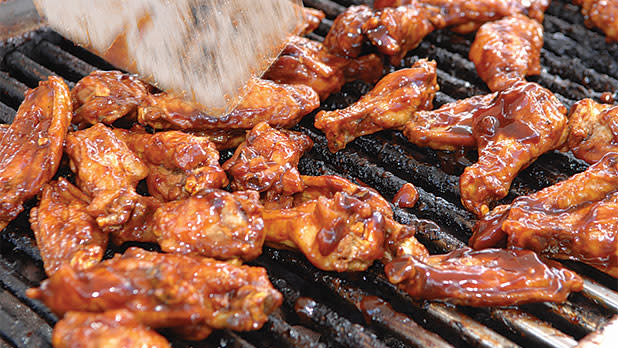 Speaking of food, be sure to stop by Five Points Bakery on Buffalo's west side for delicious, inventive toasts served with whimsical cutlery. Panorama on Seven inside the Marriott offers scenic views alongside top-notch cocktails and delicious New American fare. If there's one food item that Buffalo is truly known for, it's the wing—the juicy deep-fried delicacy smothered in a spicy sauce, which was invented at the Anchor Bar*. For true wing connoisseurs, the team at Visit Buffalo-Niagara recently launched an official Buffalo Wing Trail* (most stops are accessible, check with restaurants for specifics). For a unique take on nightlife, head to Buffalo RiverWorks, a riverside study in industrial chic, home to the world's first silo brewery, a full-service restaurant, concert venue, and all kinds of sporting activities and games. Be sure to take a deep breath before you head inside—the neighboring General Mills plant is the home of the Cheerios production line, and you can get a whiff of the aroma from a mile away.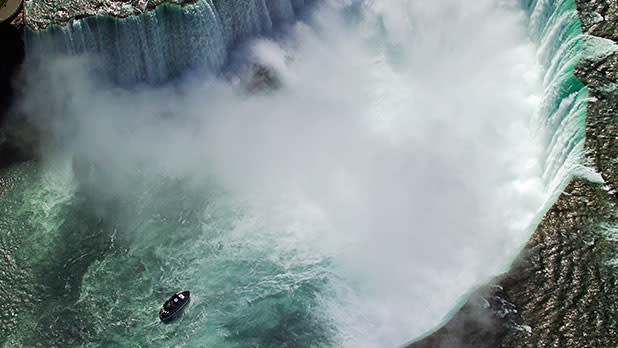 Of course, no trip to Buffalo is complete without a visit to the majestic Niagara Falls. There, take a lift-equipped narrated scenic trolley ride to a variety of accessible ways to experience the Falls including scenic overlooks and the iconic Maid of the Mist boat ride. Make time for a meal at Savor at the Niagara Falls Culinary Institute where talented student chefs prepare gourmet dishes using locally-sourced ingredients. Take your adventure one step—or sail—further with a visit to the bustling canal town of Lockport, NY, where you can take a narrated ride with Lockport Locks & Erie Canal Cruises* through the famed "Flight of Five" -- a system of historic locks that lifts boats up 50 feet. The canal boats can accommodate most wheelchairs and scooters (check in advance if yours is particularly wide), though bathrooms onboard are not accessible. An accessible restroom is available in the main building.
Venture an hour and fifteen minutes southeast to explore another marvel of nature you won't be able to find anywhere else. Named the #1 State Park in the country by USA Today, Letchworth State Park boasts three magnificent waterfalls and the moniker "Grand Canyon of the East." While the Lower Falls aren't accessible, you'll find the most stunning views at the Upper and Middle Falls anyway. For a meal with a view (or a delicious packed picnic!), stop by Caroline's at the historic Glen Iris Inn.
Anna's Access Tips:
A note on lodging—if you need a room with a roll-in shower and transfer bench, be aware that many hotels in downtown Buffalo present challenges in this area as the controls are often not reachable from the shower seat. The Marriott Harborcenter, the Courtyard by Marriott at the Harborcenter*, and the Mansion on Delaware* are good choices for visitors who need this accessibility feature. Contact hotels directly for more information and ask for photos to verify room configurations will work for your needs.

Buffalo is a city of neighborhoods and the easiest way to see it is by car. Ramp-equipped rentals are available from MobilityWorks (airport delivery/pick-up available for a $100 round trip fee) and Main Mobility—be sure to book well in advance as inventory is extremely limited. If you don't require a ramp, most car rental companies at the airport offer hand controls (some may require 2–3 business days notice).

You can also catch a ride with Liberty Yellow Cab, which offers several converted back-loading accessible minivan taxis at the same price points a regular taxi would charge anyone else. You can book your trip online (select the wheelchair option) and Liberty picks up just about anywhere in the Buffalo and Niagara Falls areas. Though on-demand service is available, it is highly recommended that you book in advance to ensure availability.

If cost is a concern and time is not an object, the #40 bus* operated by NFTA Metro Transit leaves from the Metro Transport Center in Downtown Buffalo and takes about an hour to reach Downtown Niagara Falls. From there, Niagara Falls State Park is a 10-minute walk/roll. Buses run every 30–40 minutes depending on the time of day. Every bus has space for at least one wheelchair or scooter, with newer buses having space for two. Reduced fares for people with disabilities are just $1 each way. In fact, many places within the city of Buffalo are accessible with the NFTA bus system.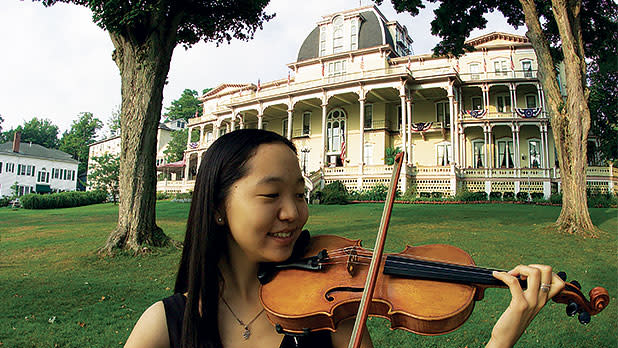 Located about an hour and a half south of the Buffalo-Niagara International Airport, the Chautauqua Institution is a lakeside gated community dedicated to arts and knowledge. Think of it as a summer camp for the NPR listener. All summer long, experience themed lectures and events culminating in a week-long food and film festival.
A state-of-the-art outdoor amphitheater is home to nightly entertainment during the Chautauqua summer season and has included performances by Yo-Yo Ma, Sheryl Crow, Richard Marx, Black Violin, and Harry Potter and the Chamber of Secrets™ in Concert. The amphitheater was completely rebuilt in 2017 and there are 100 seats (out of 4,400) designated as accessible seating, along with another 100 seats for companions. Accessible seating is dispersed across a variety of locations thanks to a series of ramps and step-free paths.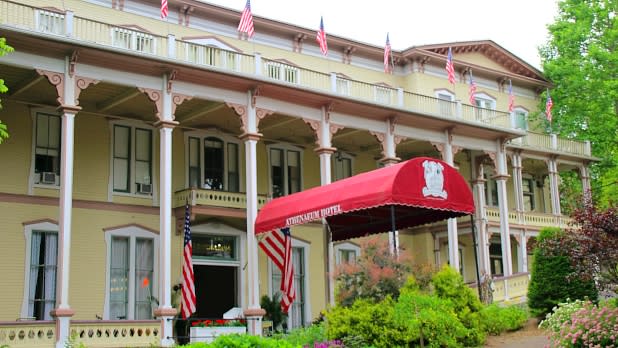 The onsite Athenaeum Hotel offers Victorian-era charm with modern-day accessibility. Each room has authentic period furniture and its own distinctive feel, with several having accessible features such as grab bars and roll-in showers or accessible bathtubs. Step-free access to the porch is available through the lovely Heirloom Restaurant, allowing you to indulge in a view of the lake while enjoying the sumptuous breakfast buffet included with your stay at the Athenaeum or a farm-to-table dinner. An accessible restroom is available in the hotel lobby.
The Chautauqua Institution grounds are hilly in spots but there is a regularly scheduled shuttle that goes around the property. Lift-equipped shuttles can be requested by calling the transportation department. Scooter rentals are available on the property.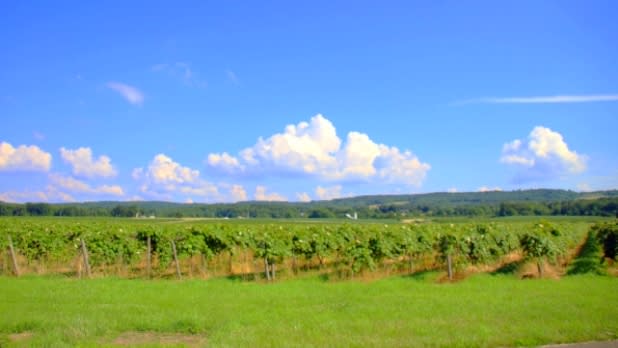 While you could easily spend a week without leaving the grounds, downtown Jamestown, aka Lucille Ball's hometown, is just a 30-minute drive around the lake. Get your laughs in at the National Comedy Center and indulge in a nostalgic roll down memory lane with a visit to the Lucy Desi Museum. Craft beverage enthusiasts will be delighted by the tasting room at Five & 20 Spirits & Brewing in Westfield. This friendly family-owned operation distills a variety of spirits, brews craft beer, and even makes wine. The Lake Erie Grape Discovery Center teaches visitors about the winemaking process, and perhaps even more importantly, serves wine slushies that you can sip on the patio next to a wine bottle fountain that substitutes wine for the water.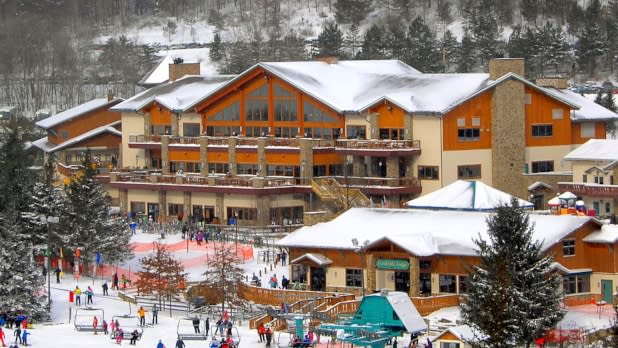 Nature lovers will enjoy new viewing platforms, easy hikes, and accessible campsites, cabins, and cottages* at Allegany State Park. In winter months, the Holiday Valley Resort in Ellicottville offers adaptive skiing lessons. Accessible rooms are available onsite. Stop by the Ellicottville Brewing Company while in town to sample some of New York's best craft beers.
Anna's Access Tips:
The best way to get around is with your own vehicle. Public transportation and accessible taxis are not readily available in the area.

If you're flying in, your best bet is taking a flight to Buffalo-Niagara Airport and renting an accessible vehicle from there. See tips for Buffalo above for specifics.

Credit: Olympic Regional Development Authority
At six million acres, the Adirondacks is the largest park in the contiguous United States, with miles upon miles of unspoiled land that has long attracted nature lovers and outdoor adventure enthusiasts. The resort town of Lake Placid hosted two Winter Olympic Games and remains the training grounds for a new generation of Olympic hopefuls. Many of the Olympic sites, including the Olympic Museum (under construction) and Herb Brooks Arena where the legendary "Miracle on Ice" hockey game was played, are wheelchair accessible. Thanks to an elevator, wheelchair users can even "climb" to the Olympic Ski jump observatory for a bird's eye view over the area. For those looking to hit the powder, Whiteface Mountain* (pictured) and Gore Mountain* both offer adaptive snow sports programs.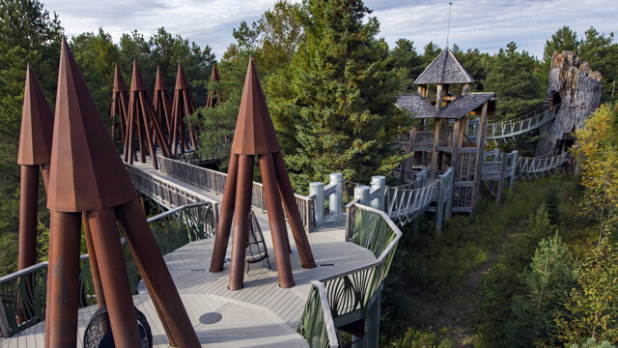 The Tupper Lake* area boasts the world-class Wild Center and Wild Walk*, which welcomes visitors of all abilities to enjoy its universally designed exhibit halls and elevated walkway among the treetops of the Adirondack forest. The Wild Center also boasts a ¼-mile long accessible trail around Greenleaf Pond. For those with limited mobility, wheelchairs and mobility scooters can be borrowed free of charge (with an advanced reservation).
As diverse as it is large, the Adirondacks region is also home to Lake George, a resort town known for its Americana and lake-oriented activities. To see what we mean, stop at The Log Jam Restaurant for a sizzling steak in a building made to resemble a classic Adirondack logging cabin and a cruise on The Lake George Steamboat Company's historic boats offers a spectacular view of the lake and surrounding mountains. The Minne Ha Ha* is accessible on the first deck only, but the Mohican* and the Lac du Saint Sacrement* have elevators that allow wheelchair users to access more decks. If you're looking for a more active sailing adventure, Y-Knot* offers adaptive sailing lessons on the lake to sailors of all abilities and experience levels.
Anna's Access Tips:
The best way to get around is with your own vehicle. Public transportation and accessible taxis are not readily available in this area. However, downtown Lake Placid is pedestrian-friendly.

The red brick streets in downtown Lake Placid can be bumpy, particularly for those using a manual wheelchair or travel scooter. If you have a freewheel, or a chair with larger wheels, this will make traversing town easier.
For even more places to visit throughout the state, check out accessible travel blogger Cory Lee's guest blog post. 
Don't forget to share your summer vacation with us! Share New York State pictures on Instagram and Twitter with #ILoveNY and #FindWhatYouLoveNY and tag us on Facebook!