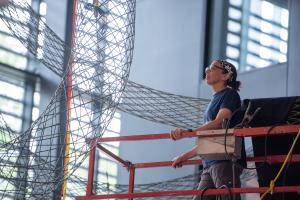 'Entanglement' soars above the atrium of the new Billie Tisch Center for Integrated Sciences
Artist in conversation with faculty members from physics and math on Nov. 17
Saratoga Springs, N.Y. (Oct. 25, 2022) — Skidmore College is excited to announce the installation of the first permanent work of art for a College building, Entanglement, a monumental, site-specific sculpture by acclaimed artist Alyson Shotz in the new Billie Tisch Center for Integrated Sciences.
To mark the occasion, Shotz will speak about her work with two Skidmore College faculty members on Thursday, Nov. 17, at 6 p.m. Mary Crone Odekon, chair and professor of the Physics Department and Kenan Chair of Liberal Arts, and Rachel Roe-Dale, director of the First-Year Experience program and professor of mathematics, were both members of the committee that commissioned Shotz. The three will speak beneath Shotz's new sculpture.
Entanglement soars above the Glotzbach Atrium in the new Billie Tisch Center for Integrated Sciences (BTCIS). The 750-pound sculpture turns and twists impossibly in midair, like a giant open knot or a mobius strip that leads the eye in endless movement around its sinewy curves. As a viewer moves beneath the sculpture, its painted steel shimmers and its colors transform from gold to green to blue.
"I'm very excited to have this new work in the Billie Tisch Center for Integrated Sciences," Shotz said during the installation of the work. "It's the perfect place for this sculpture."
Skidmore President Marc C. Conner expressed his appreciation for Shotz's extraordinary work. "Alyson Shotz's Entanglement embodies the Skidmore educational values of creativity and interdisciplinarity. It's a magnificent rendering of creative and analytical thought brought together into a powerful and thought-provoking display of motion and feeling," Conner said. "It's wonderful to know that for years to come, our campus community and visitors will get to be in the presence of this sculpture and all the reflection and emotion it suggests."
Shotz is an interdisciplinary artist known for breaking down boundaries between media, working across sculpture, photography, and video. Entanglement also crosses disciplines, she says, with resonances in the physical sciences, art, and culture.
"Entangled structures are fundamental to DNA proteins, turbulent plasmas, fluid dynamics, and the quantum-mechanical foundations of nature itself," Shotz said. "They are written into the basic design of biological and physical systems, and represent one of the earliest human technological advances. This interplay of natural form and human ingenuity provides a huge inspiration. I have also been drawn to the deep history of knots in art and culture: the endless knot is a Buddhist symbol representing the interconnectedness of all things and the intertwining of emptiness and form. Knot patterns can also be found in Roman, Byzantine, Chinese, and Islamic art and architecture, as well as in Celtic iconography."
The work's possible meanings don't end there. "When students and faculty see the work, I hope they'll want to know more and bring their own ideas to it," Shotz said.
Shotz was selected to create a new work of art for BTCIS by a committee of faculty and administrators, along with Tang Teaching Museum Director Ian Berry. The commission is a return for the artist almost 20 years after her 2003 Tang Teaching Museum exhibition Opener 5: Alyson Shotz — A Slight Magnification of Altered Things, which presented her sculpture, video, photography, and painting — an interdisciplinary survey that explored art and science connections.
The Nov. 17 event with Shotz, Odekon, and Roe-Dale is part of the Tang Teaching Museum's series of Dunkerley Dialogues, which pair Skidmore professors with artists in a conversation format. The discussions are often a catalyst for new connections and understandings across disciplines and can spark new ideas for all participants. Dunkerley Dialogues are made possible by a generous gift from Michele Dunkerley '80.
A Creative Experiment
While Entanglement embodies BTCIS's educational mission, it offered Shotz a learning experience of her own. This special commission gave her the opportunity to experiment with wire arc additive manufacturing (WAAM), a type of 3D metal printing.
She worked with MX3D, an Amsterdam, Netherlands-based company that specializes in WAAM. The overall process from idea to completion took about two years, with much of that time spent in design and discussions with MX3D about the capabilities and limitations of the process. She worked closely with New York City-based LERA Consulting Structural Engineers to design internal supports that would work both aesthetically and structurally.
Once the design was completed, a robot printed the work in two- to three-foot-long sections, one drop of molten steel at a time. The printing process took four months (the work totals 165 feet long). Once printed, the pieces were sent to a rented warehouse in Amsterdam where workers welded it together to make sure the pieces fit together as planned. It was then taken apart in sections of about 10 feet and shipped to New York. The installation in the Glotzbach Atrium took a crew of three fabricators four days to complete, overseen by Shotz and one of her studio assistants.
Shotz saw multiple benefits in using this new process. It allowed her to design an open structure with precision curves that could be made much quicker and for less money than through traditional welded steel processes. It was a zero-waste process that required almost no packing materials. It also let her expand her artistic practice, allowing her to create new structures that were impossible to make before this technology existed, while at the same time making connections with previous work.
Continuity and Change
Shotz could have had the metal sanded and smoothed, but decided to leave each distinctive rounded drop of steel visible. She thought it important for people, especially students, to see the process of how the work was made. She also liked how the visible drops tied in with many of her earlier works. Invariant Interval from 2013, for example, was made of stainless steel wire, aluminum collars, and silvered glass beads and featured an open, net-like structure in which the space in and around the piece are just as important as the solid material.
"Entanglement explores the idea that a shape can­­­ be defined by space rather than mass. There is much more space in this sculpture than steel," Shotz said. "It also asks, 'How does perception define the experience of space?' If you look at this sculpture from only one point of view, it might be difficult to understand, you have to move around it to experience it fully. As your point of view changes and the light changes, the shape itself changes. These concerns flow through all of my work."
Shotz encourages viewers to move around the sculpture and to revisit it during different times of day and different seasons to experience its subtle changes. That kind of engagement will be possible because Entanglement is a permanent installation.
"Skidmore gave me a chance to make something new, experiment with new technology, and broaden my practice as an artist," Shotz said. "It's a huge opportunity, and I'm incredibly grateful for that."
The Nov. 17 Dunkerley Dialogue at the Billie Tisch Center for Integrated Sciences is free and open to the public. For more information, contact the Tang Teaching Museum at Skidmore College at 518-580-8080 or tang@skidmore.edu, or visit https://tang.skidmore.edu.
About Alyson Shotz
Alyson Shotz is an artist who works across media, including sculpture, photography, and video. She recently had a solo project at Grace Farms Foundation in Connecticut and was included in the exhibition Line of Wit at the Guggenheim Museum Bilbao. She has also been included in exhibitions such as The More Things Change, at the San Francisco Museum of Modern Art; Art and Space, Guggenheim Bilbao; Contemplating the Void and The Shapes of Space, Solomon R. Guggenheim Museum, New York; Light and Landscape, Storm King Art Center; and Living Color, Hirshhorn Museum and Sculpture Garden in Washington, DC; and Pattern: Follow the Rules at the Eli and Edythe Broad Foundation. She has had solo exhibitions at the Tang Teaching Museum in 2003, the Indianapolis Museum of Art, Indianapolis; The Wellin Museum of Art at Hamilton College; The Wexner Center for the Arts, Columbus; the Nasher Sculpture Center, Dallas; and Espace Louis Vuitton, Tokyo, among others. Shotz was an Arts Institute Research Fellow at Stanford University in 2014- 2015 and a Sterling Visiting Scholar at Stanford University in 2012. She received a Pollock Krasner Award in 1999 and 2010, the Saint Gaudens Memorial Fellowship in 2007, and was the 2005-2006 Happy and Bob Doran Artist in Residence at Yale University Art Gallery. Her work is included in numerous public collections, such as the Guggenheim Museum, New York; The Guggenheim Bilbao; The Hirshhorn Museum and Sculpture Garden, Washington, D.C.; The Whitney Museum of American Art; The San Francisco Museum of Modern Art; Crystal Bridges Museum of American Art; and the Indianapolis Museum of Art, among others. Alyson Shotz lives and works in Brooklyn, New York. 
About the Billie Tisch Center for Integrated Sciences
The Billie Tisch Center for Integrated Sciences (BTCIS) is the single largest academic initiative in Skidmore's history. BTCIS features flexible spaces that foster unique interdisciplinary connections across the sciences, arts, humanities, and social sciences. The first two phases of construction are now complete, and faculty and students are using its new state-of-the-art spaces for teaching and learning. The entire project is slated for completion in 2024.
About Skidmore College
Founded in 1903, Skidmore College is a highly selective private, coeducational liberal arts college of about 2,600 students. Skidmore is consistently named one of the "Best National Liberal Arts Colleges" by U.S. News and World Report and has recently been recognized as one of "America's Most Entrepreneurial Colleges" by Forbes, a "Top College Value" by Kiplinger and one of "The Best 388 Colleges" by The Princeton Review. Travel and Leisure has also called Saratoga Springs, home to Skidmore's campus, one of "America's Best College Towns." For more information, visit http://skidmore.edu.
Caption for image: Alyson Shotz oversees the installation of her sculpture Entanglement on August 9, 2022, in the Billie Tisch Center for Integrated Sciences at Skidmore College. Photograph by Shawn LaChapelle.
Media contact
Michael Janairo
Tang Teaching Museum at Skidmore College
518-580-5542