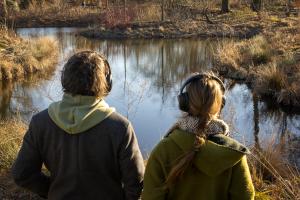 Site-specific sound walks and installations by Gelsey Bell and Joseph White, Brian House and Ben Rubin, and Michael Gordon
Brooklyn, NY—This winter, Brooklyn Botanic Garden focuses its outdoor public programming on sound in the Garden, with site-specific original compositions and audio walks for visitors to experience at their own pace.

As part of the Art in the Garden series, BBG presents three works from January through May: Gelsey Bell and Joseph White's Meander, Ben Rubin and Brian House's Terminal Moraine, and a reprisal of Michael Gordon's loved. Each work takes its inspiration from the Garden and the temporal sensations one experiences among its natural features, both ancient and fleeting.