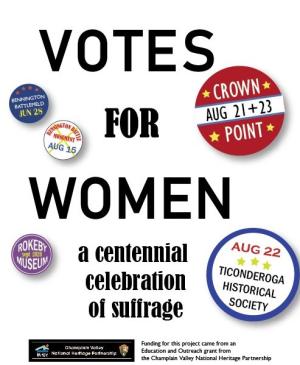 CVNHP Crown Point/TI Historical Society Event Taking Place Aug 21-23, 2020 at Crown Point State Historic Site
Crown Point, N.Y. – Explore the early days of the suffrage movement, its relevance to civil rights and the emergence of modern-day women in the workplace with a film series and historical presentations celebrating the centennial of suffrage.
Bring a lawn chair and join us under the tent on the shores of Lake Champlain. Pack a picnic lunch or dinner – or grab something from our food truck. Registration required, seating limited to 40 for each session.