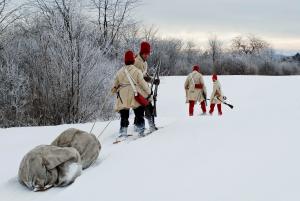 "Four Divisions Formed at Fort Carillon: 1757 French Raid on Fort William Henry"
Saturday, February 27th
Presented as part of the Center for Digital History's Digital Campaign
Ticonderoga, N.Y. – Fort Ticonderoga presents a Virtual Living History Event on February 27, 2021 as part of its Digital Campaign - an exciting virtual experience featuring interactive programming, engaging lectures series, and creative at-home educational activities and resources. 
This virtual event will highlight French Regulars and Canadians assembling at Fort Carillon, later named Ticonderoga, preparing to march across frozen Lake George to surprise the British in 1757. During 3 exciting living history demonstrations, watch as French soldiers build scaling ladders and prepare to march and encamp in winter's deep snow to carry forward this surprise attack.